ASR PREMIUM - Free Porn Movies and Free Porn Images
ASR Premium offers Free Hosted Galleries of sample porn movies and photos for FREE. We collect and offer the high quality samples from millions of galleries on daily updating.
50 Plus MILFs is one of the mature women bundle sites with 60 Plus MILFs and offers hardcore scenes of sexy mature ladies having sex with youngsters.
Special Offer: [Check the Price Here]
[Click on the picture to see all the samples]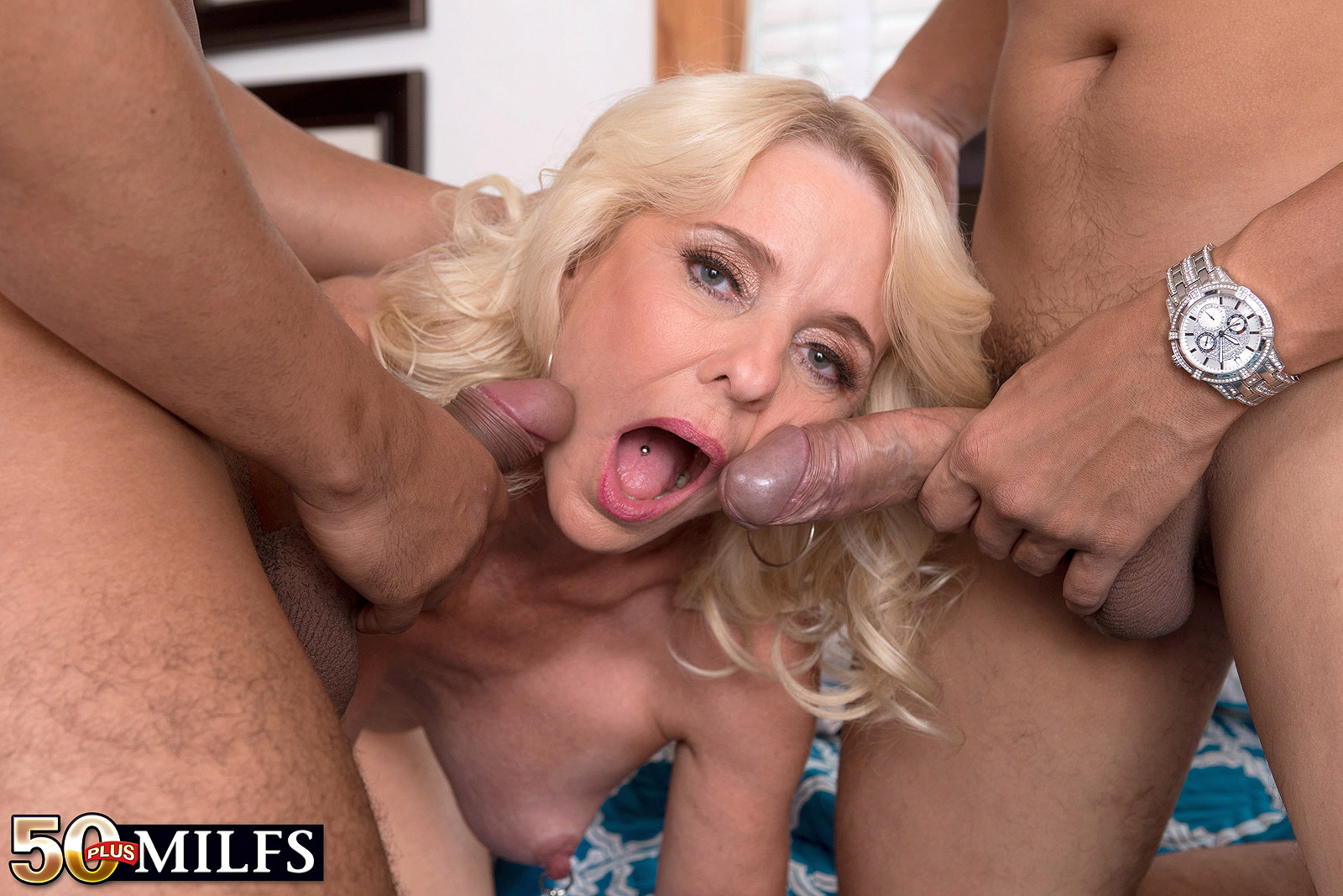 Cammille Austin - Two Guys Take Turns On Cammille's 57-year-old Ass. In her first two scenes at 50PlusMILFs.com, Cammille Austin didn't do anal. Now, in her third scene, this 57-year-old wife, mother and grandmother from Arkansas is going to make up for lost time: Two guys are going to suck her pierced nipples, fuck her pierced pussy and take turns on her asshole. "I'm excited, I'm nervous," Cammille said. "I think it's gonna be a lot of fun." Cammille sucks their cocks and balls, then they take turns fucking her pussy. Before the fucking started, Cammille said, "When one isn't fucking my ass, I'll be sucking his cock." What if there were more than two guys? "I'd jack him off. I've done four guys at once. There were eight guys in the room, but I only did four at a time." Only? This is not Cammille's first threesome. "I've had threesomes and more," she said. "On my wedding night, there were more. There was lots of anal on my wedding night, too." So much for alone time with her hubby.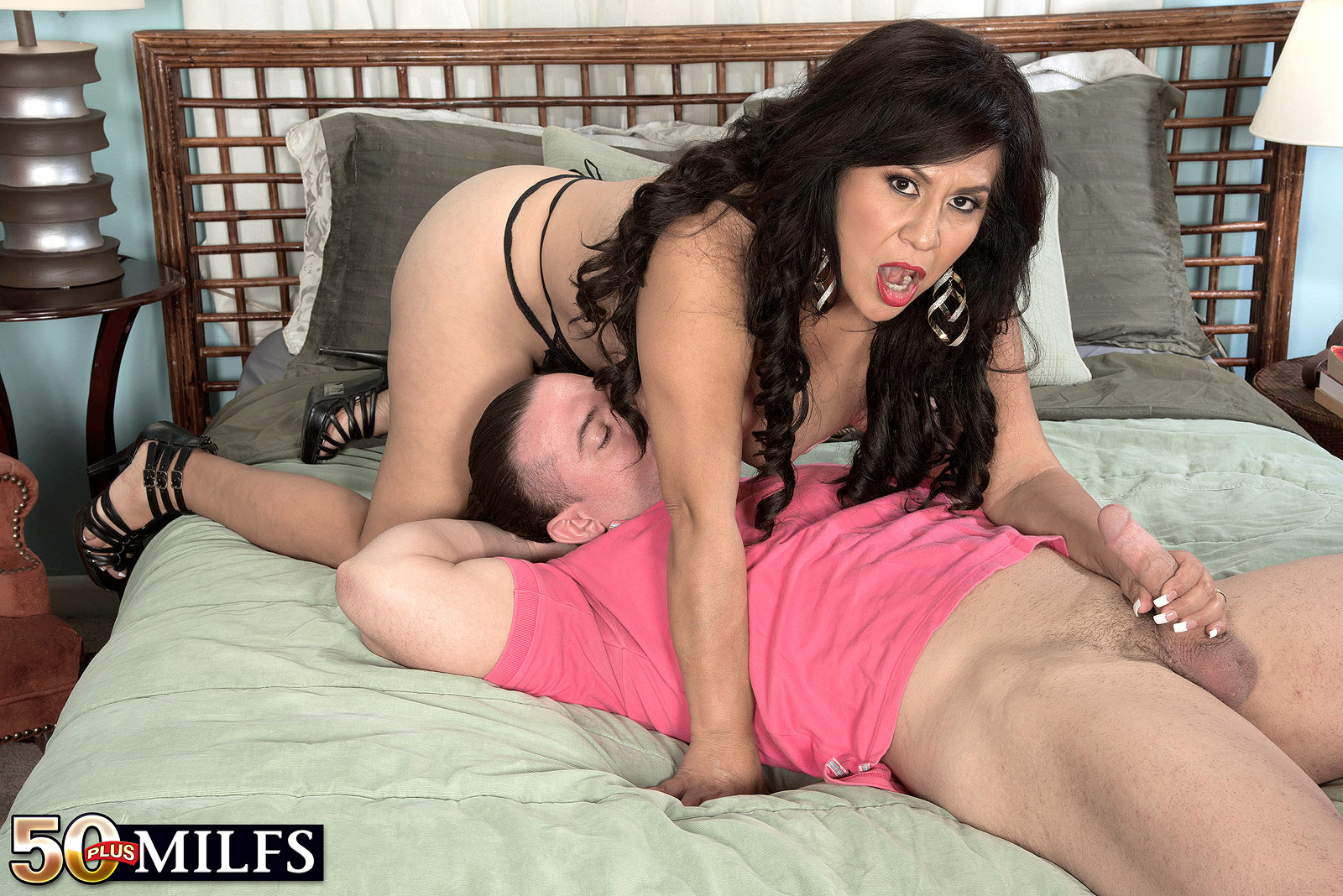 Victoria Versaci - Victoria The Big-assed Mexican Milf. "I like guys who know how to treat a woman right," says 52-year-old Victoria Versaci, a first-timer who knows how to treat men right judging by the way she swallows Tarzan's cock. Sexy Victoria, who's Mexican and lives in Los Angeles, hadn't had sex in two months before she walked into our studio. She's one hungry woman. Victoria is wearing a dress that her DD-cup tits are pouring out of. The dress hugs her huge, round ass, which she happily shows off. This divorcee and MILF had never had sex on-camera before she came here, so she was nervous and excited. But it doesn't show when she starts fucking. Victoria is a businesswoman. She was a hostess in a strip club for a while and gave lapdances. She didn't strip.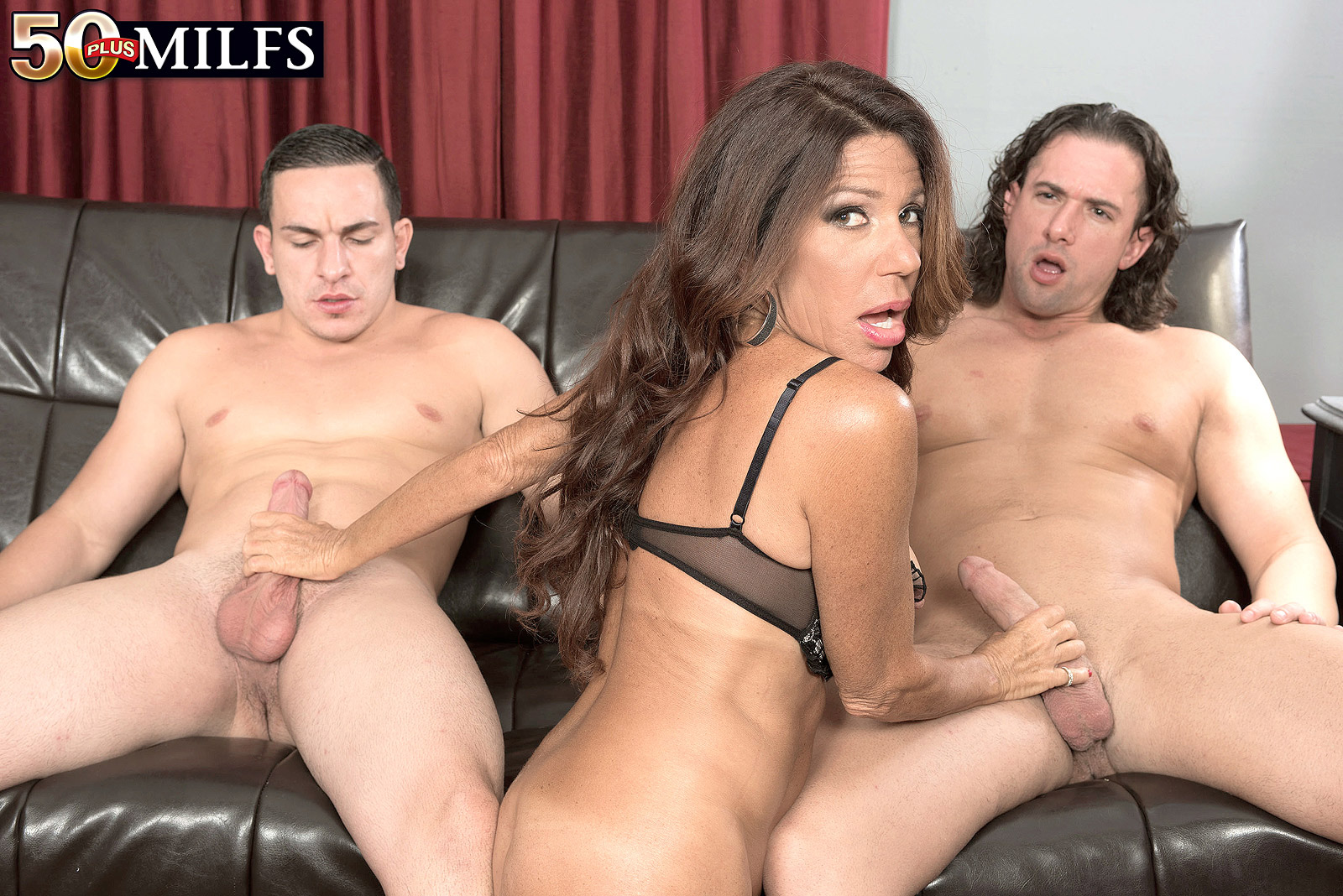 Layla LaMora - First-timers Encore: Two Cocks. "You never know what I will do next," 52-year-old divorcee Layla LaMora said when she made her worldwide sucking-and-fucking on-camera debut last fall. She also told us that she'd never been in a threesome. Okay, so now we know what Layla will do next. And we also know that she has now been in a threesome. Here, Peter, who's 22, and Tarzan, who's 29, take turns on her mouth and pussy before cumming all over her pretty face. By the time the scene is over, Layla's face is absolutely glazed. There are some great porn-slut shots in this set. Layla, who isn't a swinger or a nudist, told us that she's shy. Yep. She measures 32DDD-24-32.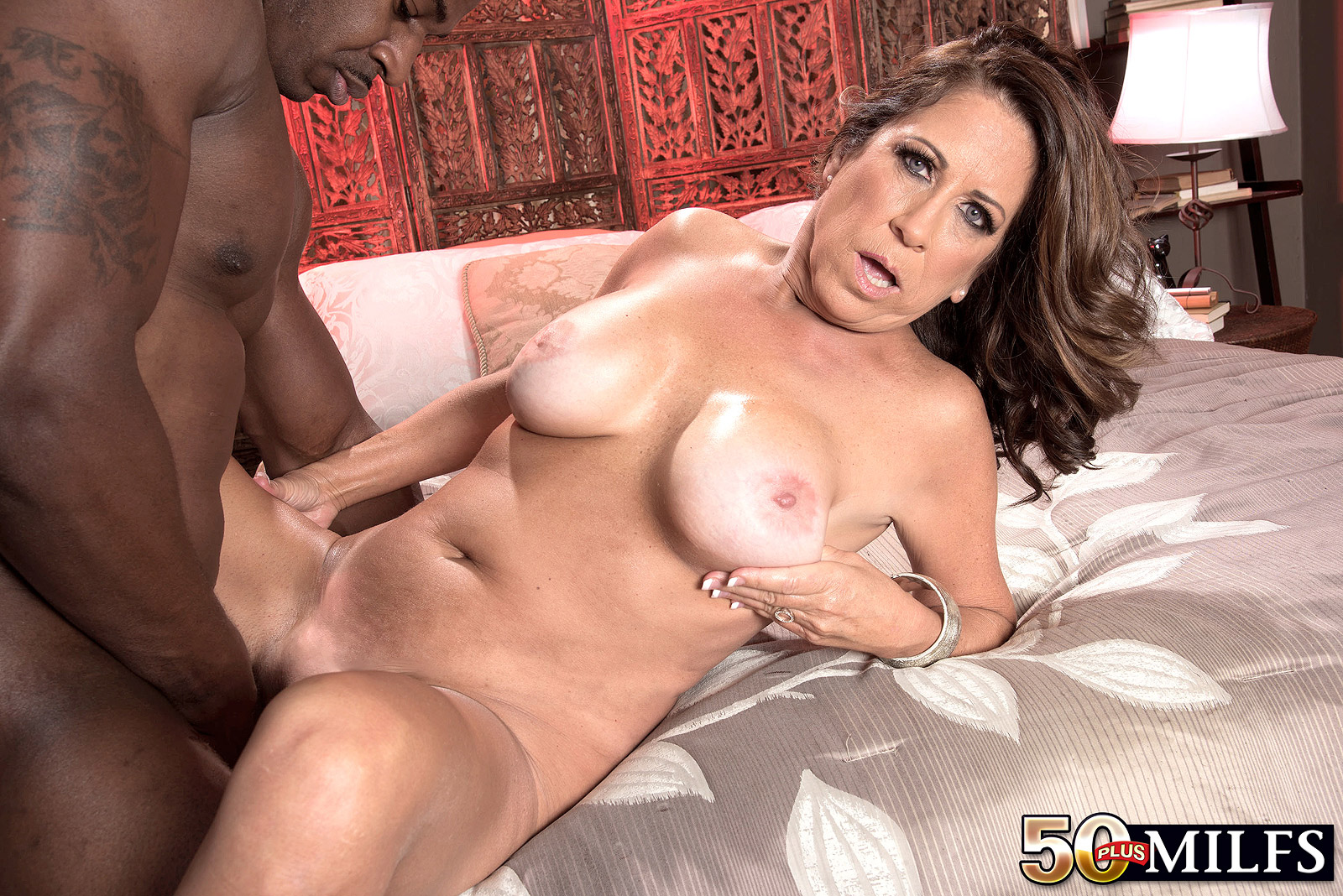 Karen DeVille - Back For Black. Karen DeVille can't stay away! At first blush, this 55-year-old MILF doesn't appear to be the kind of woman who would fuck on-camera, but you've got to scratch beneath the surface. In fact, she's described herself as a soccer mom and as a cougar. She's simultaneously classy and slutty. "I came to you guys through a friend. I thought it would be a lot of fun," Karen told us. "That was years ago. I've come back whenever I have that itch that needs to be scratched." By "that itch" Karen means "her pussy needs to get stretched, filled and plowed by a hung stud half her age." And that stud today happens to be Jax Blax, a powerful black man with a billy-club for a cock. And Karen can't wait to start sucking him in order to see how big he can get. We have a DVD-line called Chocolate Stuffed MILFs, and we think that after this performance, Karen will be headlining the next edition.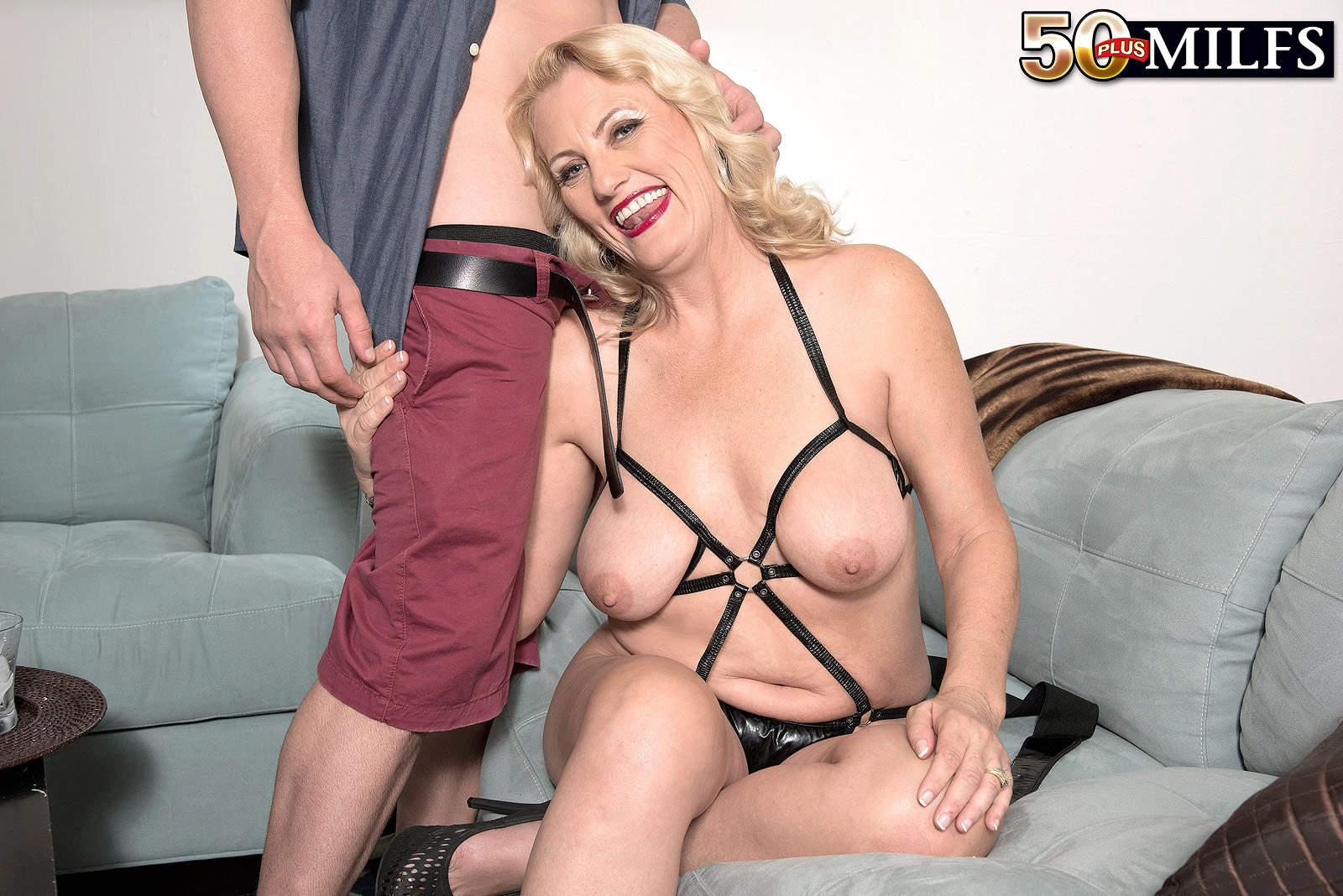 Lady Dulbin - Lady Dulbin Meets Jmac. JMac thinks 55-year-old Lady Dulbin is wearing a conservative housedress. Won't he be surprised when she turns around and reveals that she's wearing a kinky black dominatrix outfit underneath, the kind that makes her big tits pop out? Won't he be surprised when she starts sucking his cock and fucking him? Okay, maybe he won't be that surprised if he's seen her at 50PlusMILFs.com. Or if he knew that she's a real-life dominatrix. Or that she and her husband have an open relationship. "We allow each other to be with the type of people we need to be with," Lady explained. For her, men with cocks. Or women with pussies. She's into just about everything. We asked Lady Dulbin if her children and grandchildren be shocked to see her here, and she said, "Some would and some are very supportive of what I do. But I'm not worried about that.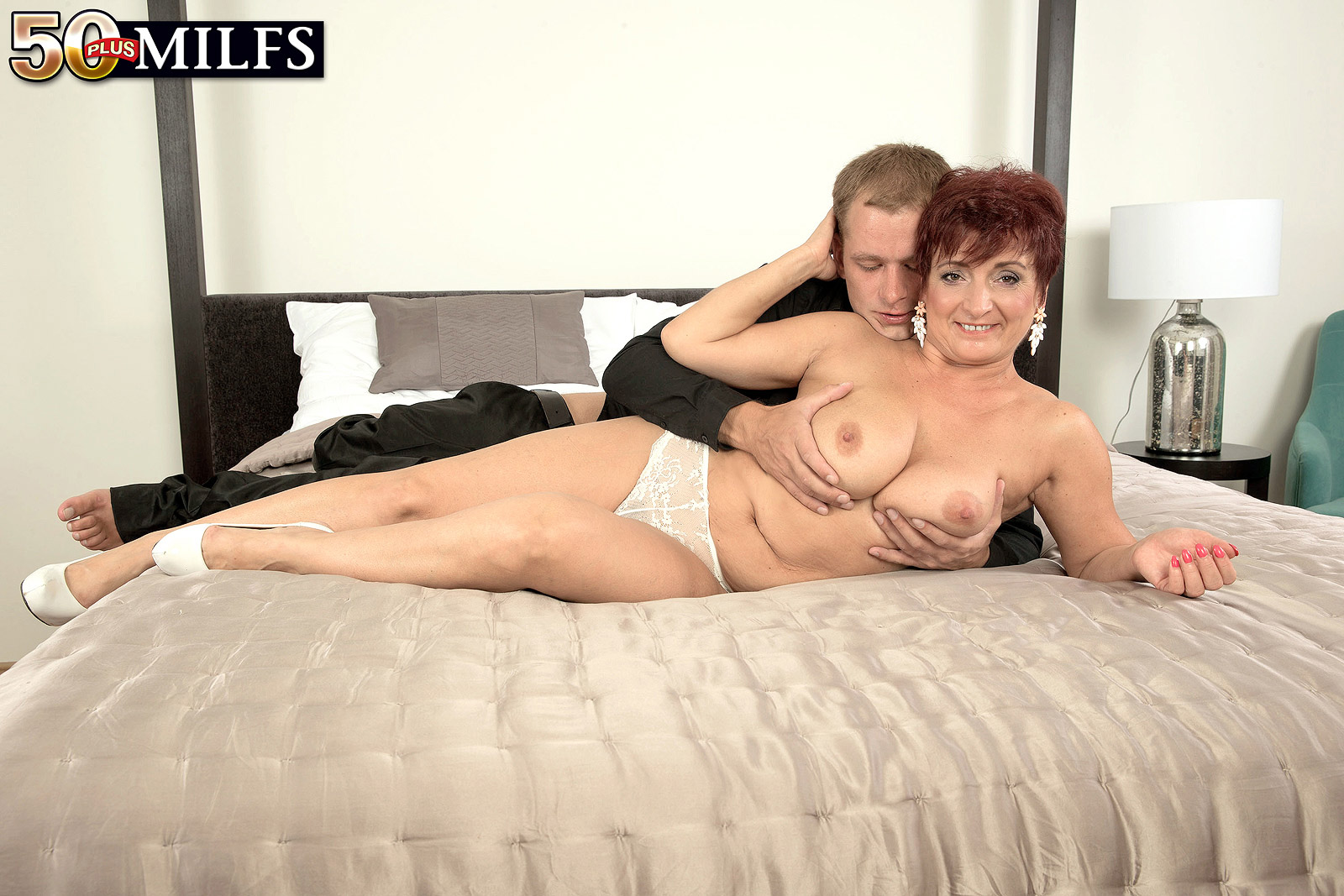 Jessica Hot - Big-titted Divorcee Jessica Is Hot For Cock. Here's Jessica, a 52-year-old divorcee and MILF with big tits. She's having sex on-camera for the first time. Aren't we the lucky ones! Actually, Jessica considers herself lucky. "I'm a hairdresser, so I decided to do porn to have some fun," she said. Have at it, Jessica. Enjoy yourself. Jessica likes to go on wild dates. Her fantasy is to have two men at the same time, one we're sure she could fulfill just by strolling up to two guys and saying, "Do you want to have sex with me?" But she has been in a three-way with a man and a woman. She's even had sex in public. We asked Jessica if the people she knows would be surprised to see her here, and she said, "Some of them would, most of them wouldn't.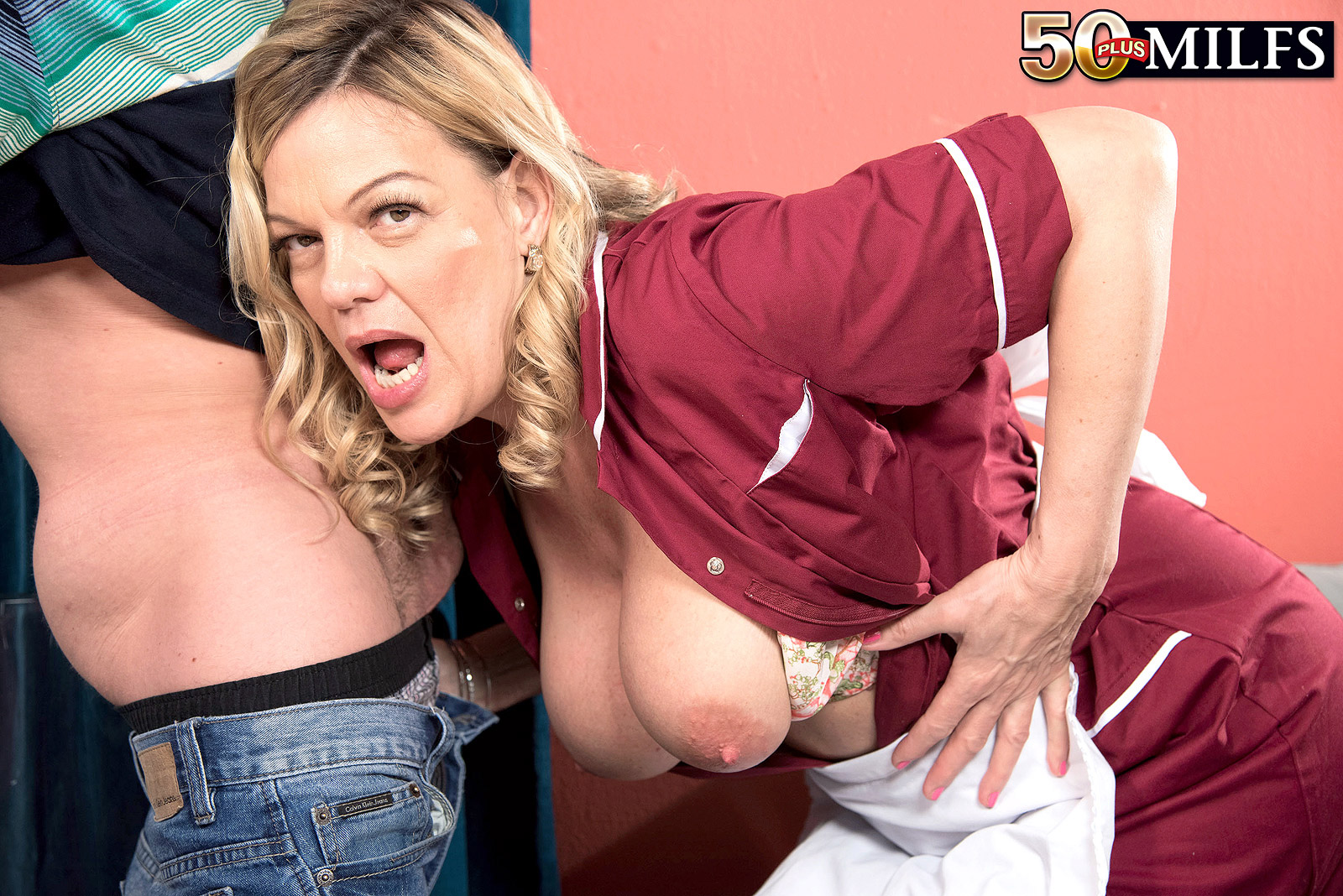 Lena Lewis - Tony Takes The Cake, Lena Takes The Cock. "I love younger men, and I'm not even talking about the guys I had sex with in your studio," said Lena, a 52-year-old who's from Germany and lives in Manhattan. "I recently had sex with a 19-year-old. He was cute but inexperienced. He wanted to be guided, so I taught him how to please a woman and how to be pleased. I got to teach him a lot. He had amazing staying power." Lena enjoys reading, dancing and going on nature hikes. She used to be an avid skier. Her favorite TV shows are House Hunters International and Saturday Night Live. Her favorite movies are 2001: A Space Odyssey and Out of Africa. She said a man can attract her attention by "engaging me in an intelligent and interesting conversation while looking into my eyes.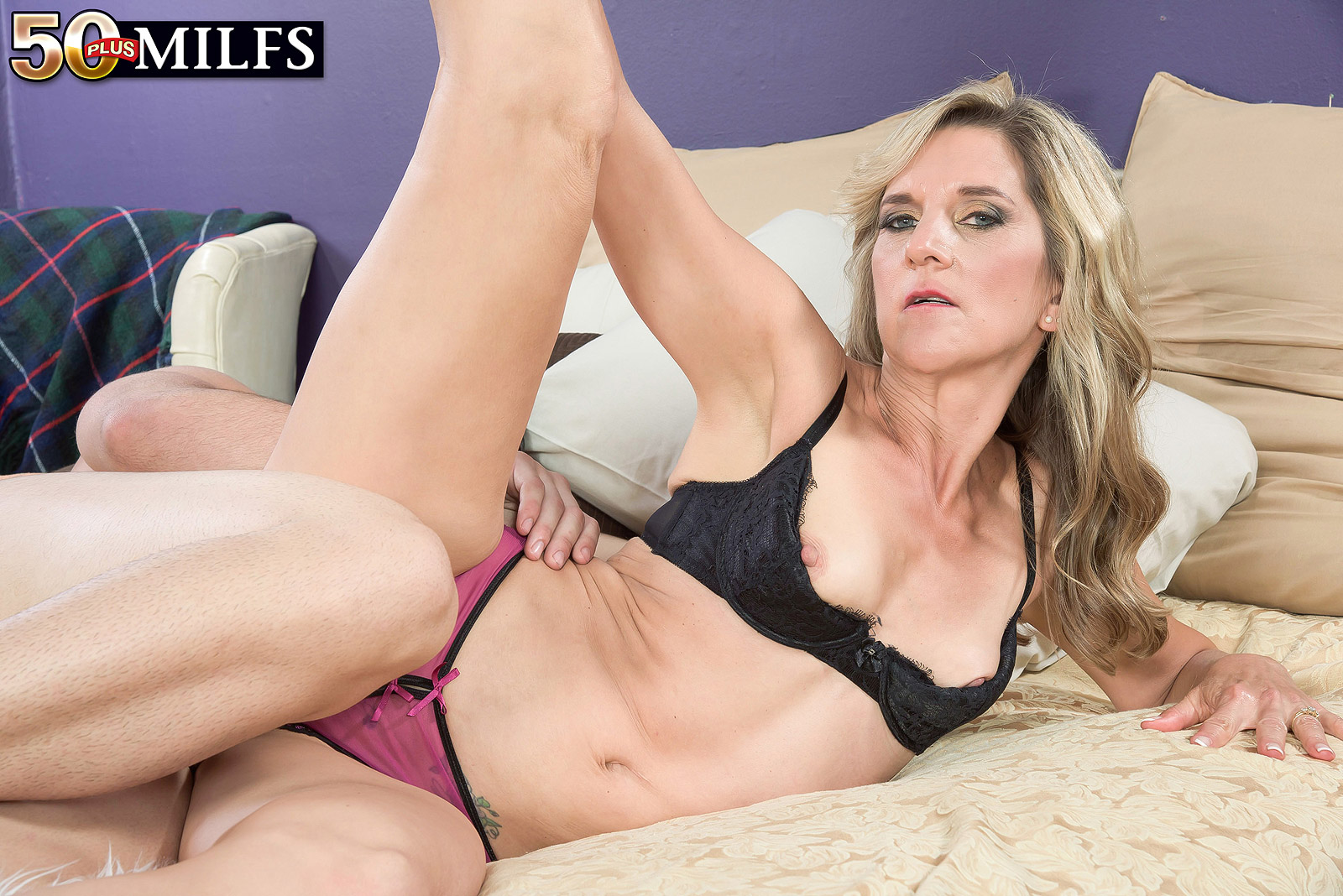 Lauren De Wynter - Dewynter Of Our Dicks Content. "Someone on Twitter put me in touch with Rita Daniels, and here I?am!" said Lauren DeWynter, a 52-year-old wife and mother from Boston who's sucking and fucking porn cock for the first time. Lauren is tall (5'10") and thin, which makes her a skinny fuck toy who loves big cocks. Nope, you don't have to worry about splitting Lauren in half with your huge rod. She can take it. "I?like them big," she said. "The bigger the better." Lauren enjoys hiking, going to the beach, exercising and fine dining. She hasn't worn panties since she was 17 years old, but she put on a pair of crotchless panties just to make us happy and horny. She says the people who know her would be surprised to see her here because "I?have a fairly sedate personality in my day-to-day life." She's been a banker and a teacher. She fantasizes about having rough sex. She's a swinger.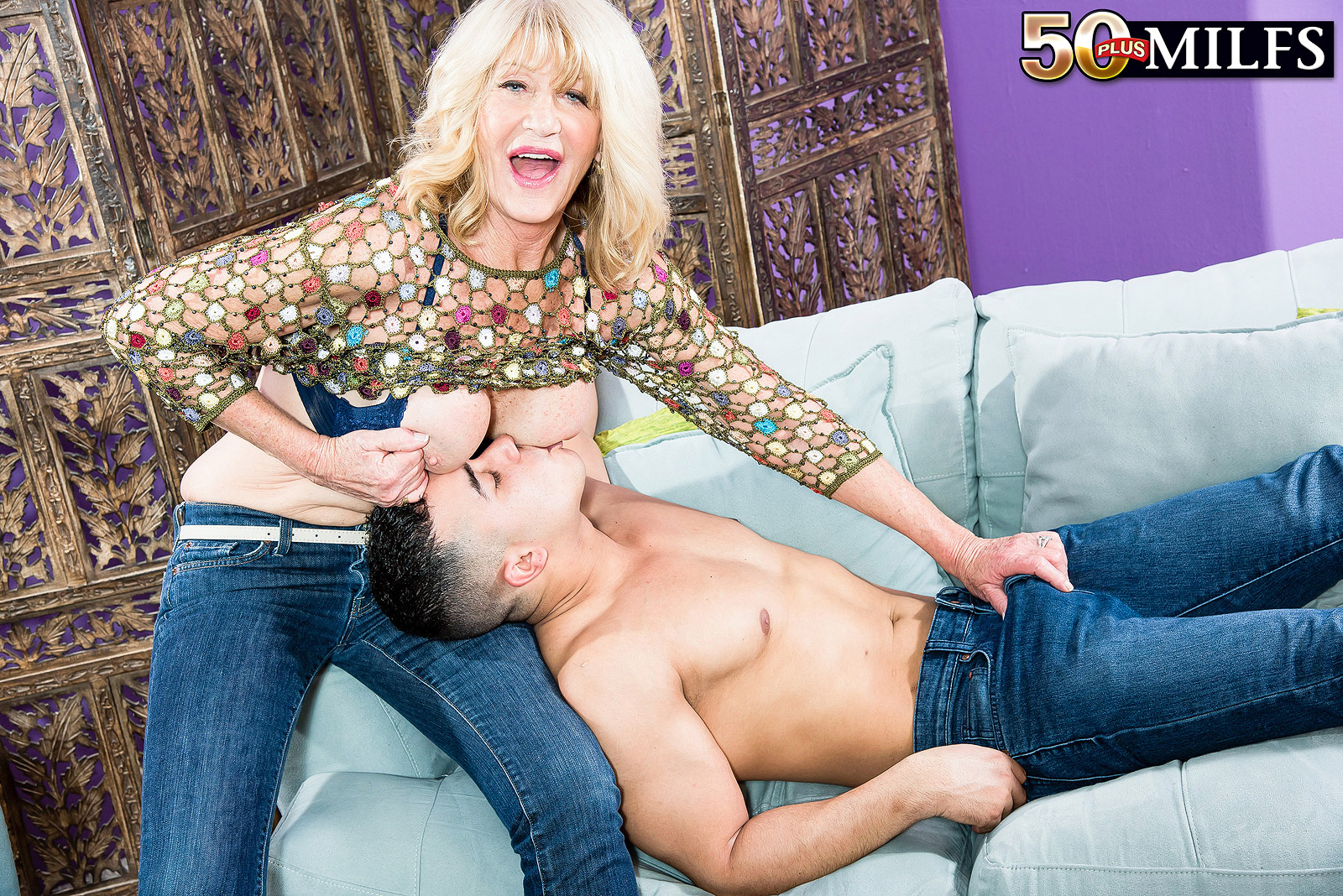 Kendall Rex - Hard Cock For The Cockahaurus. Dressed for sex in tight jeans and a sheer top that shows her bra, 56-year-old divorcee Kendall Rex returns to fuck 26-year-old Rocky. Kendall has never been a stripper. She isn't a webcam model. She does have sex two or three times a day. She tried to work in a brothel for a week but didn't have her heart in it, so nobody got their hard-on in her. "Most people I know would be surprised to see me here, but I do have a few friends who are aware that I'm embracing the opportunity and encouraged me to just own it," she said. And yet.. "I've done private videos for me and my significant other or friends who were joining in with us. I've done those a number of times. I'm a swinger, so occasionally, video cameras come into play.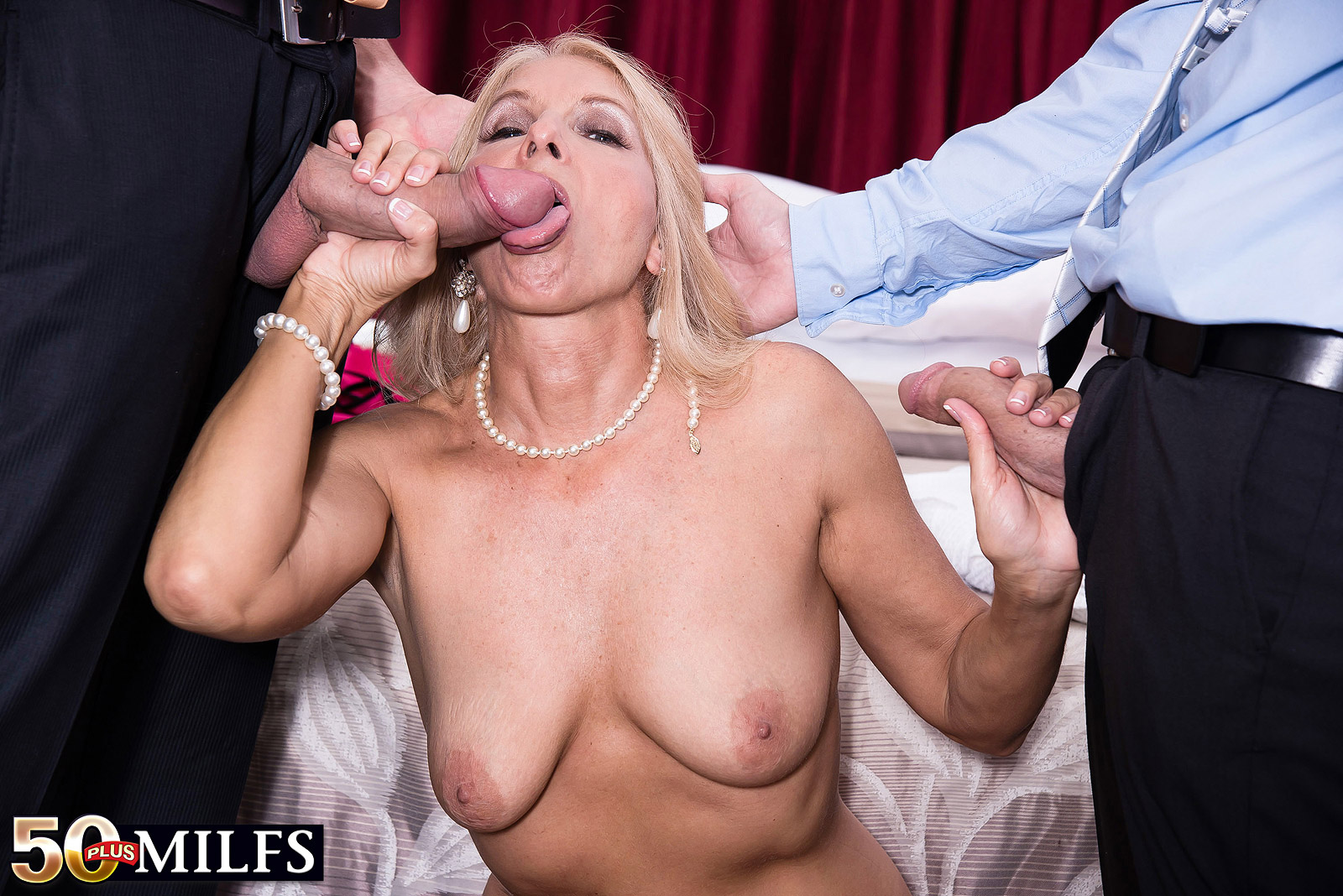 Chery Leigh - Room For Two. Chery Leigh and her employees, JMac and Tony, are going on a business trip, and Chery made sure that Tony reserved two rooms, one for the guys, one for her. What the guys don't know is that Chery canceled the second room. Now why would she do that? "We'll make it work," Chery tells them when they get to the hotel. How? One bed. One woman. Two guys. How can that work? Well, you see, Chery doesn't plan on sleeping in that bed. She plans on spending her time sucking and fucking their two cocks. And if they want to cum all over her pretty face..well, that can work. Chery is a 57-year-old blonde from Florida.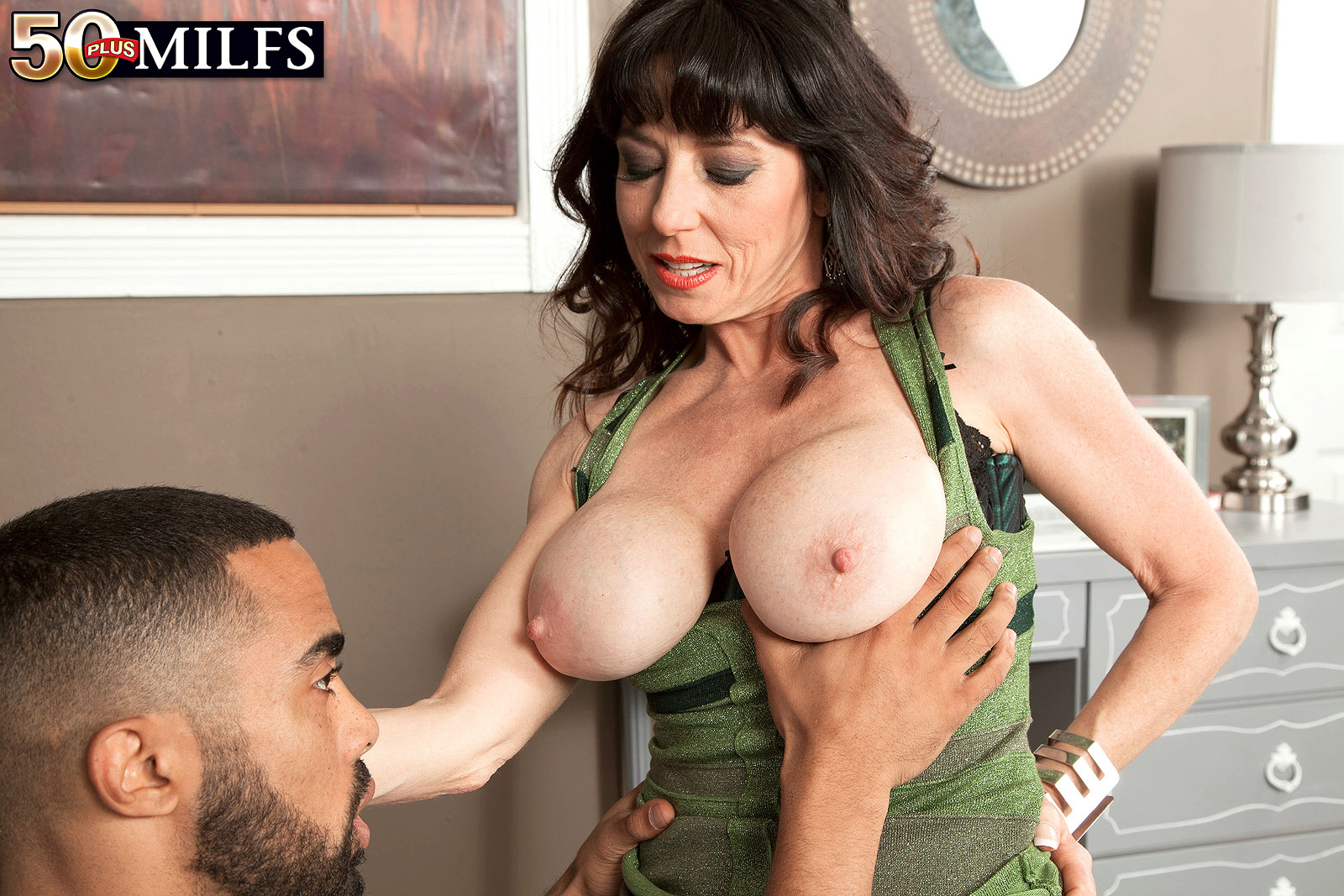 Karen Kougar - Karen Kougar Is Back For A Big, Black Cock. The first time we saw Karen Kougar, at 40SomethingMag.com, she was 46 years old and a brunette. She was a very hot fuck, taking a big cock up her ass in her very first scene and getting DP'd in her second. But it wasn't just the fact that she was doing these things that made Karen so hot. It was how she did them. She slobbered on the cocks. She took them deep down her throat. She moaned loudly and talked dirty while she had cock in her old cunt. This woman didn't just fuck on-camera. She loved fucking on-camera, and it showed. The next time we saw Karen was in 2012 at 50PlusMILFs.com, this time she was a redhead, and she was as horny and enthusiastic about fucking porn cocks as ever.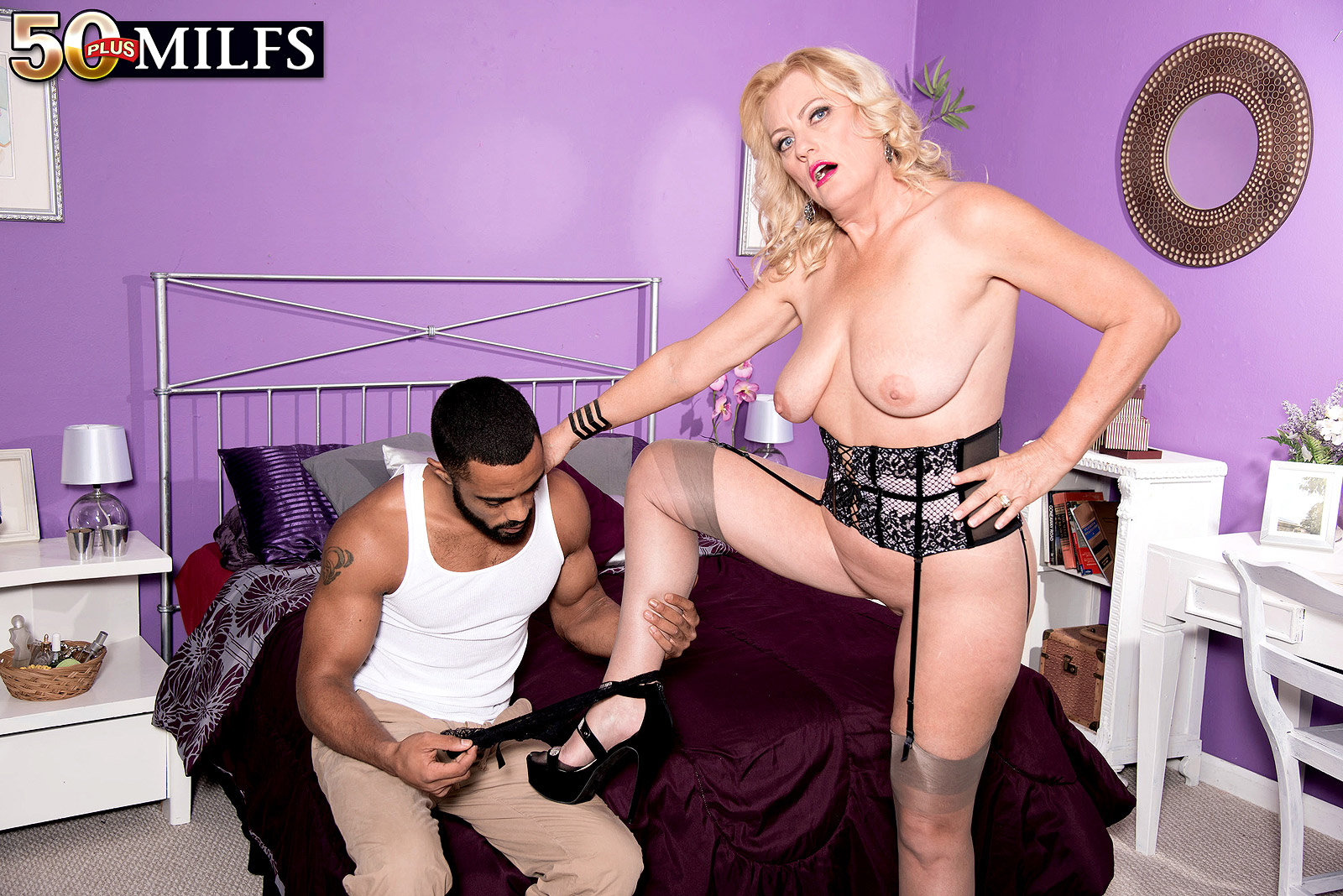 Lady Dulbin - For Starters, A Bbc And A Creampie. Lady Dulbin--yes, that's Dulbin, not Dublin--makes her worldwide sucking and fucking on-camera debut by taking on Stallion's big, black cock and having him cum in her pussy. Playful and sexy, Lady Dulbin is a 54-year-old wife and mother from California who has been an anthropologist and describes herself as a "dominatrix life coach." That might sound like she tells guys what they're going to do with their lives, no ifs, ands or buts about it, but she'll explain in the video interview. Blond-haired, blue-eyed Lady Dulbin is a nudist and has been a swinger for about 15 years. She says her wildest swinging experience took place by an Olympic-sized pool in Las Vegas. "I had sex with all the girls in a cabana under the stars," she said. So, yes, she likes pussy and cock. She's into younger men. She had sex with a guy who was 20 years younger than her. He was a sophomore in college. "He was into younger women.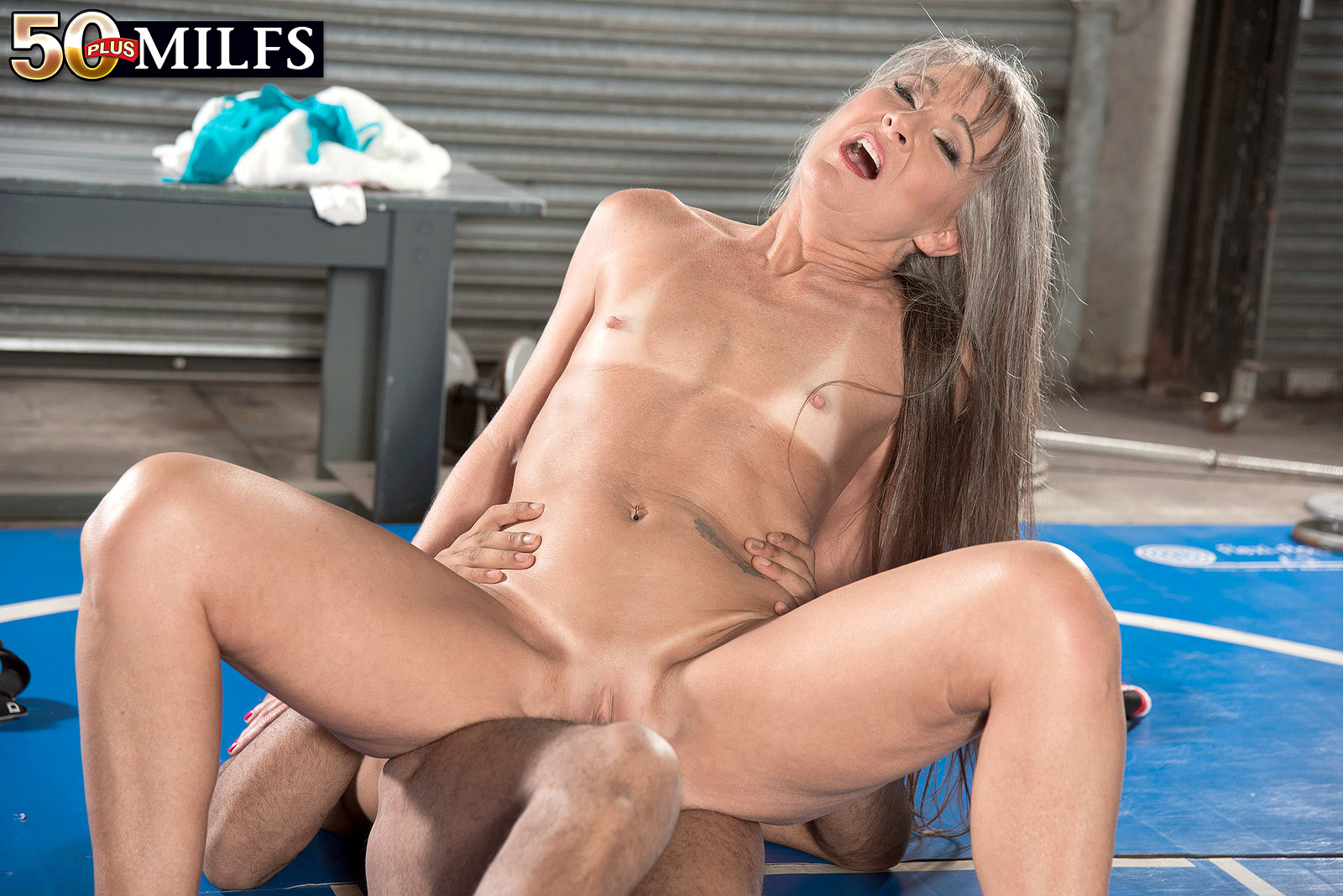 Leilani Lei - It's Bbc Day For Leilani. The last time we saw 50-year-old wife and mom Leilani Lei, we asked her, "What's up?" And Leilani said. "Hopefully a cock is up somewhere?" Well, cocks are always up when Leilani's in the vicinity, and this time, a big, black cock is up and ready to fuck her tiny body. "I don't feel 50," said Leilani, who we first met at 40SomethingMag.com. She doesn't look it, either, even though she has long, grey hair that gives away her age in a very sexy way. "My man cooks, cleans and runs errands so I?can concentrate on being sexy," Leilani said. "The way I?look at a man and wiggle my body at him makes him feel as if he is the only man in the world." Leilani lives in Florida. We asked her if she watched her scenes at 40SomethingMag.com, and she said, "Yes! I watched them with my hubby." We asked her what she thought about those scenes, and she said, "I was very happy with them. I thought I did okay for the first time but there was room for improvement." These hot MILFs can be so critical of themselves. They're always looking to improve. So, here, Leilani is in the gym with Stallion.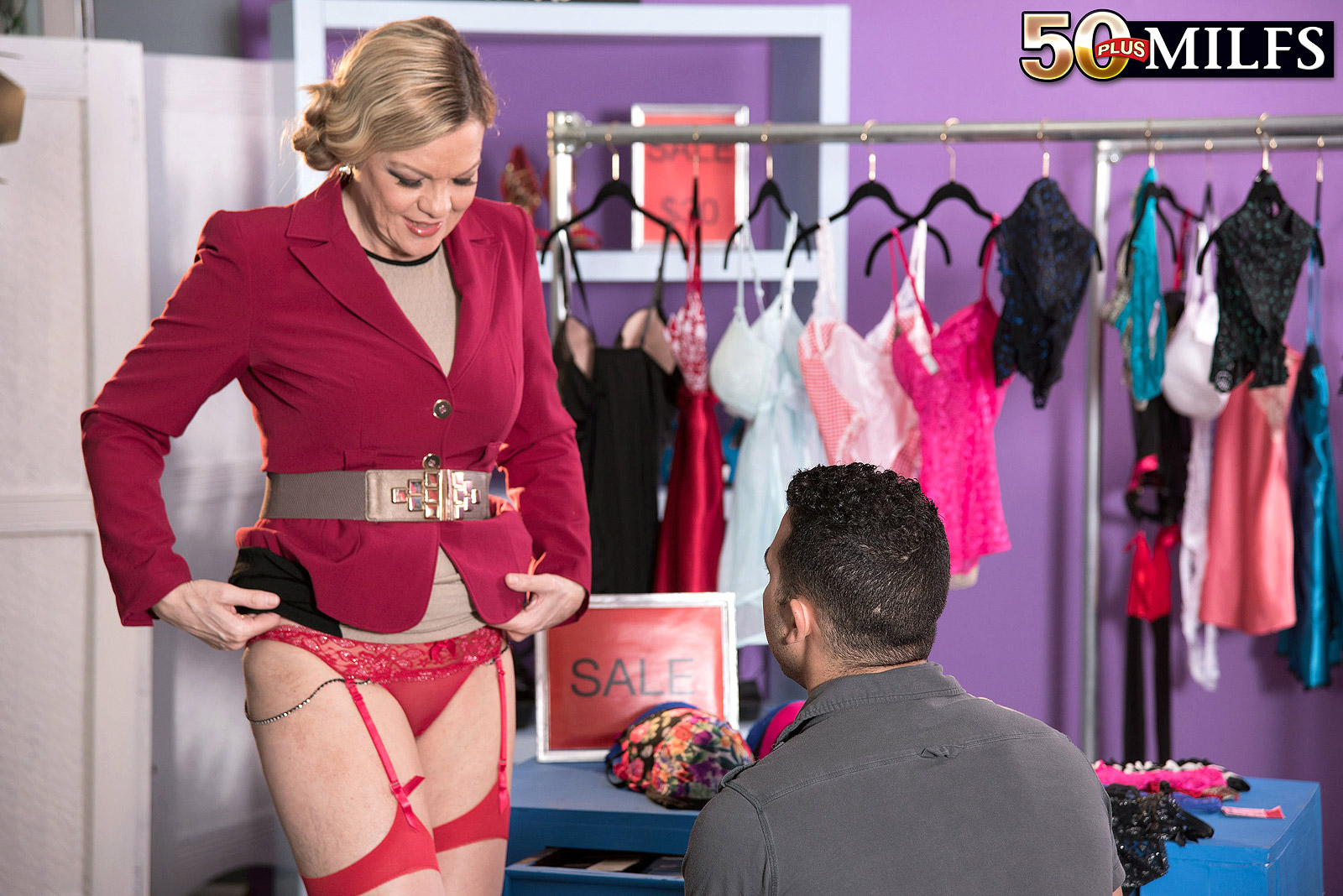 Lena Lewis - Lena's First Time. Lena Lewis, a 51-year-old cougar who was born in Germany and lives in New York City, makes her 50PlusMILFs.com debut by sucking and fucking Rocky's 25-year-old cock. Here, she's the owner of a store that sells sexy lingerie. Rocky comes in looking for something for his girlfriend. She shows him a pair of crotchless panties. "It's a little naughty but I'm sure you'll have fun with it," she says. "Do you think she would like it? Do you want me to show you a little more?" So much for the girlfriend. Rocky's about to get some experienced pussy. "I lead a sort of double life," Lena said. "I have to be very secretive about certain things I do and often have to tell a story." Lena has been an analyst, a personal assistant, a cabaret performer, a burlesque dancer and a bartender. She isn't a swinger or a nudist.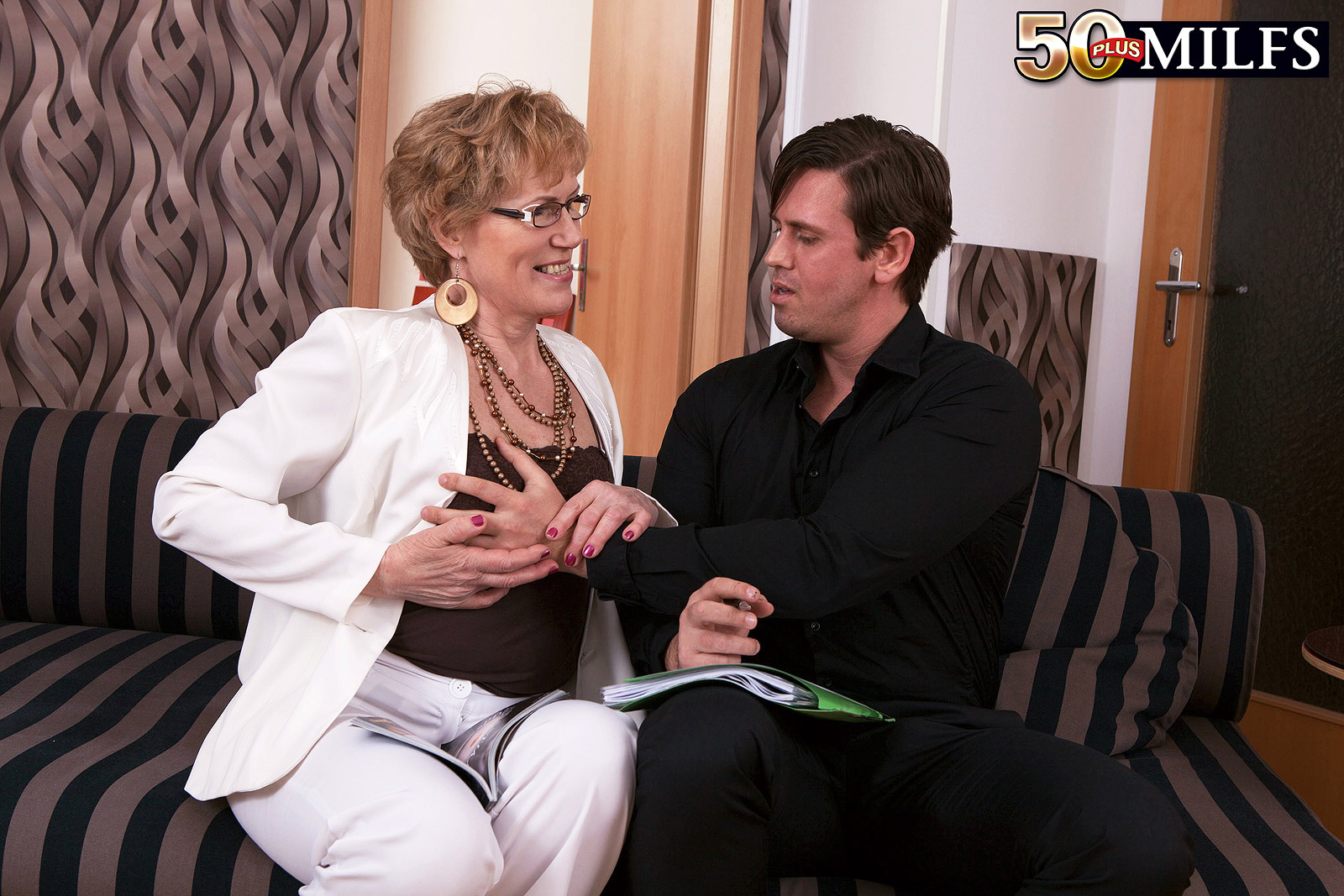 Georgina - Paint That Pussy. Georgina is from the Czech Republic. That might explain the misunderstanding when we asked her to name the most-fun job she's ever had and she said, "Gang bang. Ten old ladies, one young man." Well, yeah, we're sure there were blow jobs involved, but that's not what we has in mind. Then again, she seemed to understand us when we asked her what she'd like to do that she's never done. She said, "I would like to fly in a helicopter and sail on a sailboat." In this, her first fuck for 50PlusMILFs.com, 58-year-old Georgina is wearing glasses. She seems to be an art teacher of some some kind. She gives the guy something to draw. His drawing looks pretty bad, but she says, "Very good." Only a horny woman would think it's very good. But he can improve..if only he had the real thing to draw. Well, Georgina solves that problem by popping out one of her tits.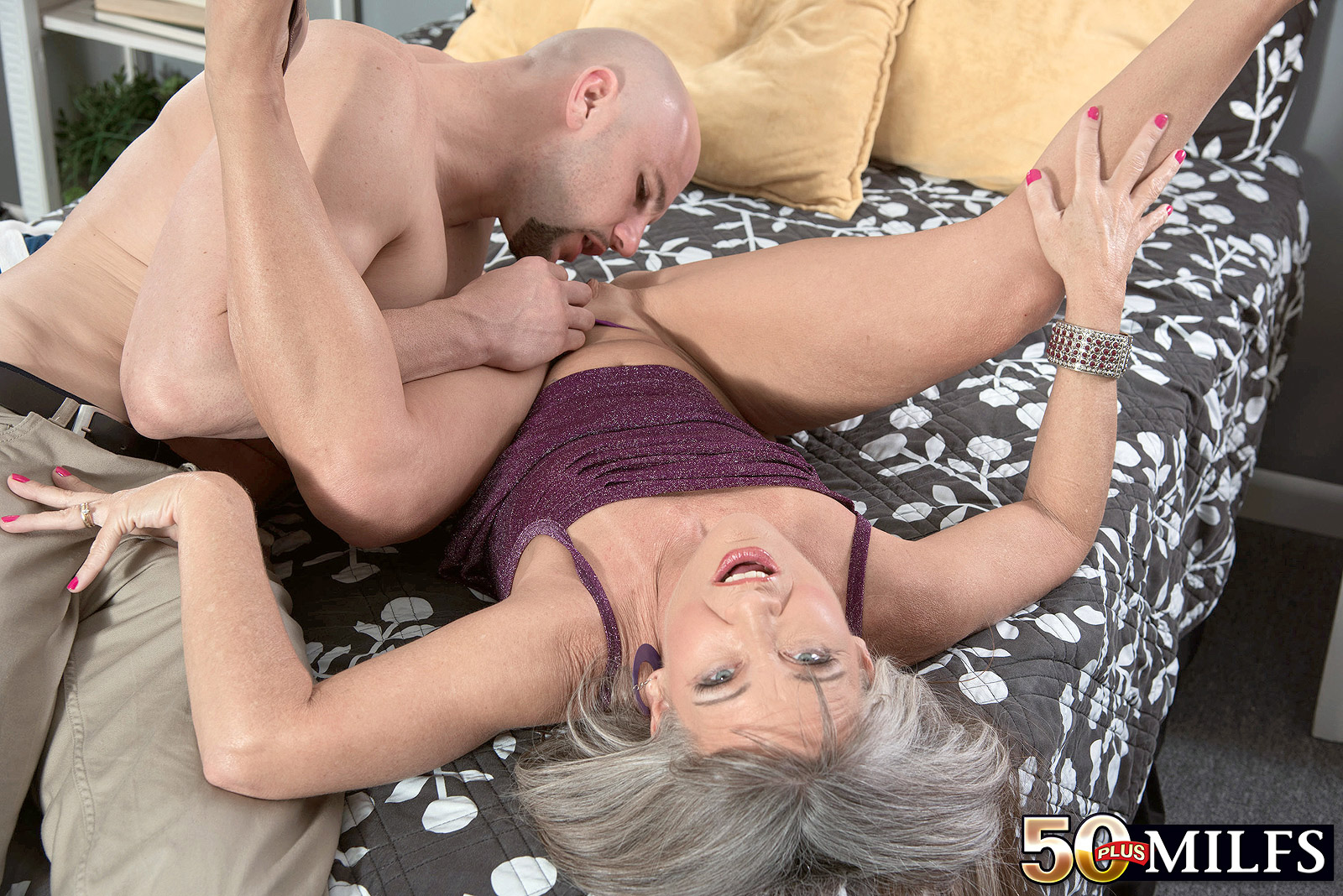 Leilani Lei - The Fuck Toy Gets Fucked Every Which Way. "You're a fuck toy," the 50PlusMILFs.com editor told Leilani Lei. "Thank you!" Leilani said with a smile. And then she proceeded to show why she's a fuck toy: by contorting herself into all types of hot fuck positions and then taking a big cock from JMac, a guy who's twice her size. Yes, Leilani Lei, one of our favorite 40SomethingMag.com ladies, is now a 50PlusMILF. She's a 50-year-old wife and mother from Florida, and she lives a very open life (her kids know she's here). Your editor has fond memories of staring into Leilani's pussy and asshole while interviewing her for 40SomethingMag.com. Leilani had her feet behind her neck for part of that interview, and that inspired this scene, in which Leilani flexes and gets manhandled by JMac. "This should be fun!" Leilani said. Turned out it was, for Leilani and for JMac, who kept talking about Leilani's great pussy. It looks great.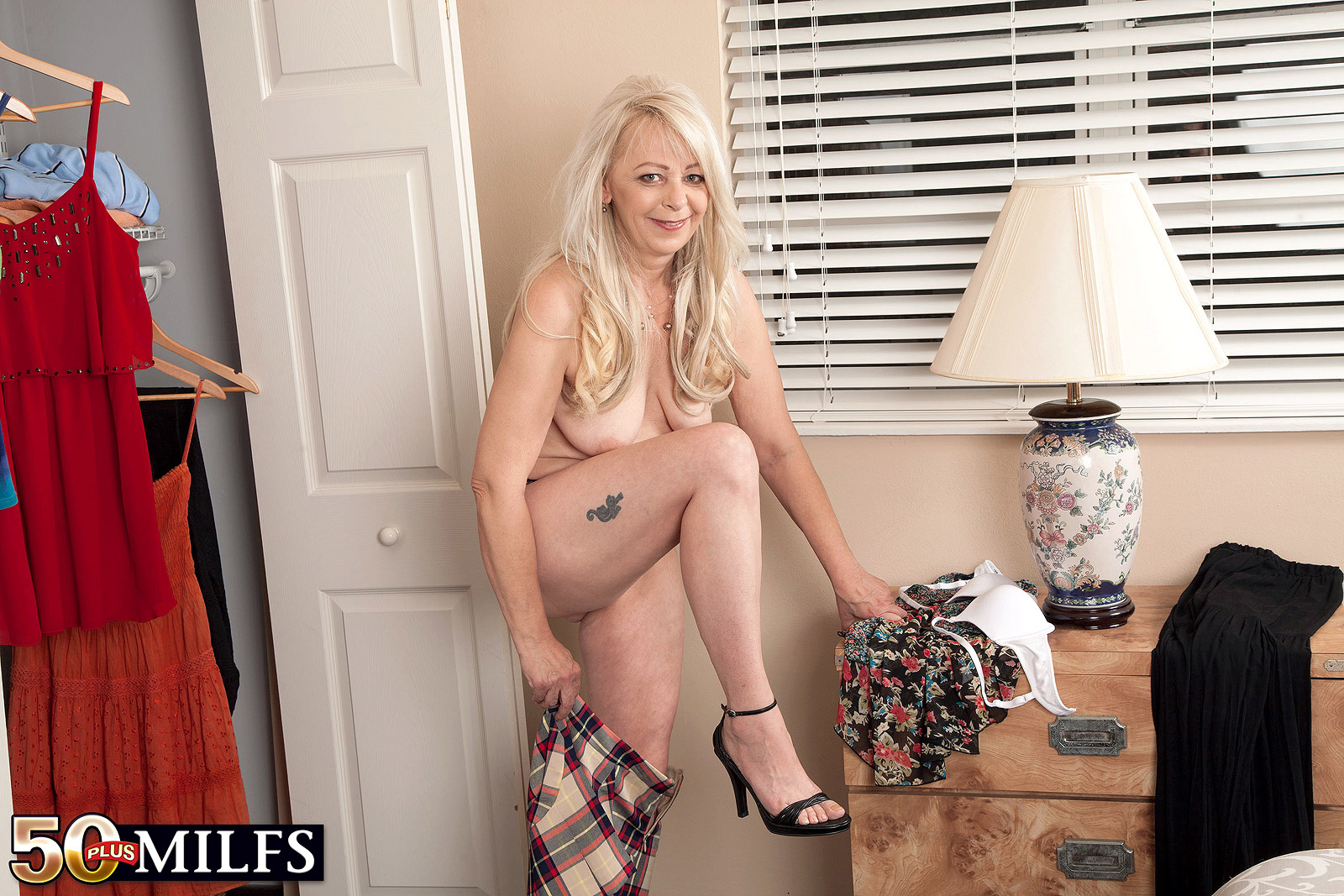 Heidi - It's Laundry And Fucking Day At Heidi's House. We asked Heidi, a 51-year-old divorcee from Germany, if she'd ever had sex with a much-younger man, and she said, "Just 10 years younger. Having sex with a much-younger man is on my bucket list." Well, in this, her first fuck at 50PlusMILFs.com, Heidi is having sex with a 26-year-old stud, so it's not just Heidi's first time here, it's Heidi's first time with ultra-young cock. Heidi is doing the laundry and going through her daughter's clothes. She can't believe what slut-wear her daughter has been wearing, and she decides to try on some stuff. Well, her daughter's boyfriend shows up and watches her for a while. "What are you doing here?" Heidi says when he walks in. "You should call. You were watching me?" "Honestly, you look a lot better than she does," he says. That's probably true. It's definitely true that Heidi sucks and fucks cock better than any girl half her age.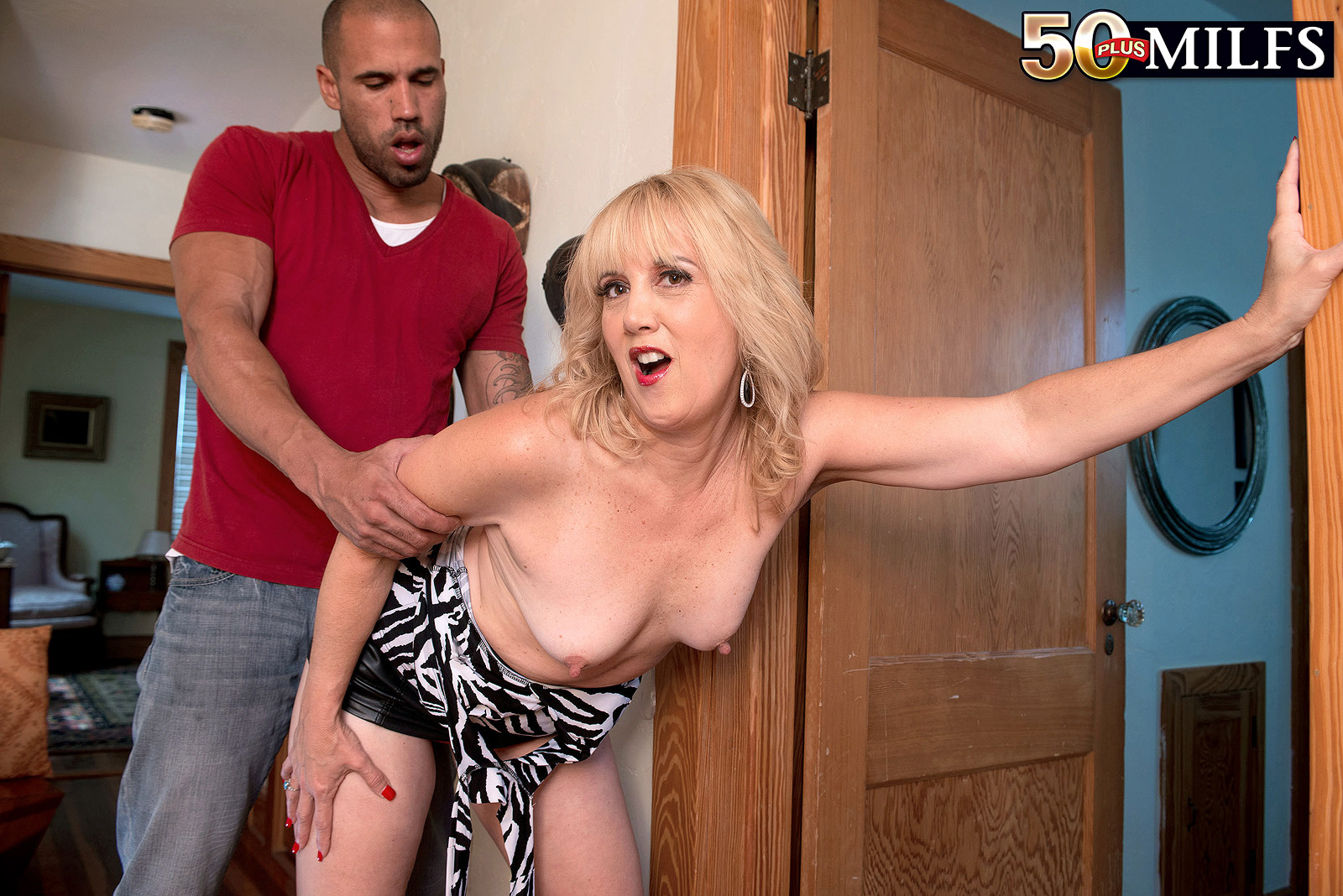 Rebecca Williams - The Milf At The Top Of The Stairs. This is Rebecca Williams' second time at 50PlusMILFs.com. We asked her how she got here in the first place (other than by plane and car, of course), and she said, "A girlfriend of mine who posed for you recommended it. I'd never really thought of doing professional porn before, but I?was already doing amateur stuff, so I went for it." Here, Rebecca goes for it with Carlos. Or he goes for it with her. She's standing at the top of the stairs, wearing a short, black, leather skirt. She lifts her skirt to show him what he's about to get and ends up sucking his cock in the hallway. Then she takes him into the bedroom, where she gets her ass up in the air so he can fuck her pussy. Rebecca is a 51-year-old wife and mother from Tampa, Florida. She's a swinger. She definitely has a wild side.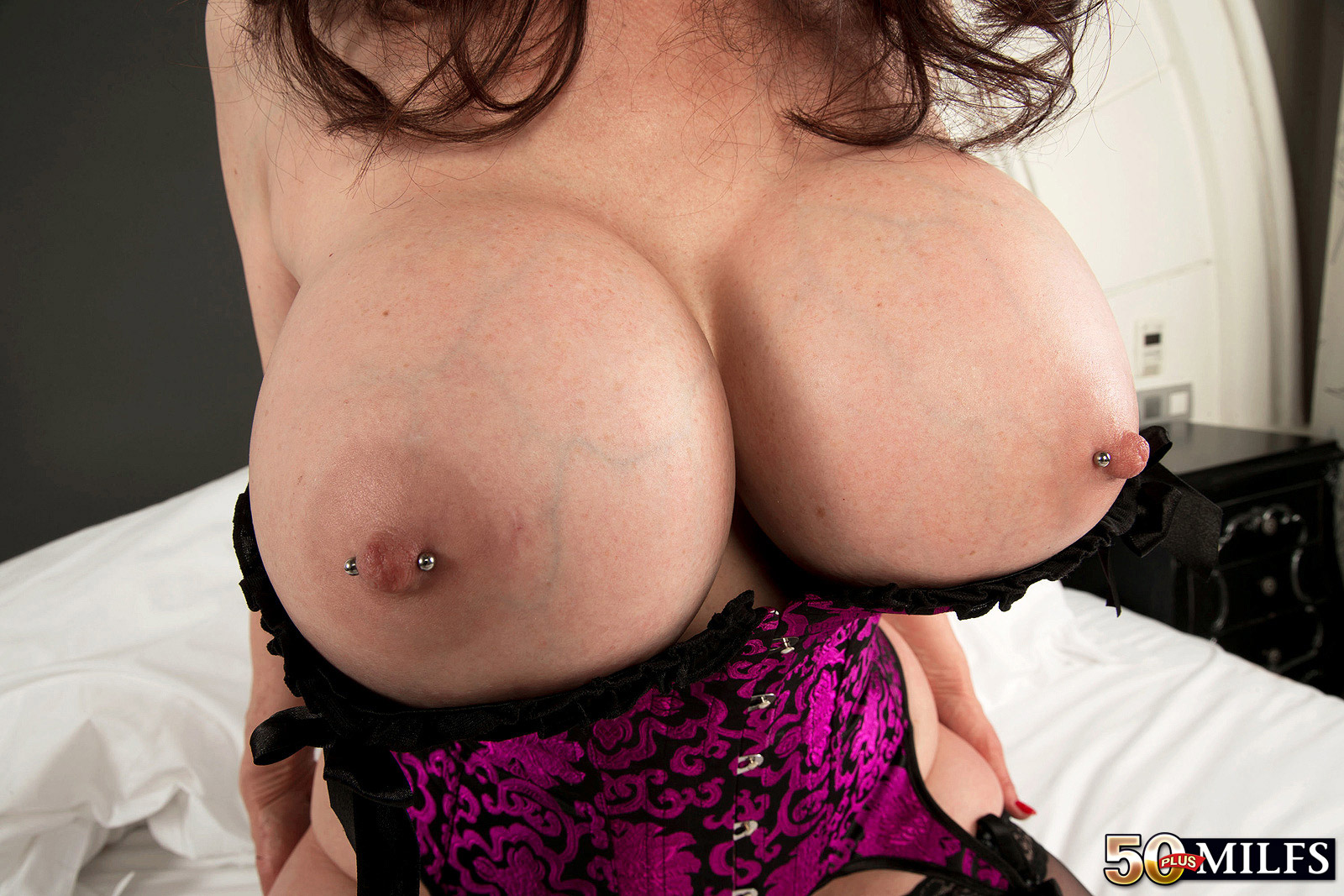 Michaela O'Brilliant - Pierced And Ass-fucked. "Most of the time I?like rough, hard sex," said 58-year-old Michaela, who returns to get it rough and hard in her tight butthole. "I?like something that is going to make me scream. I?like slow, passionate sex as well, but I?prefer to do that with only a select few." Not with this guy. Sure, he eats her pussy. She, Michaela gives him a foot job with her stockinged feet. But most of this scene is about a sexy MILF getting ass-fucked hard, so hard that her asshole gapes, and opening her mouth for cum. "I like being different. Being boring is the worst," Michaela said. How is she different? Well, she has big, pierced tits. She has six piercings on her pussy lips.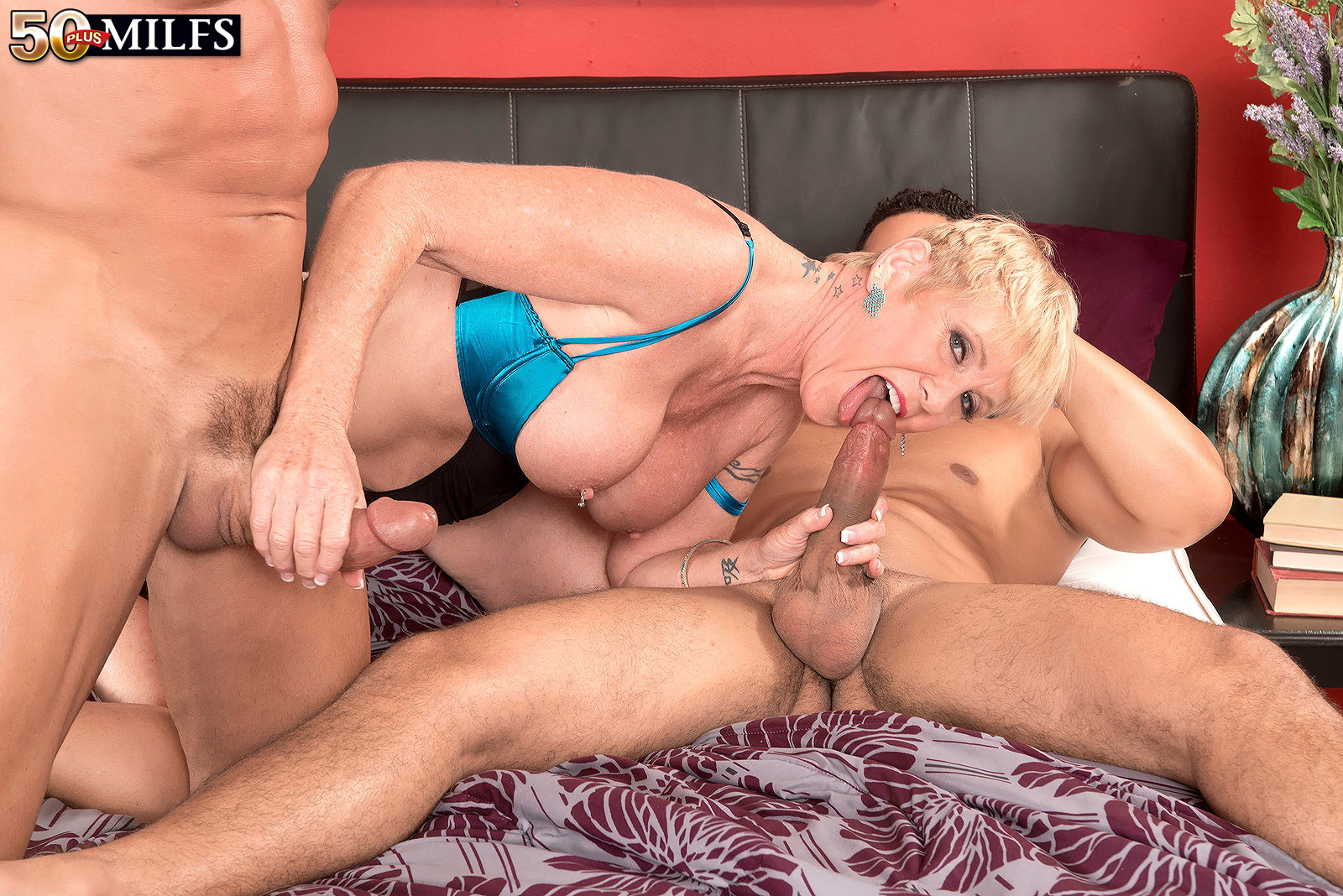 Honey Ray - There's Nothing Like The Real Thing. Seems as if the guys are very interested in the issue of 40Something magazine in which Honey Ray had a foursome with porn star Robin Pachino and two studs. "Wouldn't you rather have the real thing?" 59-year-old Honey asks. But she doesn't wait for their answer. She just grabs their cocks, and away they go! This is the eighth time Honey Ray has fucked in our studio, and it's her third group scene. In real life, Honey Ray is a quiet, laid back woman. She's married. She has children and grandchildren. But here, she's wearing sexy lingerie that shelves her big tits and pierced nipples, and when she takes off her panties, she displays her pierced pussy. Quiet? Laid back? Okay. We asked Honey Ray if she's watched her scenes with her husband, and she said, "Of course! He loves it.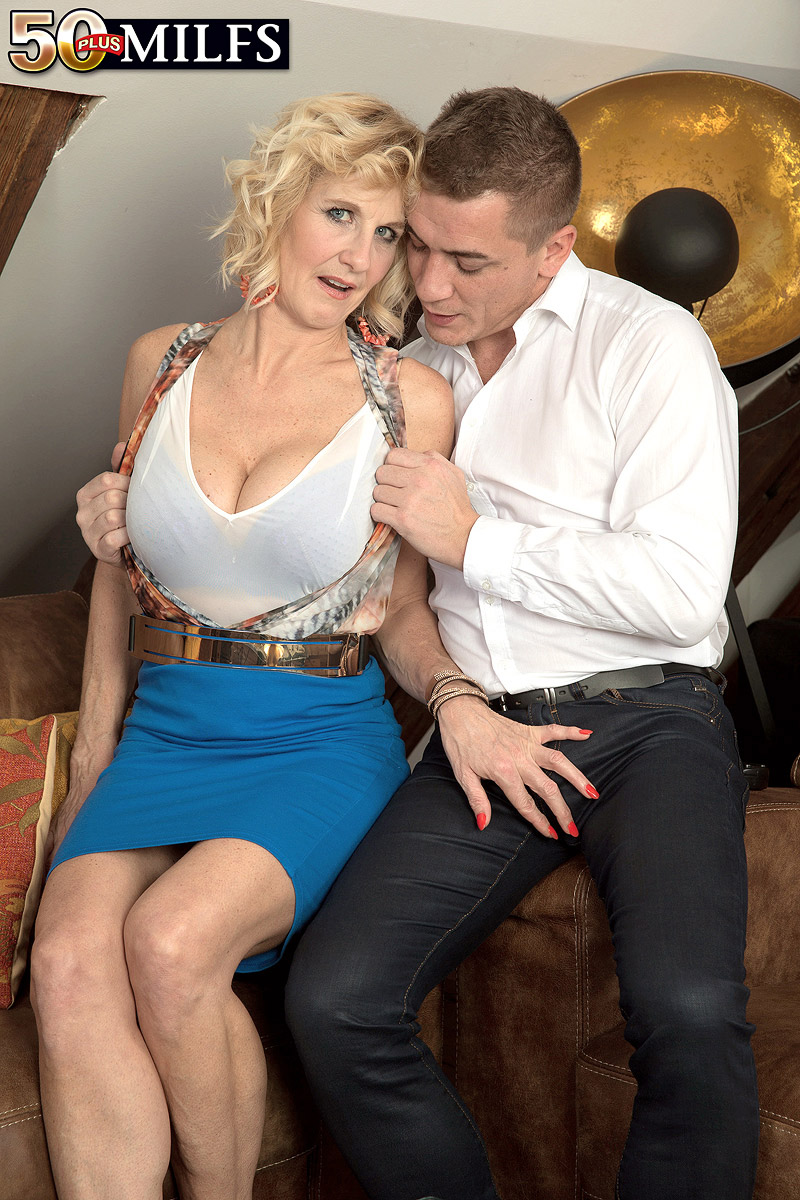 Molly Maracas - A British Cougar Named Molly. We don't get a lot of British MILFs, but here's one for you: Molly Maracas is a 51-year-old divorcee from London, England. She has a really nice body. It's curvy but tight. Molly measures 36-24-34, which is impressive at any age. She looks tall because of her long legs, but she's actually 5'4". And she knows she's sexy. When she goes out for the day, she wears short skirts with stockings and heels. All the men check her out, and she likes that, too. Molly's tits are really nice. Her mouth is good at sucking cock.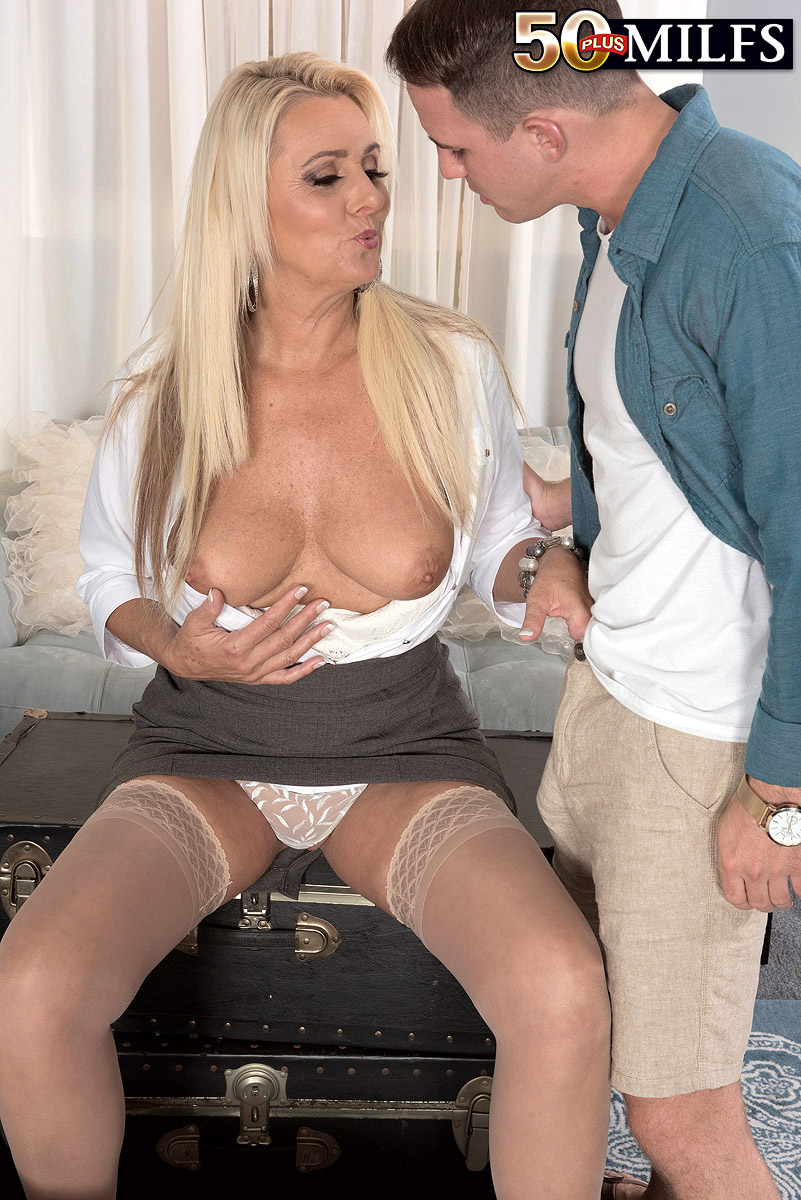 Dallas Matthews - Madison Milstar Presents Dallas Matthews In Her Xxx Debut. Tall, blond and sexy, 56-year-old cougar Dallas Matthews is a lot of woman, and she's making her fucking-on-camera debut right here. And how did Dallas find us? In one of our favorite ways: She was referred to us by 60PlusMILFs.com newcomer Madison Milstar. Dallas and her boyfriend have played with Madison and her husband. Last summer, Madison visited our studio and broke her porno cherry. She had such a good time that she told her friend. And now here's Dallas, sucking and fucking a 24-year-old for all the world to see. Thanks, Madison. Thanks, Dallas! Dallas is six-feet tall. She's from Washington. She's a cougar.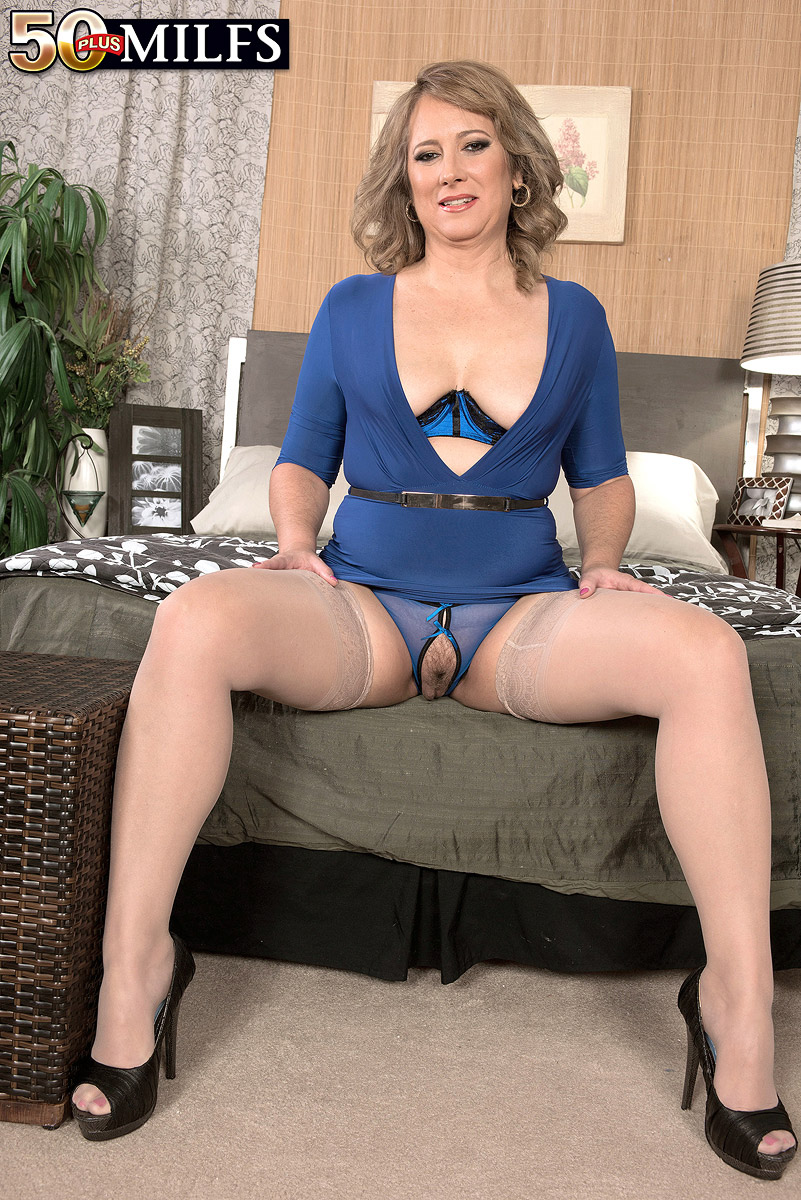 Catrina Costa - Cats Getting Her Ass Fucked. Back already? Indeed, 50-year-old Catrina Costa debuted just about a month ago, but she's already back for a very special reason: She wanted to get her ass fucked by a porn stud, and we made it happen. Actually, Catrina makes it happen with her sexy body, cleavage-revealing dress and bangable bottom. "Anal sex is a new experience for me compared to other activities," said Catrina, who's divorced, was born in Rhode Island and lives in California. "I've done it from time to time. I'm looking forward to doing it with a porn stud. I've never done that before." But she's done a lot of other things. "My boyfriend and I host bi-friendly weekly gang-bang parties. Just recently, we made me air-tight. I had my mouth, pussy and ass filled at the same time, so I was sucking one guy's cock while two other guys were DPing my pussy and ass. It was awesome!" We asked Catrina how often she has sex, and she said, "Is 'not often enough' a good answer?" It's the best answer possible.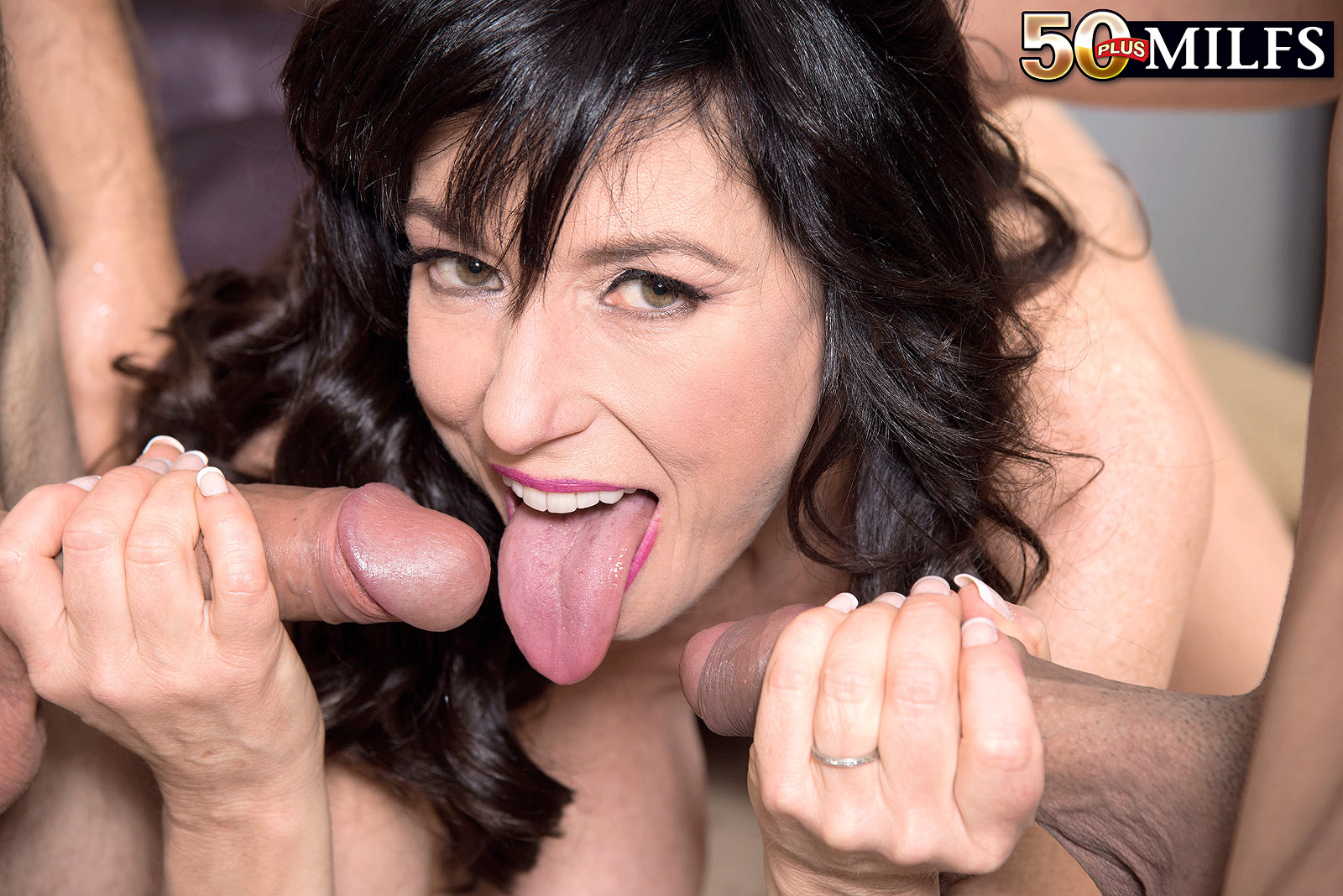 Karen Kougar - Two Young Dudes Dp Karen Kougar. So 25-year-old Ivan and 26-year-old Rocky are standing by the bedroom door watching stark-naked 53-year-old Karen Kougar playing with herself. She has a big, black dildo in her pussy, anal beads in her asshole, one hand rubbing a nipple and the other fingering her clit. She doesn't know they're there, and she's moaning loudly and having a great time and really causing a racket when the guys decide to intrude on her good time and turn it into a great time. And that's how Karen's second DP for The SCORE Group (the first was in 2008 at 40SomethingMag.com) gets started. Before this MILF from upstate New York knows it, she has a cock in her mouth and a cock in her pussy, and then the two young guys are fucking her pussy and asshole at the same time. "I love it," Karen said. "I had done DP in swinging settings, but it's not the same as on-camera. On-camera, you have to worry about the angles and make sure the camera can see the cocks in your pussy and your ass at the same time. In your personal life, two guys are fucking you and you don't worry about anything but cumming, but it was amazing sex, and I was so into it, mostly because I knew what I was doing on-camera was so nasty and naughty." Very naughty. That's how Karen is.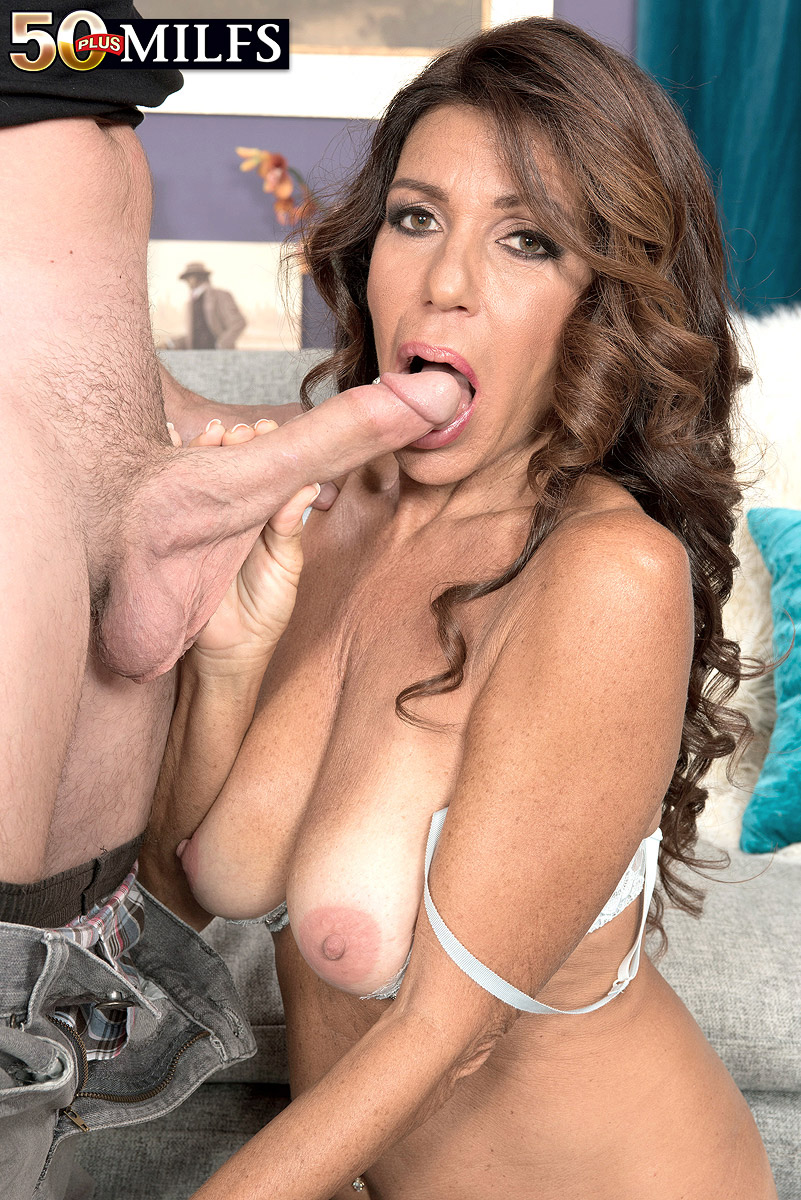 Layla LaMora - First-timer Layla Is Quiet, But Shes A Great Fuck. Sometimes the quiet ones are the hottest. Layla LaMora, a 52-year-old first-timer from Florida (born in New York) was very reserved when she sat down for an interview with the 50PlusMILFs.com editor. She answered all of his questions in a polite manner and came across as reserved. And then the stunt cock showed up, and Layla turned into a different woman..the kind of woman we love. Yes, she engulfed his cock. Yes, she fucked it. Yes, she took a big load of cum all over her face and played with it. Never discount the quiet ones. Layla says a man attracts her attention by "being sweet." She discovered us while surfing the Internet. We asked her if the people she knows would be surprised to see her here, and she said, "I'm not sure.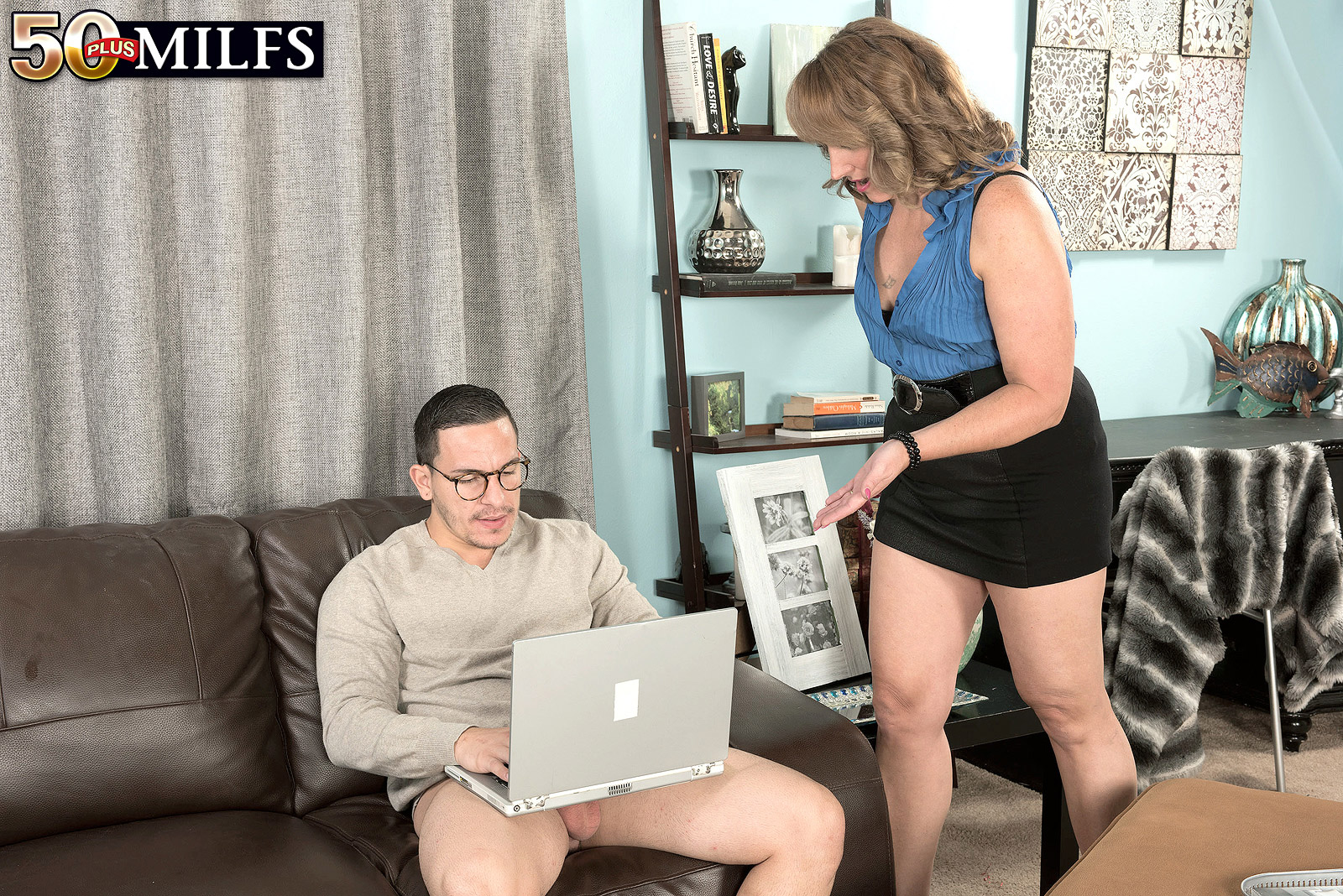 Catrina Costa - Catrina Fucks Her Best Friends Son. Catrina Costa, 50, catches 22-year-old Peter jacking off at his computer. He's embarrassed. She's not. "That looks pretty interesting," Catrina says. "Catrina, my mom's not here," Peter says, flustered, trying to cover his penis. "She's not going to be back until later, so you can go now." "Peter, show me, I wanna see," Catrina insists, dressed sexily in a cleavage-revealing top and a short skirt. Catrina has known him since she was little. She and his mom are best friends, and now she's going to help out her best friend's son by showing him how to treat a woman. Catrina knows how she wants to be treated. This is her first time fucking on-camera, but this divorced mother-of-three from Rhode Island (now living in California) is a swinger.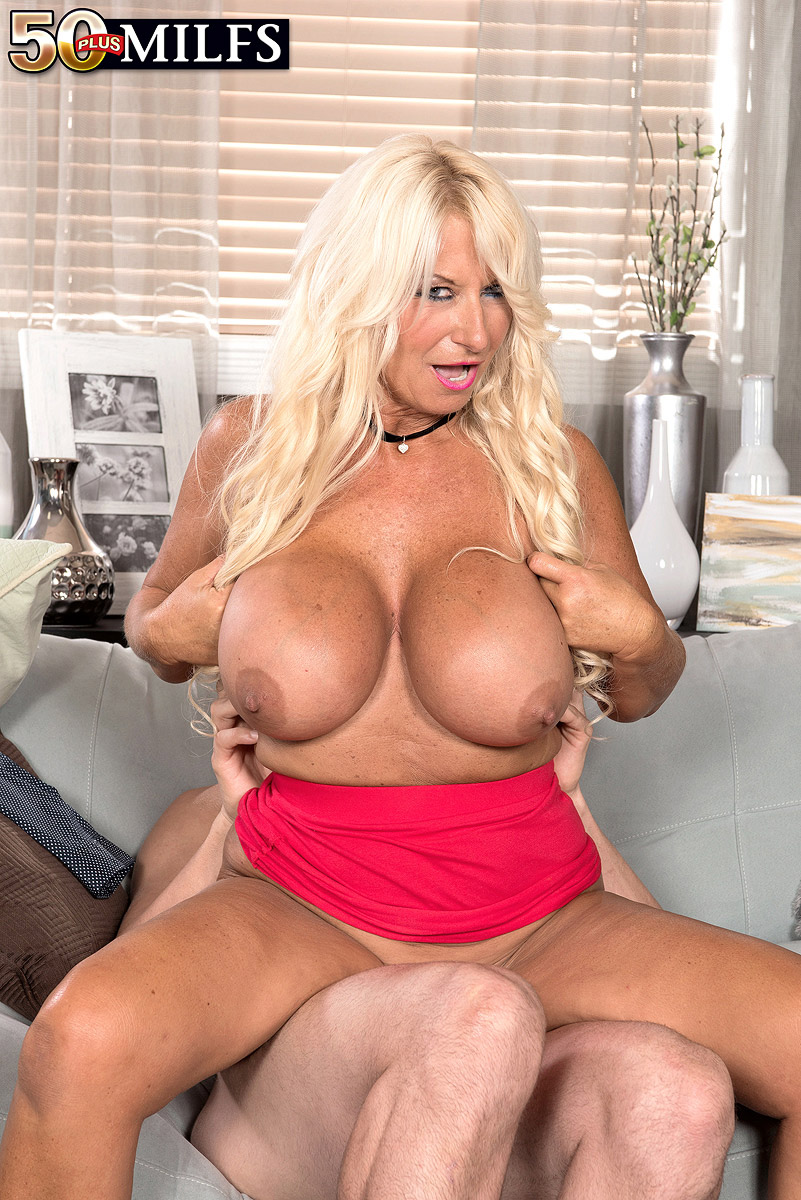 Annellise Croft - Annellise Crofts First Anal Scene. A little over a year and a half after she made her sucking-and-fucking on-camera debut at 40SomethingMag.com, big-titted British MILF Annellise Croft, a woman who's very popular at Scoreland.com, too, gets ass-fucked on-camera for the first time. And she takes JMac's cock up her ass, so this is no beginner anal for Annellise. She even gets ass-fucked in the piledriver position, a JMac specialty, then rammed unbelievably hard doggie-style before he cums on her face. Annellise was very nervous when she showed up at our studio for her first anal bang. Her anal experience was extremely limited, so she prepped for the big day by stretching her asshole with butt plugs and toys. Good job, Annellise. JMac slides in smoothly after the first firm push into her rectum. Annellise is 51. It's about time she did anal, right? Annellise is beautiful. She's sexy.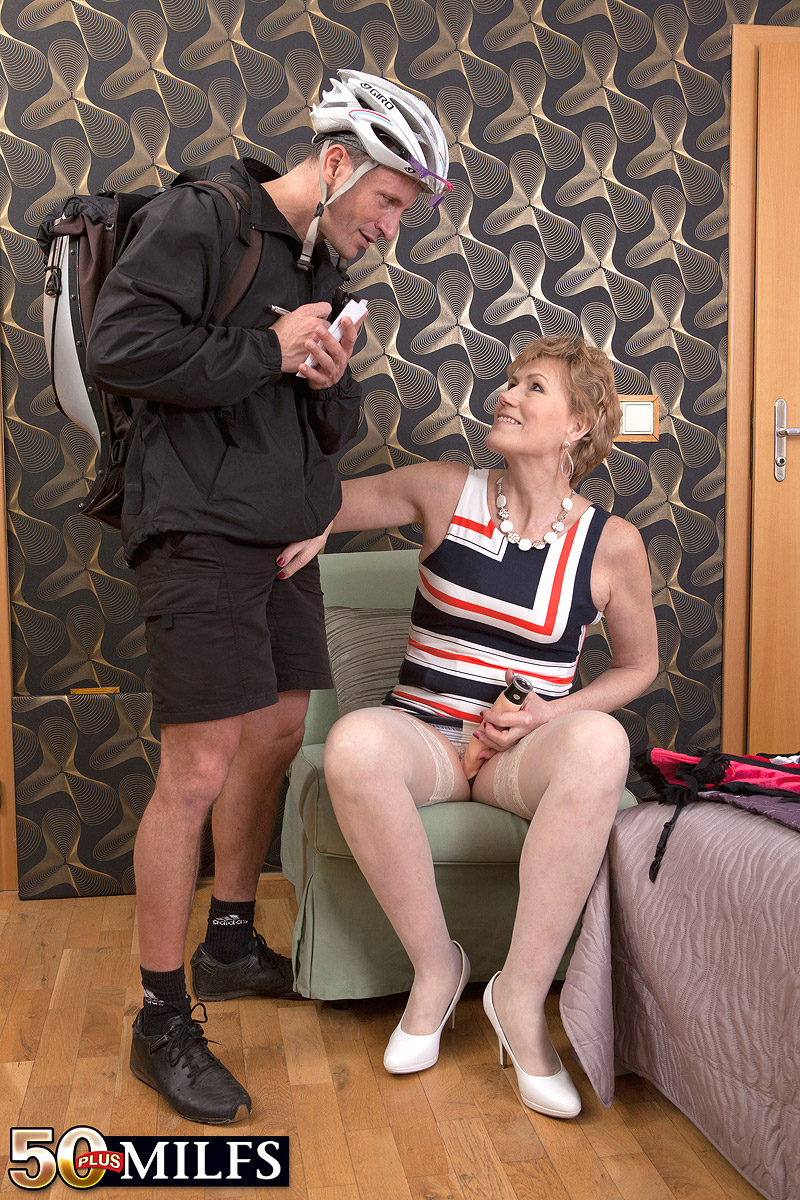 Georgina - Because Old Broads Can Be Porn Stars, Too. Fucking the bike messenger might not be your fantasy, but it's definitely Georgina's. Now 59 years old, this divorcee and mom has that itch for cock that divorcees often get, and she satisfies it here by having sex with a total stranger. Georgina is from the Czech Republic, one of the porn capitals of the world. She told us, "A lot of my friends have daughters who are porn stars. I thought, 'Why can't I become a porn star, too?'" No reason at all. In the Czech Republic, girls are brought up to think that sucking and fucking cock on-camera is a respectable profession, and it is. In the United States, a girl might wait tables or work at summer camp to make money for school. In the Czech Republic, she fucks. Anyway, back to Georgina.. She's a MILF but not a GILF.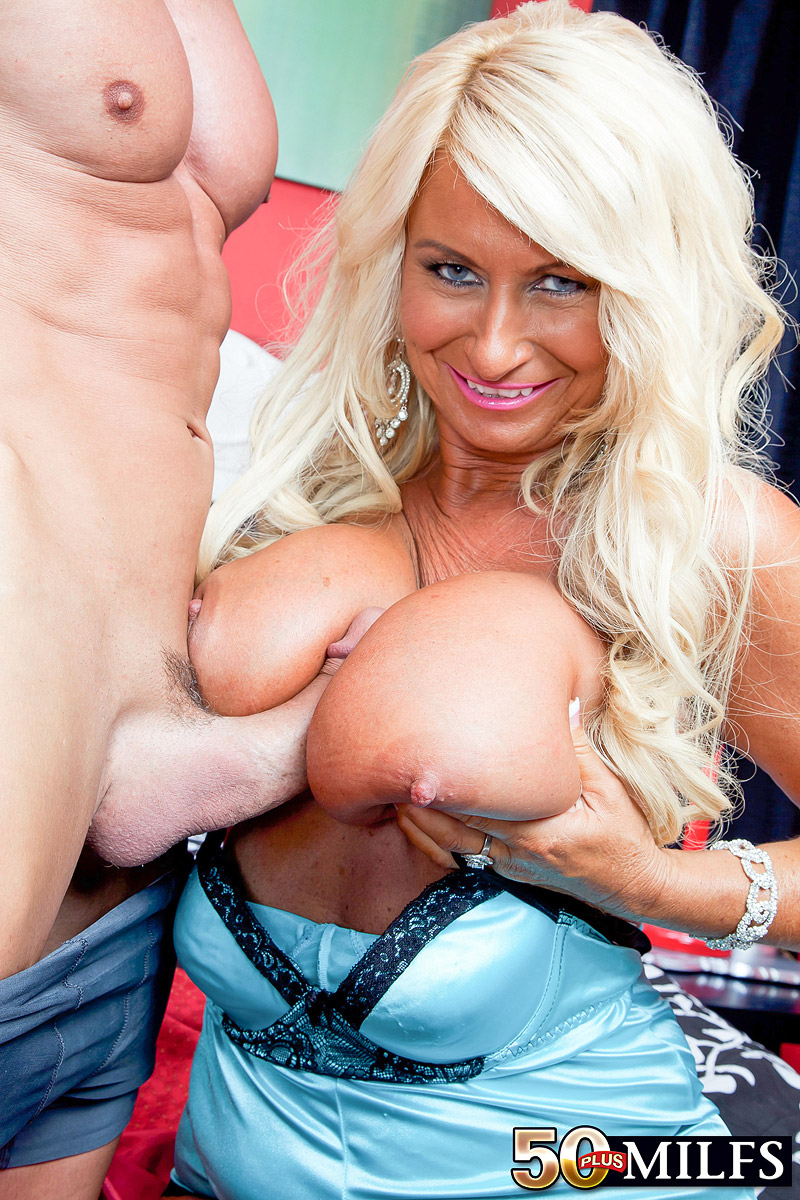 Annellise Croft - The Stacked Milf With The Super Nipples Gets Some More. "I'm just a little bit shy until I get to know somebody and get comfortable in my surroundings," said Annellise Croft, a 51-year-old mother and divorcee. "Then I will probably let it all hang out." She's letting it all hang out here in her return to 50PlusMILFs.com, having Tony manhandle her big, fat tits and suck her long, hard nipples. "I like to dress provocatively and classy at the same time," said Annellise, who is wearing sexy lingerie that her tits pour out of. "I'll wear a nice push-up bra for that. I like to be more of an exhibitionist at a club. I?guess the environment hypes me up. I like to dance and show it all off. That's why swingers places are good for me, so I can show it all off." She can show it off at 50PlusMILFs.com any time she wants. "I was at one club and I was dancing, and I'd had a few drinks, and some guy said to me, 'Oh, you have such nice boobs,' so I said, 'Do you want to see them?' I must've gone over-the-top because the bouncer came over to me and said, 'You'd better go if you don't put those away.'" Dumb-ass bouncer. All he had to do was be a nice guy and he might've gotten some of what Tony is getting.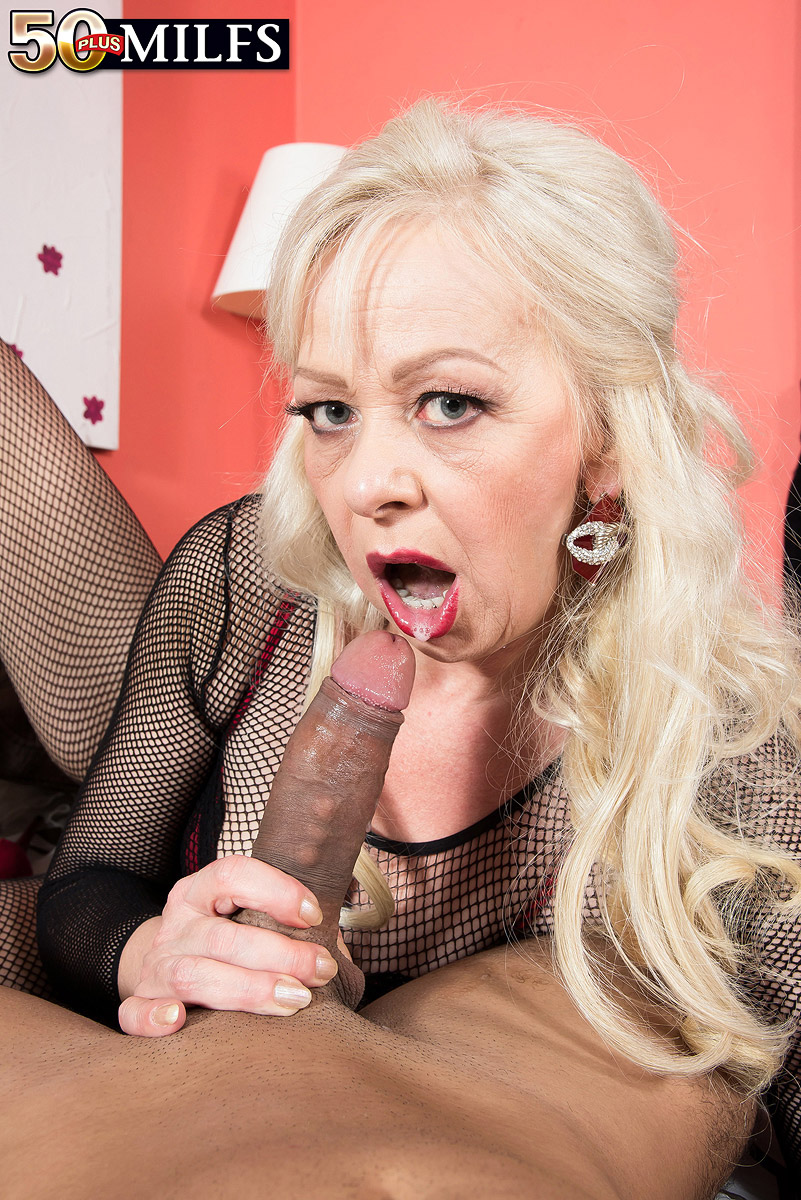 Heidi - The Wildest Anal-loving German Fuck Slut You've Ever Seen. If you're looking for romance, look elsewhere. If you're looking to see a 52-year-old slut divorcee, mother and grandmother getting her well-used asshole absolutely hammered by a 24-year-old stud, you've come to the right place. Because in Heidi's second-ever fuck scene at 50PlusMILFs.com, this old German slut really comes of age. And cums. Over and over. Heidi is wearing a crotchless, fishnet bodysuit and fuck-me pumps. She calls this outfit "slutty." She's absolutely right about that. Heidi is slutty, too. She can lock her legs behind her head in the hottest fuck-me positions imaginable. She can suck cock deep and take it deep in all of her hot holes.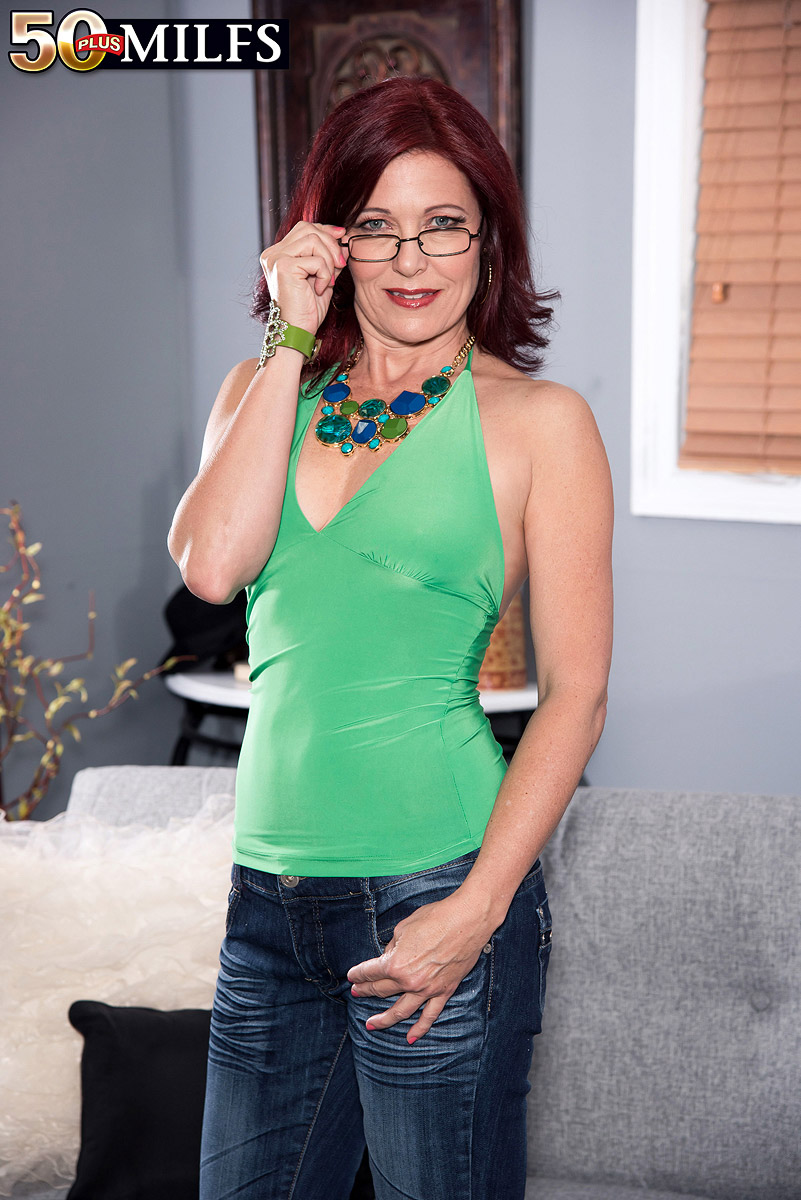 Dana Devereaux - Take This Dick And Suck It!. Dana Devereaux, a 51-year-old divorcee, is sitting on the couch in her apartment, working overtime with Brad, her 26-year-old employee. They've been working long, hard hours finishing up a project, and now Dana is ready for some fun time. "Do you have a girlfriend?" Dana asks him. He says he doesn't. She asks him if he watches porn. He says he doesn't. "Too bad you don't have a girlfriend," she says. "Do you at least have a fuck buddy?" Now, that's quite a question for a boss to ask her employee, but when a sexy cougar like Dana is doing the talking, you know it's going to lead to something good. Well, Brad doesn't have a fuck buddy. At least he didn't.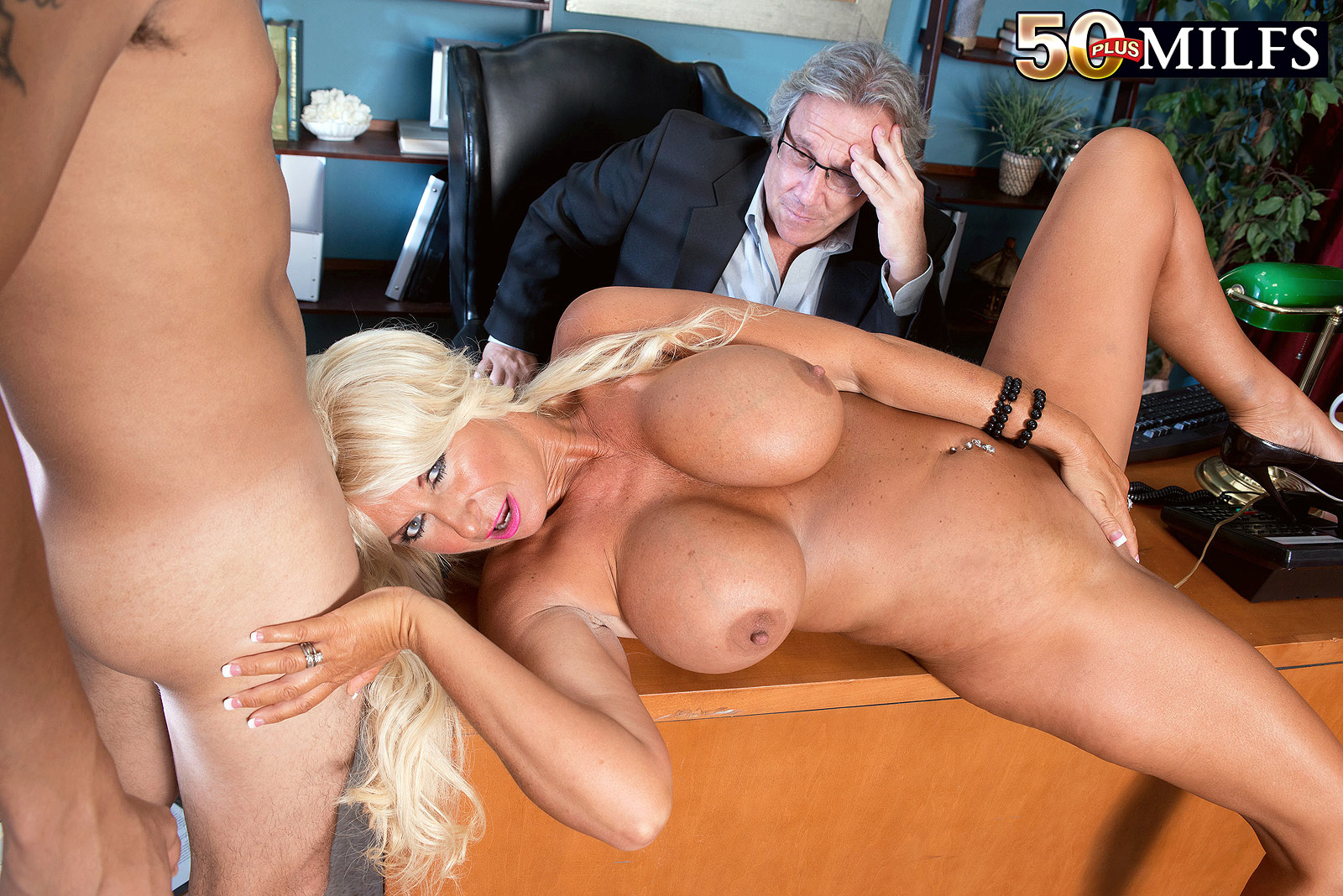 Annellise Croft - Annellise Makes A Cuckold. Annellise Croft, a 50-year-old MILF from England who has become very popular at SCORELAND because of her DDD-tits, makes her 50PlusMILFs.com debut by fucking a guy right in front of her husband. Yes, Annellise is making a cuckold out of hubby, and if he doesn't like seeing his wife sucking and fucking a strange cock, tough shit! Ya wanna keep a piece of ass like Annellise for your wife, you're gonna have to make some concessions here and there. 50PlusMILFs.com members, do you like cuckold scenes? Should the husband be humiliated in these scenes or should he be encouraging his wife to fuck strange cock? How far should we go? Do you want to see the husband licking the stud's cum off his wife's body (that doesn't happen in this scene) or maybe doing a snowball? "Hi, honey,"?Annellise says to her man. "Look what I brought home! His name is Juan, and guess what? I'm going to suck his dick and fuck him right in front of you, and you're gonna have to stand there and watch." Isn't Annellise's hubby gonna get any??Of course not. That's what being a cuckold is all about. So he sits there while Juan slides his cock between Annellise's jugs and makes her long, rock-hard nipples even longer and harder, and he watches Annellise wrap her mouth around Juan's long, thick cock and wonders, "How come she never sucked my cock like that?" Between sucks, Annellise mocks him by saying, "Maybe you'll learn how a real man fucks me. Oh, his cock is so good! How come your cock is never like this!" Basically, Annellise is telling her man that he's lucky he gets to fuck her at all. And to tell you the truth, we kind of agree with her.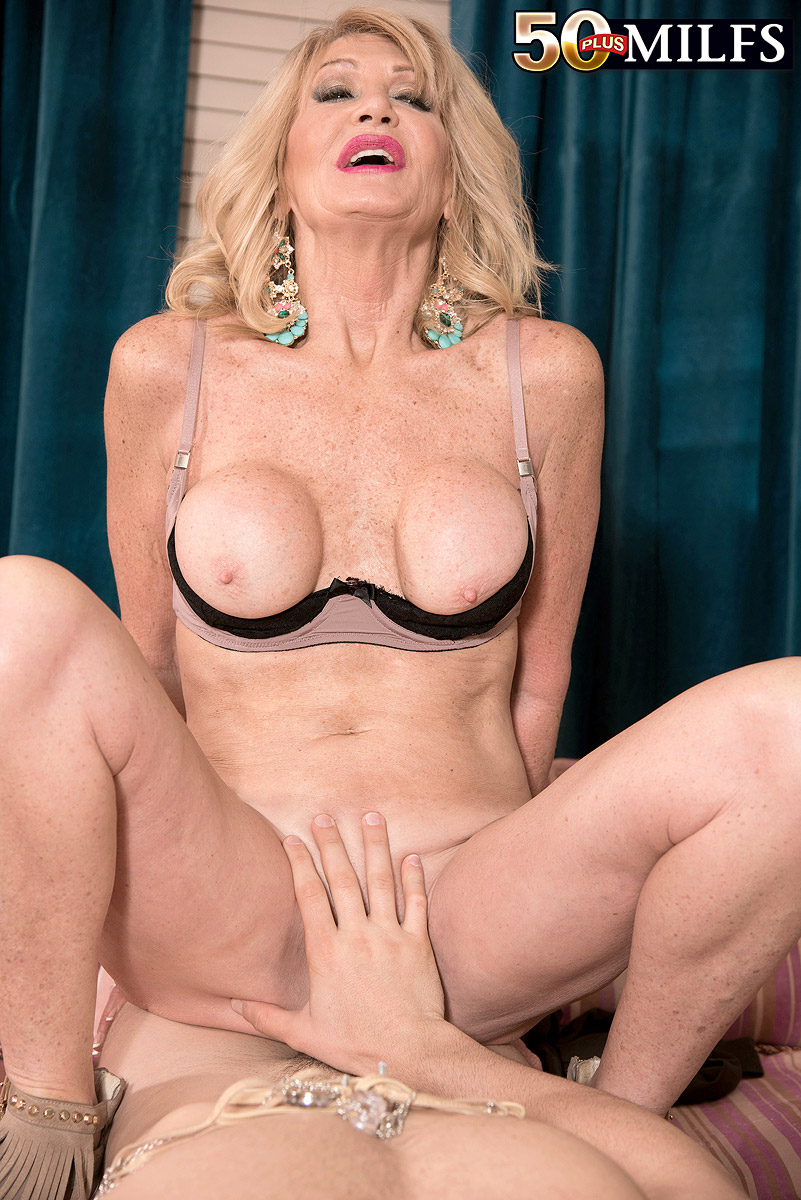 Kendall Rex - Kendall's First Time. She worked for a week at The Chicken Ranch, a legal brothel in Nevada, but chickened out when it came time to have sex with a customer. Two years ago, she was ready to break her on-camera cherry at 50PlusMILFs.com but chickened out again. This time, though, Kendall Rex, a 56-year-old divorcee from Florida's Gulf Coast, isn't backing out of anything. In fact, she's backing her sweet pussy right onto JMac's big, hard cock. "I've been looking forward to this for a long time, and I'm finally ready," said Kendall, a swinger who has sex two or three times a day, every day. "Most people I know would be surprised to see me here, but I do have a few friends who are aware that I'm embracing the opportunity and encouraged me to just own it." In this scene, Kendall owns the delivery man's cock. She tries on her new crotchless panties for him. He tries out her mouth and pussy. His special delivery is cum in her pussy. Kendall enjoys skiing and swimming.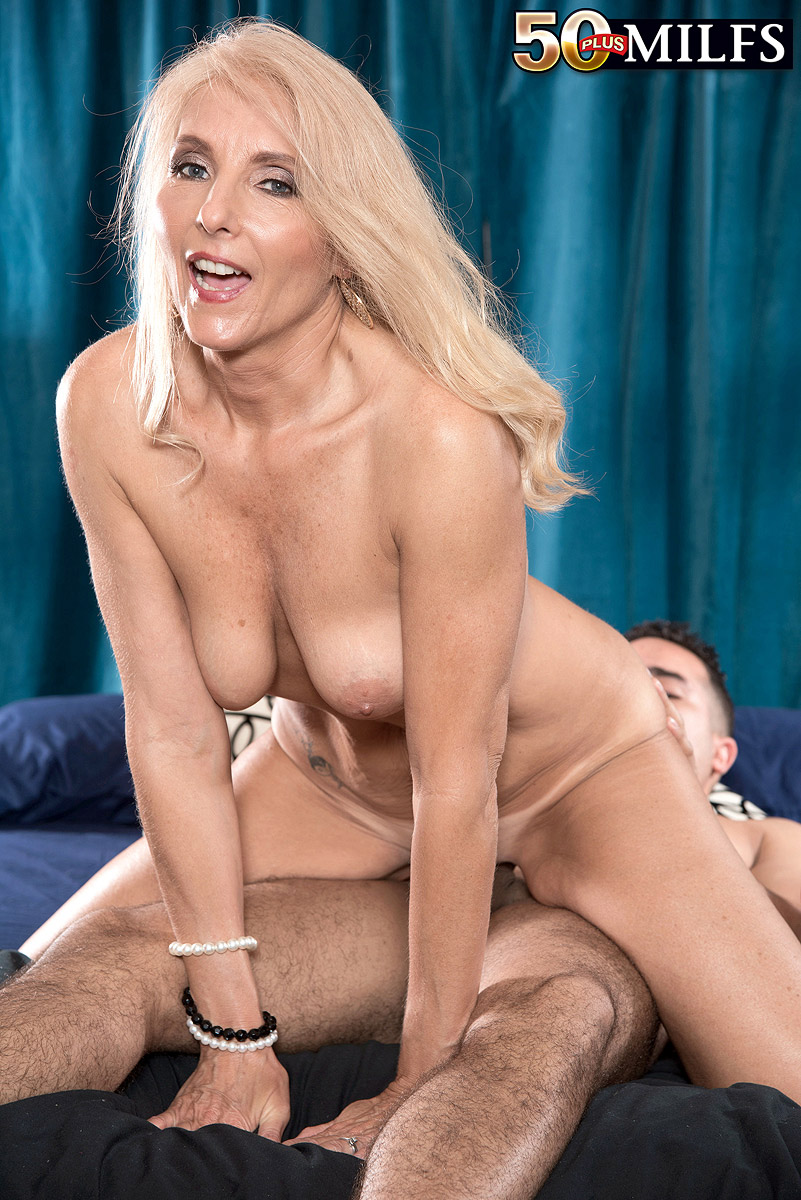 Chery Leigh - Chery's Happy Anal Return. A year and a half ago, Chery Leigh walked into our studio for the first time. She had sex with a guy who was a little younger than her. She got ass-fucked by a guy who was a lot younger than her. "It was amazing," Chery said. "I was blown away. The treatment, the way everything is done, the attention to detail. I had a lot of fun, but they made me want to do more and do better the next time the opportunity arrived." The opportunity has arrived, and here's Chery, now 56 years old, getting butt-fucked again by a 24-year-old. "I was very excited to come back," Chery said. Chery showed up in our studio with her husband in tow and her children back home in South Florida. Here, this tall, MILFy blonde is wearing a short animal-print dress, red heels and red panties.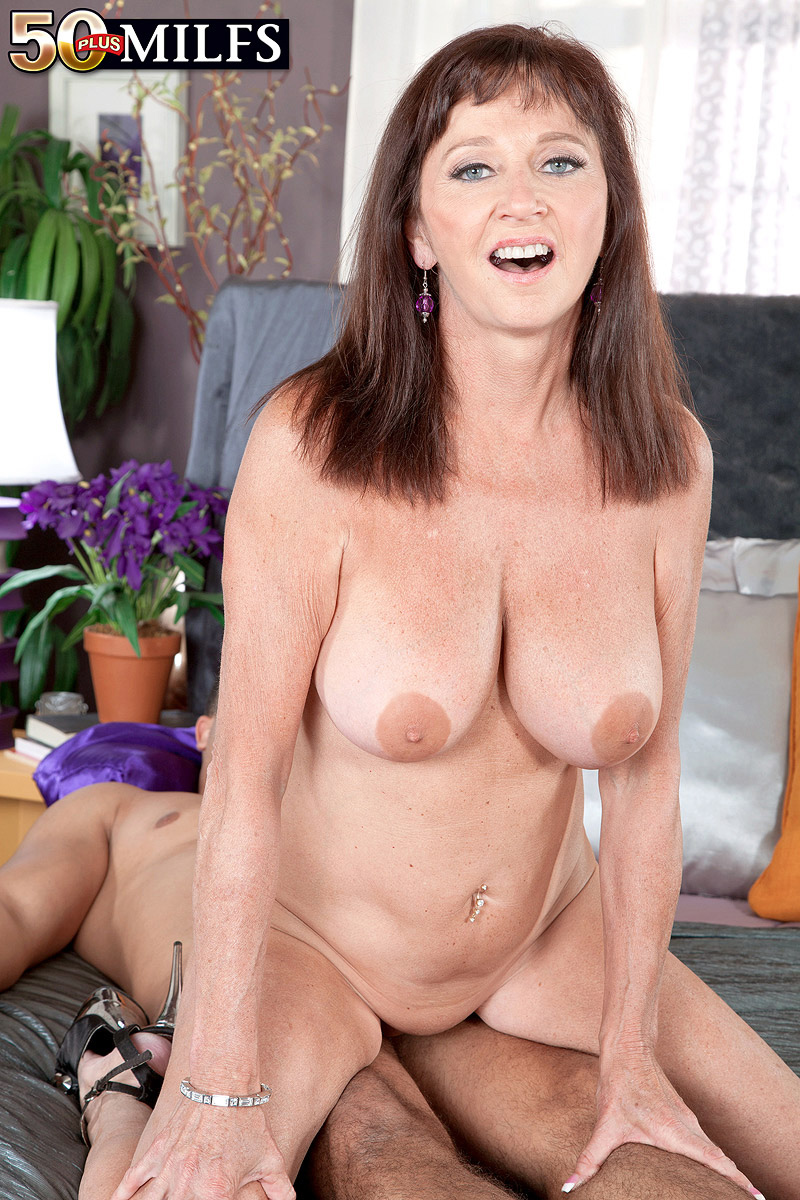 Ciara - Ciara's Creampie. Now 54 years old, Ciara Blue, a 54-year-old wife and mom from Tampa, Florida, is back for a creampie. Yep, Ciara's gonna have her MILF cunt fucked and filled with cum by a 24-year-old stud, and if that's not enough to get your heart racing, you're at the wrong website. Ciara has DD-cup tits, the better for her young plaything to play with. She measures 36DD-24-34, which a man of any age would enjoy, especially since that hot body starts off decorated in some sexy, purple lingerie that shows off her body. We asked Ciara if she's watched her scenes, and she said, "Yes, definitely! Who would want to miss those?" Not us. "I watched them with my husband..bunches! We thought they were hot. It's always interesting seeing yourself as the porn star and recalling the process. My partner thought so, too." And when she watches this scene, Ciara can see how she looks with her pussy filled with cream. Very nice, we might add.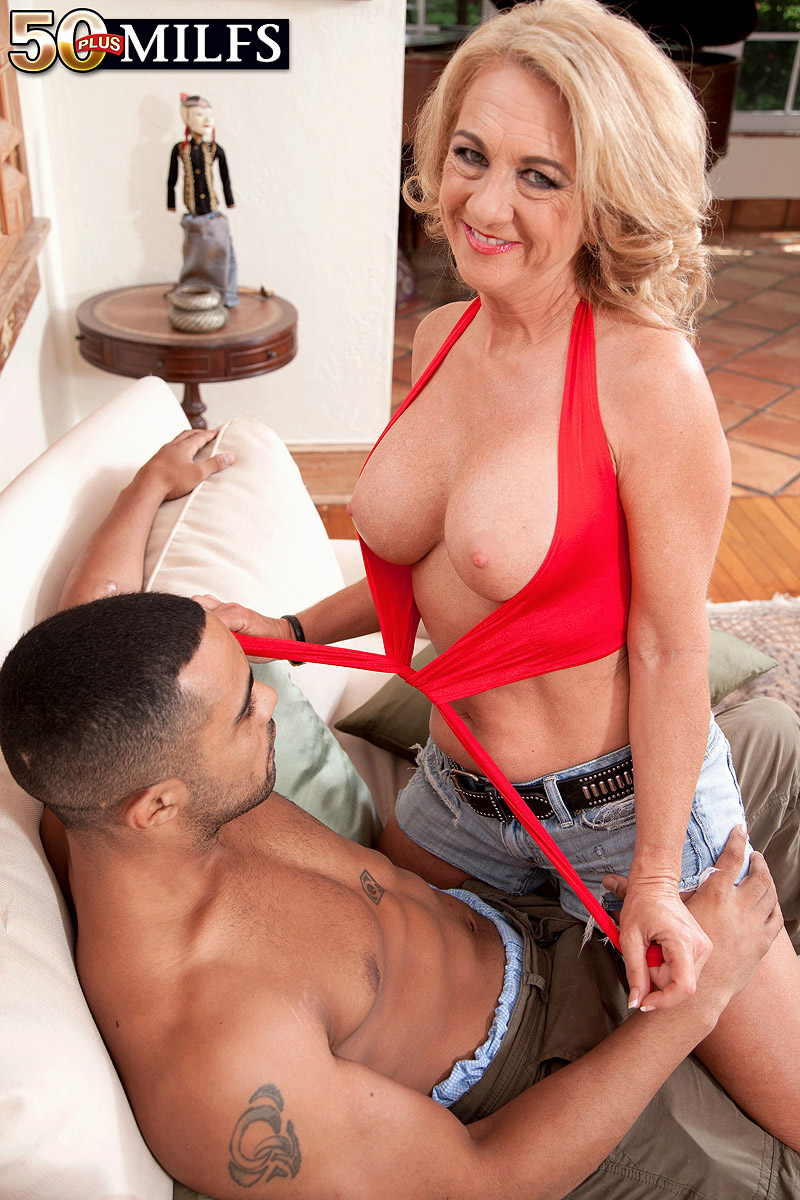 Cali Houston - Cali And The Big, Black Cock. "I am a very confident, aggressive, type-A personality," said Cali Houston, a 51-year-old MILF from Indiana. "I am direct and to the point. Some people love that about me because they don't have to wonder where my head is at. Some people hate it because they can't handle it." Stallion, Cali's man in this scene, loves it because he knows where Cali's head is: bobbing up and down on his big, black cock. Cali's wearing a skimpy red halter top and short, cutoff shorts, and she wastes no time letting Stallion know that she wants his cock. She sucks it. She rides it. She takes his load all over her face. Cali has now fucked four guys at 40SomethingMag.com and 50PlusMILFs.com, but they weren't her first porn studs. "Before I was in porn, I met a huge porn star and didn't know who he was, but all my friends did," Cali recalled.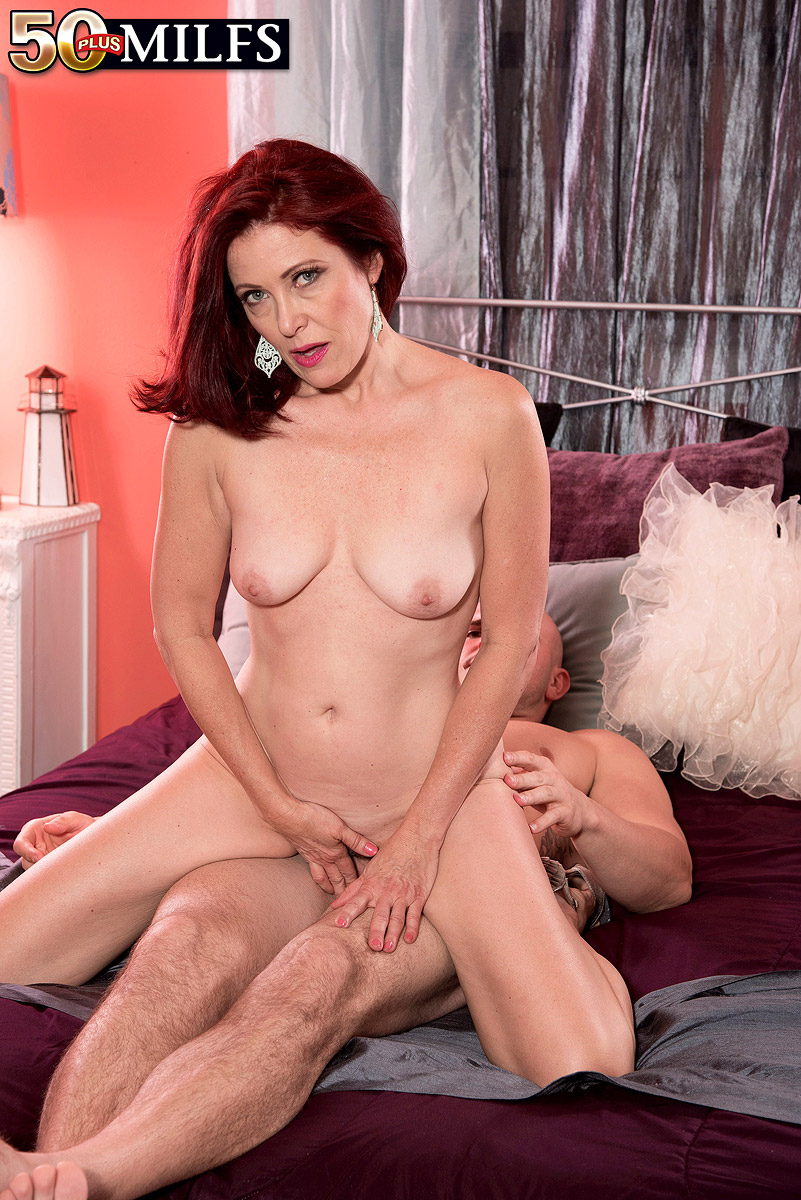 Dana Devereaux - Dana's First Time On-camera. "I just wanted to try something new and different, so here I am!" said Dana Devereaux, a 51-year-old divorcee from Phoenix, Arizona who had never fucked on-camera before walking into our studio and taking on JMac's big cock. "I've modeled for art schools but I've never had sex on-camera," said this sexy, curvy redhead who measures 36B-26-36. "Turning 50 got me wanting to try new things and experiment and get out of my box a little bit." She's getting out of her box by showing off her fuck box. "I'm kind of a showoff. An exhibitionist, maybe." Dana was born in Hamburg, Germany. She has been a market research analyst and a wholesale clothing representative. "I have a cosmopolitan, elegant look but love getting a little kinky," she said. "No one sees or knows that side of me exists." Well, we know, at least we do now. Dana enjoys playing tennis and watching football. One of her hobbies is collecting shoes.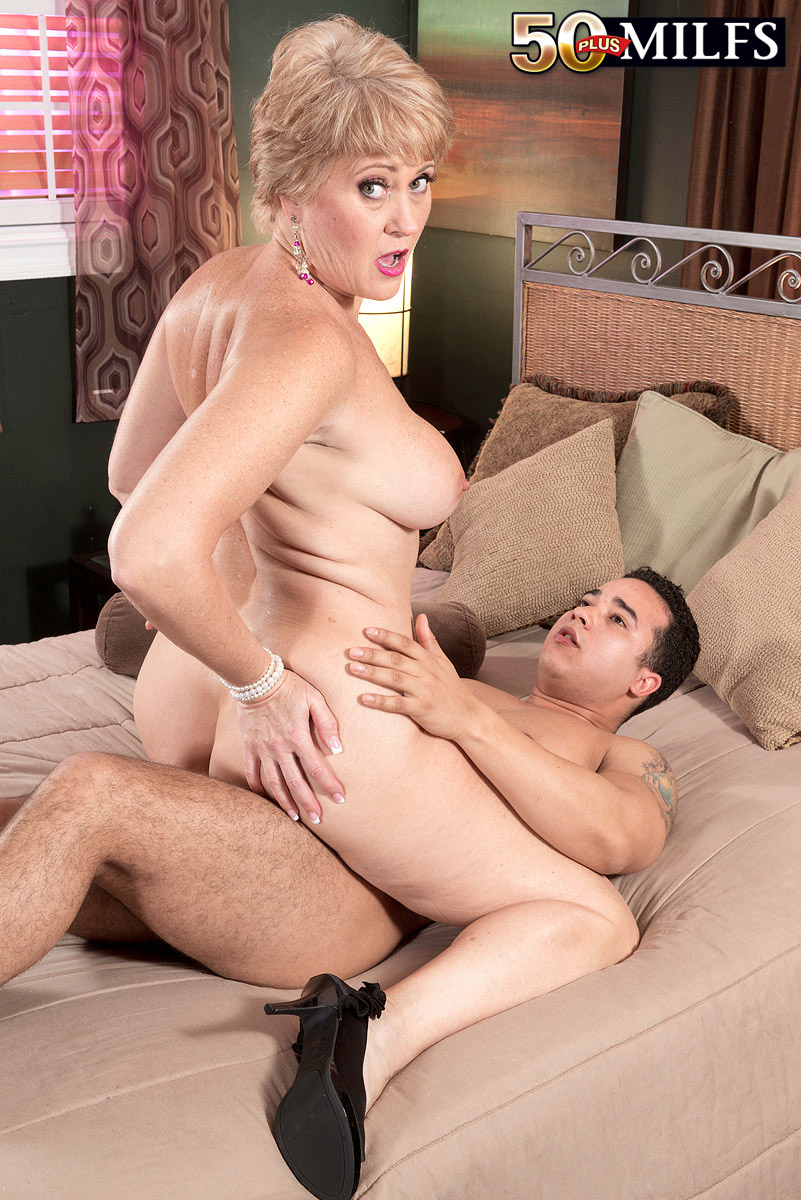 Tracy Licks - Naughty Student, Naughtier Teacher. In this scene, Tracy Licks is the 51-year-old teacher, and Rocky is her 25-year-old student. This must be a tutoring session because they're obviously not in a classroom, and Ms. Licks is not dressed for a professional situation. As she leans over him and looks at his work, her tits are pouring out of her top. "You seem very distracted, Rocky," Ms. Licks says. "I cannot study like this," he replies. "How would you like to study?" Ms. Licks asks. "It's so difficult," he says as he stares at her tits then gives them a kiss.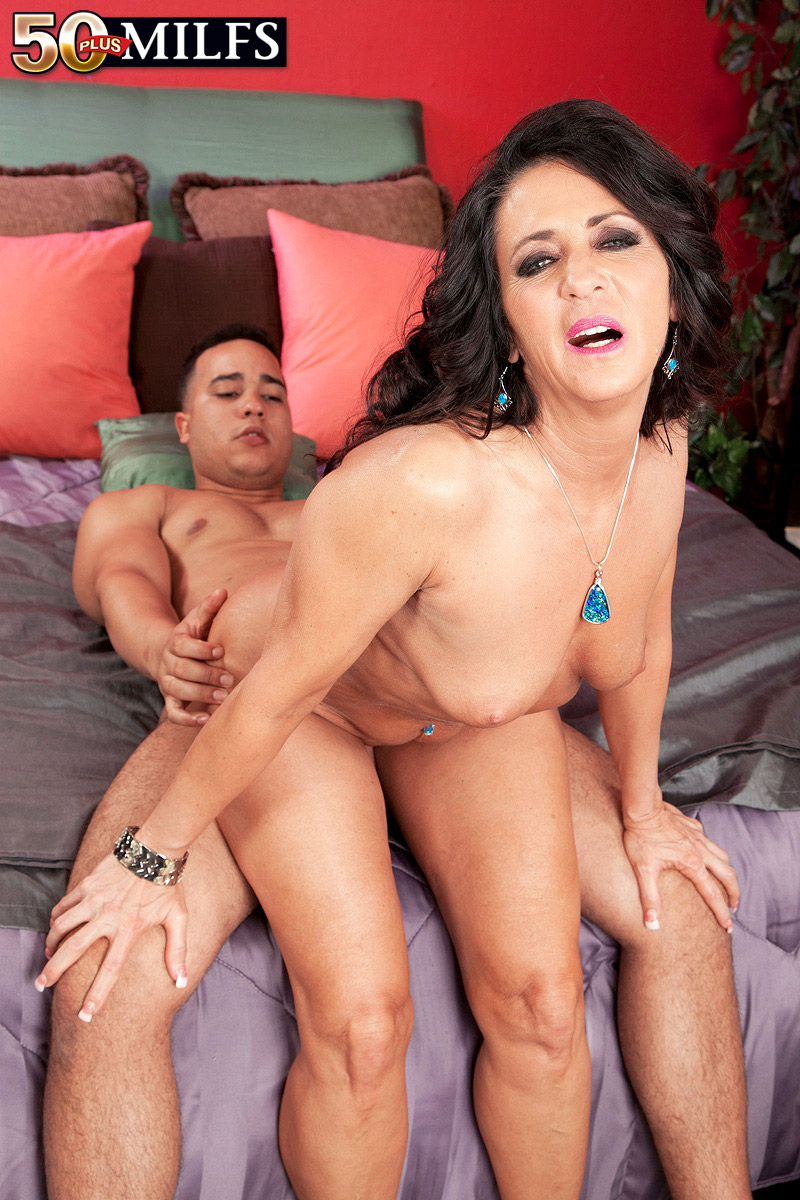 Azure Dee - Bold And Ass-fucked. "I love how my ass feels," 57-year-old divorcee Azure Dee says. "But I don't have any fun doing it myself." Fortunately for Azure, 25-year-old Rocky shows up to save the day. Because the thing is, what Azure likes most is how her ass feels with a cock inside. And that's what she's going to get. "To me, there's a fine line between pleasure and pain," Azure said. "Anal sex offers its own sensations, and that coupled with clitoris stimulation can take me over the edge in a heartbeat." Indeed, Azure gets there in a hurry when Rocky starts pounding her old ass. And when he's finished fucking her ass every which way, Azure sucks her ass juices off his cock. And then she has him cum on her face. When we asked Azure if people would be surprised to see her here, she said, "Yes, although they wouldn't put it past me to venture in this direction because they know I am bold." Bold and ass-fucked. Perfect.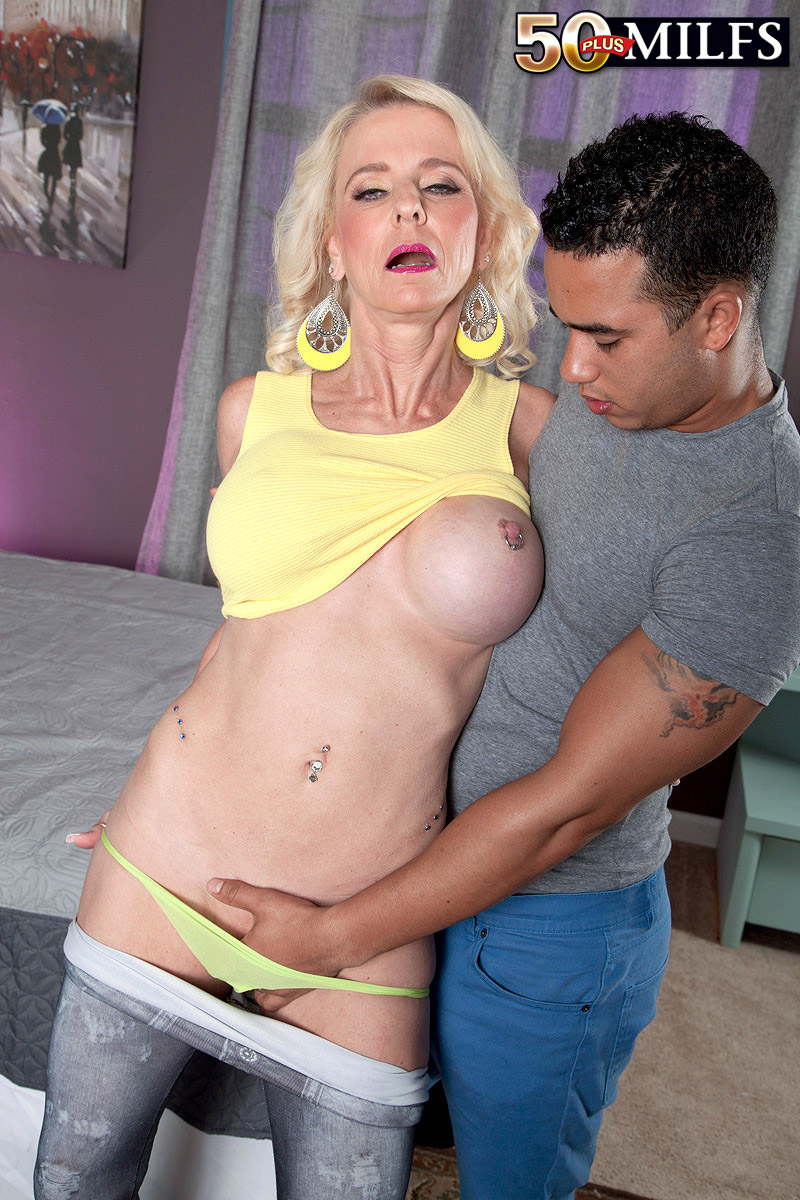 Cammille Austin - Cammille's Cunt Gets Creampied. Cammille Austin, a 56-year-old wife, mother and grandmother from Arkansas, takes on 25-year-old Rocky's cock in her return to 50PlusMILFs.com. Cammille is a skinny blonde with big, fake tits. Here, she's wearing tight jeans and a flimsy tank top that her nipples poke through. Her middriff is bare. If she showed up like this at her grandkid's soccer game, tongues would wag and the fathers' pants would tighten. The jealous moms and grandmoms would say, "Look at that old slut," jealous of all the attention she's getting. "I like to dress very sexy when I'm away from home," Cammille said. "I like the attention I get." Cammille gets lots of attention from Rocky. He sucks her pierced nipples and spreads her asshole so we can see inside. He fucks her face then her pussy while she tugs on her clit piercing.


Want some more? Check the site.
| | | |
| --- | --- | --- |
| | Older | Newer | |