ASR PREMIUM - Free Porn Movies and Free Porn Images
ASR Premium offers Free Hosted Galleries of sample porn movies and photos for FREE. We collect and offer the high quality samples from millions of galleries on daily updating.
12/13/2016 GALLERY UPDATE
Joanna Angel, Queen of fetish tattoo punk emo girl, offers great scenes of extreme hardcore for awesome tattoo pornstars. The site serves with Burning Angel for one price.
Special Offer: [Check the Price Here]
[Click on the picture to see all the samples]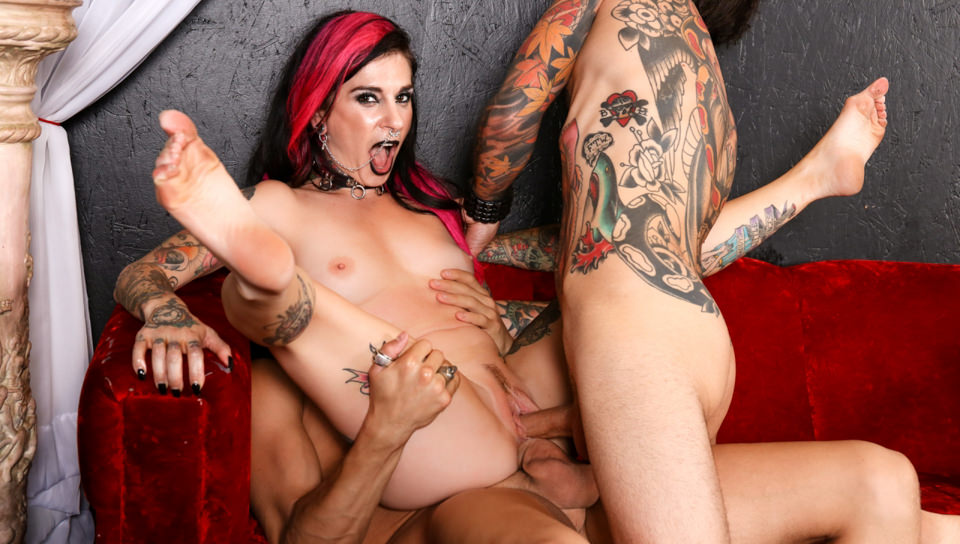 Cindy Queen of Hell Part 1, Scene #01: Joanna Angel, Small Hands, Xander Corvus - It was Cindy's 21st birthday, and strange things started to happen. Her mother Raven (Joanna Angel) decided it was time for her to learn the truth about her father and where she came from. Flashback to the 80s where the younger goth non-conformist heads to a Halloween costume party in LA. Everything changed when she saw Ninth Circle play on stage that fateful night - because she got double stuffed in her pussy and ass by band members Satan (Xander Corvus) and his homeboy Leviathan (Small Hands), when Lucifer accidentally jizzed inside of her!! And that's how Lucinda (Leigh Raven), actual daughter of the Devil, came to be!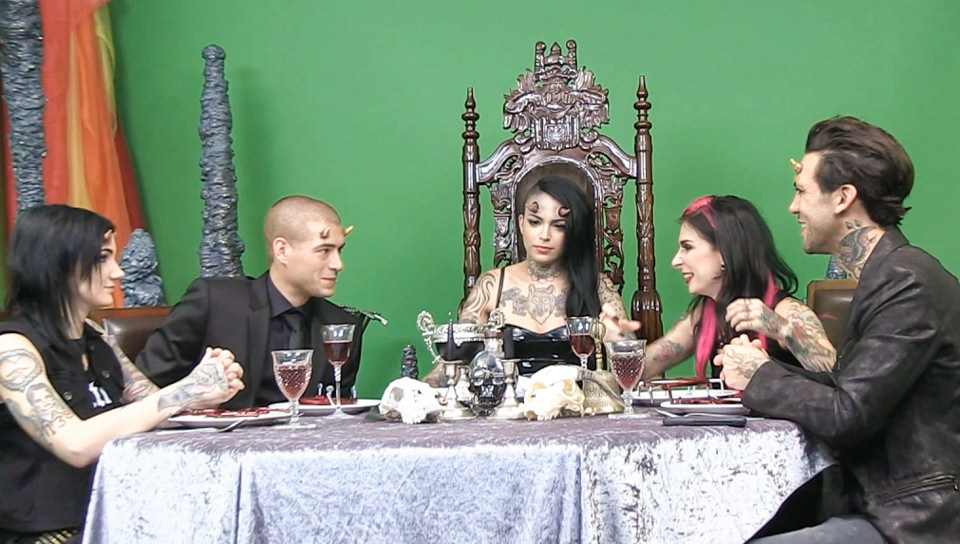 BTS Episode 96, Scene #01: Sarah Jessie, Joanna Angel, Leigh Raven, Lily Lane, Ophelia Rain, Nikki Hearts, Anna Bell Peaks, Chad Alva, Small Hands, Xander Corvus, Gage Sin - Here's a behind-the-scenes look at Burning Angel's newest feature Cindy Queen of Hell! The movie was filmed with an all-star cast and was officially Leigh Raven's first feature role as Lucinda, the daughter of the devil. It was written and directed by Joanna Angel and Xander Corvus, making his directorial debut! See the process from makeup to photos to filming unfold with BA favorites Nikki Hearts, Lily Lane, Ophelia Rain, Anna Bell Peaks, Sarah Jessie, and more! Descend into hell and sit at the popular table with us for all eternity (or at least the duration of this video).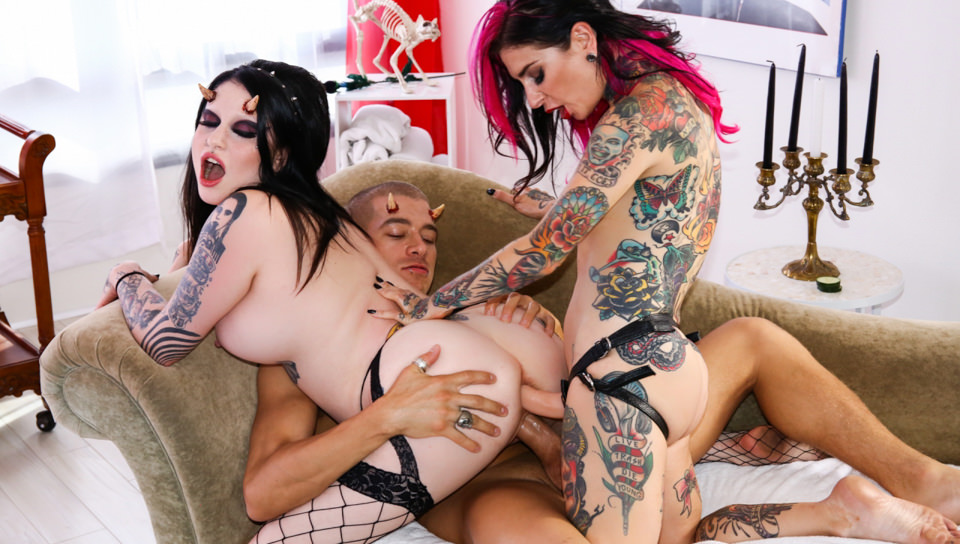 Cindy Queen of Hell Part 5, Scene #01: Joanna Angel, Ophelia Rain, Xander Corvus - Raven and Satan were due for some relaxation before having family dinner with their pride and joy, and made a visit to the Hell spa where they both received sensual rub downs from a very busty and horny masseuccubus (Ophelia Rain). Much to her delight, the Devil demanded a happy ending from the massage pro, which she accepted with a twinkle in her eyes! She's very eager to please, and succubi love getting double penetrated, so Raven brought out her strap on to play and made sure her demonic ass and twat were stuffed full of dong! Happy endings, indeed!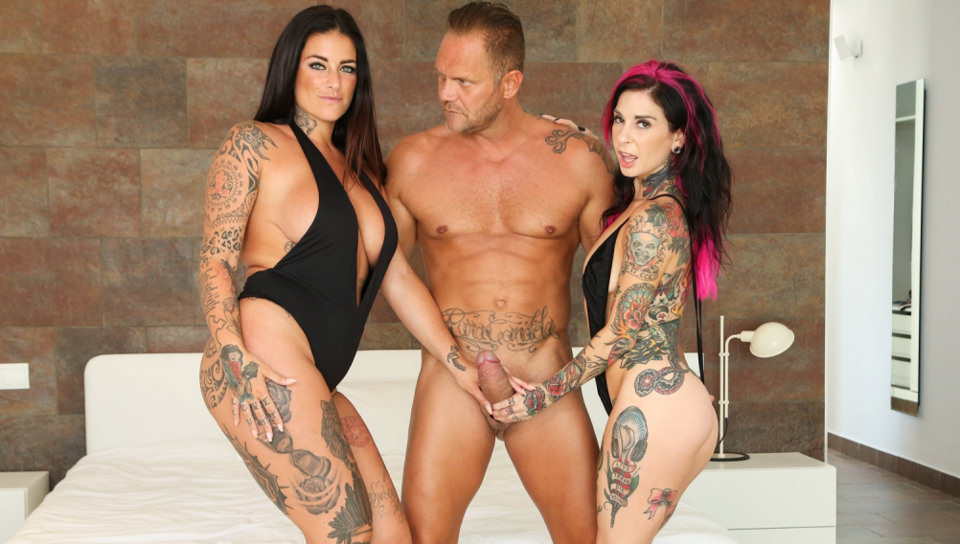 Nacho Vidal Watermelon Threesome, Scene #01: Joanna Angel, Raquel Adan, Nacho Vidal - While I was in beautiful Ibiza, I realized two things: my friend Nacho LOVES watermelon, and he can have any woman in the entire world, so naturally I thought we should have a threesome with a gorgeous girl back at my villa - watermelon and chill! Amazingly, we found one in seconds: Spanish beauty Raquel Adan.. and I was going to be the first lesbian sex she'd ever have - on the condition that she also got fucked by Nacho's gigantic cock. Plus, he could teach her how to eat pussy! I swear, I've never cum so hard or been so wet while having vacation sex, ever.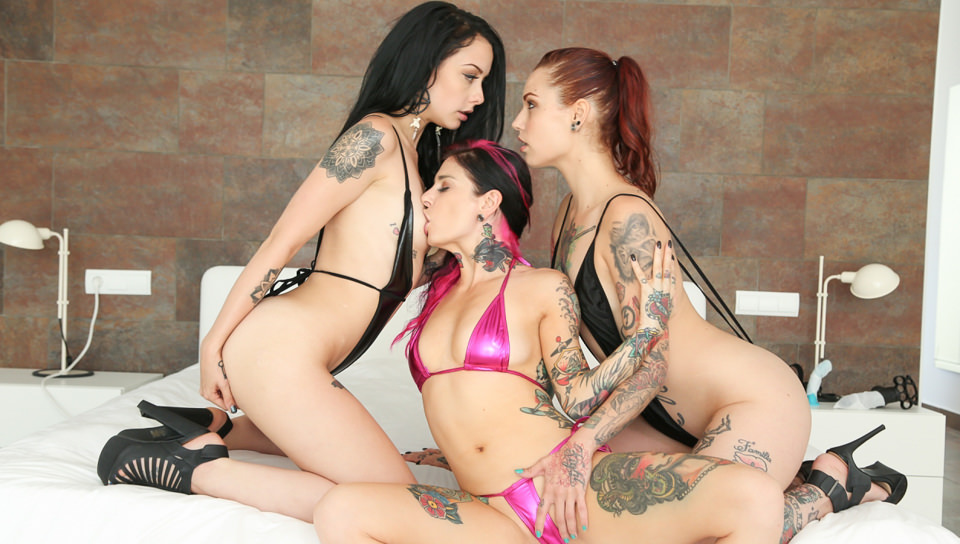 All Around The World Lesbian Threesome, Scene #01: Joanna Angel, Silvia Rubi, Alessa Savage - Ibiza is a beautiful place for beautiful people! I visited with my man, my friend Nacho lives there - so does Paris Hilton (hi Paris, I love you!), and my gorgeous girlfriends Alessa Savage and Silvia Rubi thought maybe a menage a trois would be the perfect way to end my vacation - they were right. We splashed around the pool in our itsy bitsy swimsuits, making out, fingers and tongues roaming towards tits and twats - but it wouldn't be complete without my girlfriends impressing me with their deep throating and gagging on a fake dong before fucking me with the strap on! What a happy ending.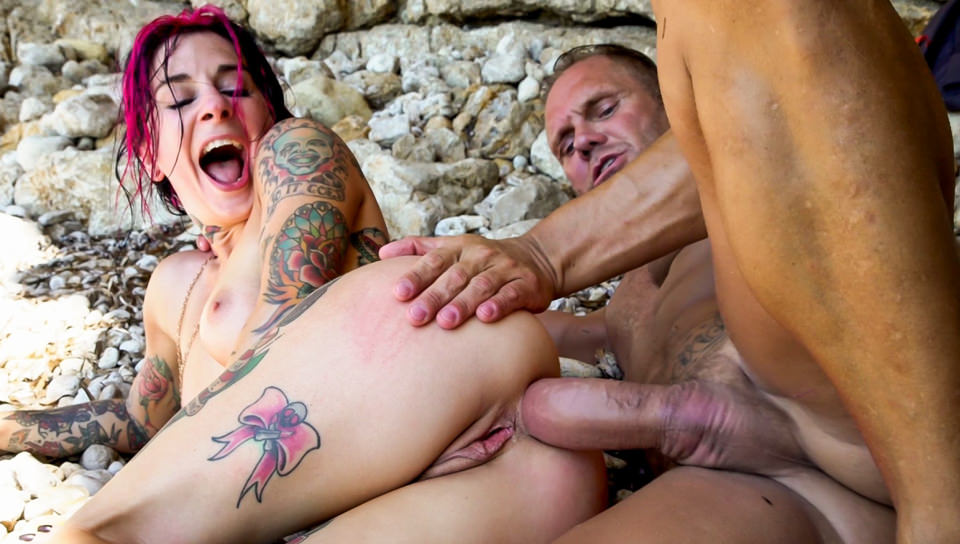 Anal Sex On The Beach, Scene #01: Joanna Angel, Nacho Vidal - I went to Ibiza, Spain this summer and had an amazing time! My friend Nacho Vidal was an excellent tour guide and he took me via boat to a secluded little beach - and that's where the really sexy fun began! I've seen a lot of wangs in my life, but never have I ever seen anything like Nacho's upside down gonzo nose dick! The curve of his cock was perfect, and he fucked the daylights out of me! I've never squirted so hard or so much, ever! He treated me like a lovely and dirty little slut, and fucked my ass harder than it's ever been fucked before.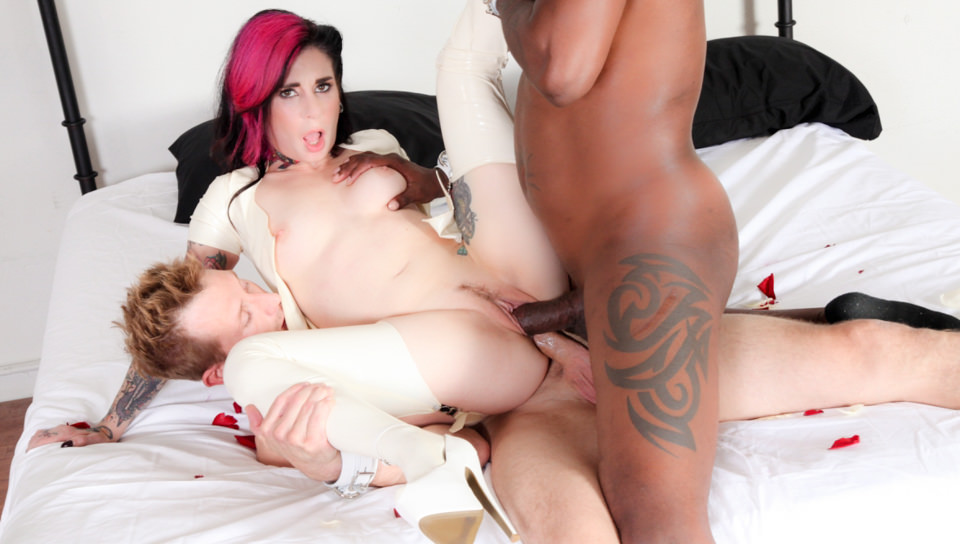 Serve Me, Scene #01: Joanna Angel, Jon Jon, Bill Bailey - I am Joanna Angel and I get what I want, and what I want is for two studly men with dicks to match fulfilling my desire of being a submissive slut- and dominantly so! I demanded to be served by Bill Bailey and Jon Jon, to toss me around like a little fuck doll, because submitting and pleasuring my partner makes me wet. They stuffed my tight holes after stripping the latex dress off me, stretching out my pussy and asshole with every pump. I just want to get fucked hard, and I don't want to have to beg for cum- but I like it when you make me say please!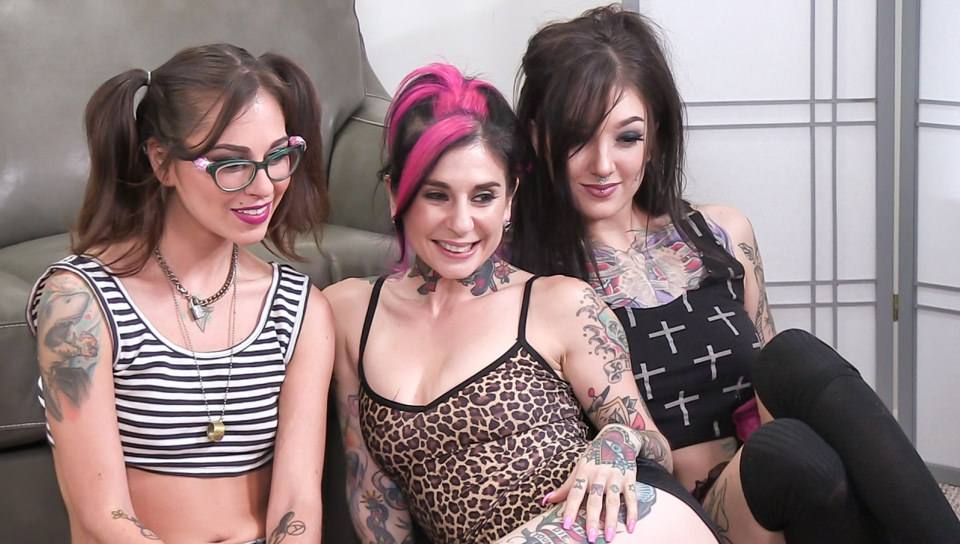 BTS Episode 94, Scene #01: Joanna Angel, Chloe Carter, Kacie Castle, Phoebe Phelpz, Kelsi Lynn, Prince Yahshua, Small Hands - When you put a bunch of Burning Angel girls in one place at the same time, awesome and sexy things are bound to happen. We caught up with Chloe Carter right after she took her first black cock, and she was a little bit fucked out! Small Hands makes tacos. Fledgling porn starlet from Florida, Kacie Castle slut-nerds out and she is 'up to no good'! Her scene was with the wonderful Kelsi Lynn and charming Prince Yahshua, and we watched the fun unfold for brand new BA girl Phoebe Phelpz's first time ever!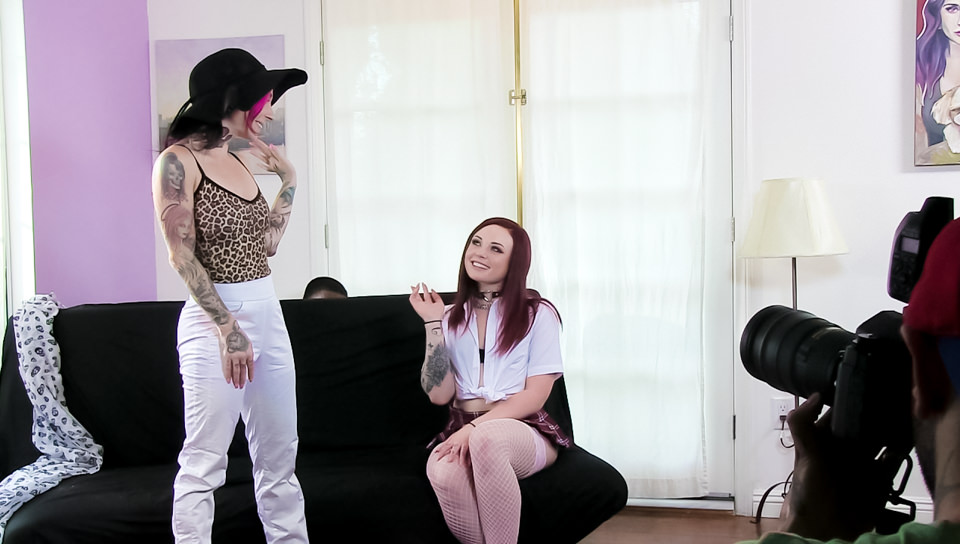 BTS Episode 93, Scene #01: Joanna Angel, Monique Alexander, Lily Lane, Chloe Carter, Small Hands - We crept on porn superstar Monique Alexander and her gorgeous scene partner Lily Lane the day they shot a brand new Cum On My Tattoo scene. Monique has been in this biz for 15 years and this was her very first Burning Angel scene! We found out exactly how satisfying it is to throw a cream pie in a man's face, and what her death row last meal would be. Sweet newbie Chloe Carter gets naked for her photoshoot and we all fall in love with her vagina.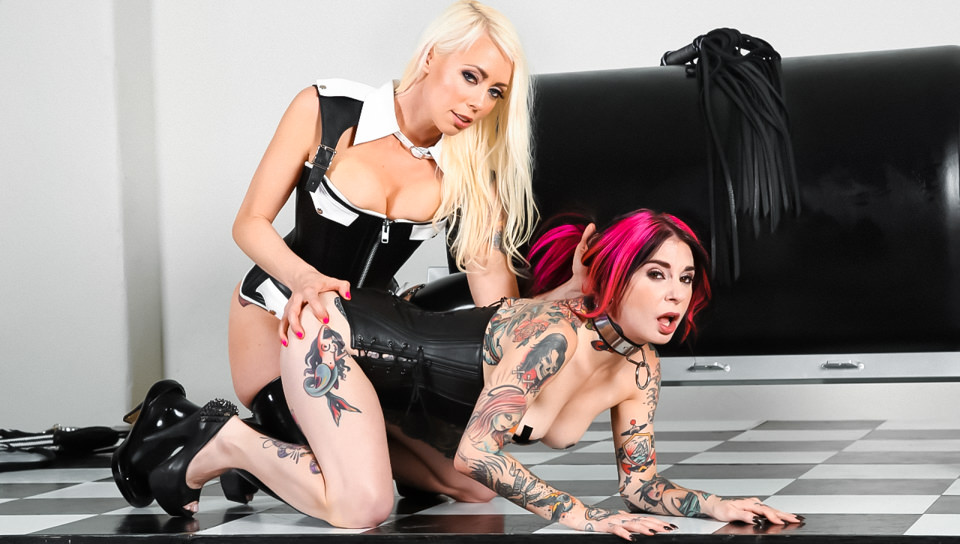 Obedience, Scene #01: Joanna Angel, Lorelei Lee - Lorelei Lee makes herself clear: this is Joanna Angel's training. Obedience is sometimes a trait that must be learned and Lorelei is a very good master. Joanna's latex-clad mistress teaches her how to submit and serve properly - rewarding Joanna's good behavior with a flogging, and utilizes her own twat-loving mouth and fingers. But that isn't enough: Mistress Lorelei goes further by tying up our eager-to-please princess in rope bondage and penetrating all her dirty fuck holes with sex toys until Joanna comes, and happily returns the favor.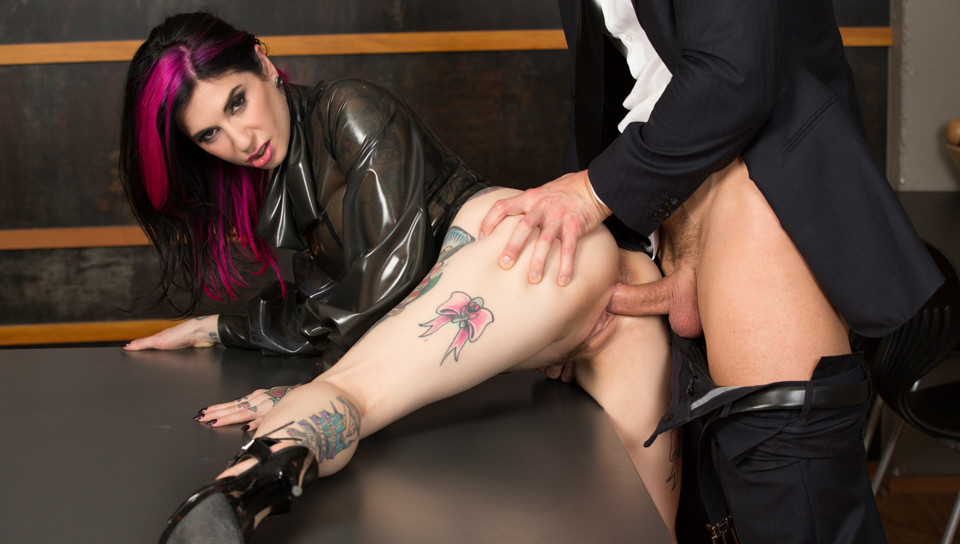 Mercy, Scene #01: Joanna Angel, Jean Val Jean - Joanna Angel is French businessman Jean Val Jean's very obedient Syren latex-wearing secretary, ready to serve. She needed to practice her poise and balance, so in the stocks she goes to deliver her boss's tea - since she spilled, she'd have to be punished with his rod. Utilizing his clumsy sex-cretary's mouth to lubricate his dick while still on his phone call, he moved on to the cutout surrounding her perfect exposed bottom, and spread her pussy lips with his throbbing meat. Punishment doesn't come without reward - she earned anal pleasure and having her tight asshole pummeled for being a stellar employee.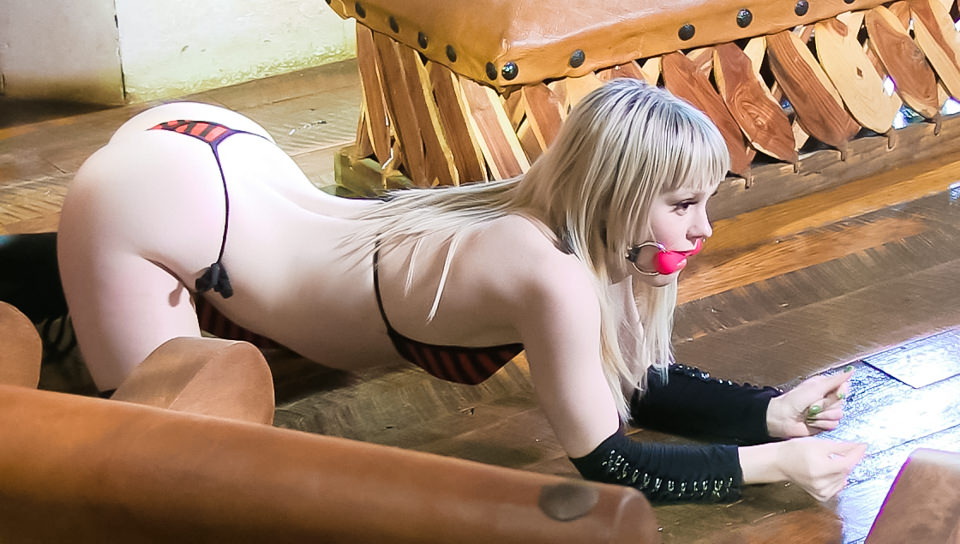 BTS Episode 92, Scene #01: Joanna Angel, Leigh Raven, Nikki Hearts, Anna Tyler, Xander Corvus, Jon Jon, Small Hands - We met blonde BurningAngel newbie Anna Tyler before she shot her first BA scene with Xander Corvus, and she was wearing the cute red and black striped lingerie she later gets fucked in! We talked tattoos and concerts and watched sexy action unfold. And then there's Leigh Raven, Nikki Hearts, latex, schoolgirl outfits, Jon Jon, and people being so cute and hot at the same time your head might actually explode. Fun fact: Leigh has a tattoo of Nikki's lovely face on her arm, and Nikki has a heart shaped tattoo of Leigh's butt, complete with thigh tatts! So sweet.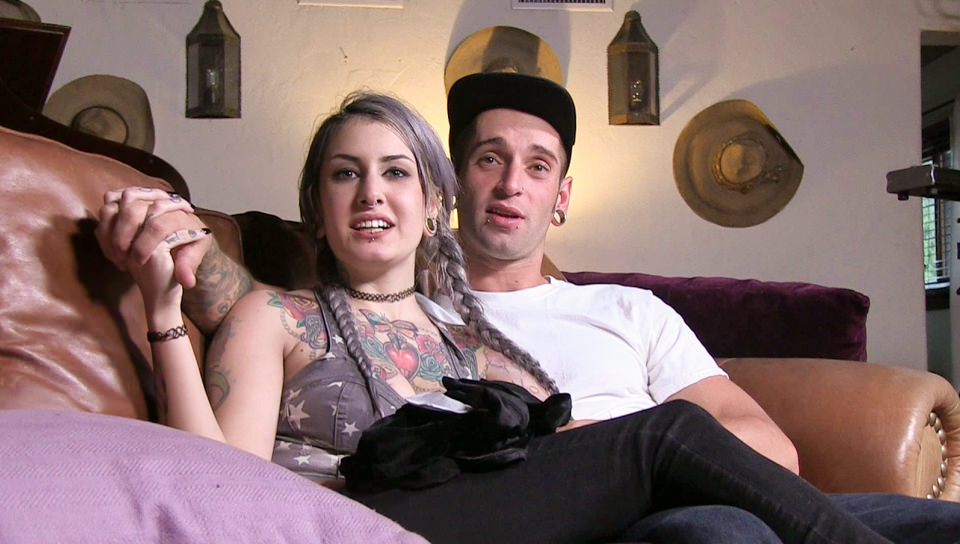 BTS Episode 91, Scene #01: Joanna Angel, Dylan Phoenix, Lady Luna, Small Hands, Gage Sin, Xander Corvus - Lady Luna and Gage Sin were lovely their first times shooting for Burning Angel. We got up close and personal with them between scenes, one of which was a new episode of Very Adult Wednesday Addams! Lady Luna was actually on America's Worst Tattoos because of her horrible first tattoo which was covered on the reality show. Dylan Phoenix, who's mom is the famous tattooed MILF Ryan Conner, is full of va-va-voom during her lingerie-clad photoshoot for her first threeway and scene with us! She's an absolute joy and we love her.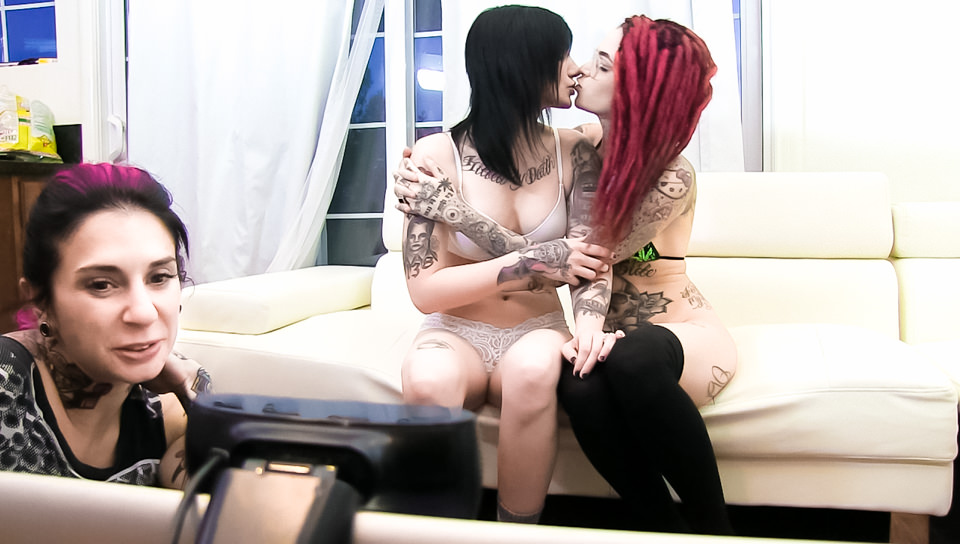 Live Webcam Archives - Episode 22, Scene #01: Joanna Angel, Nikki Hearts, Leigh Raven - Hot tattooed lesbian wives Nikki Hearts and Leigh Raven made sweet punk lady love to each other on webcam! They're cunning linguists. Watch brand new live streams in the Burning Angel chat room!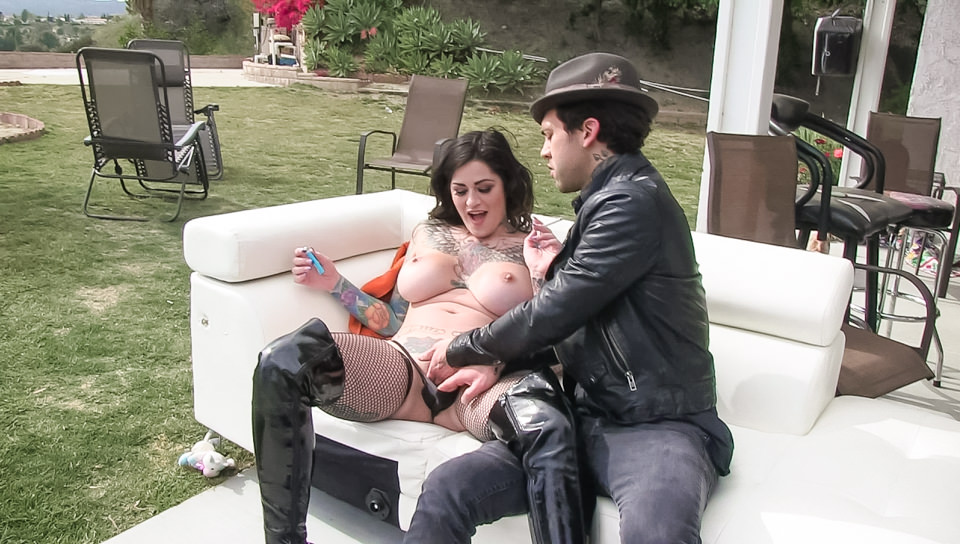 BTS Episode 90, Scene #01: Joanna Angel, Marsha May, Pressley Carter, Juliana Rose, Mallory Maneater, Small Hands - Our photographer happily took pictures of newbie Juliana Rose's butthole. She was pretty horny that day and Small Hands was being a gentleman warming up that poon and sucking on some big old titties. Then the girls were naked in the hot tub and it was kind of chilly, so everyone's nipples were diamond cutters. We caught up with dripping ladies Pressley Carter and Mallory Maneater while Juliana got fucked. We had a nice chat with sweet blonde Marsha May, and then we learned more about Mallory's sick head tattoo that says 'Skull Fucked.'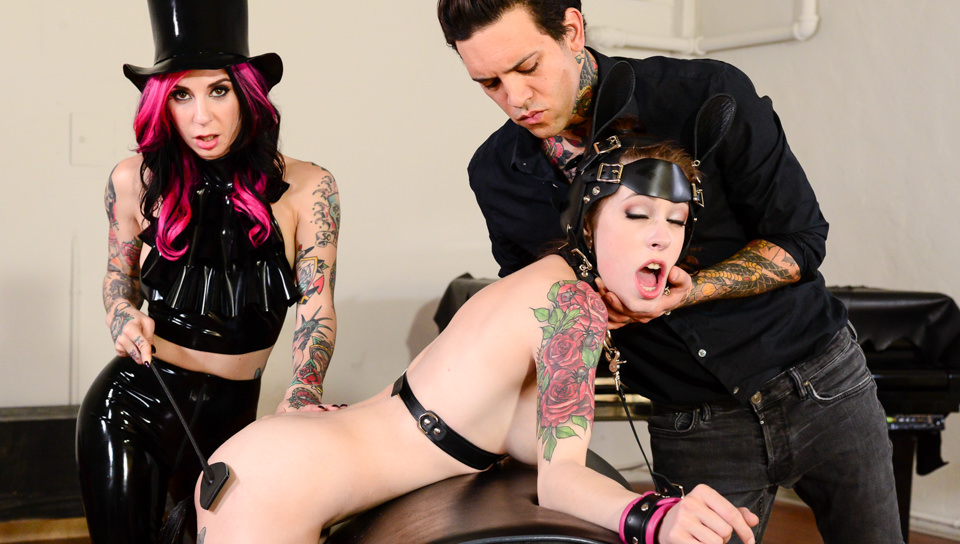 Anna de Ville - Equestrian Tamed, Scene #01: Joanna Angel, Anna de Ville, Small Hands - Our sweet young pet Anna needed some training, so we outfitted her and ourselves in the finest fetish gear and Syren latex from The Stockroom. Pet is a perfect pony, especially with her leather pony bridle and harness, showing off her beautiful perky tits. We chose for her a shiny buttplug with a ponytail - only the best for our pet! Anna crawled on hands and knees, submitting to our kinks and willing to learn. Before she was allowed to watch her Mistress mount her steed and get fucked in the ass as she licked her feet, she'd be bound and flogged, and the Queen would ride her little pony face as Sir penetrated her orifices. Good little ponies lick clean all the cum off their Mistress.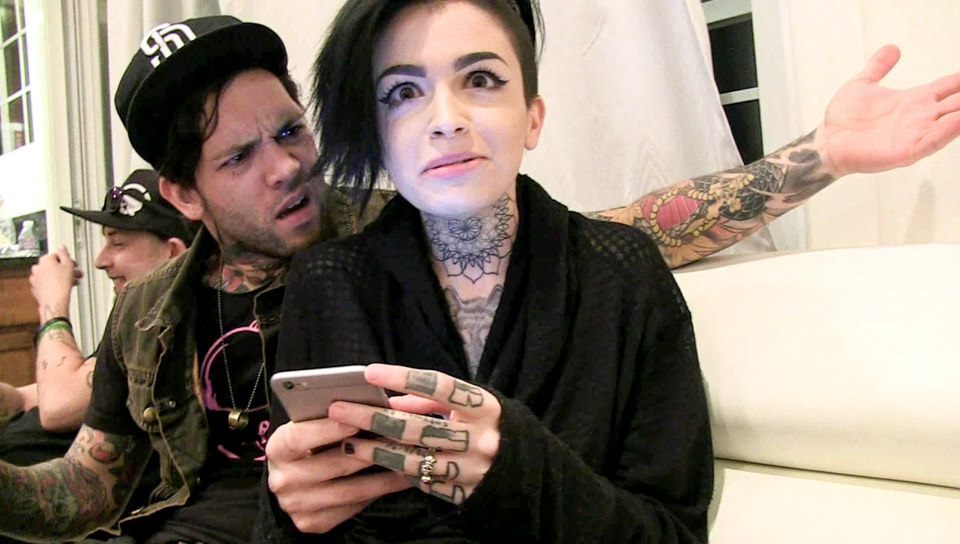 BTS Episode 89, Scene #01: Joanna Angel, Amelia Dire, Leigh Raven, Nikki Hearts, Callie Cyprus, Prince Yahshua, Small Hands - Amelia Dire was dying to show us her pussy! And by pussy we mean the kitty cat panties she was wearing. Meow! We chatted for a bit about her latest scenes and it turns out, she forgot Jessy Jones' name. Oops! #pornstarproblems! Nikki Hearts has some wobbly legs after filming the famed 'NOT ON GAME DAY' with Prince Yahshua - a true Prince Charming if you ask me! He fills our world with joy. Nikki and the wifey Leigh Raven get all cute. We meet and have a chat with BurningAngel newbie Callie Cyprus and talk tattoos and how she loves working with her hands on and off camera!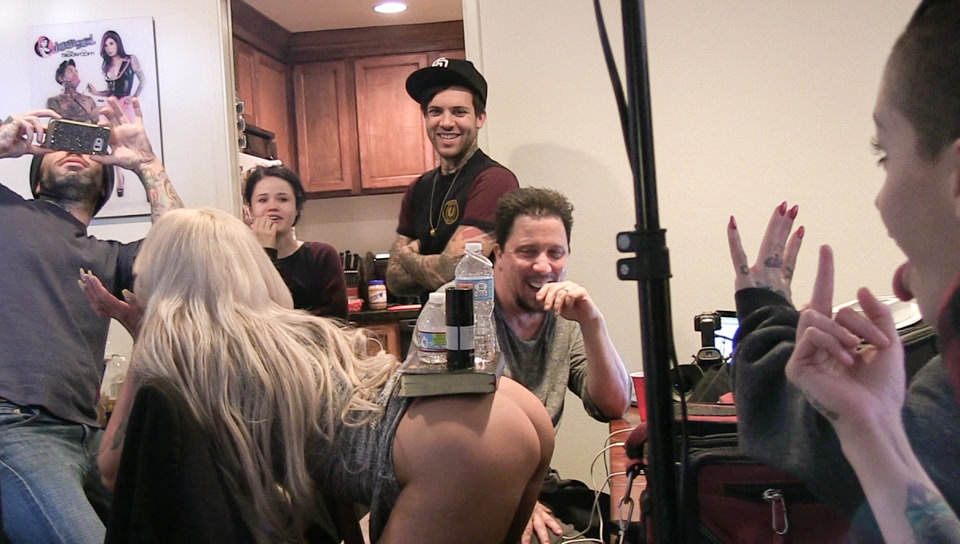 BTS Episode 88, Scene #01: Leigh Raven, Yhivi, Anna de Ville, Nina Elle - When you're on set, it's best not to hug any plush toys lying around. Because Yhivi and Xander Corvus probably had sex on it. Yhivi is incredibly smart and fascinating and I want to eat her up. Nina Elle makes an ass table. We followed Leigh Raven's first day shooting for us getting her photos taken and discuss her first time banging a man on camera, and got up close and personal with BA teen newbie Anna de Ville who loves bugs and has spiders and a centipede creeping in her rose piece and WILL kick your ass on Rainbow Road in Mario Kart.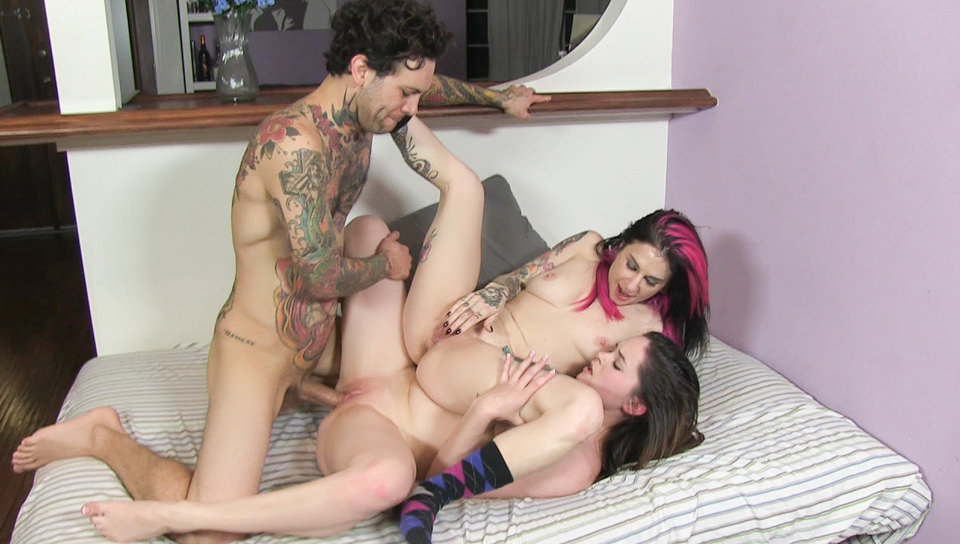 Live Webcam Archives - Episode 21, Scene #01: Joanna Angel, Jenna J Ross, Small Hands - Small Hands and I invited good girl Jenna J Ross to have a threesome with us in a previously recorded live sex show. She's a squirter, folks! Watch brand new live streams weekly in the Burning Angel chat room!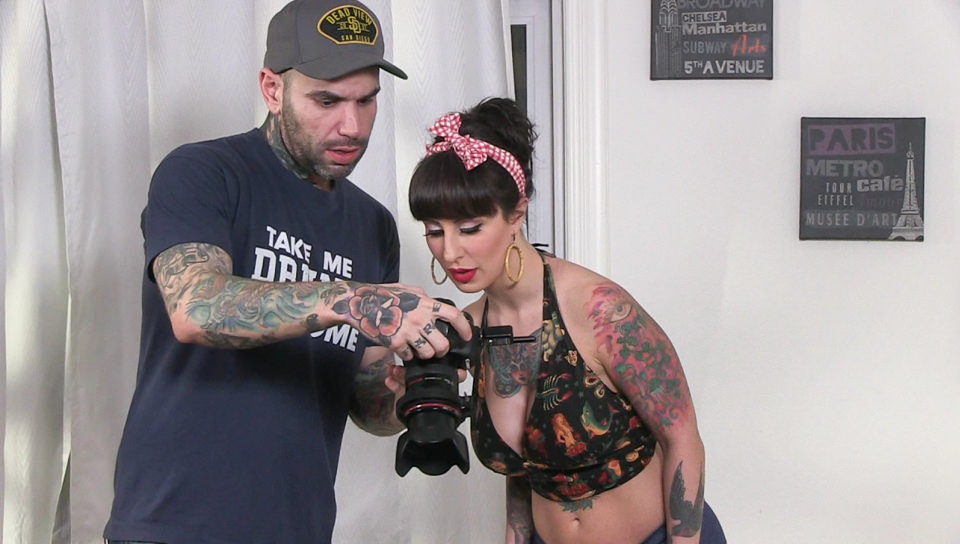 BTS Episode 86, Scene #01: Joanna Angel, Dollie Darko, Stassi Sinclair, Kendra Cole, Small Hands, Moe The Monster Johnson - Taurus and Moe 'The Monster' Johnson played some 'futbol' in the backyard before we lost daylight, and we crept up on the retro pinup doll perfection that is Dollie Darko while she had her photoshoot. Dollie was looking incredible with those red lips, impeccable hair, and gorgeous babely curves ahead of filming her dirty as heck anal POV Punx scene with Small Hands. Kendra Cole flirts with the camera and shows off her sexy black lingerie, and we meet new addition Stassi Sinclair to the Burning Angel squad.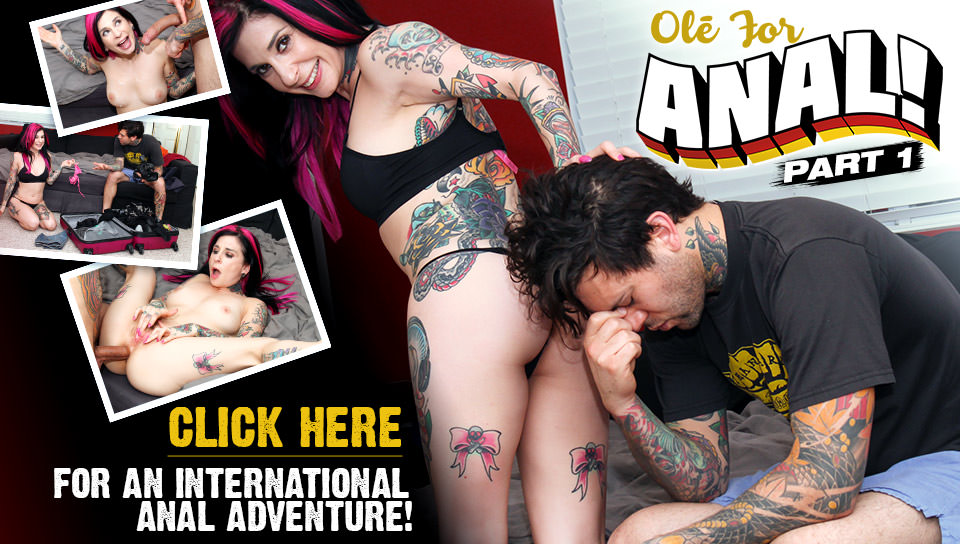 Ole For Anal - Part 1, Scene #01: Joanna Angel, Small Hands - We booked a trip to Mexico and decided to document the whole vacation. Small Hands whipped out the the camera and was trying to rush me out the door - I was almost done packing, waiting for laundry (and hate being bored in the airport) - so I offered up an idea to kill time while we waited. How about a little suck and fuck on my man's cock? I think a little pre-vacation anal pounding and gaping would start things off right! I wanted to go to the airport still covered in hot sticky jizz. I wonder if that would hold us up in security...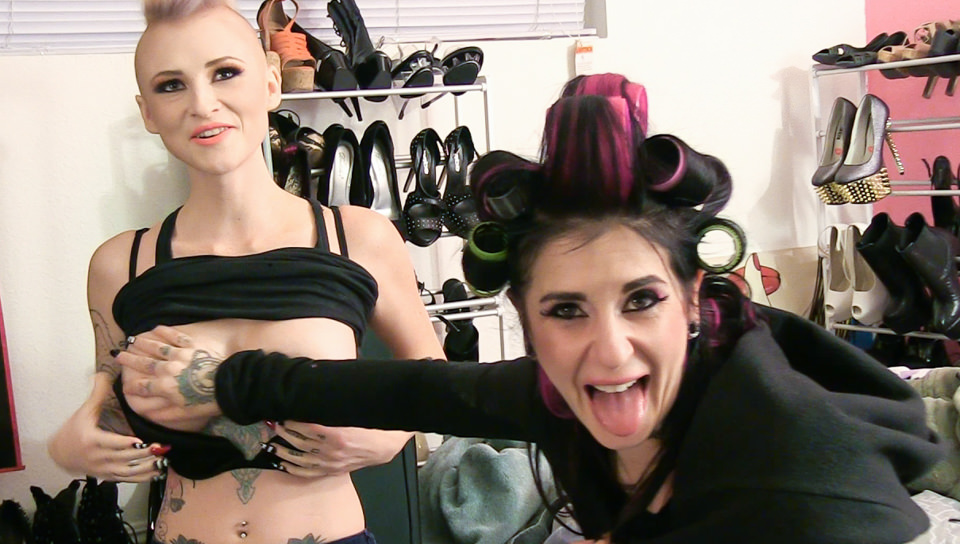 BTS Episode 85, Scene #01: Joanna Angel, Sloane Synful - We got up close and personal with Sloane Synful, one of gorgeous new additions to the Burning Angel squad. We love playing dress-up with really sexy tattooed babes with nice big boobs who can rock a mohawk. Before she showered off her first scene ever, we asked her about her experience on camera, and her beautiful tattoos - especially that one beneath her breasts. She's so hot in her harness with her perky pierced nipples, mmm! She has tiny little feet, too! How anyone can concentrate with such a breathtaking beauty, topless, is beyond me!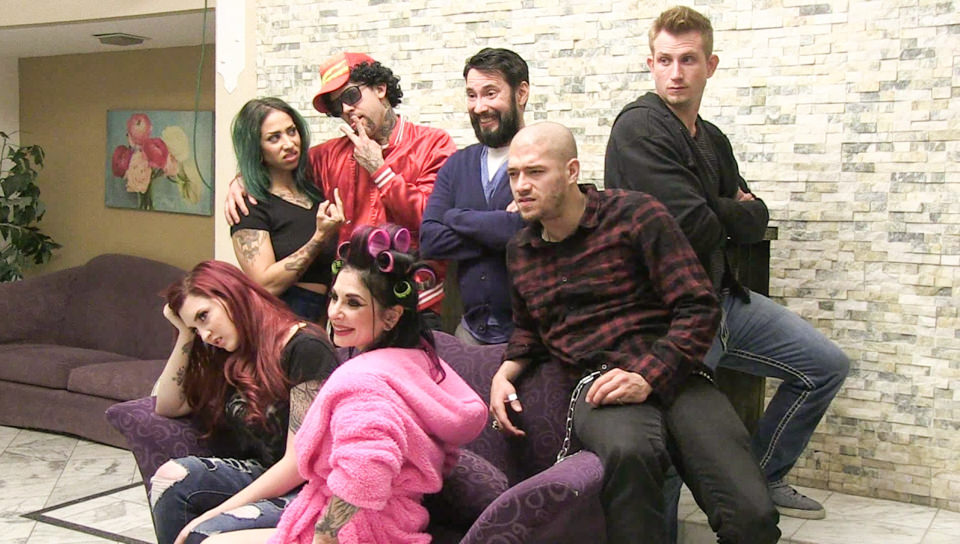 BTS Episode 84, Scene #01: Joanna Angel, Veronica Rose, Amber Ivy, Xander Corvus, Tommy Pistol, Bill Bailey, Small Hands - At the heart of it all, I'm just a weird and wacky MILF who wants the kids to eat their damn vegetables, haha! We went behind the scenes of recent Burning Angel feature DysFUCKtional Family Reunion. I think curlers are a good look for me! These people are like real family to me, and hilarious actors, so it was really special! There was some sexual cucumber slice eating, which everyone enjoys. Also, super non-scientific diagram drawing on how to make a step-related-everyone family movie. It's very complex. Just like my porno family.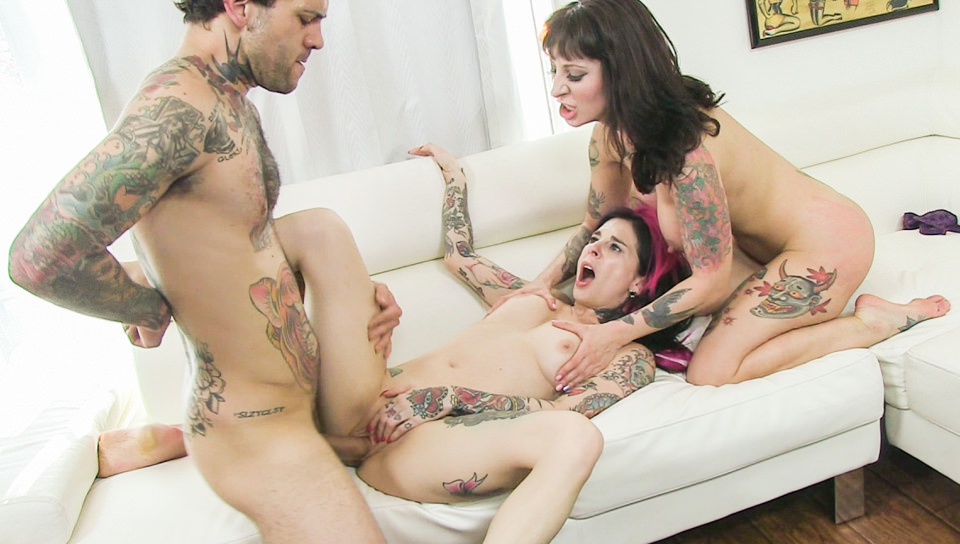 Live Webcam Archives - Episode 20, Scene #01: Joanna Angel, Dollie Darko, Small Hands - Small Hands and I took advantage of perfect pin up and dirty girl Dollie Darko's visit and banged her silly in a previously recorded live sex show. Watch brand new live streams weekly in the Burning Angel chat room!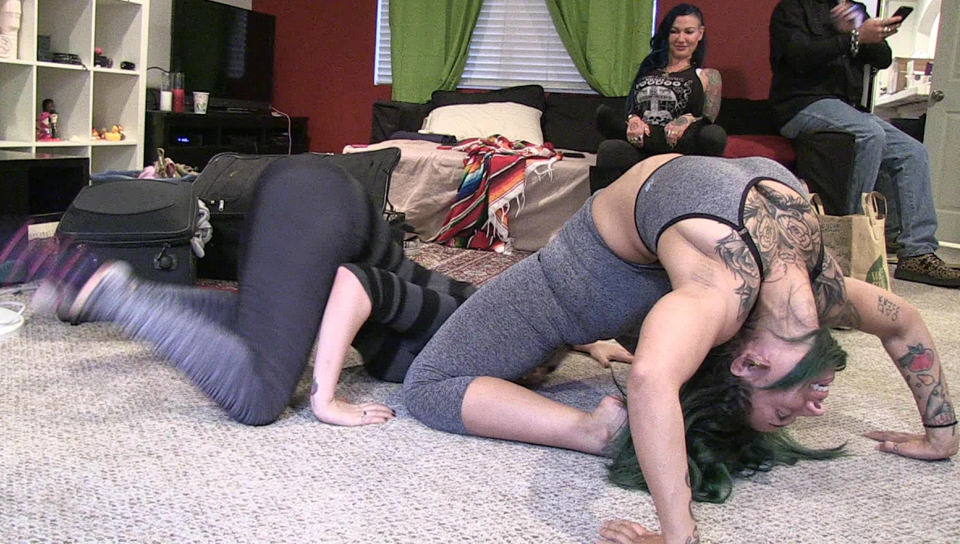 BTS Episode 83, Scene #01: Joanna Angel, Brandy Aniston, Jenevieve Hexxx, Veronica Rose, Amber Ivy, Jessica Creepshow, Tommy Pistol, Bill Bailey, Small Hands - Things get all bendy on set when Veronica Rose and Amber Ivy hang out in some yoga pants trying to test their flexibility in front of the camera for us, between scenes one day. Witchy woman and psychic Jenevieve Hexxx joins in the fun and shows everyone the magic of a belly dancer's tummy. They're all super talented and can put their legs behind their heads! We creep on Jessica Creepshow herself along with Brandy Aniston and Tommy Pistol on their shoot for MILFs, Old Men & Young Whores pre and post sexytime! Did you know cum burps were a thing? They are!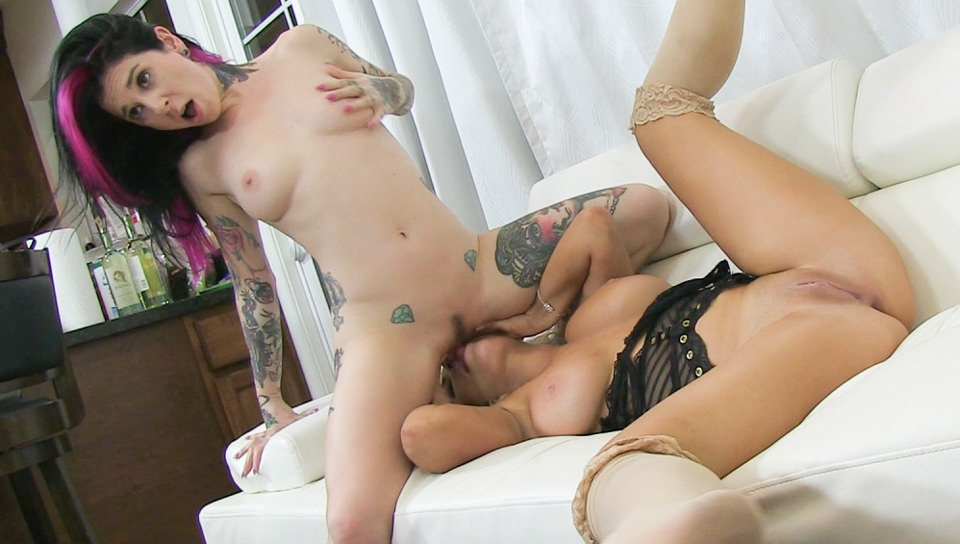 Live Webcam Archives - Episode 19, Scene #01: Joanna Angel, Tasha Reign - Blonde porn super star Tasha Reign and I engaged in some lesbian scissoring, muff diving, and fingerbanging in a previously recorded live sex show. Watch brand new live streams weekly in the Burning Angel chat room!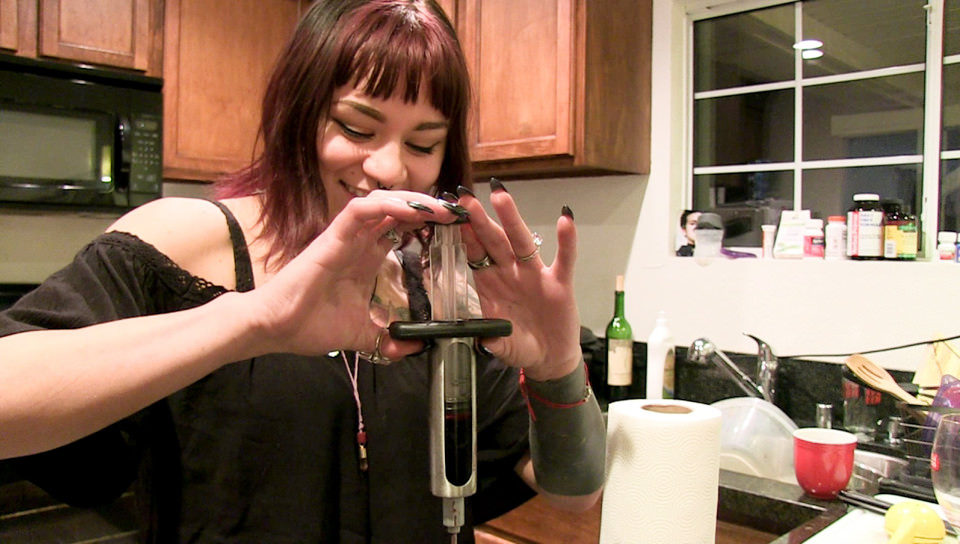 BTS Episode 82, Scene #01: Joanna Angel, Rachel Ravaged, Draven Star, Lolly Ink, Amelia Dire, Small Hands - You know we like to get messy around here, so when Lolly Ink and Small Hands were filming Moms of Anarchy, Amelia Dire stepped in to help be our super-professional fake blood squirter girl. This is very high quality special effects! It takes skill to get the proper spray pattern for having been stabbed with a fork, a tip of my hat to you. Draven went all goth Cinderella on us and helped clean up afterwards, and then we had a chat with Rachel Ravaged between her debut scene, and her most recent release: Trekkie Love. She makes a hot gender bent Spock!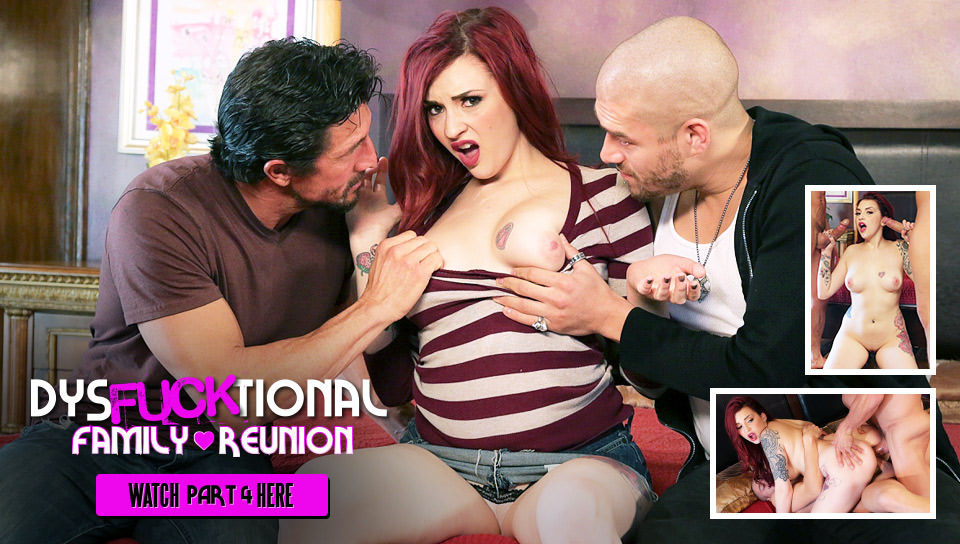 DysFUCKtional Family Reunion - Part 4: Amber Ivy, Xander Corvus, Tommy Gunn - Amber Ivy is so glad her step-brother Xander is home from prison, but he's sad missing his father. Surprise! He came, and mistakenly thought Amber was his gf or a hooker, not his sort-of step-sister, but she didn't want to fuck him for money - she wanted to make love to him for free! Dear old dad stepped in and showed him how to swing. Amber got the father and son double penetration rotisserie combo and this step-daughter showed daddy and her bro some love! Such a lovely girl on her knees sucking off the pair, and getting Eiffel Tower'd, rammed full of cock in her sweet poon and puckering asshole in this taboo threeway.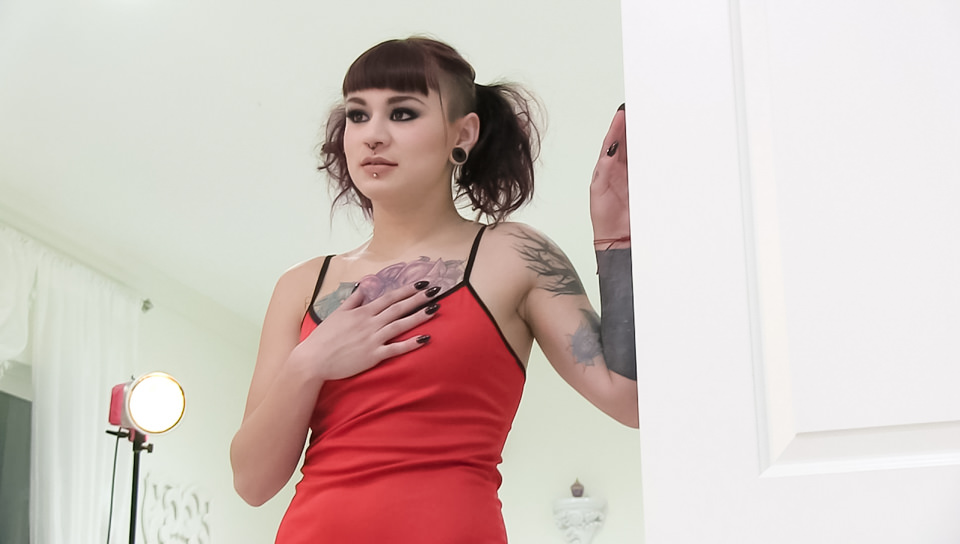 BTS Episode 81, Scene #01: Joanna Angel, Amelia Dire, Steve Holmes - Our photographer is a ham and decided to interview young and spunky Amelia Dire who comes from Kansas, with her tits out, who made her Burning Angel debut in Street Punxxx. They discuss Steve Holmes and introduce them before their extremely hardcore BDSM scene with Amelia and Joanna. She'd like to do a gang bang someday, and Steve has the power of 8 men so that would help her prepare. She's a real interesting socialist hipster girl who plays cello and hangs out with hobos who play banjo on the street. One time, she got her fist stuck in her own butt - true story. And then there's the porno handshake (you know, sucking Steve's cock, it happens).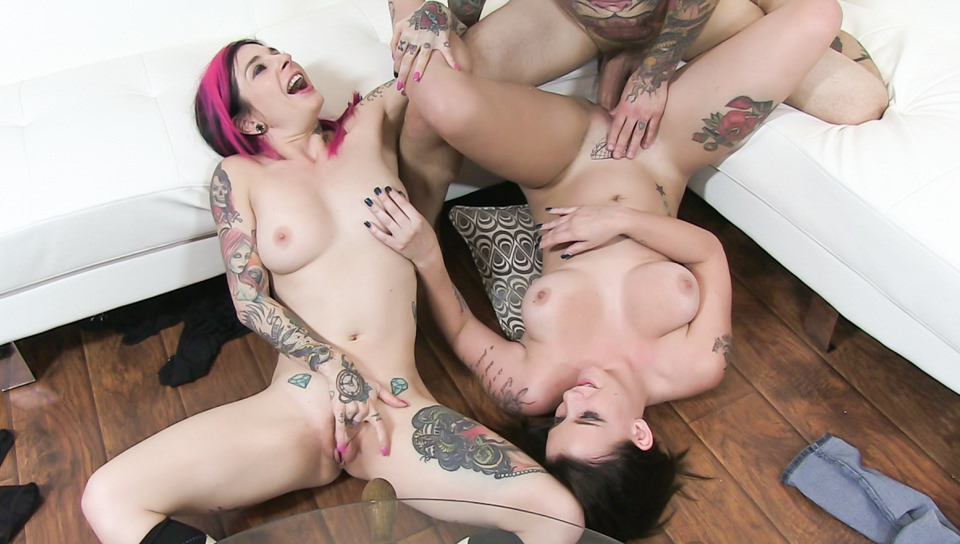 Live Webcam Archives - Episode 18, Scene #01: Joanna Angel, Rain Summers, Small Hands - Pretty porn newbie Rain Summers celebrated her 19th birthday with Small Hands and I shooting her very first porn scene ever in a previously recorded live sex show. That's a first time she'll never forget! We were her cake. Watch brand new live streams weekly in the Burning Angel chat room!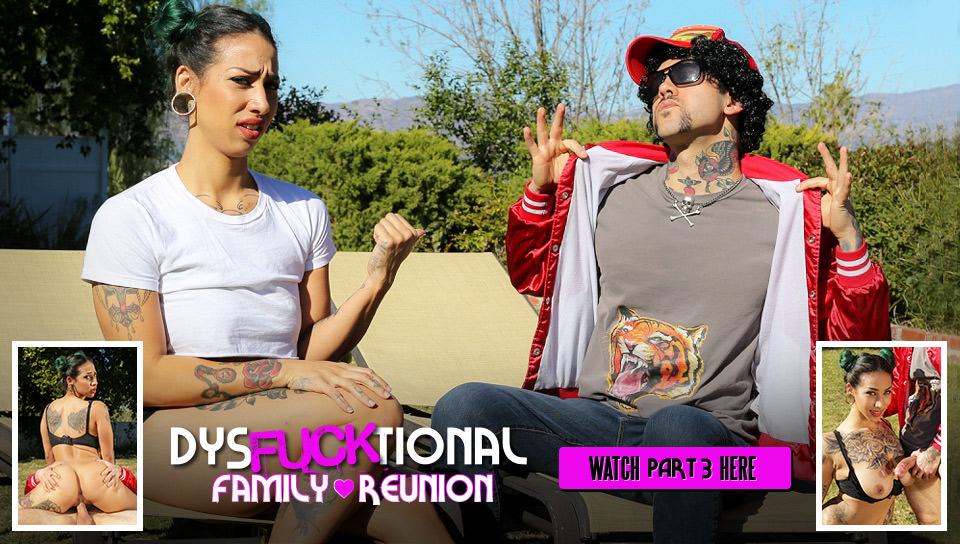 DysFUCKtional Family Reunion - Part 3: Veronica Rose, Small Hands - In this family, whenever someone gets out of jail, they celebrate with a potato sack race! Loser eat's mom's pussy! Veronica Rose and her step-uncle Kenny (Small Hands), Joanna's internet famous brother, danced over to the winner's circle - he thought she must have been sack racing a lot because she's hella tan and found out she's actually half black - she wasn't offended. Turns out he was her man crush Monday because his selfie game is tight - and Veronica's pussy is even tighter. Time for his step-niece to use her winner mouth and juicy first place ass on his prized cock and Hollywood balls in the backyard! She bounced those big natural titties up and down as she rode his dick - account verified! They're number one!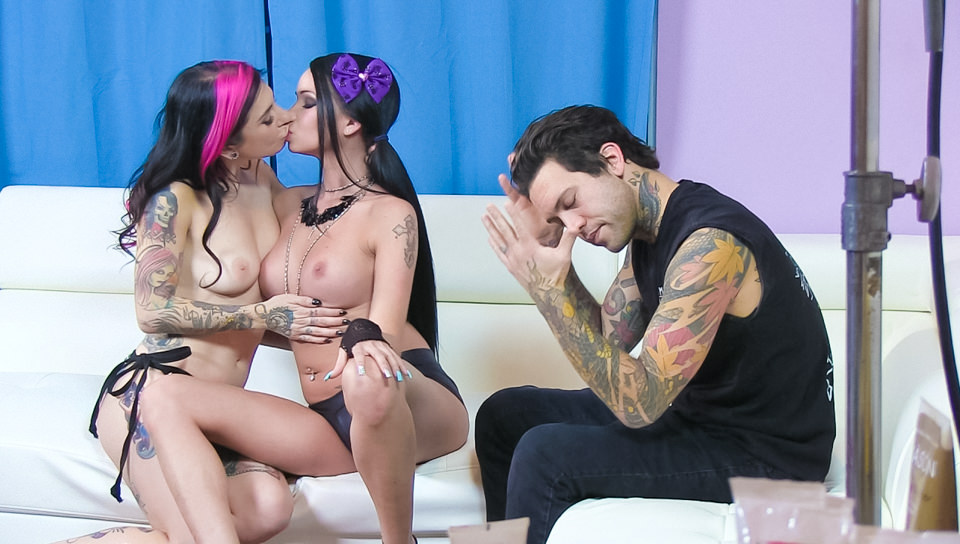 BTS Episode 80, Scene #01: Joanna Angel, Raven Bay, Sydnee Vicious, Small Hands, Xander Corvus - Sydnee Vicious gets her perky fake tits photographed wearing the most whorish girlscout costume I've ever seen. Xander and I run some lines with her for her scene in Cum On My Tattoo 5 - 'I don't have any cookies, I want CUM on my tattoo!' Her green pigtails bouncing along will bring a smile to your face. And so will Xander when he swaps outfits with Syd. Then we creep on little angel Raven Bay - that was a great day because Small Hands and I got to fuck her! Woo! And then he came on both our tattoos and that was nice.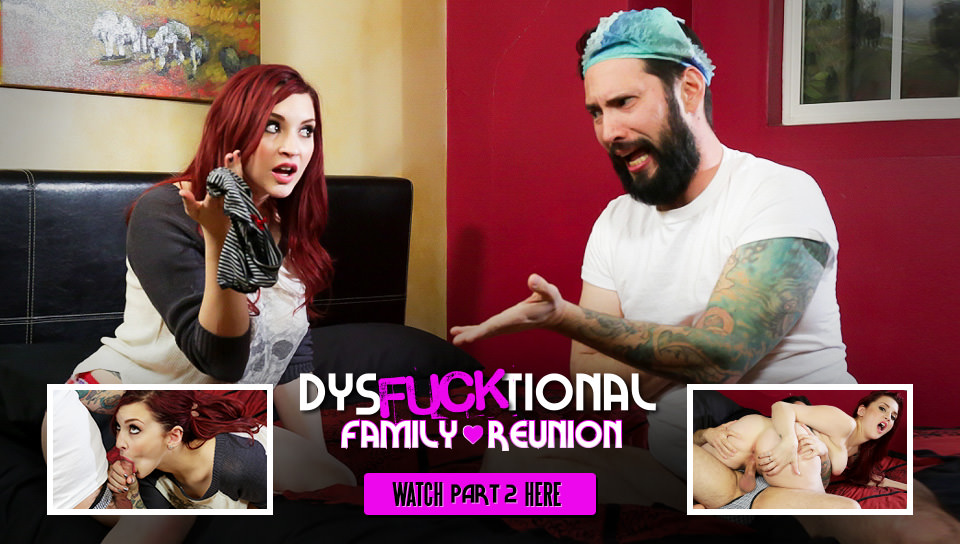 DysFUCKtional Family Reunion - Part 2: Amber Ivy, Tommy Pistol - Amber Ivy, frustrated after the nice family reunion dinner for her step-brother from another mother Xander getting out of prison became a typical huge Jerry Springer-esque argument snowballing everyone into a flurry - and finding out her mom fucked every boyfriend she ever brought home - she's determined to be a bigger slut than mommy dearest! This red-headed stepchild threw herself and her puffy natural titties at Tommy Pistol, mom's latest husband, when she found him masturbating in her panties. She sucked and slapped and fucked his dong, hungry for revenge and loved banging and getting her ass eaten by her new daddy.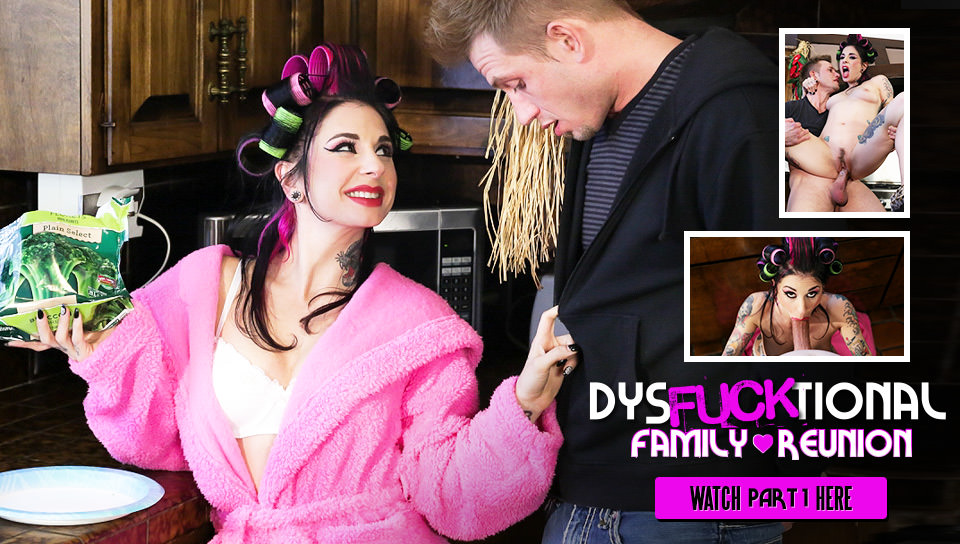 DysFUCKtional Family Reunion - Part 1: Joanna Angel, Bill Bailey - Dear ol' mom, trashy MILF Joanna Angel, wanted to know if Bill, her 'step-daughter' Amber's boyfriend who had come home with her to visit for the reunion, wanted to partake in a family tradition. The tradition was fucking him in the kitchen. She dropped to her knees and sucked him off, and enticed Bill into a rim job with her tasty asshole and her tight pussy that wrapped itself around his meat like a warm hug. She bounced her ass up and down on his forbidden stiff rod, and railed away and stretched his girlfriend's slut mom's bum until he came hard all over her ass.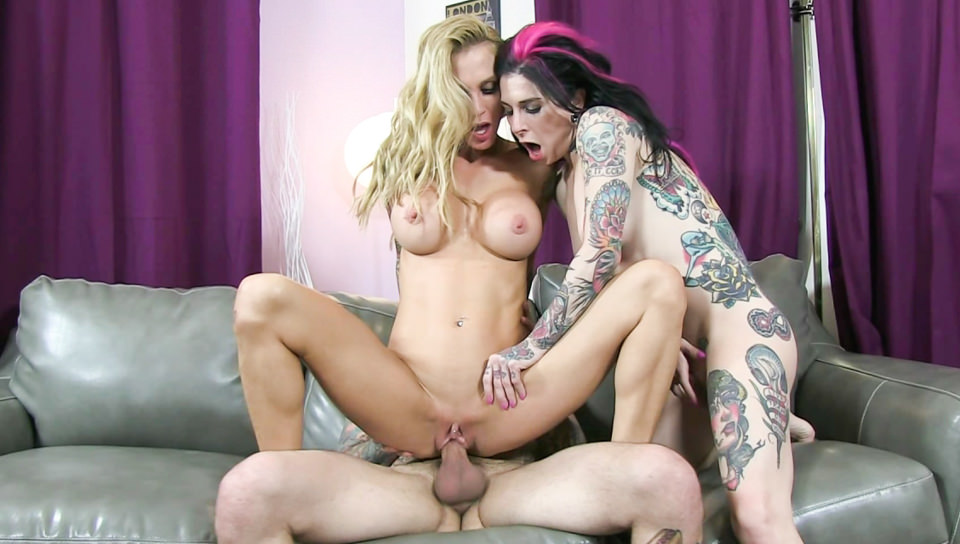 Live Webcam Archives - Episode 17, Scene #01: Joanna Angel, Sarah Jessie, Small Hands - Absolutely gorgeous porn superstar Sarah Jessie and I get down on Small Hands' meat stick in a previously recorded live sex show. Watch brand new live streams weekly in the Burning Angel chat room!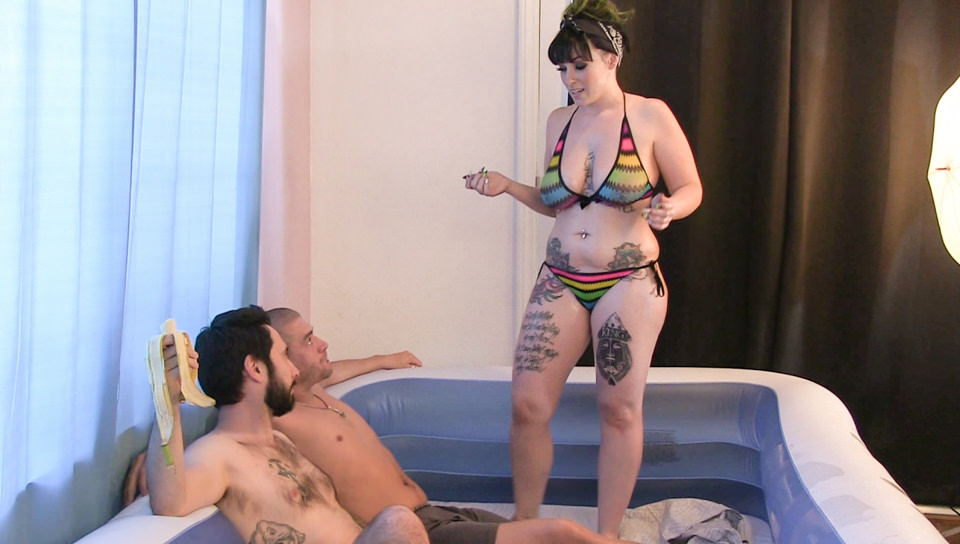 BTS Episode 78, Scene #01: Joanna Angel, Axis Evol, Kandy Kummings, Kimberly Chi, Tommy Pistol, Small Hands, Xander Corvus - Axis Evol wanted to do an oil scene, so we gave her an inflateable swimming pool in the living room and all the oil we could find in the place. We make dreams cum true, duh. Enjoy watching her sensually drip the oil all over her big natural titties and juicy bum during her photoshoot. Newbie Kandy Kummings knows how to take a picture. Small Hands gets jiggy with it as usual. Tommy Pistol sings a little tune. There are slick boobs and butts and body parts everywhere - and uh, things get a little weird! That's how we do.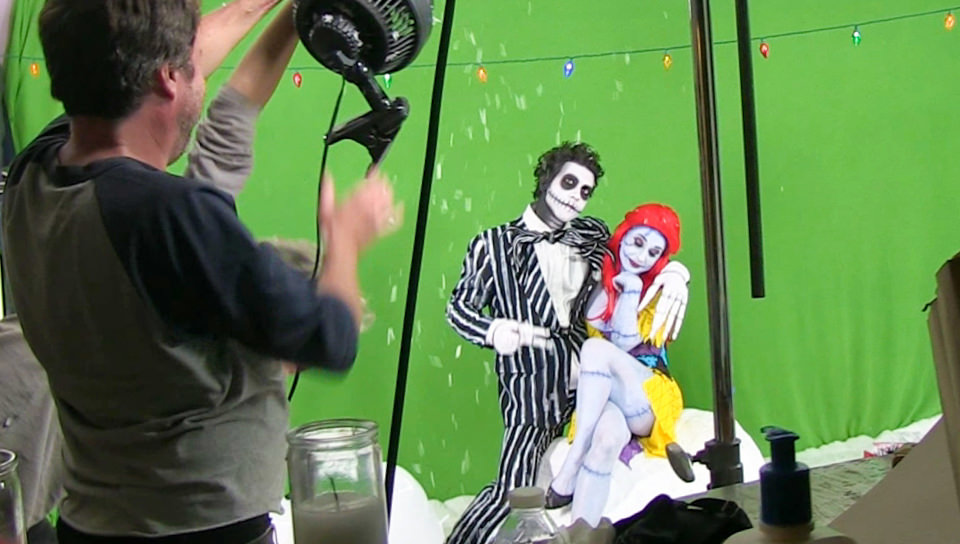 BTS Episode 77, Scene #01: Joanna Angel, Small Hands - We were in the midst of shooting our holiday themed porno - The Nightmare Before XXXmas, I was covered again head to toe in blue makeup because I played the roll of Sally, Small Hands was covered in Jack Skellington makeup, and my crew had a jolly old time putting our Christmas parody set together. Lindsay Hearts tailored our bad-ass costumes for the porno, she always does a great job! We had so much fun recording the song featured in the movie and the music video portion. Plus you get to see my butthole get airbrushed in today's behind the scenes clip. Boner bonus!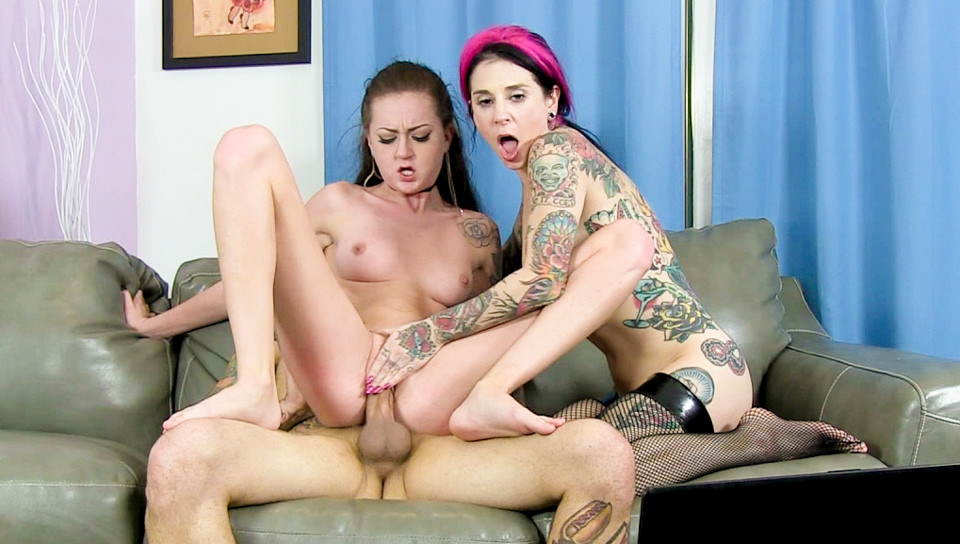 Live Webcam Archives - Episode 16, Scene #01: Joanna Angel, Kendra Cole, Small Hands - Slender brunette sweetheart Kendra Cole and I share Small Hands' nice big cock in a previously recorded live sex show. Watch brand new live streams weekly in the Burning Angel chat room!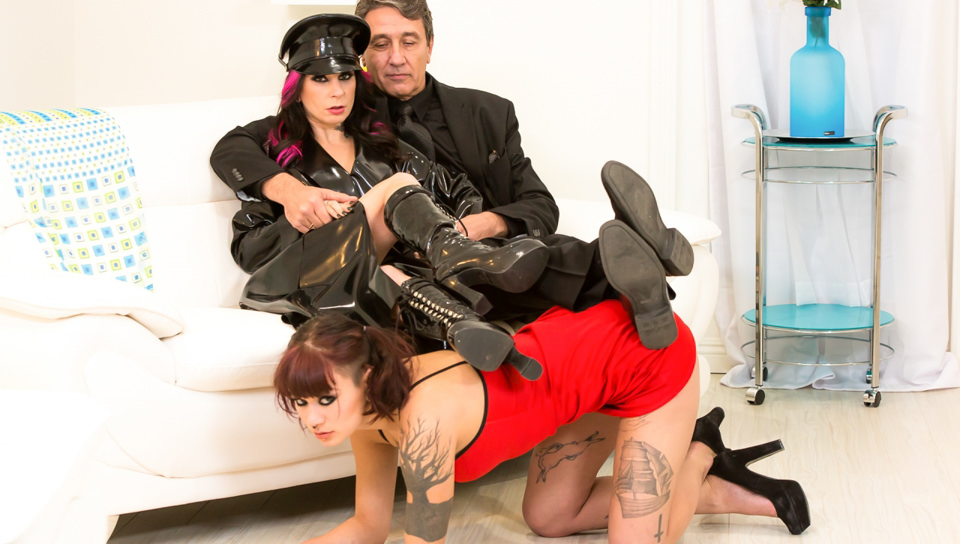 Amelia Dire BDSM, Scene #01: Joanna Angel, Amelia Dire, Steve Holmes - If you don't like the sound of Steve Holmes and I dominating our submissive sex slave Amelia Dire, turn back now. Amelia is a good girl, she waited so patiently for us to arrive home - and she consents and loves to be used and abused by us, her masters, in every orifice. I sunk my teeth into her perky young tits and she let out a whimper - get it together already, baby! What may seem like pain brings our girl with a highly sensitive clit much pleasure. If she doesn't suck it up, she's gonna get burned - literally. Get on your knees and worship my ass now, Amelia! We're going to make your mascara run.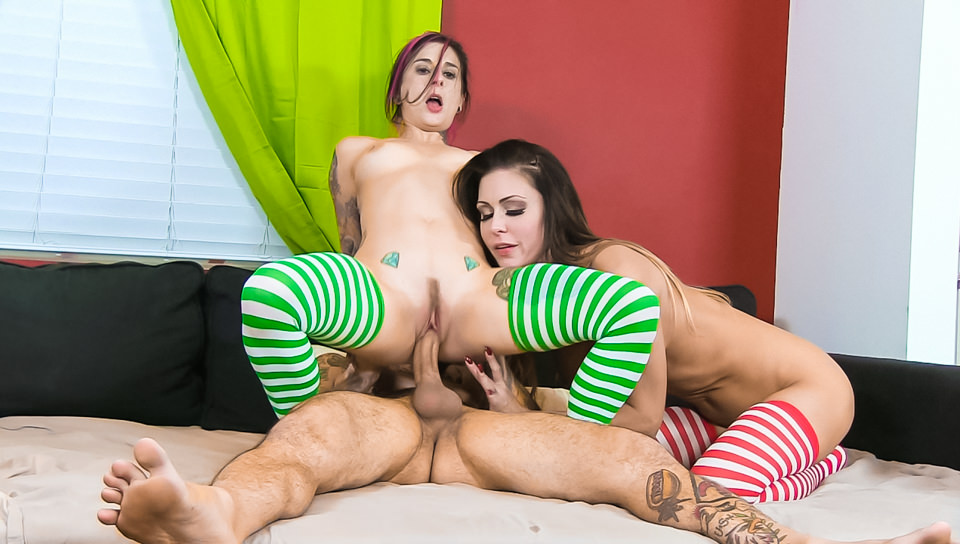 Live Webcam Archive Episode 15, Scene #01: Joanna Angel, Jessica Jaymes, Small Hands - Special guest elf Jessica Jaymes and I share Small Hands' candy cane in a previously recorded live sex show. Watch brand new live streams weekly in the Burning Angel chat room!


Want some more? Check the site.
| | | |
| --- | --- | --- |
| | Older | Newer | |