ASR PREMIUM - Free Porn Movies and Free Porn Images
ASR Premium offers Free Hosted Galleries of sample porn movies and photos for FREE. We collect and offer the high quality samples from millions of galleries on daily updating.
Tricky Masseur is one of the niche sites in Teen Mega World network serving with 27 sites for one membership and this site features teen girls receiving or giving massage and fuck.
Special Offer: [Check the Price Here]
[Click on the picture to see all the samples]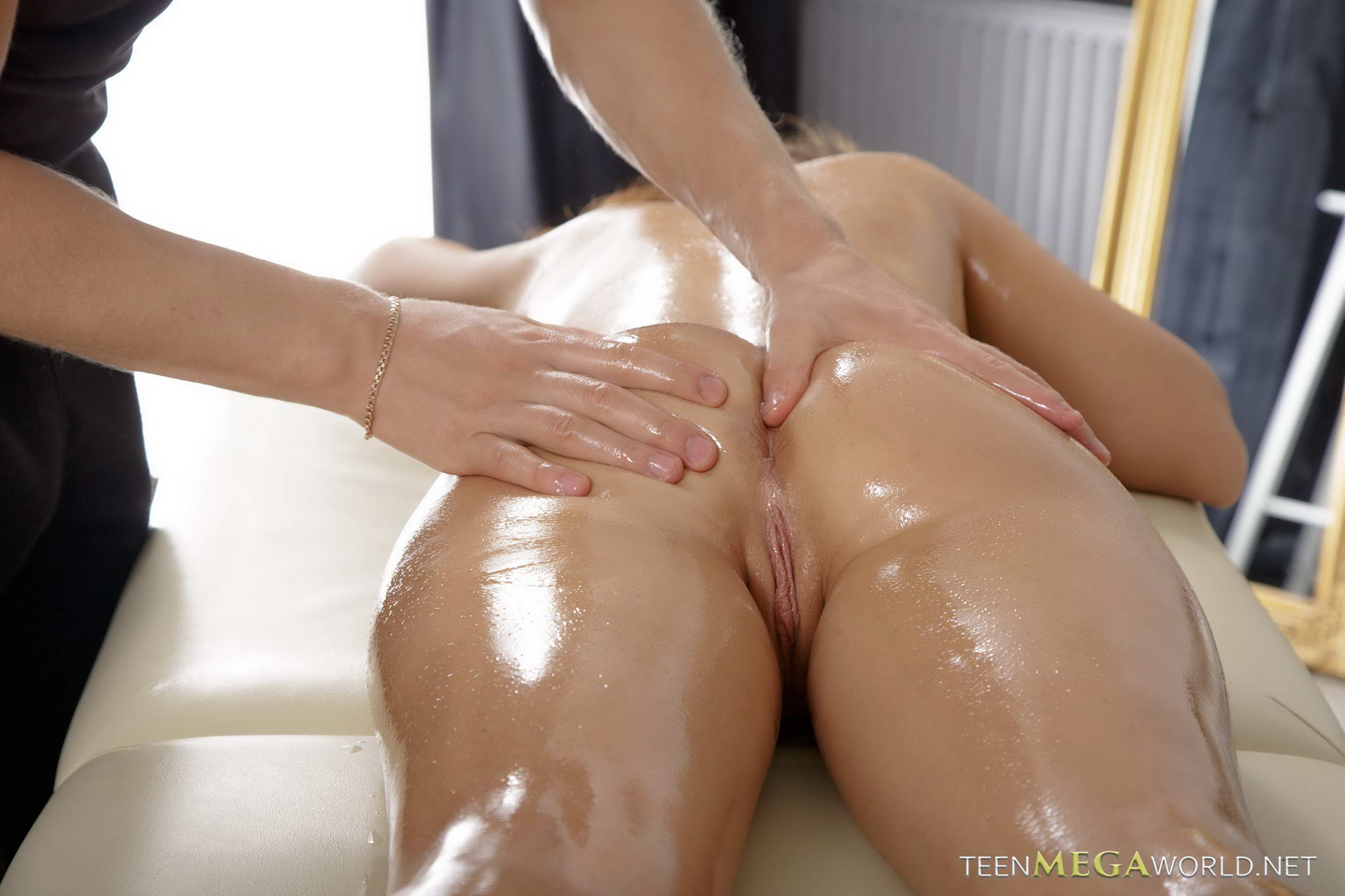 Hardcore Happy Ending - Ponytailed cutie Emma Brown lets her towel fall to the floor so she can lie nude on the massage table and wait for her skilled masseur to introduce his strong hands to her body. He oils her up, rubs her down, and leaves his client wildly aroused. His cock delivers the happy ending and she gets to have multiple orgasms thanks to his talents.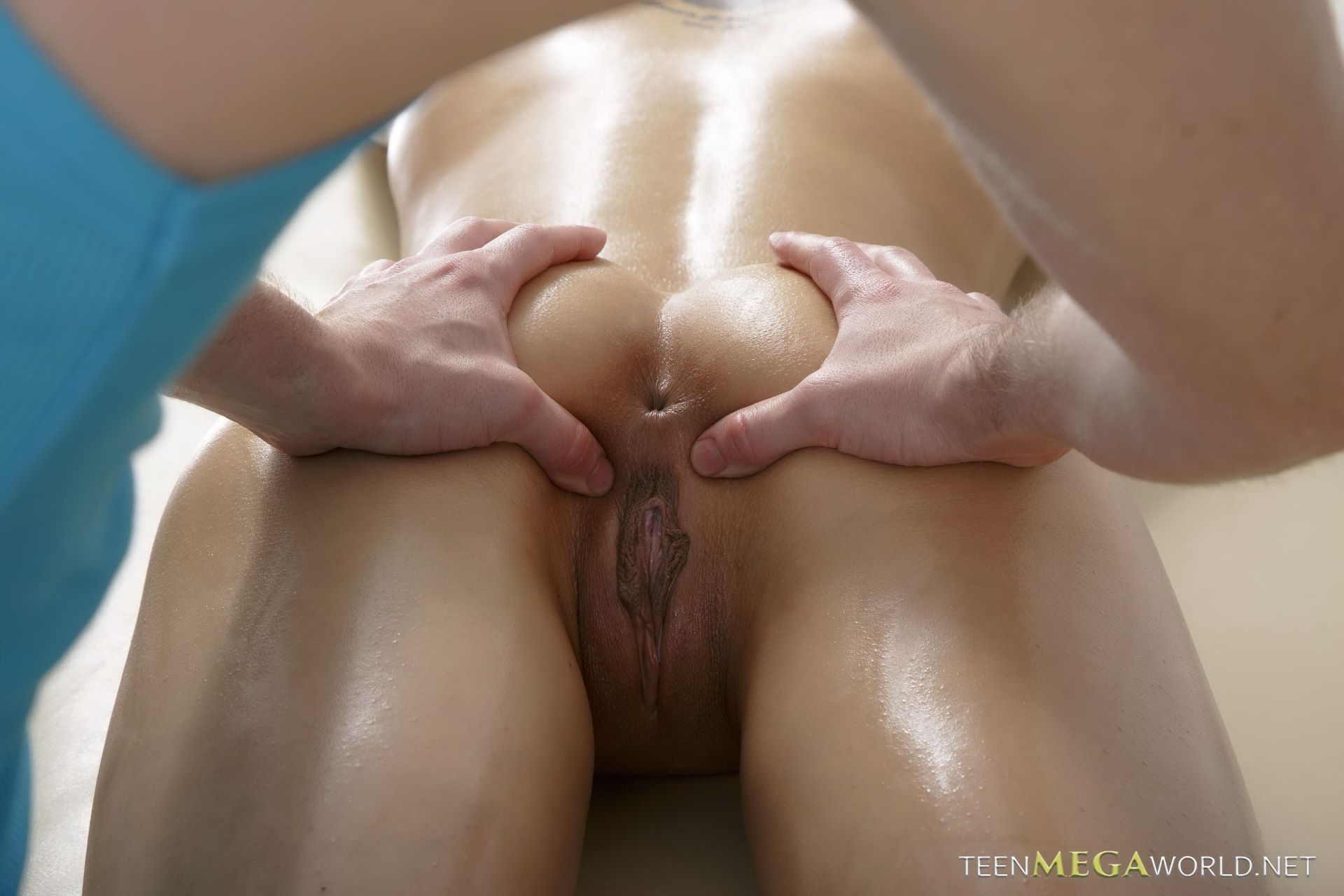 Table of Pleasure - Wonderful day to have a pleasant massage session. Enjoy this glorious babe lying on a table and getting a professional massage. Suddenly, her masseur is getting horny and starting to kiss her. She gives him a smoking-hot blowjob after he licks her pussy. It all finishes up with a session of hard banging and a delicious creampie inside.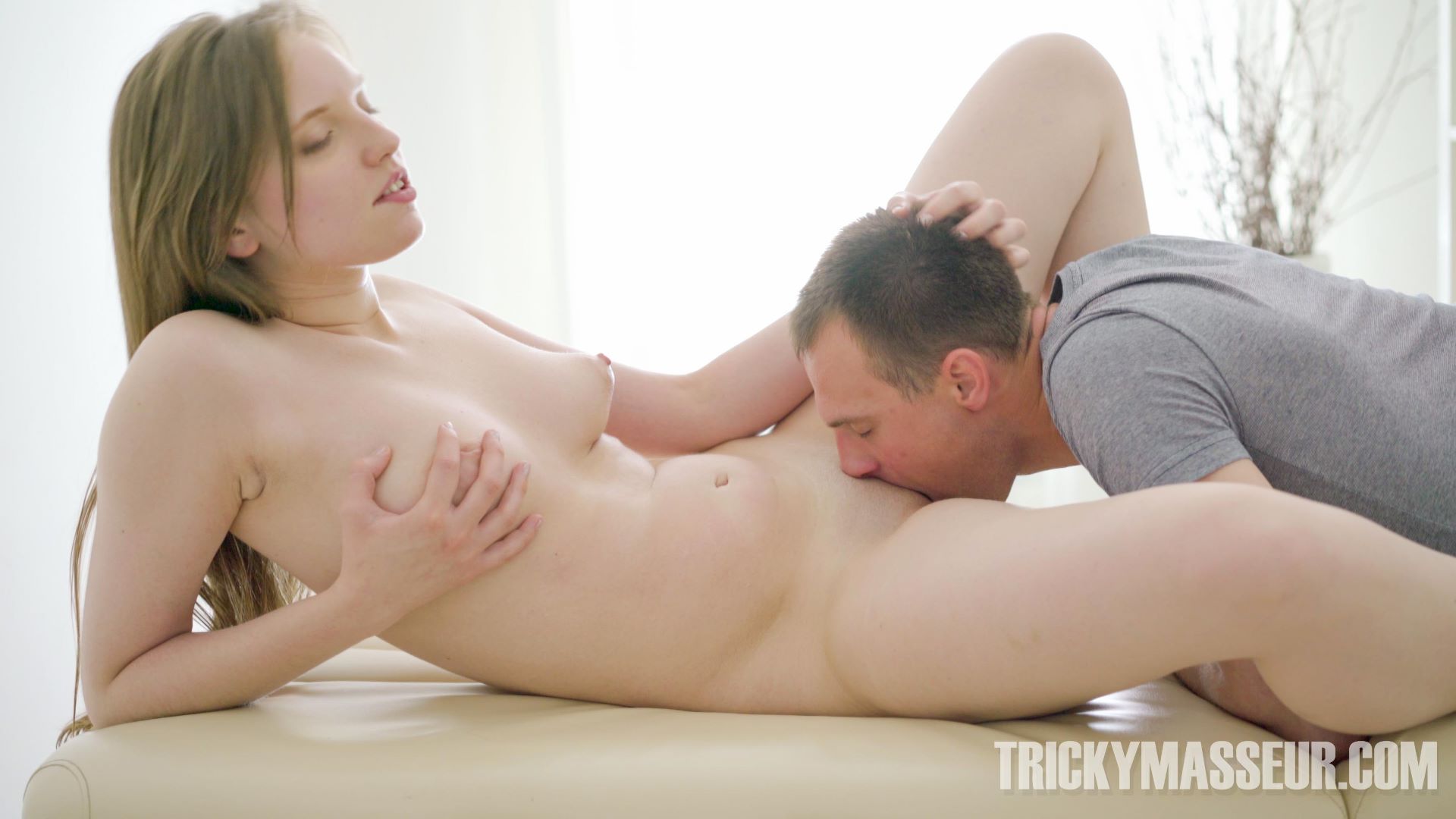 Masseur bangs a visitor - Gentle cutie believes that a girl should take care about herself and this is why she visits a masseur on a regular basis to get rid of tension. That time was a slightly different one because the dude did more than simply massaging her back. Little by little, he got very much excited and soon she was blowing his dong and taking it into her shaved pussy.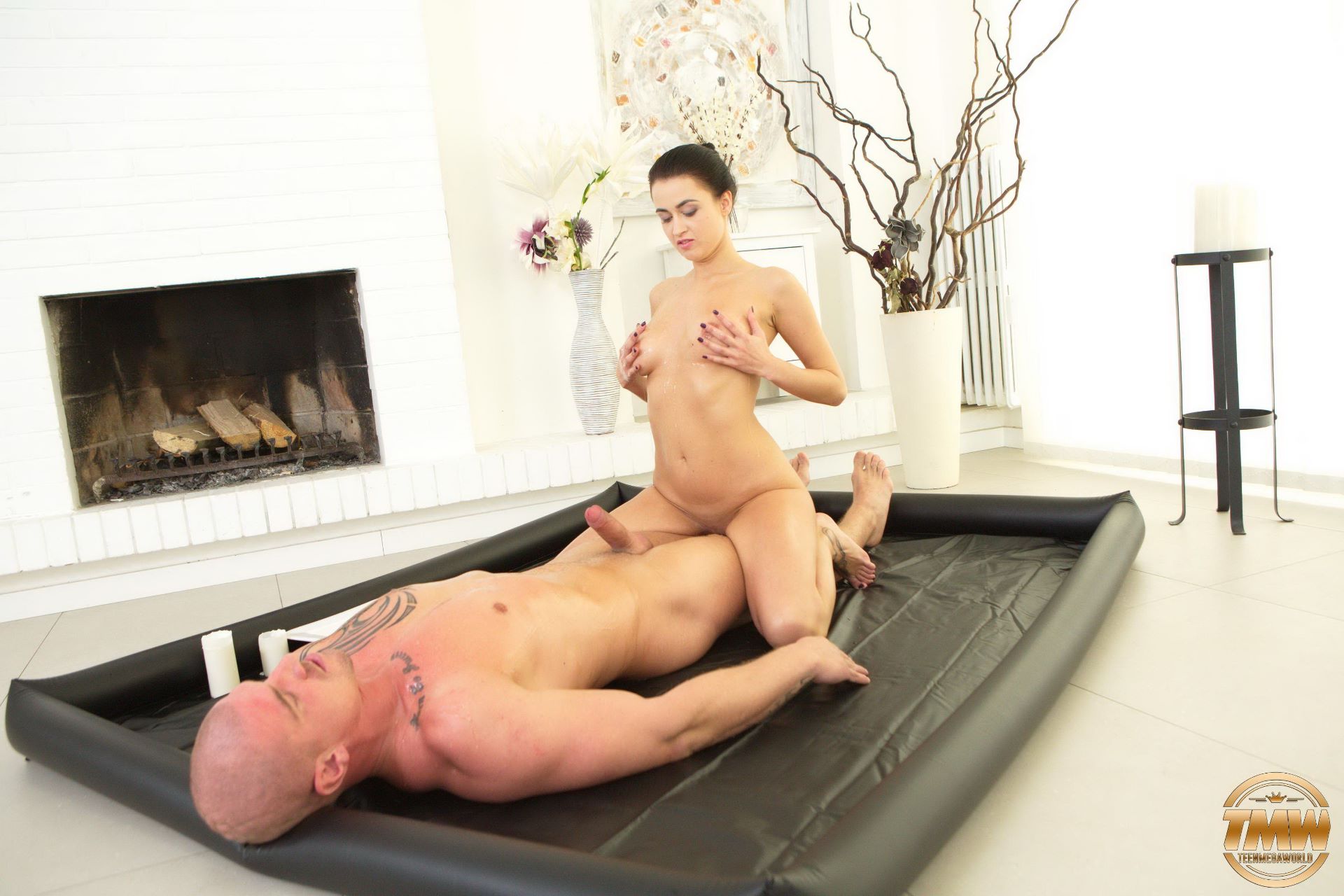 Brunette massages tattooed stud - Gorgeous brunette babe takes off her white towel and tiny panties and oils her boobs, hands and tummy to caress a strong tattooed dude. She rubs the stud's dong with her big tits and clean shaved pussy and, finally, allows the lad to thrust his sausage deep into her juicy cunt. Hottie gets her face creamed with cum as a result of this fantastic action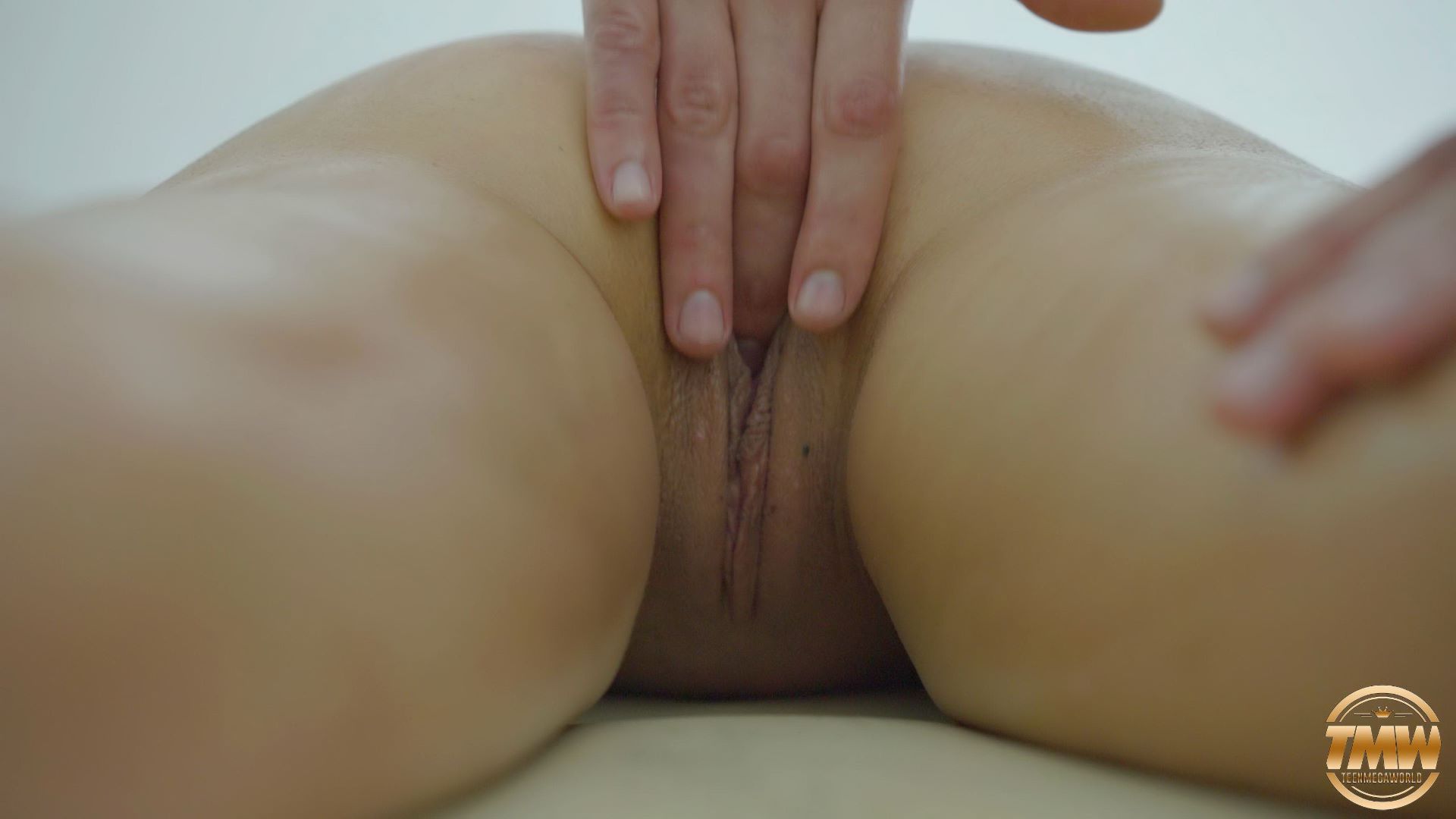 Orgasmic Awakening - This wavy-haired blonde just wants some relaxation after a stressful day. She quickly took off all of her clothes and got on the table, ready for some innocent pleasure. After a little bit of warm up, our hottie had an epiphany: she is turned on and she wants to fuck her masseur right on the table. Now all she cares about is a real happy ending



Rubbing Her The Right Way - It's no secret: if you get a girl all nice and relaxed, she will do anything you want. This guy slathers oil all over her sexy back, long legs and, of course, her luscious ass. He even "accidentally" touches her tight cunt. The girl gets so turned on, she asks him to lick her pussy. The guy happily obliges and she rewards him with a BJ and they engage in fulfilling sex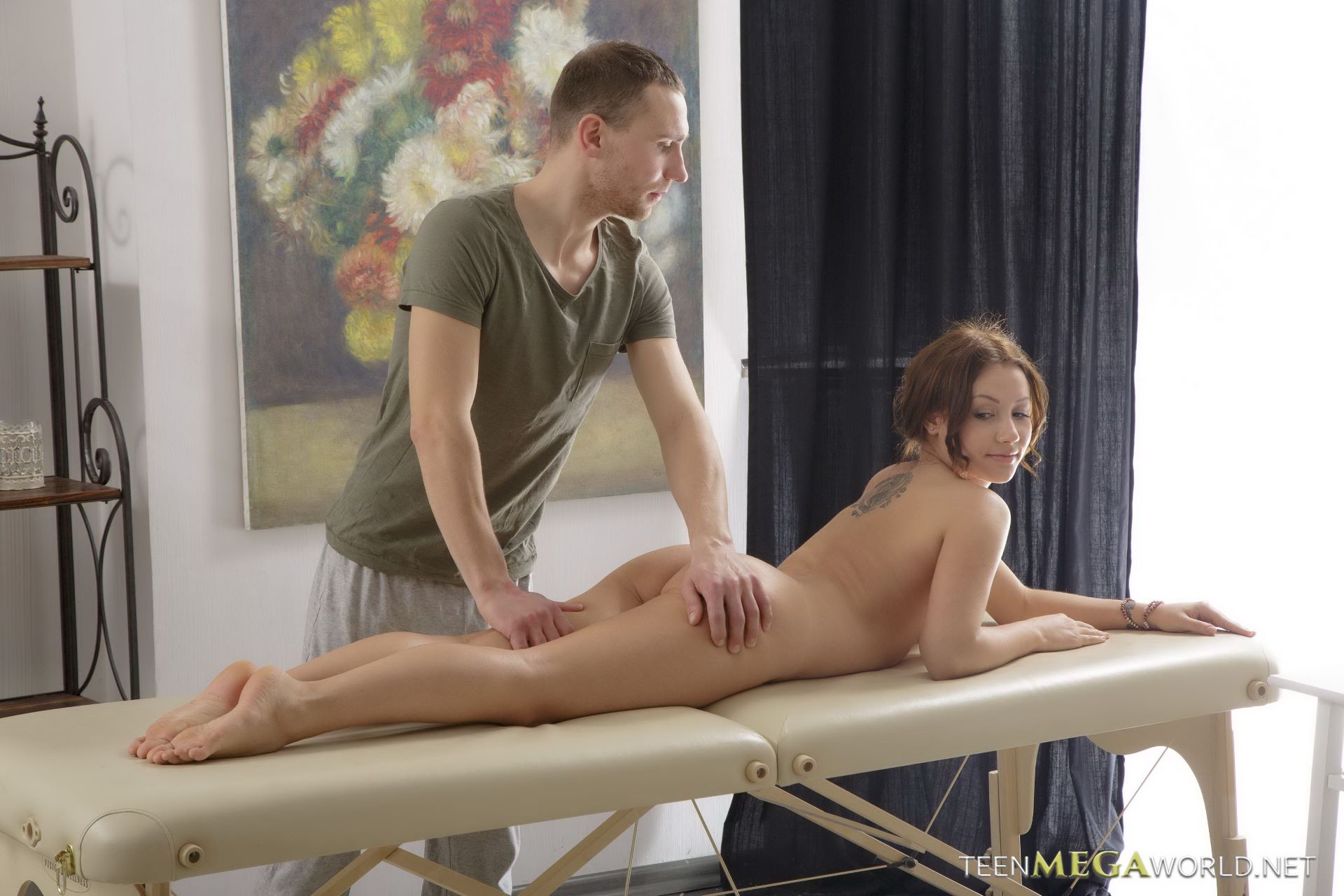 Healing Fuck Massage - Remarkable teen is ready for her daily massage. Everything hurts and only magical hands of her masseur can help her in this situation. Check out a sweet brunette have her body nicely teased on a massage table after what the guy slowly goes down to her hairy pussy, continuing with a hardcore fuck of it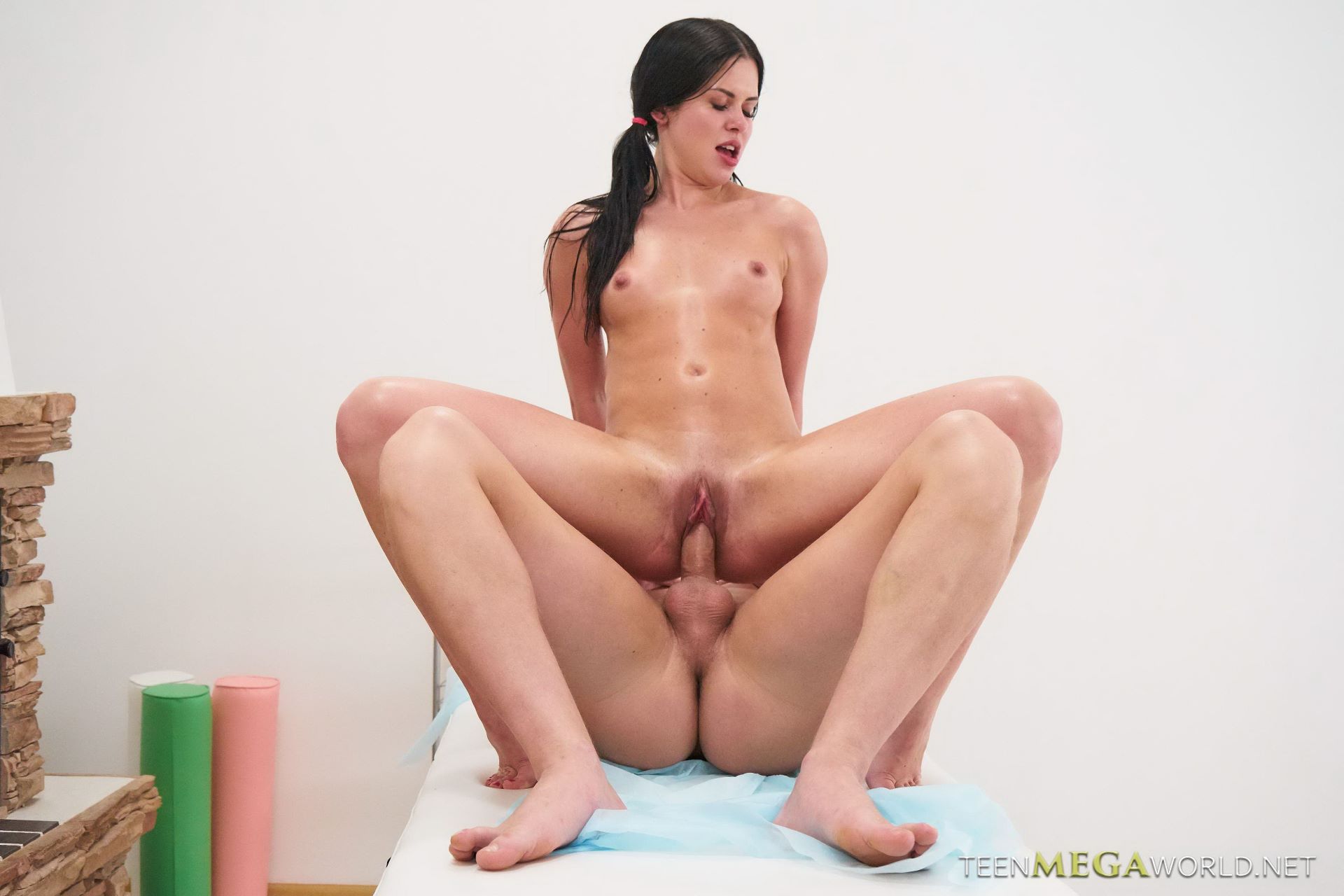 Relaxation With Pleasure - Brunette babe is having a hot massage session today. She comes in and sees a handsome masseur, who is about to go all naughty. Watch him oiling her body and gently massaging her all over. She gets all wet and horny, when he gets to her pussy, rubbing it and providing her with a marvellous pleasure before they go all serious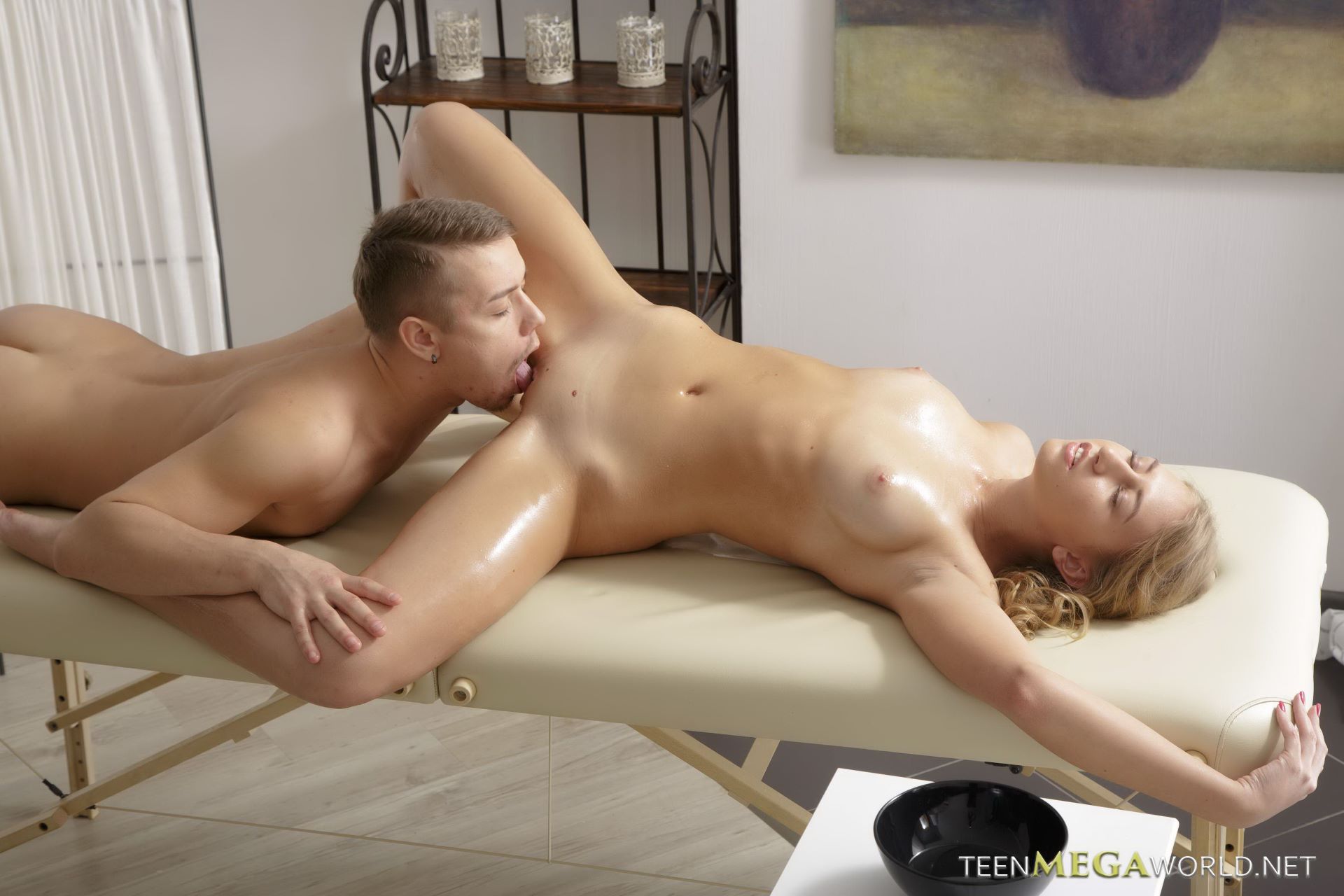 Erotic Massage - Arousing babe is coming for a session of erotic massage. She knows exactly what's going to happen, so seeing a handsome masseur just in his underwear only spices the things up. He starts touching her body all over, massaging her ass, placing his dick on her lips and fingering her pussy. Later on he continues with fantastic deep penetrations and cums on her stunning ass.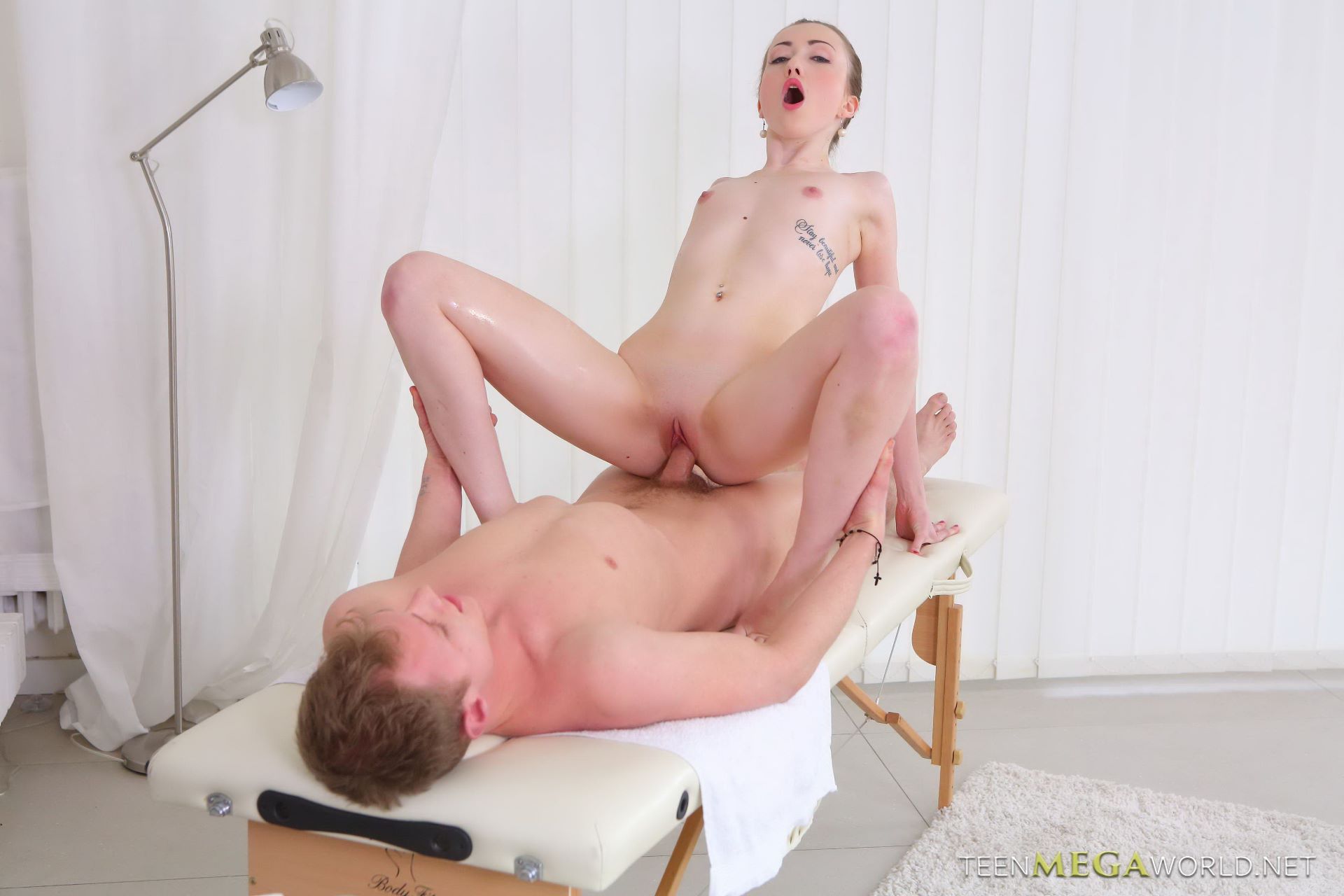 Erotic Massage Fuck - Most girls don't wear lipstick to get a massage, but this hot teen is here to get fucked by the man rubbing her down and she wants him horny for her. His hands move confidently over her lithe body in their quest to relax and arouse her, and once she's eager for dick he slips his meat into her pussy from behind and fucks the girl to orgasm.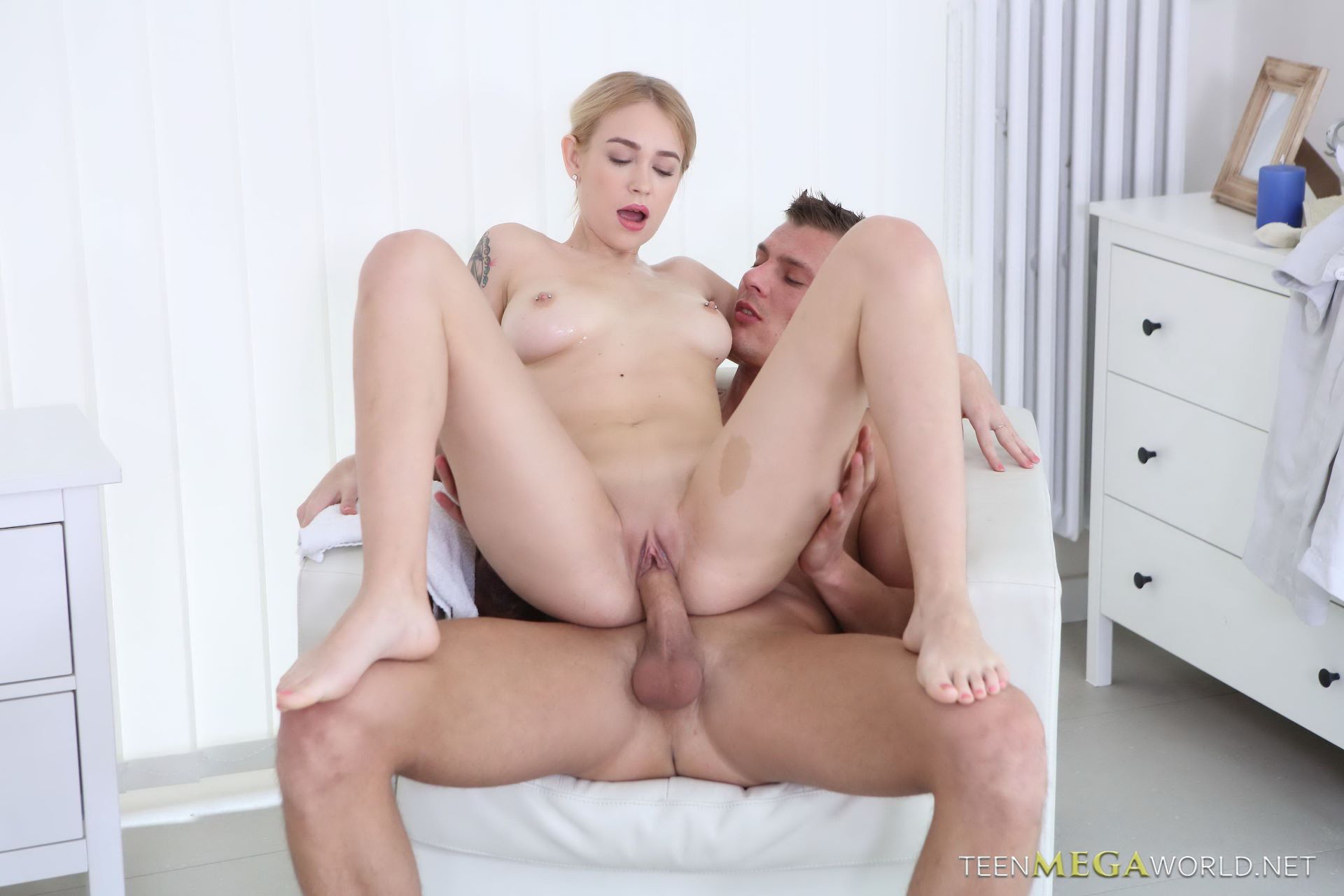 Masseur Fucks a Beauty - Her perfect natural tits are thrilling to massage and when he runs his strong hands over them the girl tingles with desire. Fingering her pussy is a good way to get her wet and she can't help but groan lustily when he turns her on. She wants to upgrade to the hardcore happy ending and get a good fuck from the masseur, which he's happy to provide with his big cock.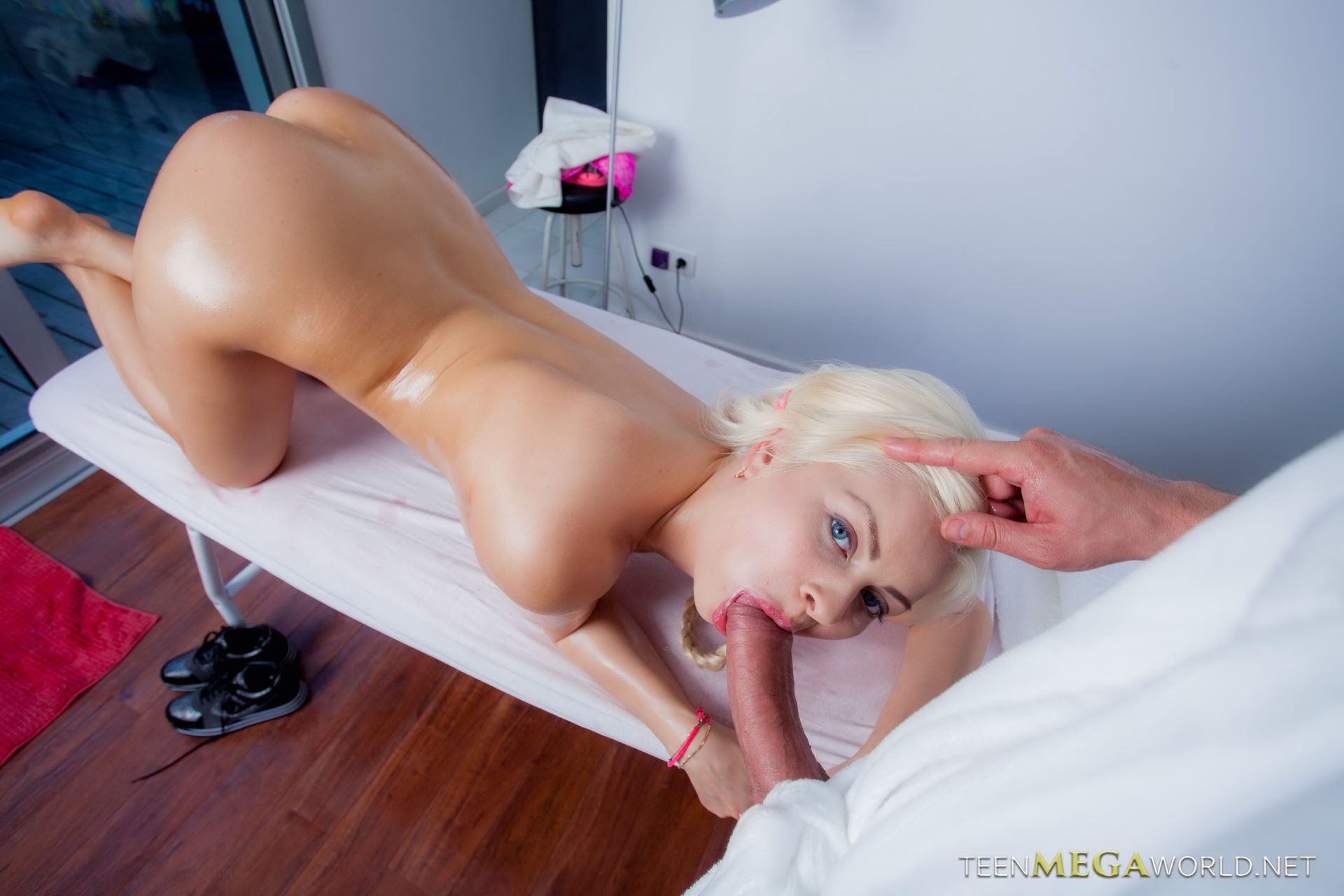 Oiled Teen Fucking - His skilled rubdown of her beautiful teen body leaves the girl shiny with oil and her pussy soaking wet with lust. He offers her a hardcore happy ending and she's only too happy to get fucked by his big cock. The fucking on the massage table is incredible and after she gives a blowjob he shoots his cum all over her pretty face and tits.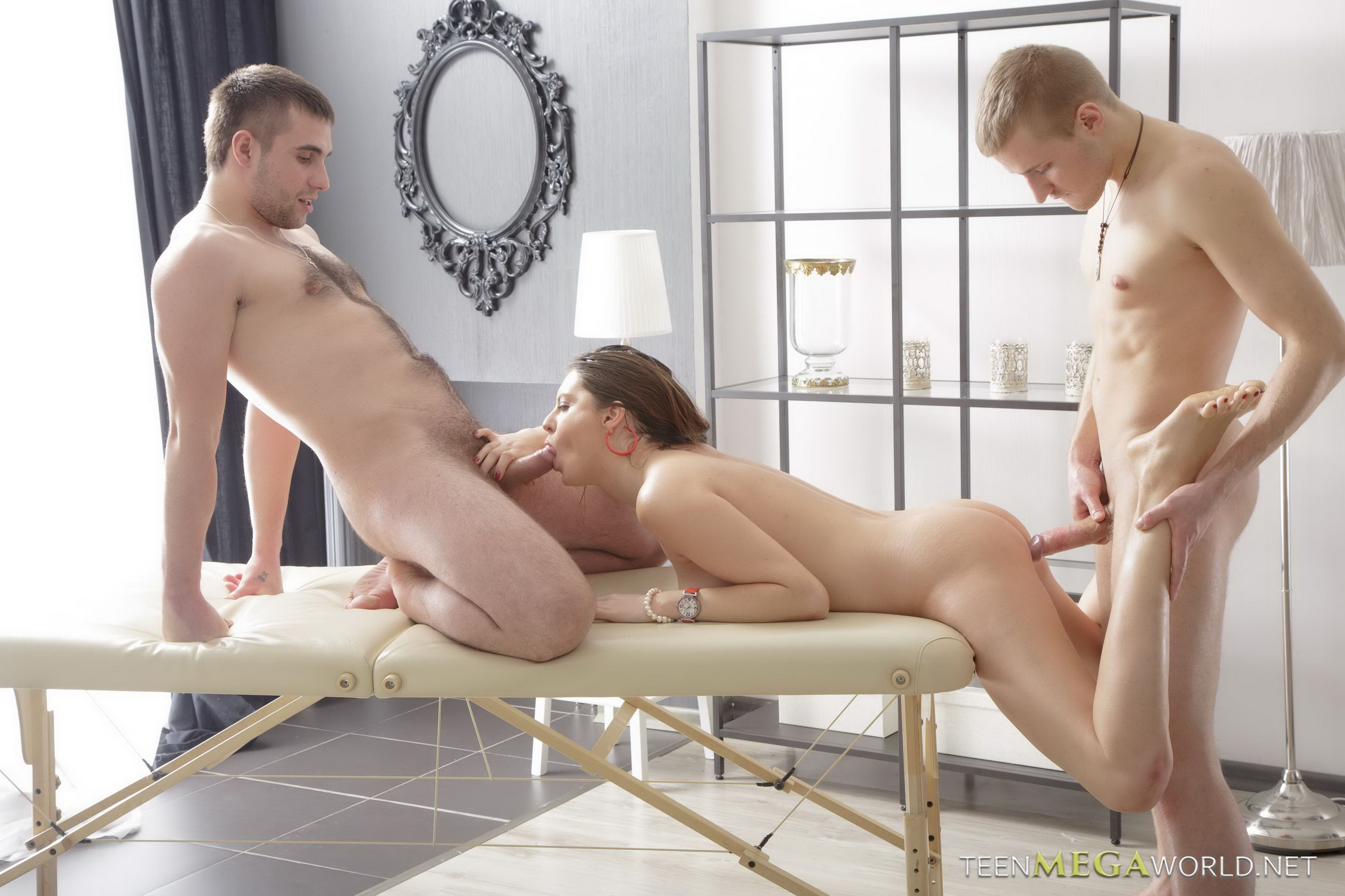 Massage Threesome - Kamila signed up for a double massage and with two pairs of strong, oiled up hands rubbing her body she's blissful. The guys aren't shy about playing with her tits and pussy and she demands a happy ending to her erotic day. They double team the girl and enjoy the wetness of her mouth and the tightness of her pussy before cumming.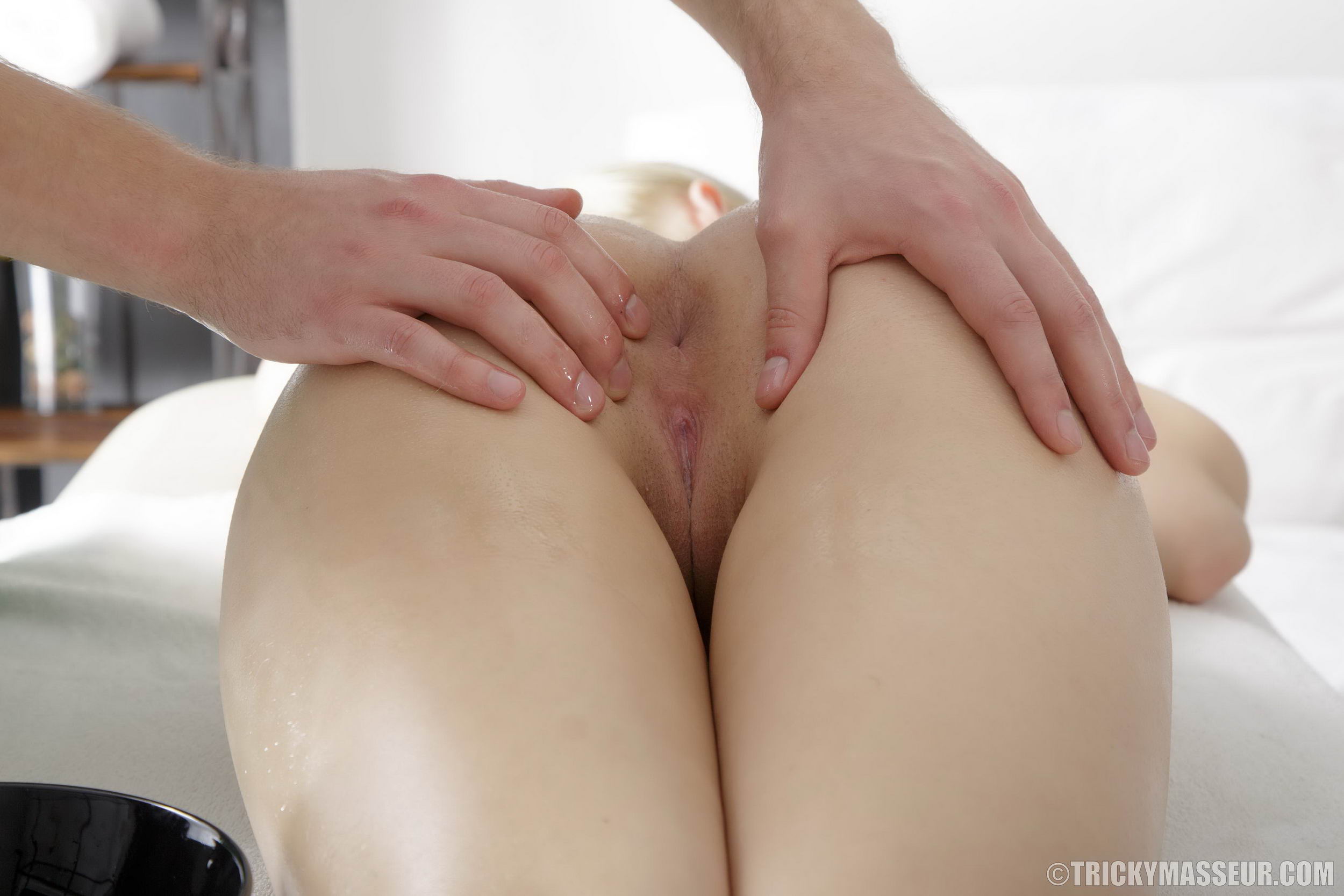 Teen Massage Beauty - In the romantic massage parlor a beautiful, lithe blonde teen strips and lies on the table for a rubdown. He oils her up, relaxes her tense muscles, and plays with her beautiful pussy because he wants to fuck her. The lovemaking is an erotic treat with deep thrusting, hot cock riding, and a big load spilling from his dick onto her tight stomach.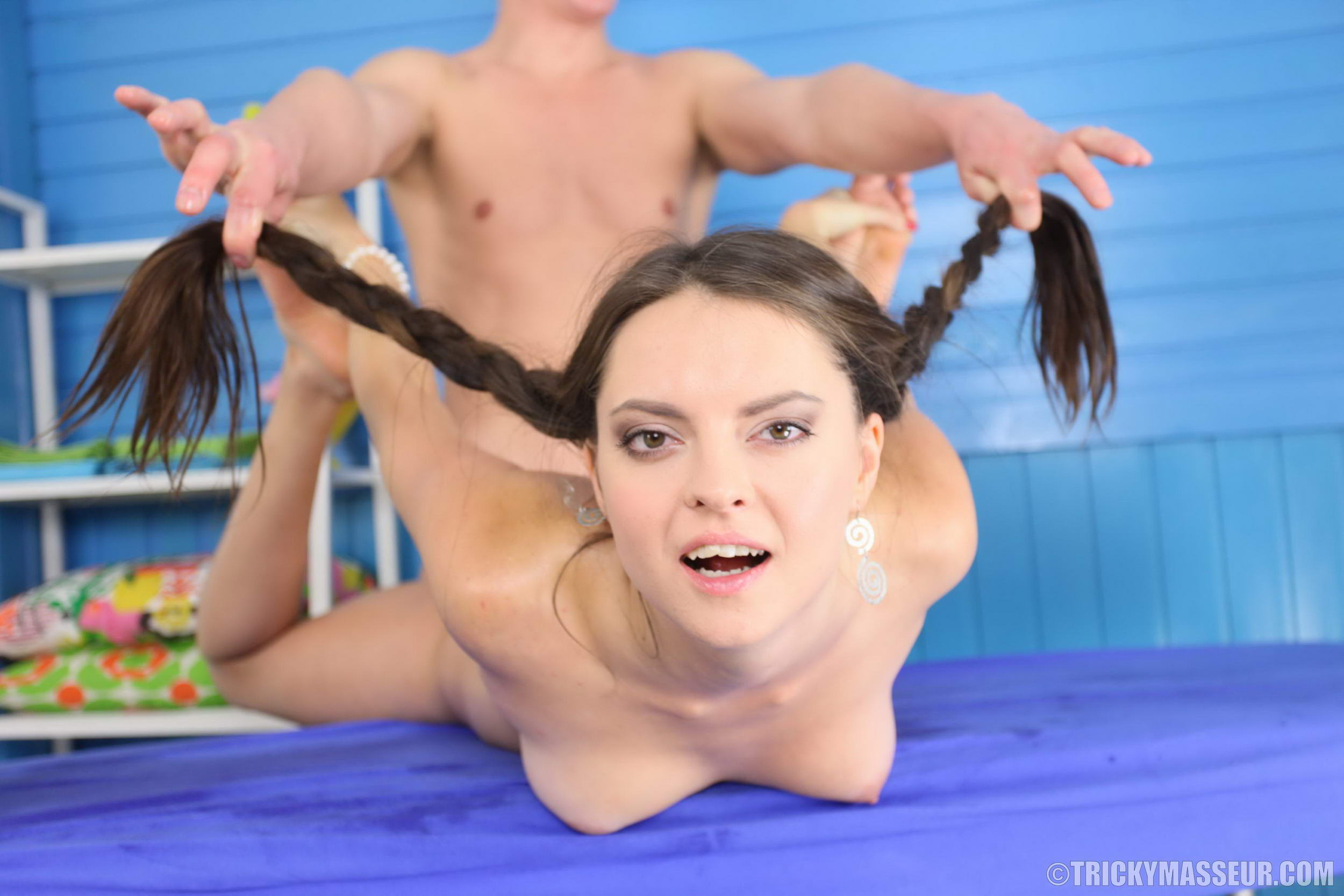 Massage Cutie Fucked - Long braided pigtails and a sweet smile make sexy teen Kamila look like the girl next door as she lies on his table for an erotic massage. He arouses her through skilled rubbing and deep finger fucking before gently sliding his cock into her pussy and bringing her to orgasm through hot sex in a breathtaking array of positions.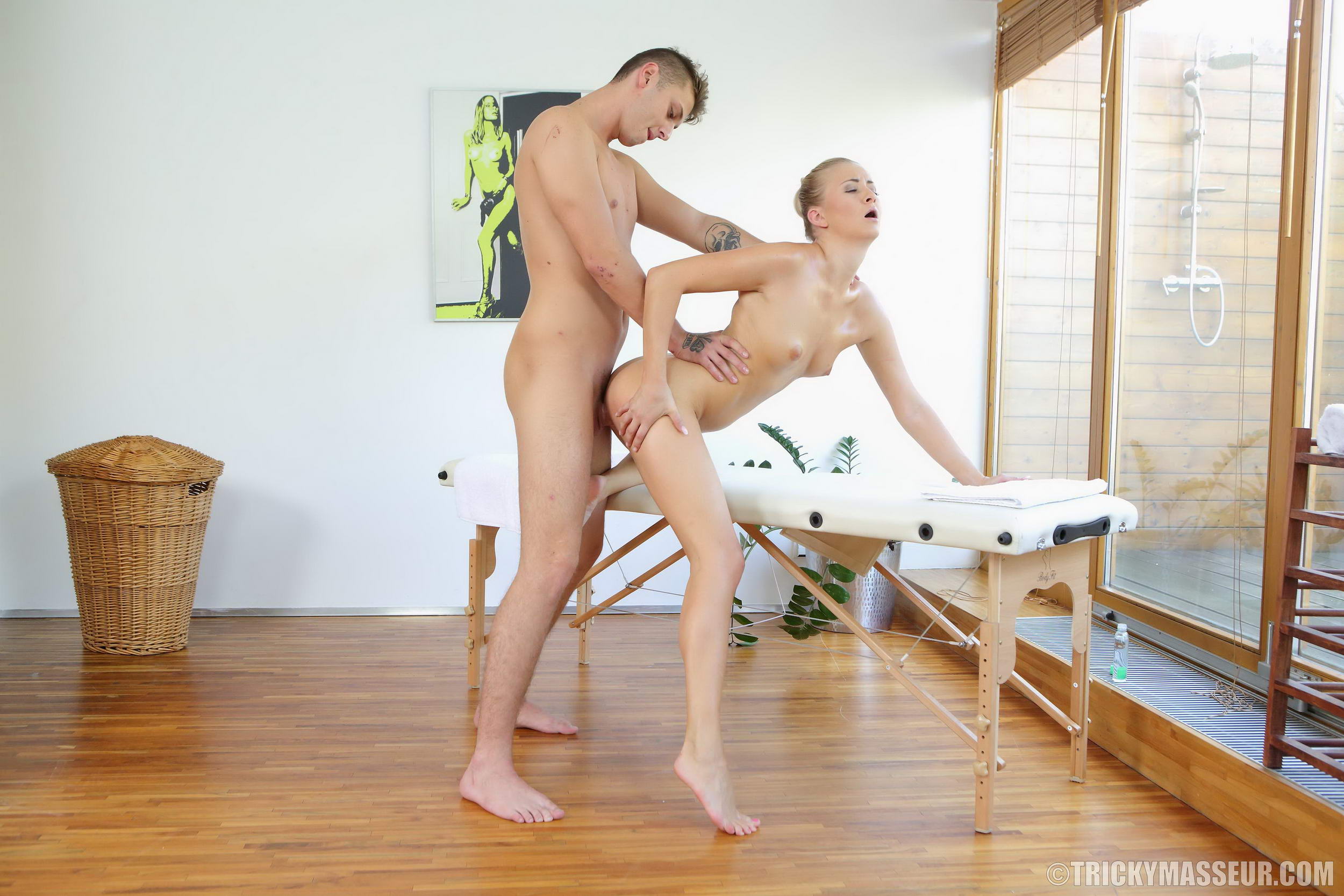 Sex And Relaxation - A relaxing and sensual rubdown is exactly what Karolina needs, but when she feels the strong hands of the handsome man on her body she can't help but get horny. It's not long before her mouth is around his cock and getting him hard to fill her tight pussy. The girl loves to fuck and he has just what she needs to cum.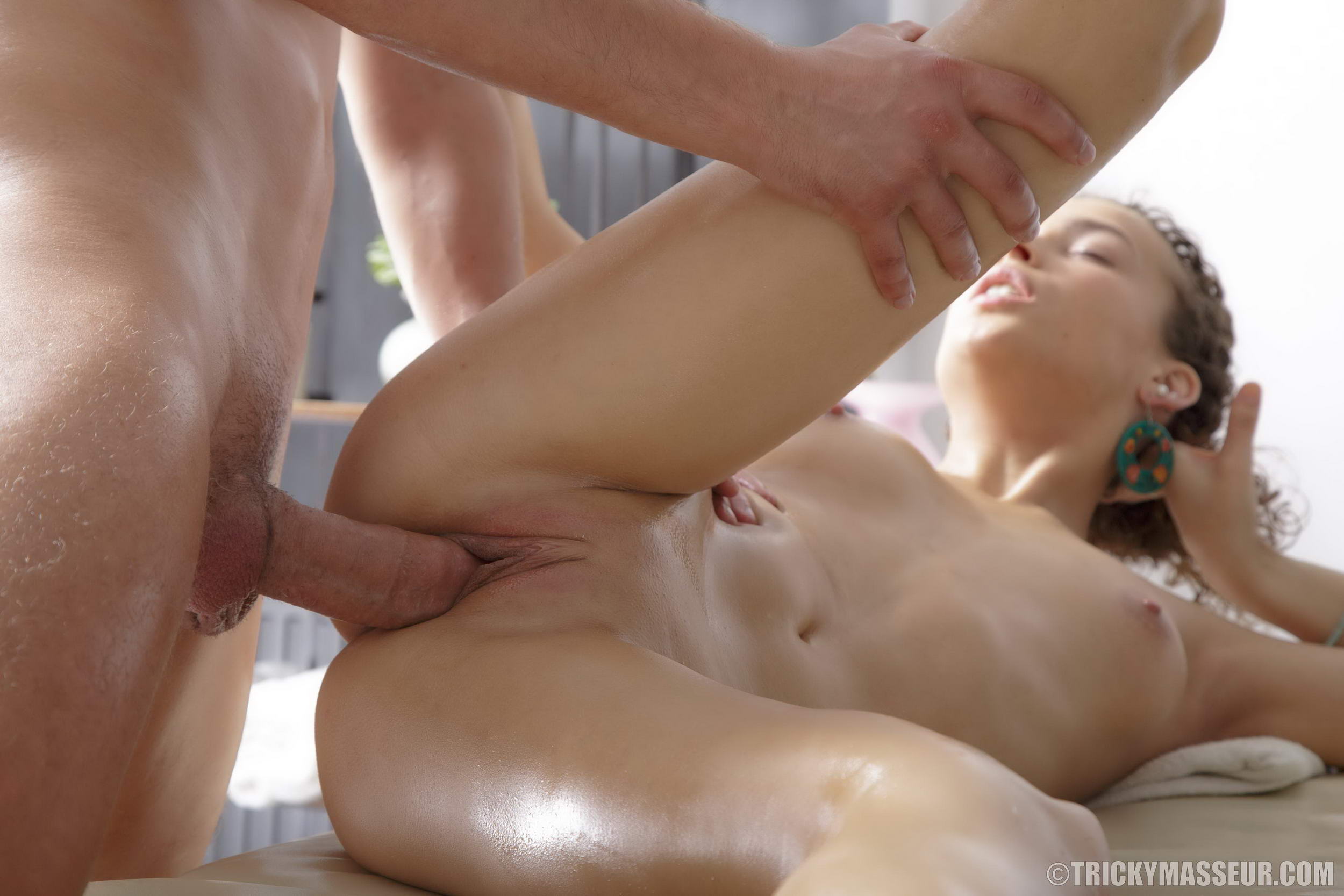 Horny Masseur - With lithe, sexy brunette Caroline on his table the masseur can hardly contain his excitement. As he rubs oil into her body, a strong desire builds in his loins and his fingers drift to her pussy, rubbing her clit and making her groan lustily. She wants him, so he strips and climbs on the table to give her a happy ending with his hard cock.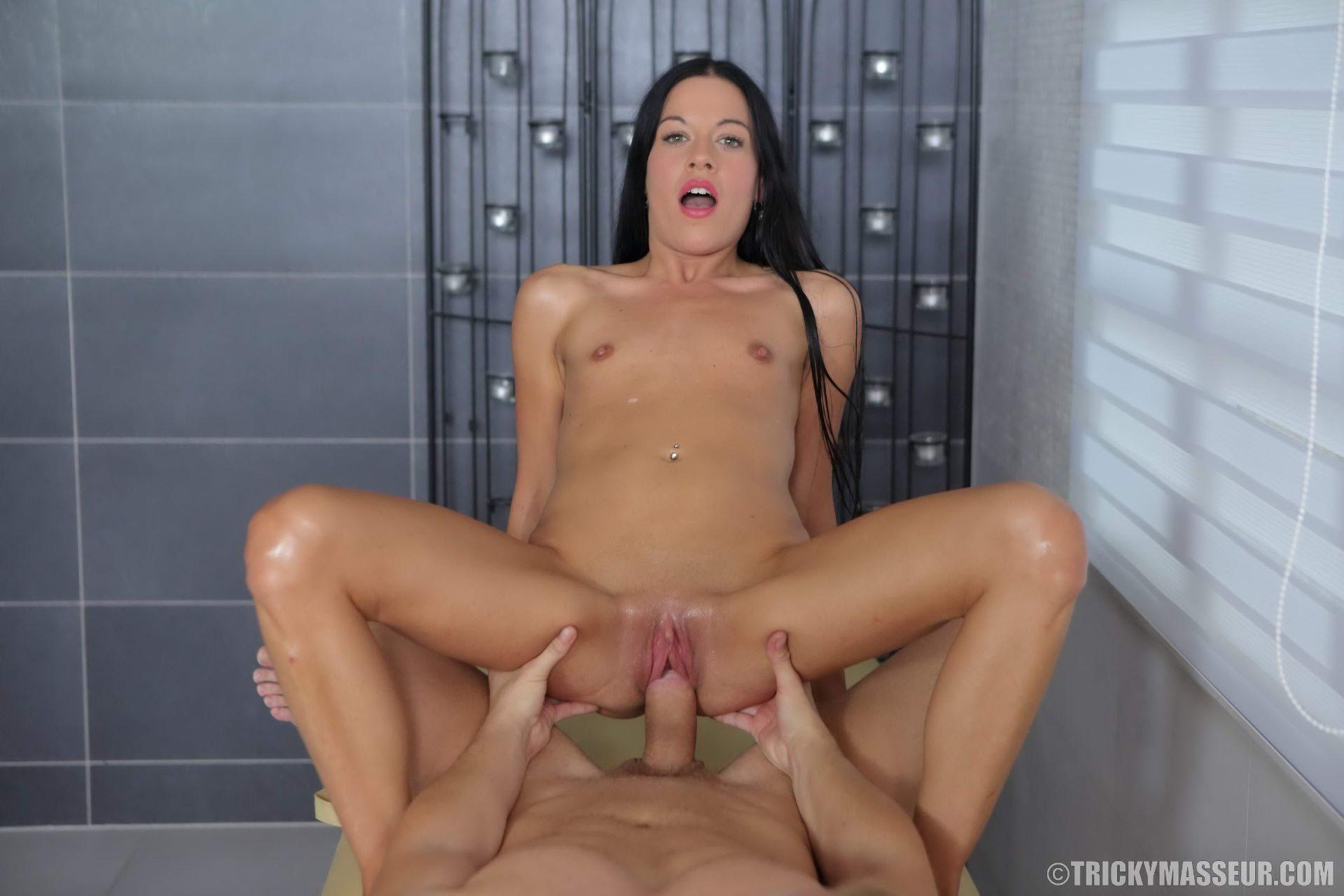 Skinny Massage Girl - As his hands move over her skinny, sexy body he can feel a bulge growing in his pants. He's never had such a beauty on his table and he can't help but rub her ass and pussy as he tries hard to arouse the chick. His strong hands, the naughty touching, and the oil combine to make her wildly horny for a hardcore fuck and she needs him inside her.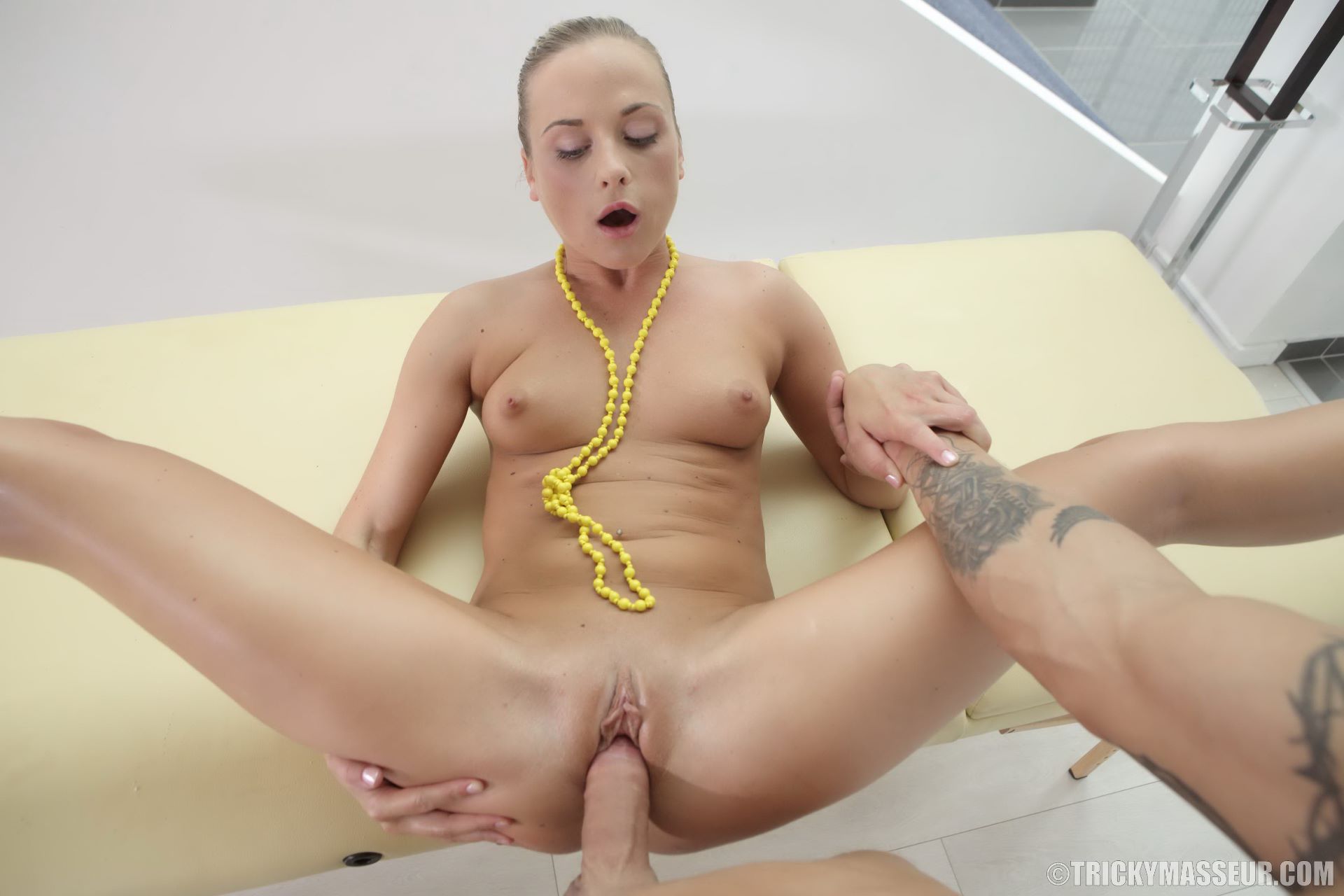 Sporty Blonde Massage - Sporty and sexy blonde Vinna Reed strips erotically and lies on the table for an erotic massage from the tattooed man with strong hands. He's eager to get naughty with her and plays with her tits and pussy to make her drip with desire. She ends up perched on his dick going for a wild ride and bends over so he can have her shaved cunt doggystyle and make her cream.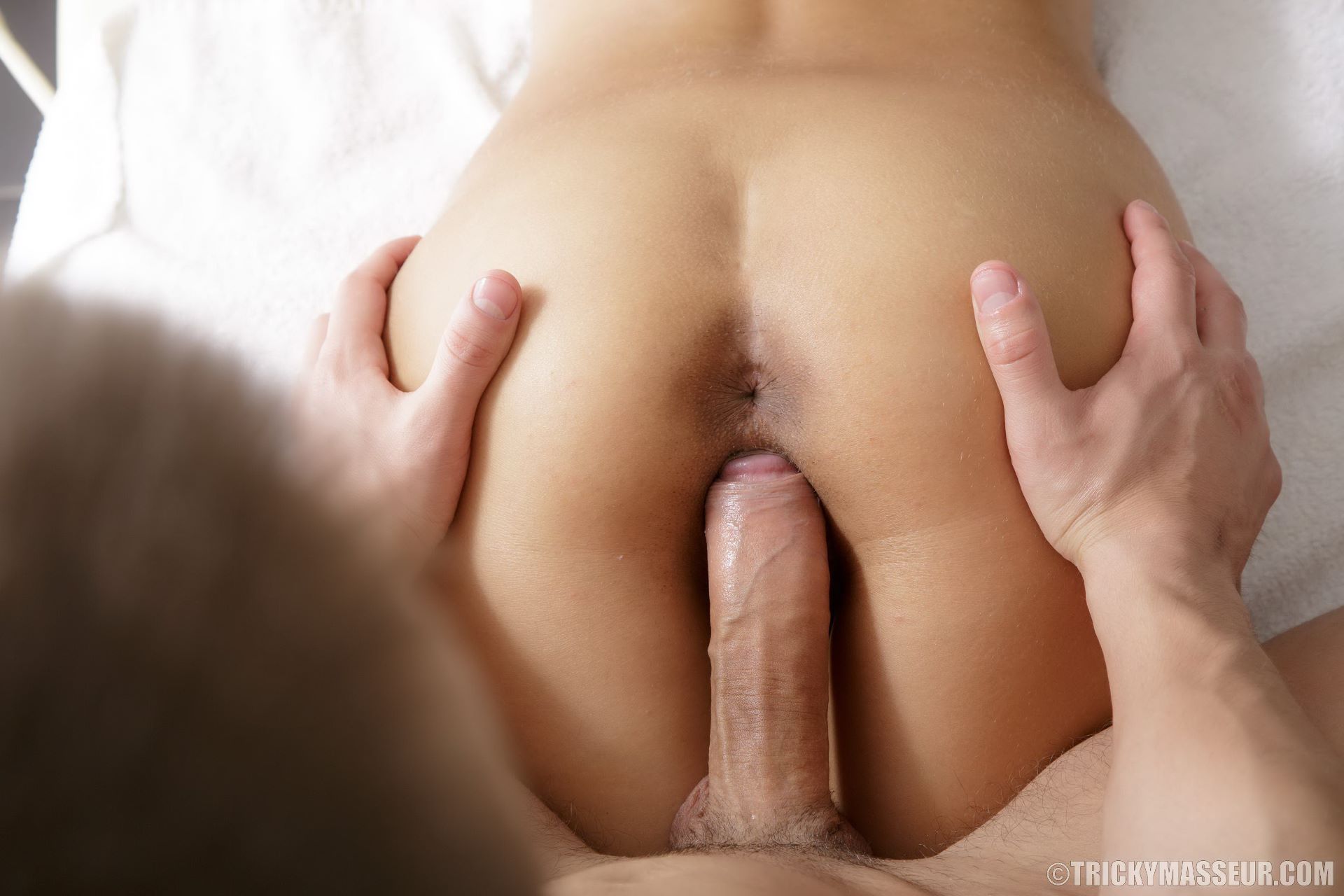 Full massage service - This beautiful teen babe didn't even suppose that the massage could be so exciting... The rubber's tender hands made her pussy warm and wet, and it started to crave for a fat throbbing dick of the masseur. Well, the masseur is already licking Vega's tight snatch, then he stuffs her mouth with his dick and after that hot mouth-fucking Vega lets her masseur's stick into her horny pussy. They fuck in various positions and he cums into Vega's snatch.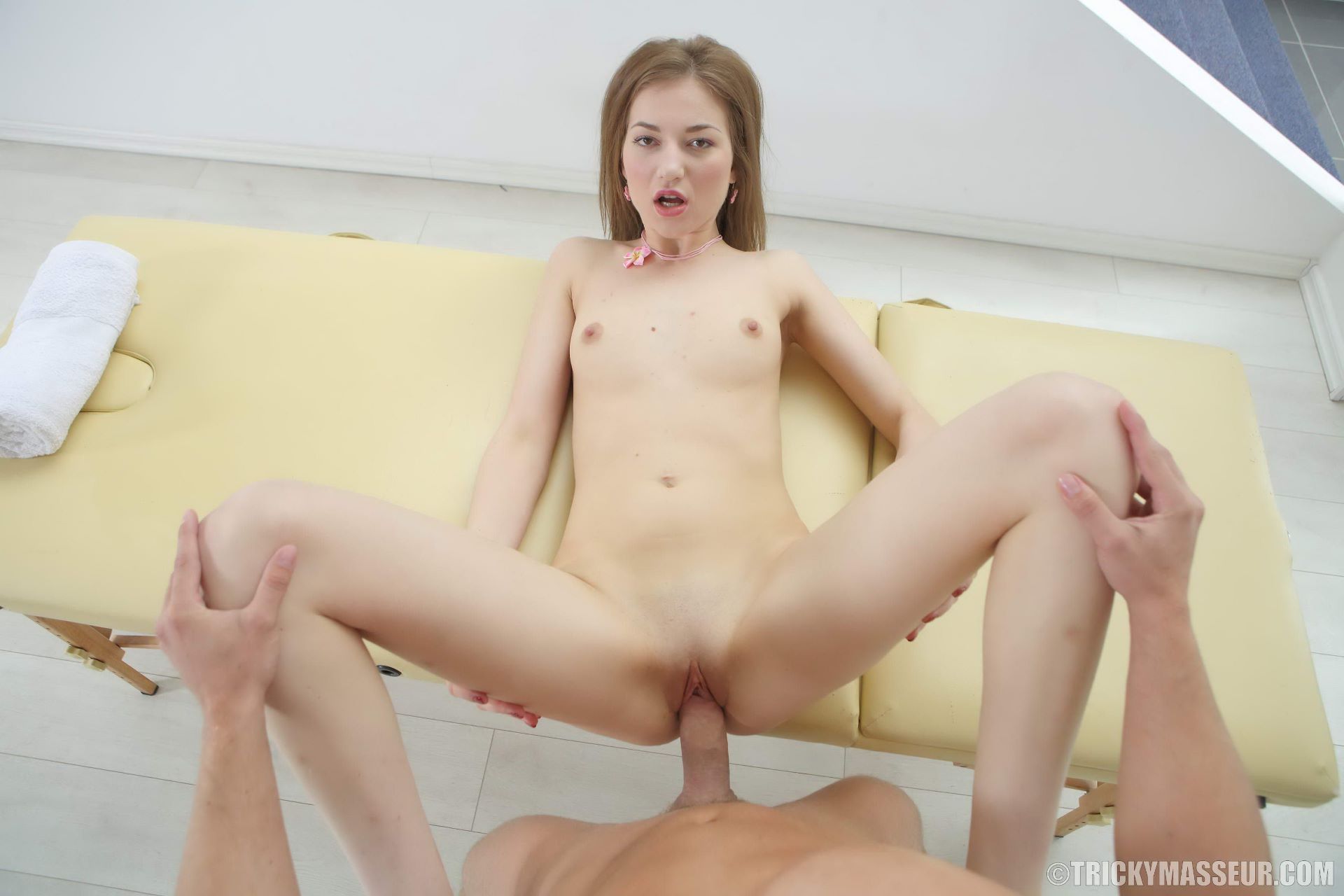 Skinny Masseuse Fucked - Slender beauty Roxy walks wears a purple satin robe as she saunters over to the massage table and uses her soft hands to massage her handsome client. He wants the full service treatment and she gladly complies, eagerly stroking his cock and sitting her tight pussy down on him for a world class ride.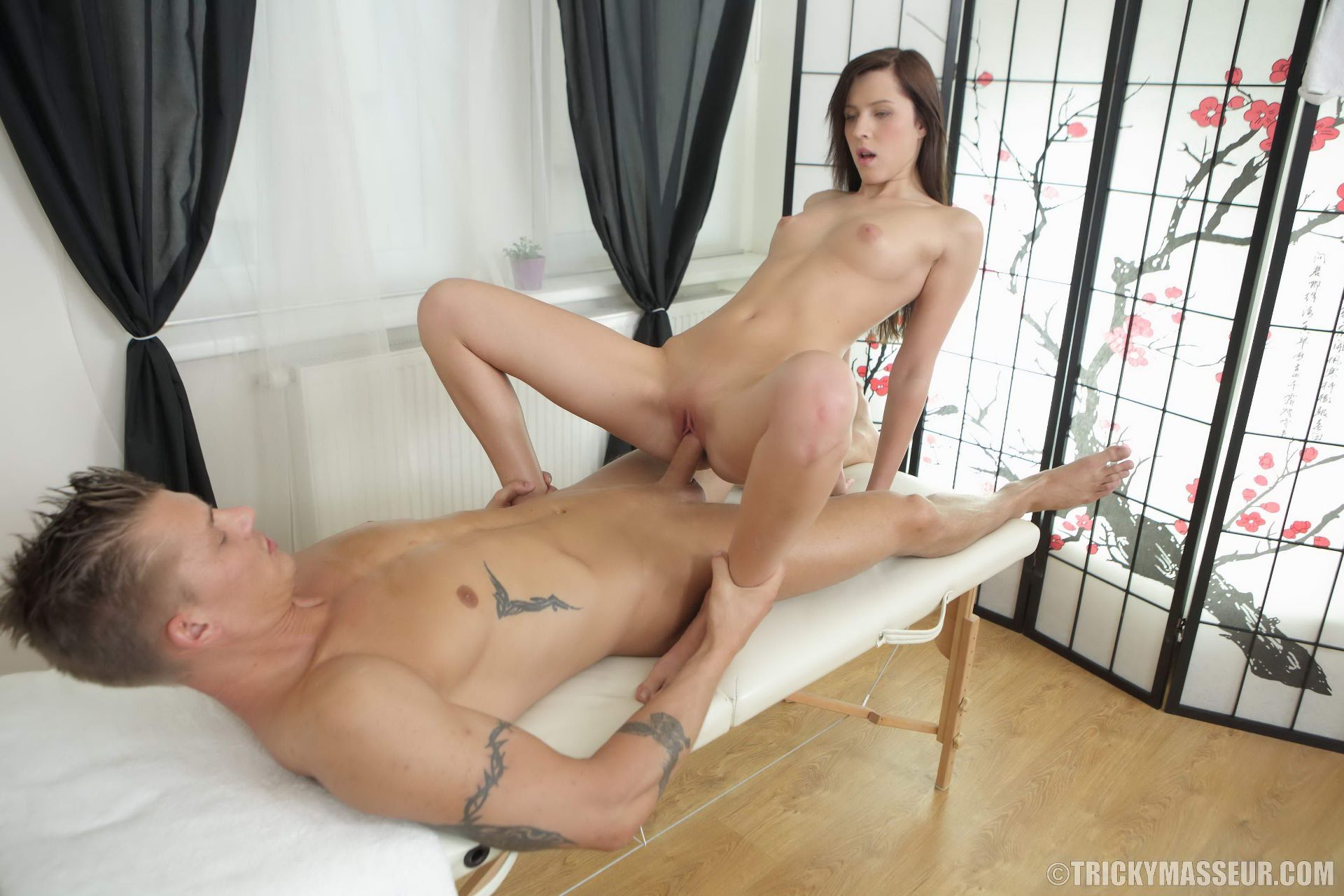 Masseuse Needs Cock - As her hands move over his hard body Marketa can feel the heat building between her legs. She wants him and when she pulls off the towel and finds his cock already hard she knows her dreams are about to come true. She gives a beautiful blowjob and climbs on his dick to begin the incredible hardcore sex scene that ends the massage.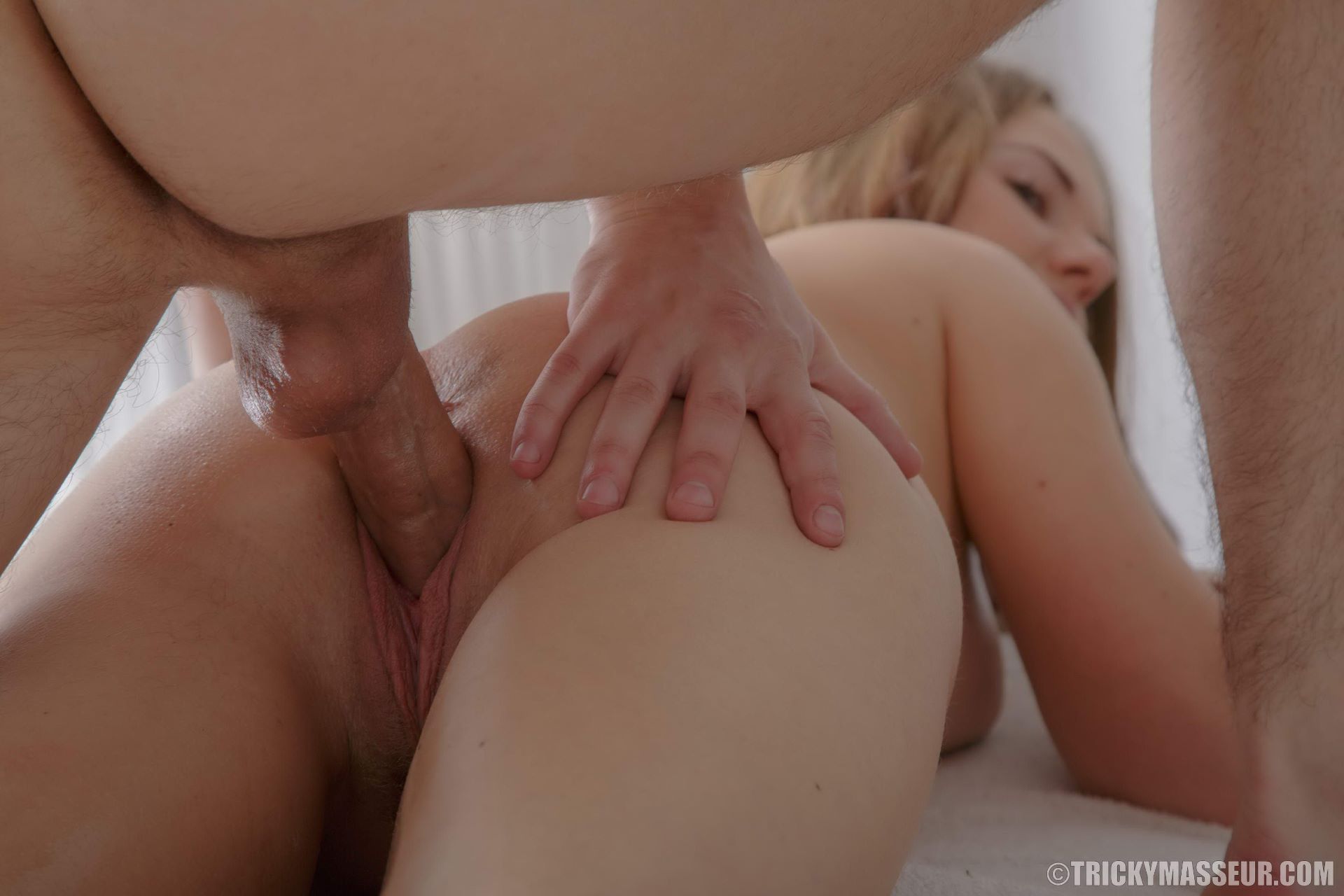 Erotic Massage Porn - Her lithe, sexy teen body lies on the massage table as his hands run over her back, ass, and legs. As he spreads relaxation through her body she gets aroused and can't help but paw at his pants to release his cock. She blows the skilled masseur and he climbs onto the table with her and guides his big erection into her tight pussy for an erotic happy ending fuck.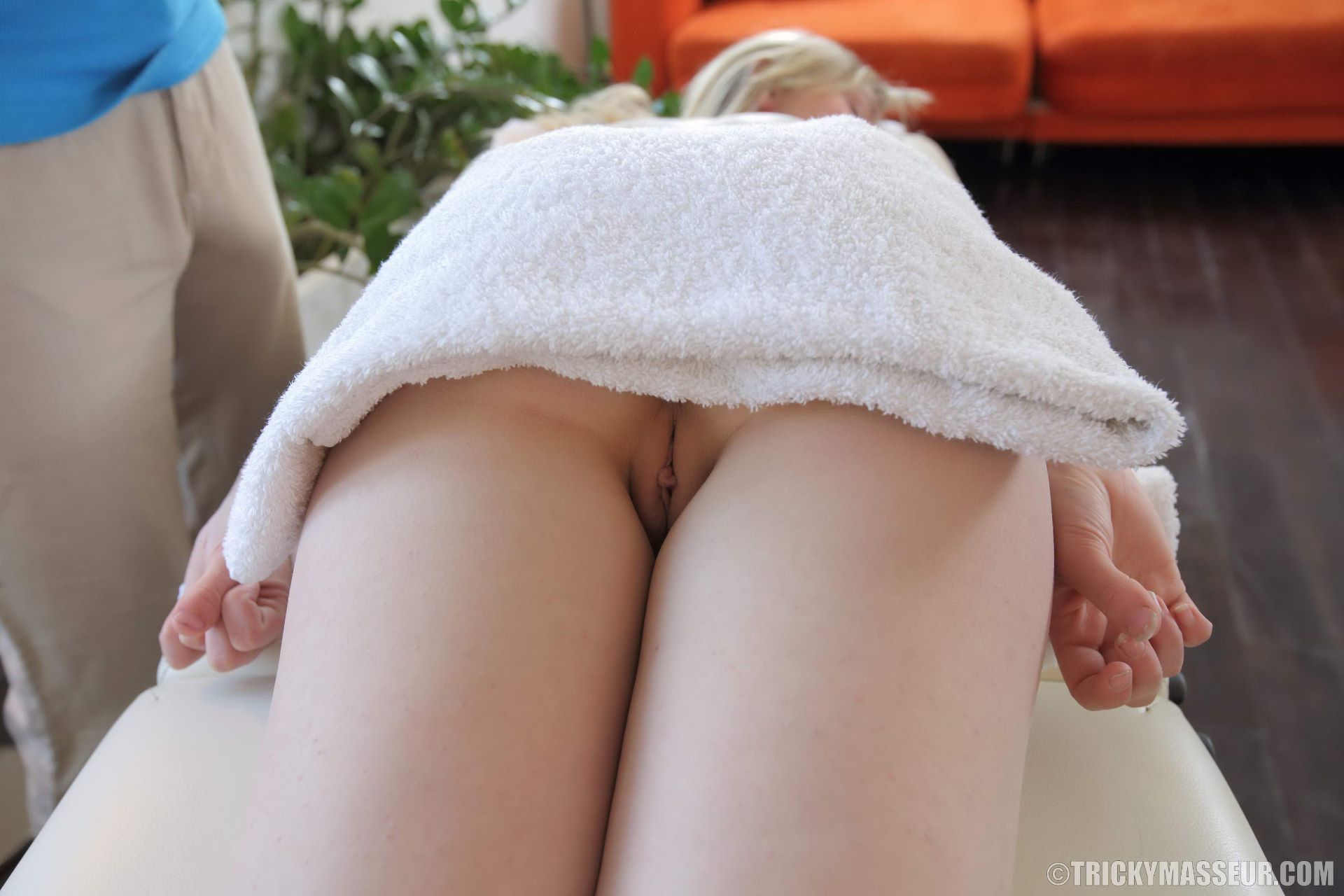 Teen Massage Scene - His teen client with a tattooed back lies naked on the massage table with her pert ass up and utterly flawless. She wants a happy ending rubdown and after working her back, legs, and booty he slides a finger into her pussy and turns her on. It's cock she really wants and he's not about to deny her that pleasure as he uses his dick to pleasure her snatch.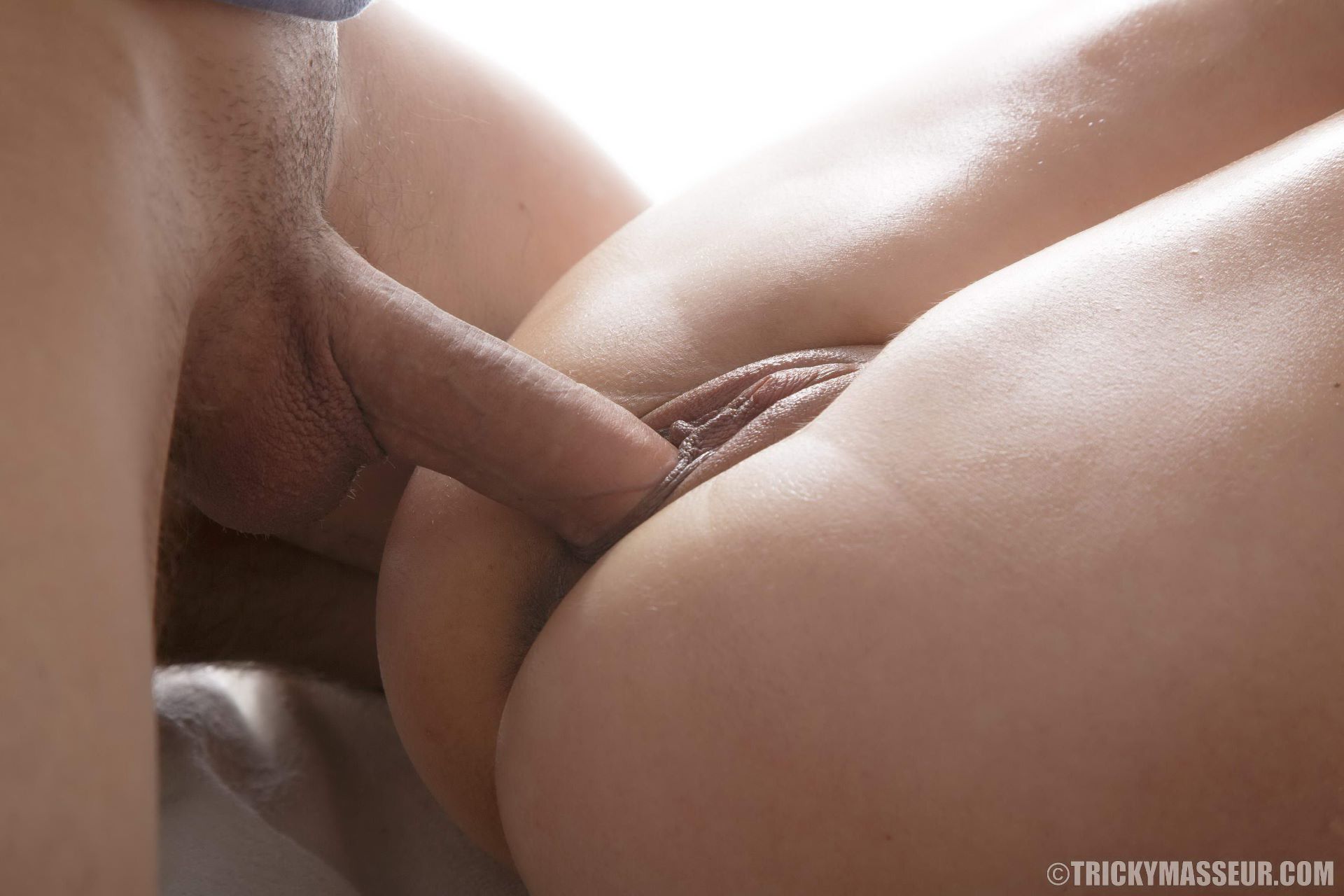 Anal With Her Masseur - Katya finds the smooth movements of his strong hands over her soft skin to be exceedingly arousing and can't help but get horny as he gives her a massage. She reaches for his cock, finds it hard, and urges him into her soaked pussy. He takes her asshole too, bending her over the table and having doggystyle anal sex with his client.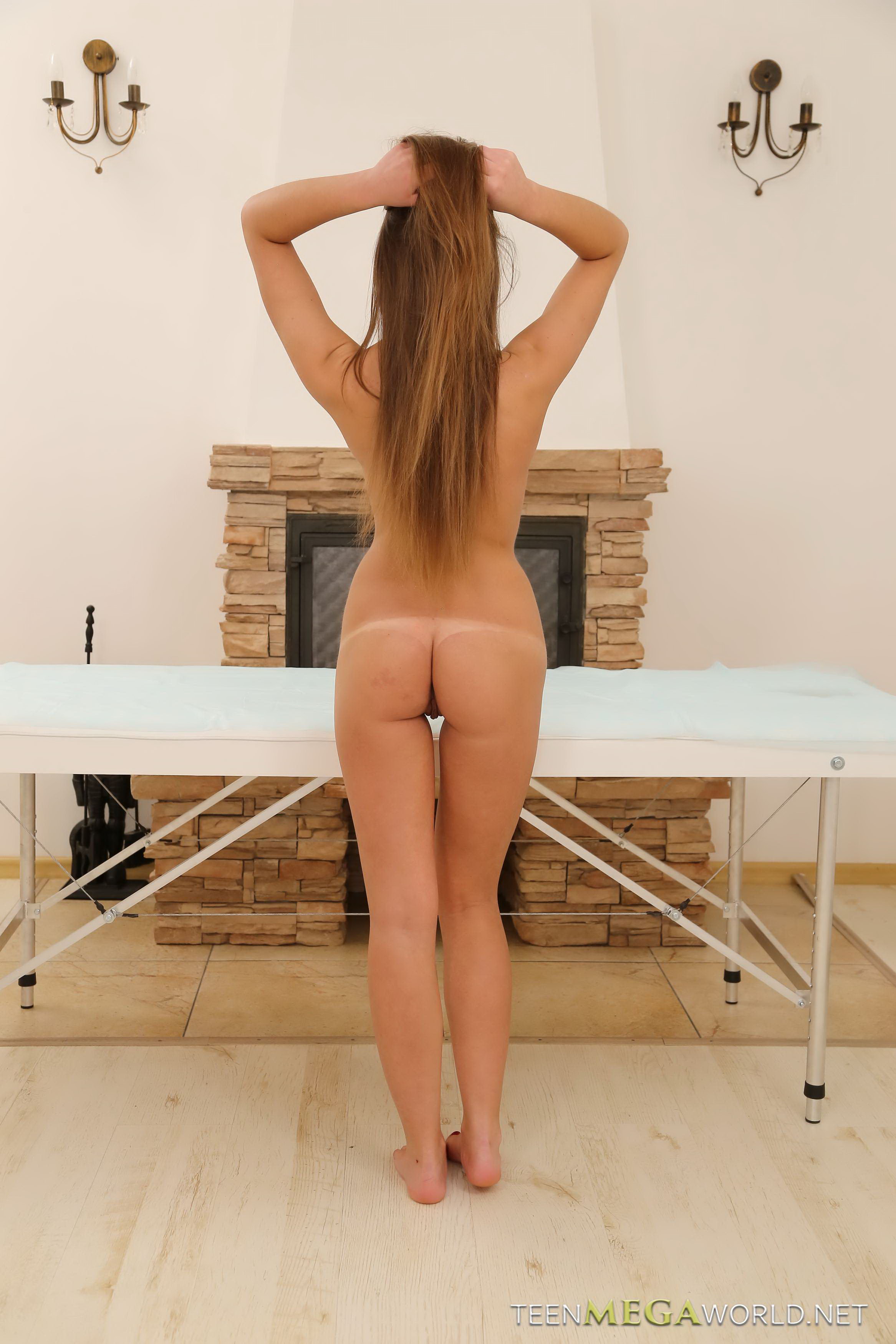 Sporty Babe & Masseur - Lovely girl with victorious body is lying on a table of pleasure. She enjoys handsome fellow rubbing her body as it makes her horny. She takes his dick out of his pants and begins sucking it. As he becomes hard enough, horny masseur takes his clothes off and begins fucking her pussy. Deep humping on a table and stunning action ends with a good facial and maximum pleasure.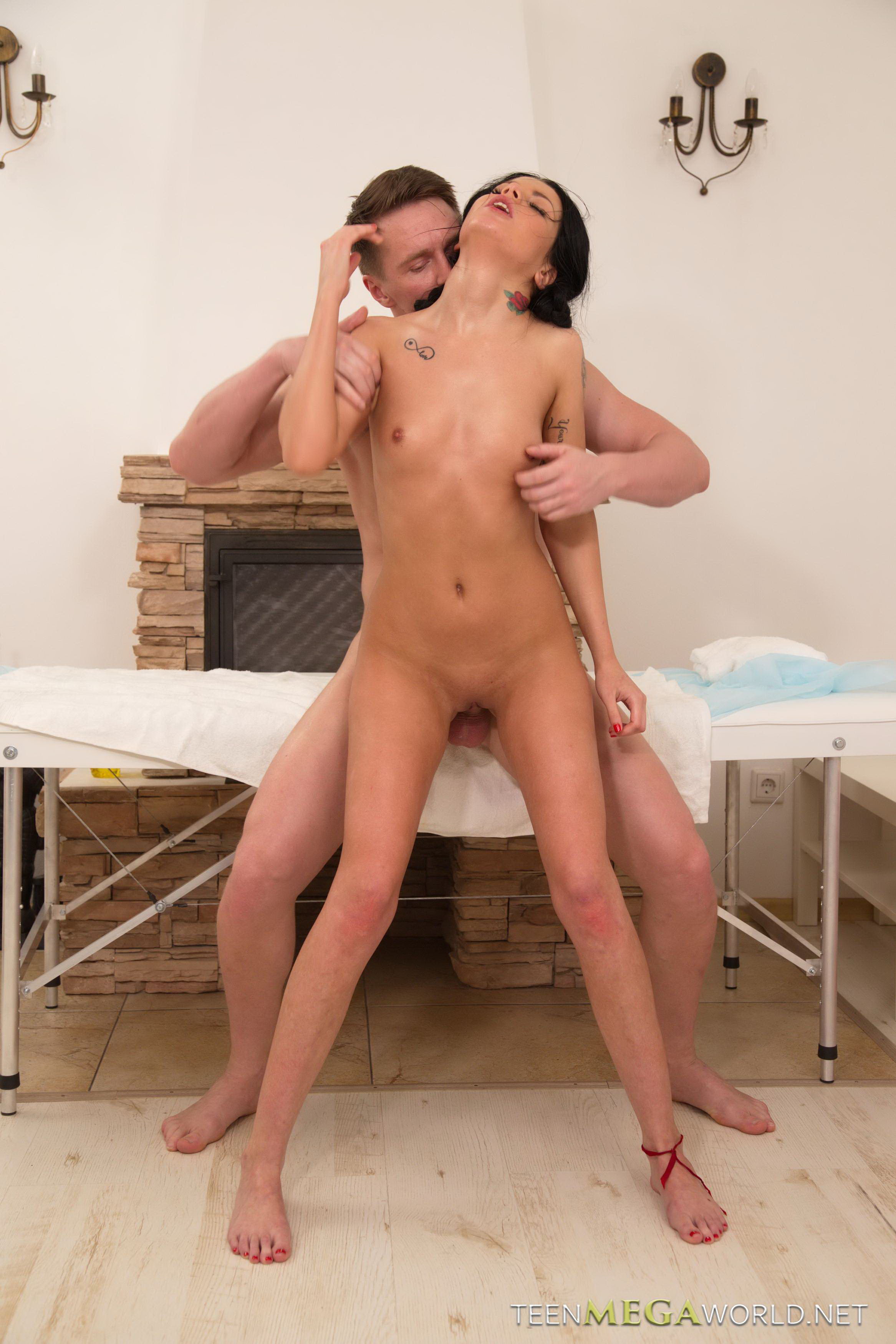 Playful Brunette Pleasure-Seeker - The first thing you notice about this hot girl is her playful attitude and remarkable fit body. Horny masseur oils her body and gets to massage her juicy muff. See her sucking his dick and taking deep penetrations as he's getting closer and closer to the moment, when he finally realeases thick load on her beautiful face.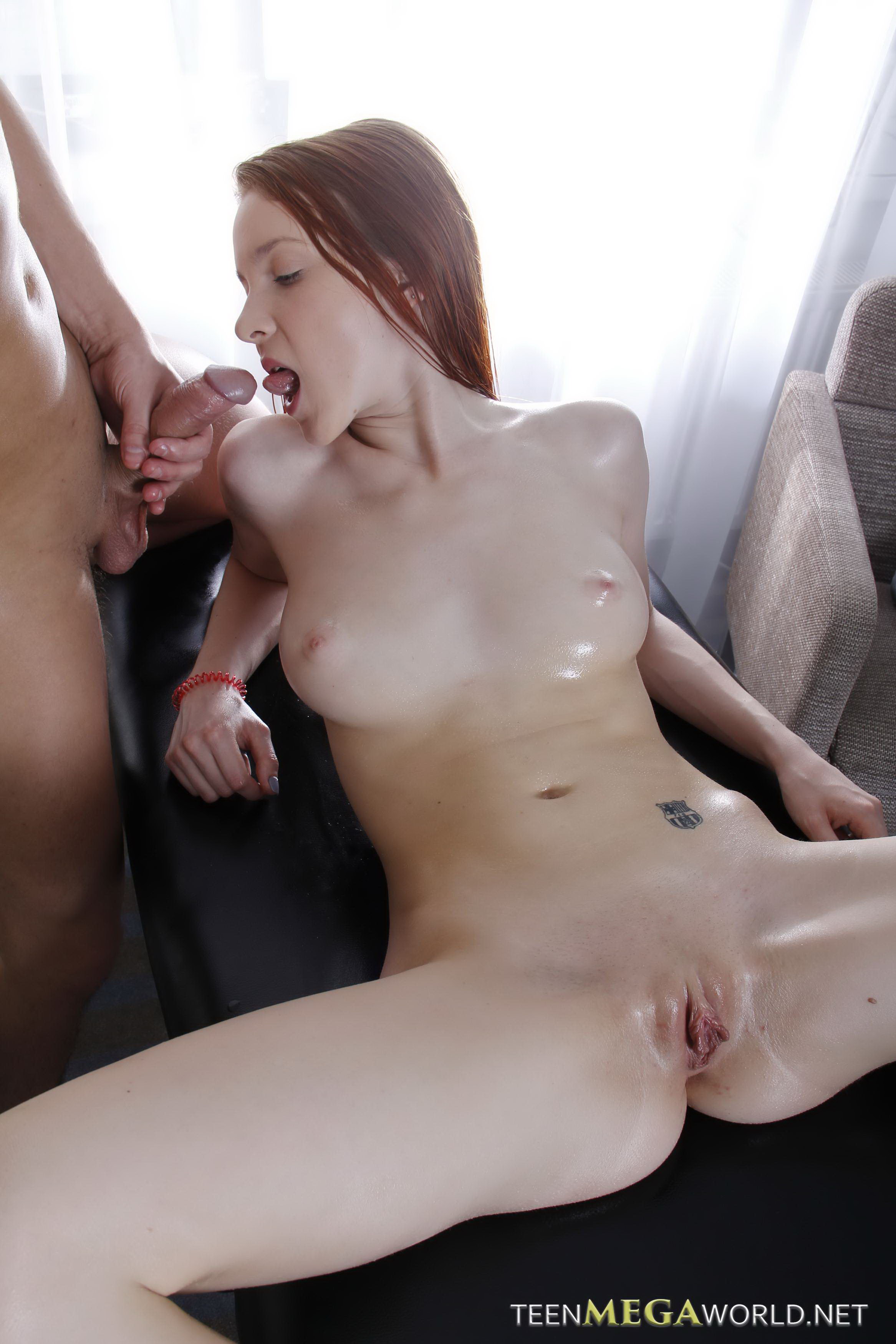 Hot Massage for a Redhead - It's a good day for this tricky masseur, as his new client is an exceptional redhead babe. Look at her lying on his table of pleasure and getting seduced. He works on her body and gets closer to her pussy, that's when she's hooked. Enjoy her giving him a good BJ and having a wild fuck with this horny fellow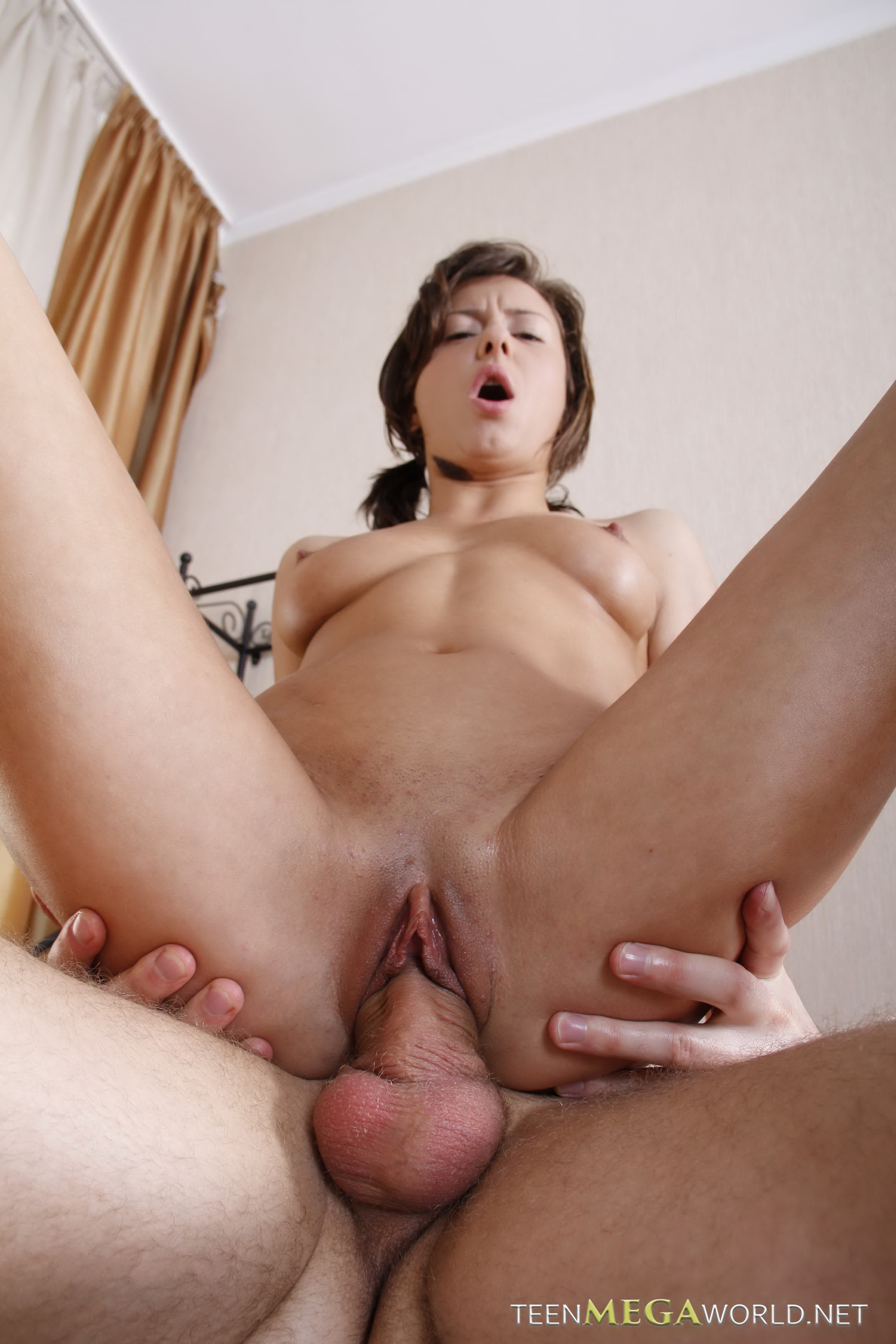 Extra massage action - Young, thin, incredibly sexy - this is Jezla. Get ready for a sensual overload from this fragile hottie as she gets ready for a session with her favorite masseur. The set is just loaded with visual beauty and hot action. Watch the guy rub and oil her entire body before whipping out that tool and making sweet Mary cum all over again. In the end, he shoots all over her tight butt.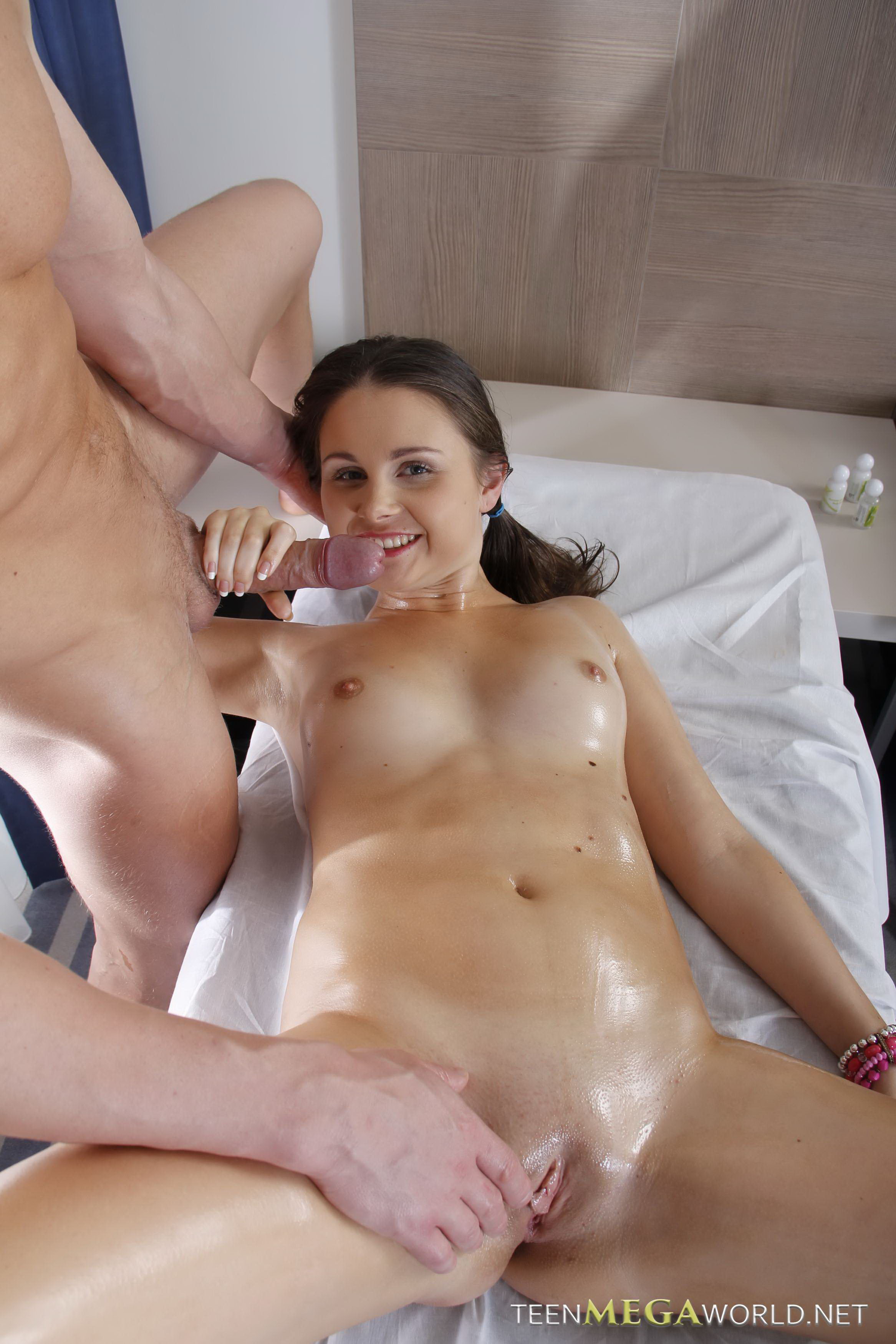 Oiled Anal Fuck - The pretty teen brunette in pigtails strips and gets on the massage table so her skilled masseur can give her the massage of her dreams. He makes sure to play with her tits and tight pussy, which makes her drip with desire for his big cock. Thanks to all the oil it's easy to slip into her asshole and give her the anal sex she really craves.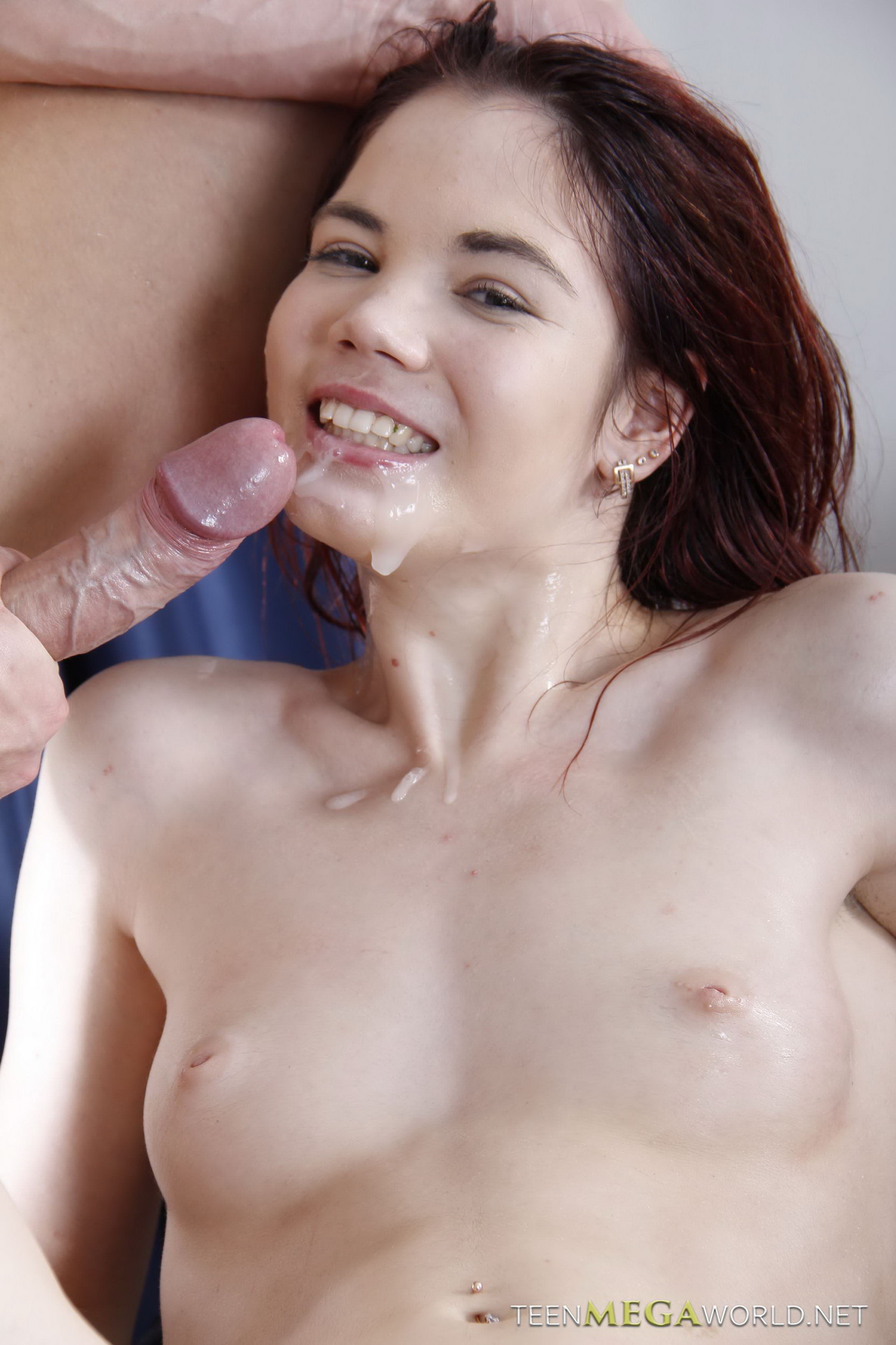 Masseur Fucks Teen - She has the hottest tight body of any girl he's rubbed down and he can't wait to get his hands on the teen redhead. His hands move skillfully over her body, finger her hot pussy, and turn her on to the point that she pulls out his dick and gives a great blowjob. They fuck on the table and she even enjoys ass fucking and gives an ass to mouth blowjob before he finishes in her mouth.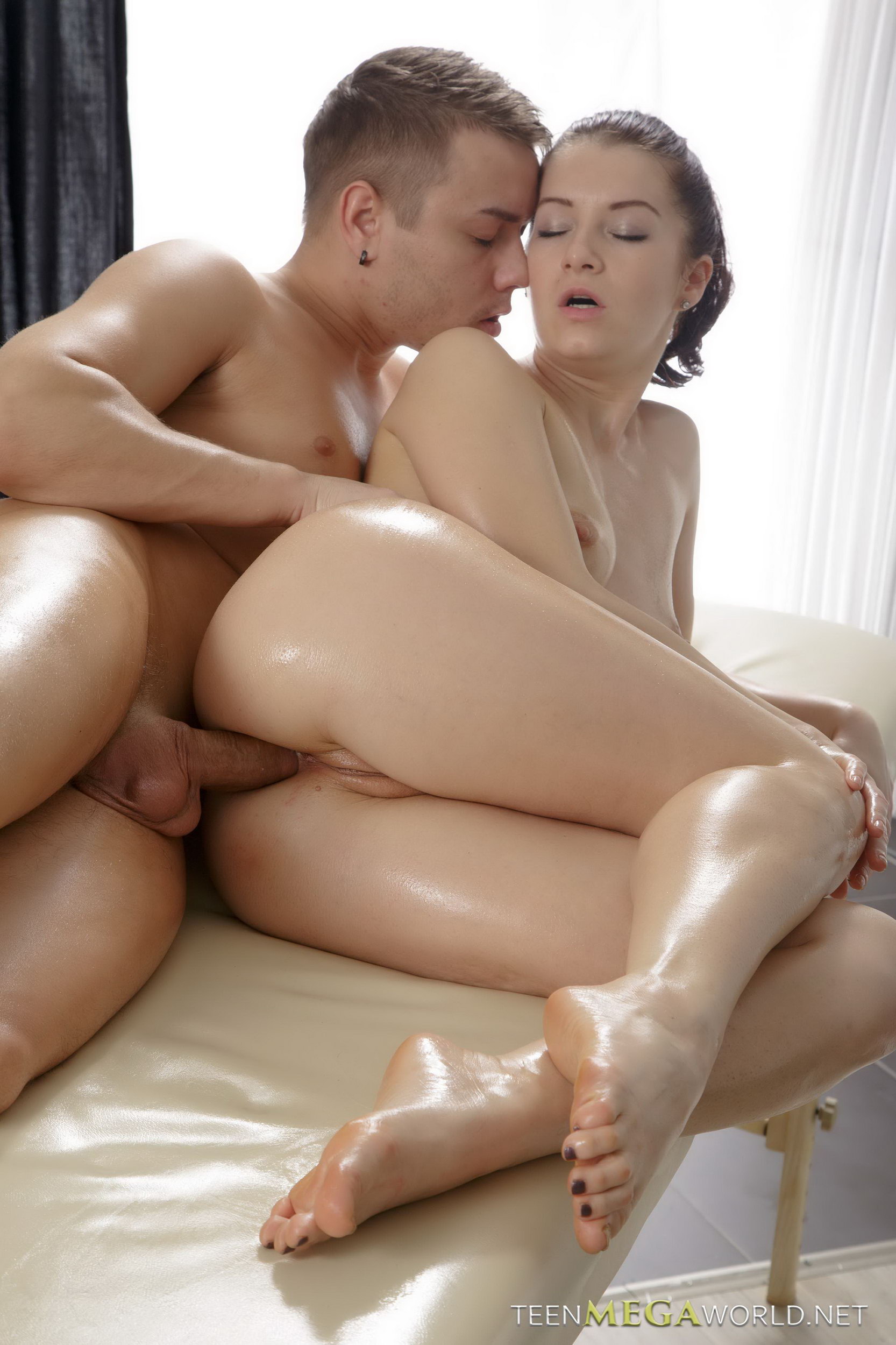 Massage Table Anal - After an erotic massage her body is coated with oil and she's buzzing with desire and the need for sexual satisfaction. His dick is stiff and wet from a sojourn to her mouth and he slides it into the asshole of his eager lover and slowly fills her. The ass to mouth blowjob she gives turns him on like he's rarely experienced and an orgasm isn't far behind.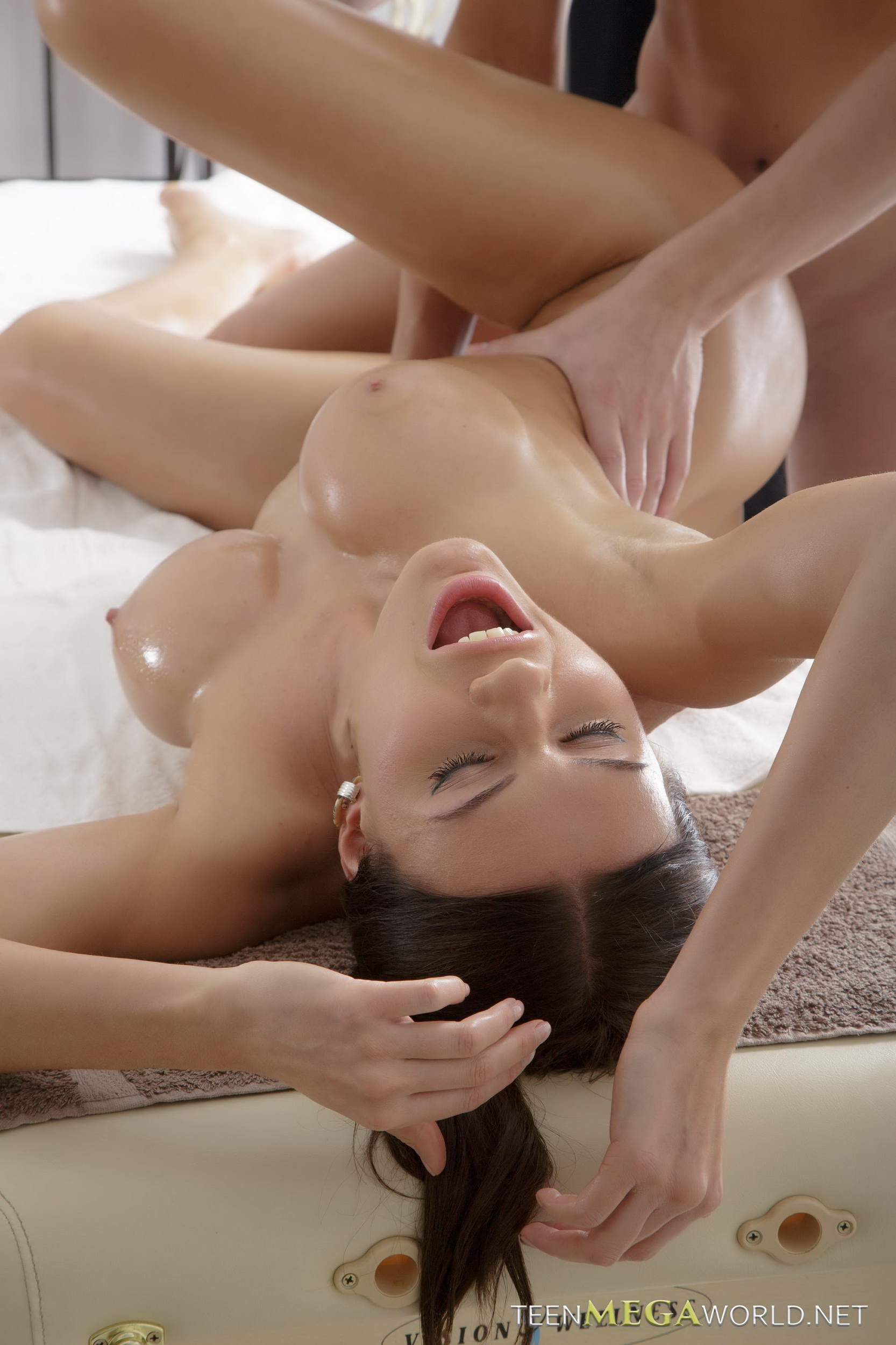 Big Tits Massage - Big perky tits and a sexy ass make Roquel irresistible as she lies on his table for an oil massage. He coats her body and moves his strong hands all over her flesh, leaving her tingling in each place he touches. When she's overwhelmed with arousal he moves in for the happy ending and slides his cock into her soaking wet pussy.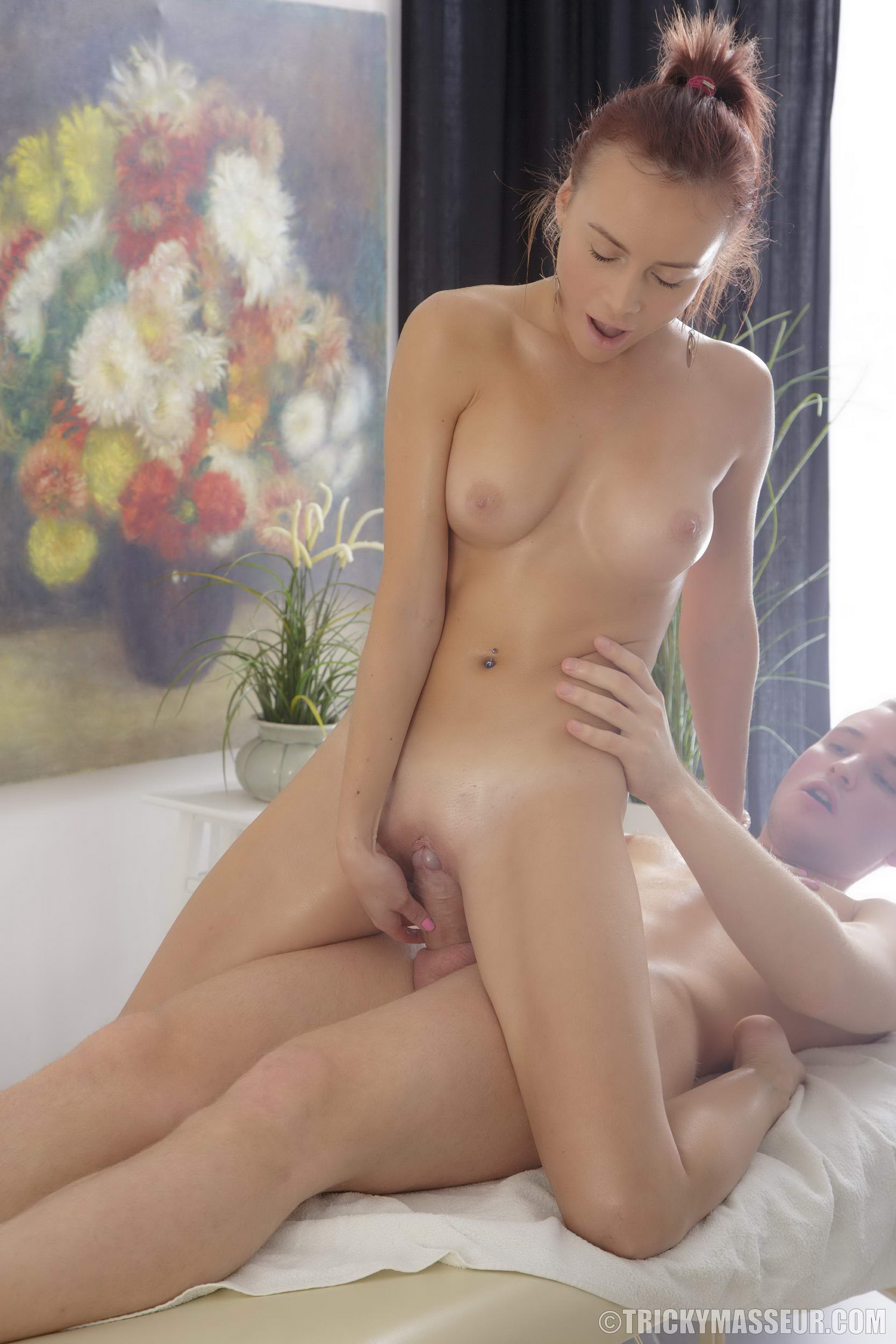 Massage Fucking - When he sees the redhead with a perfect ass and perky tits on his massage table he knows it's going to be a great day. Rubbing her is exceptionally arousing, so he runs his wet fingers through her pussy lips and excites the girl to the point that she needs his cock. They fuck on the table and it's wildly passionate and sexy to see them banging.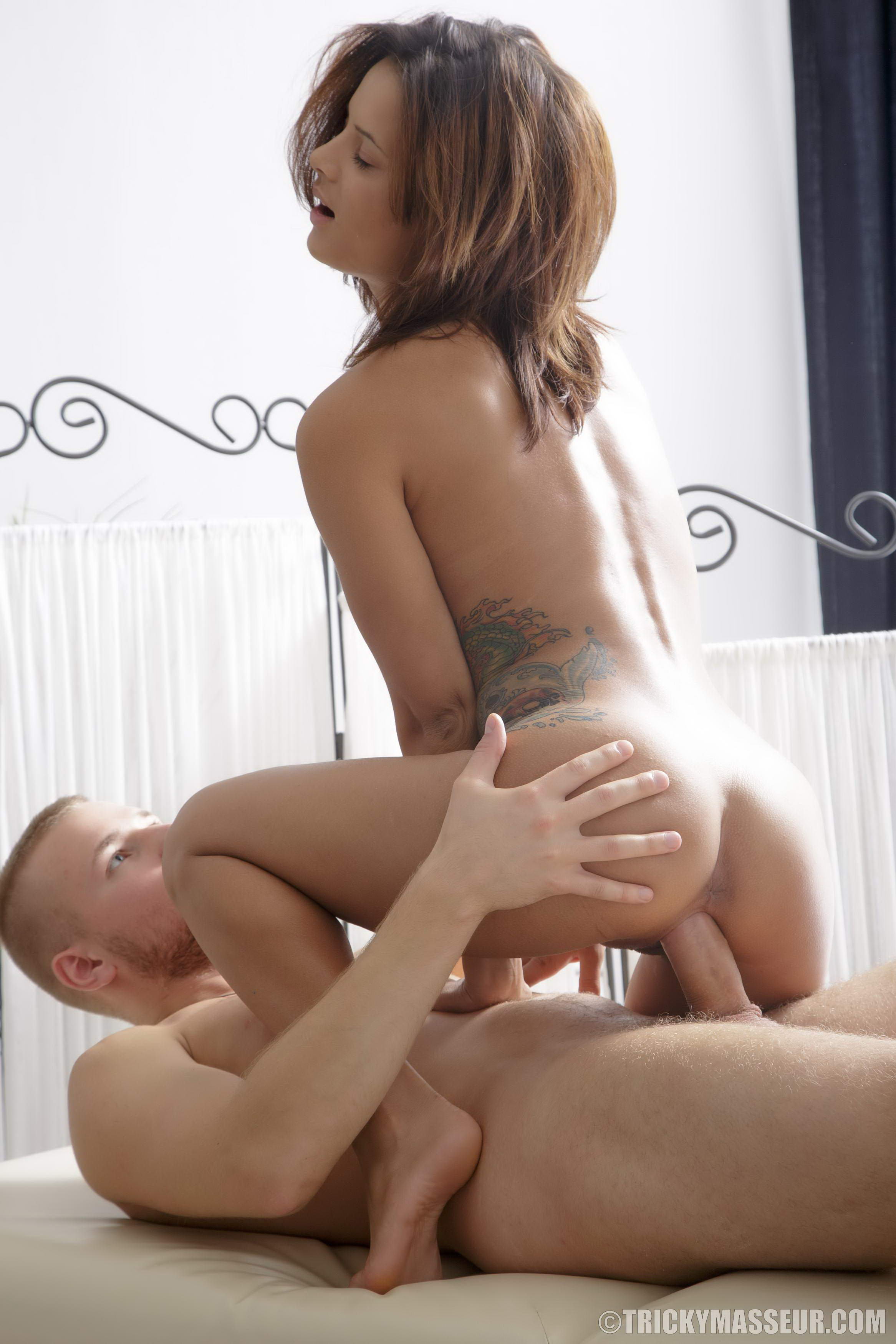 Massage Table Cock - She signed up for the erotic happy ending massage and Grace gets everything she wants from the handsome and hung masseur. His hands are skilled and with each touch she feels a little more aroused. When his cock finally emerges the tight and tattooed babe eagerly swallows it and invites him on the table to fuck her.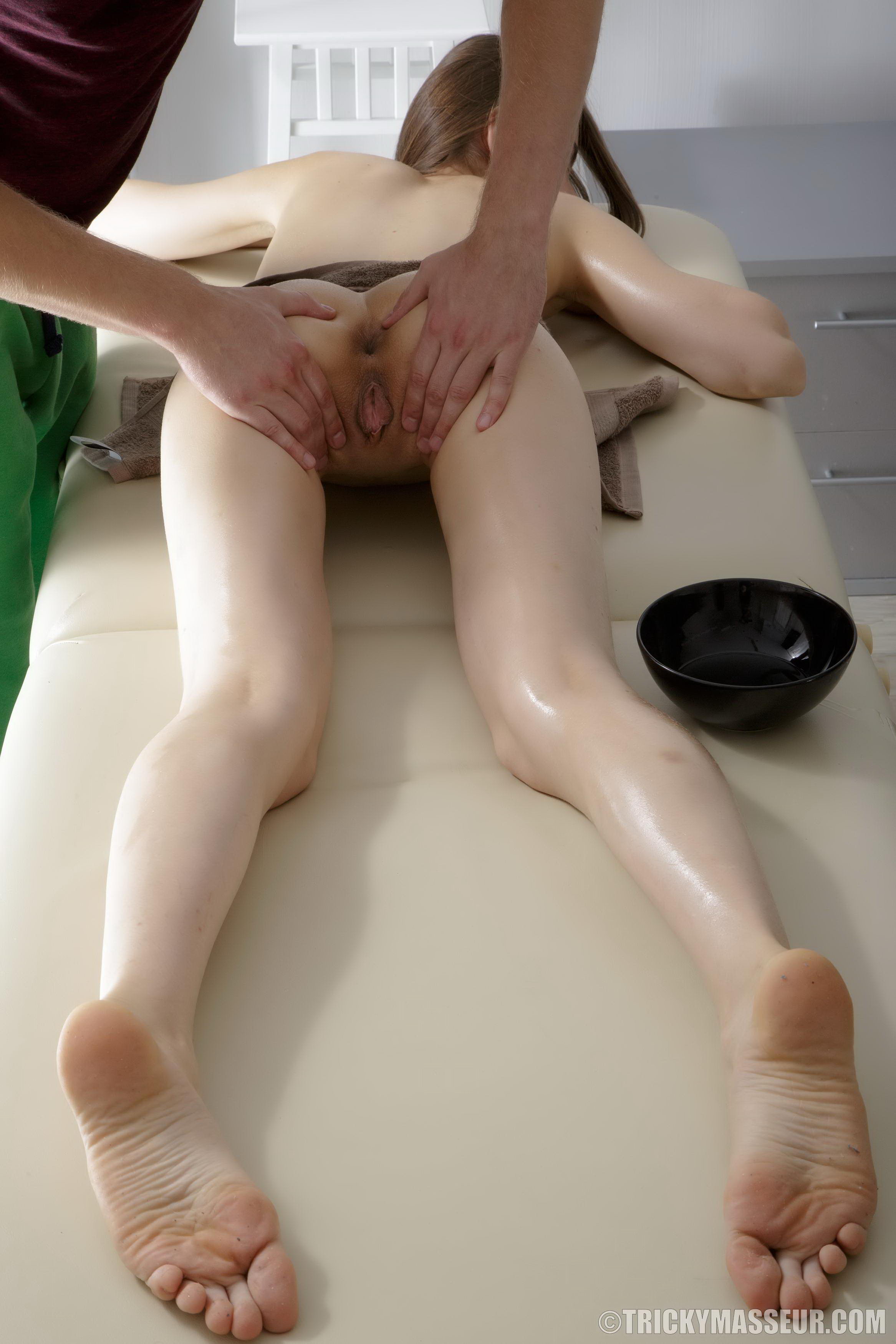 Teen Massage Fuck - As soon as tight teen chick Lera lies on his table, the masseur knows he has to have her in the most intimate way possible. He concentrates on her breasts and pussy as he rubs her down, and soon the telltale signs of arousal are present. His cock finds her cunt not long after and they make love as he tries new positions and gets her to cum over and over. Taking her asshole is his final act of lust.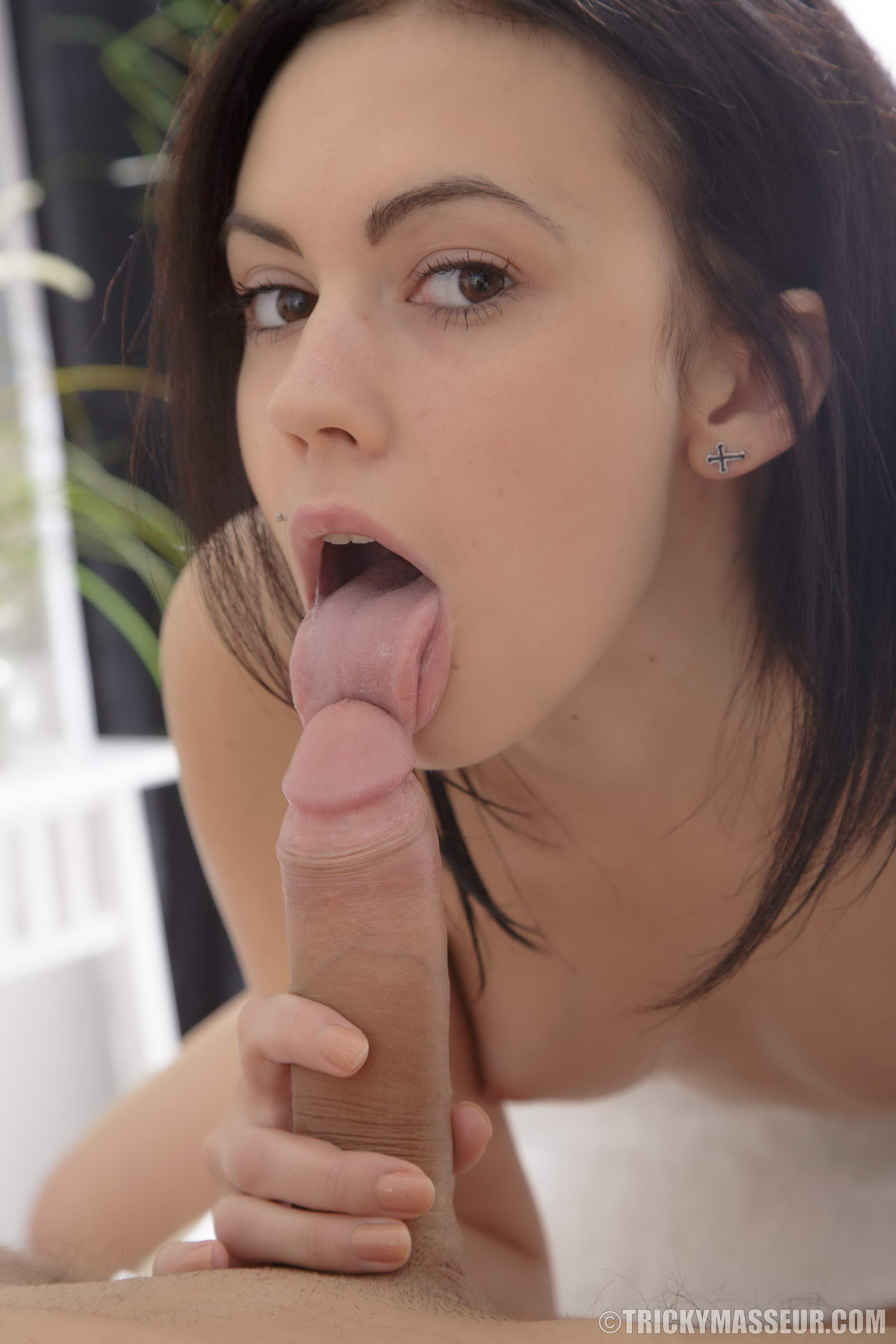 Masseur Sex - As any man would be, he's aroused after rubbing slender beauty Sheri Vi with his strong hands. She's intensely sexy and as his fingers delicately play with her pussy she gets wet and horny, urging him to give up the rubdown and push his cock into her cunt. They make love on the massage table, trying numerous wonderful positions.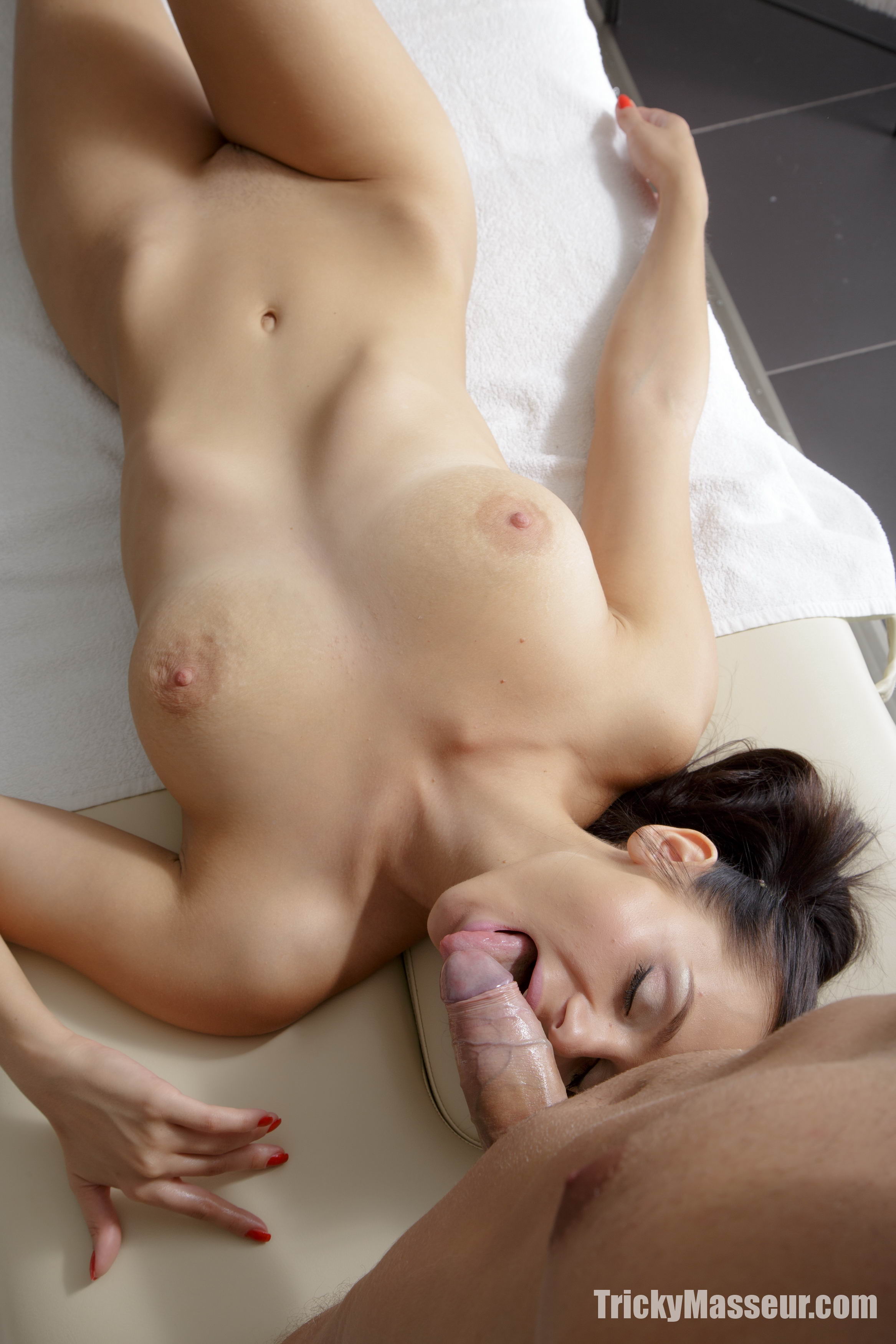 Sexy Masseuse Fucked - He's never seen such a beautiful girl and he knows that feeling her hands all over his body during a massage is going to give him a boner. He offers to rub the beauty and it's not long after he touches her soft skin that they're fucking because neither can resist. Banging such a good looking chick is a dream come true for him.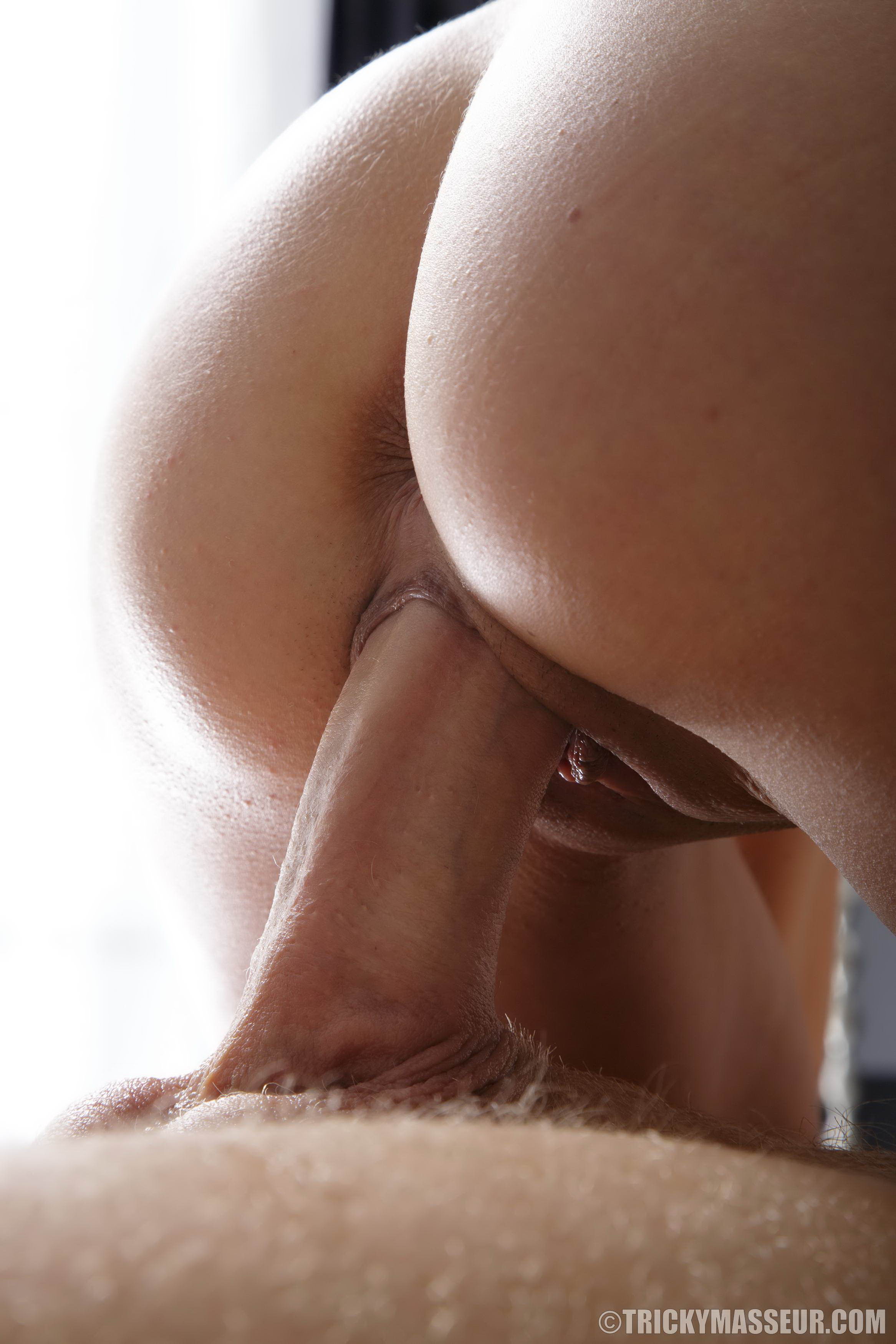 All Inclusive Massage - Lovely brunette Judy is ready to massage her handsome client. She just used some oil to moisten his skin... But when she saw his fat dick, Judy understood that she should take the opportunity of this massage... She started to massage his cock by her beautiful big tits... Well done, babe! Now this guy is absolutely yours! Cock-sucking, fucking, pussy-licking, beautiful young face covered with hot sperm - everything is here!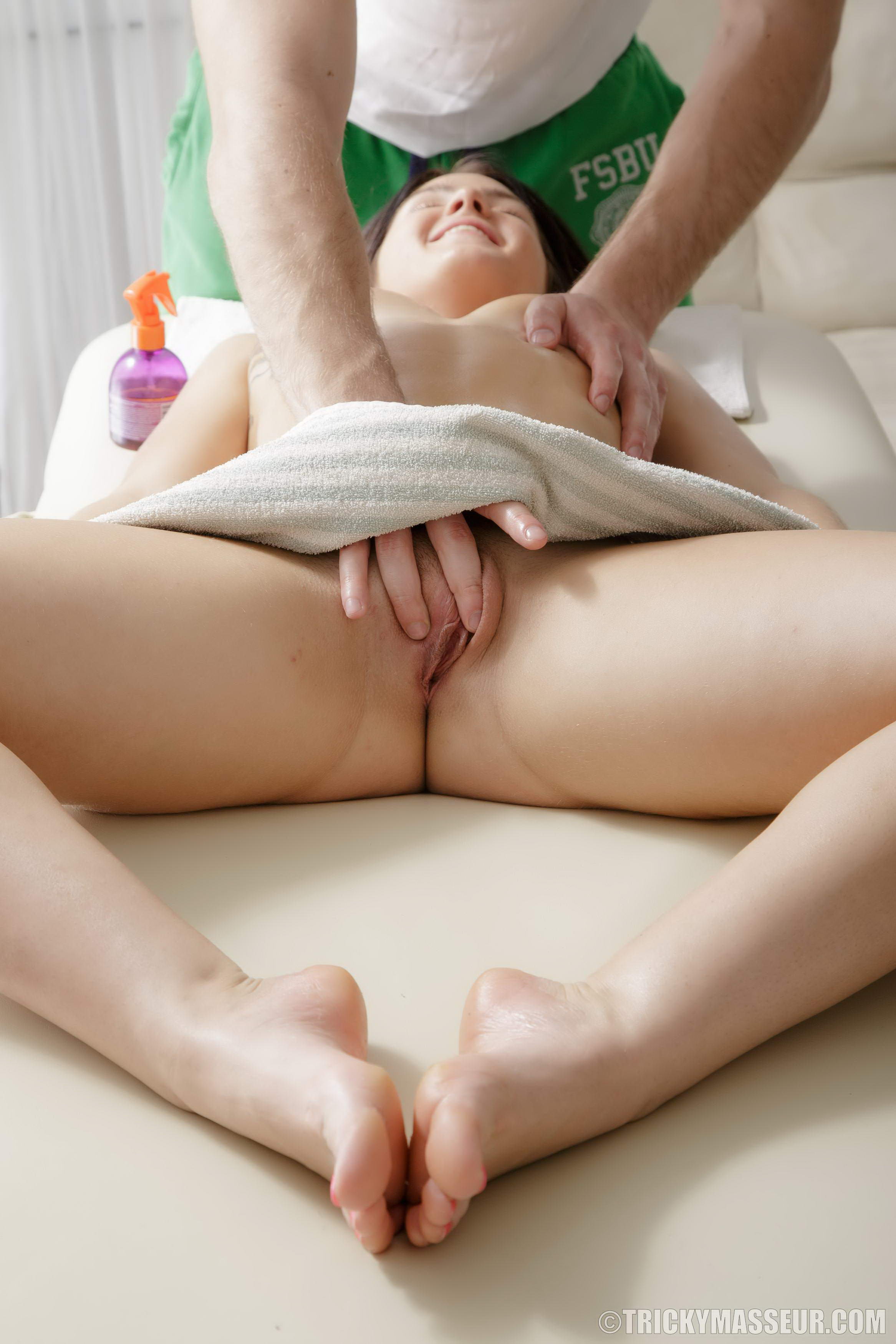 Massage Hardcore - She's busy on her phone as he begins the massage and rubs his strong hands over her oiled up skin, leaving her relaxed and remarkably aroused. When he finds her tits and begins to move his fingers over them she's too horny to resist and needs him inside her. He gives her an incredible anal fuck and later spills his hot seed into her mouth.


Want some more? Check the site.
| | | |
| --- | --- | --- |
| | Older | Newer | |