ASR PREMIUM - Free Porn Movies and Free Porn Images
ASR Premium offers Free Hosted Galleries of sample porn movies and photos for FREE. We collect and offer the high quality samples from millions of galleries on daily updating.
High-quality feature film movies of lesbian story porn from one of the niche sites in Girls Way network serving with total 5 sites for one price.
Special Offer: [Check the Price Here]
[Click on the picture to see all the samples]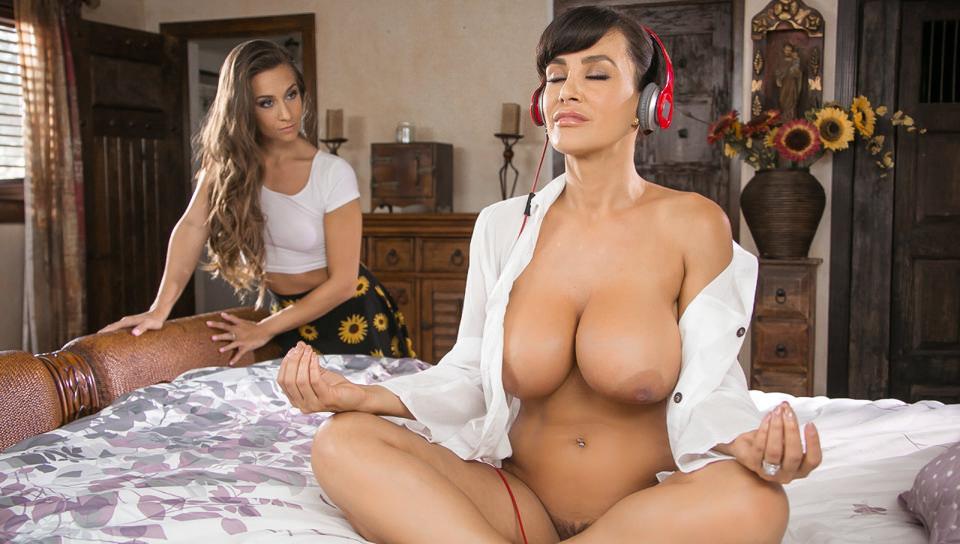 Mommy's Meditation, Scene #01: Lisa Ann, Cassidy Klein - Cassidy Klein's friend Lola is a bad influence on her! Cassidy wants to respect her step-mom Lisa Ann's privacy during meditation time -- especially since her step-mom happens to meditate NAKED -- but Lola keeps putting these ideas in her head! First she insists she and Cassidy go and interrupt the meditation session, and then what's with all that weird stuff about Cassidy being lucky to have a mom that meditates in her birthday suit? And did Lola just call her mom hot?! Lola swears she didn't but Cassidy knows what she heard. And she'd never think of her mom that way... although, now that she thinks of it, her mom does have a great body for her age, especially those huge, natural tits of hers, and it's hard not to notice when they're right out there for all to see.Maybe this kind of curiosity is natural, Cassidy thinks to herself, and maybe she's more curious about her mom's meditation techniques than about her body. So she asks for some instruction, and they sit down to begin some breathing exercises. Lisa Ann's gentle hand on Cassidy's thigh definitely gets her in a more relaxed state, and her mom's soft voice takes Cassidy deeper into the meditation mood. Cassidy wants to get the full experience, so she follows in her mom's footsteps and removes her top to let her energy flow freely.The stars align, and Cassidy can see it clearly now. She does have a desire, a yearning for her step-mother's touch, and she realizes it might not be as bad as she feared. Lisa Ann takes her into a deep kiss, and guides her step-daughter in learning other positions and exercises that can lead to a happy and relaxed state. First Lisa Ann gently kisses her step-daughter's pussy, then teaches Cassidy how to pleasure a woman with her own lips and tongue. It's a wonderful session for the both of them, that leaves them feeling blissful and fulfilled by the end of it.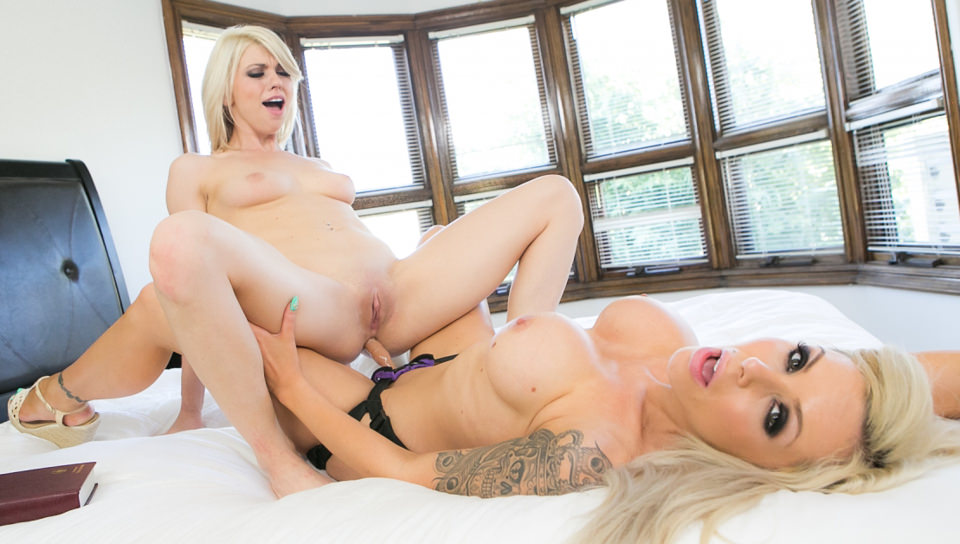 May He Protect Us: Part One, Scene #01: Tara Morgan, Nina Elle - Belonging to a Christian family, Tara Morgan sits on her couch reading the bible. Nina Elle being her step mother and wife to a pastor, knows the importance of family faith. Nina walks into her home frustrated, seeing Tara on the couch. She was supposed to be at church but never made it. Tara apologizes, saying she didn't have a ride to get there, but was catching up on her bible studies. This wasn't good enough for Nina, as she grabbed her step daughter's hand and sent her to her room to repent. Nina feels guilty not showing her step daughter the way in being a good Christian girl and decides to go see Tara so they can read the good book together. Nina sits down with Tara, discussing her thoughts and concerns about how things used to be in the house before she came into the family. Nina was concerned about Tara's sexuality, not wanting her to make the same mistakes she did when she was young. Tara assures her step mother that she would never have sex without proper protection. Shushing her daughter not to use the word protection in the house, she was actually referring to anal sex. Nina explains that anal sex is technically not a sin as Tara wants to know more about how anal sex works but Nina doesn't feel too comfortable explaining the intricate details of anal sex, now that she's a woman of the Lord. Tara is so intrigued with learning new things with Nina and makes a bargain with her. Tara states that If Nina shows her how it feels to have anal sex, she will show Nina what her first step mom Brandy showed her. Nina complies wanting the best for her step daughter. Eager to get started, Tara kisses her mother on the lips but Nina is startled exclaiming she was her mother and girls are not supposed to kiss each other. But Nina made a promise to help her daughter out any way possible. Tara unzips Nina dress, caressing her mother's huge breasts with her mouth and tongue. Nina was thirsty to see under Tara's dress and have Tara show her everything she learnt from her first step mommy. Tara places herself between Nina's legs, sucking and spitting on her pussy. Nina reciprocates leading Tara to an epic orgasm. Now it was time for Tara to learn the pleasures of an anal orgasm. Nina digs her tongue deep into Tara's asshole, teaching her what she now must do to her. Making Nina's hole nice and wet, she licks and fondles it making her very proud. Tara confesses that she had toys left behind by Brandy, which included a long pink dildo and a strap on. Nina inserts the dildo in and out of her ass, while Tara strokes her mother's pussy until she moans with satisfaction. It was Tara's turn to fill her hole with a strap on. Before anything, Tara wanted to gain comfort by reading the bible while being pounded with a huge dildo. Placing herself on top of her mother, Nina penetrates her ass screaming in frenzy. It was time to pray and thank the lord for giving them the pleasures they've experienced today.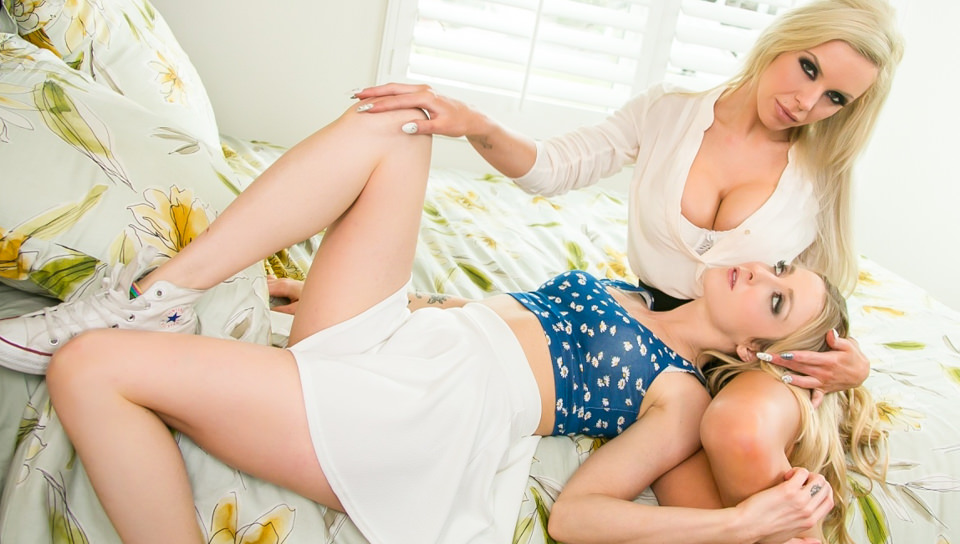 Mommy Talk, Scene #01: Karla Kush, Nina Elle - Arriving home from school exhausted, Karla Kush spots a note on the fridge door from her step mom, Nina Elle asking her to not forget to clean up the house. Karla takes the note in frustration crumples the note and starts doing what she was asked. Fed up with it all, Karla throws the garbage outside and decides she was done. Nina arrives home looking at the half ass job her daughter did around the house. Disappointed in Karla she walks into her room unhappy with her laziness and needed to have a serious talk. Nina thinks there is something going on with Karla because she hasn't been herself lately. Karla tells Nina that her boyfriend broke up with her over some text messages he saw between Karla and an old friend from school. Karla wasn't sure if she wanted to be more than just friends with this girl and wasn't sure if she was a lesbian. Nina reassures her that playing with girls normal and to not feel guilty in any way. Karla wanted to test the waters since she's never been with another girl before. Nina was more than happy to help her daughter with her first lesbian experience. Gently caressing, Nina educates Karla on how to rub her mother's breasts, pinching her nipples lightly. Nina removes her daughters top exposing Karla's firm nipples, gently squeezing them together. Showing Karla how to motorboat her gigantic tits, Nina moans with pleasure and excitement craving to touch her daughters naked, youthful body. Karla lays her body back against her mother, ready to indulge in her first lesbian orgasm. Nina teaches Karla the joys of tribbing, producing multiple orgasms between both girls. Karla is so grateful to have a mother there to make her feel better about herself and her sexuality.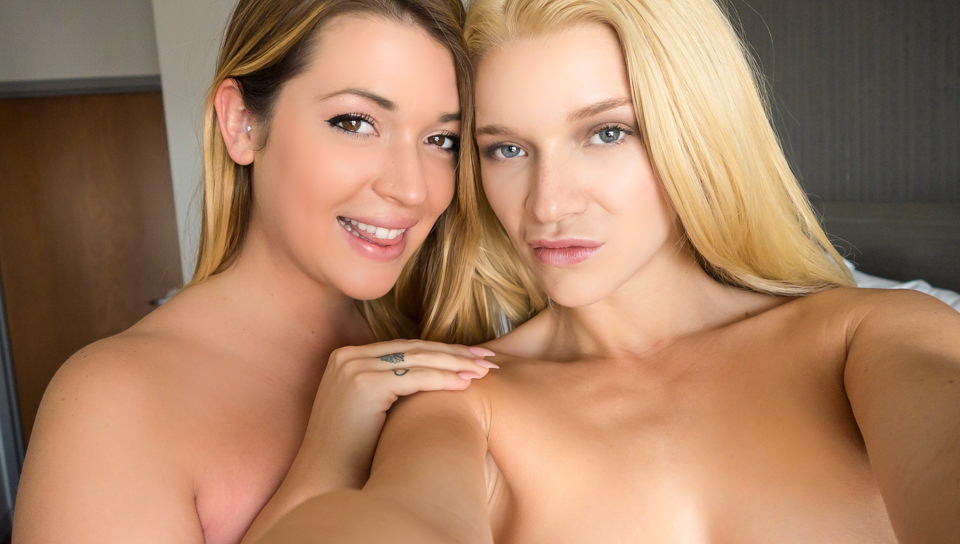 Hiking Hook Up, Scene #01: Jenna Ashley, Addison Avery - Having a tiresome yet awesome evening with Alex, I decided to get up and take a shower to take advantage of a gorgeous day. I hear the door open of the hotel room where I see Addison Avery. I asked Addison if she still wanted to go hiking and she was all up for it. We put on our hiking clothes and off we went! The scenery was so beautiful, we could stay up here all day and enjoy the view. Nothing can make the day more perfect than us capturing a moment kissing. We find a little remote spot where I whip out my boobs for Addison. The sun was now setting so it was time to head back to the hotel where we can play some more. We want to be dirty girls, so we take our friends camera and start taking off our clothes. We eat each other pussies out, our mouths our covered in pussy juice. I watch Addison lick my pussy lips with the tip of her tongue. It's my turn to get a piece of that action. I eat her out until she moans from sensitivity. We kiss to taste out juices. We both realize we have no idea where Alex so we thought it would be best to find her, but we were too lazy to put our clothes back on because you never know when will be horny again for round two! From Addison Avery and Jenna Ashley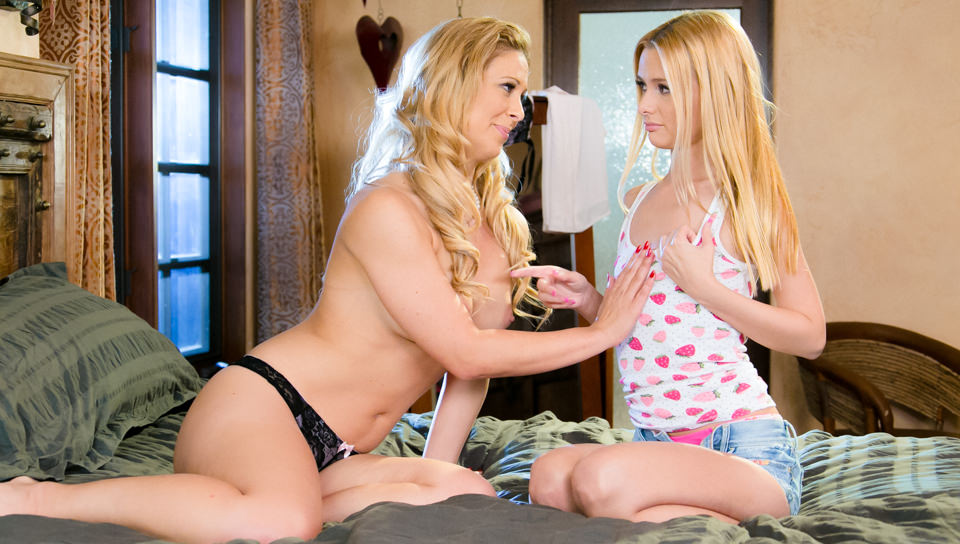 My Taboo Fantasy, Scene #01: Cherie DeVille, Kennedy Kressler - Admiring her beautiful body, Cherie DeVille undresses herself in her bedroom mirror. Her step daughter Kennedy Kressler walks in, envious to what her mothers has that she lacks; big breasts. Having a fight with her step sister Aline about her boob size, Kennedy is frustrated that no guy will appreciate a girl with a flat chest. Cherie shows compassion to her daughter, letting her know boys like all different size breasts and that Kennedy's are perfect just the way they are. Cherie ensures Kennedy that she is a beautiful young girl and someone out there will definitely appreciate her petite bosoms but Kennedy thinks she will die a virgin because no one will like her the way she is. Cherie asks Kennedy if she is still a virgin and she admits that she was. Cherie thinks that if Kennedy had a little more experience, she wouldn't feel like such a prude. So Cherie steps it up a notch deciding it's time her daughter gains some confidence. Cherie has Kennedy remove her top, idolizing her responsive nipples. Cherie welcomes her step daughter to touch her breasts as she is very fond of such a luscious chest. Kennedy wants Cherie to make her feel confident in her own skin and in order to do so, she has her mother remove her jean shorts and begins to lick her pussy. As Cherie continues to eat out her daughters pussy, Kennedy feels a sensational rush down below experiencing her first ever orgasm. Cherie takes Kennedy's legs and spreads them right open getting a perfect glimpse of her shaved,soft pussy. Kennedy feels another rush where she will cum but Cherie was in charge and asked her to place herself on bed frame so her daughter can cum right in her face. It's Cherie's turn to have sexual rush and places her pussy in Kennedy's face, using her tongue to achieve an intense orgasm. After Kennedy's first sexual experience, she now had full confidence in herself and that she is beautiful just the way she is!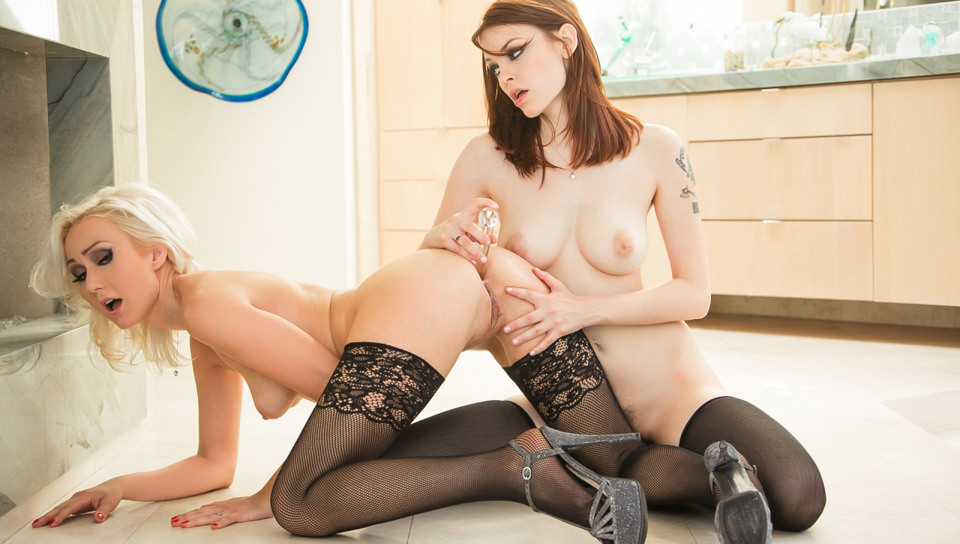 Bree Loves Natasha, Scene #01: Natasha Voya, Bree Daniels - Hi Guys, My name is Bree Daniels. You've probably seen me here before Fulfilling Tara Morgan's fantasy, but today, it's my turn. My fantasy is to have a hot blonde take me and have me sit over her lap and spank me on my ass. The girl that I want to fulfill this fantasy of mine is Natasha Voya . I want her to lick me and put a toy in my ass and continues to spank me. I demand that she makes me cum over and over again. Then, I'm going to grab a toy for her, and put it in her ass and make her cum just as much as I do. I want Natasha to continuously spank me because I'm a bad girl that deserves it. I can't wait to get my hands all over her...What about you? Bree Daniels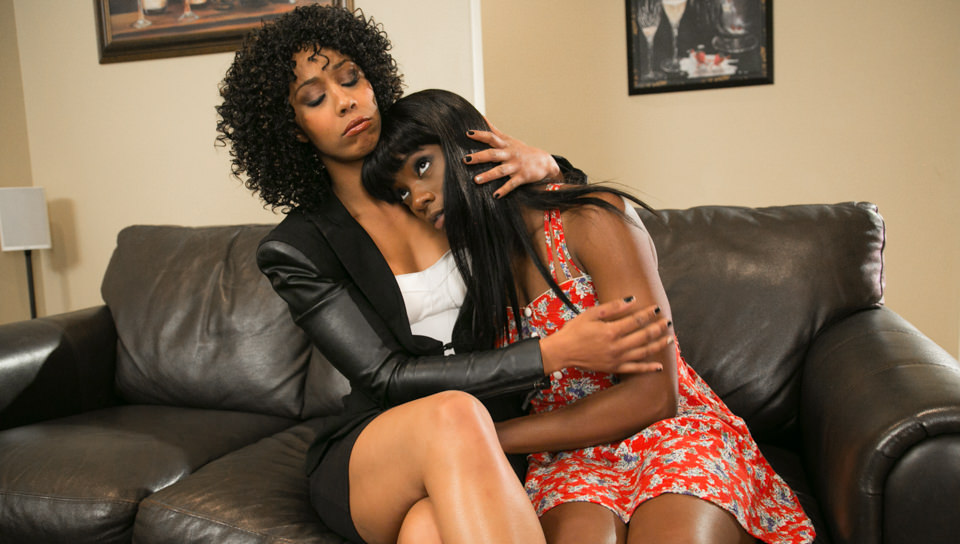 Our New Family Part One: Trusting Mommy, Scene #01: Ana Foxxx, Misty Stone - Being introduced to a whole new way of life, Ana foxxx helps her step mother, Misty Stone unpack and settle into their new home. Ana is bummed out, with all these new changes happening so quickly, she becomes overwhelmed and feels helpless. Ana's father married Misty after her mother died, but soon after, Ana's father left them feeling grief of marrying too soon after. Misty believed that remarrying someone else was the best way for them to be a family again and to start over fresh. But Ana needs positive reinforcement from her step mom in fear of being abandoned again. Still pouting on the couch, Ana is still a little upset with all these new adjustments. Misty sits down with Ana to find out what's really going on with her. Ana confesses that all the girls at school talk about sex and have cool stories to share, but she doesn't and feels left out. Ana wants to gain experience in the know-how so she can be just as popular. Misty suggests Ana finds a girlfriend whom she could trust and experiment with but Ana doesn't see anyone at school that would fit. Misty comes to the conclusion that her and Ana share this experience together, so their love can strengthen during these hard times. Ana is hesitant at first because Misty is her step mom, but mommy knows best and who else can you trust more than your mom? Misty gently kisses Ana on her lips, comforting her daughter with her loving words. Ana feels confident in trusting her mother allowing Misty to fondle her breasts and using her fingers to excite Ana's pussy. Misty ensures Ana that it's OK to feel the way she does. Petting Ana's pussy through her panties, Misty rubs her daughter's outer lips making Ana moan for more. Misty instructs Ana to remove her clothing, wanting to feel her daughter's fingers over her lower lips. Doing everything her mother asks of her, Misty places her pussy right on Ana's face and demands that she fucks it. Misty screams with intensity as she reaches climax but she is not done showing her daughter all there is to know just yet. As they position themselves in a 69, Misty orders Ana to pleasure her again by licking and stretching out her clit. Misty orders her daughter to cum all over her mouth until she herself cannot control another orgasm. Misty makes it very clear that what they both experienced was something not to be shared with anyone else, not her new step father, or her step sister. Will Ana keep that promise or will she go behind her mother's back looking to learn more and exciting new things with her new family?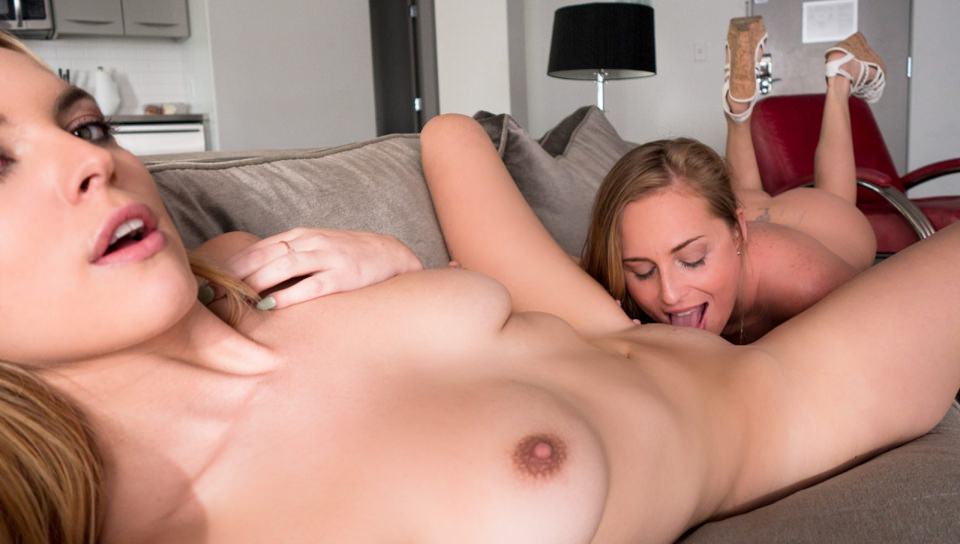 Run-In With An Old Friend, Scene #01: Cosima Knight, Roxy Rox - Taking a tour around beautiful Santa Monica Pier, I see this hot specimen walking up the steps and just luck be with me, it's my girl Cosima Knight. It's so awesome seeing an old friend from High school. We haven't seen one another in 4 years, so we had a lot of catching up to do! Reminiscing about the past, I mention to Cosima about the good and 'unforgettable' times we had together which made her totally shy, but she was into it. I asked Cosima if she has any plans for the evening and made me feel uber special saying I was her plan, so we went back to my place for a little lesbian throwback session. Cosima confesses that she hasn't been with another girl since we were together AND wants to get jiggy with it. Time to bust out the laptop and record a high school reunion rendervous! From Cosima Knight and Roxy Rox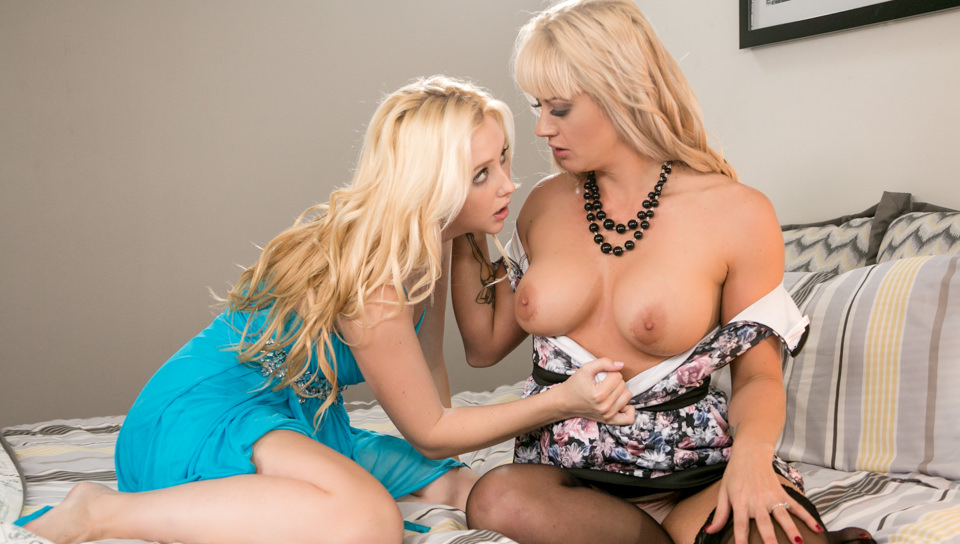 Prom Night Pointers, Scene #01: Samantha Rone, Holly Heart - It's prom night and Samantha Rone is ecstatic for the evening! She goes shopping for the perfect dress in anticipation she will be the prom queen. Samantha is on the phone with a friend concerned about her boyfriend, who may want to try anal sex again, but she's indecisive for such an intense sexual experience. Meanwhile, Holly Heart, Samantha's step mom is on the phone with a friend venting about how Samantha is a difficult daughter and is always getting into trouble at school. Samantha blasts the music in her room as she prepares for the prom. Annoyed with the music, Holly walks upstairs to confront her step daughter, but stops as she notices Samantha fantasizes about telling her boyfriend she will let him do anal on her tonight. Well this is not going to work for Holly as she storms into the room and stops everything. Holly wants to know what's going on in Samantha's head. Samantha thinks Holly doesn't care about her because they never speak anymore. Samantha says she's trying anal with her boyfriend so she doesn't get pregnant from what Samantha's heard. Holly is baffled with these allegations and demands to know about a lesbian video she found which Samantha admitted to watching. Samantha wants to learn more about lesbian sex, and Holly, feeling like she has no other choice will do anything to prove to Samantha she loves her very much. Samantha eats her mothers pussy out and wastes no time sticking two fingers inside her beautiful shaved pussy. They position themselves in 69, licking every part of their pussies. Samantha is showing her excellent licking skills as her mom is begging for her to eat her out until she cums. Samantha makes her mother cum over and over again as Holly is screaming with pleasure. She demands that Samantha lean against her as she fingers her with intensity. Soon enough, Holly teaches Samantha a thing or two about what it's like to perform anal sex. Holly spreads Samantha's pretty like anal hole, rubbing her little clit and opens her asshole. Samantha pleads that Holly will be gentle. She sticks her finger in Samantha's little ass spreading and slapping it. Samantha is now begging that she is mommies favorite. Holly makes Samantha promise to stop doing naughty things at school in return for being her favorite daughter ever!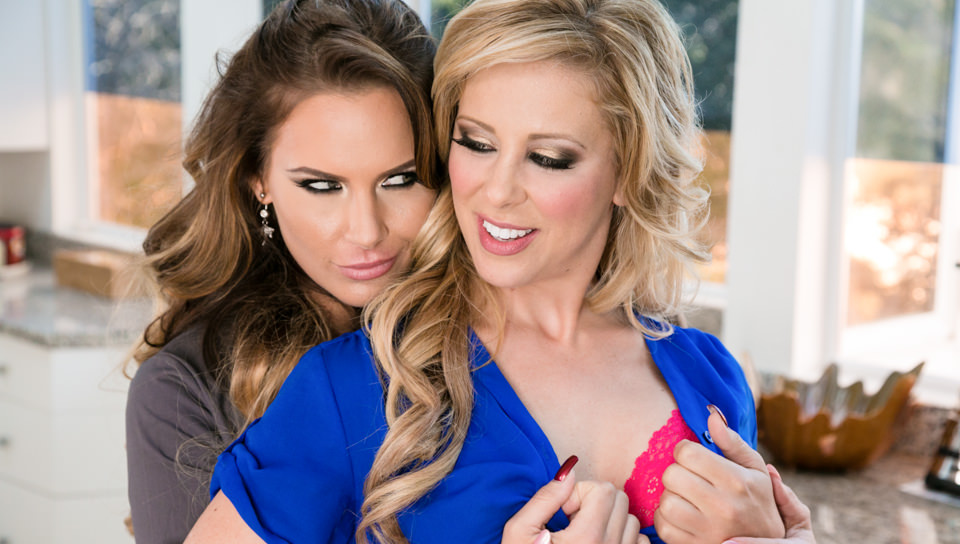 Lessons In Anal Part Three: Mommies United, Scene #01: Phoenix Marie, Cherie DeVille - Hey Girlsway fans! Phoenix Marie here and I want to share with you something that I've been dreaming about over and over again. I've been working for Cherie Deville for over 3 years now as the maid and I can't stop thinking about her. Cherie comes to see me in the kitchen where she admits that the government seized all her money and could not pay me for all the hard work I did. I was so furious, I mean, how am I supposed to get paid? Cherie promises me that I would not leave this house unsatisfied. Now what does that mean exactly? Well, as she was explaining to me her huge predicament, she started to unbutton her blouse and I could see her pink perfect nipple through her sexy red lingerie bra. Cherie also promised that she would speak to her husband so I get paid. I guess this is a win/win situation, wouldn't you agree?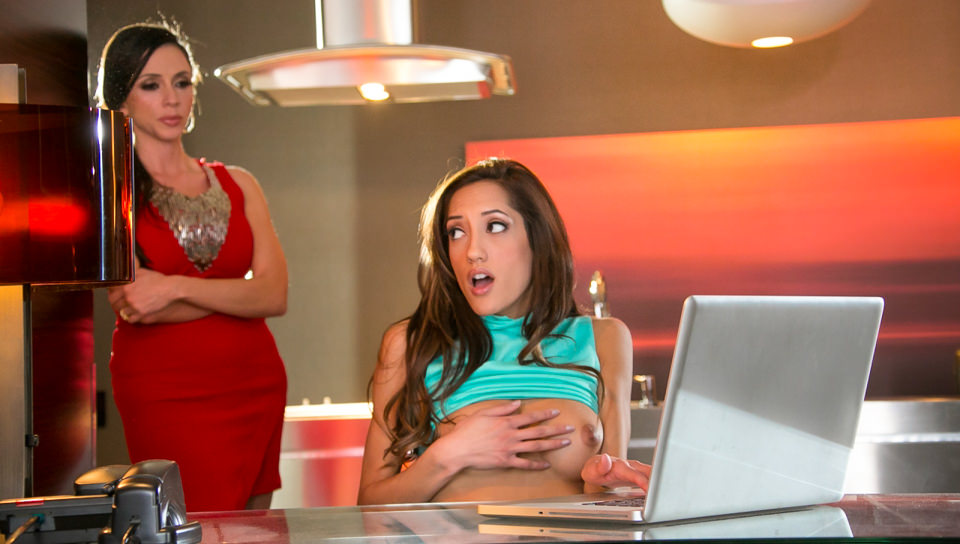 Vegas Field Trip Part One: No More Net Nanny, Scene #01: Chloe Amour, Ariella Ferrera - Chloe Amour is on a trip in Vegas with her step mom Arielle Ferrera. But Chloe is bummed out because her mom wants to stay in and watch lame movies and she just wants to go out and party. Chloe begs her mom to do anything but lame stuff. Arielle wants to go clubbing but Chloe refuses to be seen clubbing with her step mom. Since Arielle pretty much raised Chloe, she promised her a great time and to make this trip a memorable one. Arielle leaves the hotel room in search for some nice restaurants; Chloe takes this opportunity to have some fun of her own! Chloe enters the Girlsway website looking for some sexy ladies to masturbate. She slowly touches her perky breasts wanting to fulfill her sexual needs. She unzips her jeans and reaches in to touch her pussy. Chloe being so concentrated in her moment of orgasm didn't realize her mother was behind her watching her masturbate. Arielle makes her presence known, surprises Chloe with embarrassment. Arielle wanted to know why Chloe was watching porn on their vacation. Chloe, being a grown woman was upset that her mother blocked certain websites at home so she saw this as a good moment to take advantage. Arielle understood seeing that Chloe was an adult. Arielle wanted to know more about Chloe's fantasies and her interests with women. Chloe confesses she was involved in a lesbian threesome with India Summer and Shyla Jennings and also admits her biggest fantasy would be to fuck her step mother. Arielle promised Chloe a trip to remember and makes her fantasy become a reality. They kiss passionately and Arielle asks Chloe to remove her shirt. Arielle kisses her nipples and neck. She helps her step daughter undress like she used to and makes her way down to Chloe's pussy creating a juicy and delicious view. Chloe asks for more, loving how her mother's tongue makes her cum. Arielle removes her tight red dress exposing her huge breasts for Chloe to play with. Arielle wants Chloe to show her what she's learned from her other lesbian experiences. She sucks her lips down below getting every inch of her mother's vagina inside her mouth. Arielle has Chloe sit on her face making her juices flow all over her massive chest. Chloe is so happy she came on this trip and hoping next time she can invite India Summer and Shyla Jennings to join them!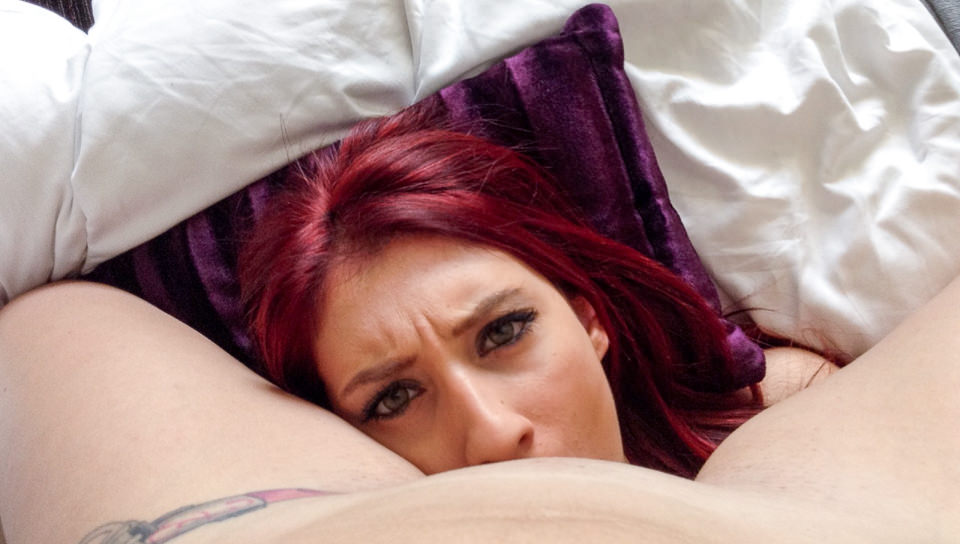 Changing Room Escapades: Addison Ryder, Karlee Grey - Telling Addison Ryder to hurry up is like telling a turtle it's the fastest reptile in the sea ... On this gorgeous day out, I wanted to get out and go shopping before Zoey showed up. Addison finally got the point so we were ready to head out. We head to the lingerie store to try on some sweet undergarments. Sneaking into the changing room together, we pose for the camera and show off our sexy asses to each other. Myself and Karlee Grey get back to the hotel room where Karlee states she's horny and wants to fuck. She takes out a camera with a tripod because she wants to film the entire thing! I guess it's Ok as long as she uses it for her own personal use ... It's not before long that we both take off our clothes, spank each other's bums and pussies. Seeing our clits and pussy lips so close to our mouths and camera made us cum more than we expected! From Addison Ryder and Karlee Grey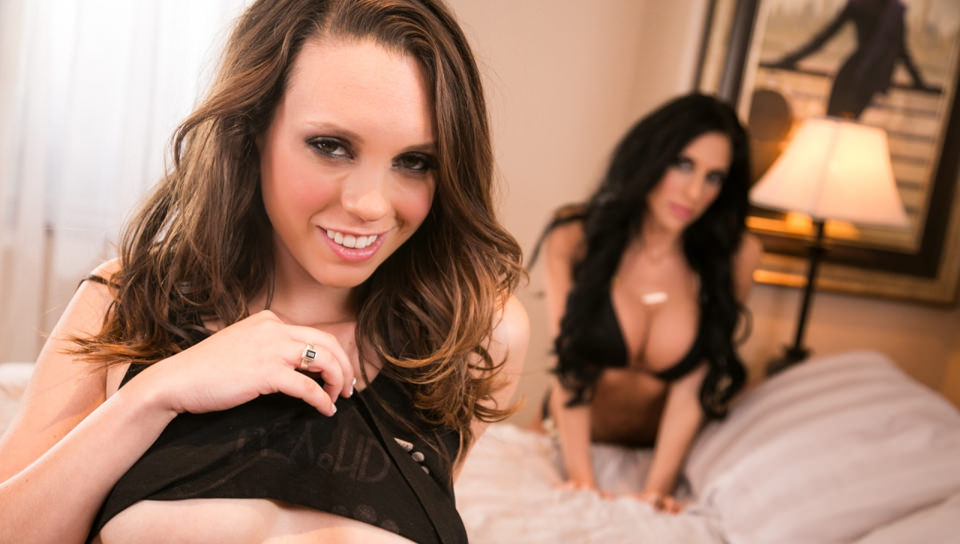 Mommy Caught Me Part Two: The Last Time, Scene #01: Jade Nile, Jaclyn Taylor - If you told Jade Nile yesterday that she was going to have her first lesbian experience, she'd say you were lying. And if you told her it would be with her step-mom Jaclyn Taylor, she'd say you were crazy! But ever since her step-mom walked in on her masturbating, moved in close to Jade's perfectly smooth, naked body, and opened her up to new, undiscovered urges, Jade hasn't been able to get the experience out of her head. Now today, with busty Jaclyn lying by the pool in a skimpy two-piece that leaves little to the imagination, Jade's appetite for her mommy is out of control.But when Jade tries to take things to the next level, this time Jaclyn tries to keep a level head, insisting that yesterday was the last time they could be intimate together. What if Jade's father found out about the two of them? No, this was wrong -- Jaclyn had raised Jade. She shouldn't have these desires. But Jade sees her mommy struggling and decides to make it even easier to say yes -- what if this was the last time they were together? Then nobody could find out. Jaclyn can't resist, and the two of them make their way to the bedroom away from the neighbors' prying eyes.As they kiss tenderly, Jade introduces a bit of dirty talking. At first Jaclyn can't bear to hear her precious Jade call her mommy with so much lust in her voice, but soon instead of it sounding strange it starts to turn Jaclyn on even more, and she can't help but say it herself to her sweetie as Jade pushes her tongue deep inside mommy's pussy. Then Jade sits on her mommy's face and presses her hairy pussy onto Jaclyn's caring lips. Finally, to end things once and for all, Jade and Jaclyn press their pussies against each other and bring both step-mother and step-daughter to a screaming climax. But in going all-out to make this a last time to remember, did Jade and Jaclyn go too far and make their tryst too good to give up?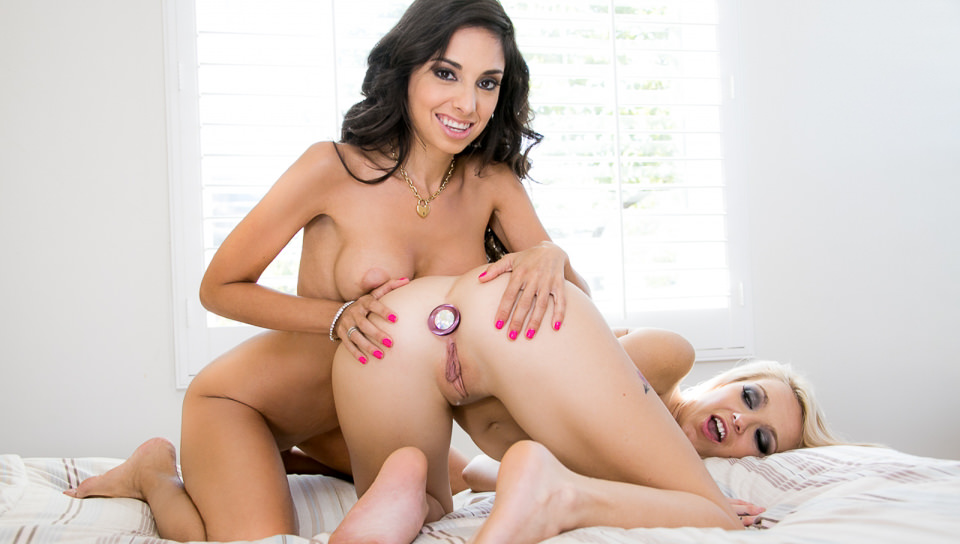 Carmen Loves Trinity, Scene #01: Carmen Callaway, Trinity St. Clair - Hi, Carmen Callaway here. You've probably seen me as the innocent little blond girl in Webyoung.com. Today, I won't be so innocent. My biggest fantasy is to find a girl to play with my butt hole, and show me things I've never done before. I want a girl, that's petite, sweet, and more experienced than me. Oh, and did I mention, she has to be dirty and dominant. I want her to show me everything with her asshole first with her fingers gliding in and out until she cums. Then, I want her to do exactly the same thing that she did to herself onto me. I hope I take whatever she gives to me because I'm so ready to do this. I know I'll be a good girl. I'm really hoping all of you guys can be there to watch it!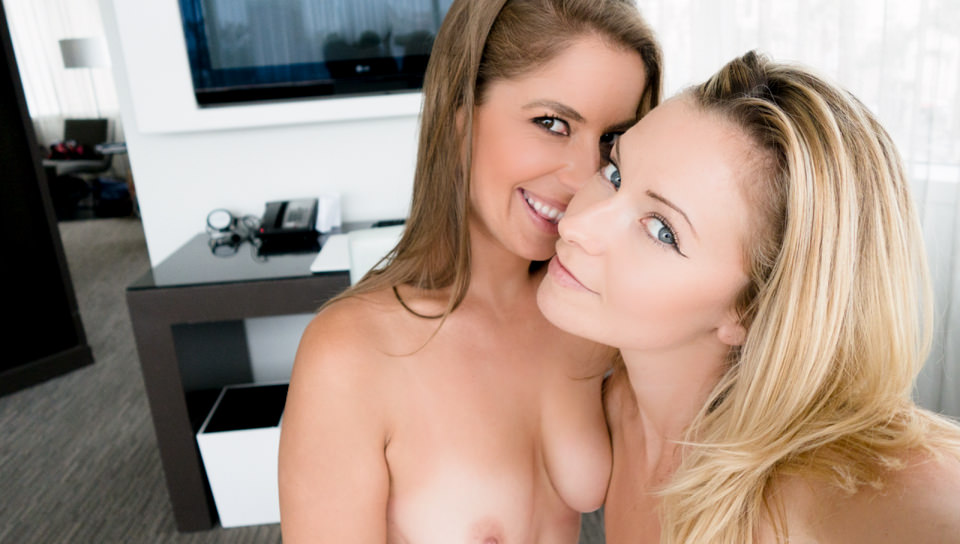 Day Out in Hollywood, Scene #01: Lena Nicole, Presley Hart - I'm so stocked I'm in Hollywood CA, enjoying the beautiful sun and scenery. And, out of the blue, my friend Presley shows up! This can't get any better! She asks me if I wanted to go back to her hotel room to catch up. How can I saw no to such a hot little number like that!?! When we get to her room, she busts out a camera for her video blog, which is way cool since we were both taping our video diaries. Presley shows me some awesome pictures of her trip in Tailand, but I think she was more excited to have me beside her on the bed then show me those pics. I get the awesome idea to take a shot of her booty close up. Her ass is incredible. I get a little feel and slap from it. She wants me to show her my goods, so I bust out a couple of Yoga moves however, my intention wasn't to do any Yoga, just to tease her with my body, of course. I won't tell you what we did next, you will have to see it for yourself because you definitely don't want to miss it. From Lena Nicole and Presley Hart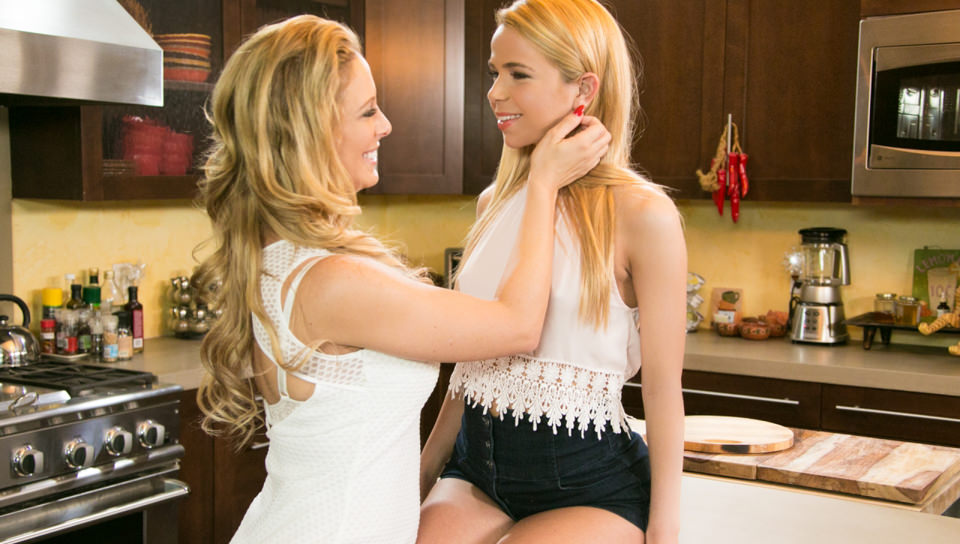 Never Too Small, Scene #01: Cherie DeVille, Alina West - Alina needed some time to herself today, venting in her diary about the fight she had with her step mom Cherie. Alina is somewhat frustrated that her mom spends all her time in the kitchen preparing food. Having a mom cooking food for the family shouldn't be an issue, but Alina explains that Cherie's obsession with cooking has taken priority over quality time with Alina and her father. Alina thinks it's time to step up and advocate that her mom needs to pay more attention to her than her cooking, no matter what it takes... Alina's plot is to seduce her mother, wanting Cherie to touch her skin and teach her about sex. She fantasizes about Cherie kissing her passionately, and dominating her entire body. Alina decides it's time to make it happen. Alina confides in Cherie, admitting that she's way more interested in the girls at school than the boys. Alina also confesses that she's attracted to her step mom. Cherie, accepting her daughter's flirtation, begins fulfilling her sexual needs. Cherie removes her top and Alina follows. They kiss gently until Cherie eases her fingers into Alina panties. She massages Alina's pussy in circling motions. Alina cannot help but moan with pleasure. Cherie knows she's pleasing her daughter, and continues by removing her underwear and spreading Alina's legs on the kitchen table. Cherie's pussy licking, fingering and tribbing lead to Alina erupting with multiple orgasms. With both mother and daughter sexually ful filled, Cherie promises Alina she will continue to please her whenever she likes as long as Alina will be Cherie's little helper. Alina cannot refuse a great compromise.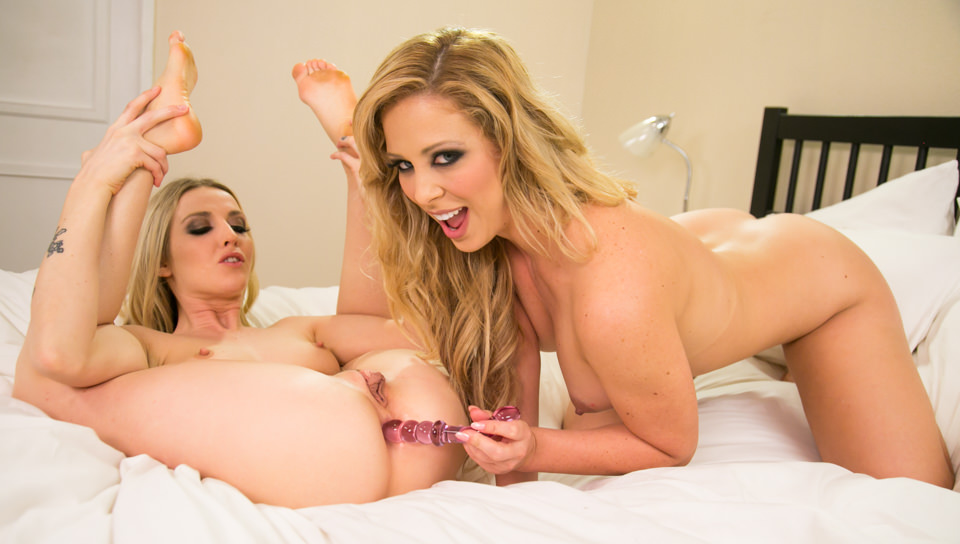 Lessons in Anal Part Two: My New Virginity, Scene #01: Karla Kush, Cherie DeVille - This is really hard for me to admit, especially with myself, but I'm a little ashamed of some of the sexual choices I've made in my life. Not that I'm a slut or anything, but I think I could've done a lot better with the choices I made.People can just feel my sexual tension and I can't say no to fulfill my sexual needs. But now I've come to a crossroad where things are just boring. I needed help and really bad, but I also needed advice from someone who has way more experience than I do. I really needed someone who I could trust, who wouldn't judge me, and who better than my Stepmom, Cherie. I step into her room, where we talk over my experiences, but the more questions she asks, the more I become horny and want her to touch me. At first, my mom seemed reluctant, but I persuaded her with a kiss, then another one. She was all over me like sweet cherry pie. I give her exactly what she needs. I know this experience will be epic. While showing me how to finger her asshole, I keep rubbing her pussy slowly and I continue to finger her until she cums. Now it's my turn. I'm so excited being this is my first time doing anal. She licks my asshole and puts in one finger. The feeling is exhilarating. While she fingers me, I keep playing with myself. Mommy says I'm ready for more than one finger. Now there are two. Before I know it, I have an intense orgasm! She shows me her anal toy where I'm practicing on her. Mommy is telling me I am doing such a great job and wants me to make her cum again! She takes out a pink glass dildo for me. I place my legs over my head and I'm ready. She slowly makes circles around my asshole with the dildo I don't know how it's going to feel and the excitement is overbearing. My ass it so tight. Before I know it, it was all in! Cherie promises me that tomorrow, bigger and better things will be coming. I can't wait to be an expert!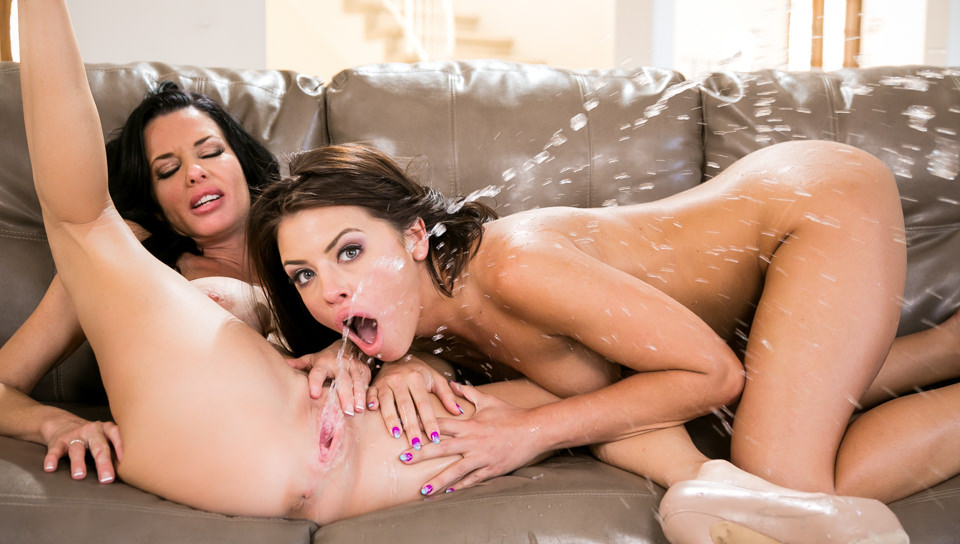 Mommy Takes a Squirt, Scene #01: Adriana Chechik, Veronica Avluv - Adriana Chechik is in desperate need to masturbate so, as she always does, she looks online for lesbian squirting. She has been mesmerized by squirting for a few years now, but still doesn't know for sure whether it's even real! Spreading her legs wide on the computer table, she rubs her pussy through her sexy pink laced underwear. The more she watches the screen the harder she will cum. Her masturbation is interrupted as Veronica Avluv comes home from shopping. Afraid of getting caught, Adriana quickly closes her laptop and runs for the living room. Veronica, frustrated she forgot to buy onions for their supper, goes to check online for an alternative recipe. Veronica opens the laptop and immediately sees was her stepdaughter was up to. Veronica explains to Adriana that she needs to admit what she's been looking and to not sneak behind her back. Adriana confides in her mother, wanting to know the truth if the squirting was real or not. Assuring her, Veronica tells her that it's very real, and very pleasurable. With the experience and knowledge Veronica has, teaching her daughter how to squirt is natural and part of her responsibilities as a mother. Veronica goes into great detail about how a woman's body works, and the most important aspect is to know what happens inside. Adriana is so fascinated with all this new information, she almost begs her mom to show her how to squirt. Veronica takes full charge over her daughter's body. Sucking her lips, pushing her breasts together and licking them. She presses her thumbs down Adriana's throat and uses her saliva to wet her sweet pussy. Her mother grabs a hold of her pussy lips with dominance slowly moving down to her clitoris arousing Adriana even more. Adriana rubs her pussy vigorously, moaning harder and harder she inserts her fingers into her vagina pushing harder for her firstever squirt. Veronica pushes her finger deep inside Adriana's hole making her juices flow like a faucet. The feeling is overwhelming as her mother squeezes her pussy and spreads her daughter's lips. The more fingers Veronica inserts, the harder Adriana squirts. They take things to the maximum level where Veronica puts her entire fist inside Adriana. Her adrenaline is overbearing. Adriana is so excited, she throws her step mother on the couch and spreads her mother's legs fingering and fisting her so hard and deep, her cum is flying everywhere. This lesbian experience coated them both with a shower of squirt appearing as a transparent silk dress. Adriana is likely to see her Veronica again for more help on what she wants to learn next no doubt!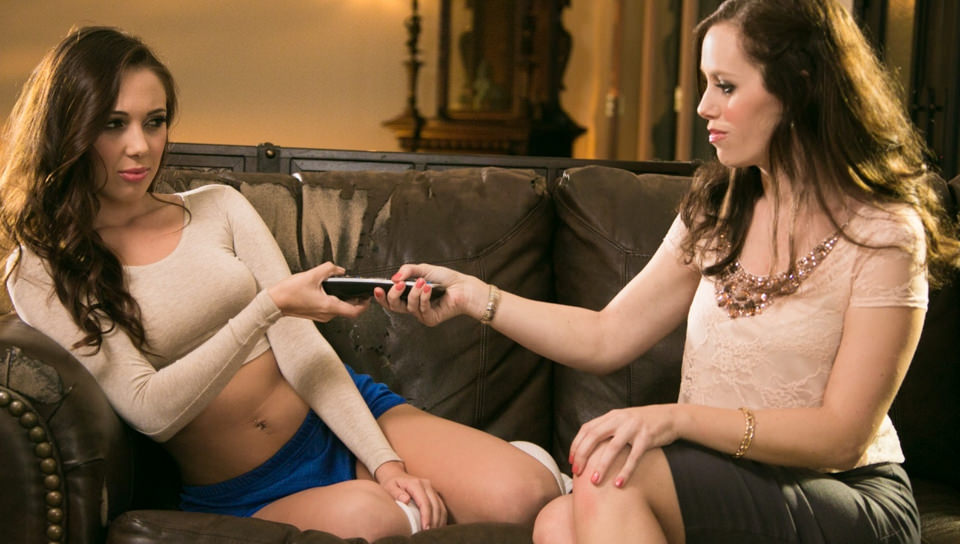 No TV For You, Scene #01: Jenna Sativa, Savannah Fyre - Jenna is being lazy on the couch, flipping through the channels when her step mother Savannah comes in with the groceries. She orders Jenna to get off her butt and get on her homework. Jenna says it's already done so Savannah tells her to help out with other chores. They have a conversation about how school is going, and if her daughter is dating anyone, boys or girls. Jenna's somewhat embarrassed that her mom is asking her about what gender she's into ... (we know she likes girls..) Her mother states that she's been with many women before she met Jenna's dad. She feels that she has an obligation to her step daughter to show her the things she's learnt in the past. But we all know Jenna's in it for the sex. Woman know other women's bodies a lot better than men do, Savannah explains. She learnt how to please a woman through her step mom, and now its Jenna's turn to know how it really feels to be with a woman. We've seen Jenna with her step-sister, while looking through Savannah's toys and with other girls online and with her new girlfriends from school, but no one is quite as prepared to give Jenna the experience the same way Savannah is. As nervous as Jenna is about it, she still prefers to lie and tell Savannah it is going to be her first time. Savannah starts her lessons in lesbian pleasures. Jenna is more than compliant to learn. Savannah brushes her daughter's hair out of the way and leans in to make the first kiss. Savannah reaches over to Jenna's neck and sucks on it. This feels so refreshing, Jenna returns the favor. Things heat up as Savannah touches her step-daughters breasts, pinching and licking them. Jenna is doing a great job licking her stepmom's breasts gently with the tip of her tongue. Next step in Savannahs lesson, is to sit on her face. Riding back and forth, Savannah licks Jenna's beautiful pussy as her perfect round ass goes back and forth. The more her mother licks, the louder Jenna moans and orgasms. Jenna wants to please her mother just as well as her mother did. Teaching Jenna how to please her, she acknowledges all her stepmother's critiques and applies them to satisfy her perfectly. Doing everything her mother asks of her, Savannah cums all over Jenna's mouth. The last lesson Savannah teaches is tribbing. Jenna's secret surfaces while she tribs her stepmom, something she's known how to do for years! Savannah is so impressed with Jenna, they agree to do it again! As long as her dad doesn`t find out!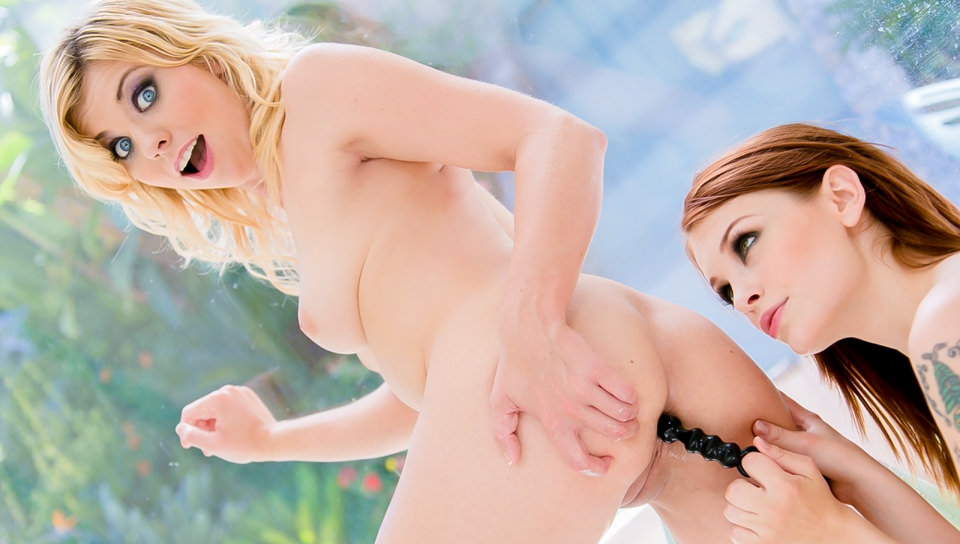 Tara Loves Bree, Scene #01: Tara Morgan, Bree Daniels - Hi Guys, My name is Tara Morgan.I crave attention on camera. I also crave sex. But what I crave the most is to have my biggest fantasy come a reality. I want to lose my anal virginity to a special girl called Bree Daniels. I want her to do it to herself, so I could watch and learn. And once I've paid close enough attention, do it to myself just as good. After she shows me how she gets off, I'm going to have her put anal beads in my ass! I want to start with small anal beads, then work my way up to a bigger size once I'm all loosened up. And at the end, have a double-sided dildo so we can fuck each other! I like the sound of that, don't you? Tara Morgan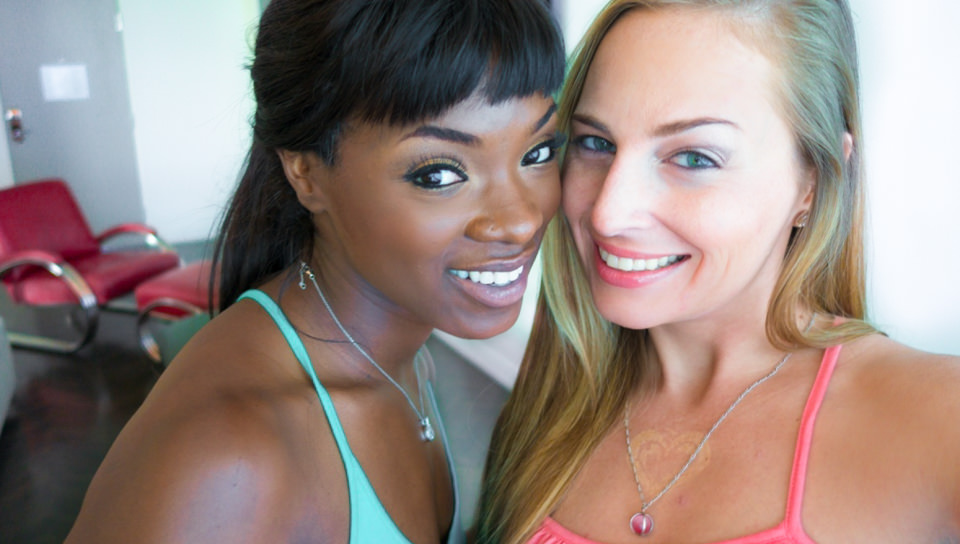 A Hot Stroll Down the Boulevard, Scene #01: Ana Foxxx, Roxy Rox - Roxy and I took a nice walk down the boulevard scoping out the scenery and each other. She looked so hot I couldn't get my head out of the gutter. We have a stroll down some side streets where she kept teasing me her through the camera. But all this teasing was making sexually frustrated, so we decided to go back to the hotel and take advantage of the beautiful weather some other time. When we got back to the hotel, the A/C felt so nice on our hot bodies. Roxy Rox took out her laptop to record our lesbian experience. We both undressed and Roxy showed me her nice pink pussy. It looked so yummy. I passed the Camera to Roxy so I can eat her out. We took turns pleasuring one another. I could tell you more, but we turned on the laptop to record the entire thing! Roxy Rox and Ana Foxx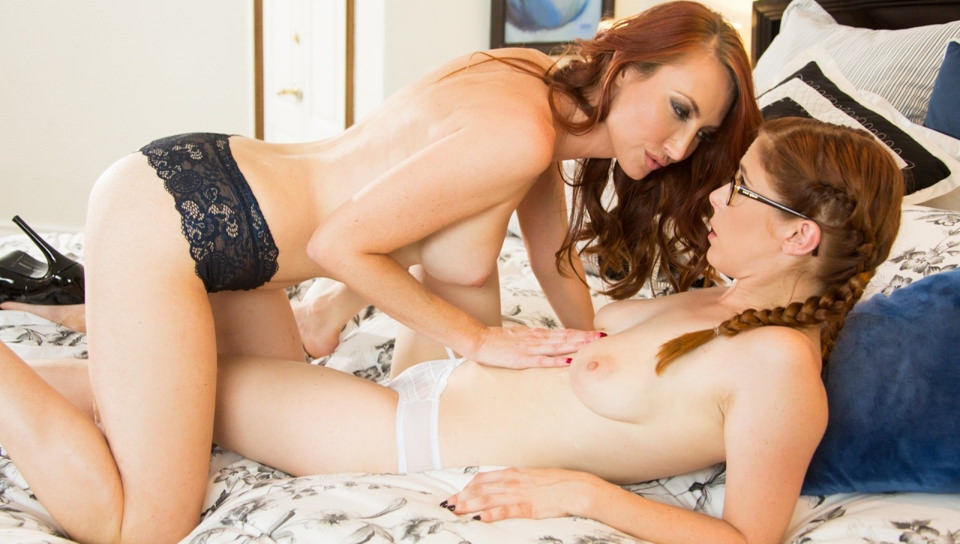 Just To Fit In, Scene #01: Penny Pax, Kendra James - Kendra James starts her day watching some videos online and playing with herself. The phone rings and it's her step daughter Penny Pax who lets her know she just landed and is on her way to see her right now. Penny is spending the weekend at home and both are eager to see eachother since it's been far too long. Kendra gets off the phone with Penny and continues pleasuring herself until Penny arrives...she didn't expect her to be home so soon. Walking up the stairs, Penny bursts into her stepmom's room almost catching Kendra about to orgasm. Both feeling awkward, Kendra decides to fess up and admit that she was masturbating. Penny also admits that she's never had the chance to learn and needs help in that area. To Kendra, this is the perfect chance to show her stepdaughter the full potential of masturbation! They both discuss Penny's previous sexual history, what types of things she's done to pursue her sexual desires, experimenting with herself. Kendra decides Penny really needs an older woman like herself to show her how to explore her sexuality. Kendra starts kissing Penny and plays with her pigtails. It seems like Penny knows more about making out than she says she does! Kendra asks Penny what other things she's done to pleasure herself, and the more Penny explains, the more this excites Kendra. Kendra has Penny remove her bra. Kendra is very impressed with how her stepdaughter's breasts have grown. She can't help herself and licks Penny's perky tits. Penny still shy, shows her mom how she likes to rub her hands around her pussy. Kendra guides Penny on how to masturbate and decides the best way for her to learn is to get naked with her. Kendra goes down on Penny, licking her sweet pussy and breathing softly on her clit. Penny becomes more and more excited with her stepmom licking her pussy. She doesn't know what she's feeling but she knows it feels amazing! After experiencing her first orgasm, she asks mommy if she could show her. Kendra sees no reason why not to. Kendra guides Penny on how to suck, lick and wiggle her tongue all over. Kendra is so wet and excited, she holds onto Penny's hair and thrusts her hips up and down. Kendra assures Penny she's amazing at eating her out and tells her not to stop. Kendra has an intense orgasm and congratulates her daughter. Lastly, Kendra shows Penny what it's like to scissor. Penny admits that her clit is so sensitive and the harder Kendra goes, the faster she will orgasm. Faster and faster they thrust at each other and within minutes, both climax. Penny feels such a rush and can't wait to get back to school and show her friends what her mom has taught her. She also assures her mom she will definitely be back so she can learn some new tricks. Kendra, promises her there is so much more she can teach her...Until next time!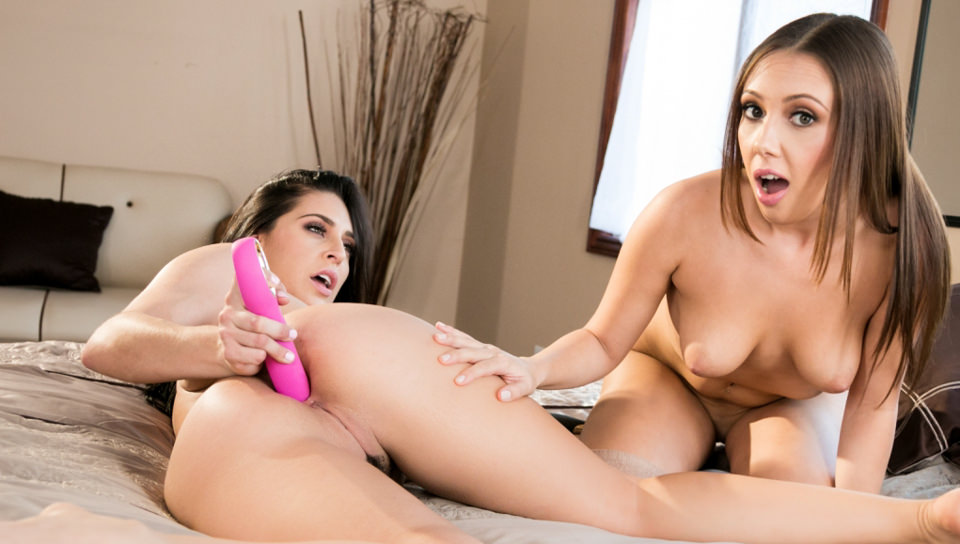 Mommy's Secrets, Scene #01: Jenna Sativa, Gracie Glam - Jenna is home doing her chores. Mommy grounded her and now there's nothing but chores to do. Jenna's been working hard for a week, so she figures it's finally time to find the phone that was taken from her so viciously. Jenna looks and looks, but she only finds a weird pink s shaped thing... not knowing what it is... she looks it over letting her imagination run wild. Suddenly her step-sister comes in and finds her rooting around in Mommy's drawers! Imagine the excitement Gracie had when she found her innocent younger step-sister holding one of the sexiest toys she's ever seen! Gracie sits Jenna down for a little girl to girl chat, and soon Gracie figures out the whole story from top to toe. But Jenna is concerned! Jenna asks if it's weird to masturbate in the butt, and Gracie is truly graceful in telling Jenna she's absolutely normal, she even goes on to show Jenna why. Soon the sisters are out of their clothes and playing with the toys, Gracie uses all her best techniques to initiate Jenna to her first live action Anal Sex. Before too much instruction, Gracie gently slides the long pink toy into Jenna's slicked up deep sweet butt hole. When they finally have their orgasms Jenna finds that having a toy in her butt feels better than anything she's felt in her sex life until now!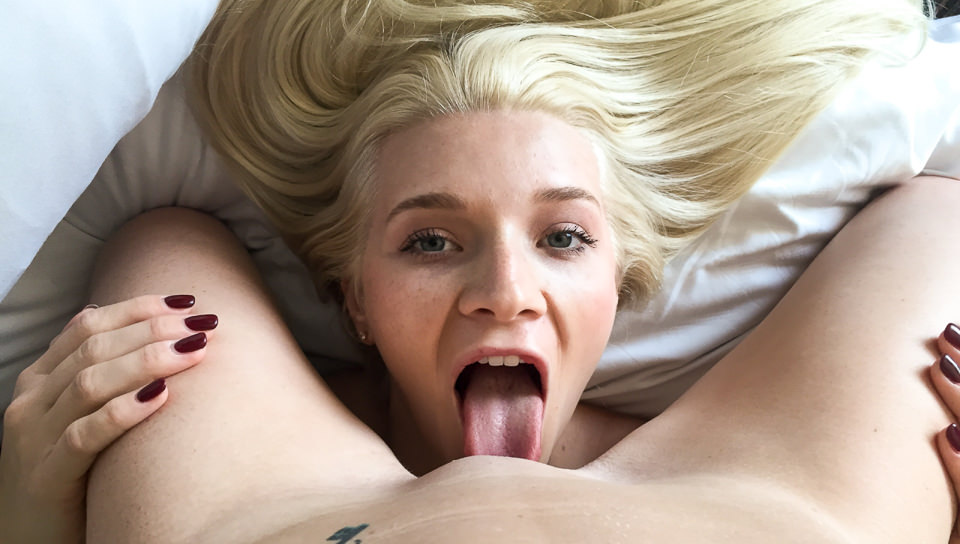 L.A Fun and Games, Scene #01: Alex Tanner, Addison Avery - With the perfect hotel view in Hollywood, I decided to go take a dip in the pool and scope out any hot chicks with my girl, Alex. Alex takes no time to get undressed and joins me in my search for some pool side babes. But being as horny as I am, we decided to go back to our room and make out and more. I set up my camera because I have to tape everyone I sleep with. I decide to get down to business and lick Alex's pussy and focus on her clit since I know what she likes. I then make her eat my pussy and put the camera close to her beautiful face so I can see her tongue stroke my pierced clit. Its Alex's turn to get off again so I take my position under her pussy and make her cum all over my face. She can't get enough of my clit and wants more of my juice in her mouth, so I couldn't say no to another orgasm!All this pussy licking made me hungry! Time to eat!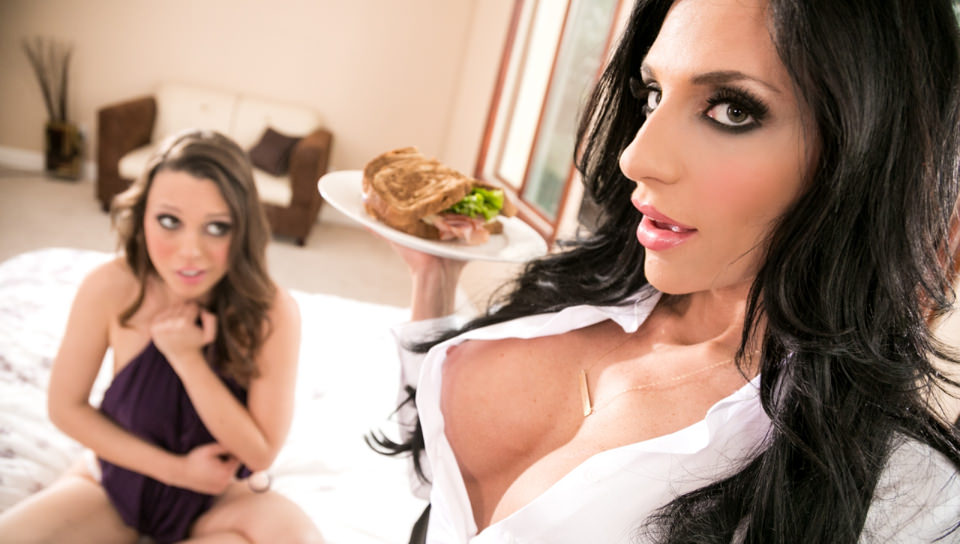 Mommy Caught Me Part One: Welcome Home, Scene #01: Jade Nile, Jaclyn Taylor - Eager step mom Jaclyn is getting ready for her stepdaughter Jade to come home from college. Jaclyn is so excited to see her step daughter since its her first time back and spending the week since its spring break. She tells her Friend on the phone all about how Jade has blossomed and has become such a beautiful woman. Jade explains shes really tired from her trip and wants to take a nap. Jacklyn's frustrated but accepts her daughters wishes. Doing whatever it takes to please her step-daughter, Jaclyn decides to make Jade something to eat regardless of Jade's wishes.Meanwhile, Jade is upstairs looking at her new surroundings, she jumps on the bed with excitement and starts playing with her pussy over her underwear. She takes off her shirt and continues rubbing herself, then pulls off her underwear and keeps going at it. Jaclyn comes up the stairs with the food and hears Jade masturbating through the door . Becoming aroused, she decides she wants in on this fun too. Jade continues to play with herself without knowing that her step mom is right outside the door and doing the same thing. Jaclyn slowly unbuttons her top and plays with her nice rounds breasts and becomes more and more excited the louder she hears Jade moan. As the two masturbate just feet apart from each other, Jaclyn orgasms. She gets herself together where she enters room to let Jade know masturbation is ok and there is nothing to be ashamed about.Jade, admits to have never been with another girl but wants to, Jaclyn takes the opportunity to show her all that she needs to know. The two start to kiss and touch each other slowly. Jaclyn eventually rubs her lips harder and harder where Jade almost begs that she wants to cum. Its Jaclyn's turn to get a piece of the action so Jade does exactly what her moms teaches her to. They both reach intense orgasms simultaneously. Jade begs to go for a second round but Jaclyn explains her father will be home and this was a one time deal...or is it?...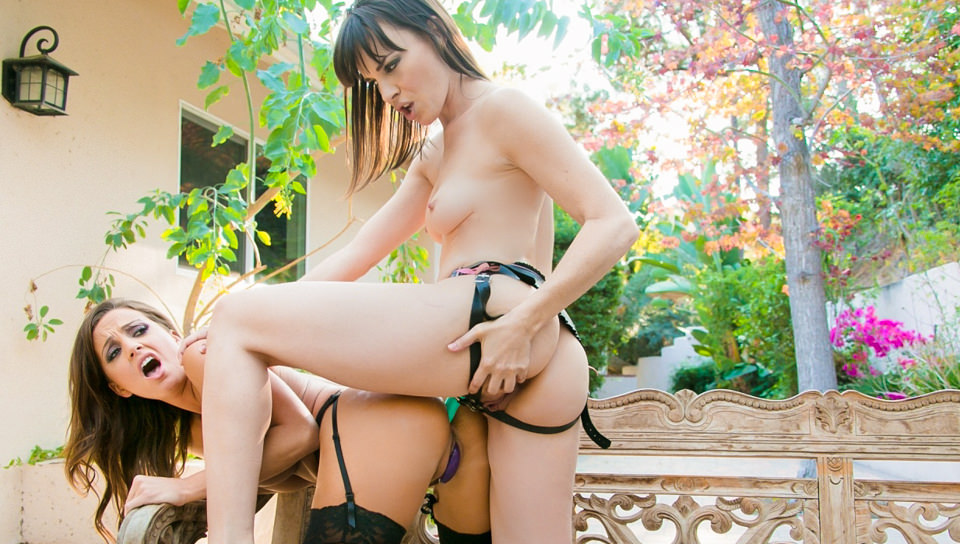 Abigail Loves Dana, Scene #01: Abigail Mac, Dana DeArmond - Hey guys, its Abigail Mac and I want to tell you about something that I keep on fantasizing about over and over. You know, I have done a few scenes for GirlsTryAnal.com and there's one girl that I have on my mind in particular. Her name is Dana DeArmond. I know that she could just dominate me, fuck me like no one ever would. I really want to take my anal experience to the next level. She's so experienced and she knows exactly what she's doing, especially when it comes to Anal. And I just want her to fuck me until I just can't take it anymore. Do you want to watch that?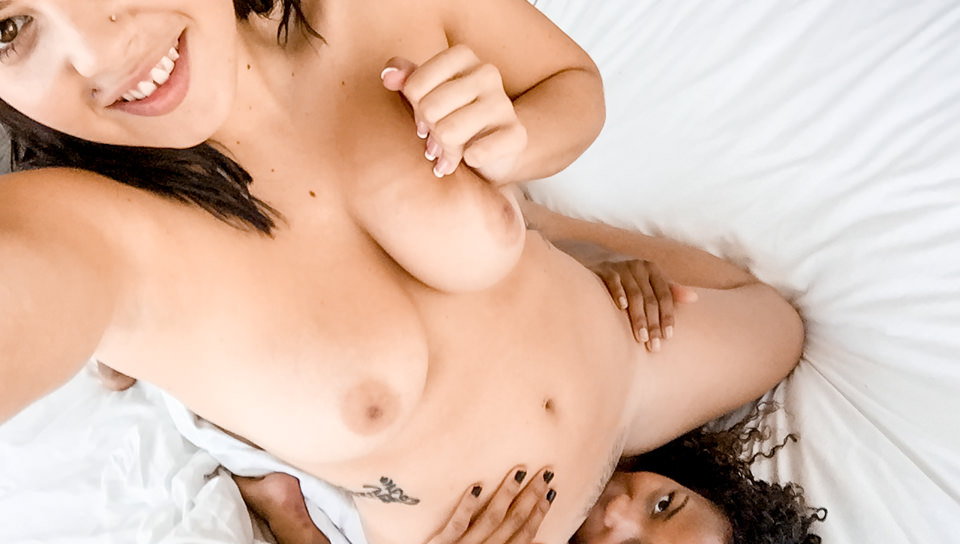 Best Wake-Up Call, Scene #01: Keisha Grey, Ivy Sherwood - So, we're at the hotel, and it's time to get up, but Ivy is a total grump when you wake her up. I am so horny I can hardly keep my hands off of her. So wakey wakey eggs and bakey for Ivy. I need some of her expert licking! There's not a better way to be woken up than to have someone's pussy to lick, and to have your own licked before you even know what's going on! Ivy tasted so sumptuous that I didn't even need breakfast after eating her tasty pussy. Ivy just loves it when I suck on her clit. But to be honest I think all I need to cum is just her sitting on my hungry mouth, and staring straight into my eyes! This was definitely the hottest morning on our vacation. I hope you find it as earth shattering as me. From Keisha Grey and Ivy Sherwood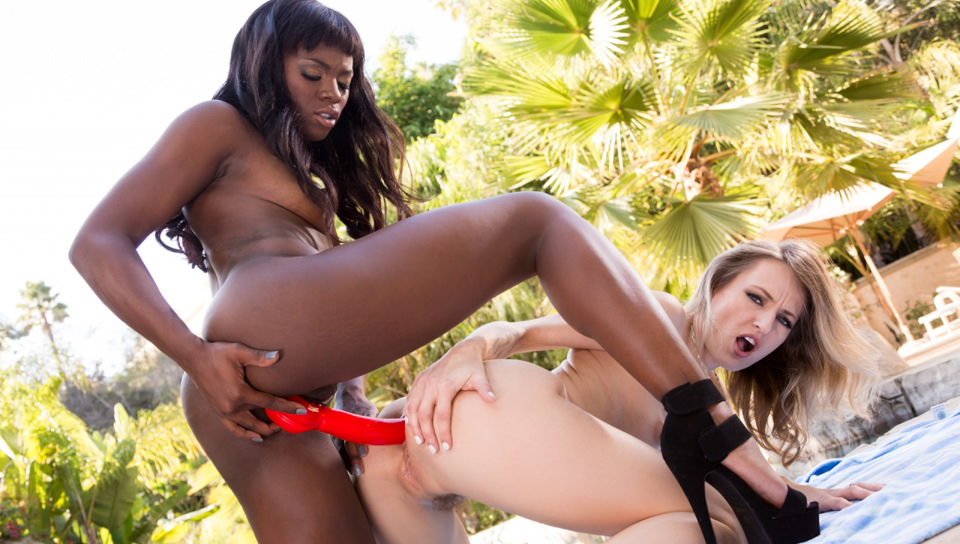 Ana Loves Natasha, Scene #01: Ana Foxxx, Natasha Starr - Hi, I'm Ana Foxxx, and I'm really excited to share another fantasy with you guys. I'm going to take what I learned with Phoenix and try it out with a really experienced girl, Natasha. She's really sexy and she has a hot accent. I really want to go first, maybe, and surprise her after kissing her for a while. I'll take whatever she gives me. This time I'm a lot more comfortable and I'm going to use bigger toys and make her really proud and excited to play with me. I can't wait to see what she's going to do when it's her turn. Maybe she'll take the same toys and show me what she can do with them, and I can't wait to see her freaky ways. I hope you guys enjoy this anal scene as much as I do.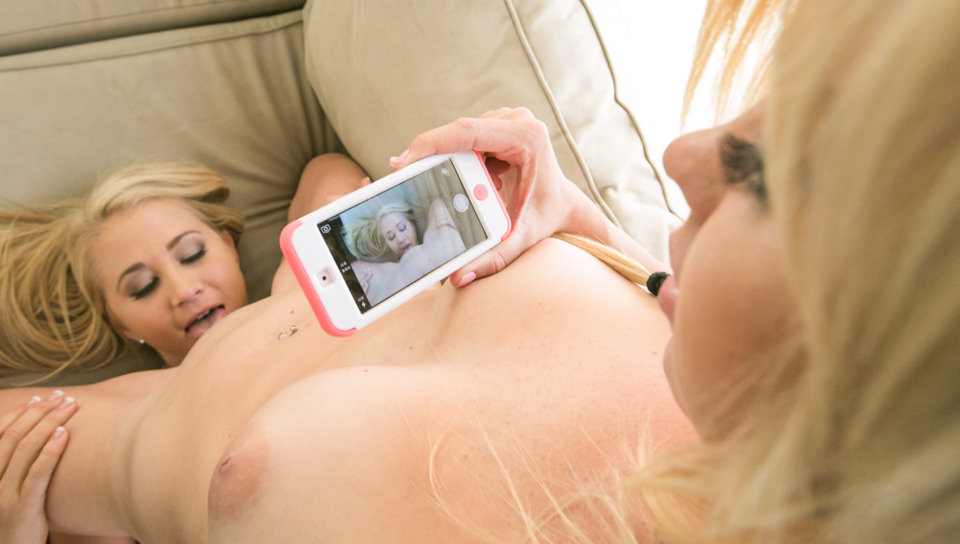 Skateboard Beach Babes, Scene #01: Tara Morgan, Mandy Armani - I LOVE being filmed! Maybe I'm just a bit of an exhibition-ista, but I also just love capturing the little precious moments of my life -- meeting cool new people, getting to know their stories, getting to share those stories on Youtube or with friends. My gal pal Rhianna and I were trolling a Venice beach with our cameras and we bumped into this really sexy, funloving skateboard babe named Mandy. She showed me some moves on her skateboard and I showed her some moves in the bedroom, or the couch in this case. With her face buried so deep in my pussy, I got so fucking wet it was like the flood season came early to Venice, haha! So glad we filmed the whole thing, though I guess we won't be putting this one on Youtube after all!From Tara Morgan and Mandy Armani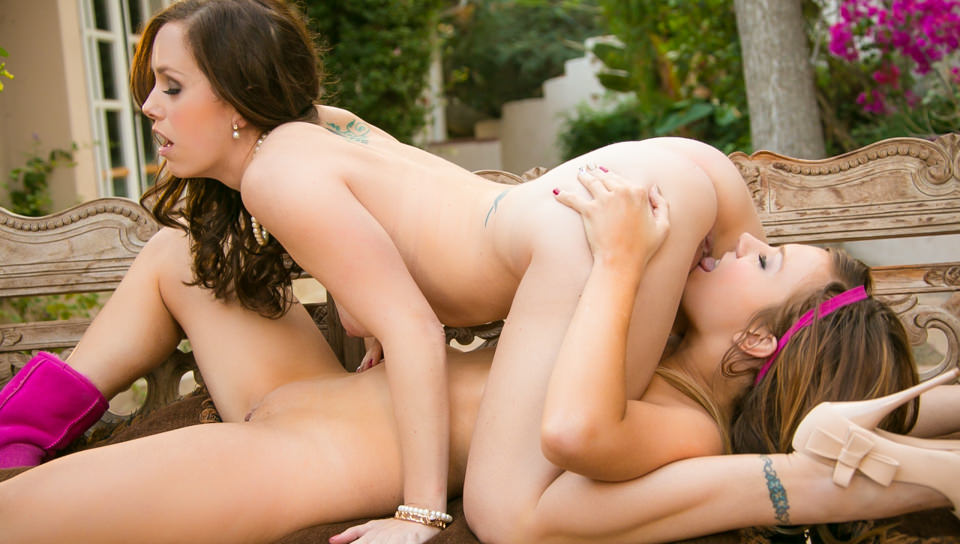 My Favorite Homework, Scene #01: Tiff Bannister, Savannah Fyre - Tiff is swamped with homework. Home from school to do it all alone, and nothing seems to be very interesting. That is, except for her phone. Her friend needs to chat, and homework is in her way. When Savannah comes home to her step-daughter, Tiff's almost caught. Savannah, being a teacher at tiff's school, makes doubly sure that Tiff knows which answers are wrong and that her writing is just atrocious. But Tiff is distracted regardless. Life as a teen her age has many new and exciting endeavors, but none as important as her first sexual experiences. Anatomy is an important subject, and Tiff desperately needs help. When Savannah tells her she's willing to help Tiff with her anatomy, she has an idea. Since Tiff is such a hands on learner, Savannah shows her that listening to her body is important. Seeing Tiff masturbate gives Savannah an idea. When Savannah starts to get horny, Tiff asks her to show her how she does it. Savannah shows her that wet fingers are her best friend, and soon Tiffany is sucking from the fruit of life at Savannah's shaved pussy. As the afternoon presses on Tiffany gets plenty of chances to make Savannah the proud stepmom Tiff's always hoped for.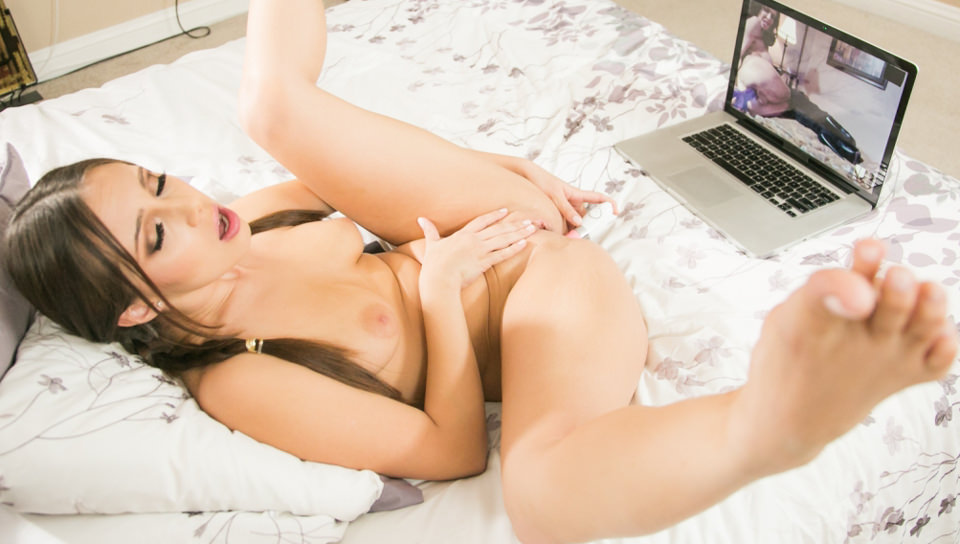 I'm New To This, Scene #01: Jenna Sativa, Veronica Avluv - Dear Diary, I'm a curious girl. It's been a lot of fun discovering the world of sex lately, ever since puberty I've been fascinated with all the different types of porn out there. Almost everything turns me on. That is, so far. I'm not looking for stuff that's crazy, but I've always wondered what it's like when girls try anal. So, like any budding teen I typed it into Google, after making sure my parents aren't going to hear me. Right away I found the hottest video of Lola Foxx and Remy LaCroix! They have got to be some of the hottest girls in porn. When Remy put that toy in Lola's butt it was almost like I could feel it myself! Hoping and dreaming of a toy in my ass has made me prepared for this, but how would I do it? I looked around a bit and commented on the video, and before I knew it I had a reply from this hot woman, ready to show me how it's done. When we fired up our webcams to get to work on our butts Veronica made me feel really comfortable! Her expertise was exactly what I was looking for, but by the time I was getting close to my orgasm I experienced some feelings that I didn't know were possible! All the muscles that are all bound around my cute little butt start throbbing and pushing against my pussy. It was heaven. Hope you enjoy watching! Jenna Sativa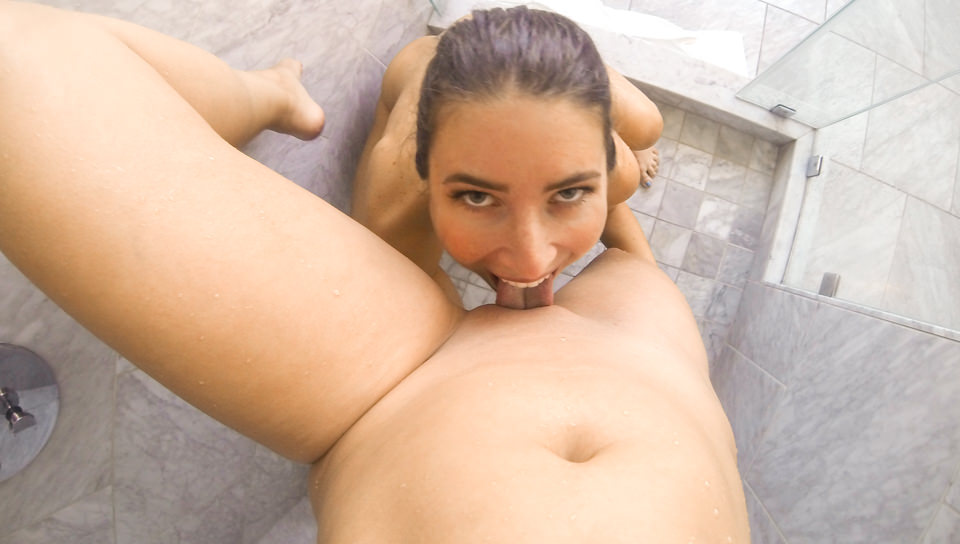 I'm Coming In The Shower, Scene #01: Serena Blair, Presley Hart - I was just dicking around for my webisode viewers, when I realized I have a GoPro! So keeping with the spirit of my naughty style, I brought it in the shower to test it out! Seeing Presley naked, letting the water drip down her perfect tanned skin just makes my thighs shake in anticipation. But when she got on her knees to eat me out it was as if she hadn't eaten in days! Watch us share our wet tongues and warm pussies with one another until we both have amazing orgasms. This little camera is my new best friend! From now on I will record every single experience I have. Keep an eye out for my next episode! From Serena Blair and Presley Hart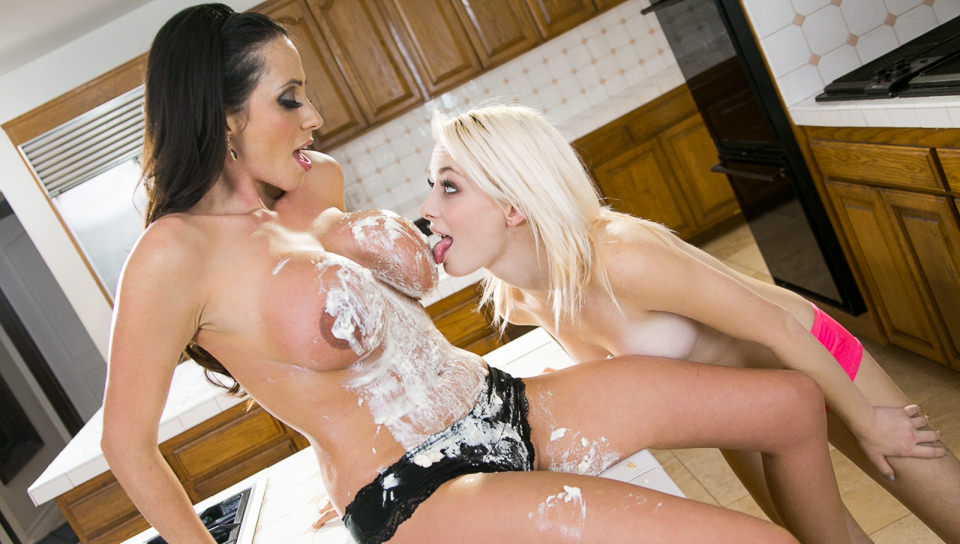 Pie Day, Scene #01: Ariella Ferrera, Maddy Rose - Ariella Ferrera feels terrible about her Stepdaughter, Maddy Rose walking in on her and Maddy's best friend, Veronica Rodriguez in the heat of passion a few weeks ago. Things have been pretty icy between the two of them since then. Understandably, Maddy is angry with her best friend, Veronica and feels totally betrayed by her Stepmom. Ariella has been walking on eggshells around Maddy hoping that she won't reveal the truth to her father. Part of that truth is, Veronica made her feel better than good, to say the least. Trying to explain this to Maddy however, has proven impossible, they both have just stopped talking to each other entirely. Regardless, Ariella is determined to get their relationship back on track. When she finds out that Maddy's aced her math test, she seizes the opportunity to make things right with her sexy, Stepdaughter. She buys a deliciously, creamy pie for them to have to celebrate! She presents it to Maddy when she comes home from school but, Maddy isn't amused. She knows how her Stepmom is, always trying way too hard to do nice things for her but, this time it's too much and, she's not standing for it. Maddy tells her, the only thing she wants to do with the pie is smash it all over Ariella's face. Ariella wanting desperately to repair her relationship with Maddy, agrees. To Maddy's surprise she doesn't even flinch when she's covered in pie. Seeing how good the pie looks on her hot Stepmom, Maddy suddenly, decides to taste her. She starts by licking off the icing from Ariella's finger, sucking back and forth till all the sweet, white cream is off. It's Ariella's turn, taking pieces of the pie and rubbing them up and down Maddy's body. She slowly sticks her tongue in Maddy's sweet, wet pussy, mixed with the pie. Maddy, finds herself responding to her Stepmom's tantalizing tongue as it moves deep inside her. Suddenly, her anger melts away as she twists and contours her body letting orgasm after orgasm envelop her. She looses herself in the ecstasy however, as quickly as the orgasms start, she remembers why she was mad in the first place... She can definitely agree the pie is delicious but, is she really able to forgive and forget what her Stepmom has done, so quickly? She begins to think, maybe it's best that her Stepmom sticks to strictly fucking her friends... you be the judge!


Want some more? Check the site.
| | | |
| --- | --- | --- |
| | Older | Newer | |