ASR PREMIUM - Free Porn Movies and Free Porn Images
ASR Premium offers Free Hosted Galleries of sample porn movies and photos for FREE. We collect and offer the high quality samples from millions of galleries on daily updating.
21 Sextury is an awesome porn network to enjoy all sort of various hardcore niche contents in one place by offering 41 sites access with one membership.
Special Offer: [Check the Price Here]
[Click on the picture to see all the samples]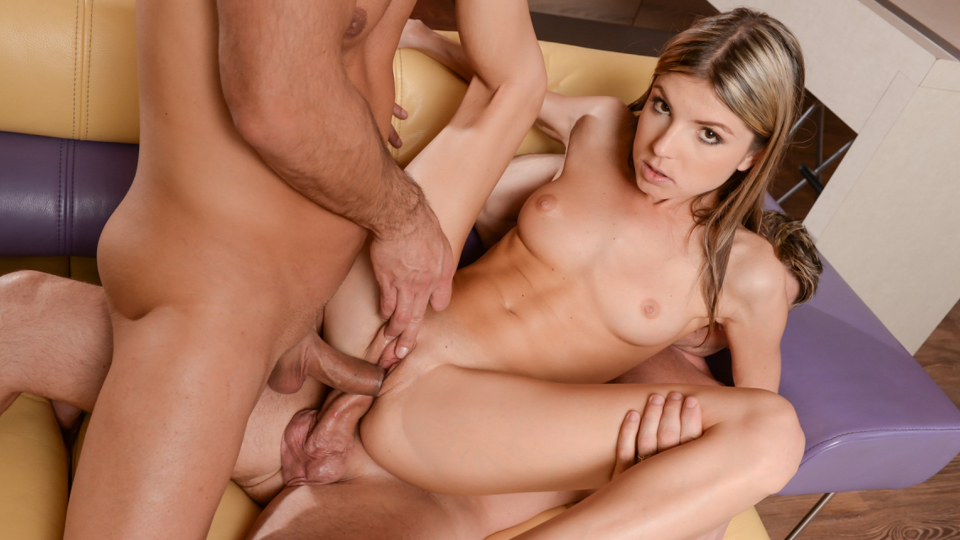 Doris' Poolhouse Threesome, Scene #01: Doris Ivy, Renato, Csoky Ice - Doris walks up to Ice and Renato's higher-level pool house to seduce both men into a threesome... and it works! They go inside and give her their all, hard dicks thrusting into her from all directions and into every reasonably-sized orifice.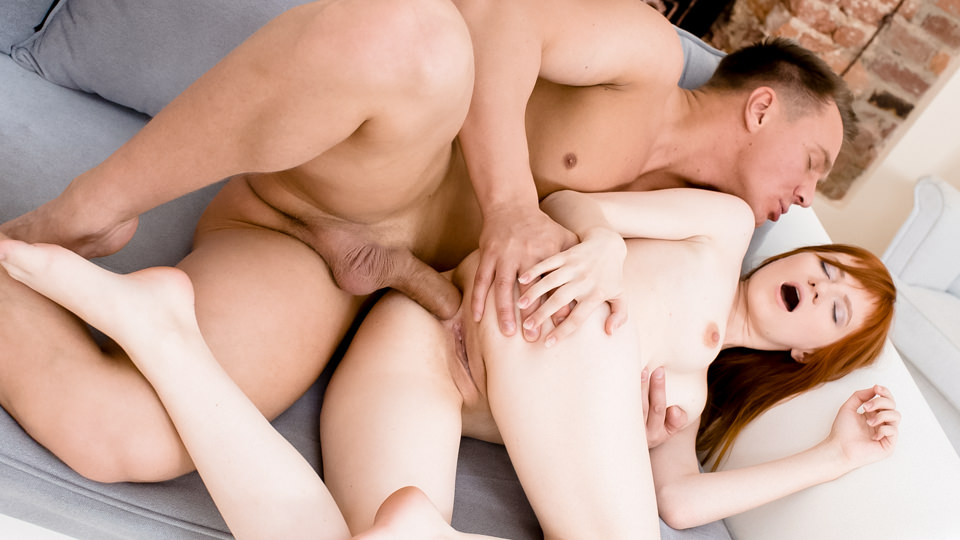 Stiffly With Lili: Lili Fox - Lili has a tiny pink pussy and bouncy redhead breasts. There's nothing her man loves to do more than play with the beauty on the couch, making her sigh and squeel like a good, horny girl. These two like it rough and he plows her ass with his big stiff dick before cumming all over the woman's breasts and face.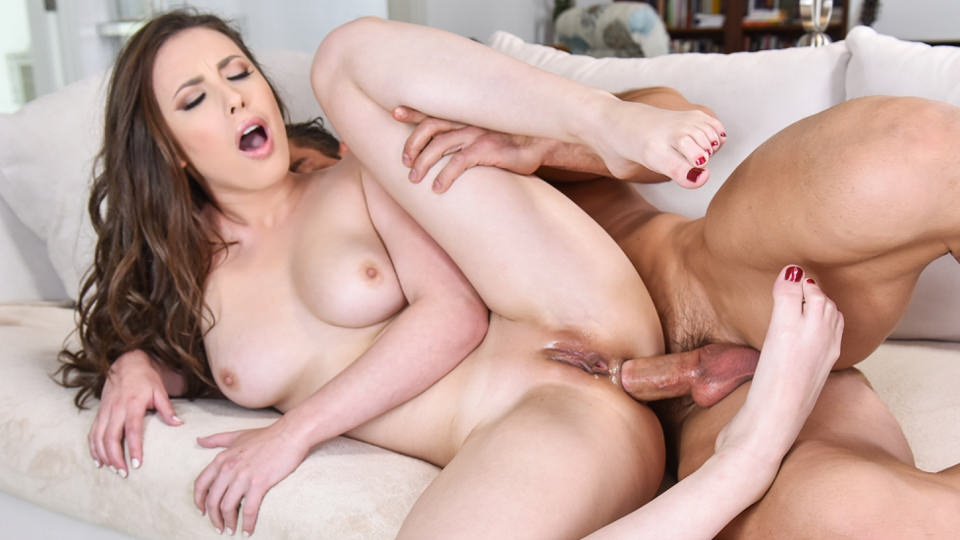 Treasure My Feet, Scene #01: Casey Calvert, Johnny Castle - Casey Calvert went treasure hunting today and she's hoping her Johnny will pay extra attention to her new found foot attire. He takes it a step further indulging her sexy foot fetish, getting her wet and dripping for some hardcore action.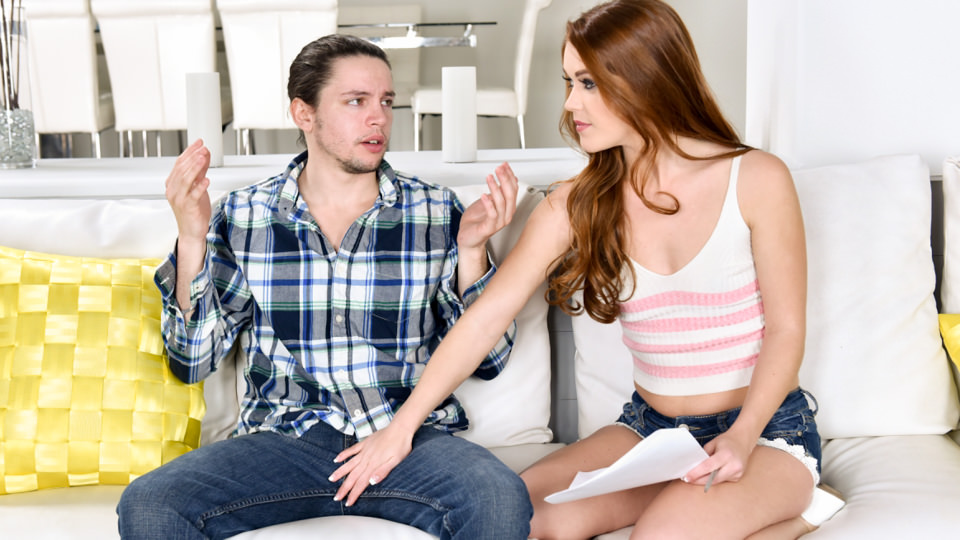 Tutor Me!: Kimberly Brix, Alex D - Afterschool studies quickly turn from algebra to vagina when redheaded babe Kimberly Brix gets her hands on her math tutor's hard cock. This babe sucks at math just about as much as she sucks on dick ... Alex is more than willing to let her go in for a taste before pounding the rest of the afternoon away in every possible position. Kimberly is quite impressed, she didn't know smart guys had such big cocks.



Anal Senorita, Scene #01: Pamela Sanchez, Max Fonda - Spanish Senorita Pamela Sanchez has a fiery hot bottom that begs to be discovered. She's in the mood for some anal action and on the prowl for one hard matador to give her butthole the estocada!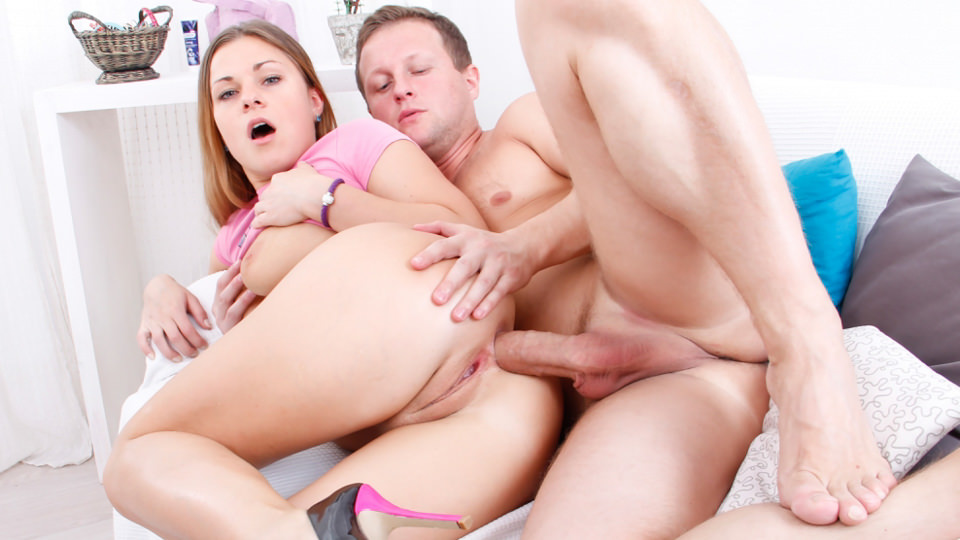 Gape For Me Amour, Scene #01: Bella Moor, Yura - Naughty blonde minx Bella Moor likes to show off her gaping skills for the camera. She starts off slow, easing herself onto a very big toy. Once she's prepared for the main course she jumps onto Vincent Vega's throbbing cock, lubing it with her sexy mouth. He gives her peach a nice bout of the old in-out inout before he impaling her butt-hole with all of his might!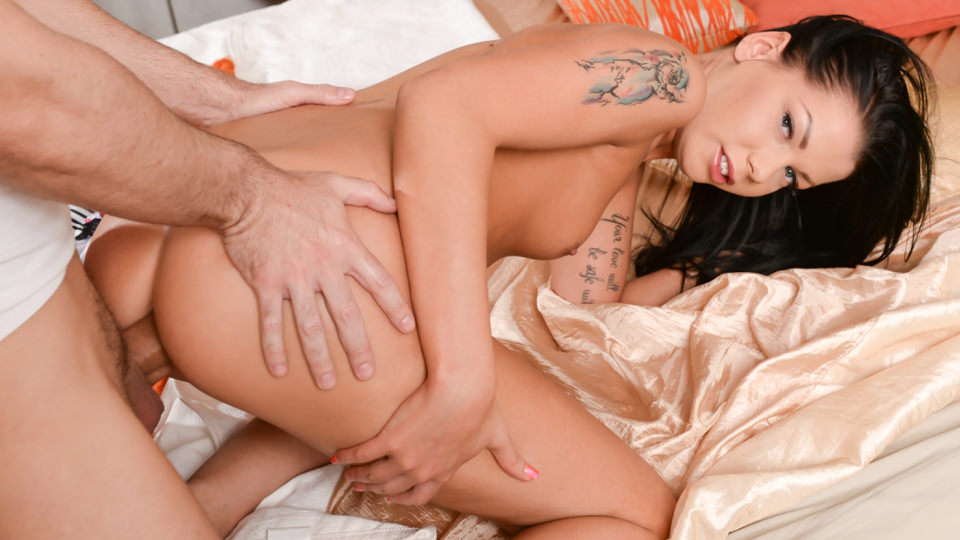 An Anal Afternoon, Scene #01: Sofia Like, Toby - When Sofia Like walks into a room she makes more than a few heads turn, and throb! Toby is particularly enthralled by her beautiful all natural body and long ebony hair. He can't resist waking her up for a little afternoon action. Of course this petite Euro babe never says no to a willing cock. Toby gets served! She sucks him long and hard, taking him deep into her smooth throat before letting him fuck her in the ass!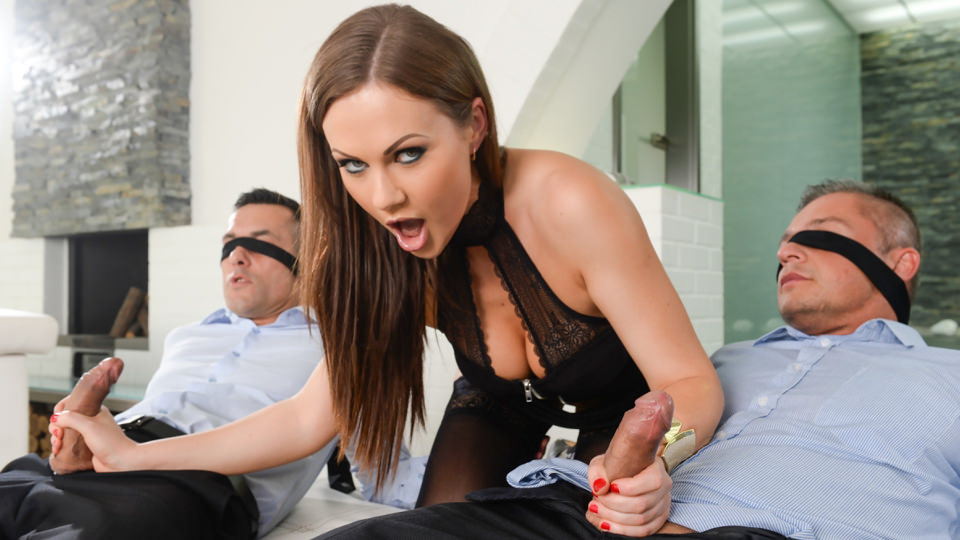 Badass Fun, Scene #01: Tina Kay, Renato, Zack - Tina is a badass bitch who doesn't mess around. She blinds her men and lays them down for a double-jack-off. Enough teasing! 'We are going to have fun,' she says, and the boys agree. She keeps her pantihose stockings on and they get butt-naked, sucking and double penetrating their lady until exploding all over their mistress.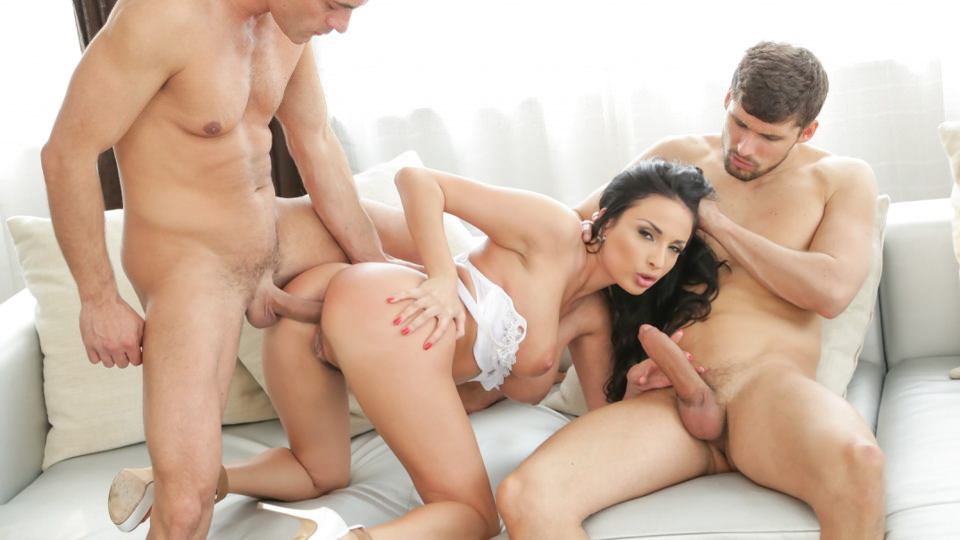 Anissa Takes It All In, Scene #01: Anissa Kate, Renato, Max Fonda - Anissa spreads her long legs all over the couch, taking in two cocks by her pretty face. Her tits get soaked in her own spit and the boys lube her up for anal, admiring her ample curves and large bosom. Watch this babe as she takes it all in.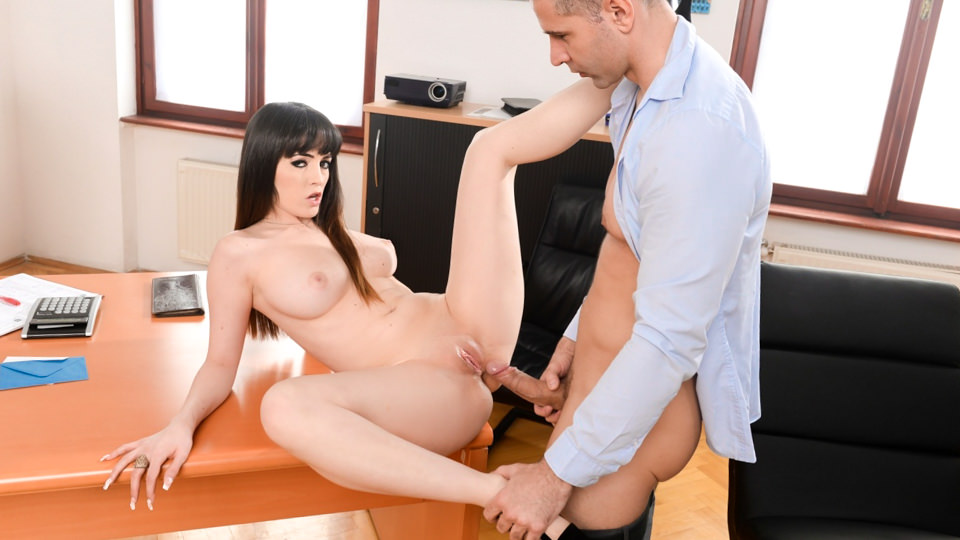 Everything She Wants: Natty Mellow, Toby - Natty is going to get Toby in trouble! Her husband, an important client, leaves her in his care for only two hours, telling him to fulfill her every wish... and she wants his cock! Natty unveils a boob, legs crossed in her office chair. She means it! Toby unzips and flashes hard in an instant, flopping his way into her mouth. Everything goes according to plan and the client comes to pick up very naughty Natty, unaware of the very good time she and Toby have just had.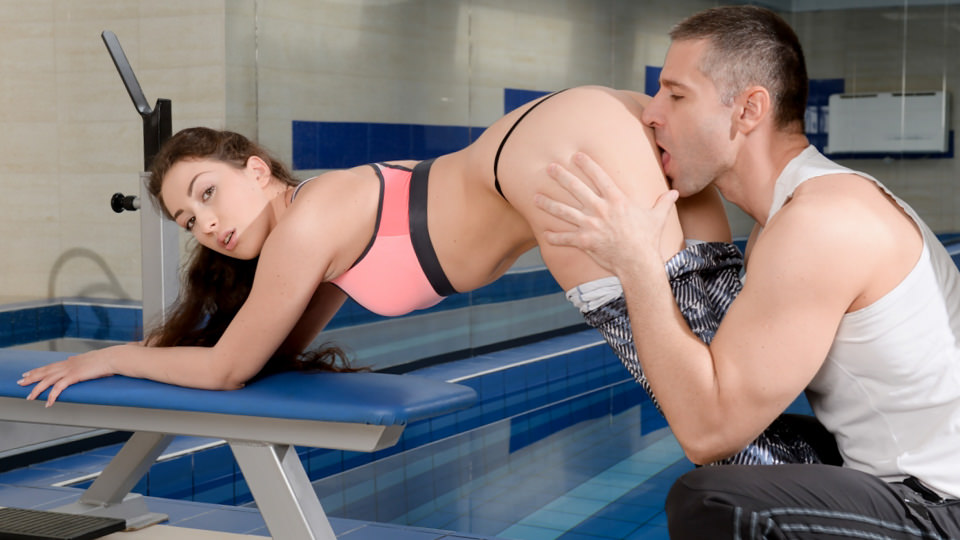 Work Those Thighs: Leyla Bentho, Toby - Leyla always looks forward to her gym training session with Toby. It means they get to fuck! She doesn't even know why she pays him anymore. Maybe it's because it's still been firming her thighs. Another session bites the dust as soon as the stretches start, slidding into ass-slapping, cock-downing and thonged-ass butt rimming. The workout bench is clean but not for long with these two hot bodies in full, hot exertion.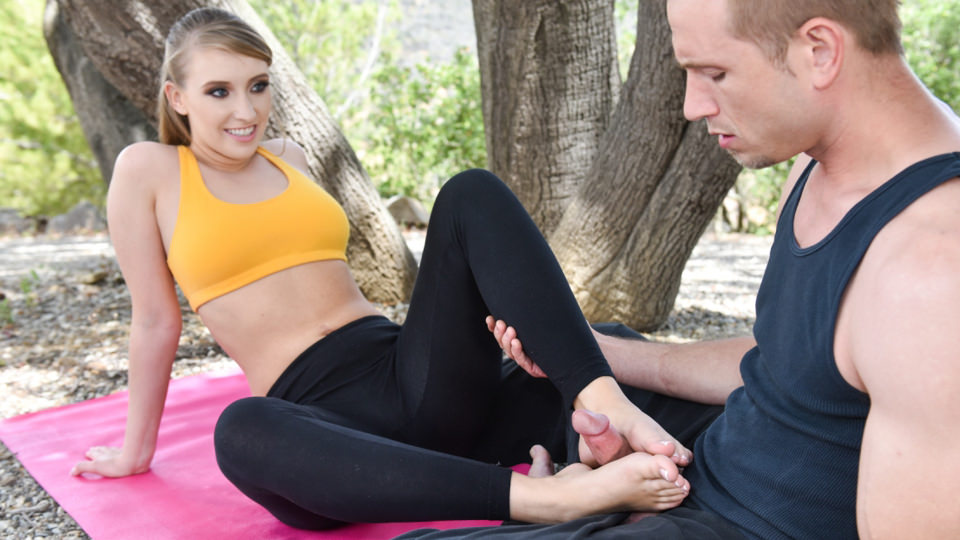 A Yogic Foot Massage, Scene #01: Harley Jade, Bill Bailey - Harley's yoga teacher came highly recommended by her friend, and she thinks she knows why. He's good looking and seems to think she is too, admiring her slender yet curvy figure and her feet especially. She wouldn't always be into such forwardness, but something about him is tender, trustworthy. Bill sits down with the cute blonde and massages her smooth, manicured feet. First the arches and then the toes... with his mouth! It doesn't take long for her to take his hard-on between her soles, stripping bare for sexy outdoor fun.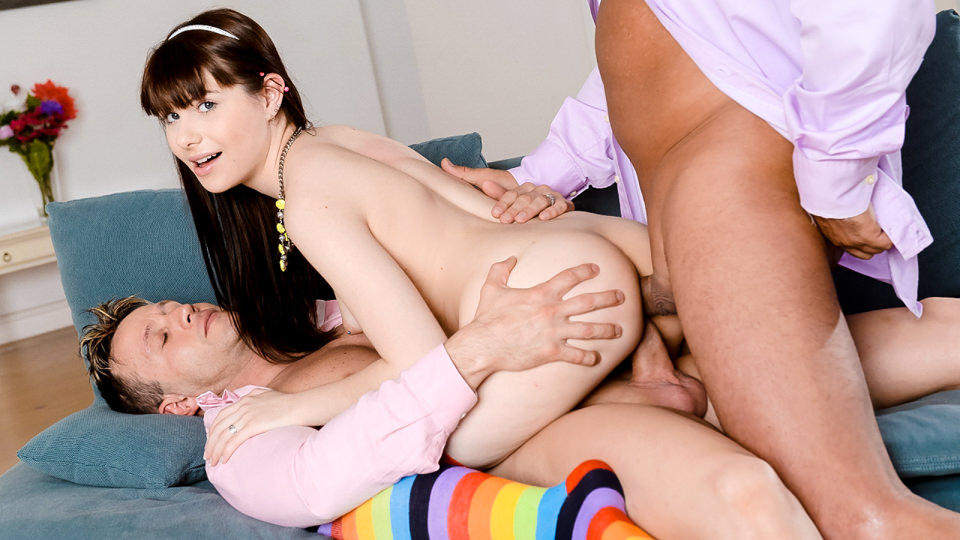 Double-Rainbow Fun, Scene #01: Luna Rival, Lauro Giotto, Csoky Ice - DP's are the mystery spice of life, the two cherries on your cake and the double rainbow in the sky. You might not have seen it coming, but once there you're certainly going to say no. Prepped and primed like a young starlet popstar, Luna Rival spreads her double-rainbowed tube-socks and lets in the two men for a triple scoop of fun, backward and forward, front and back. Watch her take it all into her own hands, having opened their candy-coloured dress shirts to clearly access their cocks.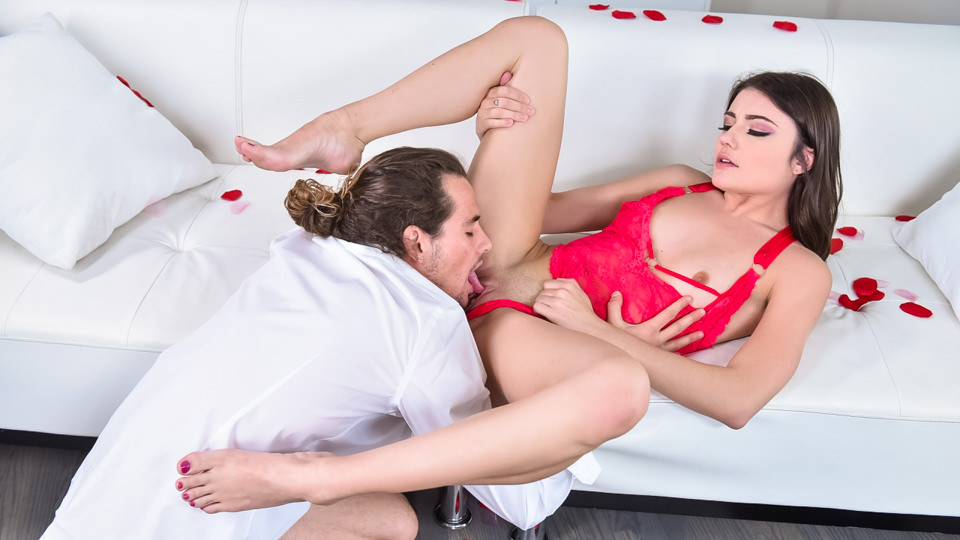 Red-Hot Romancing: Adria Rae, Tyler Nixon - Adria surprises Tyler and he surprises her right back. He wasn't expecting her back so soon, let alone with rose petals and in red lingerie! She wasn't expecting the elegant diamond necklace she'd been eyeing, in a velvet box for her in his pocket! The beautiful young couple comfortably step into their hedonistic habits, yielding to each other's good looks and charm.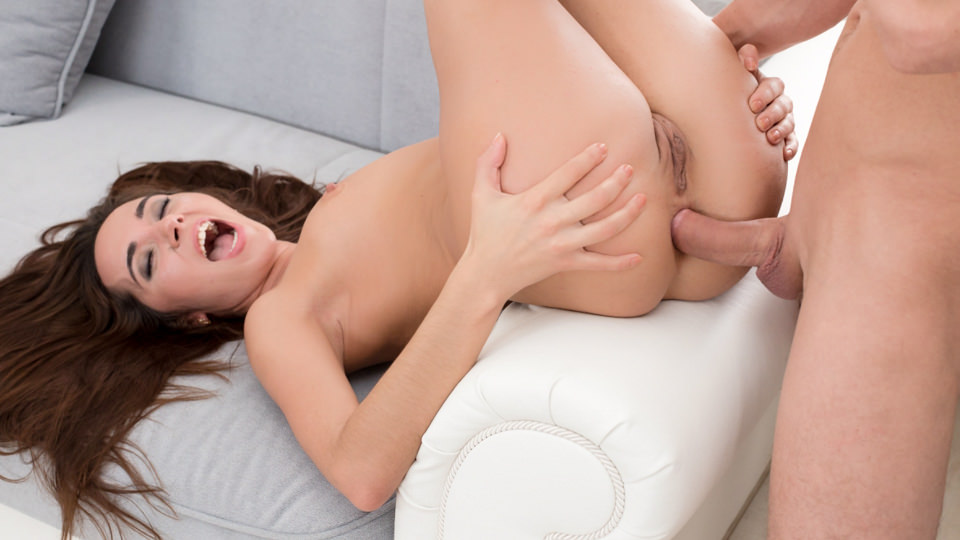 Carry It In And Out: Carry Cherry, Joe Tee - Carry lets all of her good parts hang out for a butt play with Joe. Her slender legs are perched up high on their six-inch heels, studded to perfection for max sex-appeal. She swings her hips to one side, then to the other, clearly in control of her feels and the way it makes him feel. Joe comes along in his suit jacket, ready for sensations and a rock hard good time. His big dick makes a big way in, leaving a gaping trail in the brunette's behind.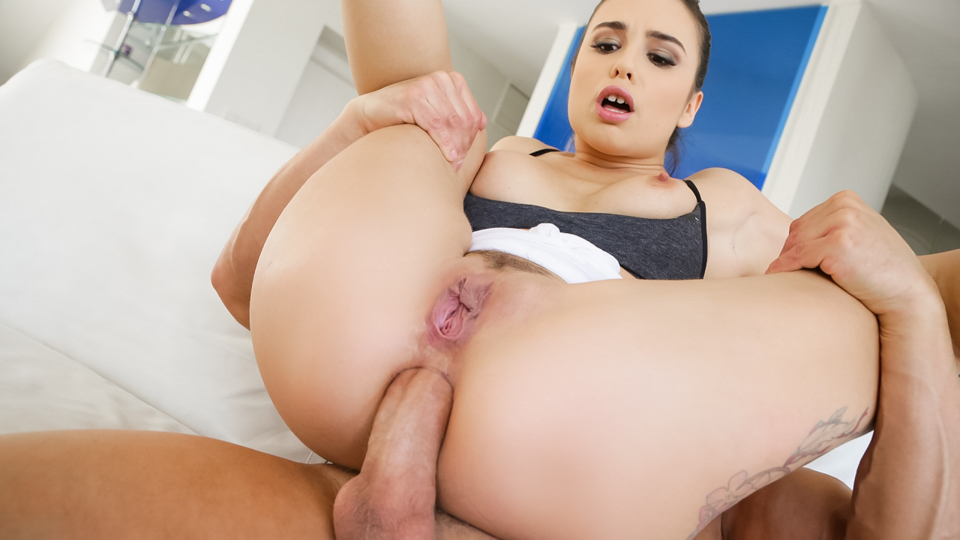 Pumping Mira: Mira Cuckold, Roland - Mira got worked up to a fever-pitch of sexual arousal at the gym, only a stiff cock can satisfy her desires now. Roland is all too happy to keep spotting her, especially when the babe offers up her tight asshole for a hard sessions of the old in-out in-out.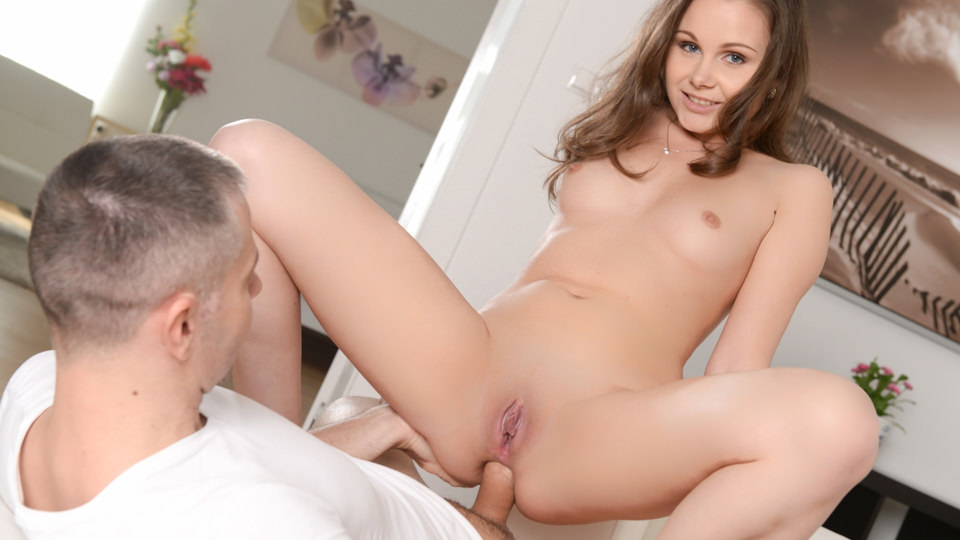 Liza's Fucking Hot: Lizzie Shay, Toby - Toby is apartment hunting online when Liza comes hunting for him. 'Fuck! You're so hot,' he exclaims, her bra thrown in his face. However, his girlfriend could step in anytime! 'Not important', says Liza. Down to her panties, she crouches for oral in her bright red accoutrement and slides him down her slender throat. Lubbed up on the couch, the pair gets butt-naked and romps like good sex-kittens should on a Sunday afternoon.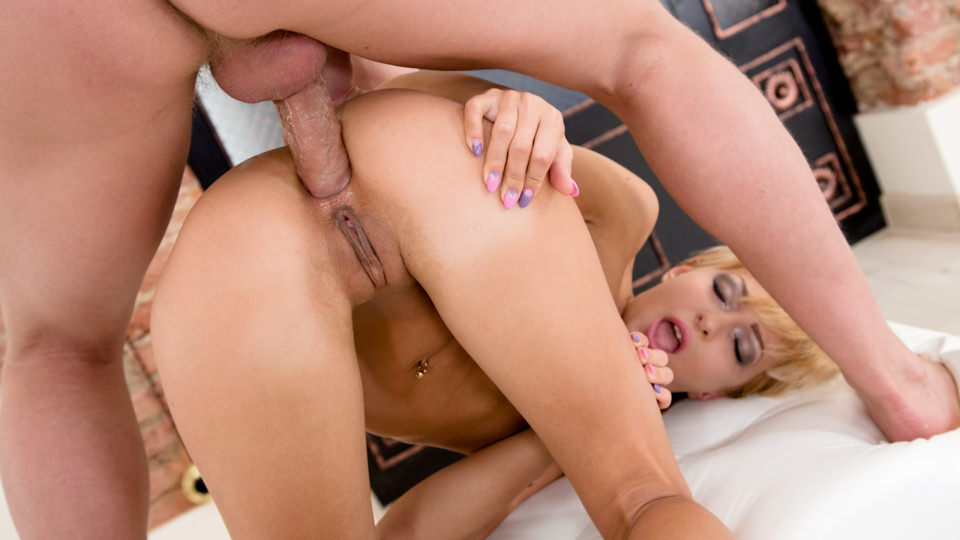 Lola Spreads: Lola Shine, Vincent Vega - Lola Shine is a sexy gal with legs for miles. Perched on top of her heels, she pulls at her red velvet unitard, revealing her tanned ass and pussy. Her bright pink cunt yells for attention and her man gives it to her, hard and deep before heading for her ass. Watch her anus spread and gape like toffee in the sun.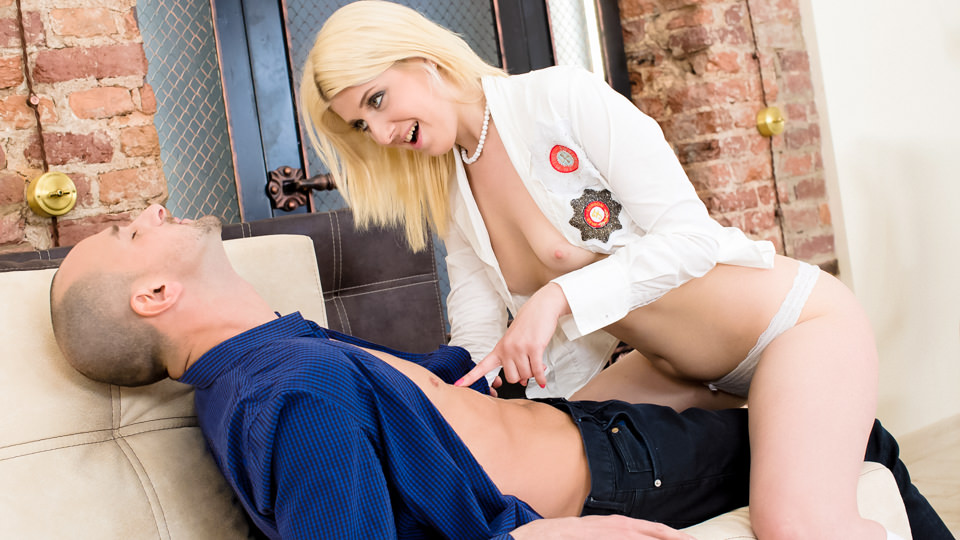 My Fair Gaping Lady: Miranda May - Schoolgirl cutie Miranda May is writhing in anticipation of a big, hard, curvy cock. Her skirt lifted up and her string of pearls still on, she kneels down to give head to this man. Having gone down on her, he lays her down on her side to fuck side-by-side. Her sheer knee socks spread far apart as he slides down her ass and makes the blanche young babe gape.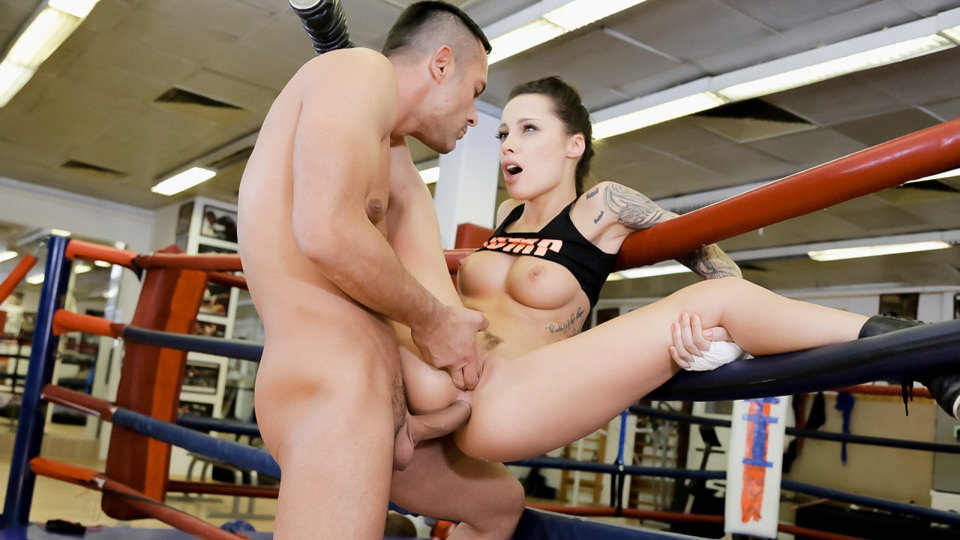 The Champion Fucks, Scene #01: Nikita Bellucci, Renato - Nikkita is in full-on training season and the sessions don't let up. Neither does she. Late nights and early mornings are what this babe is all about, and all ass-kicking practical skills aside, it also certainly shows. Her abs are taught as you'd expect from an athlete and her ass, by the luck of the draw, is downright holly. How about a good luck fuck? The gym is empty for hours and her man hasn't seen her in days, so he comes over to remind her he's got some piping hot kicks too.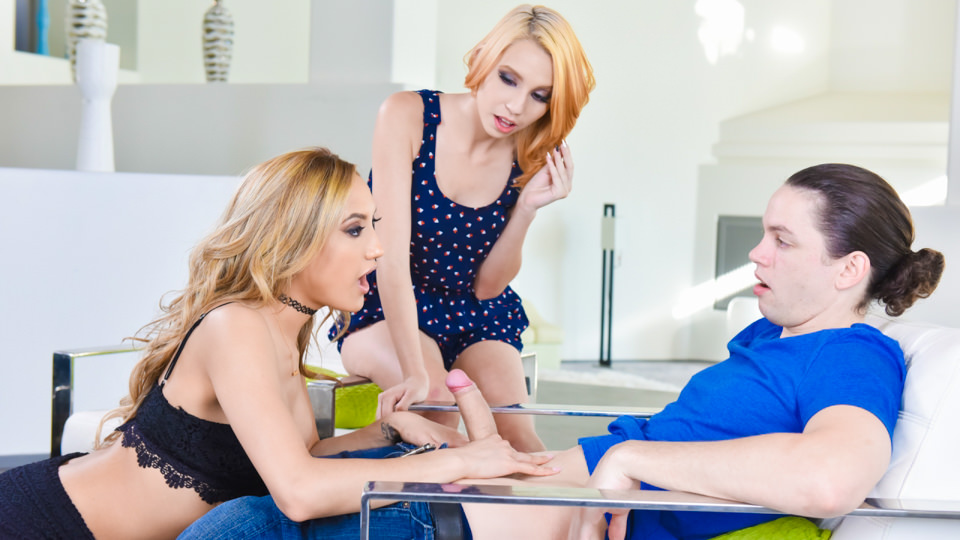 Step-Lessons In Sex, Scene #01: Chloe Amour, Cece Capella, Alex D - Step-sisters Chloe and Cece come back to her place for a mini-makeover. Cece is nervous about prom night, and Chloe has a very naughty idea: Why not practice on her boyfriend? There's plenty of cock to share after all! The thought makes Alex hard and the tree are on their way to a very juicy practical sex lesson.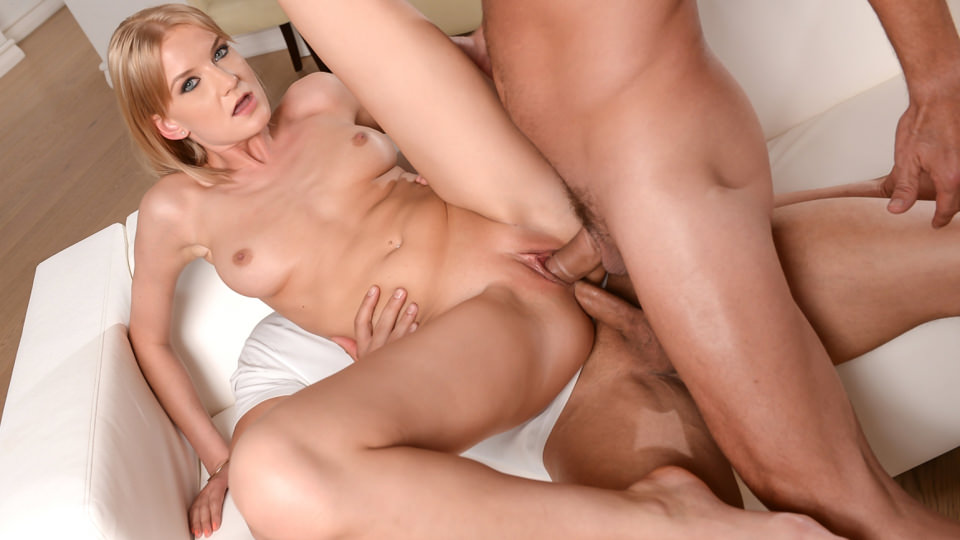 Moving In Tips, Scene #01: Bree Haze, Victor, Zack - Bree is cleaning the kitchen in her black leather miniskirt when the moving boys come in cussing, carrying her heavy white couch. Little do they know, it's a porn couch! Bree insists on giving them a little extra for their trouble. Greedily, it's really a whole lot extra for her! The boys harden and fuck the slim and beautiful blonde in her pussy and asshole, cumming all over her bellybutton ring and in her mouth.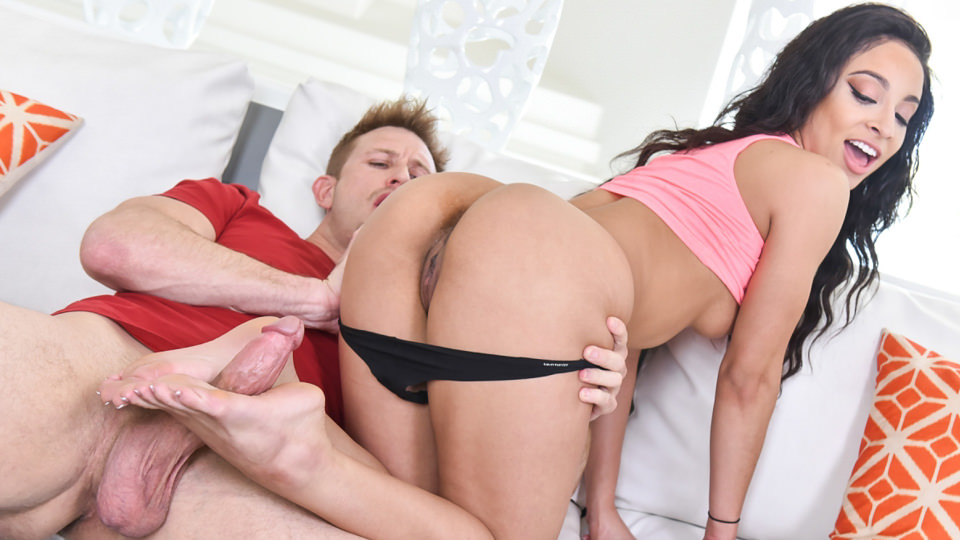 Guess Who's Back, Scene #01: Teanna Trump, Bill Bailey - Teanna comes back to LA from London and visits her old boyfriend Bill. Bill is taken aback by her reappearance into his life and, quite literally, his lap. Teanna lays her sexy feet on him, strapped in sharp black leather heels. He's still hesitating though, it's been a long time! Before long though, he's licking and sucking her toes from the ground before she takes him to her pussy to suck and fuck.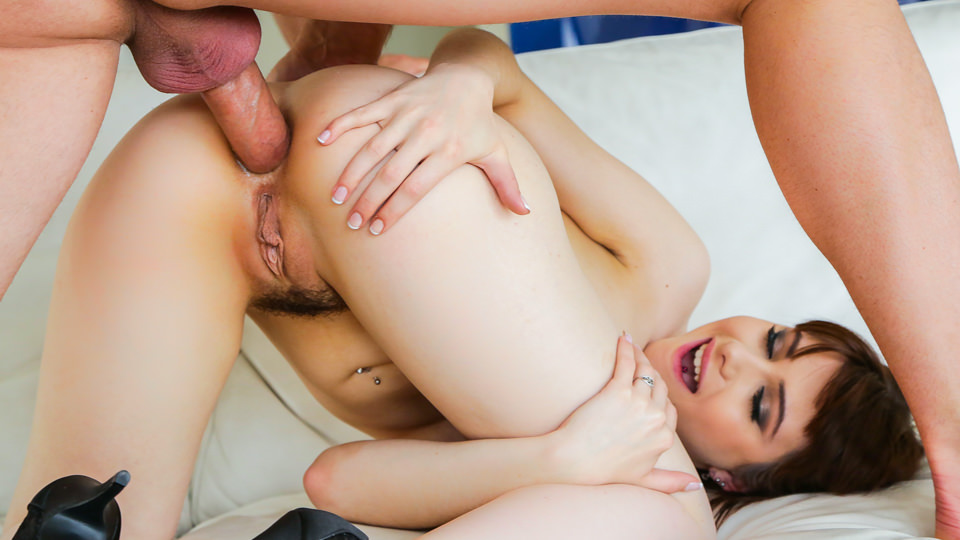 Anal Playtime: Luna Rival, Tarzan - Luna is a young and playful brunette who is craving Tarzan's big erect cock. She rubs up against his crotch and unzips him to thrust into her mouth. Undressing her of her tiny jeanshorts, she falls down on the couch naked and ass up for play. Her bare and fleshy asshole wraps around his plunging dick. Luna jumps it until it calls to be sucked, cumming in a milky anal creampie.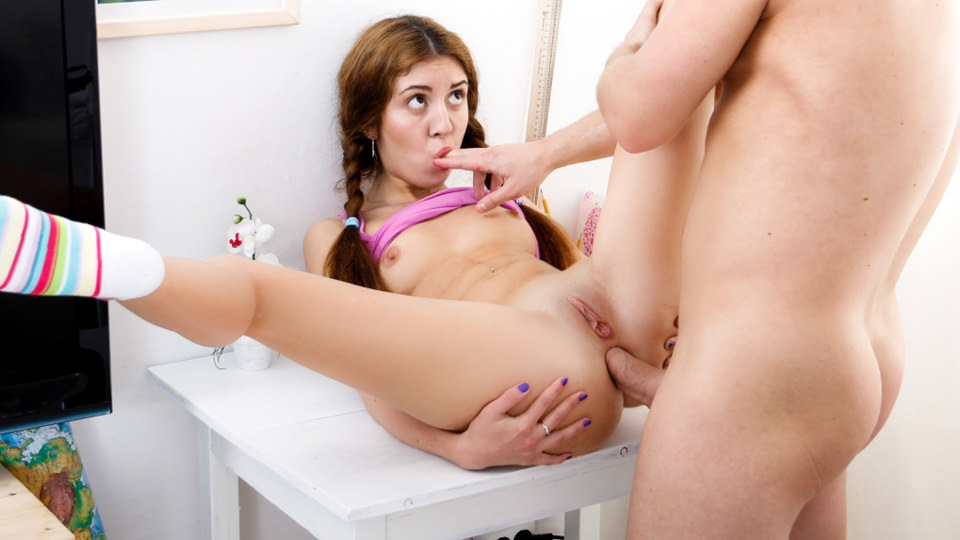 Sabrina's Big Toy: Sabrina Marie, Yura - Sabrina is typing away on her computer but is quickly distracted by a very aroused Yura. Keeping the camera in point of view, he pokes and prods at the young brunette with a massive toy in order to gape her small asshole. With things underway, the two place the camera down for some hands-on, full-throttle fucking.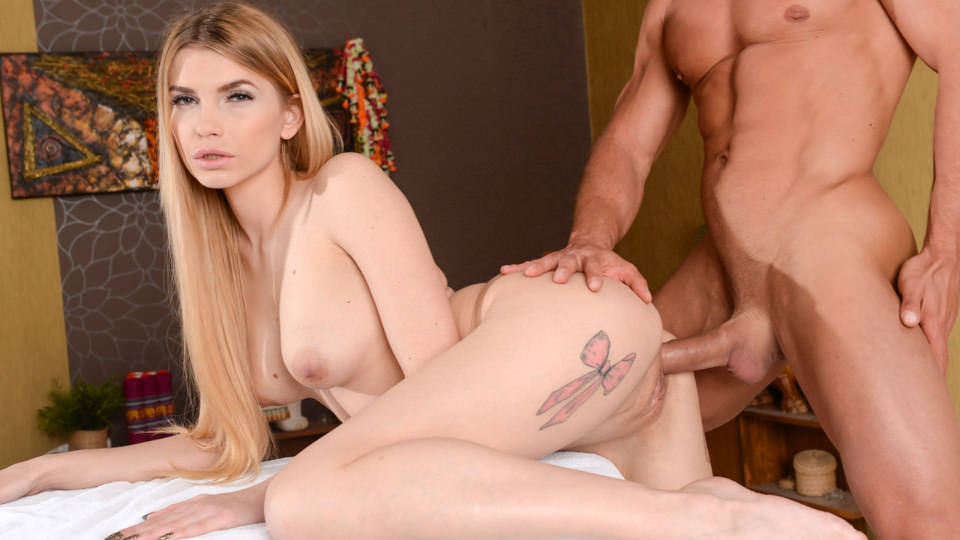 A Hard Massage, Scene #01: Karina Grand, Matt Bird - Lana is ready for her massage. Matt takes her to the massage room and starts spreading warm oil on her beautiful body. As he moves to her head, back and shoulders, she notices that he has a massive hard-on! Tentative but tempted, she reaches for it. To her delight, he's into it, and the two move into more serious business, using the massage table to it's full capacity.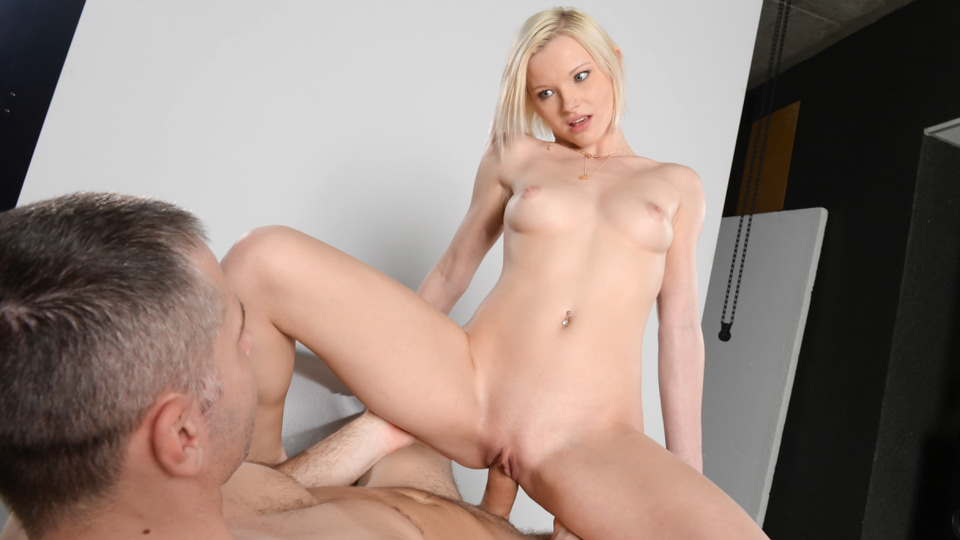 Blonde Zazie's Photography, Scene #01: Zazie Skymm, Toby - Zazie is the brand new photographer who doesn't care if she breaks the rules. She's taking pictures of Toby and gets him to take off his shirt... and then much more! Lucky for him the cute blonde with soft and perky breasts finds him sexy, which means sucking, fucking and cum swallowing.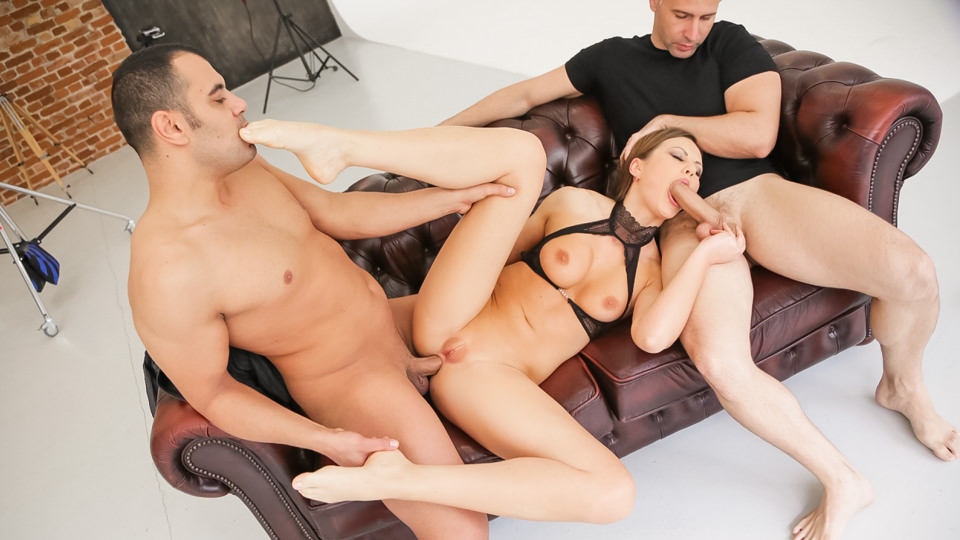 A Porn Studio Anal: Tina Kay - Tina is in the porn studio strutting her very hot stuff. The two lads are on the setup couch, stroking their stiffs for the smokin' brunette to grab. She downs them both and switches from one to the other. Her swollen puss and wet asshole spread for the hard men to fuck creampie-style.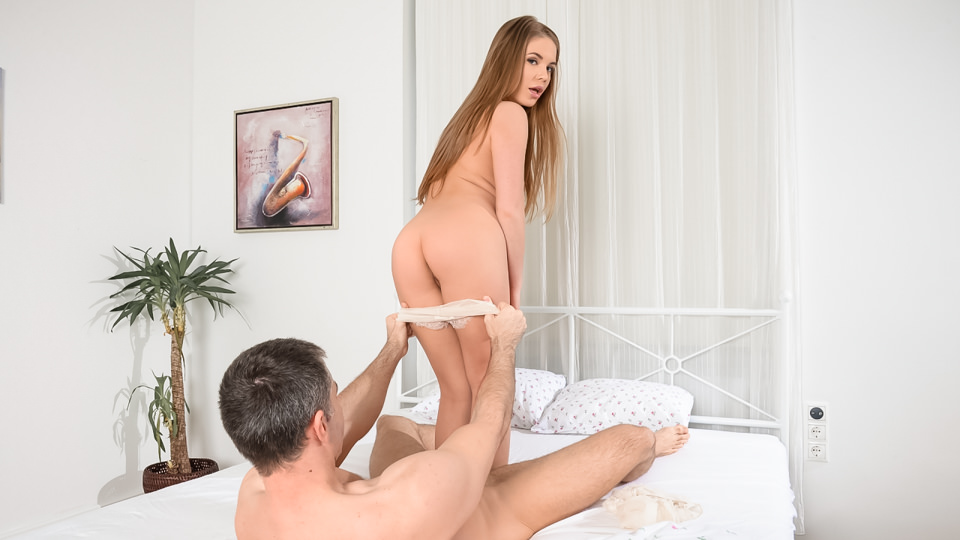 Waking Up to Alessandra: Alessandra Jane, Toby - Toby wakes up before Alessandra and caresses the lusty beauty awake, who asks him if he wants to make love once more before he leaves. Of course he does! He slips off his briefs and Alessandra wraps her lips around his thickly swollen cock. Nice and hard, she slips him into her, pouncing on the man and giving us a great POV view of her in cowgirl.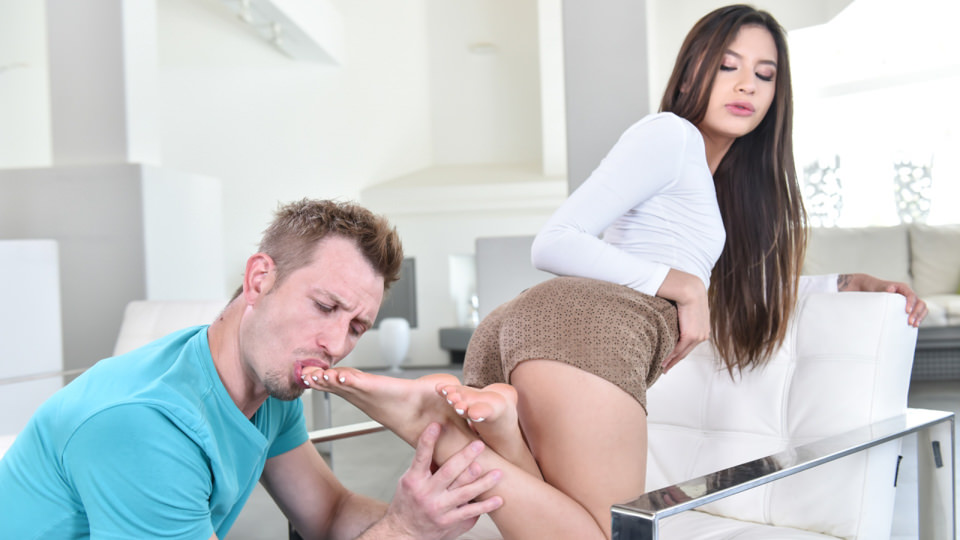 She's Been Thinking About You, Scene #01: Zaya Cassidy, Bill Bailey - Zaya comes home from school and comes on to Bill, her boyfriend. She tells him that she's been thinking about his big cock all day and wants to eat his dick right now. The man just loves her feet, and with reason! Her painted white nails make her the hotest shit around and gets him to cum on her soles.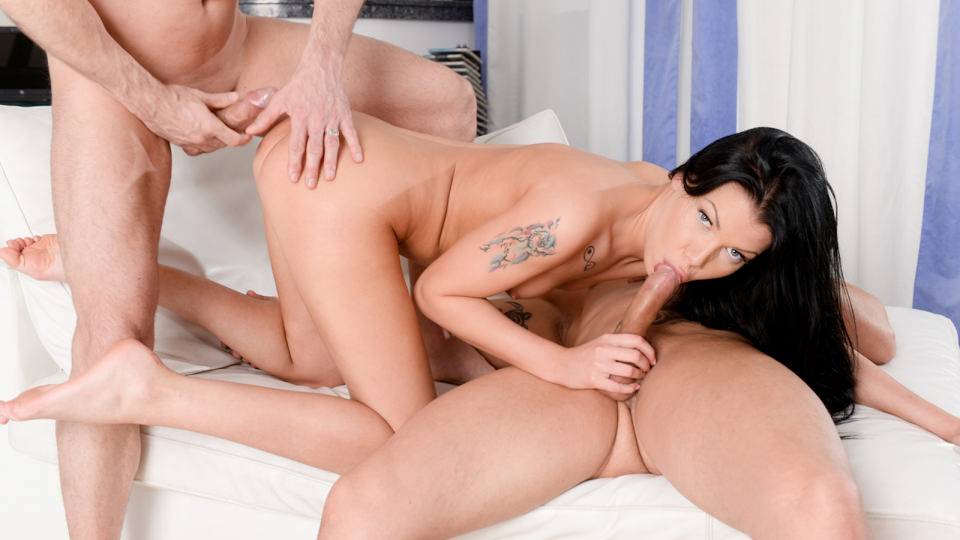 Fuck Party for Three: Sofia Like, Csoky Ice, Zack - The boys are just hanging out at the kitchen table when Sofia walks in. It only takes a nudge for them to head over to the young beauty and start teaming up to fuck her. Check out their fucktastic adventure.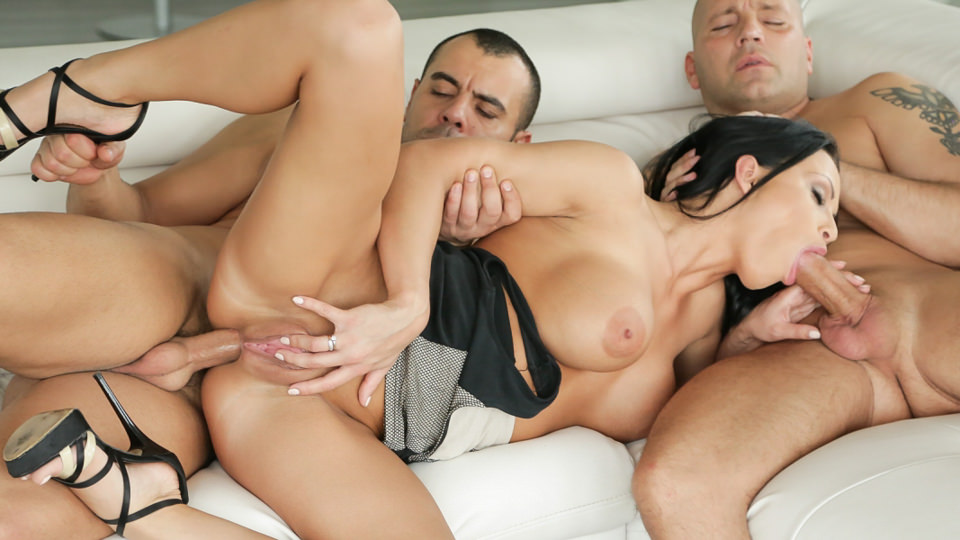 Spitroasting Samantha, Scene #01: Samantha Rebeka, Thomas Stone, Antonio Ross - Busty and bootylicious Samantha is a dreamy babe by any standards. She likes to show it off for us, waltzing her perfect ass in front of the camera before heading over to the living room where her escorts await her. These are the guys who will take her for a ride. Penetrations happens from all angles with these three, slipping in between Samantha's wet lips and ass cheeks.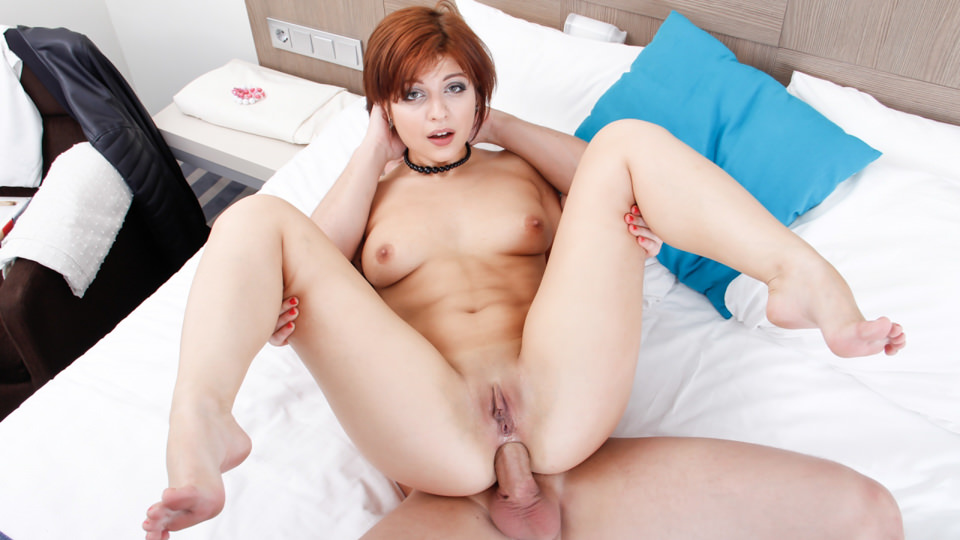 Hotel Room Fucking, Scene #01: Angelin Joy - Angelin Joy gets her clear heels on and her clothes off for some anal indulgences. Lubbed and warmed up with fingering, the dewy-eyed redhead gets fucked and gapped in the sheets after taking a dick deep down her long throat.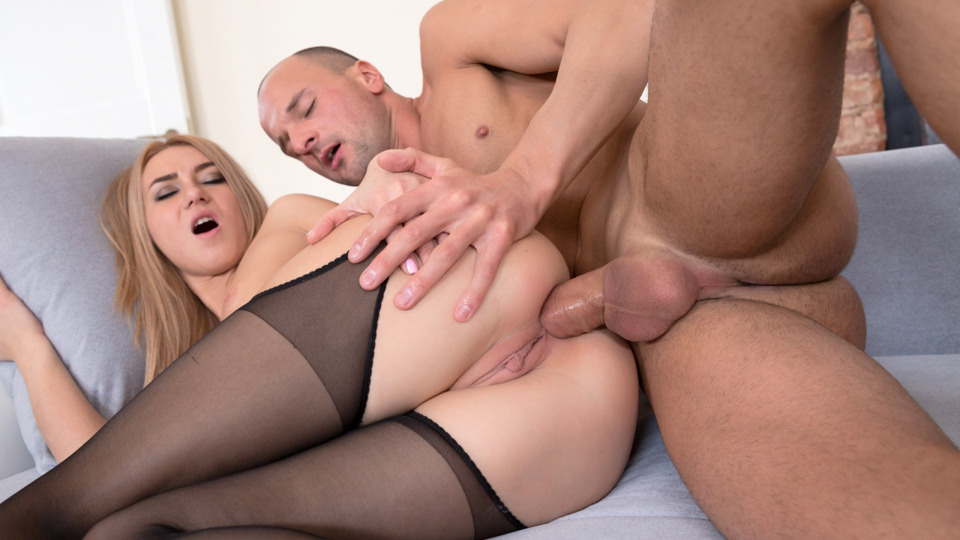 Getting Tequila Ready, Scene #01: Tequila Girl, Andrew Marshall - Tequila is over at Andrew's house and they're ready to head out. There's just one last thing to take care of before they hit the town that night: Tina's restless hornyness! Their diner reservations will have to wait. Halfway through a tease, Andrew steps in to finger her pussy and cute little asshole. Thrusting on their sides, Andrew sticks it in her butt as she perks it in the air for a gapping finale.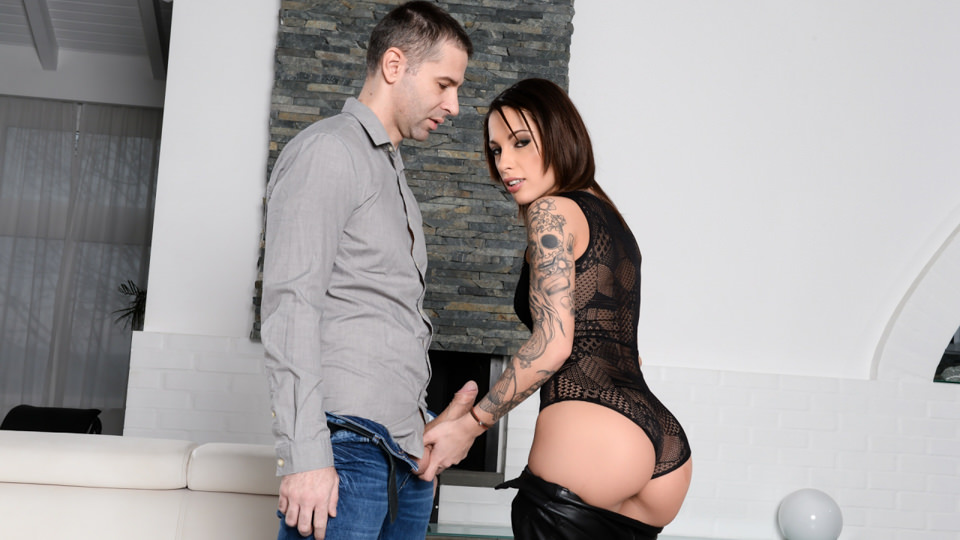 A Librarian Vigilante Scores Big: Nikita Bellucci, Toby - Nikita admits to Toby that she didn't go too the library for the books and B-lines for him. He's tired of rigging doorbells all morning trying to get bookies that have turned to the darkside to pay up and be decent civilians, so he grabs the opportunity to get off his feet for awhile and fuck gorgeous literary-rebel Nikita Bellucci.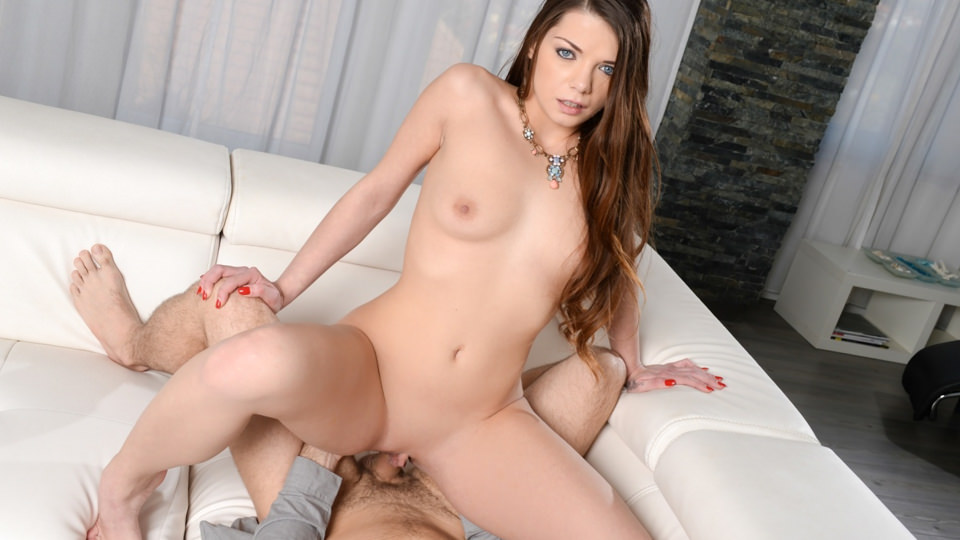 Taking A Photo Break: Loreen, Toby - In the middle of a shoot, Ice gets an urgent visitor and makes everyone take five... which turns into 10... and then 20 minutes. Luckily Loreen and Toby find a way to entertain themselves in the meantime. Toby slides his eager hand up her skirt and she notices him erect in his blue jeans. She stripteases for him and sucks his throbbing member, before being pleased by its large girth on the couch.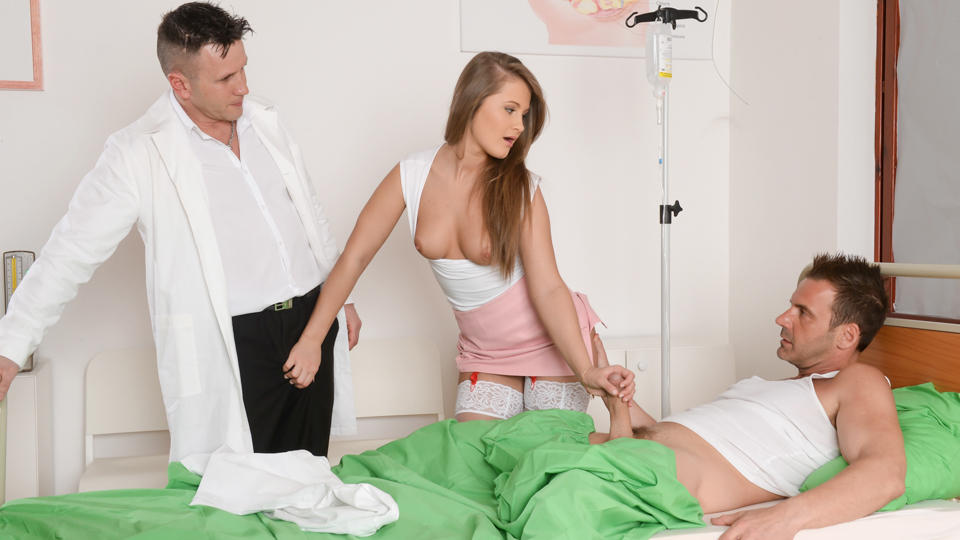 Nurse Silvia's Special Treatment, Scene #01: Silvia Burton, Victor, Csoky Ice - Silvia is a hot curse of a nurse, making Victor suffer physically and mentally before taking a hot of his hardenned dick under his bedroom hospital sheets. It's not coincidence she's barely wearing underwear today. Dr Ice walks in on her blowing her patient and tells her 'It's ok! It's what we do!' Indeed they do make everyone who walks through that door feel better, and Dr. Ice joins in for the sexy treatment.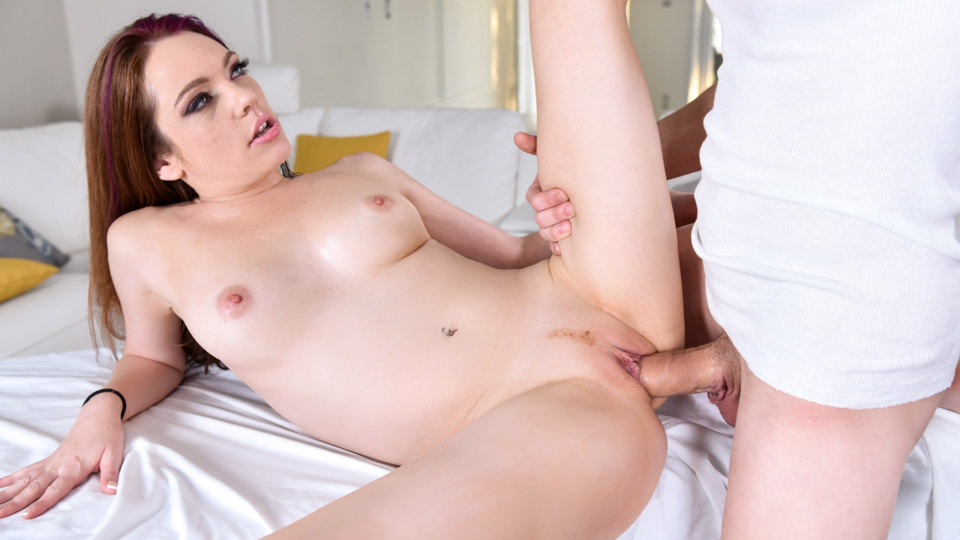 Kassondra's Naughty Massage: Kassondra Raine, Alex D - Slutty Kassondra Raine is feeling very tight and needs a massage. She calls over her masseuse Alex to help. He works her muscles deeply before Kassondra tells him that its really her pussy that needs a deep cock massage. She grabs his cock and sucks it while he rubs her pussy, getting it all wet and ready to be fucked. Kassondra enjoys every deep thrust of his cock before opening her mouth for a messy facial.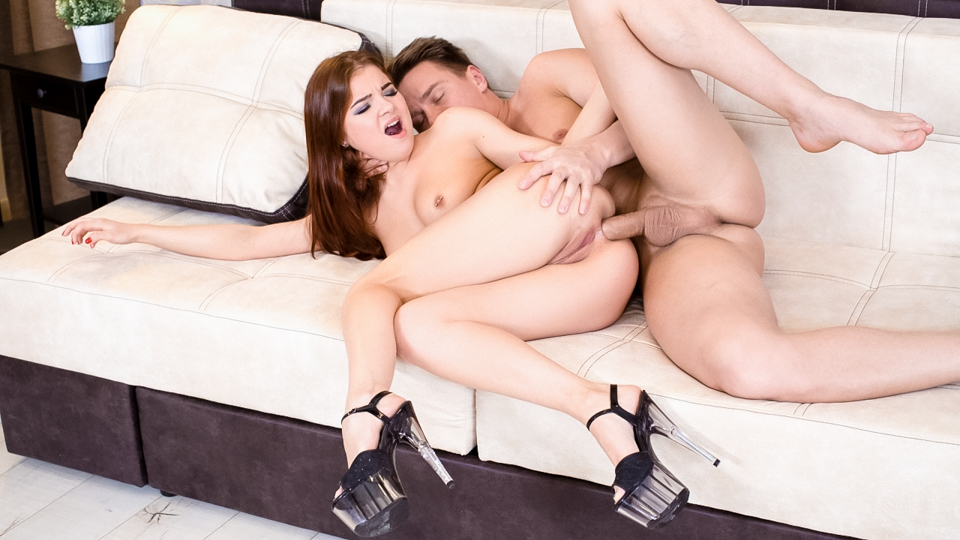 Take Me!: Renata Fox, Vincent Vega - Fiery teen angel Renata Fox likes it when mighty boys take her with all their manly vigor! Vincent Vega doesn't need to be asked twice ... he uses Renata like his own personal sex toy in this hard pounding, balls deep anal action scene.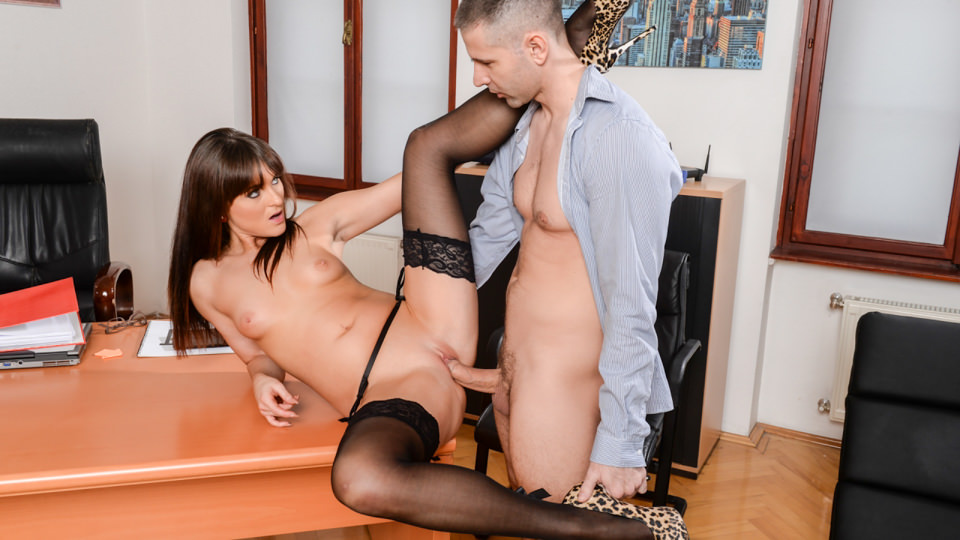 Better Than Financial Supervision: Lydia Lust, Toby - Toby is forward with Lydia, his financial supervisor. She has heard of his reputation and is into it and willing to entertain. How lucky! Otherwise this could have turned badly. She strips down to her red corset and leatherette booty shorts before delivering him of his very taut pants to fuck.


Want some more? Check the site.
| | | |
| --- | --- | --- |
| | Older | Newer | |