ASR PREMIUM - Free Porn Movies and Free Porn Images
ASR Premium offers Free Hosted Galleries of sample porn movies and photos for FREE. We collect and offer the high quality samples from millions of galleries on daily updating.
Real VR is #1 place to enjoy the various VR porn from 25 VR porn studios offering high-quality 3D VR porn movies.
Special Offer: [Check the Price Here]
[Click on the picture to see all the samples]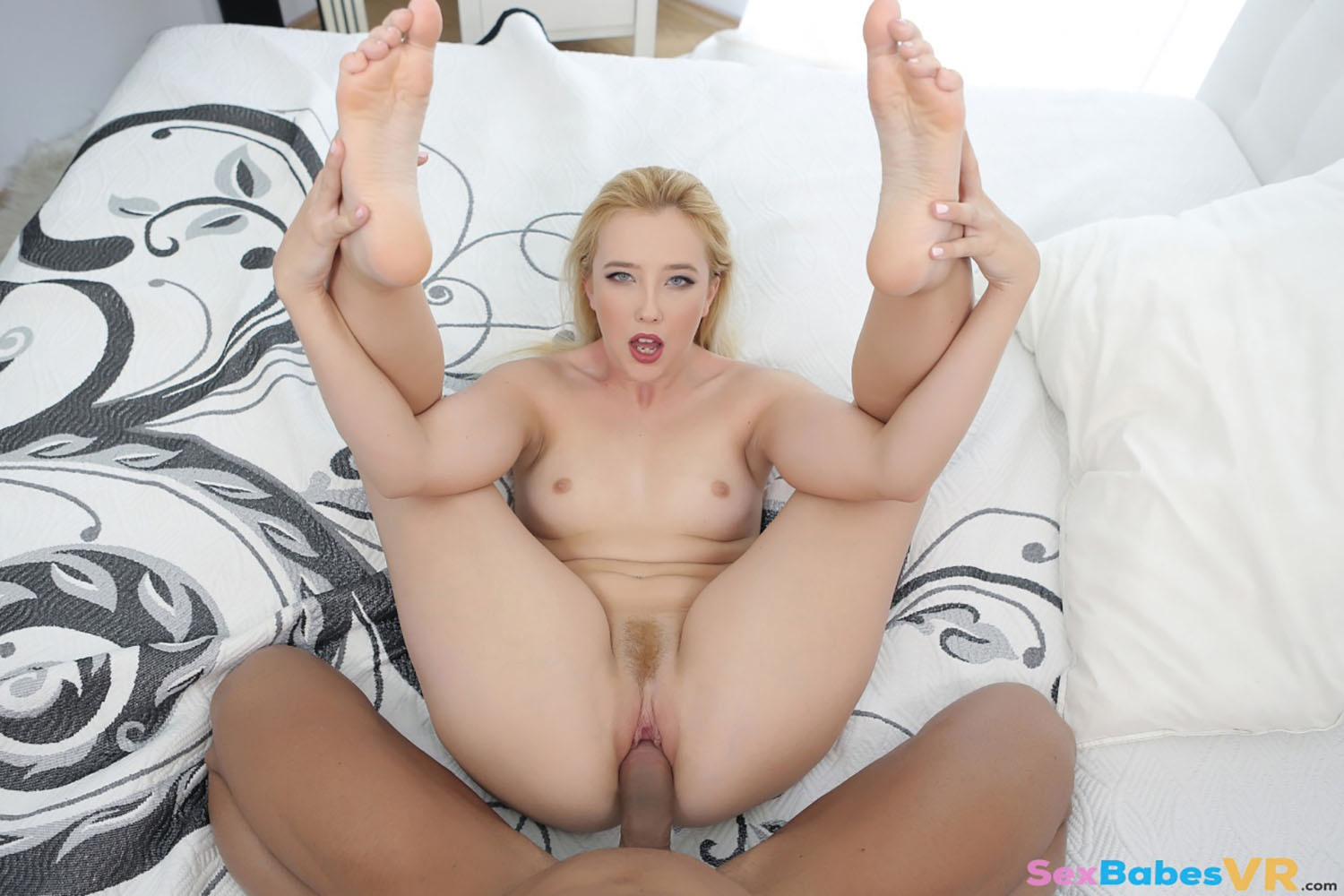 Morning Dream: Samantha Rone - Your girlfriend Samantha Rone will be gone for two days visiting her friends. Just the thought of you two being apart makes her sad, but very horny. What about a nice hardcore fuck before she leaves? Don't waste another moment! Peel off her skimpy red dress and feed her with cock. You will be able to fuck her in many sex positions, until you spray your cum over her pussy and stomach. Get ready for a great VR porn experience with Samantha Rone.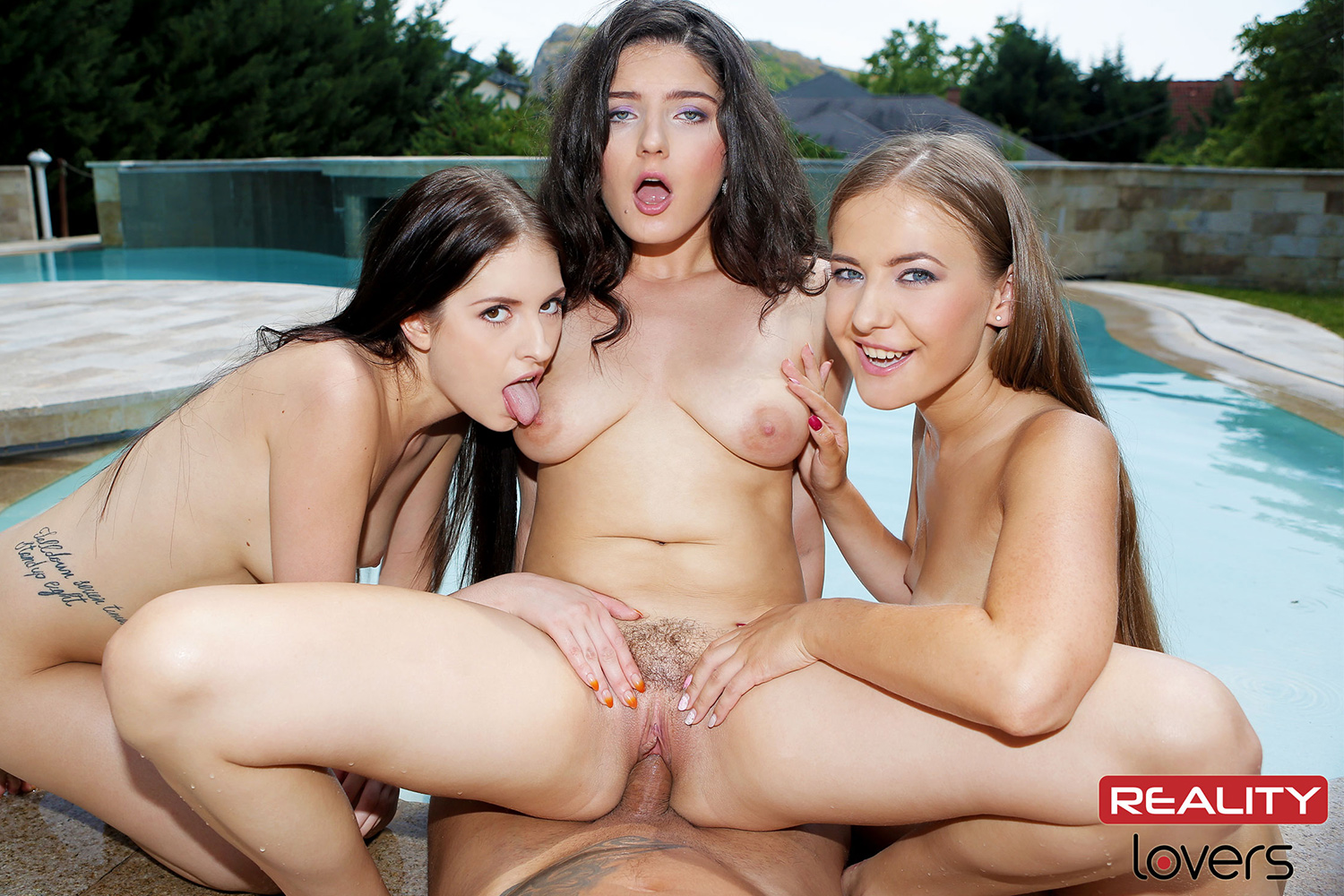 Barely-Legal Summer Break: Rebecca Volpetti, Swabery Baby, Francesca DiCaprio - he summer is right in the middle and everyone is enjoying the hot weather to the max! This is when Reality Lovers comes in with an absolute stunning hot release with three teen bombshells that are ready to make you feel the horniest you've ever been! Now is the time to throw all the stress of today's world behind you and enjoy a relaxing pool party full of hot girls! A little trivia: Two out of these three teens have never been in VR! Regardless of experience, their pussies are dripping wet and they all desperately want to taste your cock! Rebecca Volpetti, Francesca DiCaprio and Swabery Baby are ready for you and we are sure that the video is already downloading to your drive.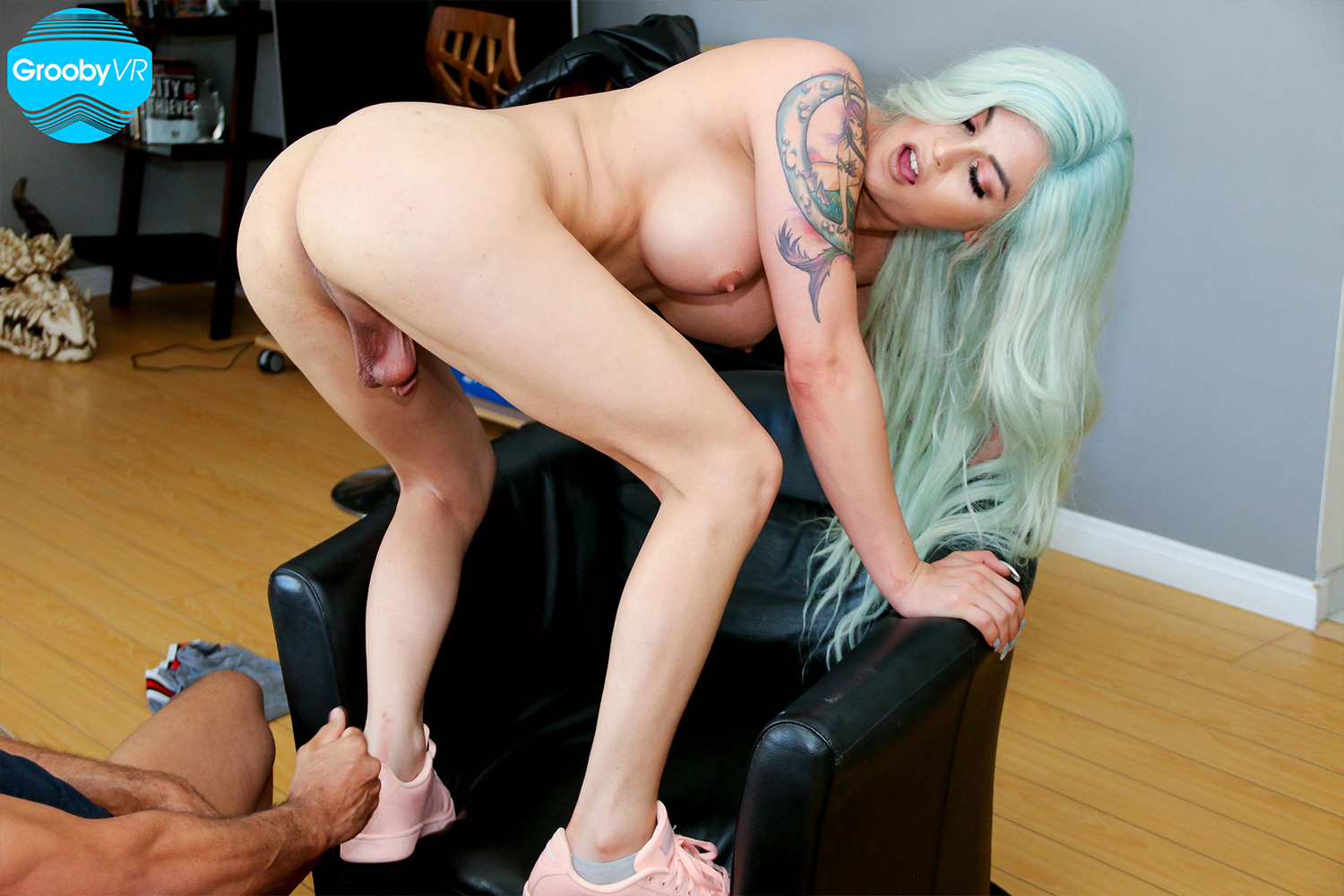 Moving In, Putting Out: Domino Presley - Domino is moving into a new apartment and after a long day of lifting boxes wants to thank you for your help. Of course Domino's way of saying thanks is to treat you to a hot and sloppy blowjob before offering up her ass for you to fuck. After lifting boxes, it's time to fill her box! Let the delightful Domino treat you to a world-class fuck in this immersive and personal VR video!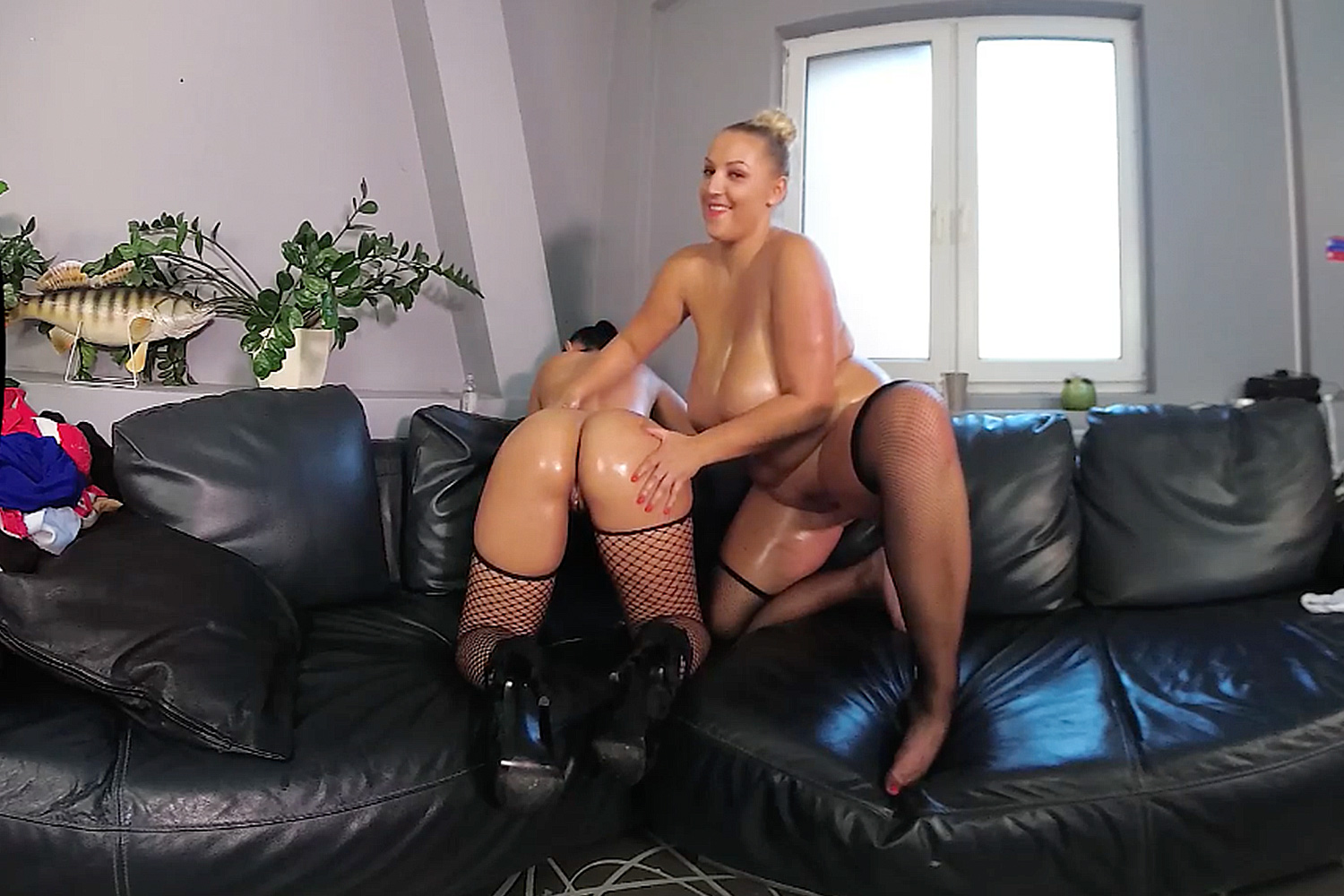 Lesbian Office: Krystal Swift, Jennifer Mendez - Jennifer Mendez works around the damn clock. She never stops. Her boss, Krystal Swift, is quite the demanding bootylicious demon in Prada. Today, she's got enough of slaying her youth away. She's finally asking for a raise. Her boss is wide open to the idea but she'll require more physical labour. Jennifer can start by working that pussy. Let's see if she'll get that promotion.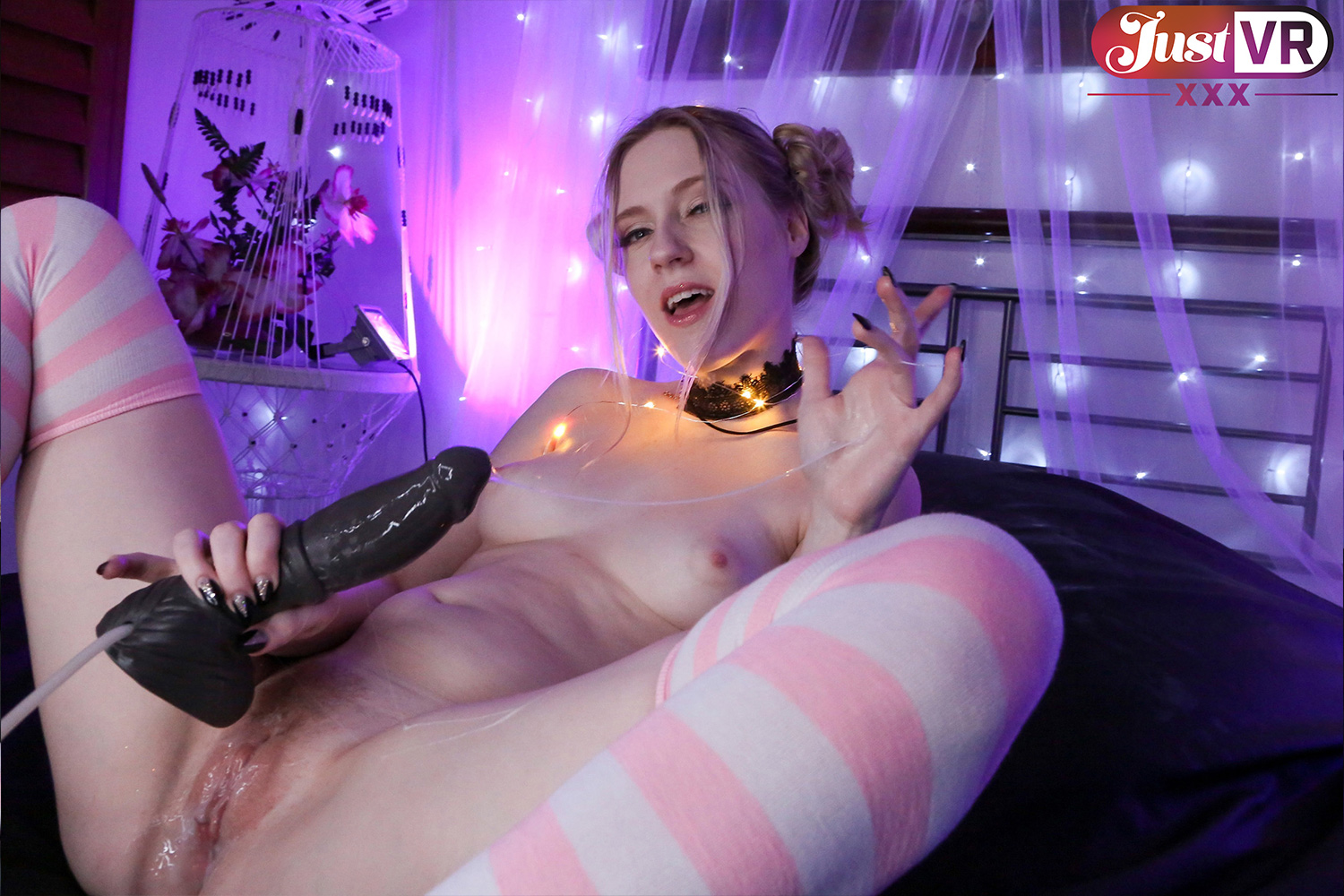 Violet vs Bad Dragon: Violet October - In an enchanted paradise there lives a dragon, a Bad Dragon. However, not all dragons spit fire, some spit loads of thick creamy cum. Watch this dragon slay Violet October's shaved maiden pussy.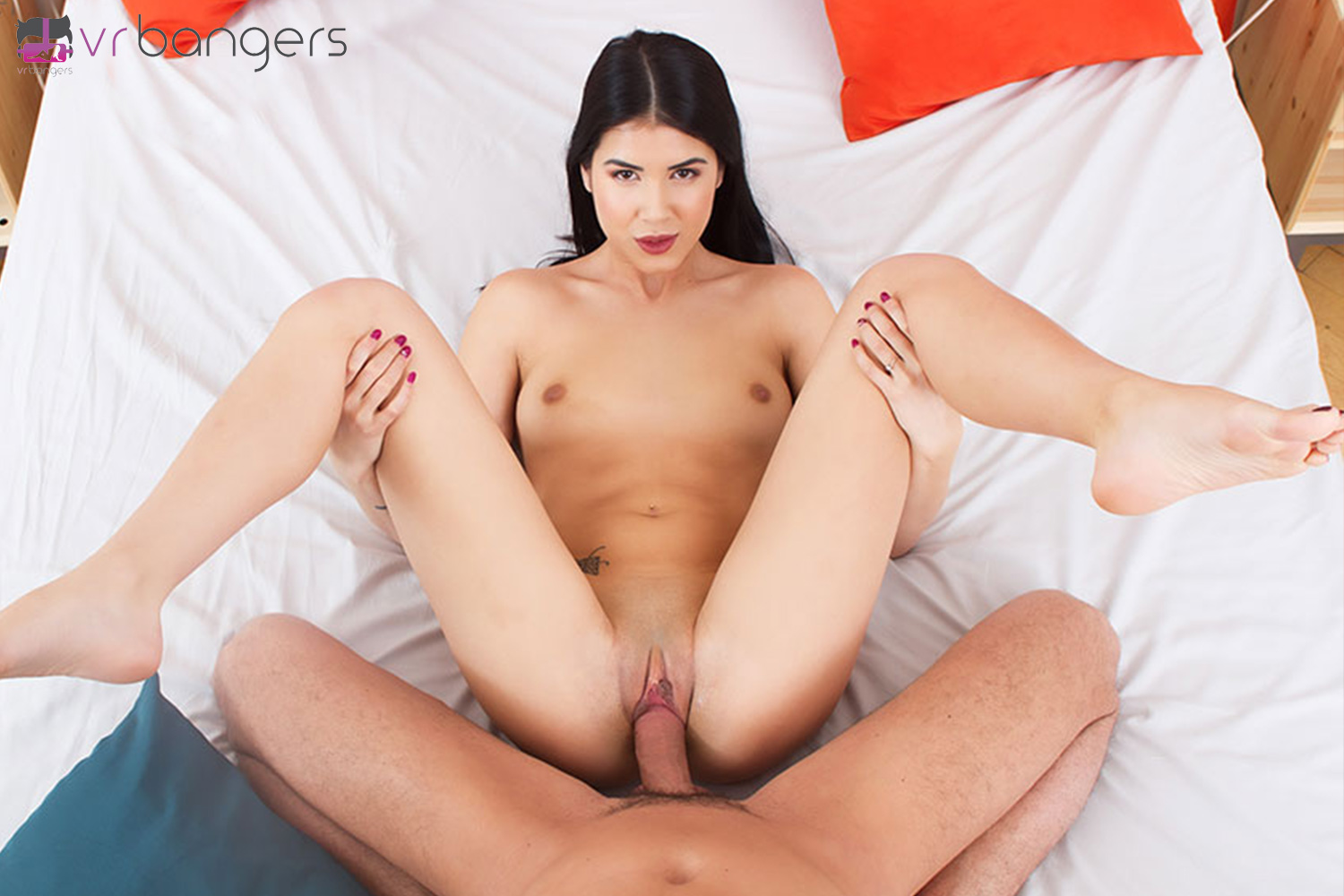 Dress To Impress: Lady Dee - When a girl like Lady Dee is your wife you better treat her right. That's why you have bought her an awesome new dress tonight and why she is putting it on to show off for you. You have pretty good taste and you know what your sexy 5 feet 9 inch tall wife likes to wear. Maybe it's a little bit slutty, but hey, she is just wearing it for you, so it doesn't matter. She only weighs 109 pounds so she is really skinny, and the dress fits her just perfectly. It hugs her sexy mini curves and makes her look like the pornstar that she is. She is the kind of girl who is so slutty that she joined the porn industry when she was 18 years old and since then she has tried a lot of things. She has done lots of lesbian porn, gotten lots of facial cumshots and even tried an interracial scene. Now she is here to try a virtual reality scene because she loved the idea of being in your living room with you! When you watch her on our amazing 4K HD virtual reality porn, you will feel immersed in the sexy scene as Lady Dee strips out of her new dress and gives you the show of your life. You know how to treat your wife right and she knows how to give back to her hubby. She just wants you to feel good and wants you to have a good relationship ? and she knows the best way to make a relationship work is through good sex and communication. If only all wives were this understanding and loving. So far Lady Dee has been in a few VR porn videos on the VR Bangers site so make sure you check out all of them because she is amazing in each and every one!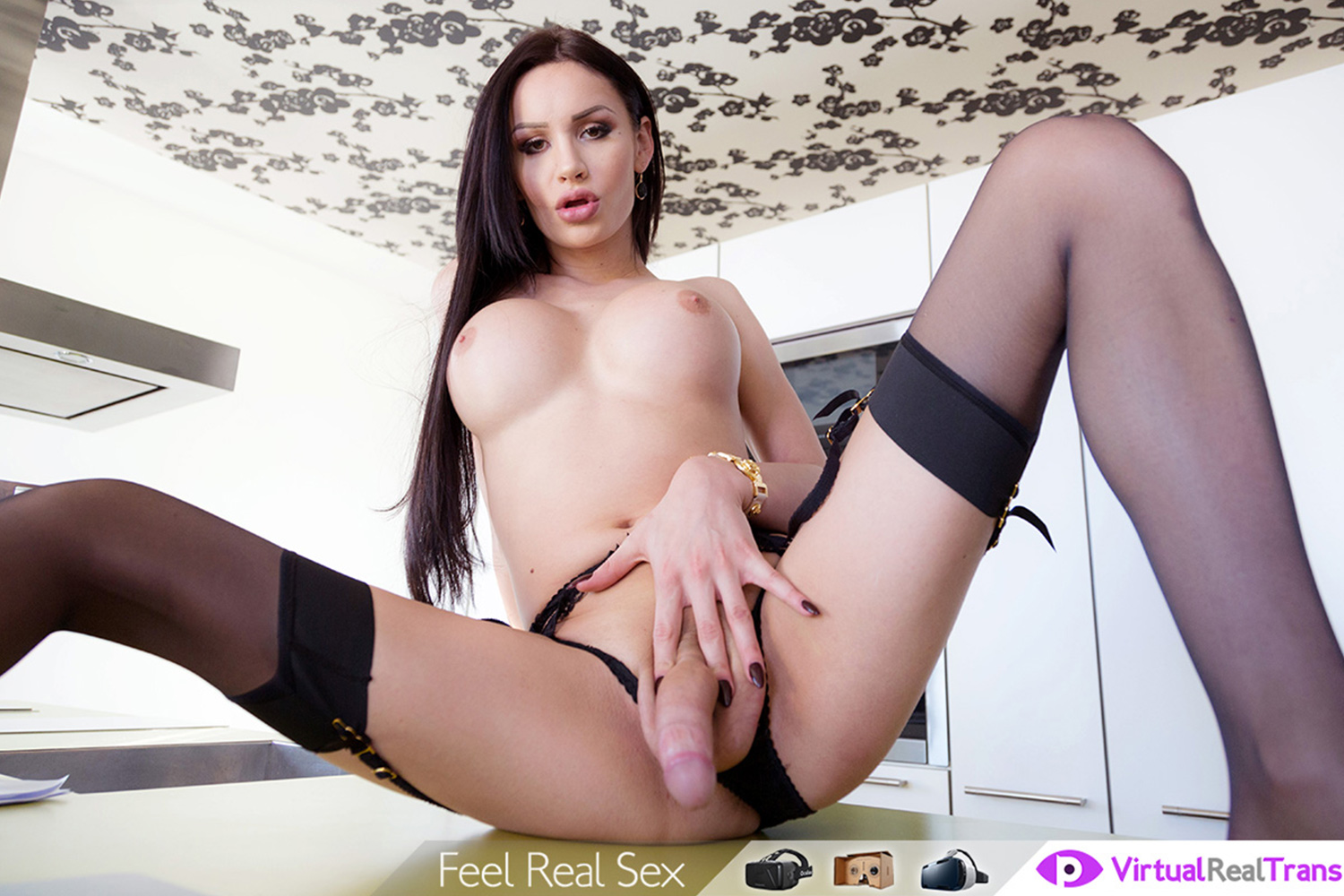 Classy Girl: Kimber Lee - Kimber Lee, one of the most elegant and sophisticated transsexuals in the world, wants to impress his boss. We bet she will. Because you will love every part of her perfect body: starting from his tits, to her perfect ass and of course, ending with her hard cock. So, take your headset and prepare yourself to have an intense orgasm with the TS of your dreams! Enjoy this VR porn scene in 180º FOV and our awesome Binaural Sound in your Smartphone Cardboard, Samsung Gear VR or Oculus Rift!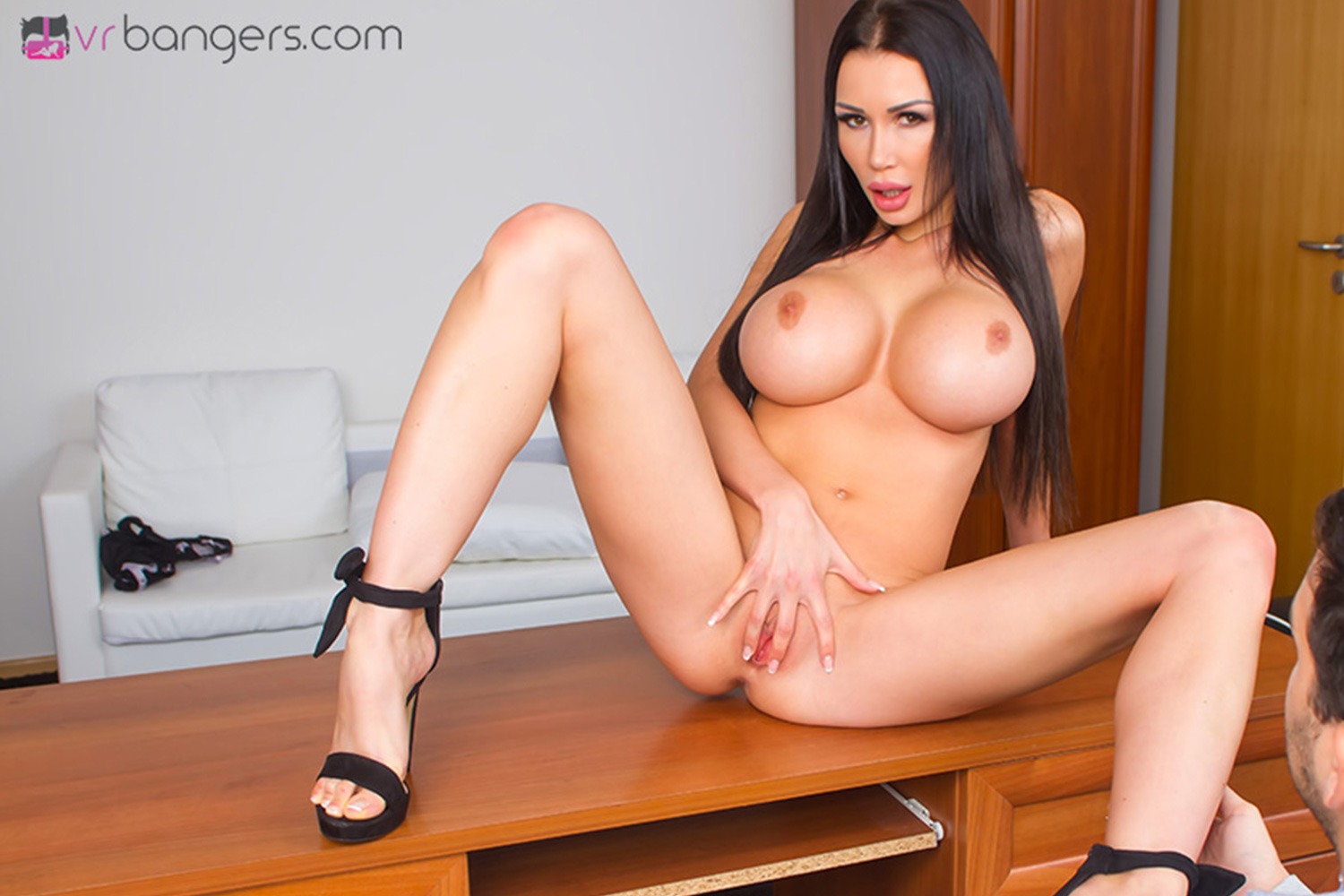 Whatever It Takes: Patty Michova - Have you ever wanted to be a VR Porn star? You're going to need a sexy body, appropriate attitude and some love for good fucking. And what if you have it all? You have to make an appointment with the VRB agent! Patty Michova had also been asking this question, found out what the answer was, and went on a meeting with our representative. In Virtual Reality Bangers we can appreciate a true talent ? just show us your best and give us a proof that you have that "something", which will appeal to our viewers. When Patty arrived at her meeting, the first thing she had to do after a short conversation was getting naked. The girl began undressing slowly, showing us her feminine shapes, firm ass, and juicy boobs. When Patty was all naked and finished her erotic striptease, she began to dance on a table to show us that she's worth it ? looks like she really cares about this job! Unfortunately, nice body is not all that is needed to become a star of Virtual Reality Porn ? our agent had to see her in action! Fortunately, the girl isn't shy and was prepared for such a turn of events, so she boldly spread her legs and began to play with her pussy. But fingers do not give such satisfaction as a hard dick, so she's decided to help herself out with her lipstick-shaped vibrator to speed up the pace a little bit. The girl plays with her wet pussy, putting her dildo as deep as possible when her moaning and groaning spread throughout the office. When Patty cums, our agent sincerely regrets that he's at work and can't join the girl ? but he must remain professional and keep it cool. It seems that the girl has predispositions to become a real VR Porn star. And what do you think? Watch the video and see for yourself!



I Hope My Date Goes Well: Christiana Cinn - Christiana Cinn has a hot date tonight. She has not been laid in months and really wants to get it right this time. Her friend sent her a "fuck doll"A€A? the other day and told her to try it out for practice. While the idea is strange Christiana can't stop looking at its large cock while preparing for her date. She can't believe how real it feels and that it could actually bring her to an incredible orgasm. Her favorite vibrator is in the top dresser drawer and she grabs it. She decides to give the doll a chance and climbs on top... She is in for one hell of an orgasm.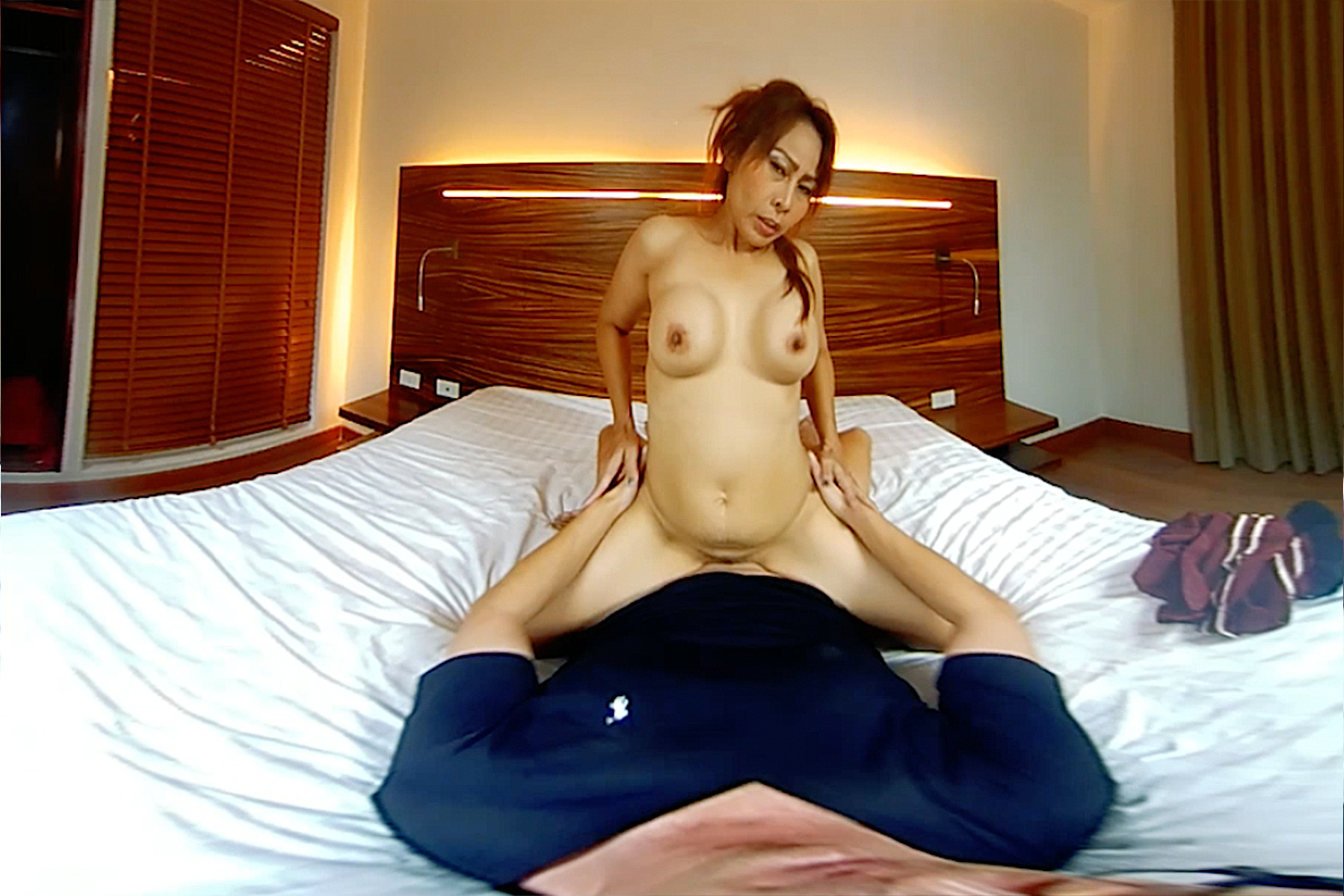 Fuck Me Boy - I Not Need Romance Today: Mia Love - Sometimes I must take everything I need from my boyfriend. Not much speaking and romantic acting. Just fuck me! And I really know how to get him hard and wild. Kissing first, drop his clothes and blow his dick. Then I can fuck him in all positions like a cowgirl. Showing him my big tits and he gives me the orgasm I need.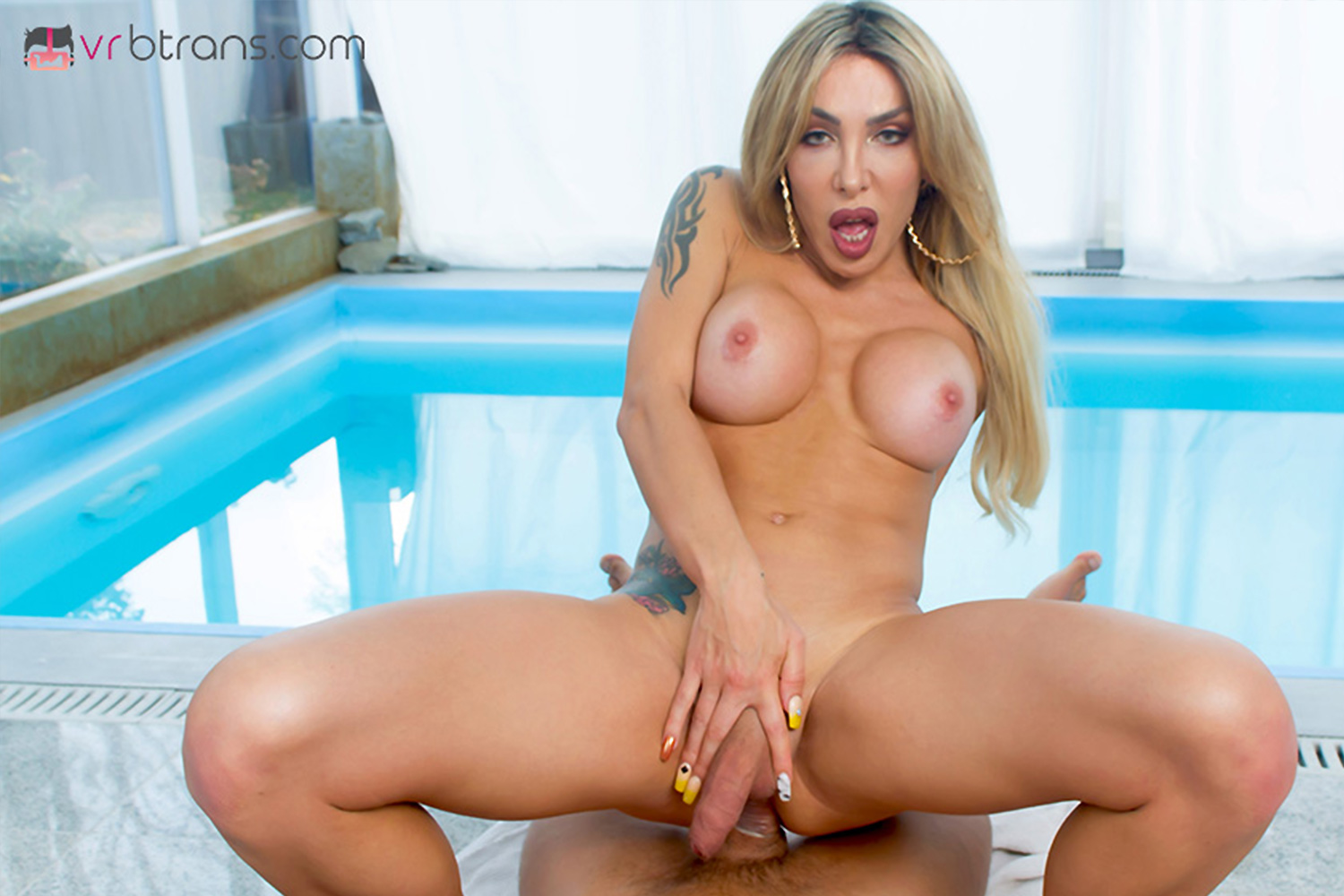 A Day In Paradis: Eva Paradis - Pool is one of the best inventions known to man! On warm days there is nothing better than chill out over the pool when the moist air cools your sweaty shemale body, and you can enter the cold water to cool off and feel the wonderful refreshment. The pool has one more function, though ? it's the favorite place to relax of your sexy girlfriend, Eva Paradis, who loves to sunbathe and then dive into the crystal clear water while not recording the intimate Shemale VR Porn. Unfortunately, going out to the pool always ends up the same ? can't she understand that you simply do not like the water and that you feel best in here, by the pool, not in it, where you can sunbathe and enjoy the cool breeze? Apparently not. But the girl found a way to get you wet ? at least she thinks so. She stripped naked and proposed that you could now have some fun with her big boobs but only if you'd jump into the water with her. You don't negotiate with terrorists and you are persistent ? you're not gonna swim today! But since the sight of your sexy girlfriend has already made you hard, maybe you could do something about it…? Especially that you know well that the view of your stiff cock has most likely turned her on, and that her insidious plan is now turning against her! Do you like the idea of having sex by the pool with the attractive Tranny VR Porn Star? Then put your VR goggles and enjoy this high quality scene ? it doesn't matter if you have Oculus Rift, HTC Vive, Daydream, PSVR or a smartphone with Google Cardboard, immersive Shemale VR Porn movies from VR Bangers will work on any device. Eva will do anything to convince you to enter the pool with her, so enjoy the situation while you still can ? you may not get a second chance like that ever before!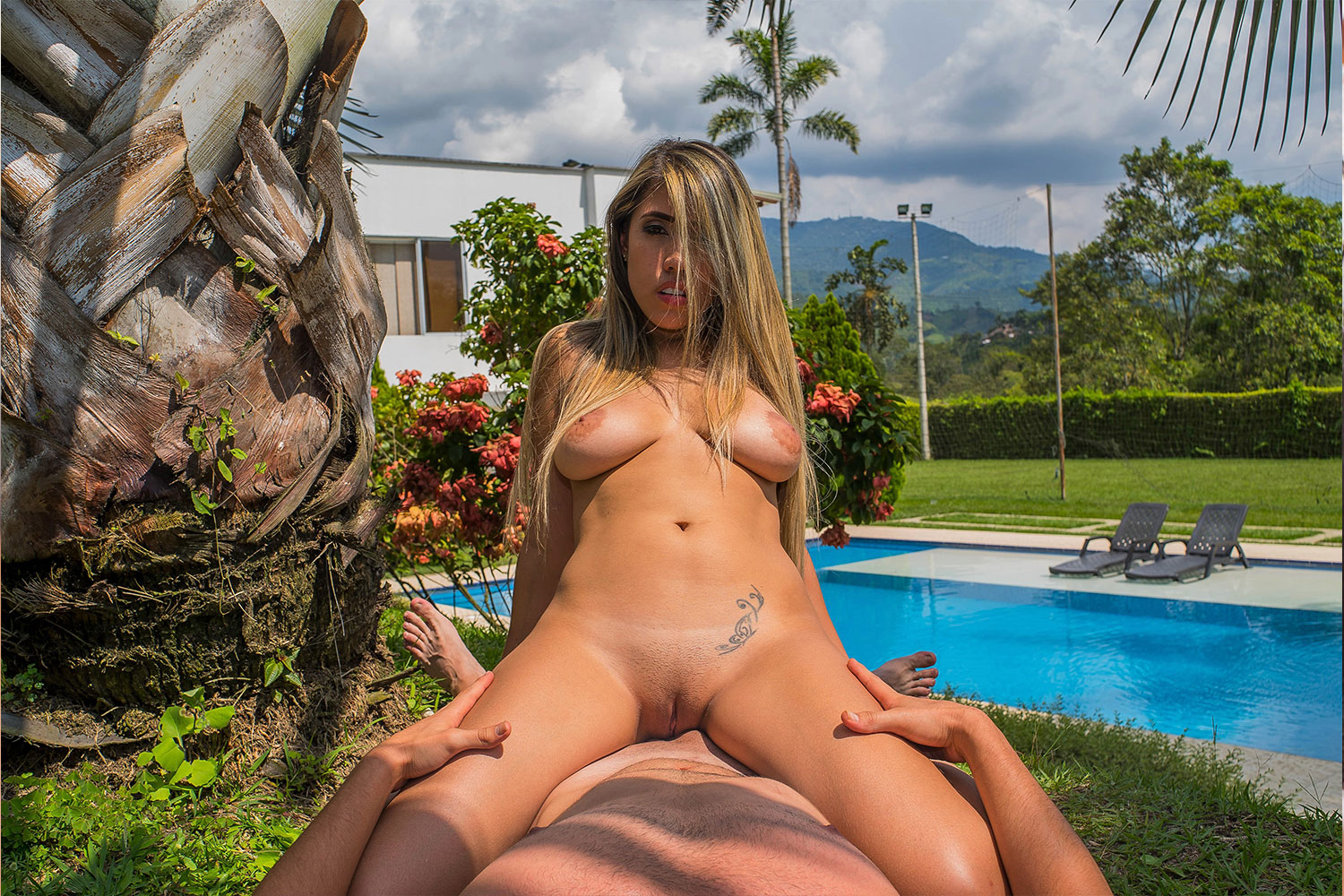 Pool Porn Party: Fernanda Ventura - Big titted Fernanda Ventura enjoys some poolside relaxation in the hot South American heat. Things get hotter when she gets horny and gets her big breasts and butt some pool side fun.



FedSex: Krystal Swift - Kristal Swift is ready for you to deliver your big package and you don't wanna let her down. Go ahead and let this curvy busty euro babe suck and fuck you until you come all over her face.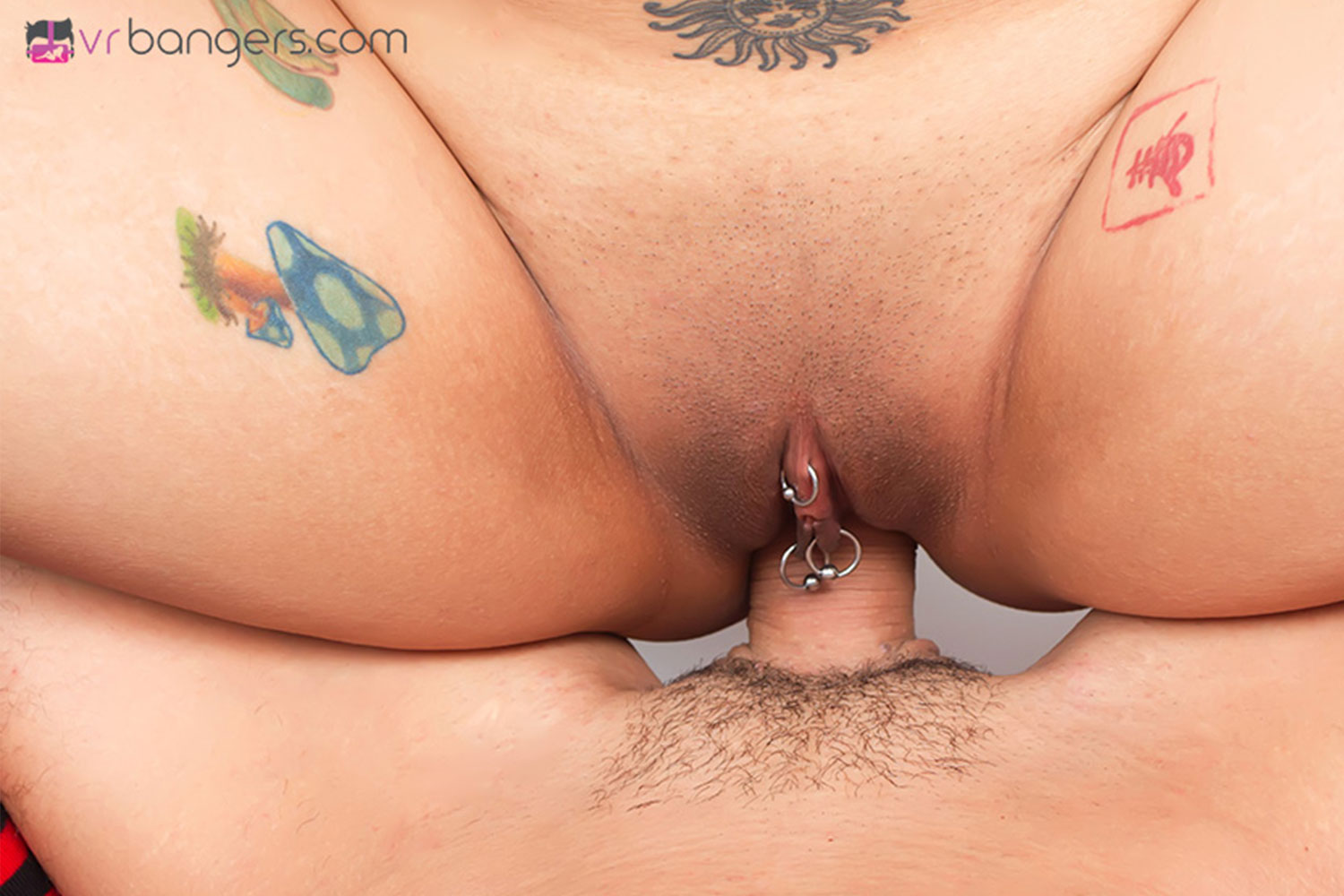 Foreign Exchange: Jureka Del Mar - Jureka Del Mar is a Filipino gal who is coming to a new country. She is dressed kind of slutty to meet her new hosts, but she doesn't care. Where she comes from that is the custom! They don't have to wear too many clothes in the steamy area she calls home. Well, she is covered in unique tattoos and looks friendly enough even if her English isn't exactly perfect. Jureka wants to show you the customs of her culture. So she comes up close to you in her see-through shirt and makes your cock hard through your shirt. She licks your cock up and down and gives you a good dick sucking. She is really good at making it nice and sloppy. Then she turns around and takes off her panties so you can fuck her. Her well used pussy slides right down on your cock ASAP. She even spreads her pussy apart to show off her piercings on her clit and labia, showing she is an adventurous and kinky girl. This is a chick who will go the extra mile to make an amazing VR porn video. She lets you fuck her from just about every angle until she hops off of your cock and sucks you off in order to squeeze the jizz out of your dick with her throat. Once you cum Jureka is satisfied that this cultural exchange has taken place, and now you know a whole lot more about her customs. Perhaps when you show her yours, you'll both come to understand that sex is the one thing that every culture has in common! Sex doesn't need any spoken words or to have people who speak the same language. In your VR visor, you'll easily see that sex is a language all on its own!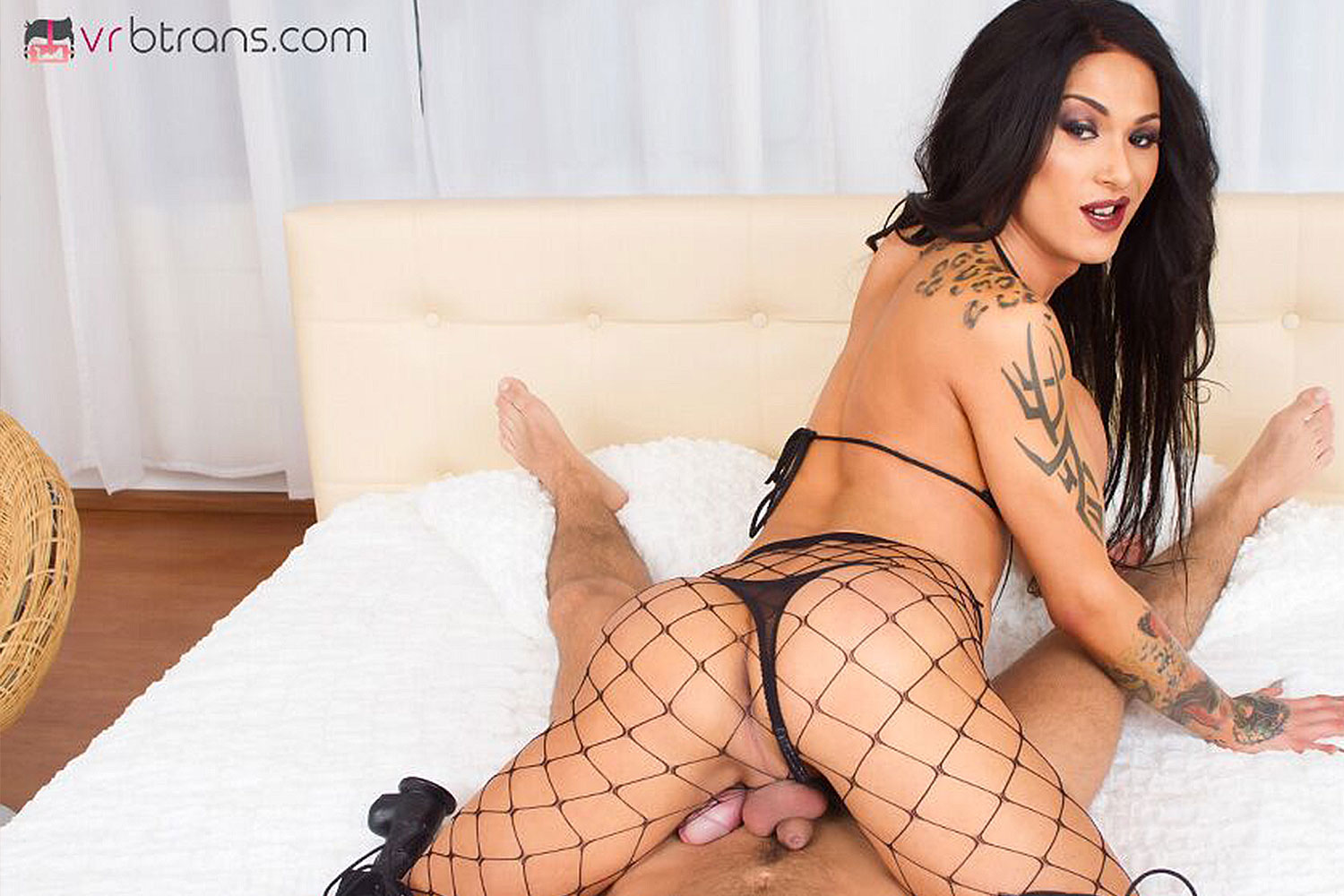 Pleasure In Punishment: Mia Maffia - Mia Maffia is the just the perfect shemale babe for a virtual reality scene such as this one. She is a cruel mistress who likes to be on top and she really looks the part. Today her giant bazongas are barely contained in a tiny bikini and her long black hair streams down her back. Her long legs are covered in hot fishnet stockings and thigh high boots. Today she has a slave with her and this submissive gets the full treatment. He crawls over to her on his knees and begs to lick her fuck stick. She abides and allows him the privilege, but only after he has shown that he is worthy after licking her boots and worshipping her perfect feet up and down. Mia then makes him lay down and he is more than willing. She rubs both of their cocks together, a pleasure that this sub never thought he would earn. She then puts her golden asshole on top of his cock for a pleasurable fucking that he loves. This is better than he could ever imagine. A hot shemale babe riding him and commanding his adoration! It's then that Ms. Maffia takes her pristine and divine cock and shoves it inside the back door of her lowly submissive. She pounds him mercilessly, making him moan and scream with pleasure. He knows what a privilege getting fucked by his mistress is and he doesn't want any moment of this day to go to waste. After grinding against him for a while Mia rubs her uncircumcised dick all over his cock and spews her load on it. He knows he is not worthy of an orgasm but he doesn't care. He begs for one anyways and Ms. Mia considers giving him one…does he get it? Find out if he does In this sexy tranny 4K VR Porn Video!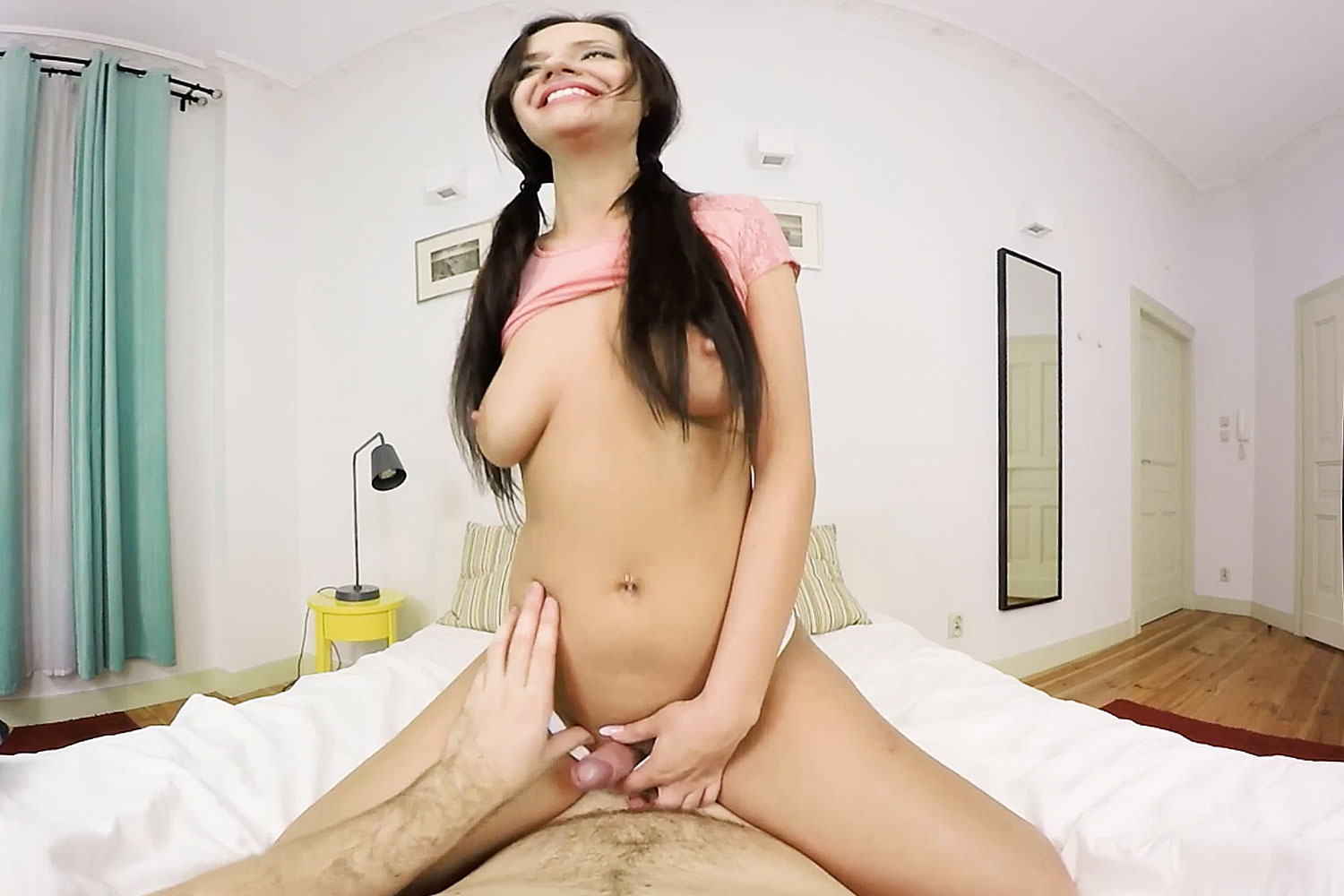 Fun with real vr amateur: Miss K - This amateur babe wants to have some fun with you. She jumps on your lap and grinds her soft ass against your dick.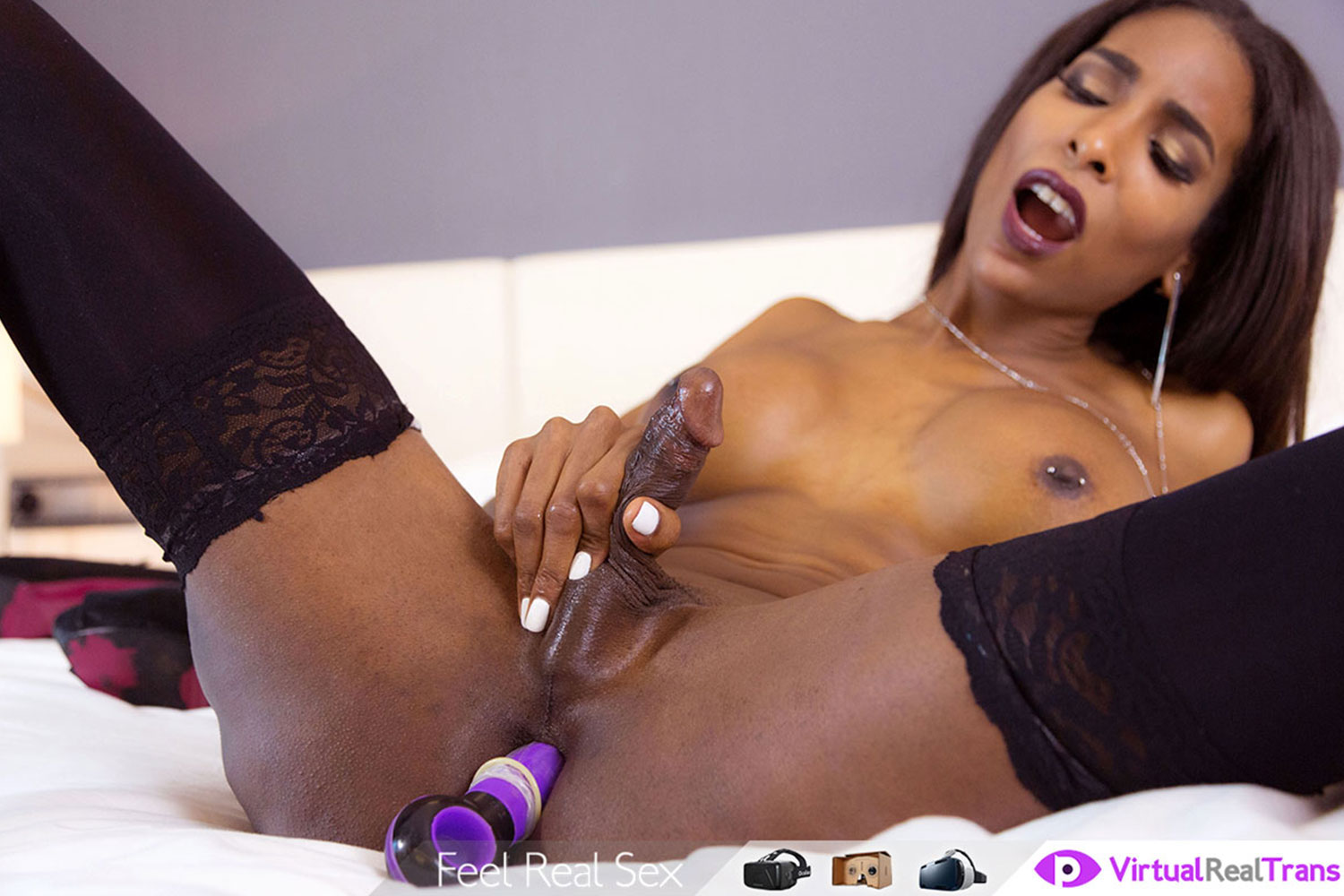 I'm Natassia: Natassia Dreams - The devil knows her name, and you're about to discover why. Natassia Dreams will fulfill your dreams with the sexiest and naughtiest TS solo you will see today. Because the things this transsexual does for you will make you love her forever: she will touch her cock, stuff a dildo inside her perfect ass, tell you her secret fantasies and finally, have a great and shaking orgasm (as you will do for sure). Put your headset and enjoy this VR porn scene in 180º FOV and our awesome Binaural Sound in your Smartphone Cardboard, Samsung Gear VR or Oculus Rift!



Selena's Naughty Date Night: Selena Santana - On date night you like to pull out all the stops. After all, just a little bit of effort on your part often ends up with a whole lot of booty and banging from Selena. That is why, for tonight, you've decided to not only spring flowers on your girl but also bring chocolates and wine. Go big or go home, as you like to say (and things will be getting pretty big in no time at all.) By the time you arrive, you can tell Selena Santana not only has decked herself out but worked herself up a bit. She must have been playing with her pussy while getting dressed again. When you arrive you give Selena her gifts. She loves them (as you knew she would). Nothing like flowers, wine and chocolate to get her in the mood. She wants to show you just how thankful she is that you put in this kind of effort into date night. Most guys wouldn't go the extra mile, but you do. As her hand begins to slide down your pants, she can feel your dick growing with every breath. She wants your dick. Now. By the time Selena has your cock out, it's almost fully-grown. She just can't help but gasp a little bit every time she sees your dick at full attention. It's just so big and thick. It makes her knees go weak. Not able to hold back on her excitement, she slides your thick shaft deep into her throat. She's always been good at giving head. While playing with your balls her tongue swirls to and fro inside her mouth. The first time she did this to you your dick exploded deep in her mouth, but thankfully you have practice now. With your dick dripping with her spit, it's now time to have it drip with her pussy juices. Pushing you down in her bed, she saddles up and slides your cock deep into her pussy. She moans out in delight. Dinner reservations can wait. With your massive manhood massaging every inch of her tight pussy, it isn't long before she's squirting her sweet nectar down your shaft. But what about you? What about your cum? She's not done with you yet, and Selena really wants to make sure you're worked up so your load is even thicker and larger than usual. After all, it is date night.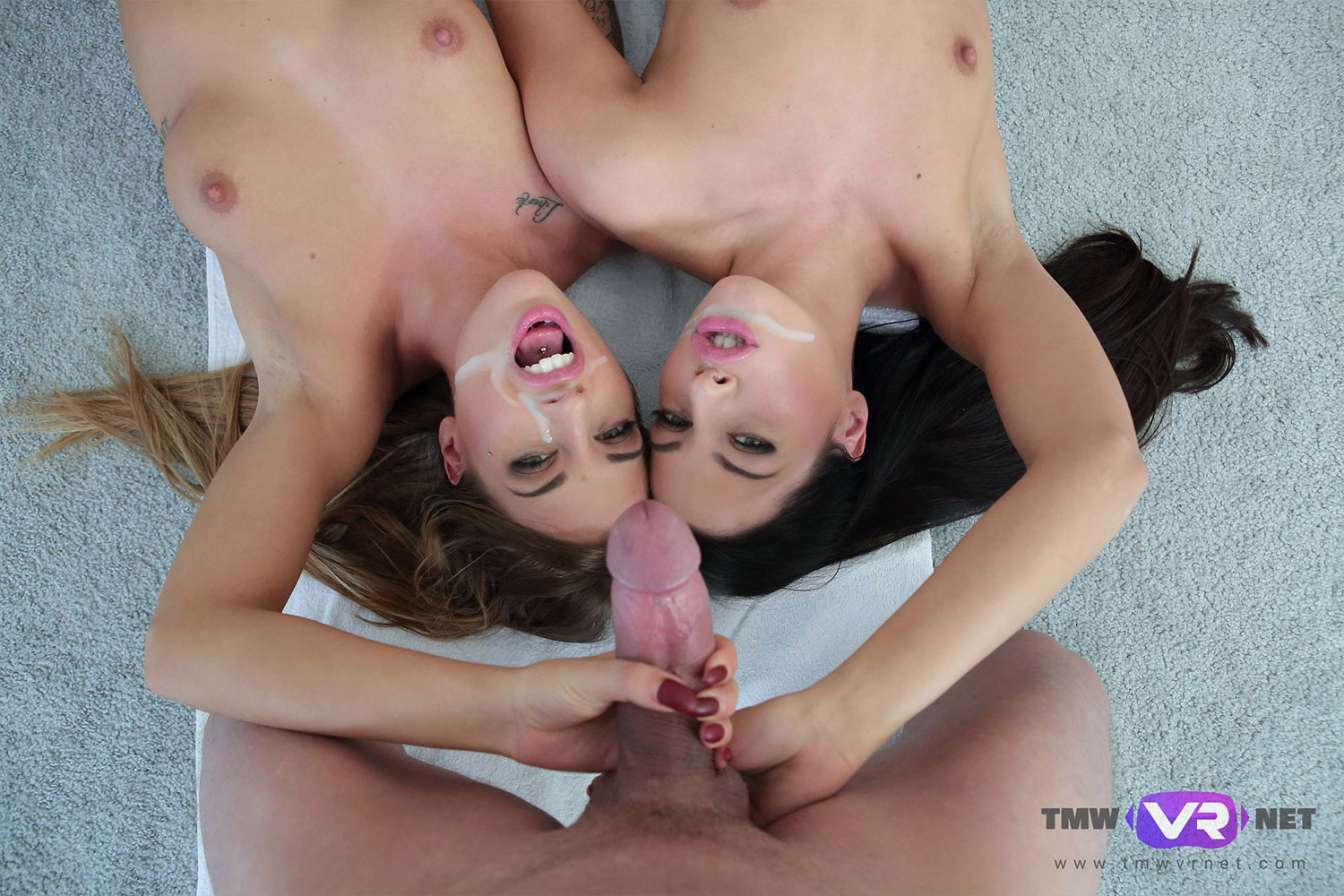 Dellai Twins Gifted a Private Sex Massage: Silvia Dellai, Eveline Dellai - Dellai twins Eveline and Silvia are bored to play only with each other's wet pussies. That is why naughty girls seduce male strangers in public places. The lucky dude managed to film his love affair with 2 seductive twins. At first, dykes make his dick hard by their mischievous hands and tongues. Then dirty sisters make out right on his dick not forgetting to satisfy him as well with their sex-hungry holes. Hot threesome action for everyone who has imagination!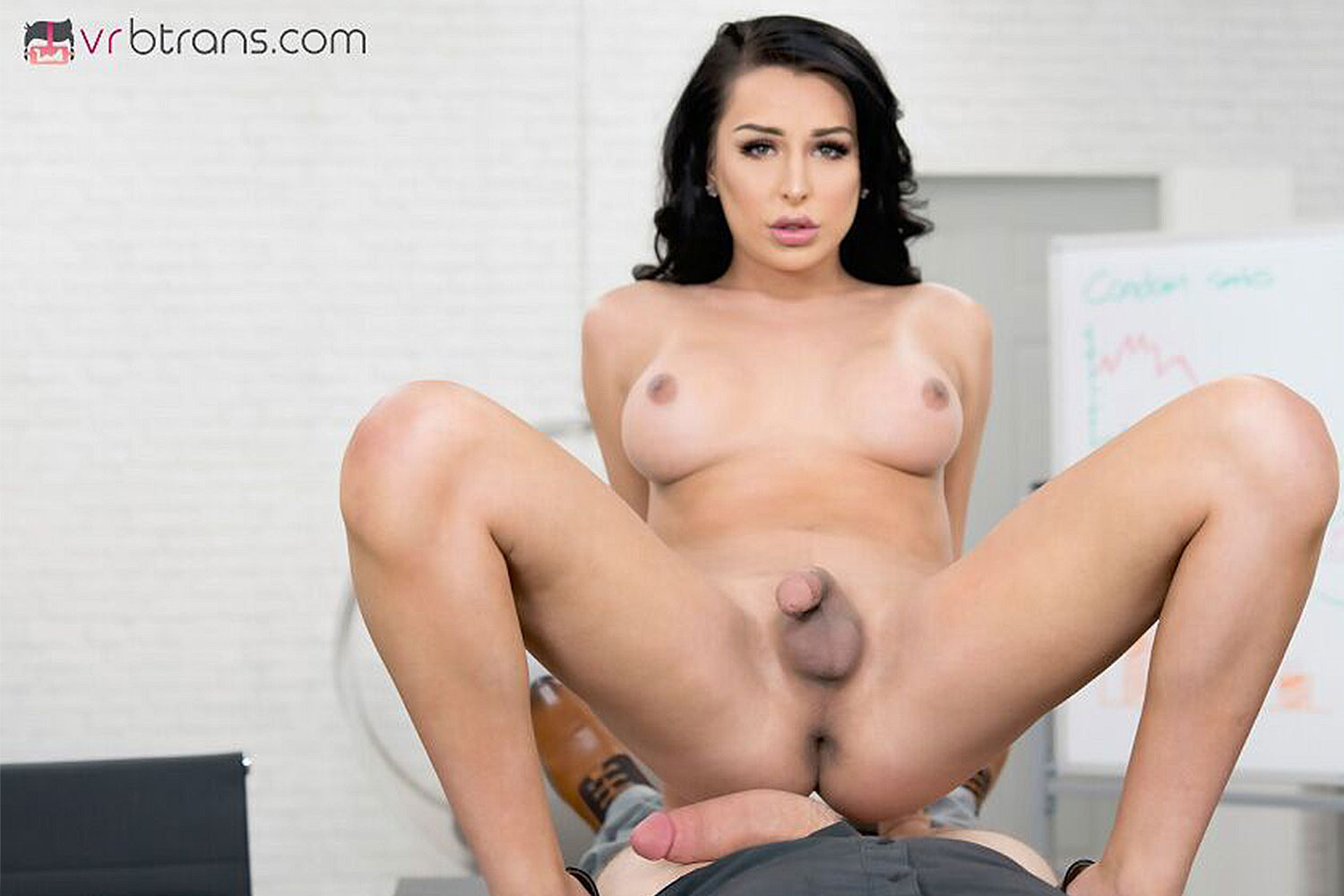 Horrible Boss: Chantel Santini - Every boss can become a huge pain in the ass at some point, right? I mean, with all these deadlines, requirements… yeah… And what if she was a Shemale VR porn star? Would you be more forgiving for her in such case? Wear your VR headset right now and find out in the newest anal TS VR porn movie. In the Horrible Boss Shemale VR porn video, Chanel Santini ? undeniably one of the hottest performers in the tranny virtual reality adult movies industry ? will become your employer, going through a 1-on-1 briefing with you, her favorite employee. In this Shemale VR porn fantasy, Chanel is a big boss who's running the conference with you and all of your colleagues today. She's been called by the regional director who's got pissed by her department's poor results. She's doing some numbers on you, telling you all about how to increase your overall efficiency. When her pointers fall on the ground, she accidentally reveals to you that she's transsexual ? you really had no idea, but this is definitely some good news! After learning her little tanny secret, no wonder that you kept staring at her, but she finally has to do something about it ? she asks other people to leave the room and starts talking with you 1-on-1. You'll then find out that even though she's never liked you and wanted to fire you, she thinks that you have a unique charm and really want to taste this cock of yours. Else you'll do this, else you'll get fired ? so how it's gonna be? Wear your VR goggles and experience this immersive anal shemale VR porn video in 4K and 360° to make the decision, and don't hesitate to make the correct one ? in VR Bangers' virtual reality there's nothing to feel sorry about!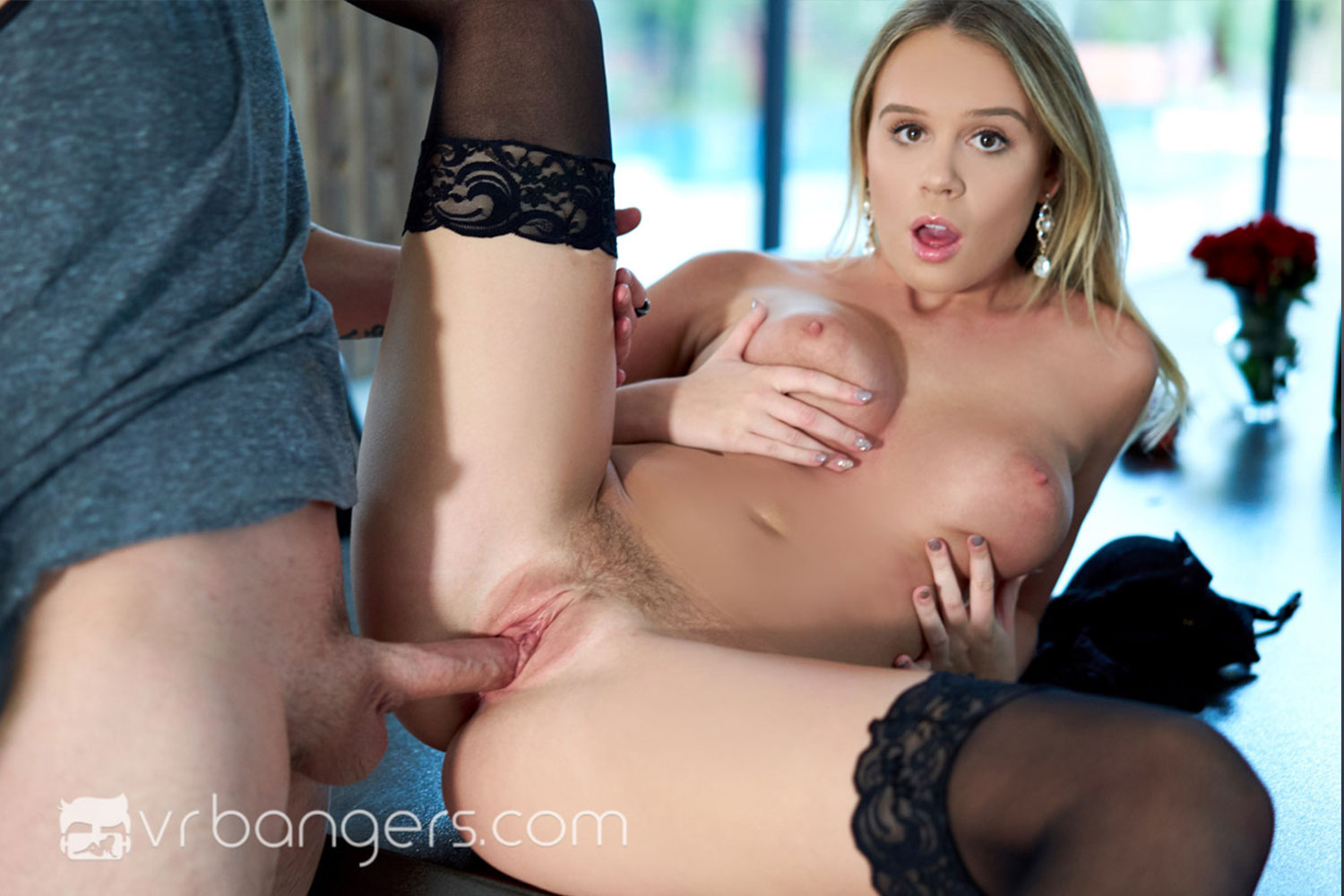 Center Of Attention: Alexis Adams - Alexis Adams is a sexy girl who has a lot to give in a porn scene. She is a cute blonde with curly hair and a winning smile. She has been in the porn biz since 2012 and has been in more than 100 porn movies since then. Even though she had done just about everything in the biz, she hadn't tried a VR porn movie, and she knew she had to give it a shot. This is because Alexis is a true exhibitionist and she loves to be the center of attention! She loved the idea of being adored in virtual reality, especially after watching some VR porn that really turned her on. Here you can see her in a hot roleplay scene with her boyfriend. At first, she walks in the scene wearing a cute outfit with some flowers for her boyfriend. Her outfit consists of some barely there lingerie that makes her look amazing. Luckily their roommates are not around for the weekend so that they can do whatever they want, wherever they want all around the apartment. What they don't know is that the roommates have set up a camera to record any hot things happening around the place. However, Alexis doesn't know about this and doesn't care either way because she is an open-minded chick who relishes the chance to give you a virtual reality experience of herself! This is a scene in which the two players have a lot of genuine chemistry. They will wear you out with their long and passionate fuck session, and then they will keep going until they are completely done with their sexcapades. You will wish that their roommates go away every weekend so that they can make even more homemade VR Porn videos for you to enjoy and play with your cock to!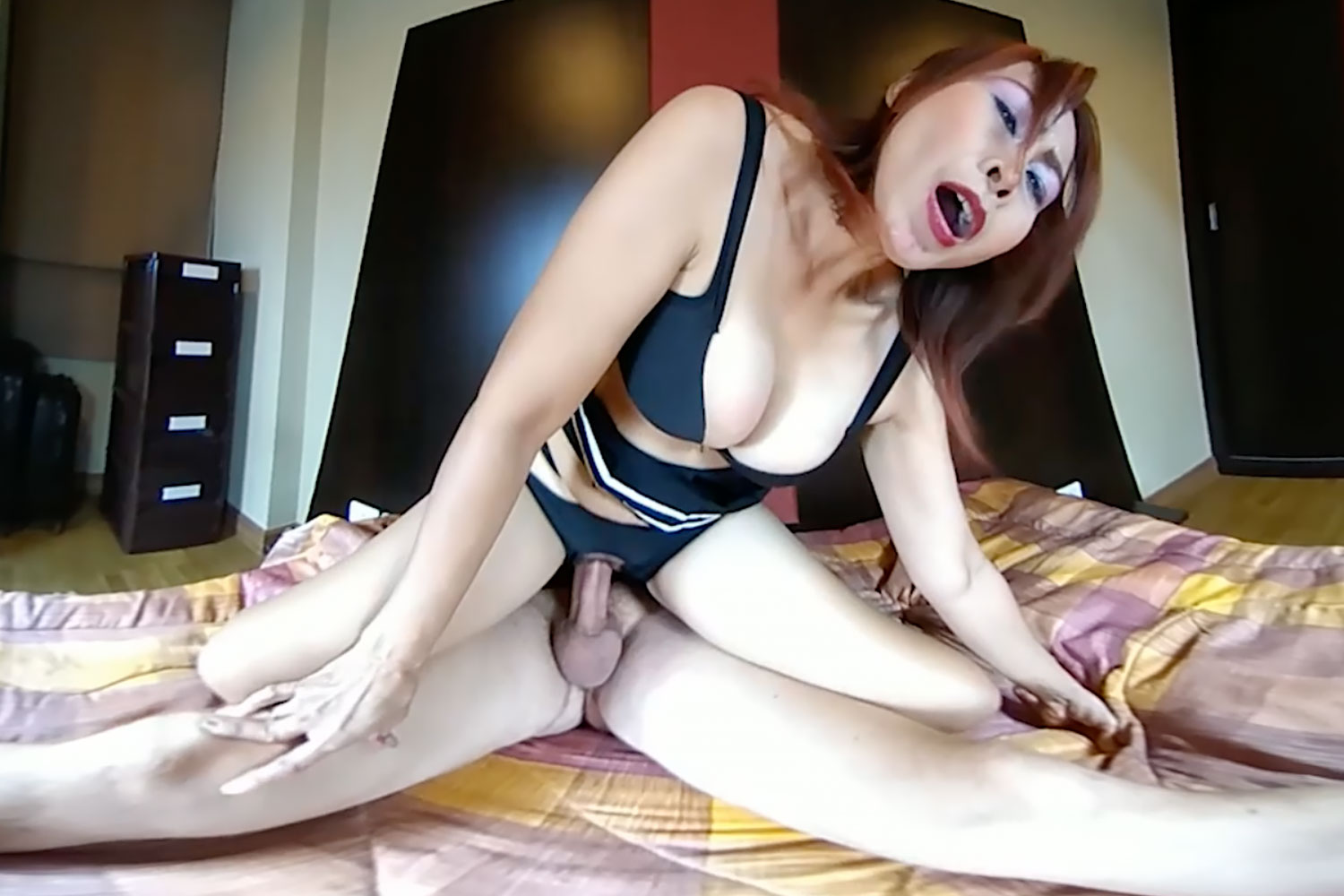 Stepsister tease brother to jerk off together until cumshot and orgasm: Mia Love - Role play! Brother and Sister looking at the camera, the sister seducing and coercing her brother to masturbate with her. He doesn't want to, but she doesn't stop and coerce him to do it with her. She talks about how dirty and perverted that he's getting off to him. She talks about how hot and wet she gets thinking about fucking his brother. Booth have an orgasm at the end and screaming "cum for me brother, cum for you dirty sister.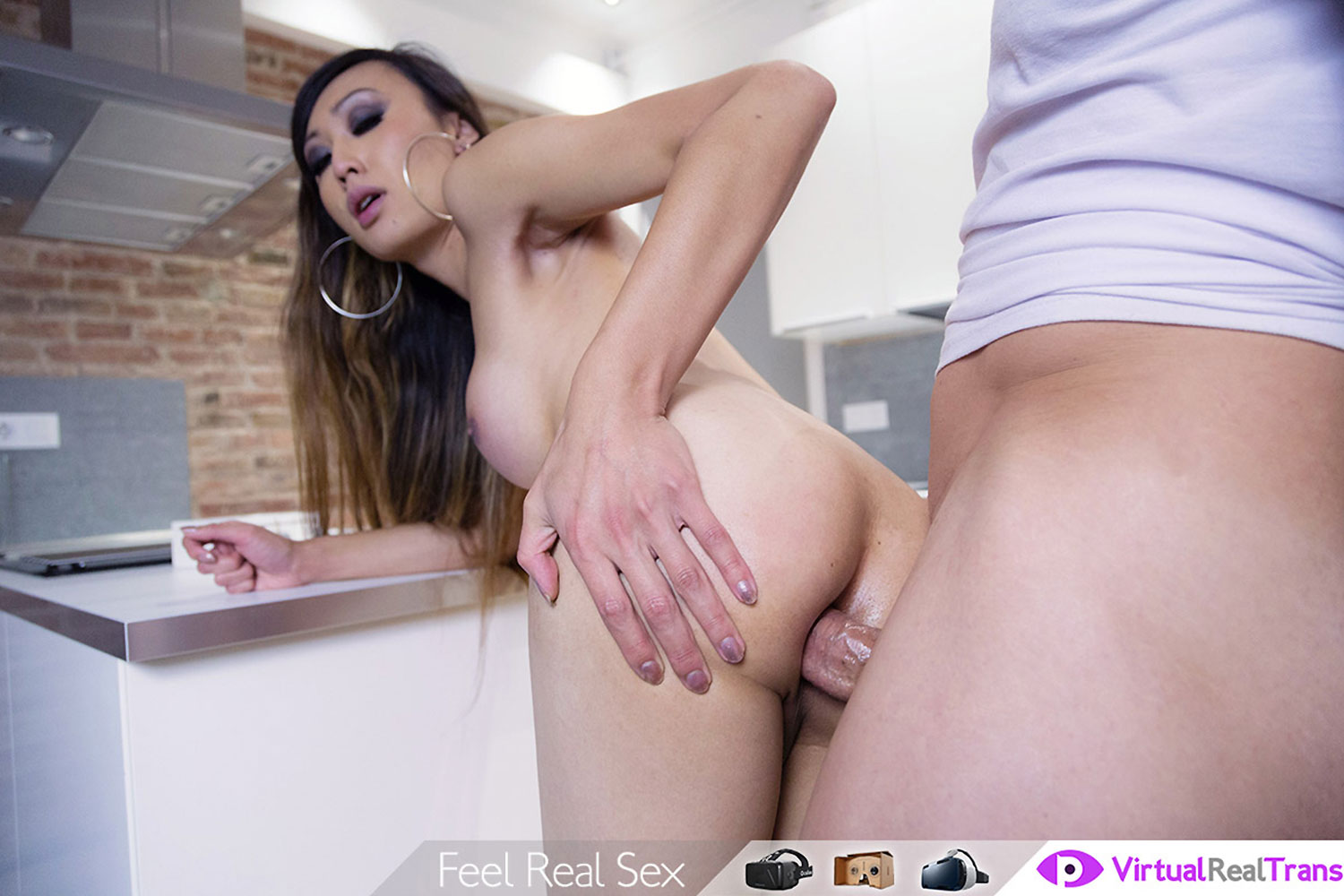 My First Time: Venus Lux - If you've always wanted to know how is like to being with a transsexual, this is your golden chance! Venus Lux, one of the most famous T-Girls of the world, gives you a free ticket to fuck her ass, stuff your cock in her mouth and cum all over her perfect body. So, don't miss the oportunity of take her real hard… there's always a first time for everything! Enjoy this VR porn scene in 180º FOV and our awesome Binaural Sound in your Smartphone Cardboard, Samsung Gear VR or Oculus Rift!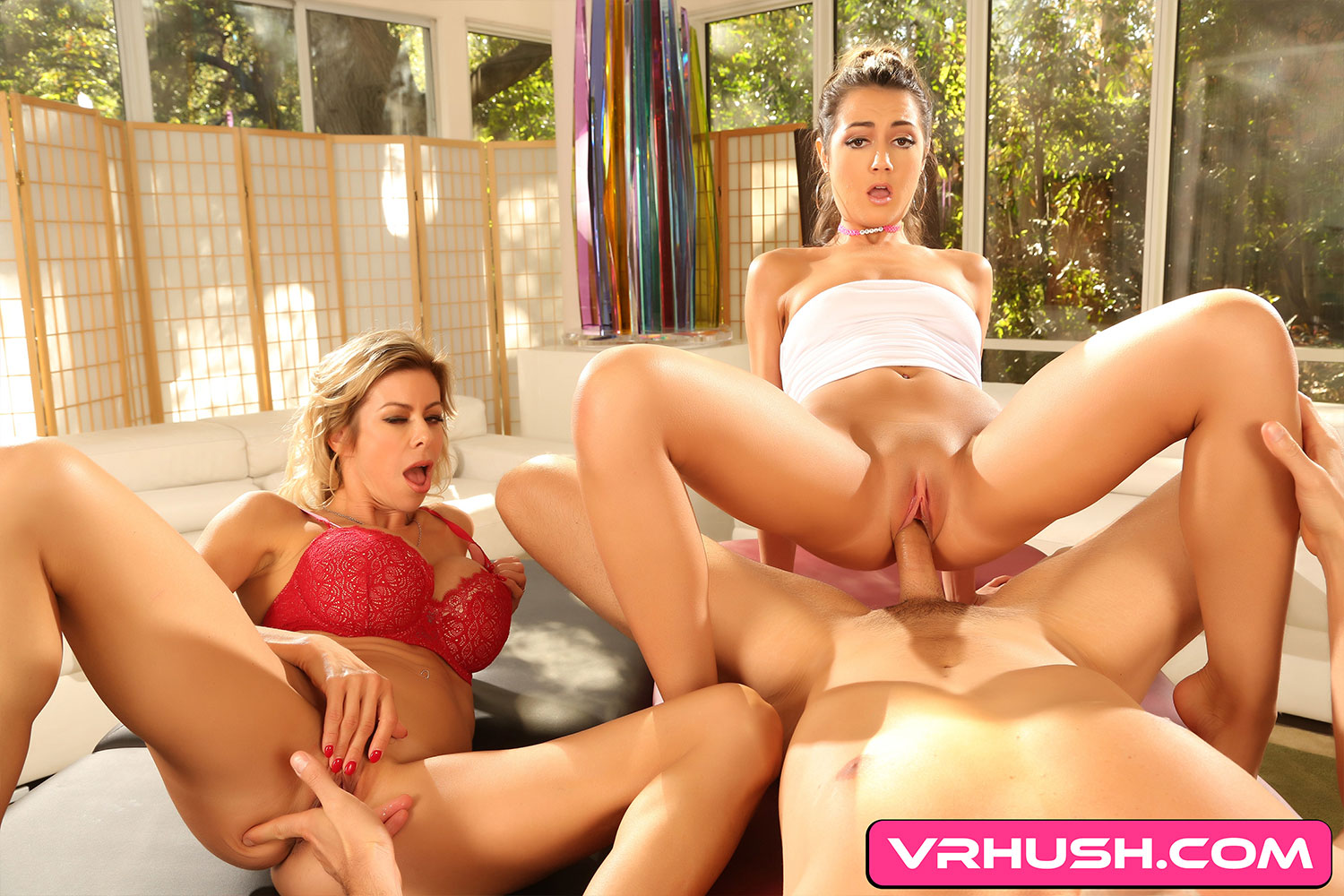 Who's Better? Me Or My Mom?: Alexis Fawx, Lily Adams - Alexis Faux is hot. Lily Adams with Alexis Faux is hotter. What could be even hotter than that? Having your dick between both of their tongues while they talk dirty. Experience both babes at the same time and see what it's like to have them suck your dick, ride your cock and play with your cum. Throw in some oil and you have everything a man could wish for. No need for much of an introduction. They will simply let their bodies do the talking for them. This is an oily dream cum true!



Cherry's Cheating Ass: Cherry Kiss - Cherry Kiss is giving it her all in her first Anal VR scene. In this scene Cherry Kiss is cheating on her husband with his best friend. This scene has it all from a red hot blowjob to hardcore ass fucking you will not be able to turn it off. The scene is shot in ultra 4K 3D Virtual Reality so the action is as real as it gets.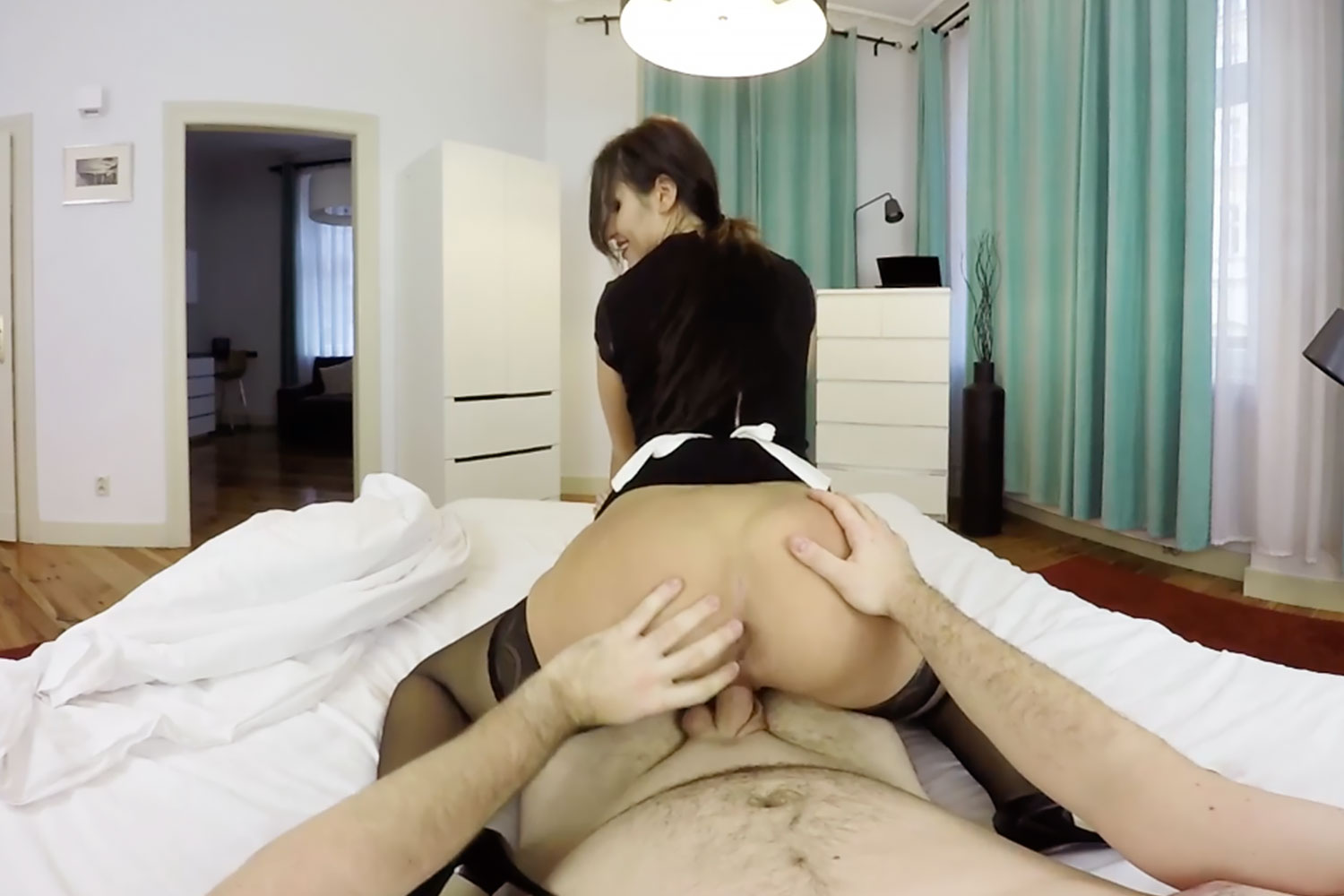 Your Cock Is Her Tip: Miss K - You've noticed that your maid, Miss K has been looking a little less than satisfied with her job lately. Maybe it's the shitty pay or maybe it's the ridiculous hours, but either way, you want to give her a break. When you hand her a 200 euro tip, she almost refuses to take it. Miss K couldn't be more grateful, and she wants to say thank you. Go ahead and let this smoking hot, stocking-clad euro babe suck and fuck you until she cums all over your dick.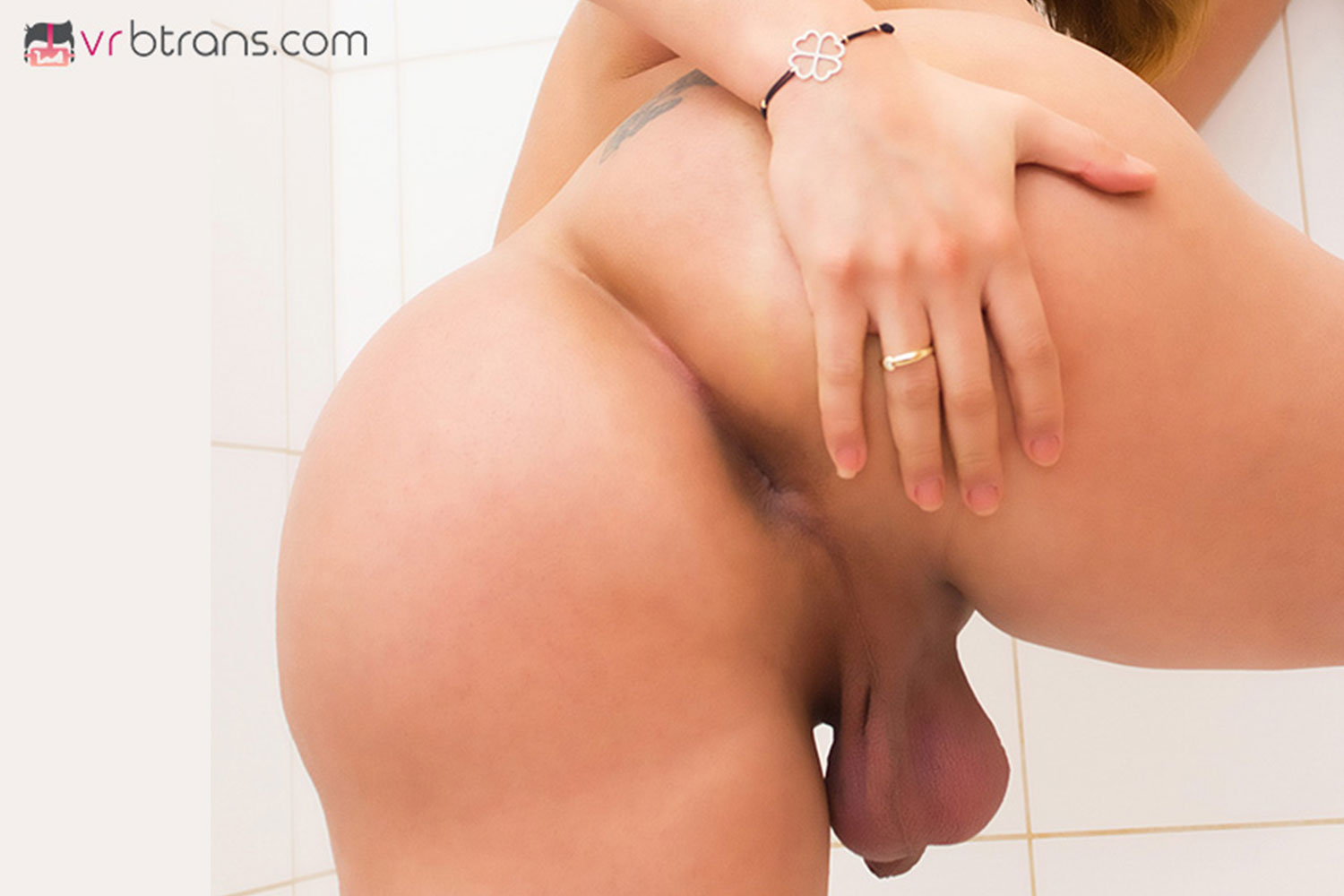 Bathing With Bianka: Bianka Nascimiento - Bianka Nascimento is a hot shemale pornstar with a great cock. She is a beautiful tranny brunette who will always be filthy no matter how clean she gets in the shower. Today she is going to show you how she takes a bath and shower in the naughtiest way possible. She has done her makeup impeccably and has a sexy red lipstick to tease you. She takes off her white top and shows off her titties before removing her whole leotard and showing off her bubble butt. Bianka makes sure to rub her gorgeous knockers together to give you a maximum view of the cleavage as much as possible and teasing you with her shy smile. Before too long she takes out her schlong which is clearly uncircumcised and a tasty treat to behold. She sits down in the bottom of the shower to relax and get comfortable and of course to give you the best view of her cock and balls. She starts to rub her fuck stick, eliciting an erection. She makes it stand up straight and tall and keeps giving herself pleasure while staring straight at you through your virtual reality headset. Then she spews a nice big load all over her sexy tummy and even eats a few bites of this delicious treat. Bianka is happy to share these few moments with you as long as they make you happy and give you some sexual satisfaction. She believes that is why she has been put on this planet ? to make people have better sex lives and to educate them on how tranny women function sexually. She is a sexual being just like anyone else and that much is plain to see from her hot shemale VR porn video right here. Bianka is a special one to watch and anyone who sees her is getting a good treat.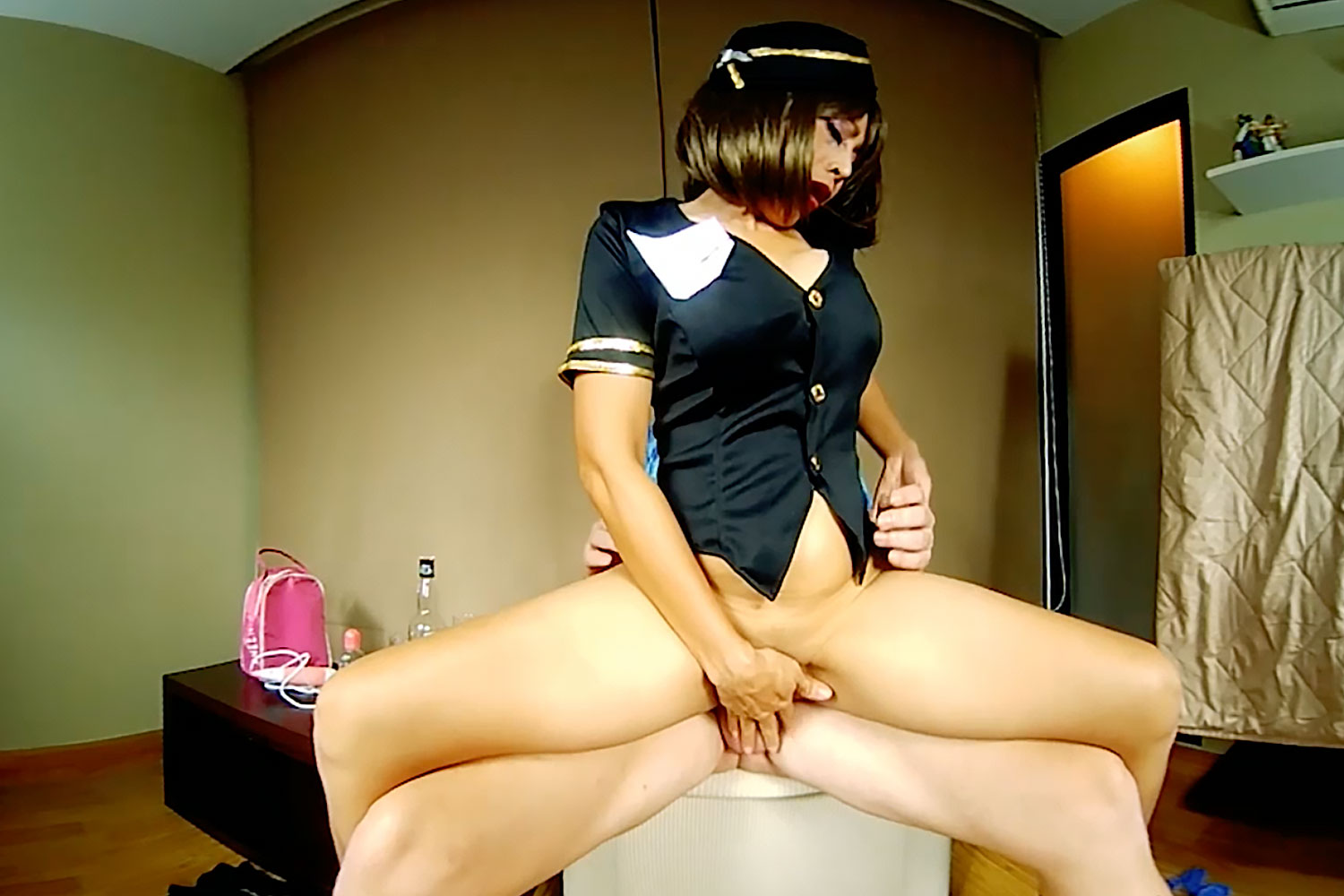 Thai girl fucks a foreigner in her very special way: Mia Love - Normally I just want sit enjoy my drink and listen the music. But this girl comes really close to me and starts begging me for some drink and more. Ok I am a gentlemen and I give her a drink. But she not goes away because she expects I still have money she can grab. With quick fingers she found my money and start teasing me, blowing my dick and fucks me in various ways. Now I start liking this games but she where satisfied and tell me the time is over and let me alone with my hard cock in my hand. Great! Just like I expected from a girl like this. If ever I come back here and she still is "Number 6"…. I kick her ass away.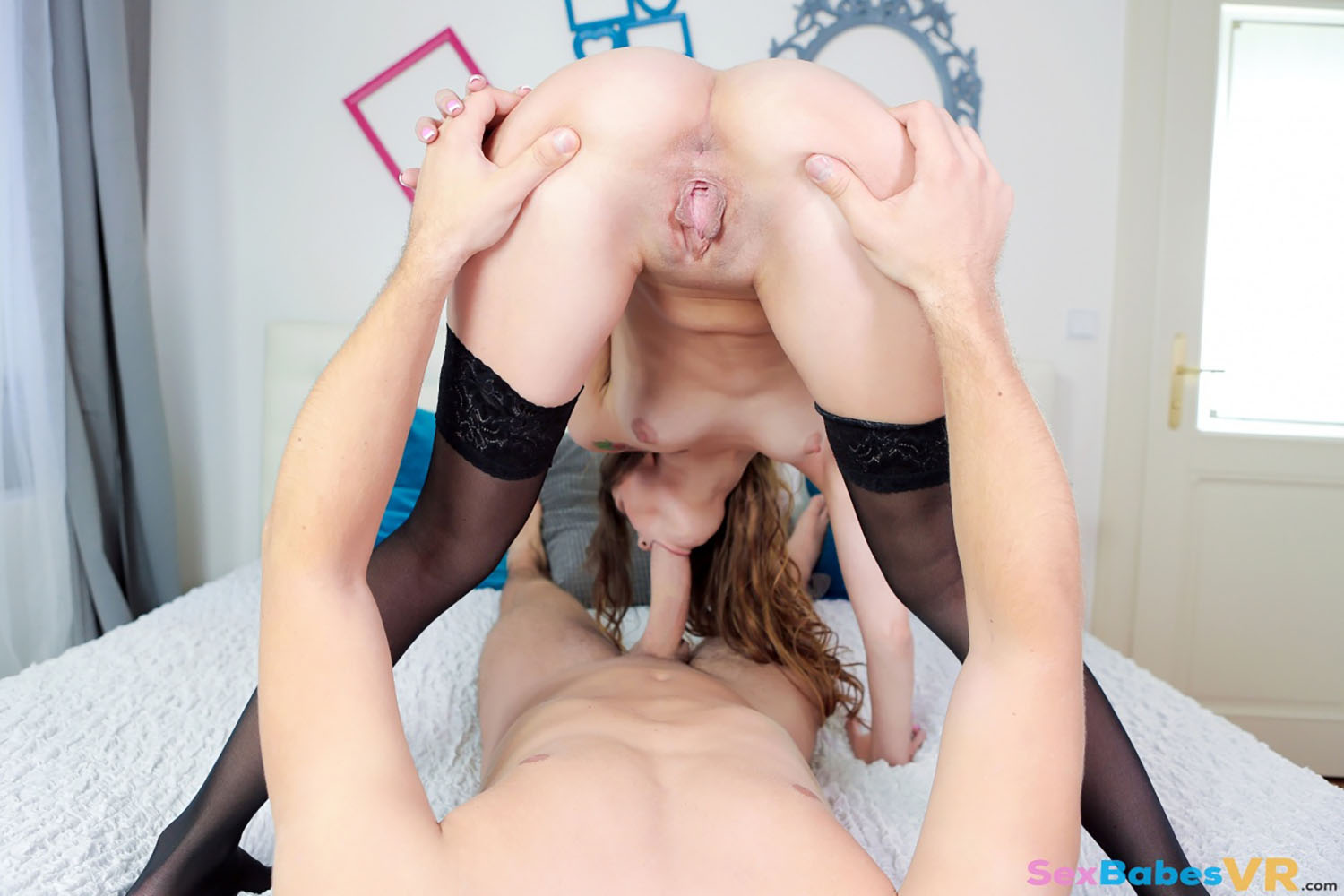 Cum Deep: Elle Rose - Your cock hungry girlfriend Elle Rose has only one thing on her mind. Can you guess what that is? It's simple, all she needs is your fat cock buried deep in her mouth and pussy. After some initial teasing, she strips naked, leaving only her stockings on and starts to please your cock. From sucking you off real good to some deep pussy fucking, Elle Rose will rock your world in Virtual Reality!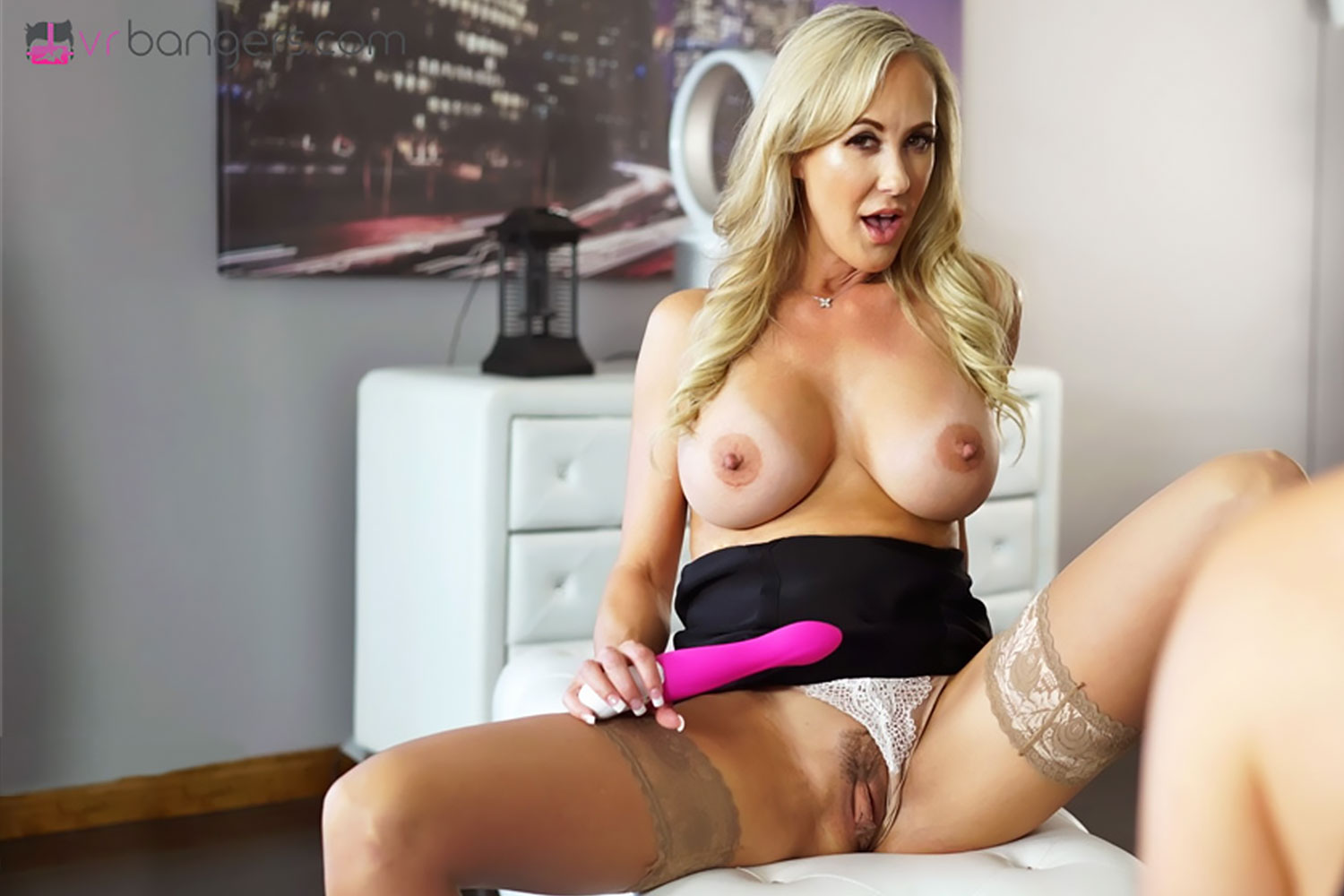 My UnForGIVING Wife: Brandi Love - When your wife is Brandi Love, you had better behave. She is a MILF with curly blonde hair, cute brown eyes and the curves that will make your cock raise up in the air. Her 36C breasts and 36 inch ass look amazing on her 5 feet 7 inch tall frame. Well if Brandi is your wife then why are you fucking up so much? You are lying in bed with a remote control in your hand. It looks like you've been hanging around all day with bottles and food wrappers all around you when Brandi storms in the house. She says that someone at her work says you've been fucking around with some slut named Shelly. Have you?! Well maybe in Virtual Reality, but you don't say whether you have or not, Shelly is the hot secretary at her place of work. Even if you haven't really banged her you've certainly thought about it. So here's what Ms. Love does to punish you. She says you are never going to cum again, at least not from her own pussy. However, she is going to tease you so she sits right in front of you and puts her pussy close your face so close that you can smell it, but you can't touch it. She uses a vibrator on her pussy to get herself off. In this VR Porn video she does a few different positions, and each one makes her moan in a whole new way. Since you're her boyfriend you know that Brandi is a complete slut who loves to masturbate and now that she's mad at you, she is talking to you and telling you how worthless you are while she is getting off. Strangely, this is kind of hot and your cock grows even though your wife is being kind of mean to you… maybe you'll decide to behave like an asshole a little more often.


Want some more? Check the site.
| | | |
| --- | --- | --- |
| | Older | Newer | |