ASR PREMIUM - Free Porn Movies and Free Porn Images
ASR Premium offers Free Hosted Galleries of sample porn movies and photos for FREE. We collect and offer the high quality samples from millions of galleries on daily updating.
Shemale Idol is one of the niche sites in Evil Angel Directors which serves total 24 porn directors' sites and this site features beautiful shemales' hardcore porn.
Special Offer: [Check the Price Here]
[Click on the picture to see all the samples]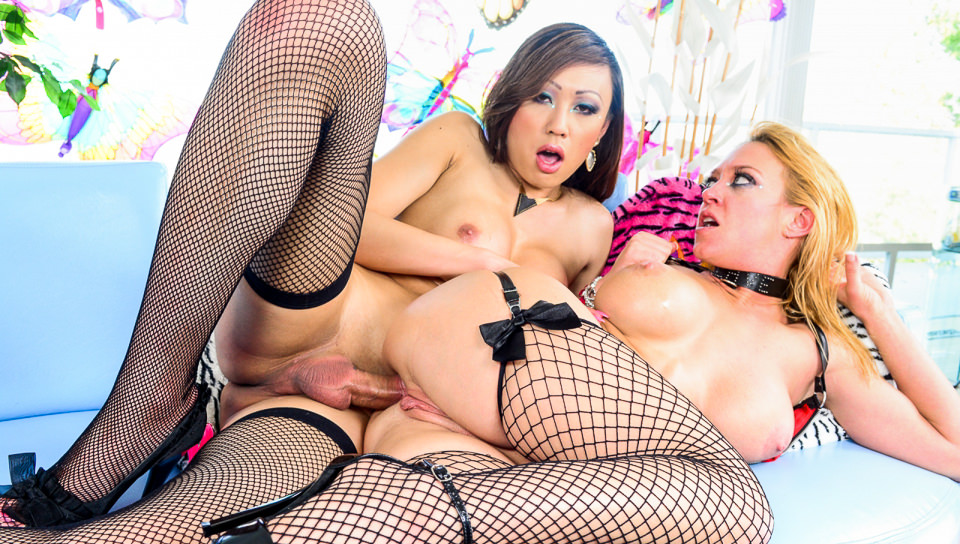 American She-Male X #06, Scene #03: Darling, Venus Lux - Venus Lux, a hot Asian TS, hooks up with genetic girl Darling, a tattooed blonde. Both wear lingerie, fishnets and heels. As Venus shoots photos and flirts, her she-prick expands in her panties. Venus spanks Darling's meaty ass with a riding crop and smacks the big boobs swaying from her zip-up corset. Darling sucks cock and Venus sits on her face for a rim job and a slobbery face fuck. Venus bones Darling on her back, choking her throat. During a stern doggie-style pounding, Venus 'fish hooks' Darling's mouth. Finally Venus grips Darling by the hair and jacks jism onto her face and tongue; Darling licks up the mess.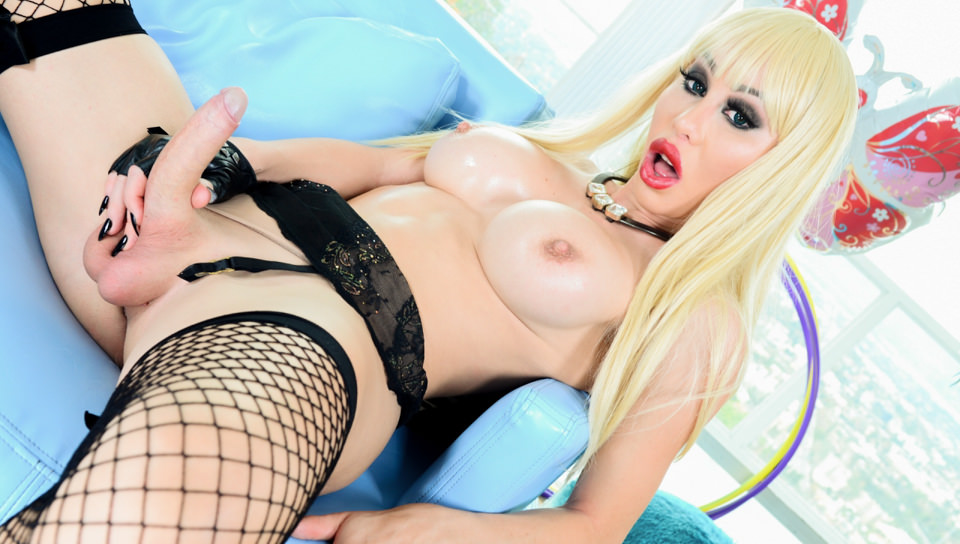 She-Male Idol The Auditions #04, Scene #01: Ximena - Glamorous blonde she-male Ximena auditions for director Joey Silvera in heels, fishnets and lingerie that can't conceal the fun bulge blooming beneath her buttocks. Her seductive swaying displays a round ass and big, oiled boobs to go with her long eyelashes and red, thickly pumped lips. Ximena strokes her stiff, uncut erection and talks dirty about bossy fucking. Once her boner shoots pearly jism onto her tight tummy, she says she fantasized about getting fucked by two guys and displays her curvy cheeks, smooth-shaved asshole, ball sac and dick from behind.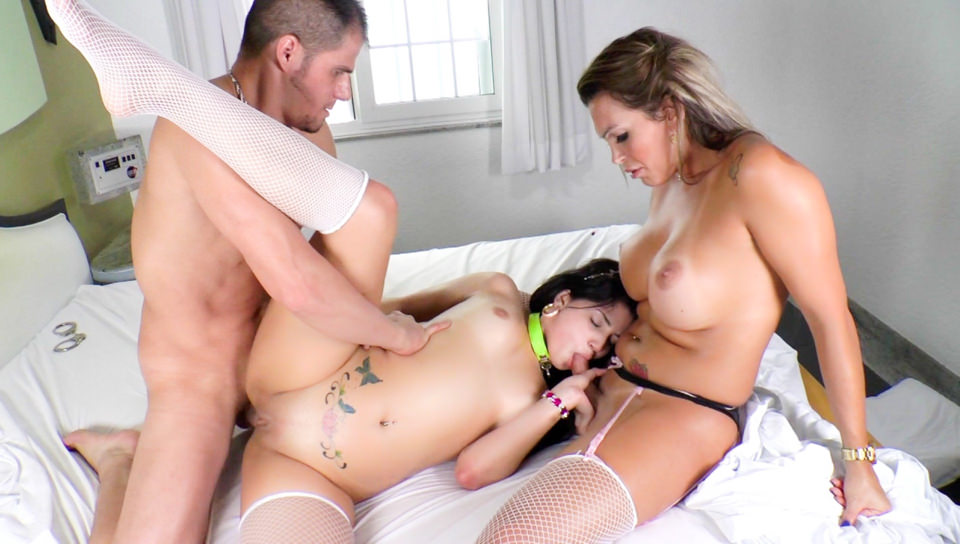 The Next She-Male Idol #09, Scene #05: Britney Bitch, Alex Victor, Julie Berdu - Black-haired, pale-skinned Brazilian streetwalker Britney Bitch is cute in cut-offs, with tattoos and a pierced belly. 'Sheriff' Julie Berdu -- a pretty, tattooed TS with braces -- cuffs and 'strip-searches' Britney, then brings her 'downtown.' At Julie's place she makes up Britney like a doll with lip gloss and a tiara. Julie's massive, tan-lined melons lactate! The sheriff grips Britney's ponytail for a face fuck. Stud Alex Victor makes it a threesome. Britney blows and rims Julie's hard dick as Julie blows Alex. Alex takes a deep-throat face fuck from Julie, who fucks Britney's pussy and asshole. Alex also nails Britney's ass, and takes Julie's too. As Julie plows Britney's bunghole, Britney blows Alex. Julie and Alex cum onto Britney's pierced tongue.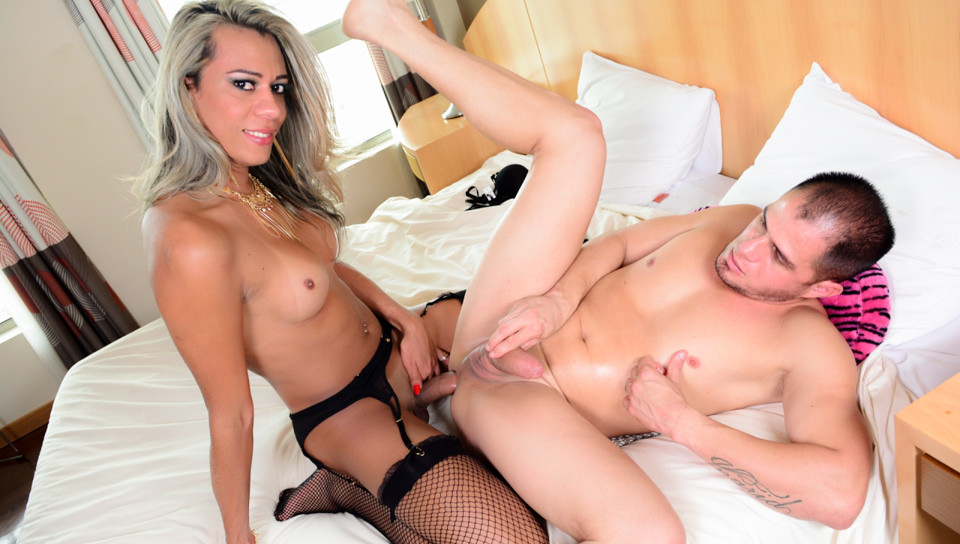 The Next She-Male Idol #09, Scene #04: Alex Victor, Karol Kovalick - Tanned, frosted blonde Karol Kovalic is an ultra-feminine she-male whose black lingerie can't conceal her bulge or the scrotum flesh peeking from behind. Alex Victor kisses her, caresses her tan-lined boobs and pulls her uncut prick out with his mouth. She shoves his head down for a wet blow job, her prick growing huge. Karol sucks Alex's smaller dick and stabs her tongue up his shaved asshole for a serious rim job. She hammer-fucks his ass doggie-style and Alex sucks cock ass-to-mouth. Karol strokes her meat as Alex pounds her ass. He blows her from behind and sits on her face. She plasters his face and head with a huge load and jacks his jism onto her face. They smile for the camera, coated in cum.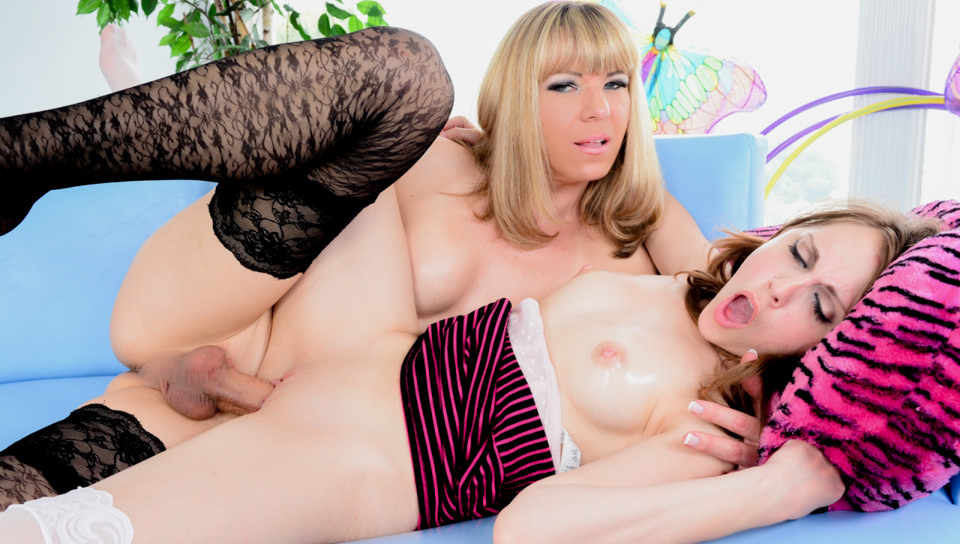 The Next She-Male Idol #09, Scene #03: Nickey Huntsman, Franchezka - Blonde, blue-eyed and bitchy, TS Franchezka sports a leather skirt and bra, lacy stockings and heels as she bosses bespectacled, genetic girl Nickey Huntsman. Adventurous, young Nickey's excited to blow Franchezka's thick, uncut prick and suck her titties. Franchezka sucks Nickey's titties too, then cranks her back with her legs up by her head and fucks her shaved pussy. The girls kiss, and Nickey adds a vibrator to their fucking. Nickey gets to suck she-dick pussy-to-mouth. As Franchezka plows doggie-style, Nickey bites her own hand in ecstasy. Nickey's curved butt bounces as she fucks. Franchezka shoots thick, heavy cream all over Nickey's white face.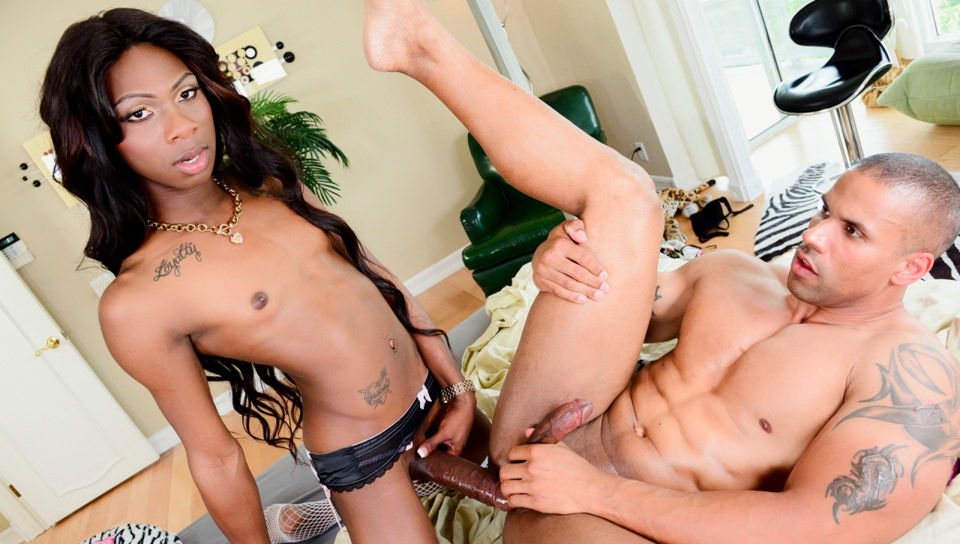 The Next She-Male Idol #09, Scene #02: Robert Axel, Kourtney Dash - Lithe, lush-lipped, feminine black she-male Kourtney Dash is gorgeous in a tight dress, fishnets and high heels. The TS top from Houston shares caresses with muscular Robert Axel, her hard-on expanding in her panties. He sucks her tits and strokes her cock, which grows HUGE as he blows her. Kourtney wetly sucks his smaller prick. Her big, flexing butt, massive ball sac and gigantic, towering prick fill the screen as she fucks Robert's lubed ass. She nails him on his back, stroking his dick, sucking his nipples, kissing his mouth. Intensely she strokes both cocks side-by-side, till Robert's explodes a mess of jism. Kourtney keeps jacking, finally shooting syrupy spunk all over his dick.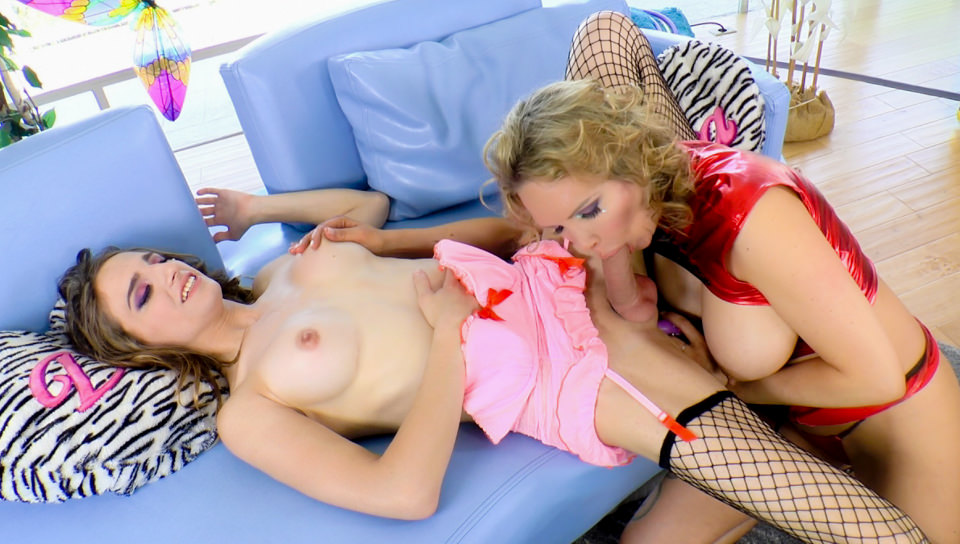 The Next She-Male Idol #09, Scene #01: Rain DeGrey, Kelly Klaymour - Naughty brunette she-male Kelly Klaymour shows director Joey Silvera her feminine charms (and tits) outdoors, feeling vulnerable. Inside, her thick, towering erection fucks a sleeve masturbator as she rubs her nipples. Enter Rain DeGrey, a buxom, wildly tattooed genetic female in heels and flashy lingerie. Rain tweaks Kelly's nipples, manipulates her face and treats that hard dick to lots of sucking and stroking. And Kelly tugs Rain's head up her smooth-shaved ass for a deep, committed rim job. Rain fucks Kelly with fingers and a purple vibe that Kelly tastes ass-to-mouth. Rain rides Kelly's cock till the she-male cums on Rain's tongue, but the girls keep on titty fucking, kissing, screwing, pussy eating ... and laughing.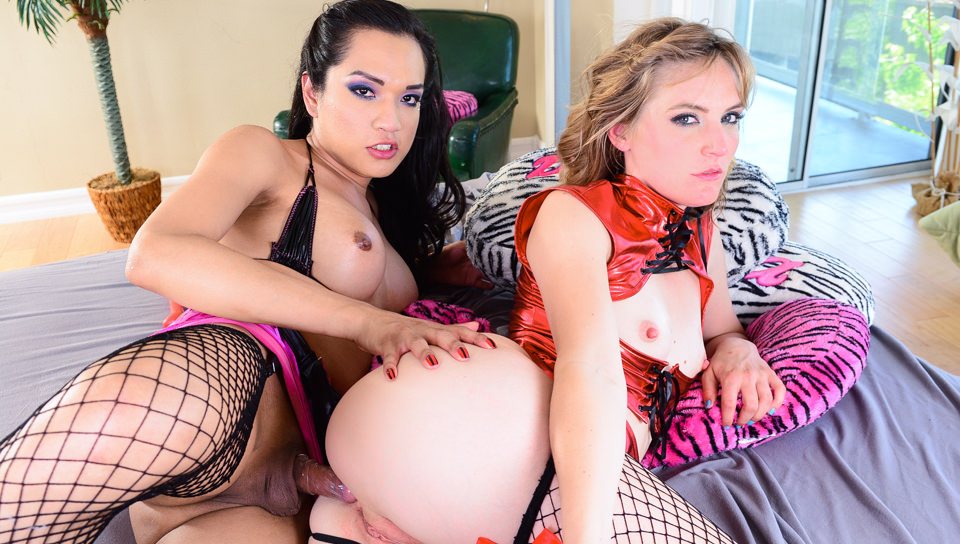 Rogue Adventures #40, Scene #05: Mona Wales, Jessica Fox - Slender blonde sweetheart Mona Wales is a sexy biological female with an irresistible attraction to gorgeous she-males. When she meets Native American ladyboy Jessica Fox, Mona quickly envelops Jessica's twitching cock with her hungry mouth, while lewdly fingering the she-male's tender rectum. Mona receives a gender-bending fuck from the feminine creature, and even takes Jessica's fat dick in her ass! Jessica gets her new friend off using a vibrator, and splatters Mona's face with she-sperm.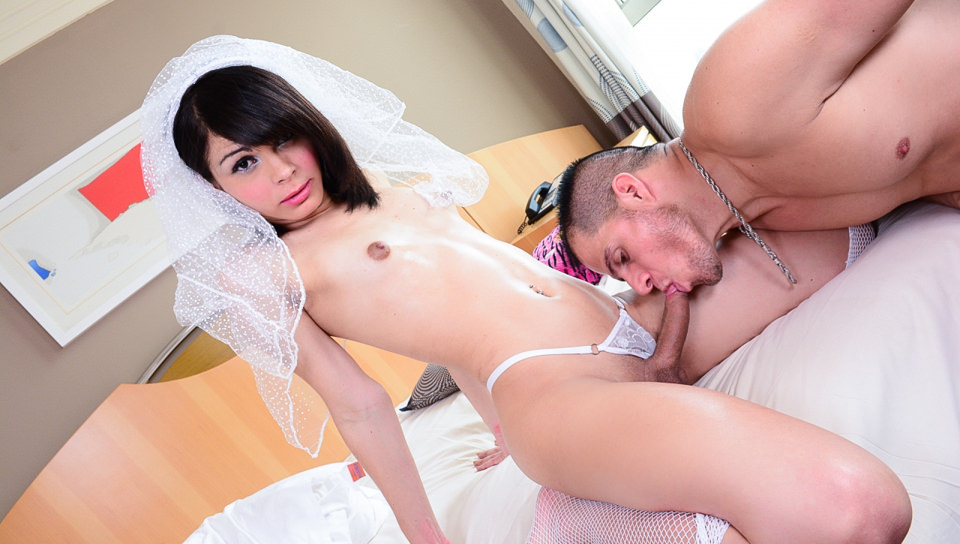 Rogue Adventures #40, Scene #04: Alex Victor, Gabriella Andrade - Sultry Brazilian she-male Gabriella Andrade is wearing a lacy white bridal ensemble; as makeup artist Alex Victor prepares her for her wedding, he can't resist the stiff she-dick poking out of Gabriella's panties. He buries his face between her ass cheeks, and hungrily slurps on her rigid boner. The bride-to-be swallows his huge cock, then gets on all fours for a passionate anal fucking. Gabriella sucks him ass-to-mouth, and jacks herself to orgasm before tasting Alex's hot cum.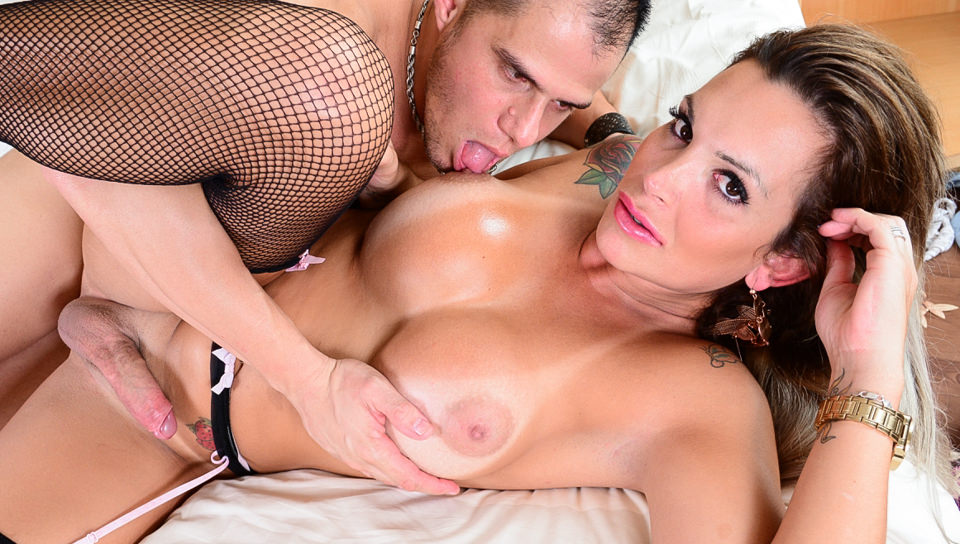 Rogue Adventures #40, Scene #01: Alex Victor, Julie Berdu - Busty Brazilian she-male Julie Berdu meets Latin stud Alex Victor on the street and goes back to his place. Turned on by Julie's braces and huge tits, Alex hungrily devours her throbbing she-cock, shoving his fingers deep inside the thick trannie's big, beautiful ass. Soon he's stuffing her rectum with hard dick. Julie ass-fucks her new date, jacking her tool until it shoots onto her giant boobs. Alex fills her mouth with hot cum.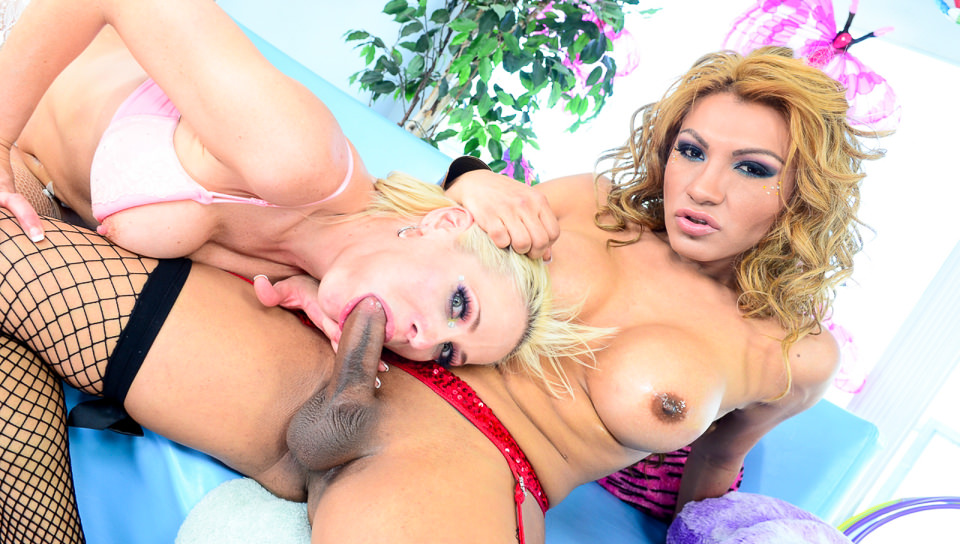 American She-Male X #06, Scene #05: Mikky Lyn, Jessy Dubai - Buxom blonde Mikki Lynn wants to be owned by a master, but no man or woman has been up to the task. Dominant, stacked TS Jessy Dubai rises to the challenge. She eats, fingers and face-fucks Mikki with breath control, pinching the slut's nose closed. After a sloppy blow job, Mikki deeply tongues the trannie's bunghole, and there's a spit-slick titty fuck. Jessy fucks Mikki, pounding her into the couch, and after pussy-to-mouth cocksucking, filthy-mouthed Jessy slams Mikki's asshole doggie-style. While porking her ass, Jessy manhandles Mikki's clit. Mikki masturbates, squirts and sucks dick ass-to-mouth. Finally, Jessy jacks her jism onto Mikki's tongue, and Mikki licks up the excess.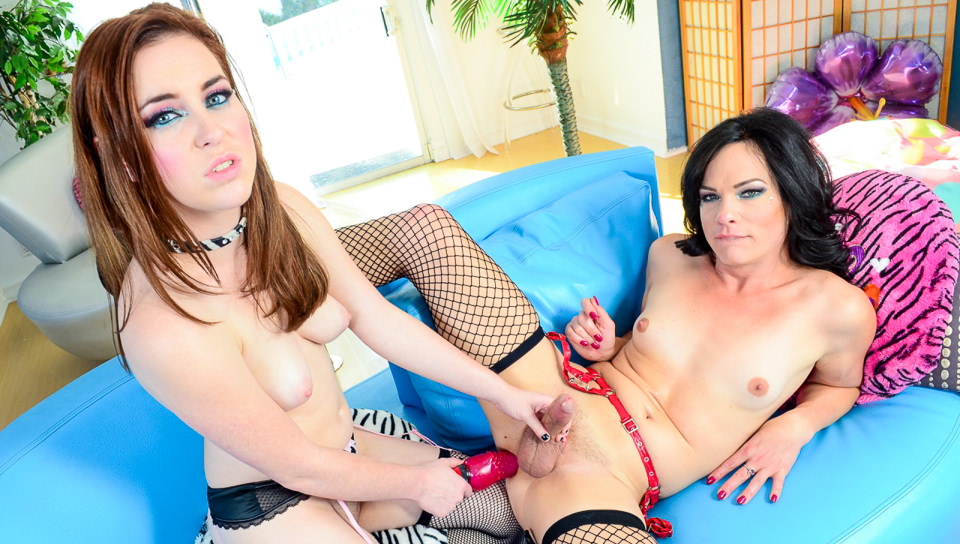 American She-Male X #06, Scene #04: Jessie Parker, TS Gina Hart - Two second cousins hook up for a scene -- but the last time blue-eyed brunette Jessie Parker saw TS Gina Hart, Gina was a boy! Gina's red panties can't hide her penis. Girly Jessie's little titties are oiled up for Gina to suck. The ladies French, and Jessie blows Gina's prick with ample slobber. Gina eats and fingers pussy; Jessie gives a hand job. As Jessie buzzes her clit with a vibe, Gina fucks her. The dark-haired she-male withdraws to stroke a syrupy load of jism, which dirty Jessie spreads into her own skin. After more fucking, Jessie sucks dick pussy-to-mouth. Jessie pounds Gina's ass with a big dildo, which Gina sucks ass-to-mouth. With a vibe up her ass, Gina beats off again.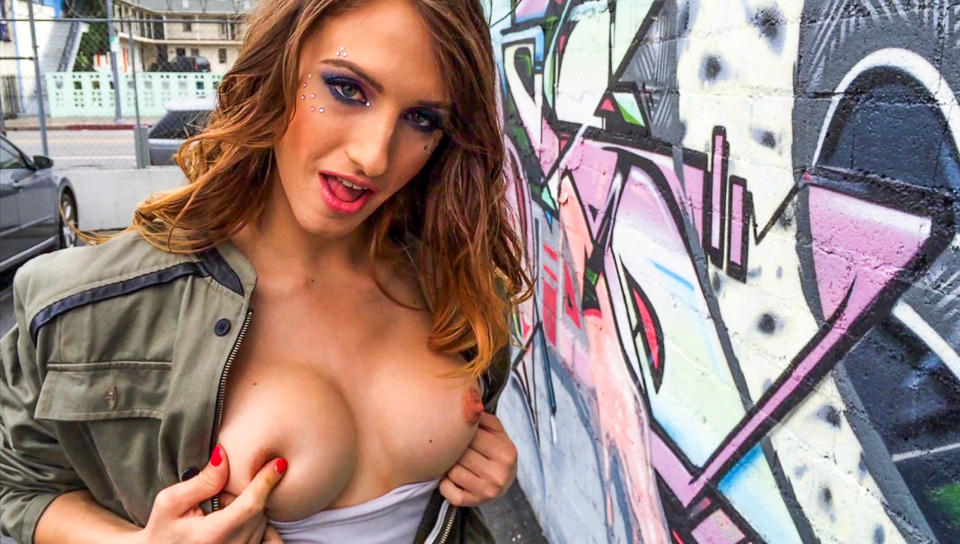 American She-Male X #06, Scene #02: Tinslee Reagan, Kelly Klaymour - Kelly Klaymour is a pretty brunette TS with dark eyes and arty make-up. She flashes her nipple hard-ons outdoors and director Joey Silvera drives her through Hollywood to his place. She unleashes her tan, thick prick and strokes the turtleneck foreskin. Longhaired, girly blonde Tinslee Reagan French kisses Kelly, gives her a spit-slick blow job and fingers the she-male's butthole. Tanned, dirty-talking Tinslee tongues Kelly's anus and Kelly stuffs her thick prick into Tinslee's twat. The girls apply vibrators to Tinslee's girl holes. With a toy up her ass, Kelly's cock gets sucked sloppy. Kelly jerks a syrupy load of semen onto Tinslee's face and into her mouth.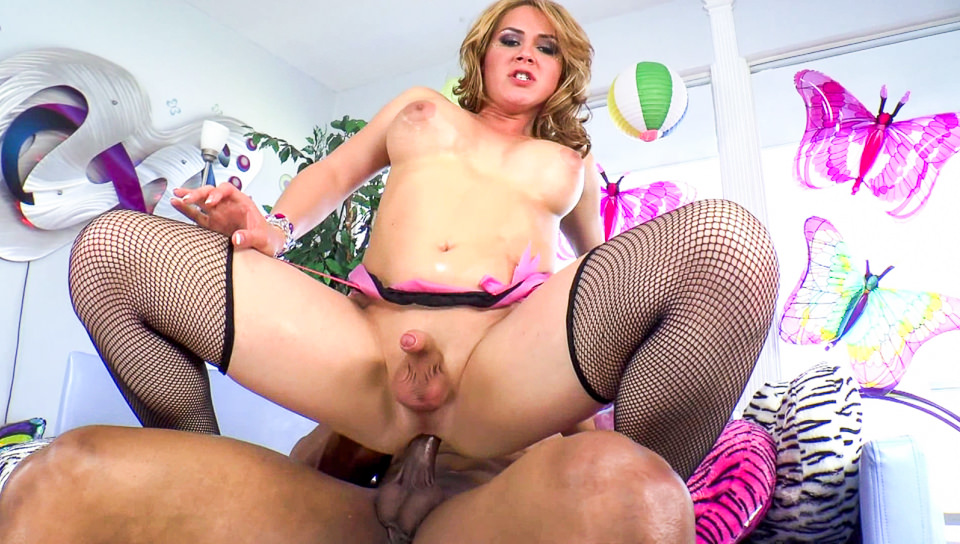 American She-Male X #06, Scene #01: Robert Axel, Hazel Tucker - In frilly, feathered lingerie and fishnets, blue-eyed blonde TS Hazel Tucker dances for muscular stud Robert Axel. They French kiss and he sucks her big boobs. Robert kneels to deep-throat her little, clean-shaven erection and tongue her bunghole. She blows his black boner and sucks his balls. As Robert fucks her meaty ass, Hazel jacks off and licks up strings of pre-cum. She rides his meat, her own dick wagging, flesh slapping, and strokes a syrupy load all over his balls. Hazel tastes her own jism. She rims his ass, making eye contact with the camera, and jacks his jism into her mouth.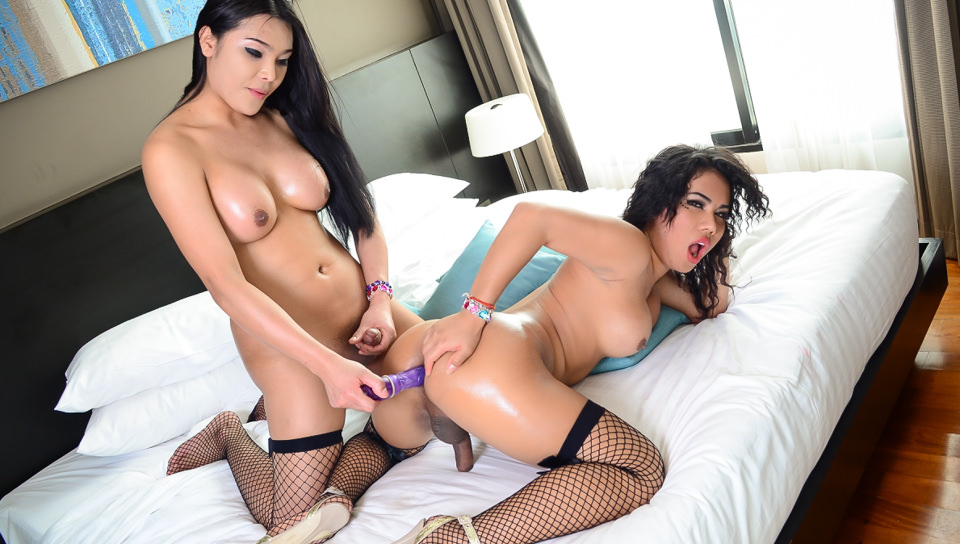 Ladyboy Adventures #03, Scene #09: Fanta, Jasmine H - Jasmine is a dark-haired, tanned Thai ladyboy in a black bikini. Her longhaired she-male friend Fanta sports big boobs that her bikini can't contain ... and a righteously huge prick! The girls make out and jack off together. Jasmine sucks Fanta's cock and when Fanta returns the favor, Jasmine grips her head. Fanta gives Jasmine an ass reaming as Jasmine masturbates. Fanta pokes Jasmine's greased anus with a vibrator till Jasmine jerks out thick rivulets of semen. Jasmine porks Fanta's butthole with that vibrator and Fanta furiously strokes sperm blasts from her dark prick.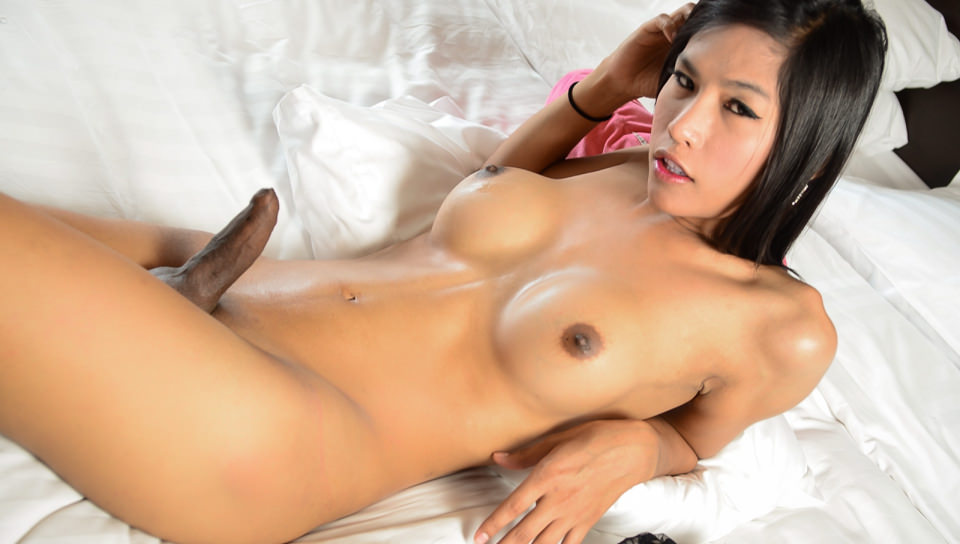 Ladyboy Adventures #03, Scene #08: Nat - In her fashionable, lacy mini-dress and fishnet stockings, tanned Thai ladyboy Nat strikes a very femme figure ... even with a big, bulging protrusion making a tent in her dress and a dark scrotum just visible above her stockings. Director Joey Silvera reveals her big, globular boobs topped with pretty nipples and then a monster cock with its head buried in foreskin. Nat kicks back to jack off and fuck herself with a vibrator. She strokes till that uncut dick spurts semen onto her torso and rubs the sperm into her skin.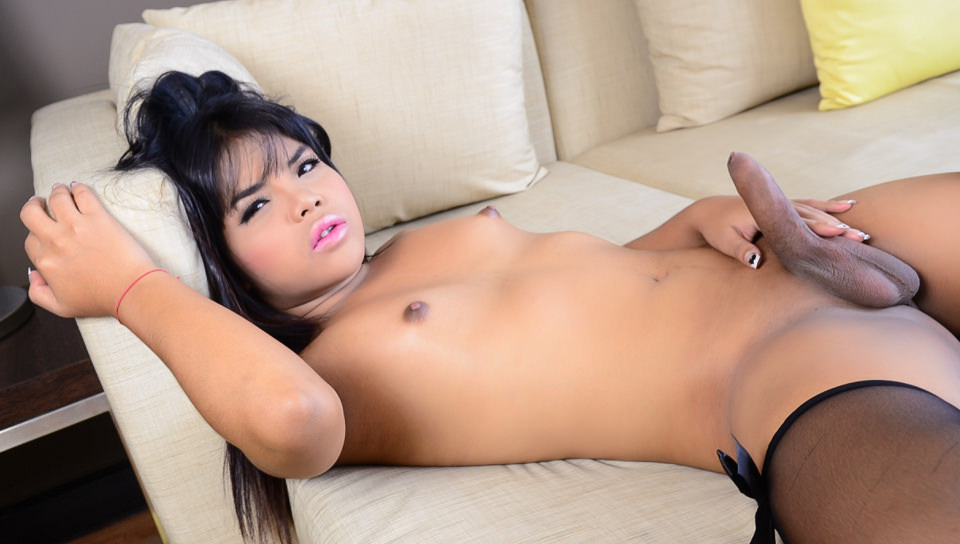 Ladyboy Adventures #03, Scene #07: Evesa - Eve is a gorgeous, ultra-feminine Thai ladyboy with silky black hair. She seductively applies her make-up and lipstick, then teases director Joey Silvera's camera with her titties and the thick prick her panties can't contain. Eve lies back to massage her breasts and stroke her uncut dick. She nudes up and fucks her greased asshole with a pink vibrator. Eve jacks a load of girl-jism onto her tummy and keeps tweaking her nipple in ecstasy, finally breaking into a big, satisfied smile.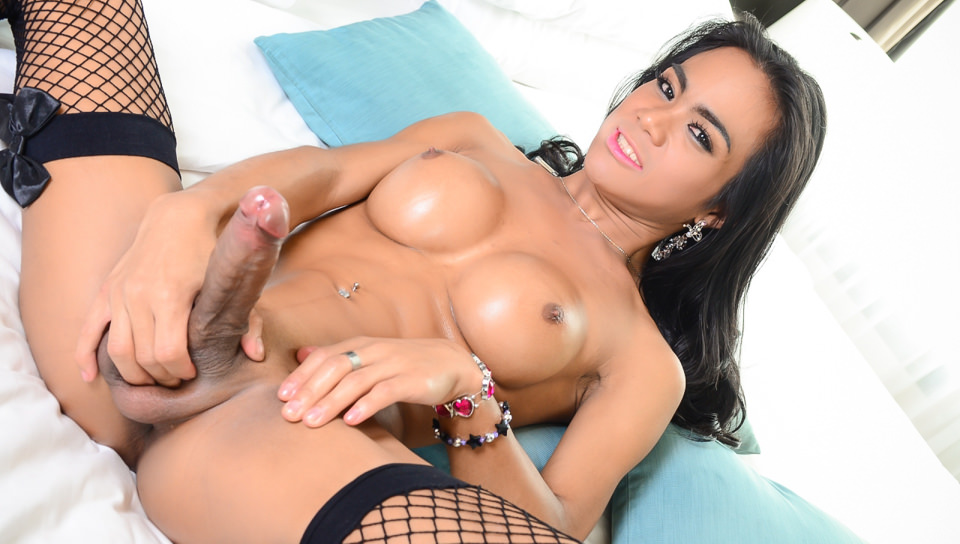 Ladyboy Adventures #03, Scene #06: Cartoon - Cartoon is an ultra-femme Thai ladyboy with a gorgeous face and a trim, tanned body in fashionable lingerie, fishnet stockings and shiny, leather heels. She teases director Joey Silvera's camera, showing off a lovely body ... and the huge, uncut brown boner that suddenly bounces out of her panties. She jacks her joint, greases up her scrotum and shaft and fingers her smooth anus. After a long session of stroking her thick, towering meat, Cartoon's uncut prick shoots dollops of white semen onto her shiny black shoe, and she squeezes more cream from her foreskin.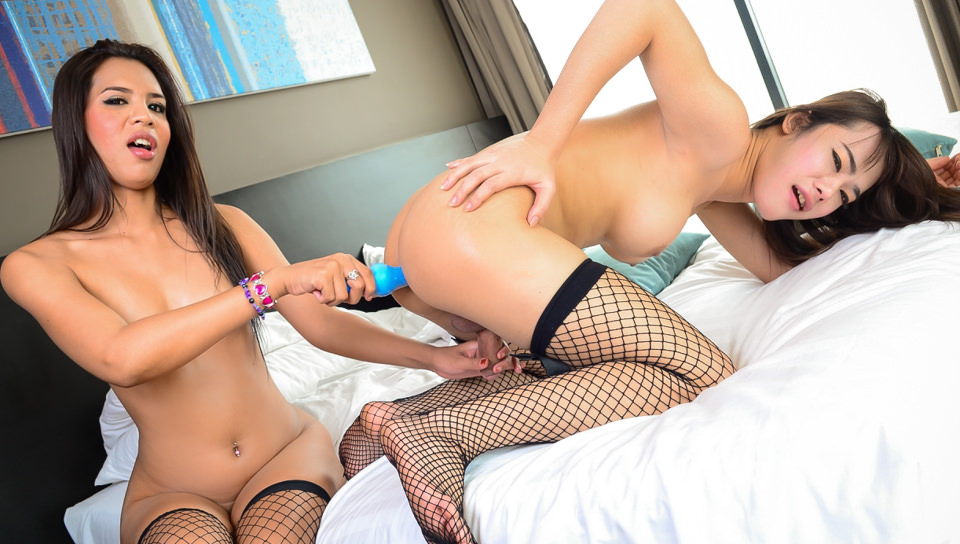 Ladyboy Adventures #03, Scene #05: Nicole F, Bee - Bee and Nicole are cute Thai ladyboys in black bikini tops, fishnets and cut-off shorts -- Nicole is darker, Bee has bigger boobs. They show their femme forms for director Joey Silvera's camera, then come together to make out, rubbing titties and lacy panties. Soon they're sucking breasts, jacking dicks, and then comes the cocksucking. Bee fucks Nicole with a dildo as Nicole jacks off, till she squirts semen from her uncut dick head. Nicole fucks Bee's asshole as Bee masturbates. Finally Bee squirts clear droplets of semen all over herself, and her curved boner bounces with no hands.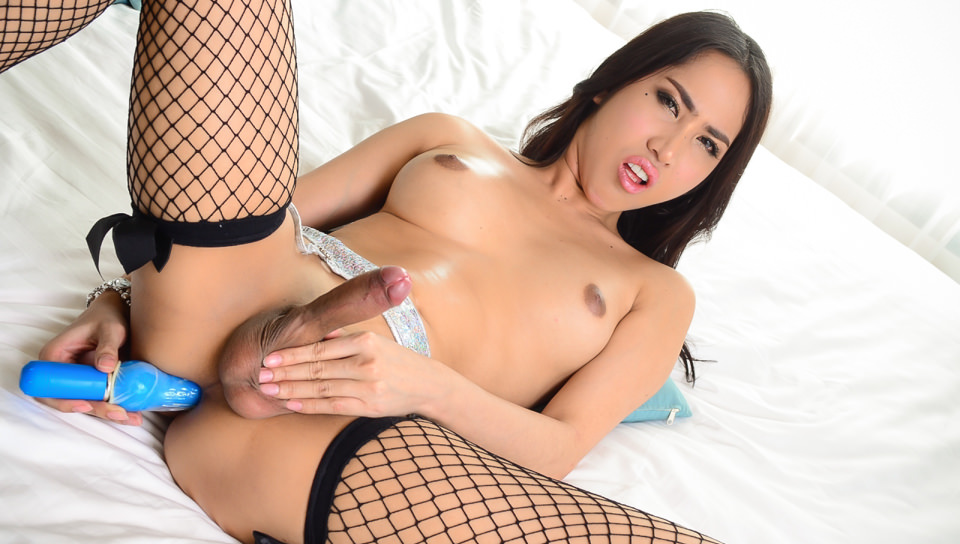 Ladyboy Adventures #03, Scene #04: Balloon - Balloon is a feminine Thai ladyboy in a bikini top, fishnet stockings, heels and little jean shorts. She teases director Joey Silvera's camera, revealing a tanned, trim body with round titties and an insistent scrotum that no thong of denim will conceal. Balloon jerks her uncut, brown penis hard while prying a blue vibrator up her bunghole. She climaxes, shooting creamy semen onto her fishnets and rubbing the sticky sperm into the skin of her flat abdomen and bulging boobs.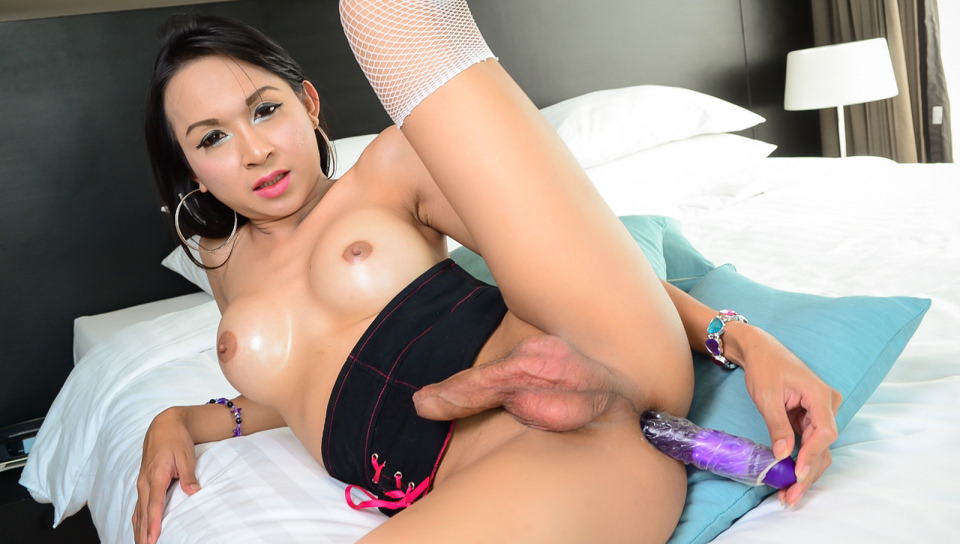 Ladyboy Adventures #03, Scene #03: Namtan - Namtan is a slim, feminine Thai ladyboy with straight, silky black hair, big hoop earrings and fishnet stockings. By a hotel room window overlooking Bangkok she teases director Joey Silvera's camera, showing off round titties, hard nipples and a tanned ass. An up-skirt shot reveals bulging, lacy panties. Namtan jacks her brown, uncut prick hard. She continues masturbating as she fucks her ass with a purple vibrator. Finally she jerks a creamy load into her hand and rubs the sauce on her torso.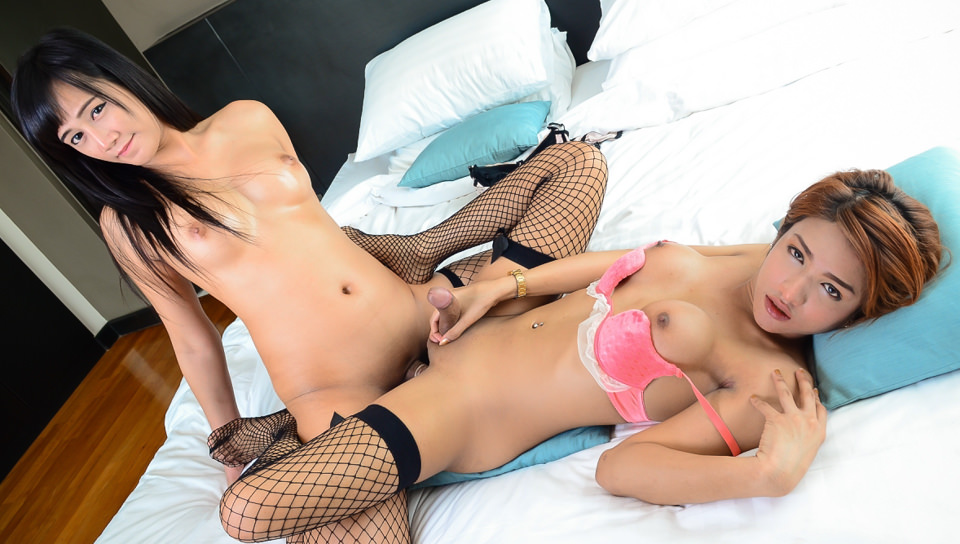 Ladyboy Adventures #03, Scene #02: Gift, Nice - Nice and Gift are tasty, tanned Thai ladyboys in bikinis and fishnet stockings -- Gift has long, silky, black hair, while Nice is a shorthaired redhead with a big bulge in her panties. The girls make out, rubbing and tasting titties. Nice jacks her meaty, floppy brown dick hard; Gift presents her own low-hanging balls and jerks her penis erect. The girls suck each other's prick and jack off. Nice fucks Gift hard, with her leg cranked up to her head. Gift plows Nice's ass as Nice masturbates. Side-by-side they take toys up their rears. Nice shoots pearls of semen, and Gift blows a week's worth of cream.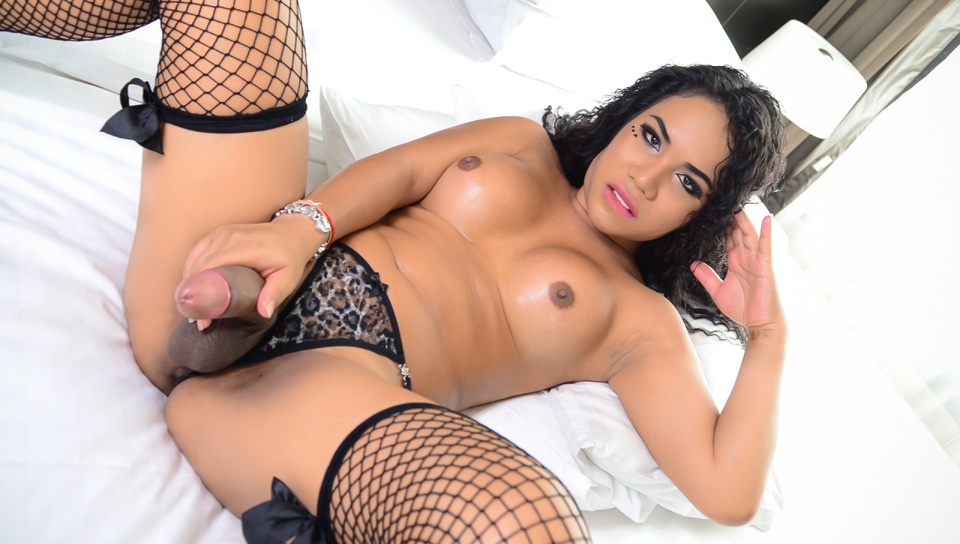 Ladyboy Adventures #03, Scene #01: Jasmine H - Jasmine is a gorgeous Thai ladyboy in fishnet stockings, heels and a black bikini that can't contain her bulging ball sac. The longhaired, tanned TS flashes her dark eyes and lovely smile for director Joey Silvera; she teases his camera with her titties, ass and big, hard dick. Jasmine jacks her curved, brown erection and fingers her bunghole before fucking her own ass with a vibrator. With that toy buried, she jacks pearls of jism from her uncut prick.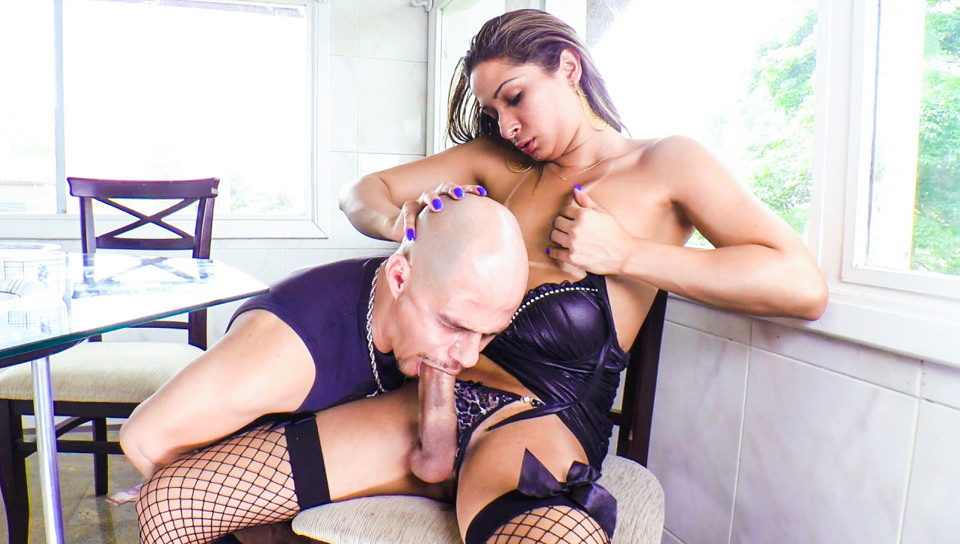 The Next She-Male Idol #08, Scene #05: Alex Victor, Bianca Hills - Gorgeous Bianca Hills is an ultra-femme Latina TS in heels, fishnets and a slinky, black mini-dress that nearly reveals her secrets... In angry Portuguese she confronts studly Alex Victor. Bianca pinches his nose and drives his head down on her big boner. He deeply tongues her shaved ass and throws a vigorous, standing, doggie-style fuck into her as she furiously jacks her thick erection to orgasm. Bianca stays diamond-hard as Alex continues porking her ass and choking her. The bewitching she-male kneels to deep-throat his huge hard-on and jacks his jism all over her pretty face.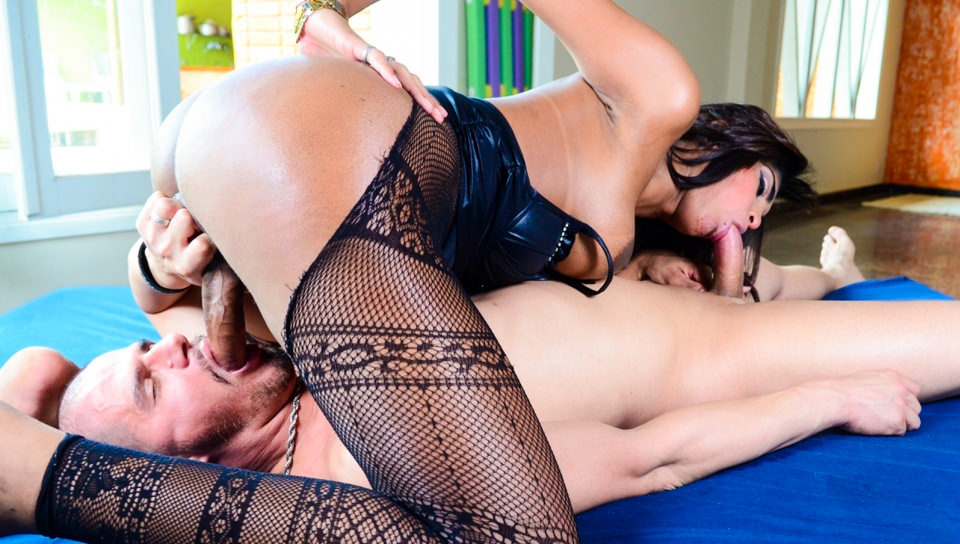 The Next She-Male Idol #08, Scene #04: Alex Victor, Jennifer Rios - Curvy, deeply tanned Jennifer Rios is a femme Brazilian she-male in stylish lingerie and fishnets that show off her bonus package. She strokes her cock hard, seducing Alex Victor. They kiss; he sucks her round tits and thick boner. Jennifer sits her big ass on his face for a rim job and a backward blow job before leaning forward to make it a 69. Horny Jennifer pounds Alex into the mattress (and he sucks cock ass-to-mouth). Alex nails Jennifer's ass as she masturbates. She creams his face and then jerks his jism onto her boobs.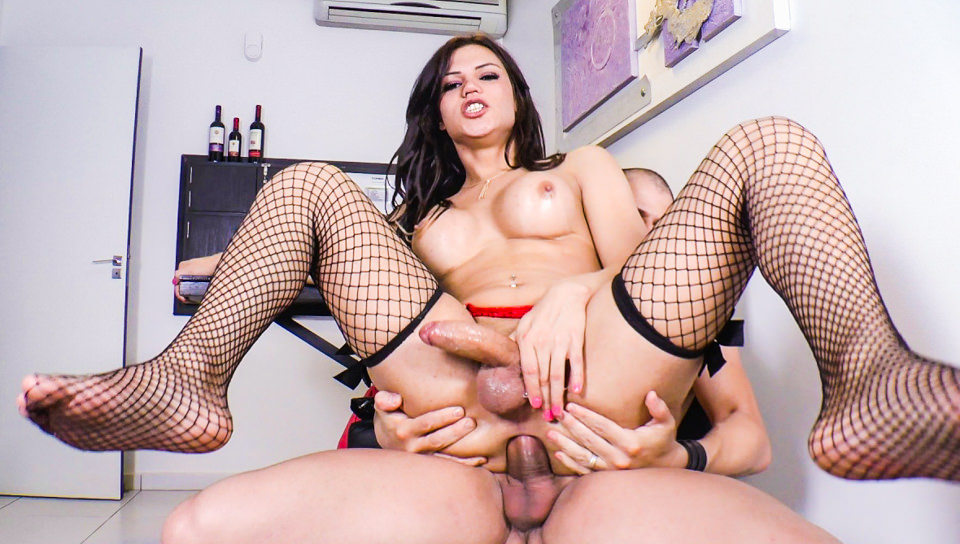 The Next She-Male Idol #08, Scene #03: Alex Victor, Danielly Colucci - Danielly Colucci is a stunning Latina TS with long, gorgeously highlighted hair. She's working a Brazilian alley in a leather jacket and shades when 'officer' Alex Victor cards, cuffs and kidnaps her! He 'frisks' her shapely ass and strips her down to fishnets and leather panties with a tempting bulge. Alex blows her erection and shaved balls and tongues her asshole. She takes a deep-throat face fuck and, with Alex perched over her head, gives a slobbery rim job. They hammer each other's ass (he sucks cock ass-to-mouth). Riding dick, Danielly jacks out her jism but keeps bouncing. Alex cums on her tongue.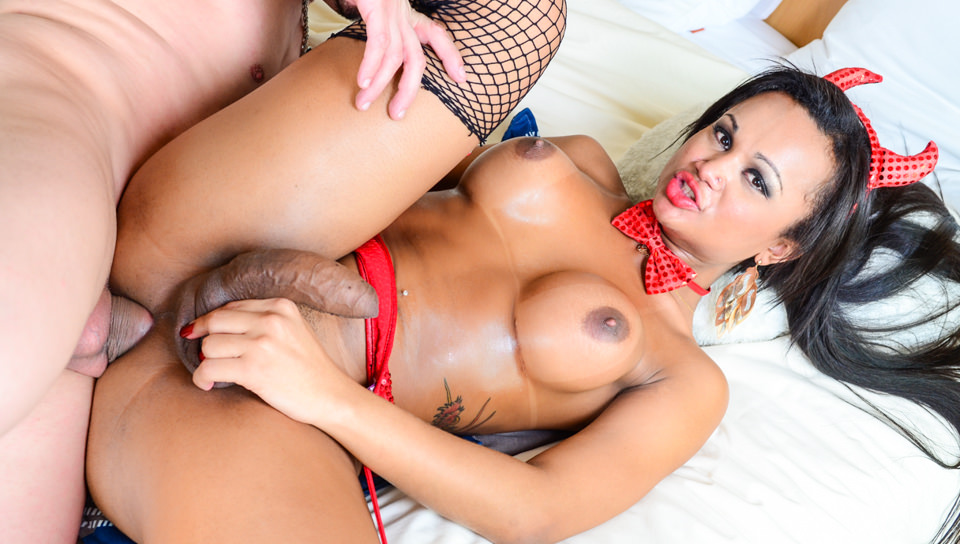 Big Tit She-Male X #02, Scene #05: Andressa Lyra - Dancing seductively in cute devil horns and skimpy lingerie, sexy Brazilian she-male Andrezza Lyra is a young, busty bombshell hot for Latin stud Tony Lee. Tony wraps his lips around the big-assed babe's stiff she-dick, orally worshiping her meaty member; she does the same. She thrusts her big boner up the muscular dude's tight bunghole, reaming his ass. After rudely sodomizing her boy-toy, Andrezza takes his cock into her plump booty and enjoys a passionate anal ride, climaxing with a spermy load on Tony's face. Finally, he titty-fucks the adorable T-girl and splatters her cleavage with creamy cum.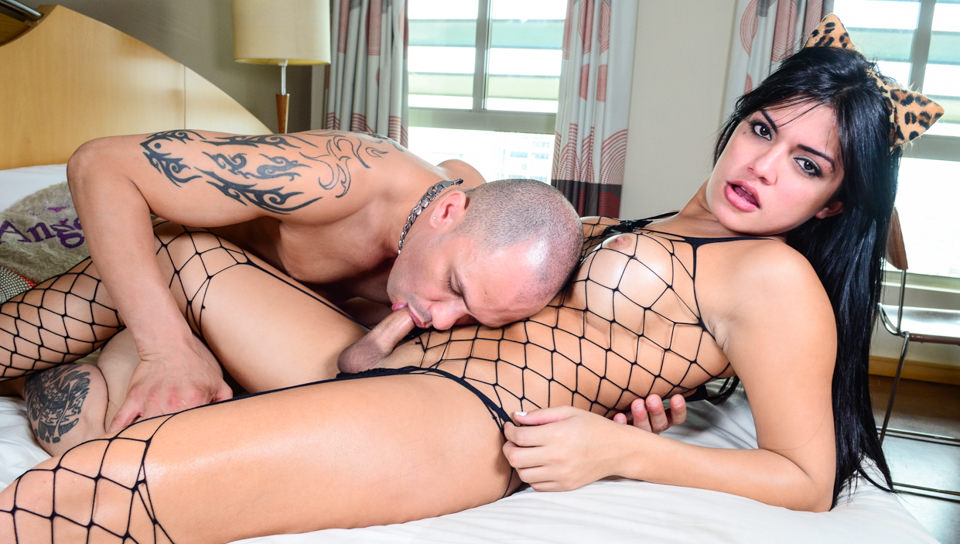 Big Tit She-Male X #02, Scene #04: Beatricy Velmont - Wearing a colorful, silky dress, curvaceous Brazilian T-girl Beatricy Velmont is a frisky, big-assed teenager hot for Latin stud Tony Lee. Beatricy strips down to her fishnets, and soon the horny couple is trading oral service, hungrily slurping each other's hard cock. The sultry she-male buries her stiff dick inside her boyfriend's tight ass, reaming him doggie-style. She rides Tony's big boner and sucks cock ass-to-mouth. Pulling her throbbing meat out of his bunghole, Beatricy spurts hot cum onto his thigh. She laps it up, then milks out another tasty load from his cock!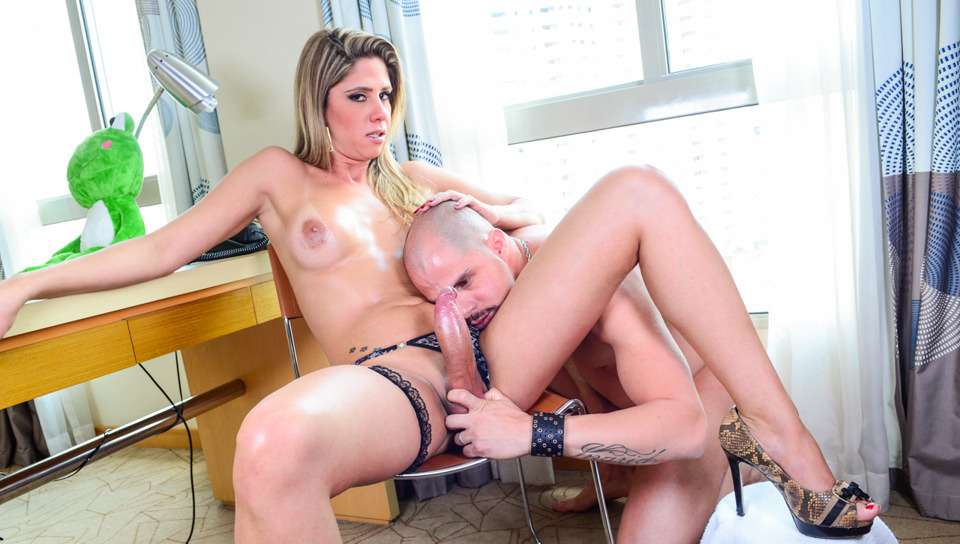 Big Tit She-Male X #02, Scene #03: Nicole Bahls - Strutting around downtown in a fashionable, short skirt, sultry Brazilian she-male Nicole Bahls is a porn newcummer with a hunger for man-ass. Latin stud Alex Victor can't keep his hands off this sultry T-girl's big, firm tits. He buries his face in Nicole's ass and wraps his lips around her fat, throbbing she-cock. Soon Nicole is ramming her thick shaft up the macho dude's tight asshole. She takes Alex's meat up her sweet butt. The gender-bending fuckers suck each other's big dick, and each is rewarded with a tasty load of sperm.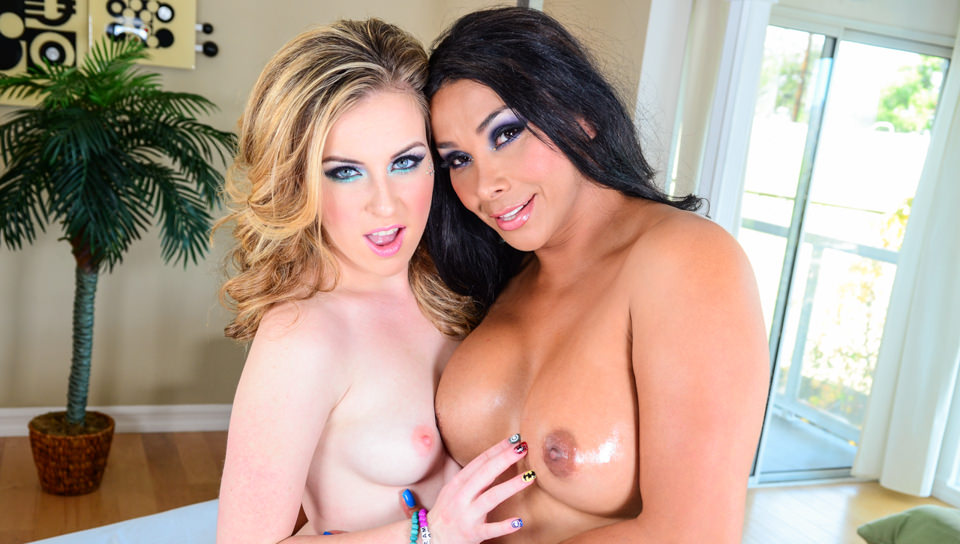 Big Tit She-Male X #02, Scene #02: Jessie Parker, Vanity - Dressed in lingerie and fishnet stockings, sultry Latina she-male Vaniity squeezes her big, firm titties and strokes her juicy, uncut cock in anticipation. Pretty blonde biological girl Jessie Parker, unable to resist this TS beauty's throbbing she-meat, wraps her lips around the shaft and slurps Vaniity's stiff dick before riding that boner and buzzing her pussy with a vibrator. Jessie worships Vaniity's sensitive ball sack and rims her anus and anally invades the lady-boy legend's tight ass with a huge dildo. Vaniity spurts a hot load of gooey she-cum all over herself.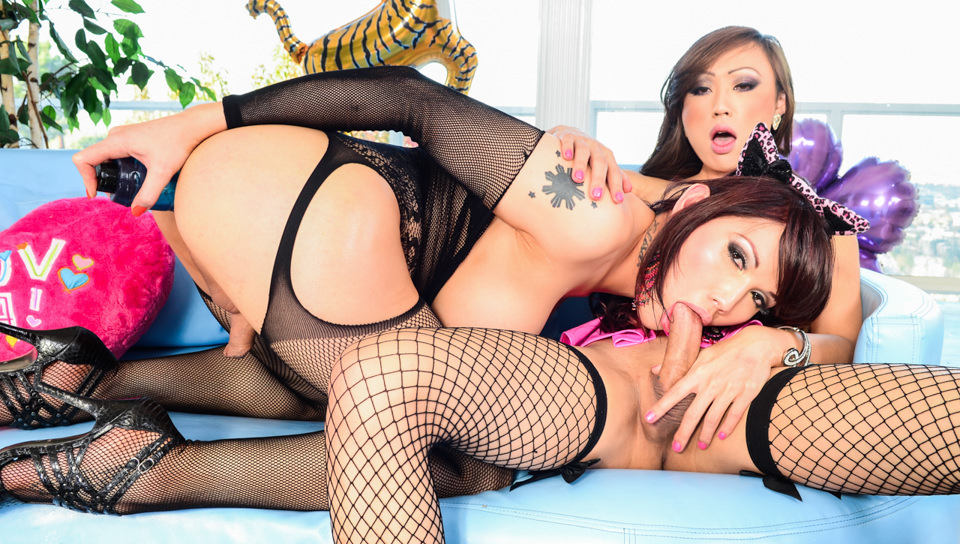 Big Tit She-Male X #02, Scene #01: Eva Lin, Venus Lux - Dolled up in stretchy fishnet that can't conceal her huge, firm tits, exotic Filipina TS temptress Eva Lin squeezes her globes and releases from skimpy panties her she-cock with its meaty foreskin. Sultry Asian she-male Venus Lux wraps her lips around Eva's stiff dick to slurp her girlfriend's shaft. Eva sucks Venus's throbbing boner in a wet, slobbery blow job. Next, Venus reams Eva's big ass with thick anal toys, making her sphincter gape. She butt-fucks the buxom lady-boy in a sensuous session of backdoor fun that climaxes with a hot, gooey load of cum in Eva's mouth.


Want some more? Check the site.
| | | |
| --- | --- | --- |
| | Older | Newer | |