ASR PREMIUM - Free Porn Movies and Free Porn Images
ASR Premium offers Free Hosted Galleries of sample porn movies and photos for FREE. We collect and offer the high quality samples from millions of galleries on daily updating.
Shemale Idol is one of the niche sites in Evil Angel Directors which serves total 24 porn directors' sites and this site features beautiful shemales' hardcore porn.
Special Offer: [Check the Price Here]
[Click on the picture to see the samples]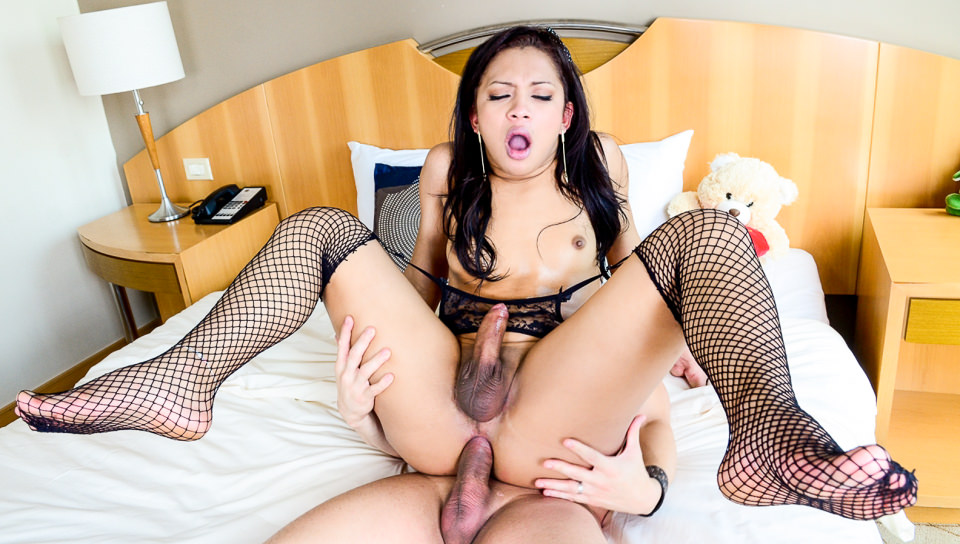 The Trans-Xperience #02, Scene #04: Alex Victor, Gabriella Lira - In fishnets with her bubble butt and front package bulging from her garter belt, Gabriela Lira is one hot TS. The tattooed Latina with the cute, little titties intrigues stud Alex Victor in a tight leather party dress; they make out and he pulls out her erect prick to suck. She pushes his head down, and Alex's deep-throating coats her scrotum in slobber. After some mouth kissing, Gabriela blows Alex's big boner and fucks his ass, stroking his shaft. They trade: He porks her asshole as she strokes her uncut dick. She straddles, sits on the meat and humps, skin slapping, breathing hard. Gabriela plows him doggie-style and spurts creamy wads on his ass, up his back. She jacks his jism between her tits and orally cleans his cock.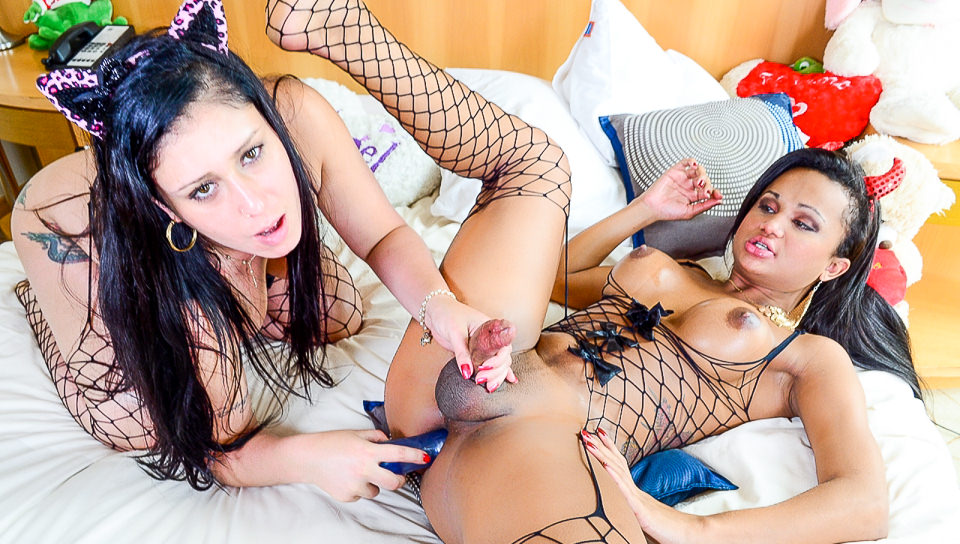 The Trans-Xperience #02, Scene #05: Luana Azejedo, Andressa Lyra - Buxom, fun loving Latina TS Andrezza Lyra cavorts in a full-body fishnet that shows off her total bubble butt, fabulous tattoo work and the thick meat her G-string can't contain. Voluptuous genetic girl Luana Azevedo wears a matching fishnet. The girls make out and mouth kiss. Luana strokes and blows Andrezza's fat prick; Andrezza tongues Luana's butthole. Andrezza fucks Luana's pussy doggie-style, with Luana's big ass bouncing as she rides. She masturbates as Andrezza's she-prick invades her backdoor, and Luana sucks dick ass-to-mouth. Luana stuffs a toy up Andrezza's bunghole and then feeds it to her. Andrezza strokes out creamy semen, plays with her vibrator in the spunk and licks the toy clean.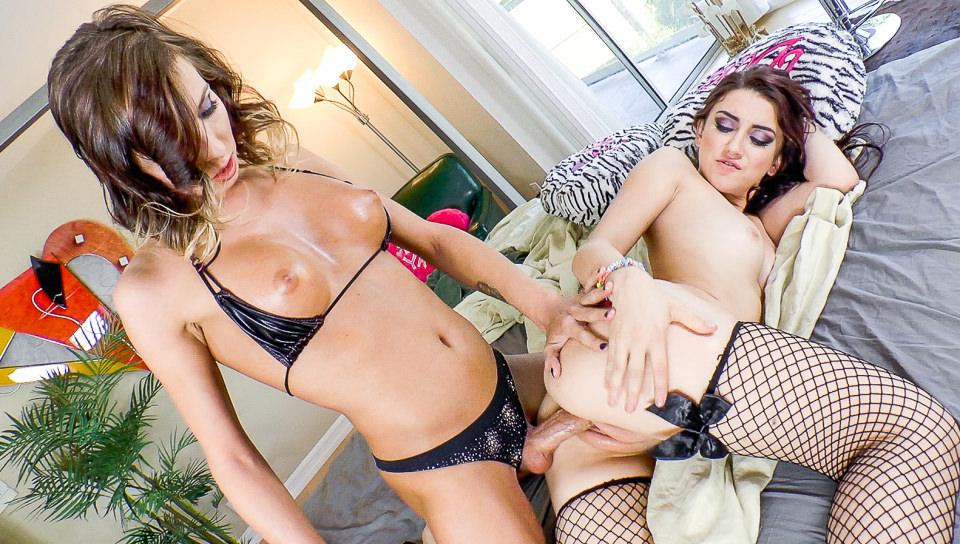 The Trans-Xperience #02, Scene #03: Mandy Muse, Sienna Grace - Sienna Grace is a tanned, super-feminine TS with a gorgeous face and legs. She hooks up with longhaired genetic girl Mandy Muse, who loves trans girls. Mandy sucks Sienna hard and the girls kiss. Mandy looks so hot with her big butt and puffy pussy poking out of a tiny mini-skirt ... Sienna can't resist cumming! No matter; Sienna lubes and fucks Mandy's pretty pussy, and when Mandy adds a buzzing vibrator, it's orgasm time. Dirty Mandy rims and fingers Sienna's shaved butthole, then straps on a dildo to fuck Sienna. With her big butt pumping, Mandy pounds Sienna's tight asshole. And the girls trade mouth kisses. But wait! Sienna returns to stroke her huge erection and bury a butt plug; this time, she controls her climax and shoots a second load.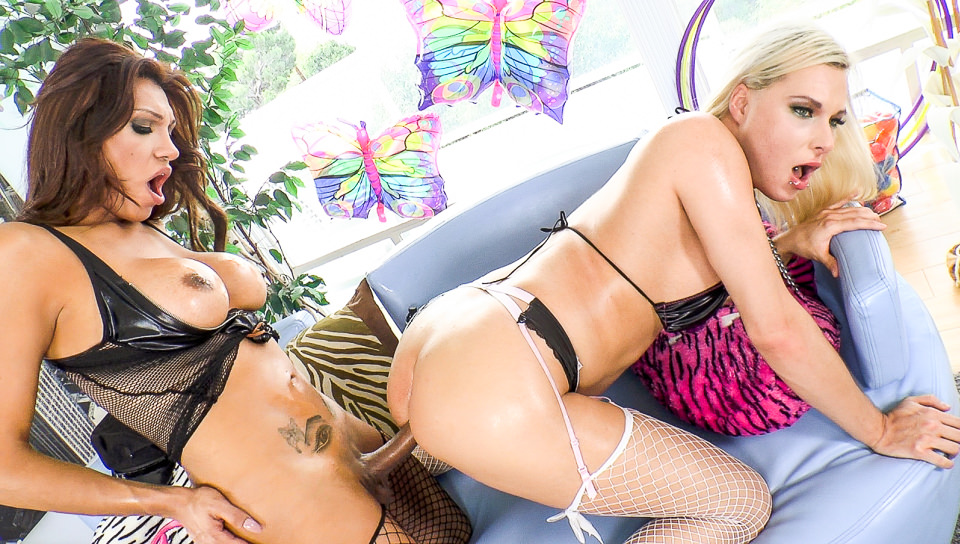 The Trans-Xperience #02, Scene #02: Eva Cassini, Jessy Dubai - Busty, lush-lipped Latina TS Jessy Dubai dominates pierced, blonde TS Eva Cassini. Eva wears a leather bikini top, fishnets, heels and a collar; big-assed Jessy sports a leather-and-fishnets get-up and heels. Nasty talking Jessy makes Eva her bitch, tugging her by a leash for mouth kissing and a deep-throat blow job of Jessy's big boner. Jessy strokes her own she-meat while throating Eva's hard pecker and fingers her own pretty, winking butthole while fucking Eva's throat. The ladies rub their dicks together. Eva gets butt-fucked, rimmed and tormented with clothespins pinching her dick head and scrotum! Jessy jacks jism on Eva's big boobs. And Jessy squeezes Eva's balls, talking filth as Eva jacks out her own jism. The ladies share a cum kiss.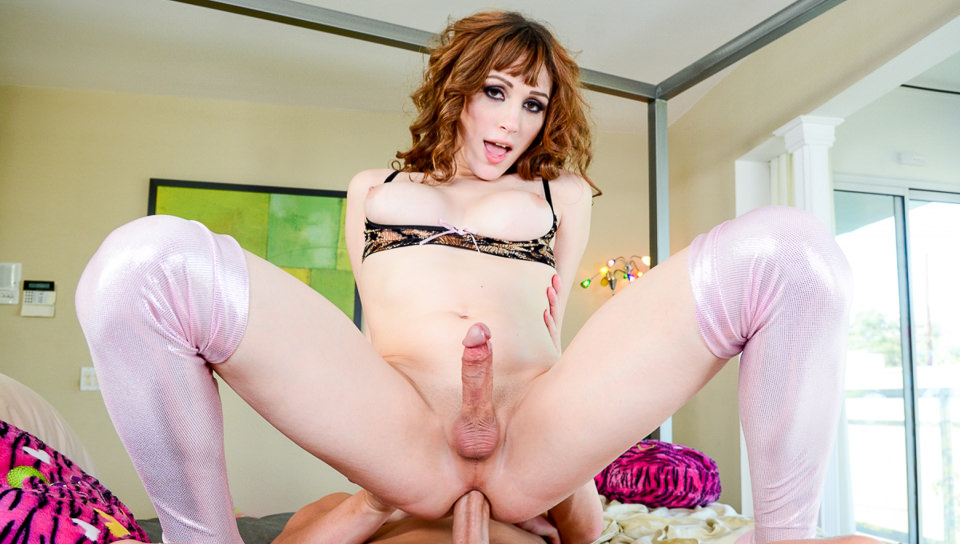 The Trans-Xperience #02, Scene #01: Christian XXX, Kylie Maria - Big-eyed, auburn-haired TS Kylie Maria surprises boyfriend Christian in pink, spike-heeled, knee-high boots and a sexy 'rear admiral' uniform that shows off her cleavage. They French kiss and make out; he kneels to deep-throat her hard she-dick. Kylie slurps and sucks Christian's big hard-on as she strokes her own erection. He rims her curvy ass and then fucks it doggie-style. Kylie sucks his thick boner ass-to-mouth, then rides again, her bubble butt squeezing the shaft. Her shaved bald butthole gapes! They trade tasty blow jobs and her cock points straight up as he fucks her. Kylie jacks clear semen into her hand and Christian jacks creamy jism onto her chin and pierced tongue.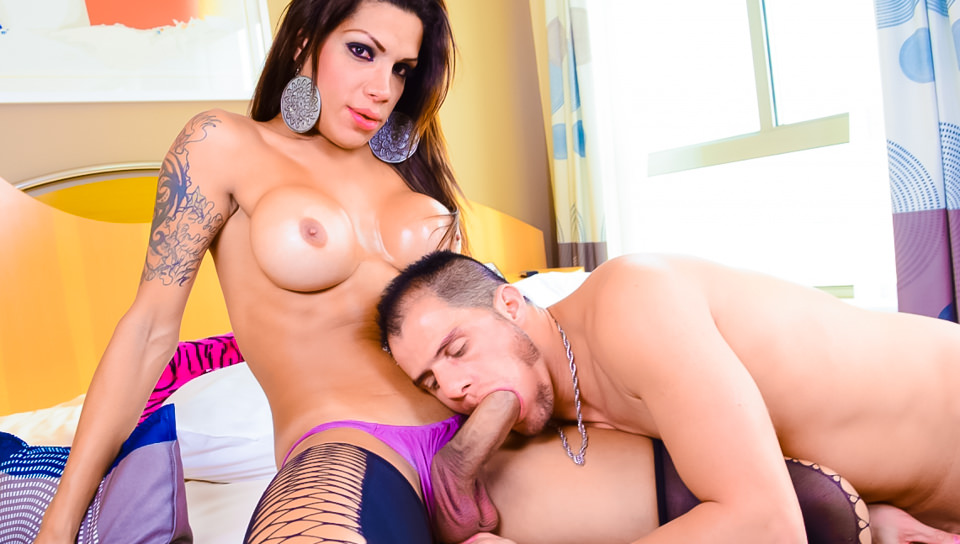 The Trans X-perience, Scene #06: Alex Victor, Aline Diniz - Lush-lipped Aline Diniz is a flashy, femme Latina TS in a skin-tight black zipper dress. With that dress peeled up, Alex Victor can lick Aline's shaved sac ... and the monster-thick erection that pops out. Alex gives a reverent blow job, and Aline tugs his head up her crack for a rim job. She plows his ass with that fat cock, and he sucks it ass-to-mouth. Alex jacks off as she fucks him with his leg stretched up by his head. Aline strokes her uncut dick as Alex licks her sac ... and she blasts his bearded face with thick, syrupy semen. Aline strokes Alex's dick (not as big as hers!) till he creams her face and lips.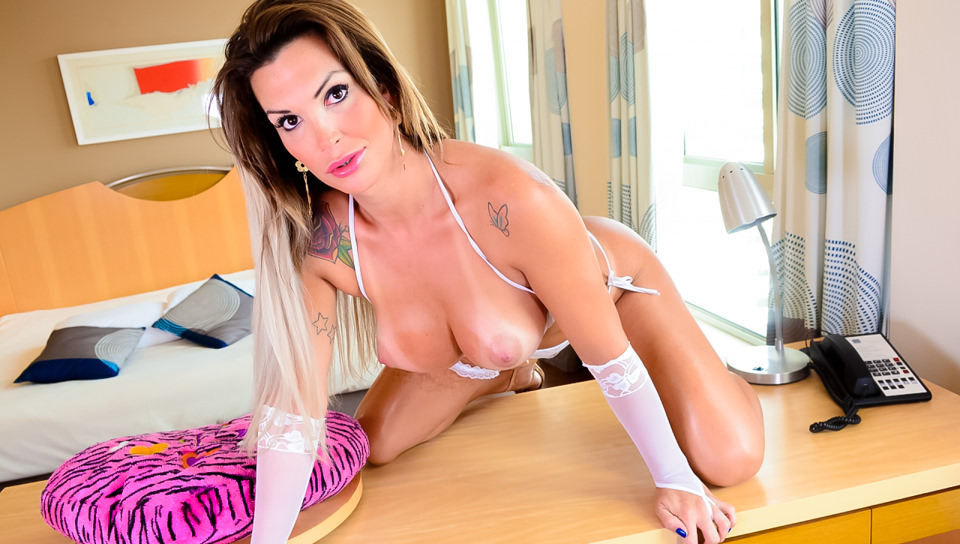 The Trans X-perience, Scene #05: Julie Berdu - Striking she-male Julie Berdu, a leggy, longhaired dirty blonde with tattoos and braces, poses provocatively by a construction site in her tight, revealing dress and heels. Inside, she plays with her big boobs and squeezes her nipples till she lactates! Julie's lacy lingerie almost conceals her thick she-dick. She masturbates, showing off tan lines and a shaved-smooth scrotum. Hot, femme Julie fucks her bald asshole with a vibrator which, when tasty, she sucks ass-to-mouth. She beats off, and Julie's uncut she-dick splashes semen all over her torso, up to her tan-lined titties.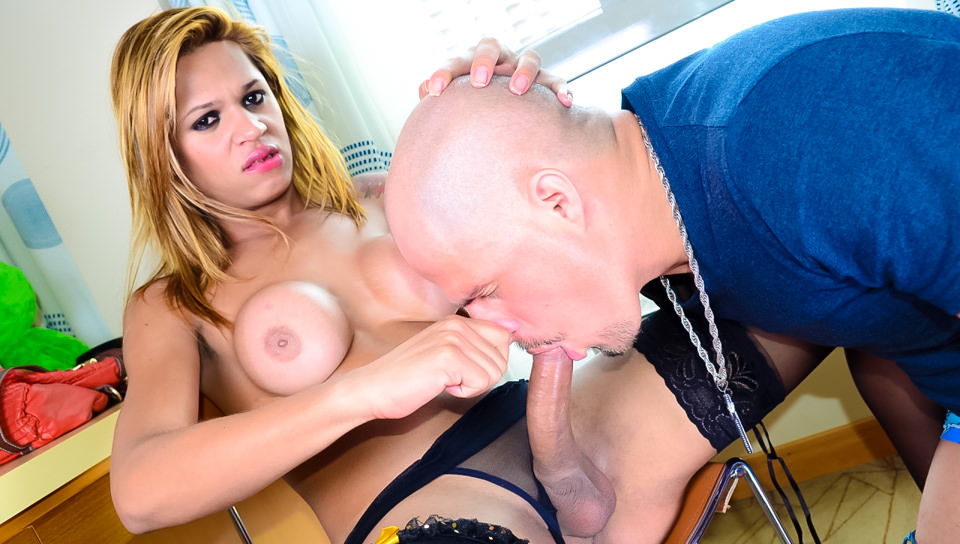 The Trans X-perience, Scene #04: Robert Axel, Bianca Alves - Bianca Alves and Alex Victor hook up in a diner. She's a tanned, dirty blonde Latina beauty in a pretty summer dress and stockings ... that conceal her she-male surprise. The femme trans-girl flirts and teases Alex in the streets on the way to the apartment where they make out. Bianca strokes both erections -- he's big, but she's huge. Alex sucks that long, smooth, brown boner. As Bianca sucks on Alex's pole she masturbates her own. Suddenly Bianca blasts a massive, creamy load all over her thigh. Next, Bianca jacks Alex's jism into her pretty, blow job lips and onto her round boobs. She licks his prick clean.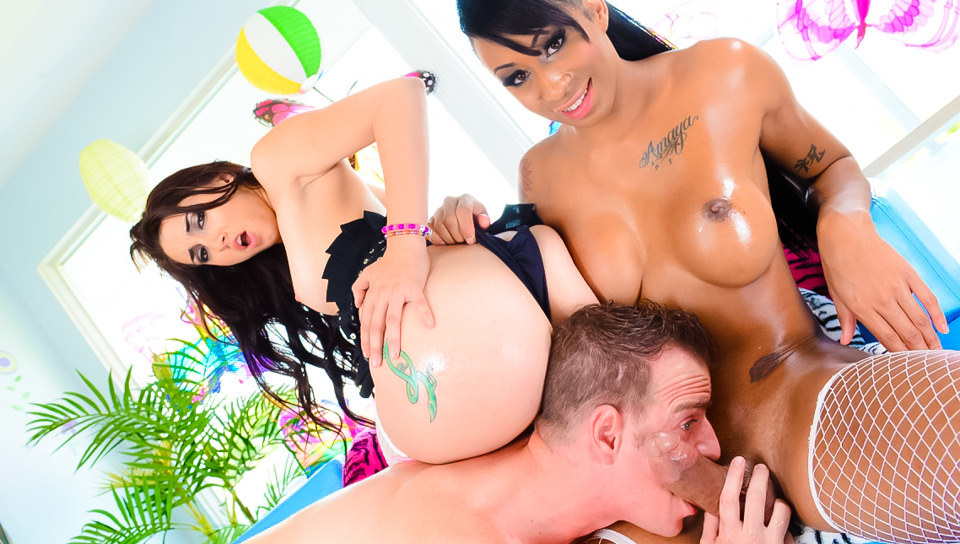 The Trans X-perience, Scene #03: Mandy Muse, Chad Diamond, Honey Foxxx B - Cute, hot-assed genetic girl Mandy Muse loves dating she-males, and she's always wanted to make a guy suck cock. She sucks stylish black TS Honey Foxxx hard, then shoves sissy Chad Diamond's head down on Honey's massive erection for a furious blow job. He rims Mandy intensely, deeply, as she sits on his face. Mandy rides Honey as the trans-girl buzzes Mandy's clit with a vibe. Mandy's bubble butt heaves, slams and rolls on Honey's prick. Honey rims Mandy and fucks her; Chad sucks Honey pussy-to-mouth. Honey plows Chad's ass as Mandy strokes Chad's boner to orgasm. Honey jacks a cum load all over Mandy's face/mouth. Chad and Mandy orally clean Honey's meat.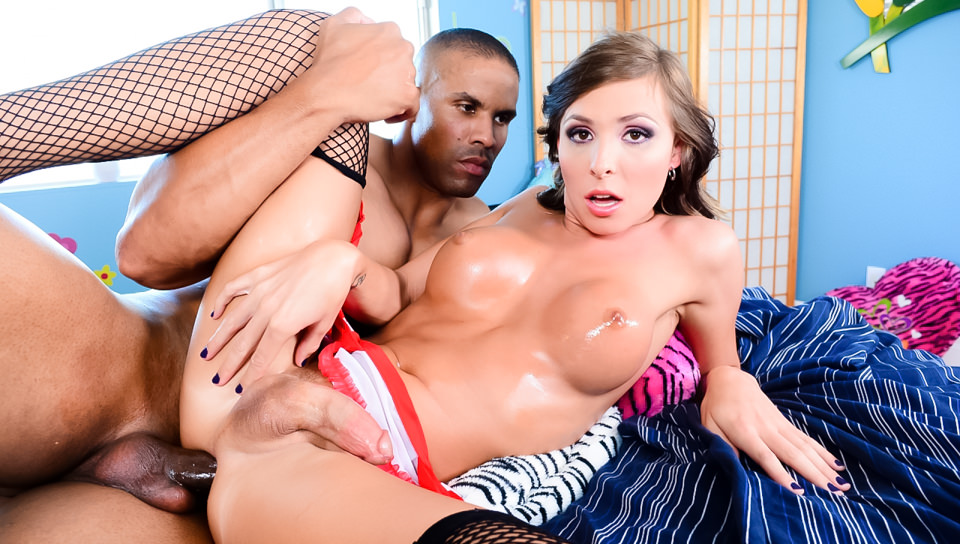 The Trans X-perience, Scene #02: Robert Axel, Sienna Grace - Tanned, stylish Sienna Grace, a beautifully femme TS in a sexy nurse's get-up with fishnet stockings and heels, is worried about Robert -- the muscular black man has a throbbing, tingling sensation in his midsection! So Nurse Sienna examines the patient; they kiss and exchange blow jobs. Sienna blows big black cock as she strokes her own greased erection. They make out, pricks growing. Robert rims the pretty nurse and fingers her butthole. She stays hard as he deep-dicks her. Sienna impales her ass on his thick schlong and strokes her own, dribbling jism as she's fucked. She strokes Robert, spraying a major load of semen all over her face and chest. The throbbing has been cured!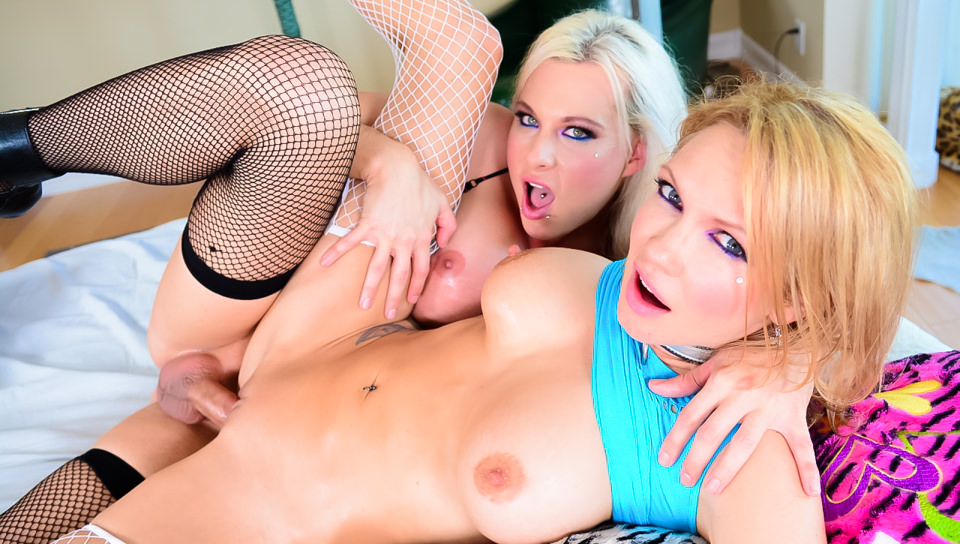 The Trans X-perience, Scene #01: Rain DeGrey, Eva Cassini - Eva Cassini, a pierced, chesty blonde TS, teases in a leather bra, fishnets and heels; she rubs the prick bulging through her purple panties. Adventurous, heavily inked genetic girl Rain DeGrey caresses Eva's up-curved erection, mouths her nipples and sucks trans-cock. Eva crams that bent boner up Rain's twat and the ladies French kiss. Rain laps Eva's ball sac and tongues her bunghole. After riding cock some more, Rain deep-throats pussy-to-mouth and fingers Eva's anus. As Rain throats prick, Eva cums in the back of her throat; horny Rain strokes Eva's wet, sensitive prick and licks her fingers clean, then dirties them some more in Eva's ass.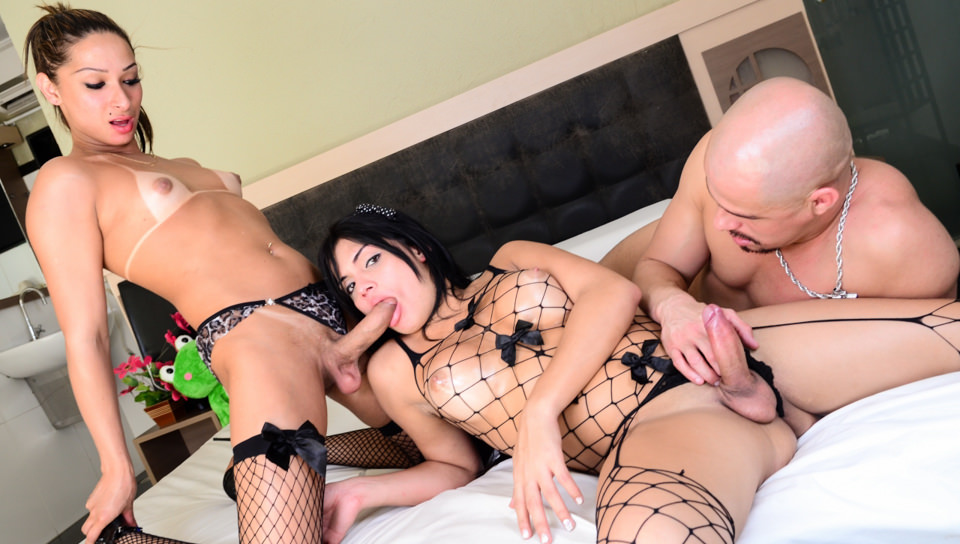 How To Please A She-Male #05, Scene #07: Beatricy Velmont, Bianca Hills - Beatricy Velmont and Bianca Hills are gorgeous, fishnet-clad she-males preparing for a nasty, gender-bending threesome with Latin stud Alex Victor. When Alex shows up, the girls form a kinky daisy chain of dicksucking, and the lucky dude orally worships both throbbing TS cocks before anally drilling Beatricy and Bianca in turn. These sultry vixens jack themselves off as he fucks their assholes -- and finally, Alex splatters Bianca's tits with creamy spunk.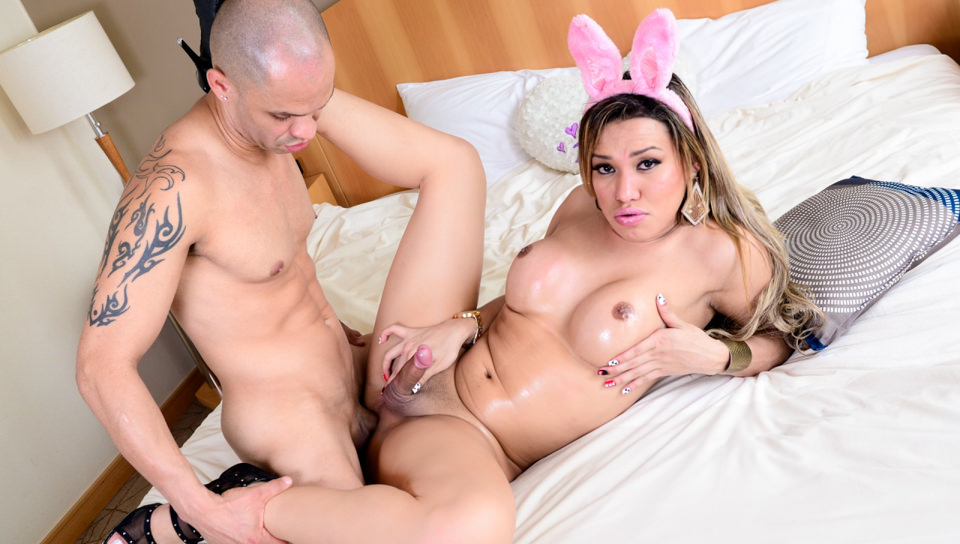 How To Please A She-Male #05, Scene #06: Yume Farias - Wearing cute bunny ears and a matching hot pink bra and thong, sultry Brazilian she-male Yume Farias shows off her big, tanned booty cakes and thick she-dick for the camera. Hunky Latin stud Tony Lee kneels and worships Yume's throbbing member, then watches the curvy TS slurping on his raging cock. He fucks her rectum; Yume sucks dick ass-to-mouth and jacks her stiff pole to orgasm as Tony reams her butt. Finally, the sexy creature receives a gooey cum facial.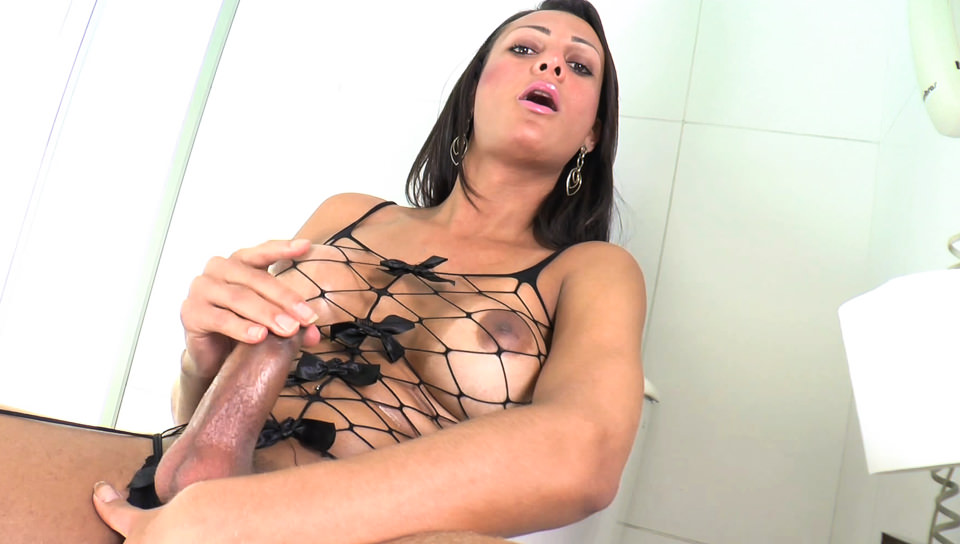 How To Please A She-Male #05, Scene #05: Lauany Biencontty - Dolled up in lacy black panties and a barely-there bodysuit that leaves nothing to the imagination, tanned Brazilian she-male Lauany Biencontty strokes her big dick for the camera. Her round tits straining against the fishnet top, Lauany pumps her thick, uncut shaft with her manicured fingers, feverishly jerking her meat until droplets of creamy cum ooze from the sensitive cock head.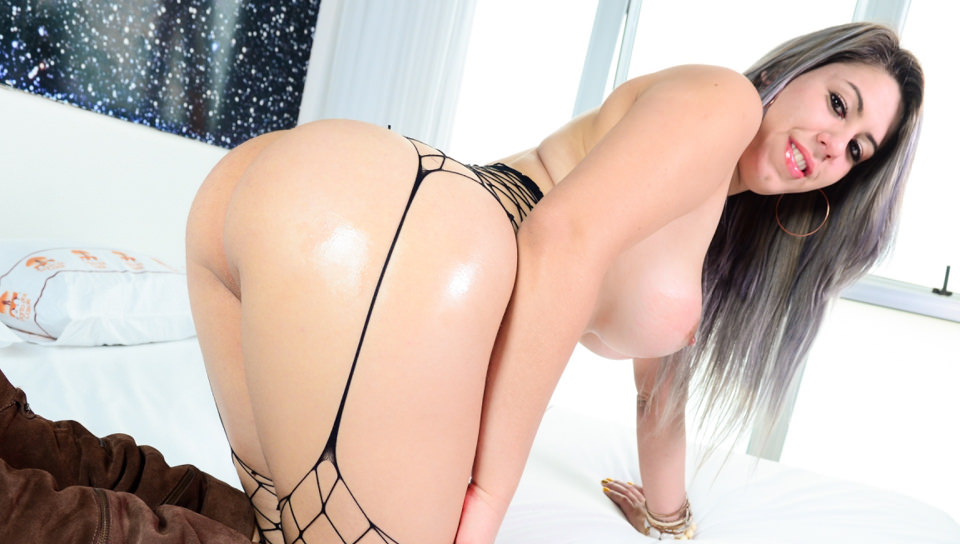 How To Please A She-Male #05, Scene #04: Julie T - Curvaceous Brazilian she-male Julie shows off her big, round tits, wearing lacy panties and a fishnet bodysuit that leaves nothing to the imagination. This hot Latina TS plumper strokes her hard, slippery she-cock, pumping the shaft with one hand, and buries a fat dildo deep inside her ass to complete her nasty solo performance. Finally, Julie stretches out on the bed, masturbating to a creamy climax.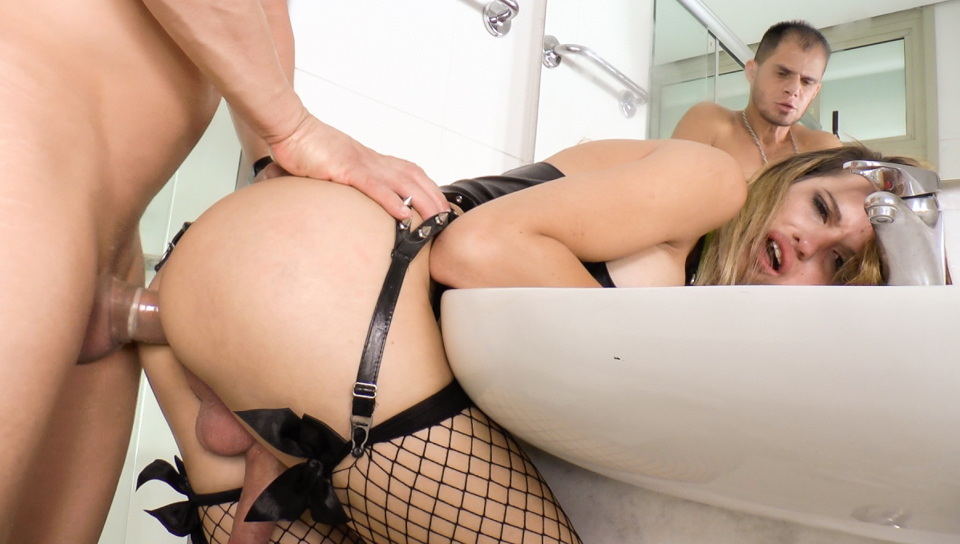 How To Please A She-Male #05, Scene #03: Dany Lisboa - Busty Brazilian she-male Dany Lisboa is dolled up in black fetish gear and fishnet stockings, ready for some kinky fun with Latin stud Alex Victor. The lovers take turns slurping on each other's big cock; Alex rims the ass of the TS temptress, fingers her elastic butthole and swallows Dany's stiff she-dick to the root. Before long he's reaming Dany's tight rectum from behind. After a nasty anal fuck session, Dany and Alex each enjoy a hot cum facial.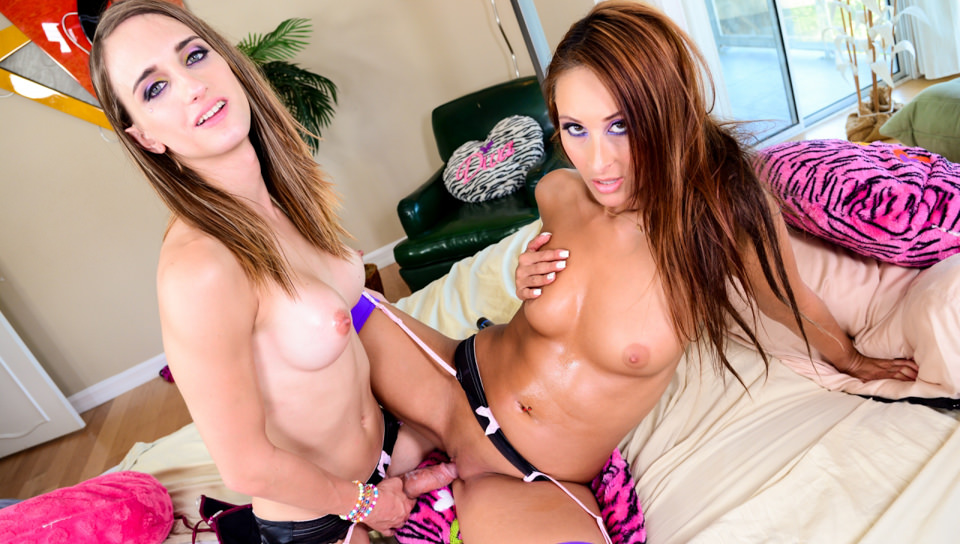 How To Please A She-Male #05, Scene #02: Deanna Dare, Kelly Klaymour - Skinny, sensuous TS model Kelly Klaymour strokes her huge, erect she-cock as slender, kinky Latina Deanna Dare performs a private striptease. Deanna hungrily sucks on her new friend's throbbing meat; Kelly eats the brunette's sweet pussy before thrusting her big dick inside. Deanna buzzes her clit with a vibrator and reams the she-male's asshole with an anal toy. After another gender-bending fuck session, Kelly ejaculates hot cum onto her sexy slut's tummy.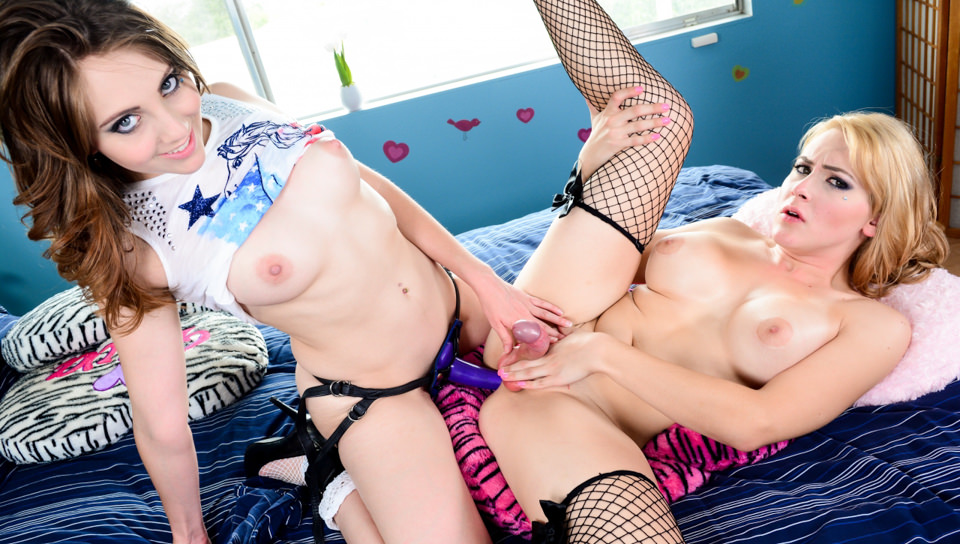 How To Please A She-Male #05, Scene #01: Nickey Huntsman, Hazel Tucker - Kinky cutie Nickey Huntsman is a young, blue-eyed, all-natural starlet that can't keep her hands off gorgeous, busty blonde she-male Hazel Tucker. Nickey kneels in front of the fishnet-clad TS temptress and wraps her lips around a hard she-cock. Hazel eats her new friend's slick pussy, and soon Nickey's riding on Hazel's stiff dick -- and perversely reaming the sultry creature's asshole with her strap-on dildo! While getting fucked, Hazel jacks herself to a gooey climax.



The Next She-Male Idol #10, Scene #05: Alex Victor, Kessy Bittencour - Latin stud Alex Victor is auditioning shapely Brazilian transsexual Kessy Bittencour for the She-Male Idol competition. He eagerly swallows Kessy's fat she-cock and buries his face between her plump ass cheeks to lick her sensitive asshole. Kessy returns the oral favor, then offers her rectum for an anal reaming. She perversely fucks Alex's tight butt while he jacks himself off; after he cums onto his own belly, Kessy adds a spurt of her own semen.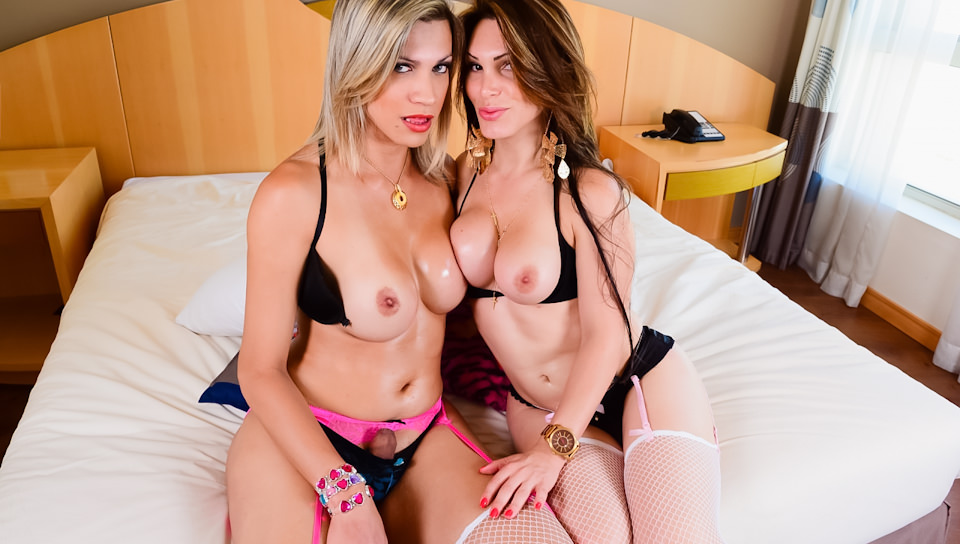 The Next She-Male Idol #10, Scene #04: Alex Victor, Leticia Andrade, Angel Cortez - Latin stud Alex Victor accosts two gorgeous she-males -- statuesque blonde Leticia Andrade and short, voluptuous Angel Cortez -- on the streets of Brazil. Soon these stunning creatures are back at his place, sucking each other's round tits and slurping on big, throbbing she-cocks. Alex worships the TS temptresses, blowing the girls, rimming their plump booties and fucking their asses in turn. This gender-bending threesome climaxes in messy showers of hot cum.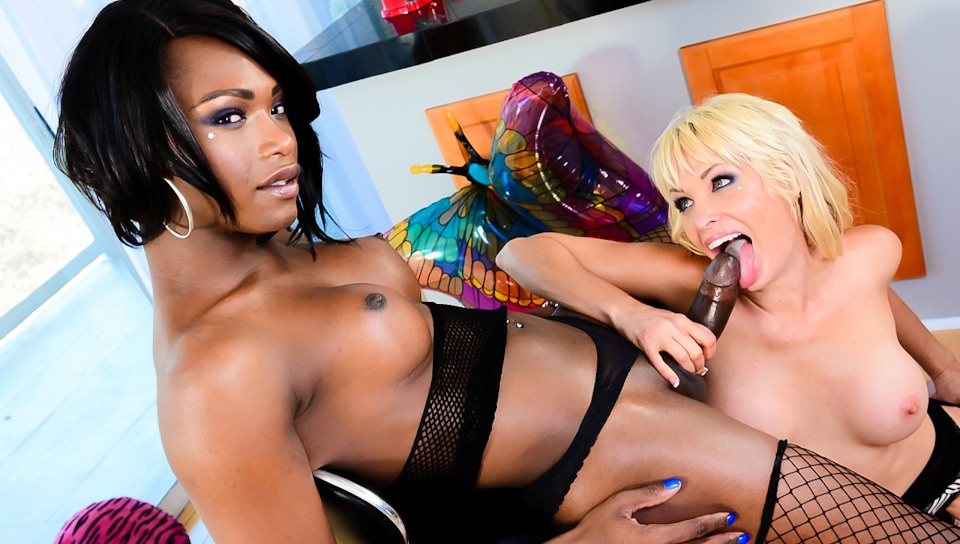 The Next She-Male Idol #10, Scene #03: Mikky Lyn, Chanel Couture - Big-assed blonde girl Mikki Lynn loves to be dominated by lanky, glamorous, black she-male Chanel Couture. The long-legged TS beauty lets Mikki service her stiffly curved black she-cock with her hungry mouth. Soon the blonde is getting her pussy and asshole invaded by Chanel's thick boner in a passionate interracial and transgender fuck session. Mikki rims her new friend's chocolate butthole while Chanel jacks out a load of creamy goo... that the kinky white girl eagerly laps up.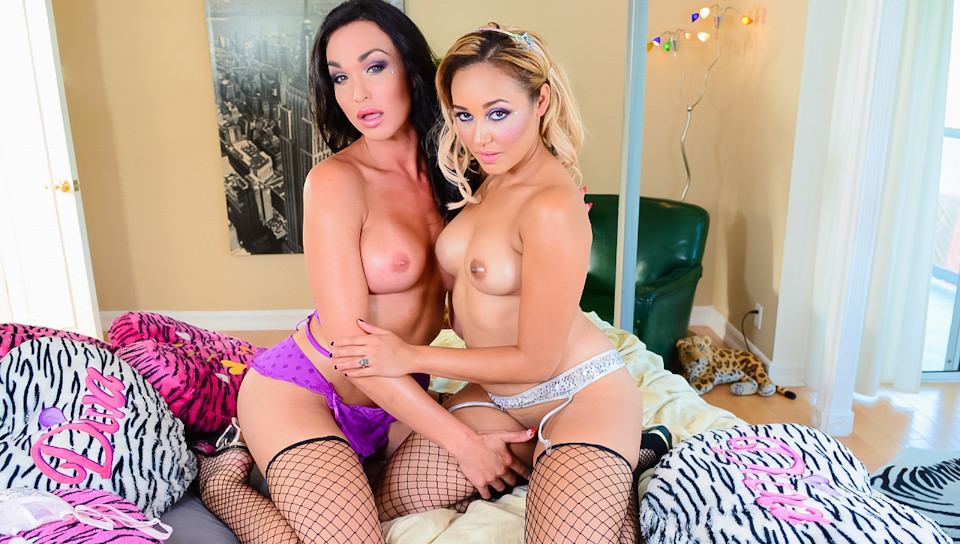 The Next She-Male Idol #10, Scene #02: Tinslee Reagan, Jonelle Brooks - Dressed in a silky nightie, sensuous she-male Jonelle Brooks strokes her rock-hard boner while teasing the camera. Pretty, blonde biological girl Tinslee Reagan can't resist the taste of forbidden fun. Wrapping her lips around this tall TS temptress' throbbing she-meat, Tinslee gives her friend a slobbery blow job and rides her stiff dick with perverse enthusiasm, buzzing herself with a vibrator while her anus gets drilled with a dildo. Finally, Tinslee hungrily laps up a fresh load of creamy she-male cum.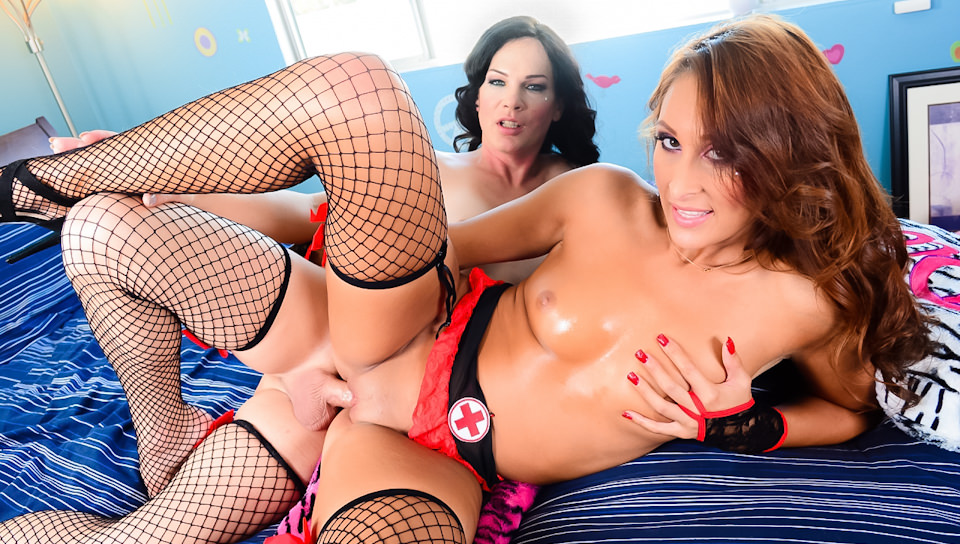 The Next She-Male Idol #10, Scene #01: Deanna Dare, TS Gina Hart - Sultry, all-natural Deanna Dare is clad in sexy lingerie before her kinky date with pale TS Gina Hart. Deanna can't wait to fill her sweet mouth with she-male cock! She trades oral services with the seductive, fishnet-wearing transsexual, then buzzes her own clit with a vibrator while Gina pumps her she-dick in and out of Deanna's shaved pussy. Finally, Deanna drills Gina's tight rectum with a black dildo until the luscious lady-boy erupts hot cum all over herself.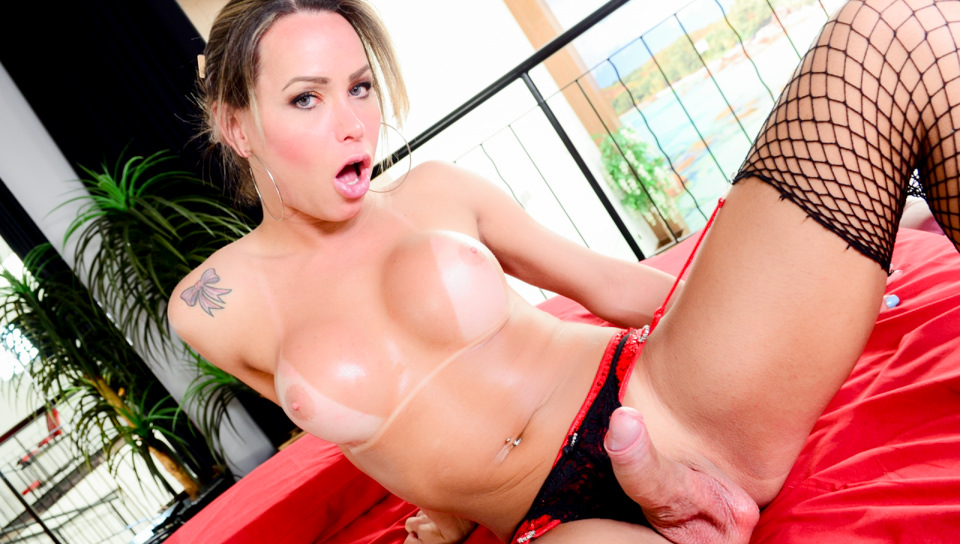 She-Male Idol The Auditions #04, Scene #08: Rakel Rodrigues - Blue-eyed, dirty blonde Rakel Rodrigues is a beautifully femme she-male. In fishnets and hoop earrings she shows off tan-lined tits, tattoos, pierced navel and cute butt, with her scrotum and puckered asshole peeking from her thong. Rakel unveils an uncut cock that thickens and stands in her grip. She jacks off, balls bouncing in her smooth-shaved sac, and fingers her anus. Rakel's prick grows huge as she masturbates, till syrupy white jism oozes from her fleshy foreskin.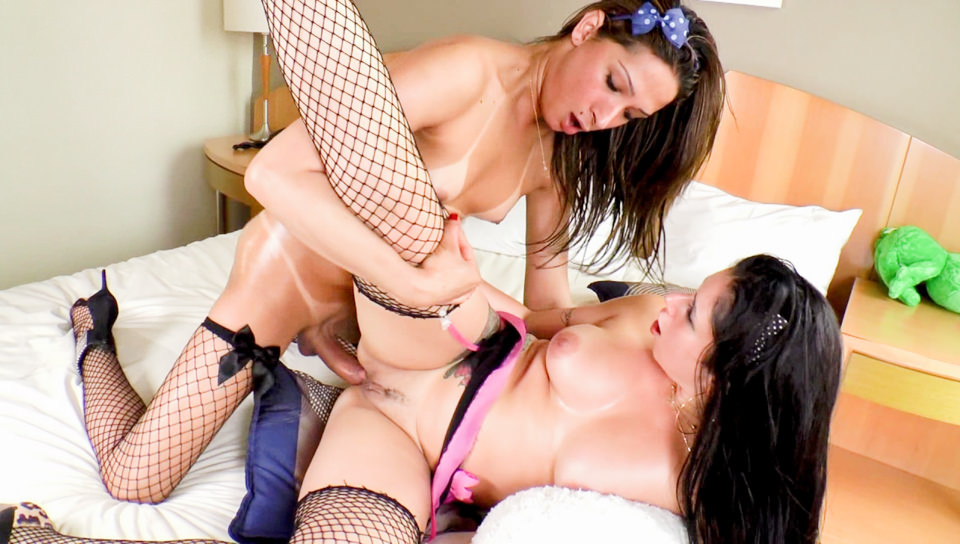 She-Male Idol The Auditions #04, Scene #07: Luana Azejedo, Bianca Hills - Flirty, femme TS Bianca Hills' panties bulge with meaty flesh. She massages her tan-lined tits and masturbates her uncut dick to thick hardness. Bianca mouths and mashes the suckable nipples of tattooed genetic female Luana Azevedo. The girls caress, Luana stroking Bianca's fat meat. Luana blows Bianca, deeply rims her bunghole and fucks it with a vibrator; both girls taste Bianca's anal flavor on the toy. Luana rides she-male cock, fingering her own asshole. Bianca butt-fucks her. As Luana screws Bianca's ass with a vibe and sucks tit, Bianca jacks a stream of semen onto her tanned tummy. And the girls share a breathless kiss.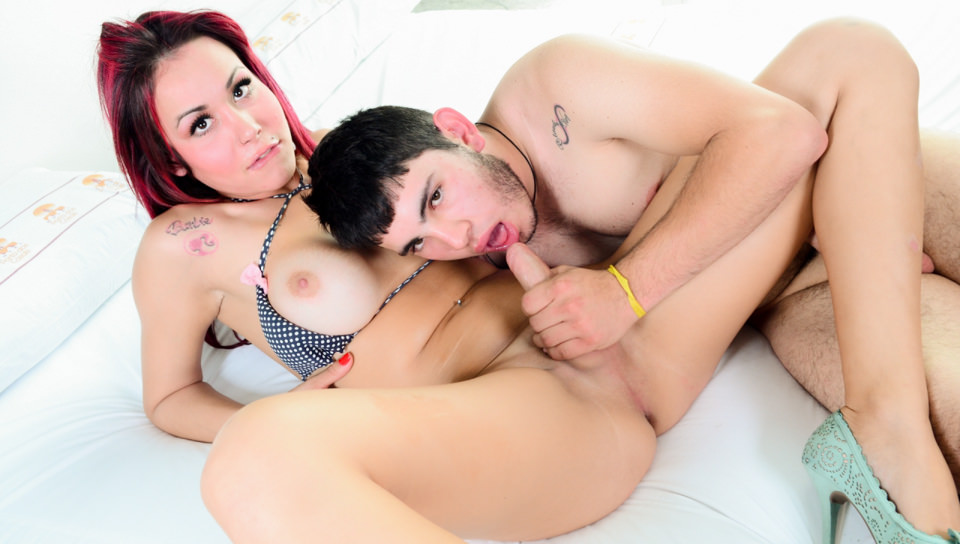 She-Male Idol The Auditions #04, Scene #06: Viviany Victorelly - Ultra-femme Brazilian TS Viviany Victorelly looks stunning in high heels and painted-on jeans, her long hair dyed cherry red. As gorgeous as her face is the tan-lined bubble butt she peels down her pants to reveal. She massages her ripe melons, smooth ball sac and the little, uncut, growing boner. Fernando Hills jacks her joint, tastes her tits and sucks her dick and balls as she grips his head. Viviany returns the favor, sucking cock and giving Fernando a hand job that makes him lose his load. And then Viviany jacks her own uncut dick till it drools semen. Fernando kisses the cherries tattooed on Viviany's foot.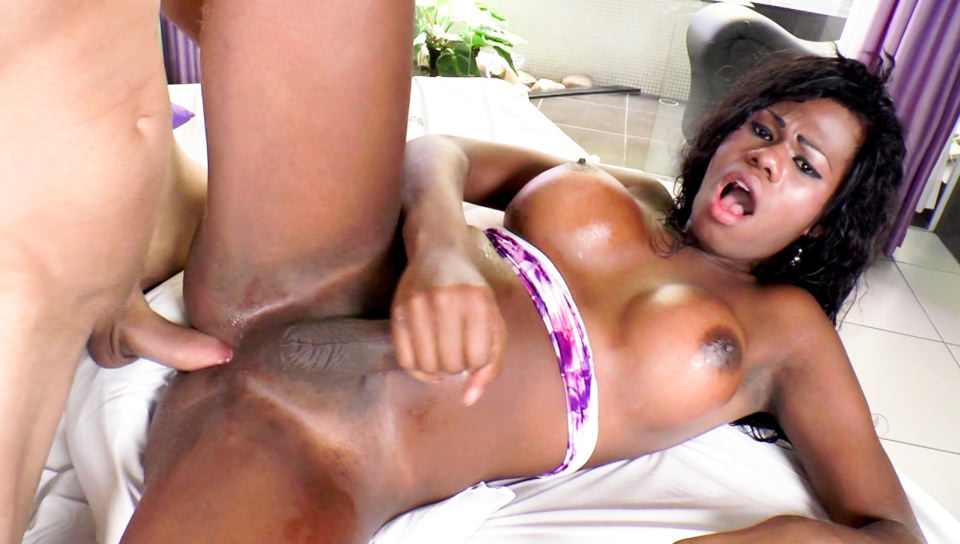 She-Male Idol The Auditions #04, Scene #05: Tony Lee, Thays Pezzini - Striking black TS Thays Pezzini is the picture of athletic femininity. In the shower, her thick cock is as imposing as her physique. Thays soaps up her big bubble butt and balls. Tattooed, pierced Tony Lee sniffs and deep-throats her black boner as she shoves his head down. Thays sucks his dick, keeping her braces from scraping his cock flesh. On the bed Tony fucks Thays, whose big ass bounces back into him as her cock sways. She bones Tony's butthole and he sucks dick ass-to-mouth. Hot Thays jacks messy spunk on her belly; Tony creams the friendly, fun loving she-male's mouth and titties.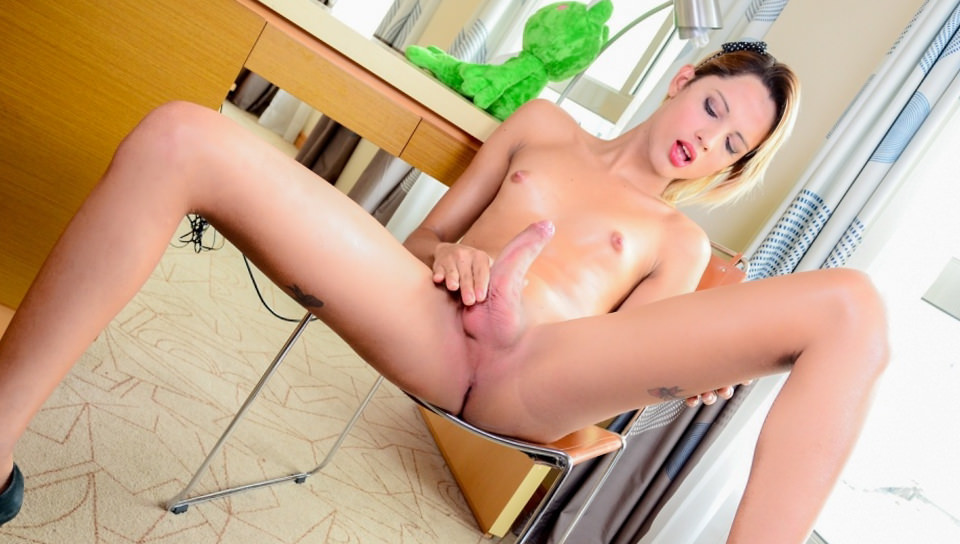 She-Male Idol The Auditions #04, Scene #04: Melzinha Bonekinha - A feminine face, luscious lips, slinky body and the turgid pink snake lurking in her panties make Brazilian Melzinha Bonekinha one gorgeous she-male. Auditioning for TS director Joey Silvera, she massages her uncut dick and shaved scrotum, then spreads her ass, showing off huge balls and imposing meat for such a slender, girly girl. She jacks streaks of clear cum all over her legs ... and the window behind her! But beautiful Melzinha isn't through displaying her erection and femme bod for the camera.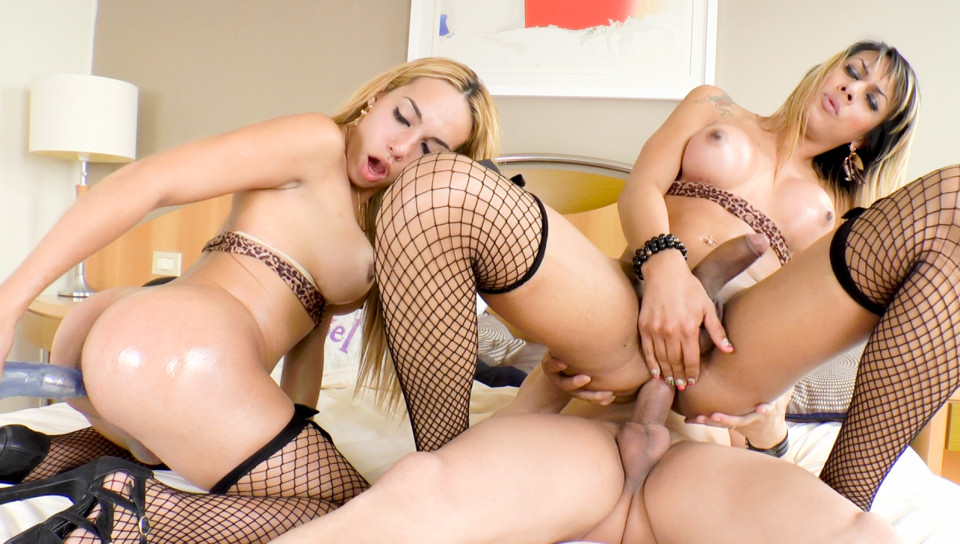 She-Male Idol The Auditions #04, Scene #03: Alex Victor, Kessy Bittencour, Sheylla Wandergirlt - Two adorable, blonde she-males with bubble butts dance in matching cat's ears, leopard print bras and fishnets -- hot Sheylla Wandergirlt wears a thong; tall Kessy Bittencour wears a sideways cap. The girls peel their panties to reveal shaved sacs and uncut dicks. Sheylla deep-throats Kessy's erection; Kessy's pierced tongue tickles Sheylla's achingly stiff little prick. Masculine Alex Victor butt-fucks Sheylla and Kessy sucks her dick ass-to-mouth. Sheylla's into taking Kessy's prick in the sphincter, and her cheeks flex as she rides Alex's meat. She fucks herself with a vibrator as Alex porks Kessy. Sheylla ejaculates clear cum and swallows the spunky jism Kessy and Alex dump on her face/up her nostrils.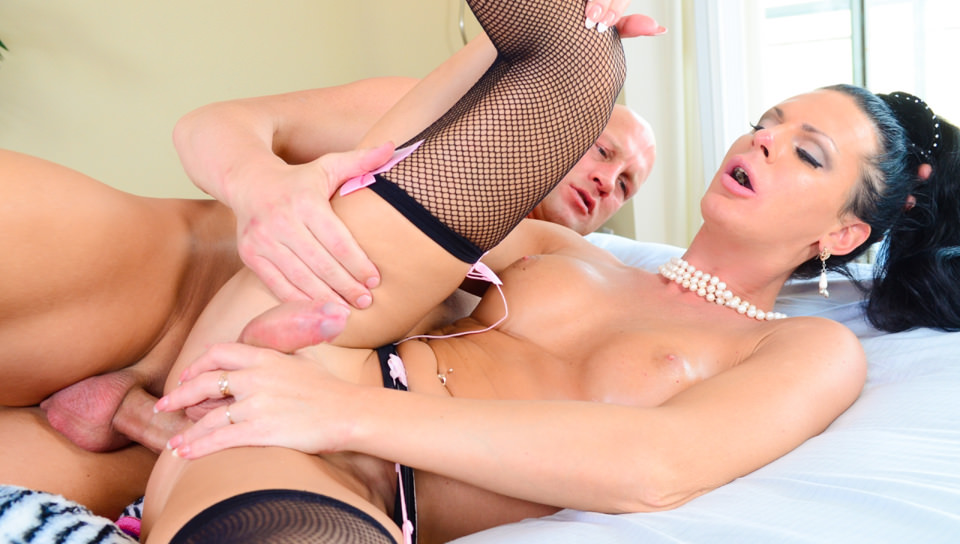 She-Male Idol The Auditions #04, Scene #02: Christian XXX, Lina Cavalli - Dark-eyed brunette TS Lina Cavalli wears a pearl necklace, tight jeans and spike heels; stripped down to pink lingerie and fishnets, she massages her lacy bulge, shaved sac and uncut prick with French manicured fingers. Bald stud Christian deep-throats Lina's dick and she fucks his mouth in a 69. As Lina masturbates, Christian tongues her shaved-smooth bunghole. He fucks her up the butt; Lina rides cock and sucks it ass-to-mouth. The she-male rims Christian's rectum and jacks semen from her uncut penis. After Christian creams Lina's tongue, they share a spermy mouth kiss.


Want some more? Check the site.
| | | |
| --- | --- | --- |
| | Older | Newer | |