ASR PREMIUM - Free Porn Movies and Free Porn Images
ASR Premium offers Free Hosted Galleries of sample porn movies and photos for FREE. We collect and offer the high quality samples from millions of galleries on daily updating.
Nuru Massage is one of the sites in Fantasy Massage network serving with 6 all kind of massages like oil, spa, massage parlor, soapy massage, etc.
Special Offer: [Check the Price Here]
[Click on the picture to see all the samples]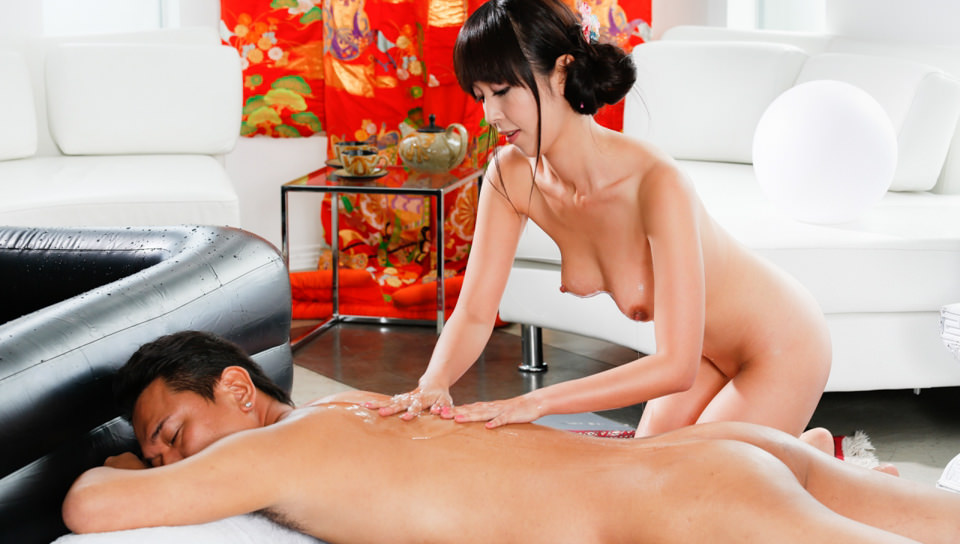 Showdown In Little Takuo Part 1, Scene #01: Marica Hase, Takuo - Take a trip to the fast paced, culture infused, JAPAN! Strength and honor are two key values that Takuo holds close to his heart. After a long day of training, there's only one woman on Takuo's mind to ease the pain of the day and turn it into pleasure. One woman who's hands can tickle away soreness, and who's beauty is beyond compare, Marcia Hase. Today, however Marcia decides to change up the massage by introducing Takuo to the Nuru experience. The ways in which Marcia uses her body to massage every inch of Takuo has him, in her complete control. He decides that everyone around the world should know the pleasure this massage brings and he's found just the right person to partner with, none other than, Eric Masterson!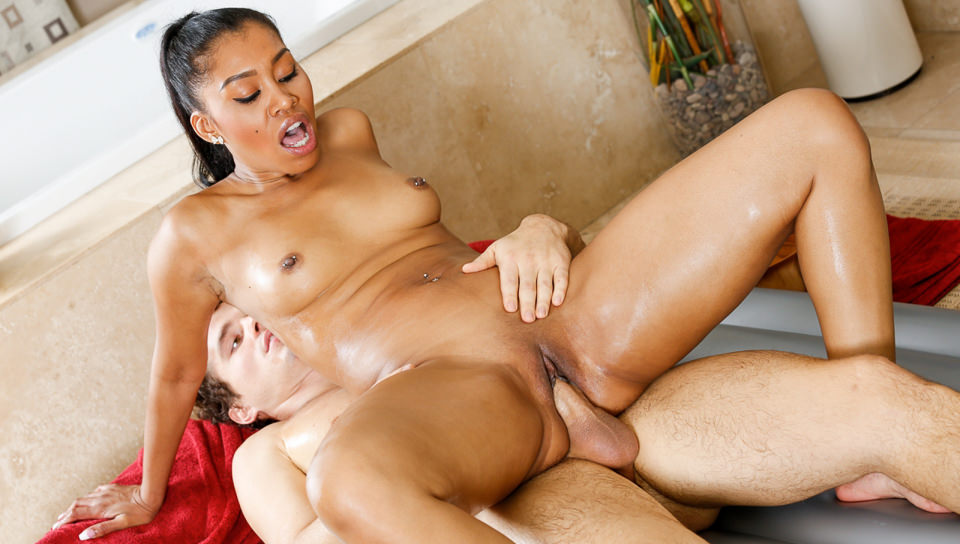 Better Than Hubby, Scene #01: Yasmine de Leon, Robby Echo - Today is Robby's first ever day at Nuru Massage. He got a reference from his buds. At first Robby is a bit handsy, but Yasmine warns him her husband is protective and he needs to be careful. Robby can hardy keep his hands off her. Yasmine uses all her tricks to pamper Robby, rubbing her beautiful ass over his clothed front before getting him out of his clothes. In the shower she can barely keep her hands, ass and mouth off his growing cock. When they get to the massage, Yasmine pulls out all her sensual tricks and uses them on Robby, which turns him crazy! Yasmine wants him so much she lets him fuck her harder than she's been fucked for a long time! Robby wont wait for a follow-up treatment, and Yasmine books him for tomorrow.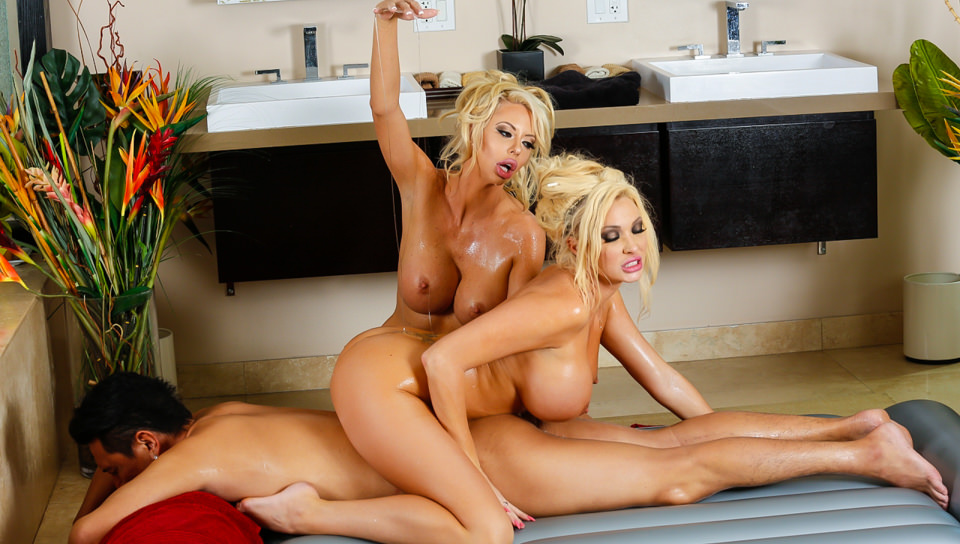 Showdown In Little Takuo Part 2, Scene #01: Courtney Taylor, Summer Brielle, Takuo - Since Takuo was first introduced to the art of the Nuru Massage in Japan by the beautiful, Marica Hase he hasn't been able to think about much else. After speaking with Eric Masterson about the prospect of taking over the Nuru Massage franchise he decides to travel to California to experience first hand, an American Nuru Massage. The curvaceous Summer Brielle and the bombshell, Courtney Taylor definitely shower Takuo with an explosion of knowledge that he is only, too eager to take back with him to.... Japan.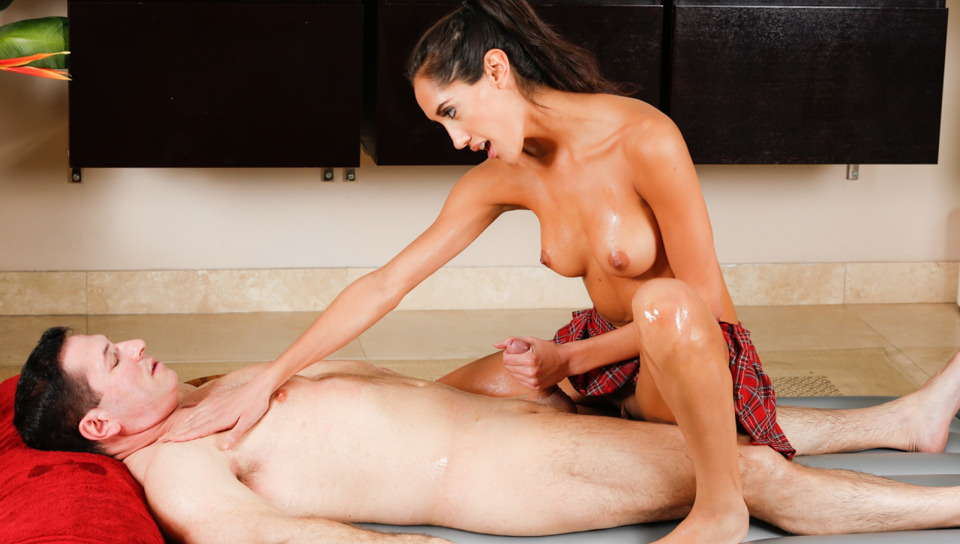 Pupil's Pet, Scene #01: Chloe Amour, John Strong - John came to Nuru today to get a massage. He's greeted by the plumber, thank god that guy is not the masseuse. But when his masseuse does show up, it turns out to be a student where he works as her teacher! Chloe Amour is just as surprised to see him there, but when he starts prying, he feels ashamed, that this is the job she ended up with after failing her last year! She makes it personal and uses his abandonment as a play to get him to come for the massage anyway. Watch her teacher drool over her gorgeous body, as she seduces and pampers her teacher throughout his massage. Chloe isn't nervous at all, but when she takes his cock in her warm mouth he sure warms up to the idea of giving her a passing grade this year!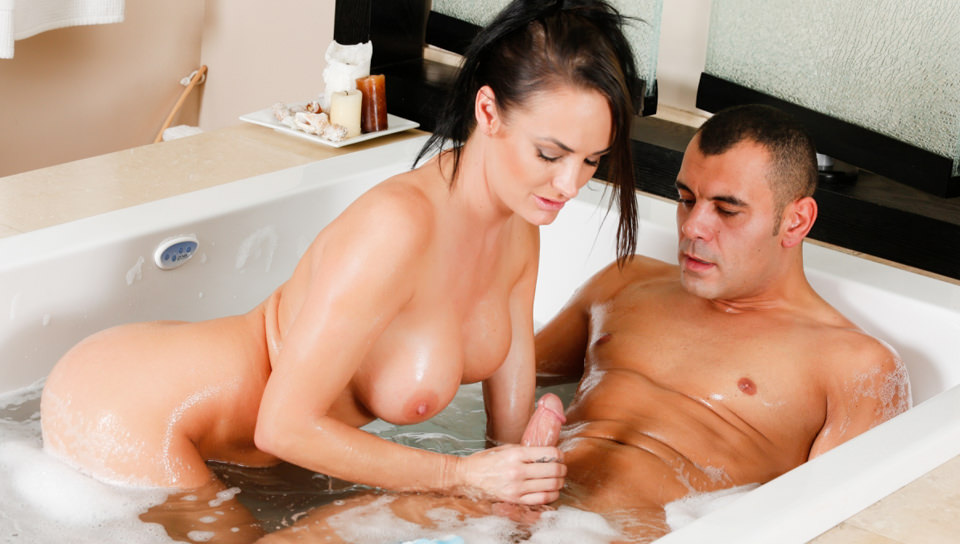 My Son's Girlfriend, Scene #01: Alektra Blue, Antonio Ross - Antonio came for his regular Sunday massage, and lo and behold, his son's girlfriend Alektra is working as the masseuse. Antonio finds it awkward but Alektra promises she can keep it professional. After some talking they decide to go through with the massage as long as neither of them tell their lovers what has happened. Alektra plays innocent at first, but when the massage starts she does what she's used to, and strips his as seductively as any other client. But this is her boyfriend's (soon to be fianc?'s) dad! Soon its clear Alektra is interested in seeing where her boyfriend gets his charm (and big cock) from. Alektra teases Antonio so hard that I'm surprised he lasts before getting in the shower!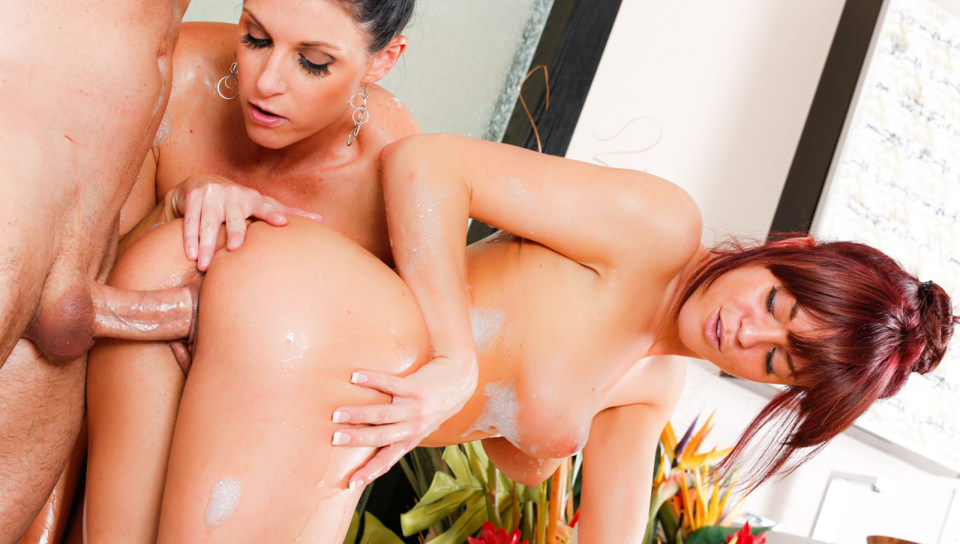 Be Ours, Scene #01: India Summer, Rahyndee James, John Strong - India Summer has been waiting for weeks to give her man, John Strong a Valentine's Day surprise, a couple's Nuru Massage! At first, John's a little skeptical about it but, when he realizes his masseuse is none other than, Rahyndee James, the couple's old babysitter. Looking at her, all grown up all he can imagine is having her soft lips wrapped around his big cock. That's not even the best part, as they strip each other's clothes off layer by layer. Rahyndee uses her tongue to give this couple the massage of their lives. Without giving too much away, this is going to be one wet, hot Valentine's Day, that neither of them saw coming.. ;)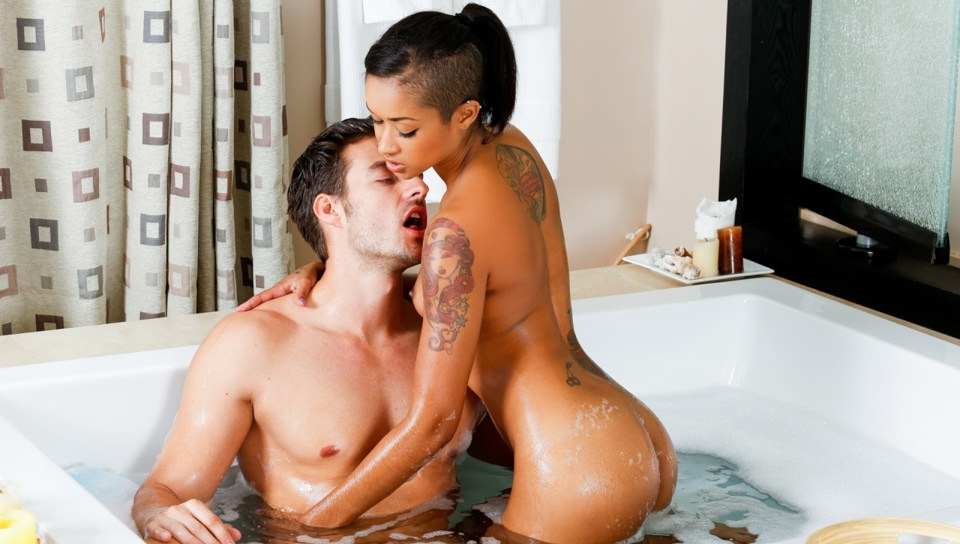 Lying Bastard, Scene #01: Skin Diamond, Jay Smooth - When Skin Diamond finds out that the guy she's been seeing, Jay Smooth, is actually married, she can't even believe it at first. When her friend sends her some incriminating pictures of the cheating bastard in action, she decides to get even. The same day, Jay comes by to visit Skin at work, and she starts off by playing it cool. She asks him why they never go to his place... why she's never seen him wearing any jewelry... why he always seems like he's in such a rush to leave after. Jay has an answer ready for everything, and that just fuels her anger even more. She leads him into the massage parlor and starts to tease him with her petite, ebony body and perfect smooth breasts. It isn't long before Jay's being stripped down and oiled up for a raunchy interracial massage. Will Skin spring her trap on Jay and get her revenge? Or will her desire for his hard cock get the better of her in the end?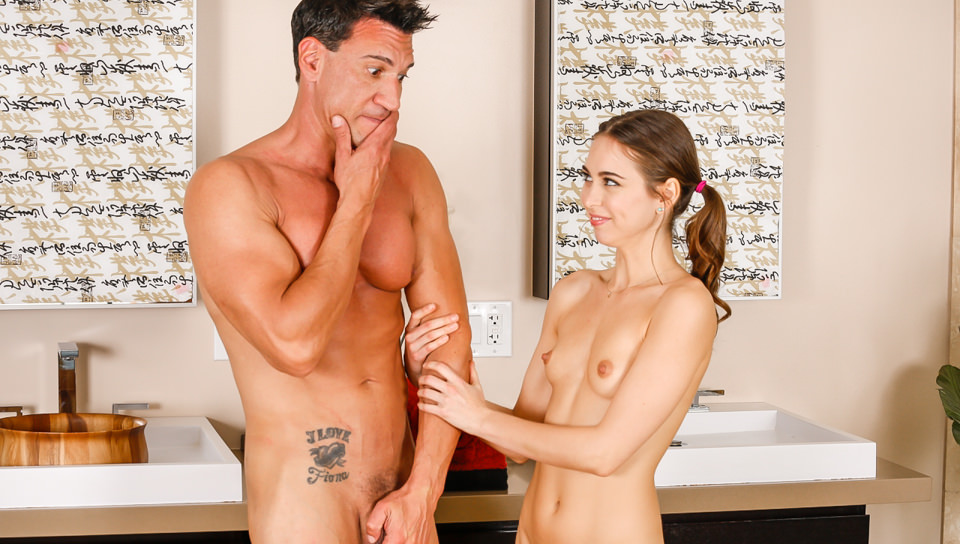 Step-Dad's Cousin Has A Big Dick, Scene #01: Riley Reid, Marco Banderas - Marco Banderas is looking to relieve some tension in his shoulders and immediately heads over to Nuru to get one of their pleasure inducing massages. When he arrives, he's greeted by his Brother's Step-Daughter, Riley Reid. Both are surprised to see each other however, Riley's surprise is masked by a seductive grin, as she's been thinking about Marco ever since they first met. Marco on the other hand, is reluctant at first, but after Riley promises to keep their massage a secret he gives in, letting Riley take the lead. She shows him all her amazing pleasure techniques using her soft delicate hands and by the end of the massage all he can think about is scheduling his next 'secret' appointment with Riley!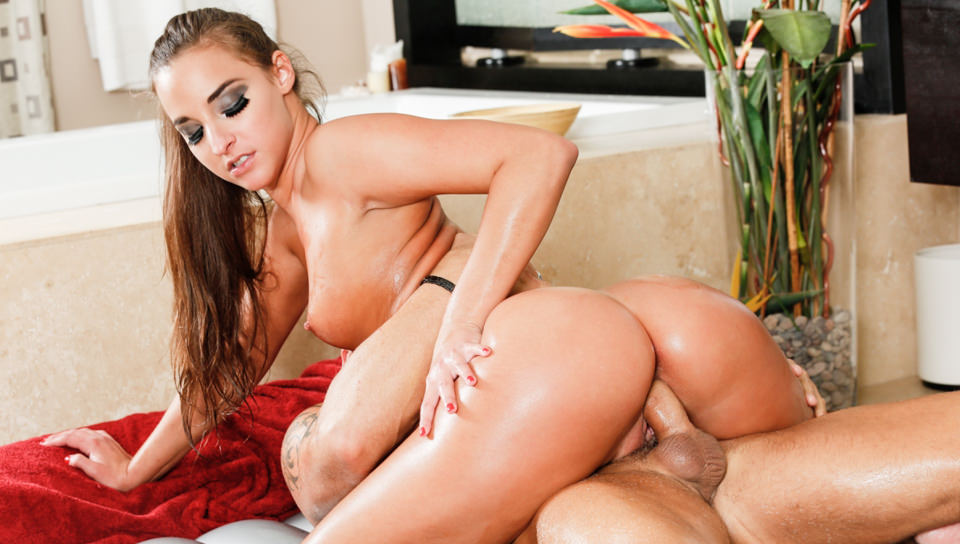 Muscle Cramps, Scene #01: Amirah Adara, Marcus London - Marcus London is suffering from major muscle cramping due to his intense training for his upcoming fitness competition. Amirah Adara his gorgeous masseuse tells him she knows exactly what to do to turn his pain, into pleasure. Even before stepping foot into the shower to begin the massage Amirah has Marcus loosening up, as she undresses him slowly, teasing his big cock. She works her way up his body and stops when she sees his face, pulling him in for a long hard passionate kiss. Things are so hot and heavy between these two, they may not even make it to the final stage of the massage before Amirah takes Marcus's cock from her mouth into her wet pussy.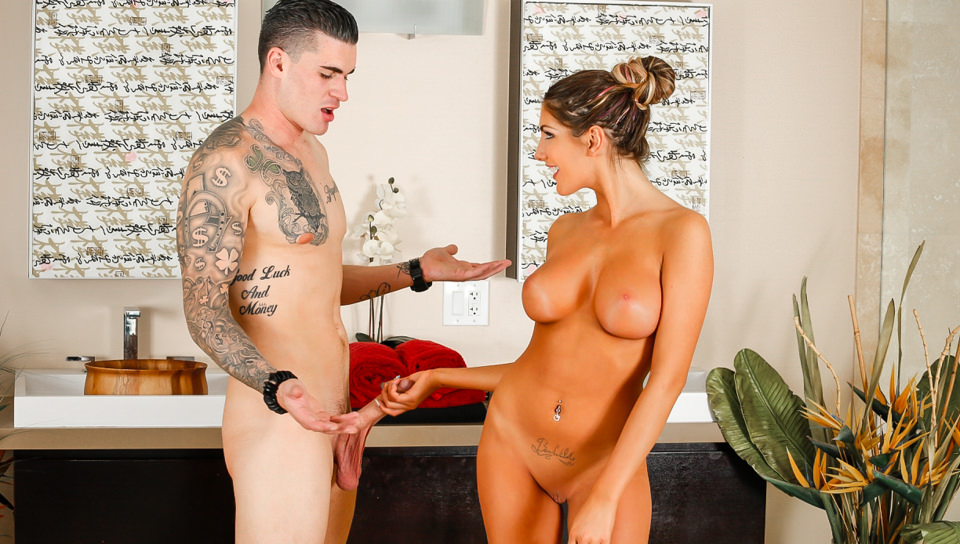 Back In High School, Scene #01: August Ames, Clover - August Ames was always a bit of a prude in high school, and it led to a pretty bad breakup between her and her high school sweetheart Clover. Now, years later, Clover gets a call out of the blue from August, who wants to prove to him that she's changed, and to make up for some lost time. She leads him by his dick into the shower, where she rubs his body down with soap and oil. Then things get even steamier when August takes a seat on Clover's big dick and rides it the way he always wished she would when they were together. But the best surprise is yet to come, as August shows him the Nuru massage techniques that taught her how to open up to intimacy. She's not a prude anymore, but will her new bold attitude be too much for Clover to handle?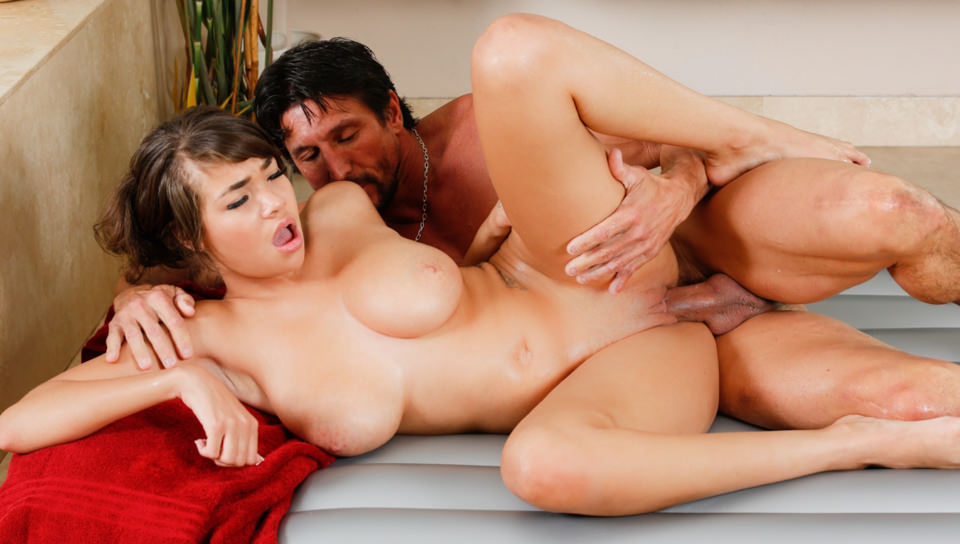 My Boss's Daughter, Scene #01: Cassidy Banks, Tommy Gunn - Tommy Gunn's been taking shit from his asshole boss all week, and it's stressing him out pretty bad. His masseuse, the beautiful young lady Cassidy Banks, can sympathize -- her dad is the same way, very strict and overbearing. As Cassidy strips down to reveal her shaved pussy and bouncing big tits, she promises Tommy she'll make him forget all about his jerk of a boss. And for a while, it's working. As he rubs his oiled up dick between her big tits and her warm, soft mouth, all his tension seems to go away. And then, it's time for the massage, and as Cassidy starts to rub her oiled body all over Tommy's he feels like he's in heaven. But how long will that feeling of relaxation stay after he finds out that his mean boss and her mean dad are one and the same?!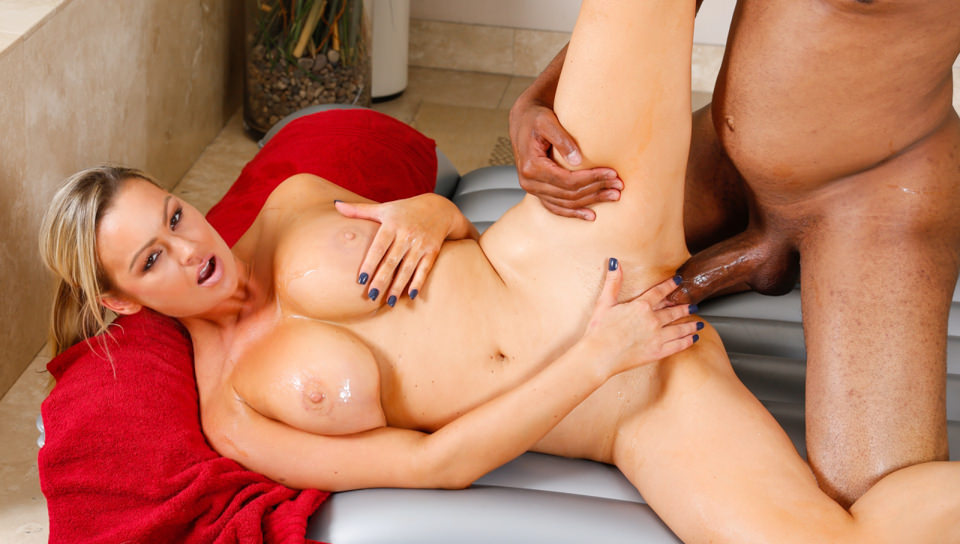 Milk Me Miss, Scene #01: Abbey Brooks, Jovan Jordan - Jovan Jordan is having issues getting hard to please his lady. Abbey Brooks, being the expert masseuse she is offers him an upgraded treatment today from the normal Nuru Treatment. She will perform a special milking with a bit of extra dirty seduction. Jovan shouldn't have much trouble staying hard for her. The massage begins in the shower, as Abbey pampers Jovan, and begins to rub her hot body all over his. In order to keep him at fill attention Abbey uses his huge black cock to fuck her big tits. This seems to work, but what will happen when she gets to his milking? When Abbey starts the massage and she's faced with his massive black cock she can't help but shove it deep into her wet and warm throat and her tight pussy.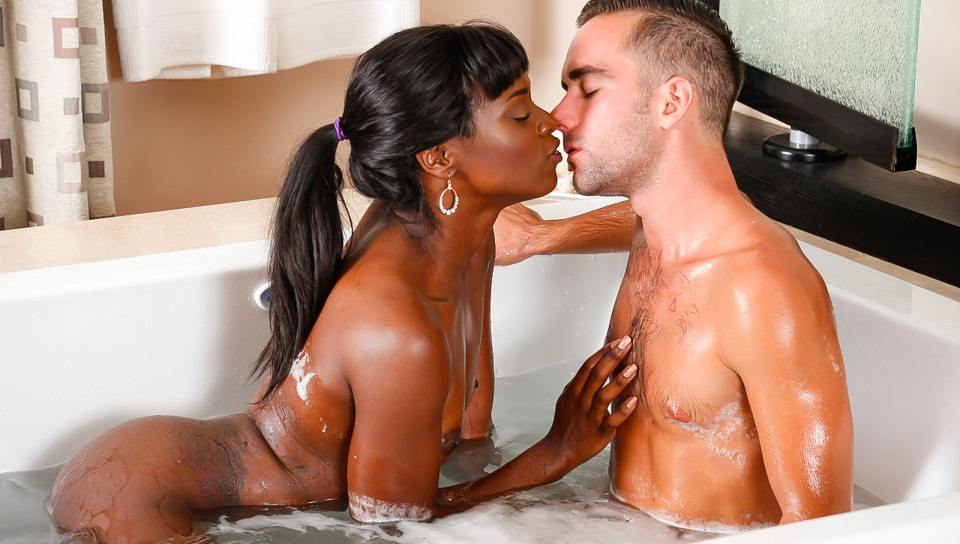 My Friend's Referral, Scene #01: Ana Foxxx, Logan Pierce - Logan Pierce's bud told him there's a hot ebony babe at the spa that he needs to meet. Ana Foxxx is his first ebony goddess, and he is incredibly nervous to meet her. He tells her his situation, and about his referral, and gets ready for the ride of his life! At every turn he can barely resist holding out his hands to touch her perfect body. Ana makes sure he is comfortable, and uses her hands to guide his all over her body. Logan and Ana have a chemistry we don't see often at the Nuru Spa. The build up to the moment she finally takes a knee to but his cock in her warm mouth is palpably passionate. The way they kiss is as if they find each other equally stunning.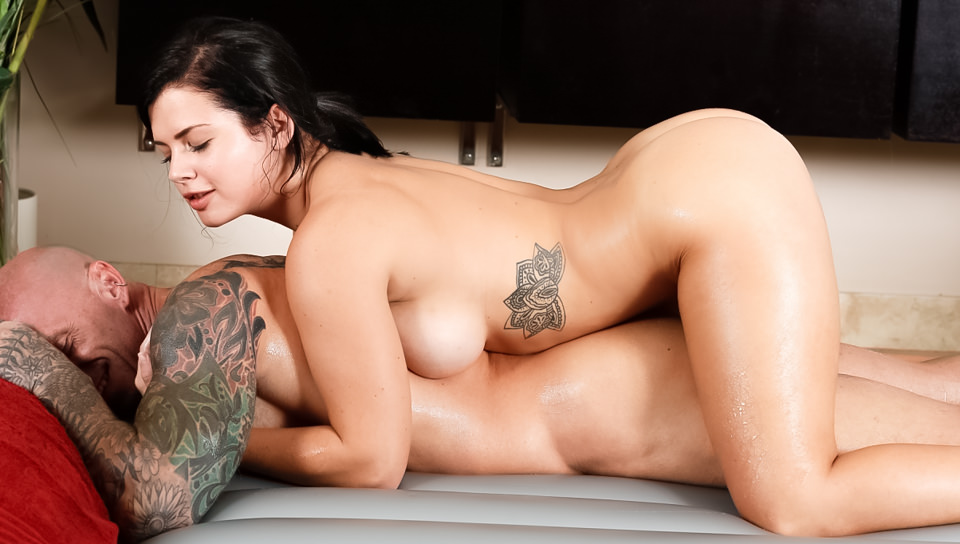 Bad Encounter, Scene #01: Keisha Grey, Barry Scott - Barry is a sleazy delivery man. He sees Keisha at the spa when he drops off a big package. His dirty attitude really rubbed Keisha the wrong way. When he shows up for a massage she's angry. When he threatens to call up her boss she gets nervous and gives in. As Keisha gets undressed, Barry takes in every inch of her gorgeous body. He gets ahead of himself, and Keisha makes sure to make sure he knows when he's being inappropriate. Keisha sees his experience as a chance to show her dominance. This guy isn't going to give up easy, so she needs to be ready for anything he throws at her.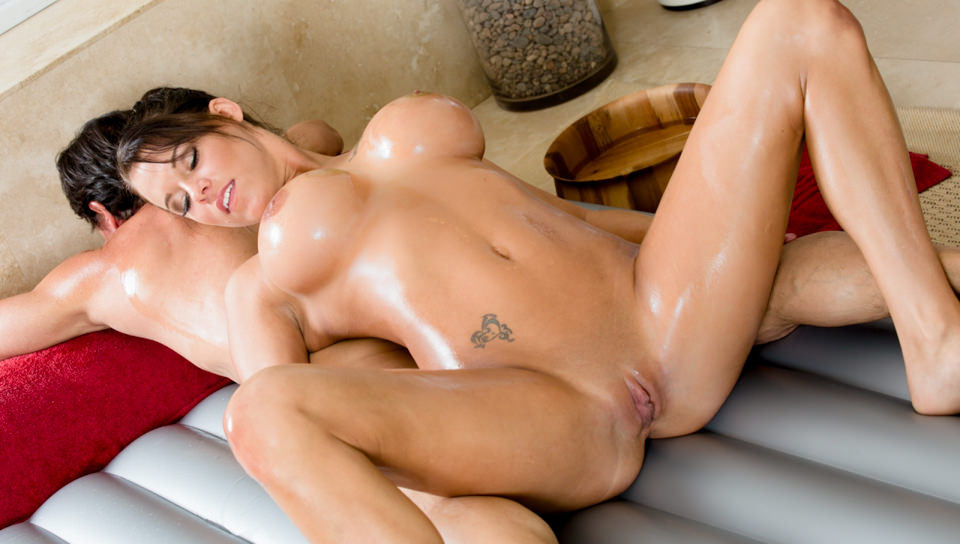 Sorry My Husband Owes You Money, Scene #01: Peta Jensen , Tommy Gunn - Eric was an ass and bought an expensive toy from Tommy Gunn. Without the money, he wracks his brain trying to come up with an idea to pay him. Barter services? But what services? He phones his darling Peta Jensen and tells her he was a bad boy. Peta to the rescue once again! Peta plasters herself between a rock and a hard place, but as soon as Tommy arrives she realizes her body will help her out of this situation. With a hubby like Eric she's got nothing to lose. Tommy is reluctant to take a massage over the money, so she offers it while he waits. Tommy doesn't seem to have a problem with having a little fun while he waits, so he relishes her presentation as she strips buck in front of him. She helps him get out of his clothes, and shows him the massage of his life, all on her guys willing instruction. Everyone's treat...or is it?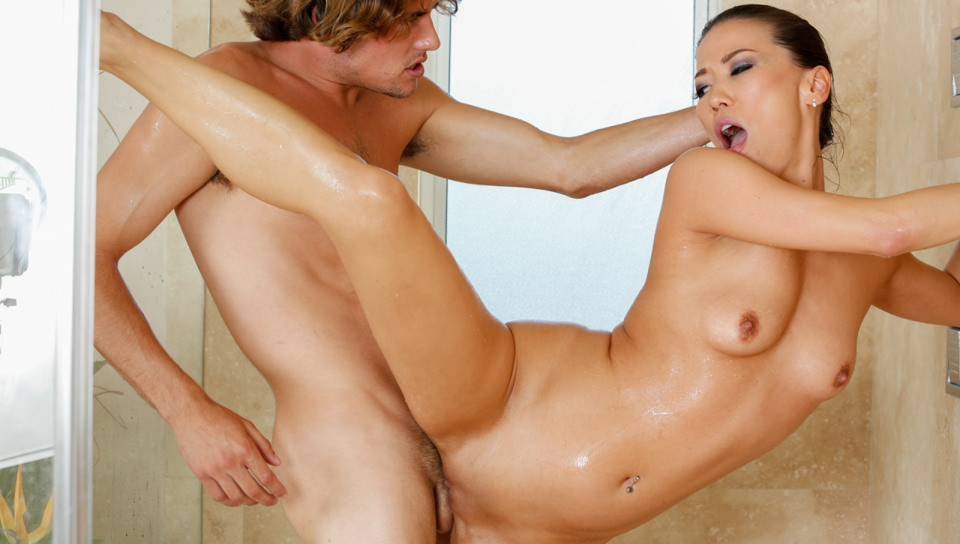 The Novice, Scene #01: Kalina Ryu, Tyler Nixon - Kalina is just cleaning up after a long day of giving Nuru Massages but one thing catches her eye. The young man who washes the windows. Tyler is working for his mom who usually gives him his window washing jobs for extra cash. Kalina strips in front of him, hoping he'll notice, but when he gets out of the way she finishes her shower. When she finds Tyler masturbating while checking her out, she is happy he's back and invites him in for a blow job, and the last massage of the day. Kalina really knows her stuff, and its Tyler's lucky day because she's the most amazing cock sucker at the spa. Who wants to see these two again? I know I do!



The Doctor Sent Me, Scene #01: Sophia Torres, Tony Martinez - Tony is back at Nuru and ready for another massage. The cute new girl waiting there was something he didn't expect, so he ends up doing a little roleplaying to try and spice it up a bit. Sophia Torres is New to the spa, and she's rather shy. But luckily that's part of her charm. The boys just can't resist making sure their massage goes the way they want it. Sophia's technique of being the shy meek new girl, allows the men to be in control, at least for a bit. But in the end Sophia knows that she wants the same as Tony, and when she shoves his cock inside her, she can't help but release the wild inner fuck kitten that got her the job in the first place. She hopes her next massage will come with instructions.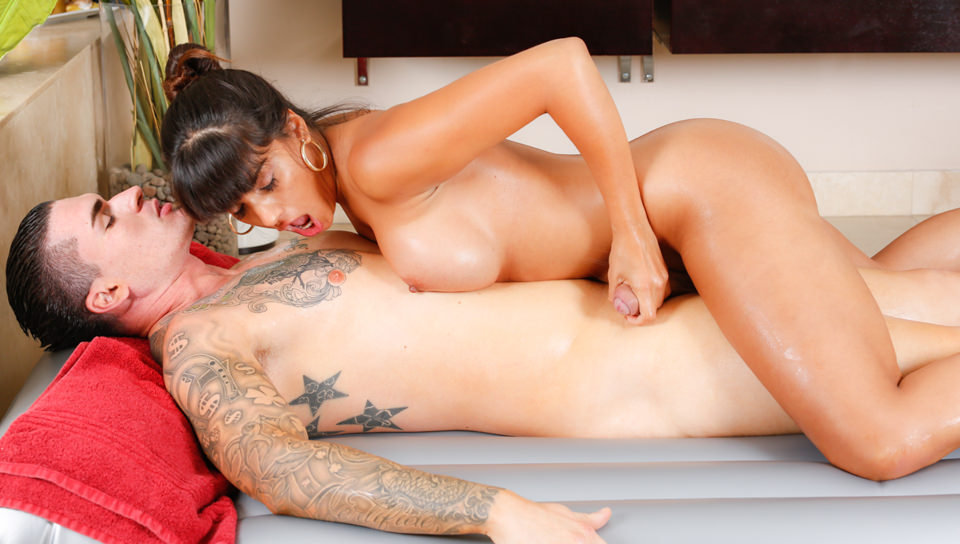 Nervous, Scene #01: Mercedes Carrera, Clover - Clover is not your usual nervous client. With tattoos like his, his rough tough look just masks a greater sense of distance from the outside world. But, like everyone he needs a little help to relieve some tension now and then. Mercedes is an expert Nuru Masseuse and she has just the right touch to get this gentle man to come out of his shell. At every turn we see Mercedes push past his boundaries, and help him explore her luscious Latina body, beautiful tits and juicy wet pussy with his big sensitive tool. Surprisingly, he follows Mercedes' body like a pro and this gentle pushover shows he knows his way around the female figure. Through the massage he finds perfect excuses to fuck her hungry pussy.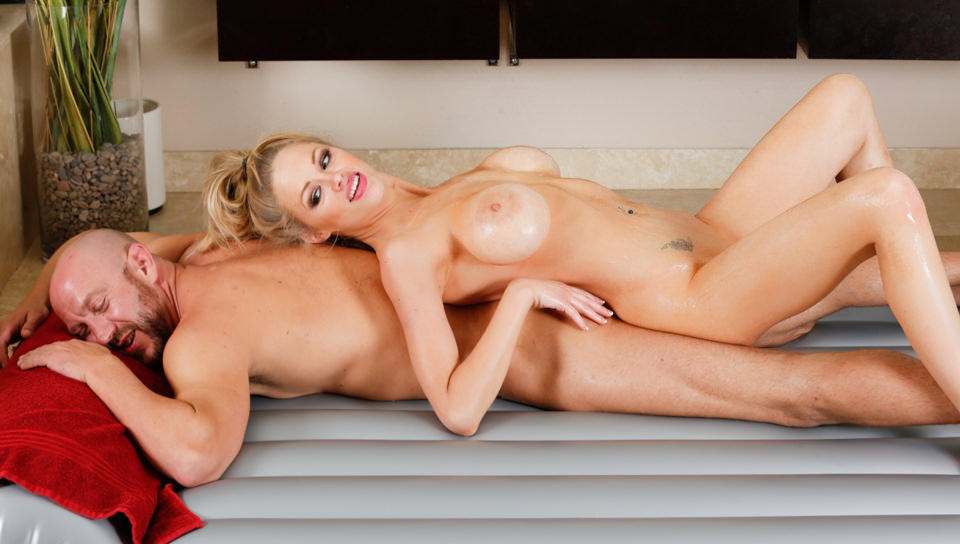 My Step-Cousin's Pretend Time, Scene #01: Katie Kox, Will Powers - Will came for a massage today, and lo and behold his step-cousin is there, posing as a masseuse. Soon, he finds out she's actually a masseuse at the Nuru Spa. His buddies from his fraternity reunion put him up to this as a treat, but clearly it's a prank. Firstly, Will wasn't expecting a naked massage, secondly by his own step-cousin! Katie helps Will make sure that the massage is authentic by giving him the entire treatment. Soon she realizes that she probably should have been fucking her step-cousin from the time they were young. Though of course you'd never have guessed. Guess a girl's morals are all that matters. Will keeps fucking her though until he pulls out and cums all over her tummy. When Will asks if he can come back, she doesn't hesitate to tell him to leave, and forget this ever happened.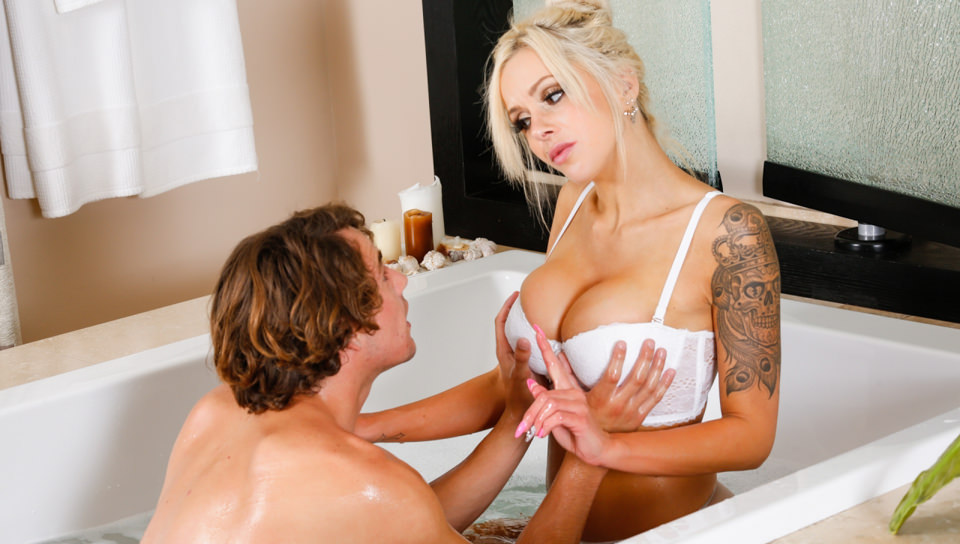 My Step-son, Scene #01: Nina Elle, Tyler Nixon - Tyler just loves to screw with his new step-mom Nina Elle. His Dad has been dating her for ages, and they never really got along, but he knows just how to fuck with her. No pun intended. When he shows up to the Spa where she works asking for a massage, she's the only one there to give it, and promises there will be no happy ending! Like a good son he agrees, but things heat up quickly when she sees him in the buck and can't keep from watching him. He gets a big boner and she can't resist not playing with it. Trying to stay professional she leads him to the bath. Not long after she finds herself wanting him even more. When he complains about her bra hurting him, she finally lets loose her beautiful tits and before long they're fucking like they've been dreaming about this for years!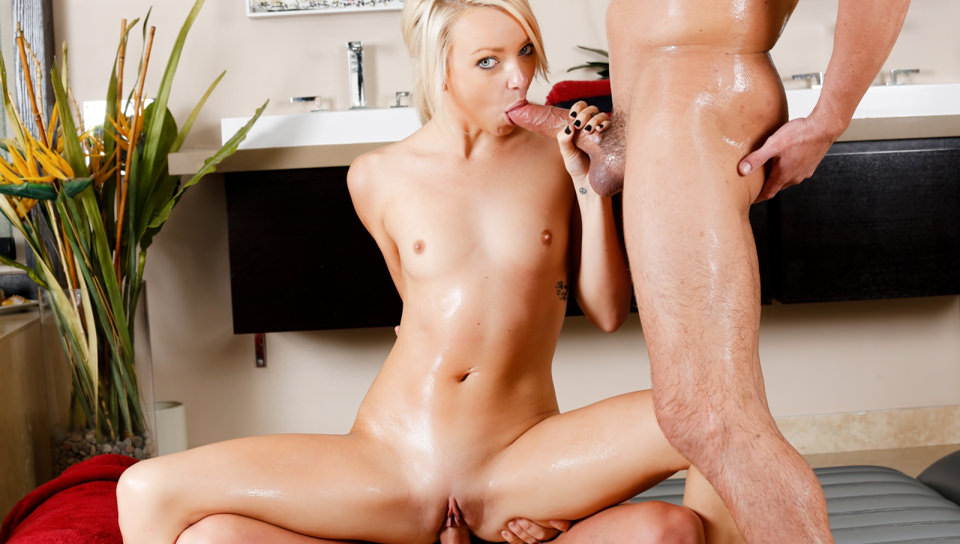 The Enthusiastic Cuckold, Scene #01: Carmen Callaway, Eric Masterson, Will Powers - Eric Masterson and Carmen Callaway have been looking for something to spice up their relationship. Carmen is a Nuru Masseuse, and today her client is Will Powers. Will is one of Carmen's regular customers and on top of that Carmen knows he's open sexually. Not too many guys would want to have their masseuse's husband to watch as they have sex! But in the end, Will and Eric just want to make Carmen's Day, and Carmen sure wants both of them there. Carmen is a expert and shows her chops as a masseuse, but when she invites her husband to join them, she shows that she is a good little slut, equally fucking Will's massive cock and sucking her husband's dick at work! After she takes both their cum in her warm mouth and on her face, you know her day's been made. Enjoy!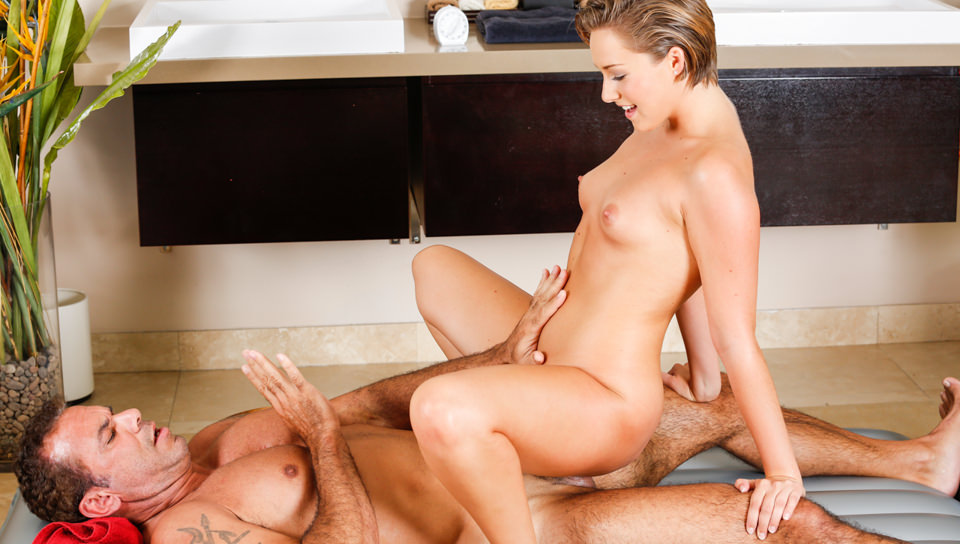 How Long Can You Last?, Scene #01: Bailey Bae, Steven St. Croix - Steven is in for a massage feeling coy and confident. Bailey is offering a challenge to him, as part of their weekly special. If Steven can keep from coming for the first 30 minutes of the massage, he will get the massage for free, but if he cums accidentally, he'll need to pay double the normal price of the massage. Steven feels confident he can meet that challenge, so Bailey takes him to get started. This scene really heats up quick, as Bailey takes on the challenge to make Steven cum, and Steven challenges himself to make it to the finish line, without being careful. Who do you think will win? Bailey is super sexy, and doesn't hold back on the teasing. Steven even remarks at how irresistible she is with her soft skin and 19 year old tits. He's going to have an awfully hard time.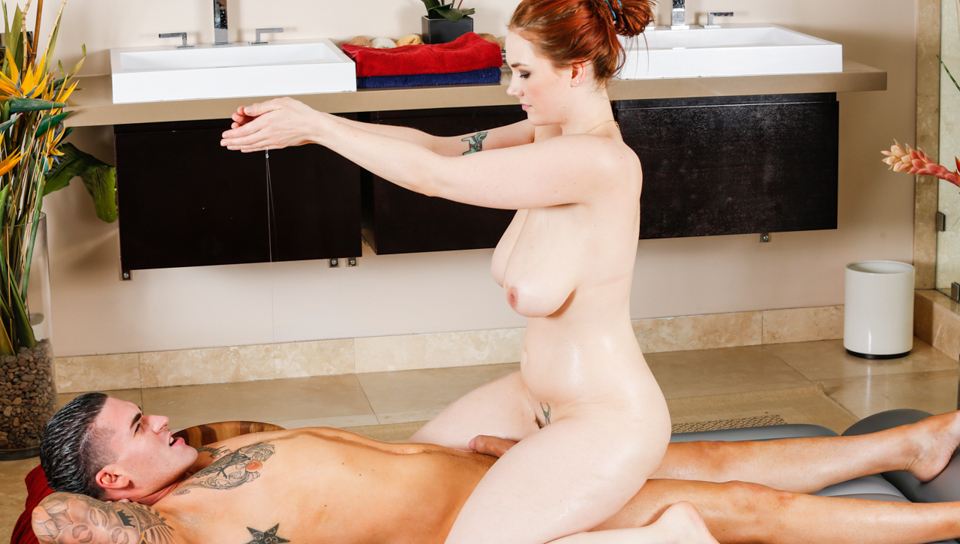 My Brother's Wife, Scene #01: Siri, Clover - Siri finally found a job at Nuru Massage after Tricky Spa wouldn't have her, and now all of a sudden her husband's brother shows up for a massage! She's just been scathing through here, and now she really could get into a lot of trouble. Clover, being the gentleman he is promises not to tell his brother is Siri will perform the massage as usual. Siri finds the blackmail a little insulting, but hot too. She has always wanted to see her husband's rough little bro's big cock. She soaps him up, and once he gets fresh she has to try hard to resist him. He sucks her tasty milky white huge tits and she sucks his huge brother in-law cock. Did Siri marry the right brother? We'll find out. But first, let's watch her bounce those huge tits.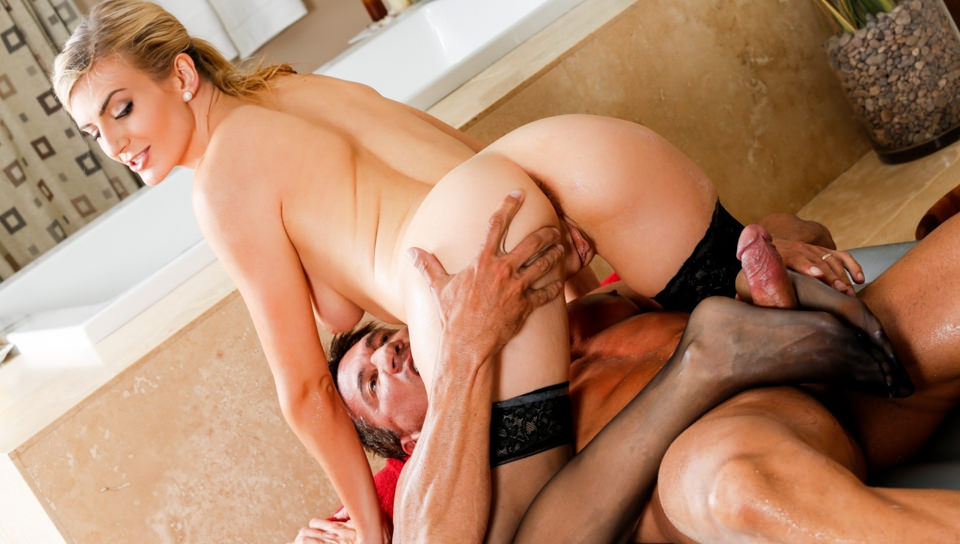 Nuru Stockings, Scene #01: Amanda Tate, Marco Banderas - Today Marco Banderas came to Nuru Massage with a special request. He wants his masseuse Amanda Tate to wear her high heels and the stockings he brought. First she reveals her beautiful soft body to Marco and lets him help to let her breasts loose from their black lace cage. Amanda takes her time putting Marco's stockings on, so he can watch her cover her legs with the sexy thin fabric. Marco's already in heaven. But when Amanda gives him the regular treatment, he is just blown away! Amanda makes good use of her new stockings and shows Marco's big dick her gratitude by rubbing his cock with her stocking covered feet before shoving him deep inside her tight hungry pussy. Just as you suspected, he lets go of his load all over her feet and the stockings.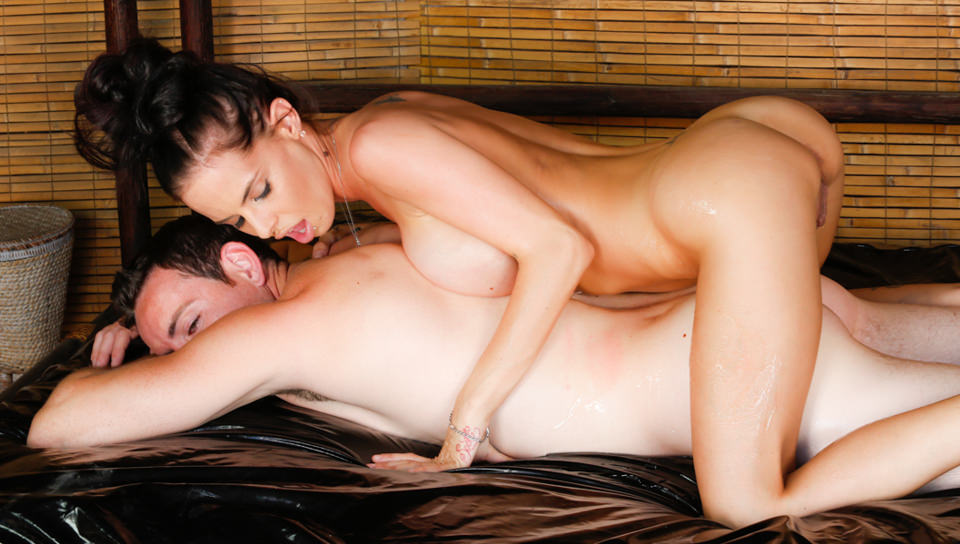 Shizen Massage, Scene #01: Brandy Aniston, Romeo Price - Brandy Aniston is offering a special massage to Romeo Price today. Romeo has been dealing with more than just muscle tension, his general rate of stress is higher than the usual client. Brandy's shizen massage is one that uses techniques developed in Nature by the Japanese. This massage has a modern twist but the main ingredients are all there for Romeo to enjoy. Brandy's nurturing and pampering soon gets Romeo out of his shorts and ready to relax. Brandy joins him, taking off her bikini seductively, and helping Romeo out with a particular area of tension. When they finally move to the Nuru mattress Brandy's technique becomes even more seductive, and Romeo's tension is dissolved by Brandy's warm tight pussy.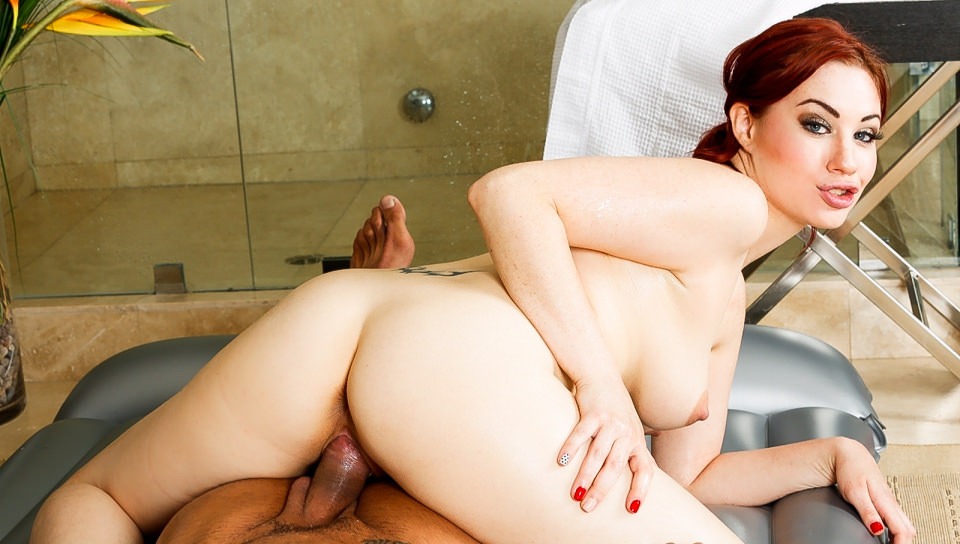 The Nuru View, Scene #01: Jessica Ryan, Marco Banderas - Today Marco Banderas brought his camera to the parlor. Jessica Ryan offers us some views we were not expecting. Marco's Camera captures some never before seen footage that we think is sexier than ever. The new angles he presents are make Jessica seem like she's your own personal expert masseuse. It takes no time before Jessica is playing with Marco's cock and massaging him with suds. The added advantage of our POV makes Jessica hot down below, and she is determined to get what she needs: Marco's (or your?) big latin cock deep inside her warm wet pussy. The hot shower quickly turns to warm soapy bath. Jessica's smooth talk only quits when her deep throat is stuff with cock. I'd be surprised if you make it to the end of this Nuru Massage without getting what you came for!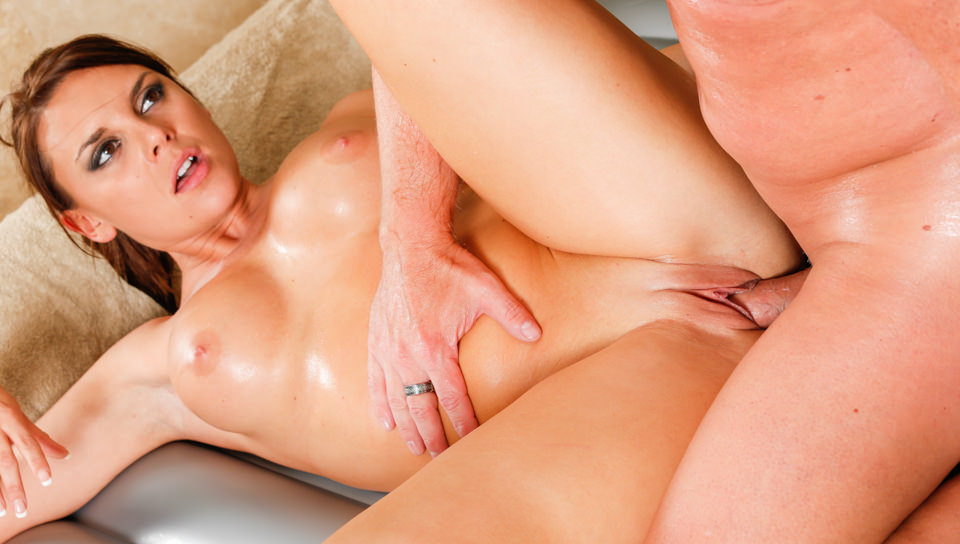 Sensitive Skin, Scene #01: Christina Lynn, Eric Masterson - It's Late, Eric has very sensitive skin, and can't go out in the bright sunlight. He's close to intruding, as Christina Lynn is closing up the spa, but when he tells her him issue she makes an exception. Eric is borderline obsessive about his poor skin, and asks Christina not to touch him before rinsing the oil off her own hands! This is the only way he will join her, apologizing for his boner, after noting how hot she is. Christina is about to show him the time of his life, and especially since he has never been able to experience anything like this ever before he's in for quite a treat. Eric's Nuru Massage is intense for him, having sensitive skin, but how will he feel about sticking his cock in her warm, slippery pussy? It's safe to expect that sensitive is an understatement!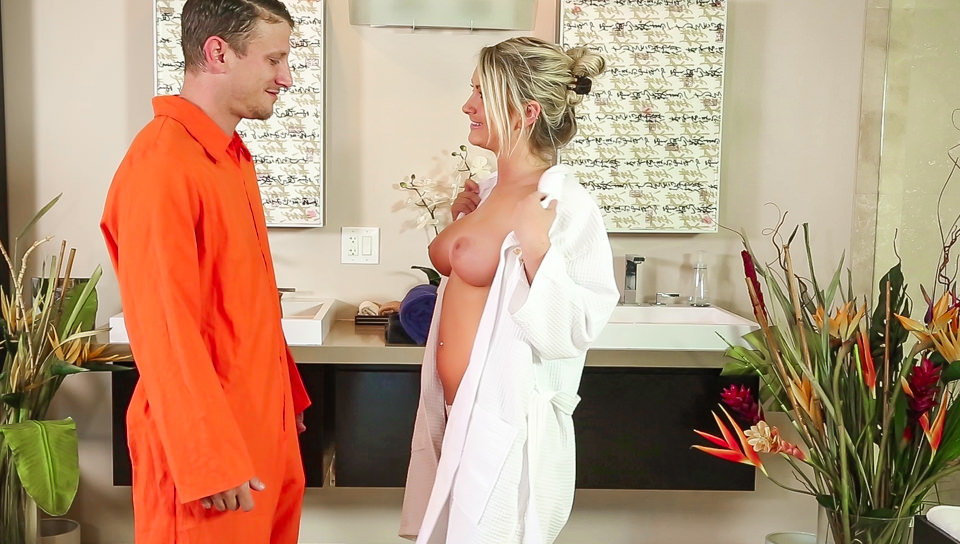 Hard Labor, Scene #01: Chloe Addison, Mr. Pete - 'Urban Hip-hop Fashion' ambassador, (and obvious escaped inmate) Mr. Pete rolled into the Spa today greeted by the beautiful Tennessee tantalizer Chloe Addison. All he wants is a no strings attached rub down, and Chloe is willing to give it to him if he pays up! Nothing could be more perfect than finding exactly the money and location he needed right there alongside the road. Chloe is an expert seductress, and before long this inmate and his much awaited boner are in heaven. Chloe is clearly in her element when Mr. Pete starts laying whopping kisses on her warm tender mouth and her slippery wet pussy. Chloe can't take her hands off Mr. Pete's massive dong, but when he begs to slide it inside her she has to let her pussy take precedence!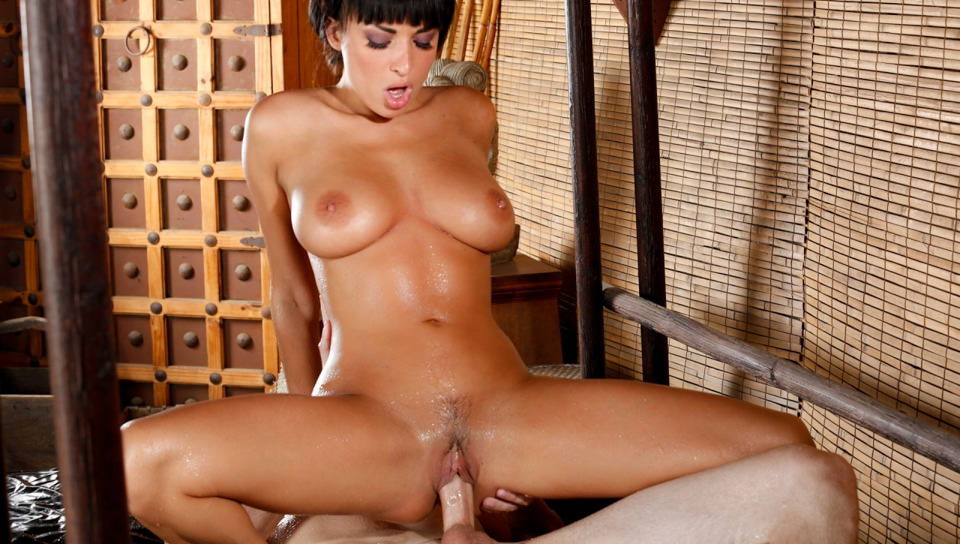 One With Nature, Scene #01: Anissa Kate, Romeo Price - Anissa Kate is working in the hotel Spa today, and Romeo Price is eager to have his first ever Nuru Massage. This is a special treatment too, because it's outside! Romeo suits up and meets Anissa by the pool. Before long she is well on her way to getting Romeo the massage of his dreams. She's a nurturing exotic masseuse with tits the size of melons, and a throat that is hungry for Romeo's cock! When they finally make it to the mattress, we behold the stunning babe Anissa is, radiating with sensual slippery appeal. Not only did Anissa enjoy giving the erotic massage but Romeo just couldn't help but have Anissa take his huge load inside her tasty looking pussy!


Want some more? Check the site.
| | | |
| --- | --- | --- |
| | Older | Newer | |