ASR PREMIUM - Free Porn Movies and Free Porn Images
ASR Premium offers Free Hosted Galleries of sample porn movies and photos for FREE. We collect and offer the high quality samples from millions of galleries on daily updating.
11/11/2021 GALLERY UPDATE
Fantasy Massage is the flagship site of a massage porn network serving with 7 niche sites including scenes of massage parlor, soapy massage, lesbian massage, milking table, oil massage, spa sex, etc.
Special Offer: [Check the Price Here]
[Click on the picture to see all the samples]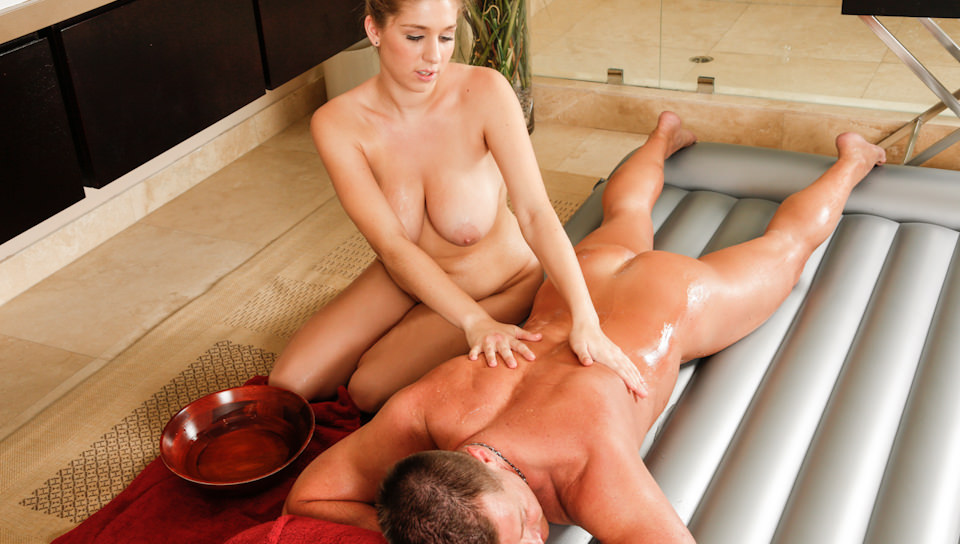 The Switch - A - Roo: Alex Chance, Eric Masterson, Cruz Ortiz - Alex Chance is new to the Nuru Massage Parlor and her trainer never showed up to show her the ropes. Cruz Ortiz shows up for a massage but his buddy pulls s switch-a-roo on him, taking his spot with the sexy Alex. Alex wants to do a good job and prove she has what it takes to be a Nuru masseuse. She is off to a strong start as she gives a deepthroat blowjob to Eric in the shower. All the soap makes things slippery, so Alex is able to let him titty fuck her big, all natural breasts. The couple decides to move things to the bath for more intimate body rubbing and cock worship. Alex gives Eric a nice handjob that she finishes off by bathing his stiff rod in warm water as he stands. On the massage table, Alex uses her strong thumbs to work Eric's knots out but soon she's on top of him again, using her breasts and pussy to release his tension. Eric's real release cums as Alex slowly sucks his dick, teasing him and working him to the point of no return, allowing him to cum on her tits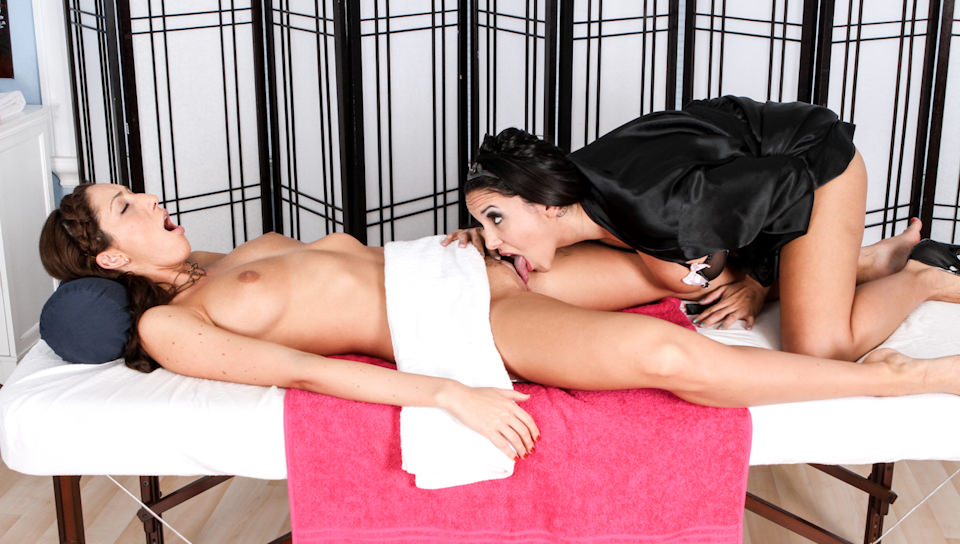 In Transition: Angelica Saige, Missy Martinez - The beautiful south west backdrop of Arizona sets up this massage as Angelica Saige and Missy Martinez discuss their upcoming life transitions. Sealing the deal as a buyer, by helping the seller enjoy a calming massage shows off just how kind and caring Missy can be when she is in a giving mood. Truth be told, the moment these two met, the sexual tension was already in the air and one girl buying the other one's bedroom adds a lot of kink to what would otherwise be a modest sexual massage arrangement. Now that the girls are forever linked by shared orgasms and deep tongue massage, wherever they go apart they will always be able to reminisce about their shared experiences this afternoon. Wild, wet orgasms and a big climax were enough to have Angelica wanting to lick the sheets again at her place later that same afternoon!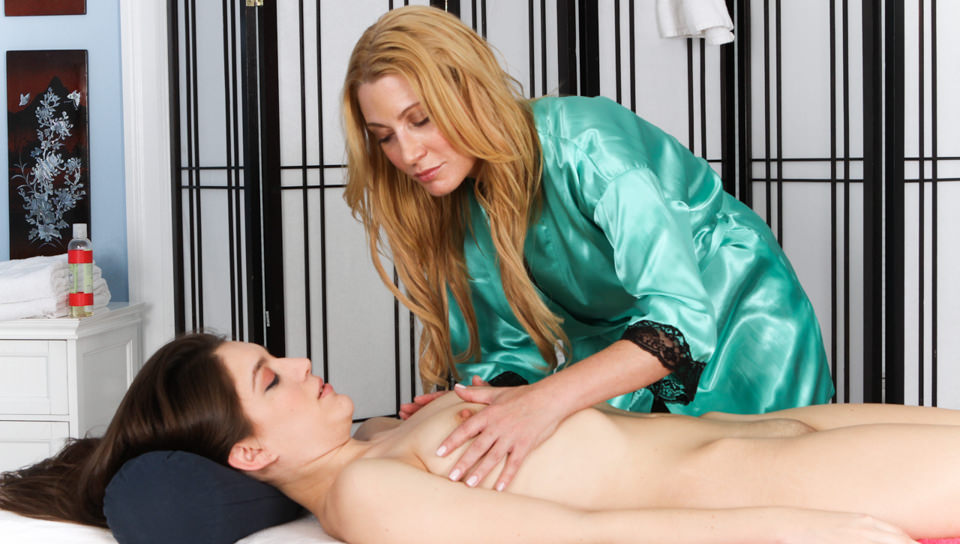 My Friends Mom: Zarena Summers, Jennifer Best - Sometimes you just have to pamper yourself. Zarena Summers came into Jennifer Best's massage parlor on the recommendation of a friends mother. She was looking for a little relaxation but winds up getting so much more. From the second Jennifer starts working her strong fingers into Zarena's beautiful ass cheeks you can tell where this sensual massage is headed. It would take a strong woman not to get turned on working such an erotic area. Our camera affords you an amazing view of her ass as it's gingerly spread apart. Her pussy lips look so good from that angle that your mouth will be watering. When Zarena flips over you will see her tiny brown nipples standing totally erect. As Jennifer leans in to gently kiss her lips, Zarena instinctively spreads her legs open affording her masseuse full access to her delicious pussy. See these two gorgeous hotties as they spend the day eating each other out on the massage table.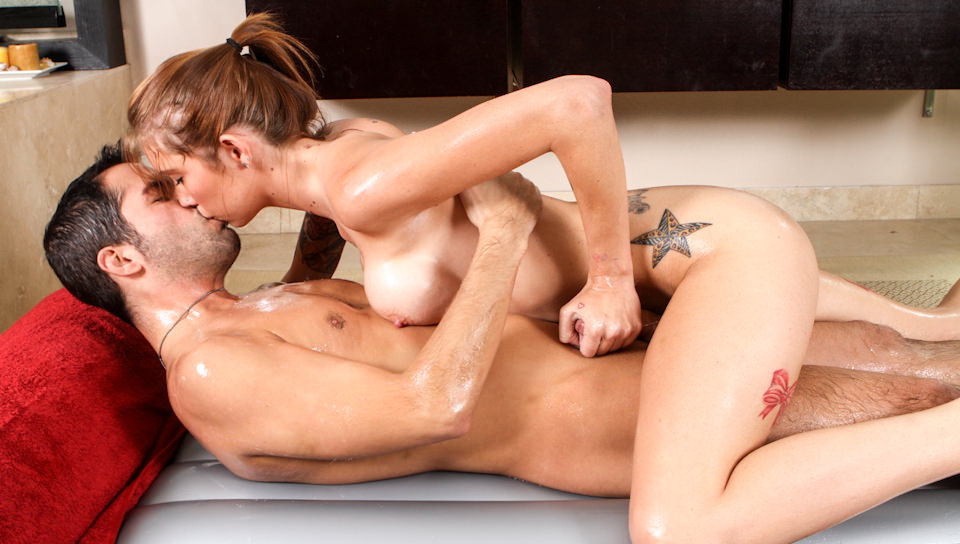 The Trade: Callie Nicole, Kris Slater - Callie Nicole is out smoking a cigarette when Kris shows up to show off his new electronic cigarette alternative. She listens to his pitch and offers to head upstairs to barter a trade... of services. if you haven't seen Callie before, she's the one with the awesome tattoos and a really sexy smile. She looks great in her traditional Japanese massage kimono but Kris is apprehensive about stepping into the shower with her. Once she gets naked though his tune quickly changes and they are destined for an afternoon session that others only dream about! Callie is so tall and has the longest strongest legs. In the shower she lovingly washes him from head to toe with her soapy hands before sinking low in the hot tub to suck the stress out of her newest client. Watch the skill level and technique this well-trained masseuse puts into every stroke. Then it's on to the massage mattress where Callie is eager to prove her worth by coaxing the cum right out of her customer while you watch!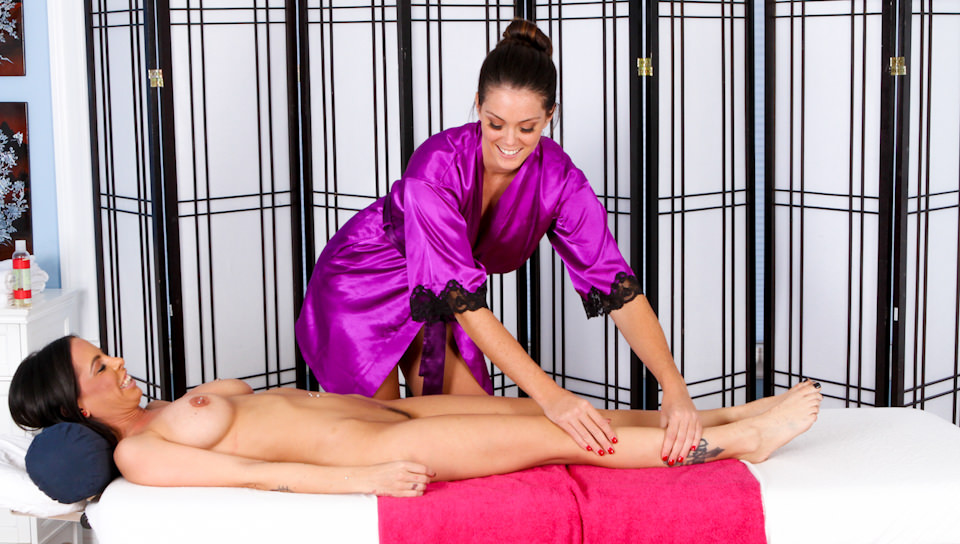 Works Every Time: Alison Tyler, Brandy Aniston - Brandy Aniston storms into Allison Tyler's massage parlor from the corporate headquarters and she's not happy with what she finds. The towels are not folded to the proper specifications and there is some clutter around that's ruining her day. Brandy's final test is to undergo a massage, and when Allison starts working her ass and spreading her cheeks, Brandy finally calms down. From the way she lifts her pelvis off the table to lean into the massage, you can tell Brandy is starting to get off. She can't resist the magic Allison creates with her hands. As she pops her ass in the air, you get amazing close ups of her shaven pussy and sexy asshole. See Allison move on to massage Brandy's tits, instantly hardening her pierced nipples. When Brandy tells Allison the spa will now be a full service, Allison is nervous but Brandy is there to teach her. Allison takes to licking pussy very quickly, eating every inch of her mound before kissing Brandy and letting her get rough with her nipples. These two hotties want each other bad and they won't stop until they each cum with the help of some sex toys.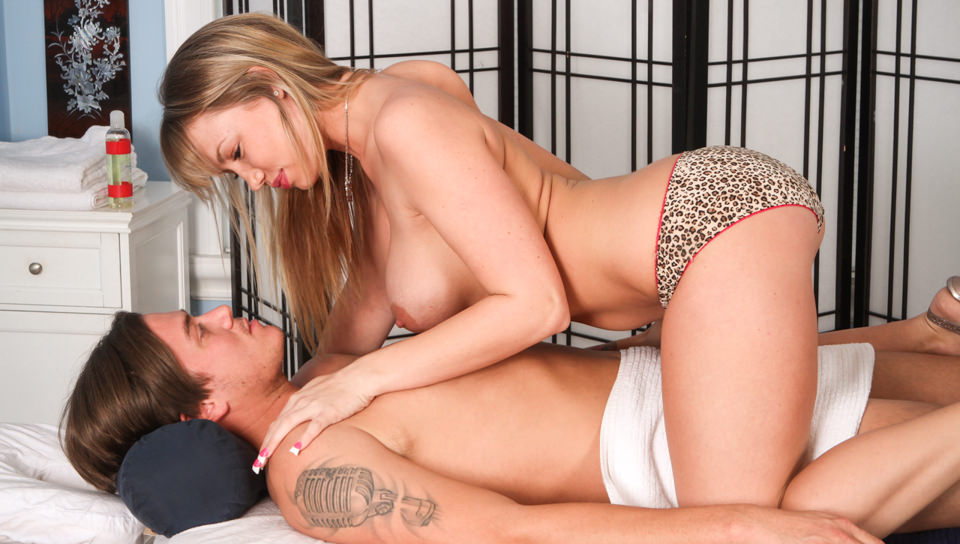 The Rebound: Maya Hill, Bradley Remington - Bradley comes in for a massage when his relationship with his girlfriend goes sour. He got her a gift certificate to use but jacks it and uses it for himself. Maya's eyes literally pop when she sees how much he spent on her, so you know she's going to give him the massage of his life. Maya likes the big spenders and always goes out of her way to make them happy. Today this includes starting out the massage in her panties. Her big tits look beautiful in her lace bra and her ass is popping. It doesn't take long for Maya to turn her client over and take her bra off, exposing her amazing tits. Not one to waste time, Maya is on top of her client eight minutes into the session. She works her body up and down his, letting him explore her every curve. She knows exactly what to do with his hard cock as she works it with her warm mouth. Maya sucks him slow, allowing him to feel how soft her lips are. After an intense 69, Maya sucks hard and fast, letting Bradley cum on her tits for the finale.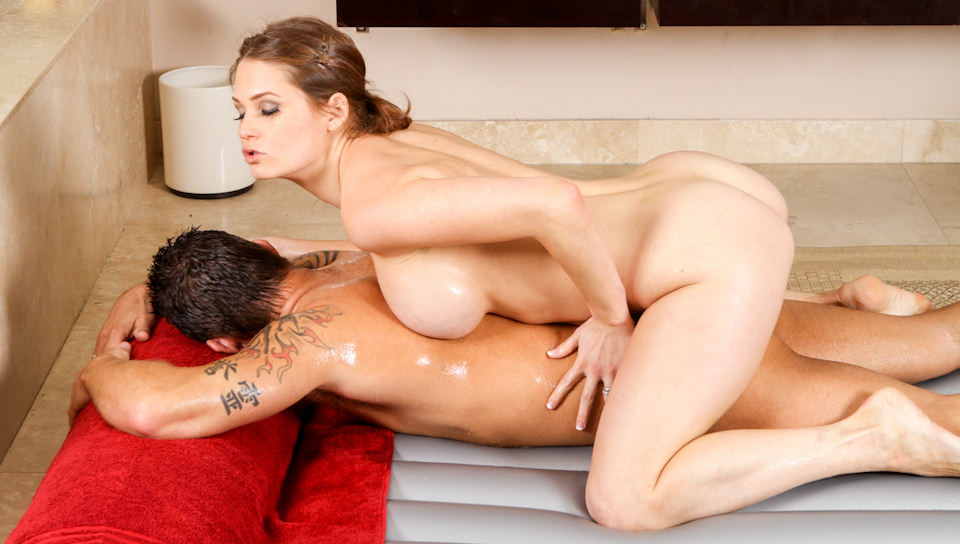 Need The Chair!: Allison Moore, Marcus London - Marcus London is a bit of a Nuru regular and he comes in specifically looking for the Sukebe chair massage. Allison, his masseuse, is a cute brunette that looks amazing in her lace bra and panties, not that they stay on long! Allison likes what she sees and so does Marcus so this couple gets to making out immediately. It's clear the direction this massage is going to take as they can't keep their hands off one another. Allison has her hands on his stiff cock before they even get into the shower. See her stroke and lick his cock in a close up view as they play together kissing and getting naughty in the shower. Allison gets out the special chair that lets her reach around and massage Marcus's balls from behind as she strokes and sucks his dong. They move their sexcapades to the bath where Marcus can't get enough of how Allison tastes. But the real magic happens when these two both lube up for a full body massage, complete with sexual rubbing, deep pussy fingering, and cum inducing titty fucking.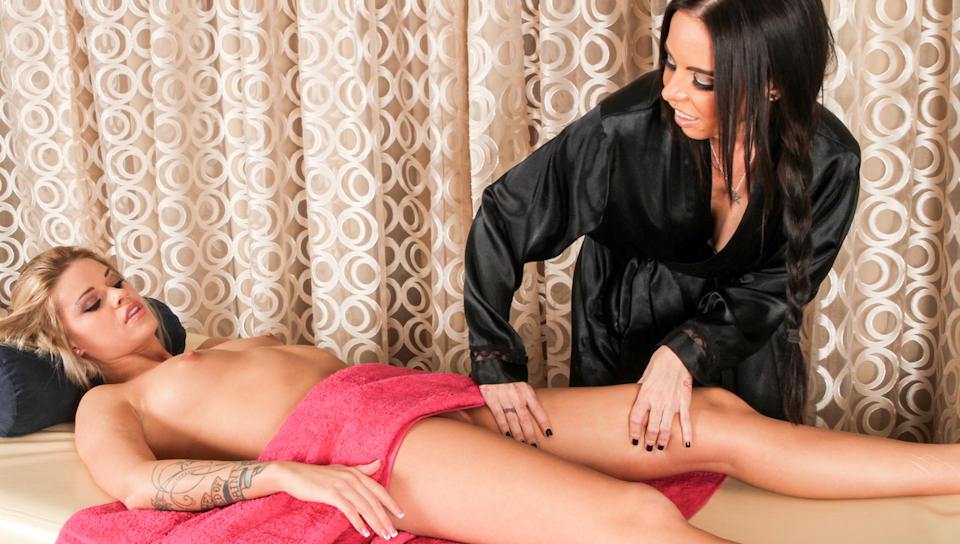 After The Show: Brandy Aniston, Jessa Rhodes - Brandy Aniston and Jessa Rhodes run into each other after a show in Vegas and decide to get together one more time before Jessa leaves. Brandy offers to massage her and make her feel nice before her departure and man oh man does she! Massage therapy is Brandy's passion and her soft, nimble hands get right to work on Jessa. The ladies make small chat as they relax with each other. You will get a nice view of Jessa's sweet pussy as Brandy massages her inner thigh, teasing her ass and pussy lips but never touching them, even though you can see in her face how badly she wants to. Brandy waits until Jessa flips over to make her first sexual move by lightly massaging Jessa's breasts and making her nipples hard. You are going to want to see these hotties get naked together so badly! Brandy is a pro and she knows just how to get a woman hot, wet and wanting. Jessa has never been with a woman before but Brandy's wet mouth on her pussy quickly convinces her that she should give hot lesbian sex a try.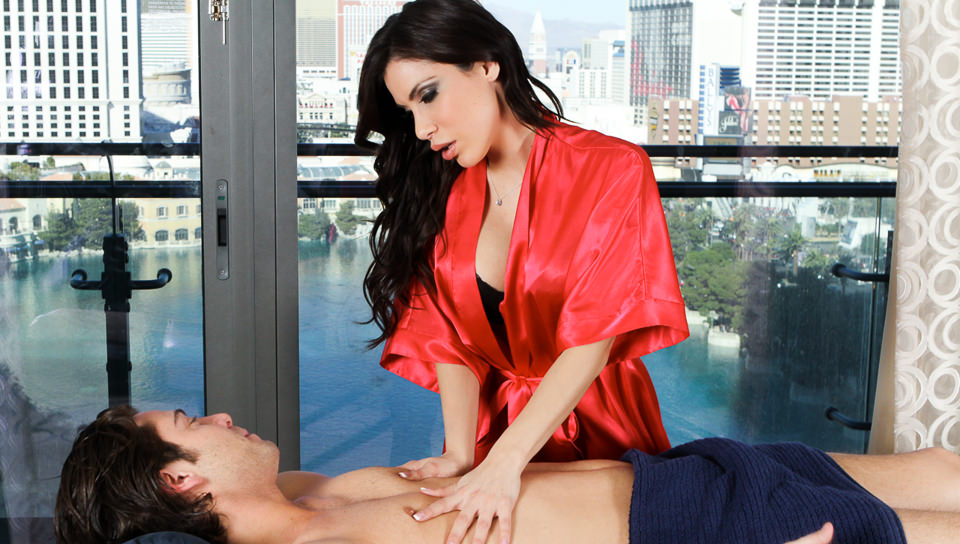 Just A Lil Extra: Aleska Nicole, Seth Gamble - Aleska Nicole is just leaving a client when Seth meets her in the hall and arranges for an impromptu massage. Aleska is so hot it's hard to concentrate on anything other than her breasts. She is flirty from the get go, caressing her clients back and making him fell comfortable. Her hands are so sensual in how they move, you can tell she's getting turned on by how she's biting her lip. Talk turns to sex and Aleska is out to get hers. She's talking dirty and inching her way up toward Seth's cock in a teasing manner. Aleska is used to getting exactly what she wants from guys and today she wants a hard cock deep in her wet pussy. Watch as Aleska puts his stiff erection into her soft mouth as she looks at him with wanting. She shows off her amazing ass for the camera, before getting right back to sucking him off. Aleska wants to cum too, so she climbs her pussy up onto his face, letting him lick her pussy as she takes his load into her mouth.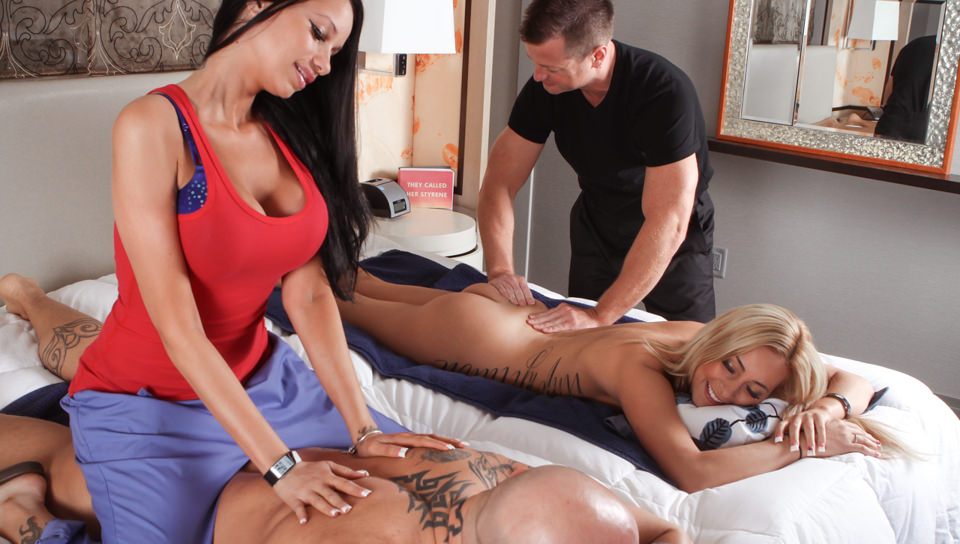 Couples Massage: Nikki Seven, Raven Bay, Eric Masterson, Derrick Pierce - Nikki Seven is on vacation and looking for a little relaxation time, so she decides on getting a couples massage with her boyfriend. Nikki and her dude forgo the towels and just lay down on the bed naked, setting the tone for some debauchery. Nikki gets things rolling in the right direction when she tells her boyfriends masseuse to straddle her beau. She is clearly getting off on watching another hot chick work his back and ass muscles. All it takes is a little more flirting to turn this innocent couples massage into a full on foursome! There is nothing like getting an inside look at four hot adults enjoying all the sexy pleasures that their bodies can give them. Nikki wants to watch her man get sucked off so bad, she asks his masseuse to put his cock in her mouth. Being a stand up guy, Nikki's beau gives the OK for Nikki to get hers as well. In the end, it's Nikki who swallows her man's hot jizz because she really knows how to get him off right.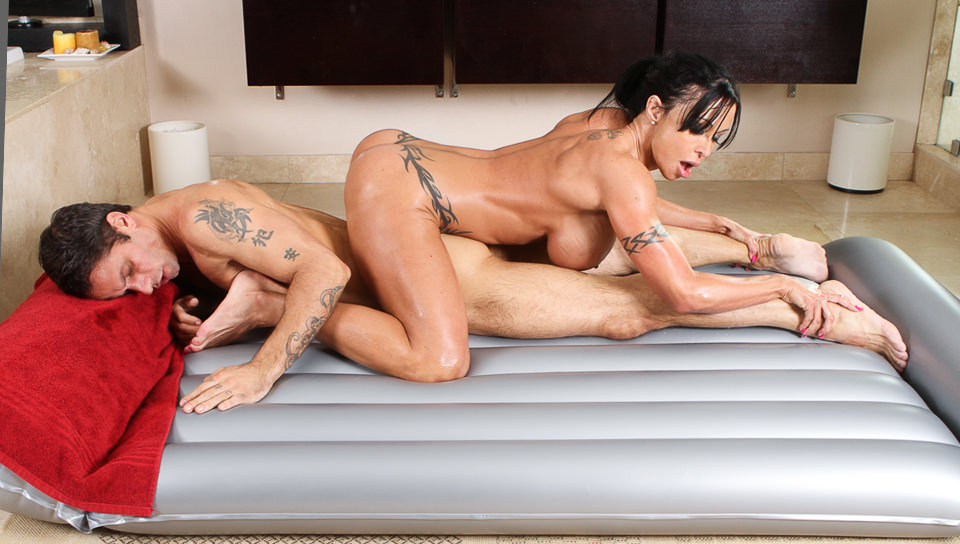 The Dry Cleaner: Jewels Jade, Alan Stafford - Alan Stafford's been dropping off the dry cleaning at Nuru Massage for quite some time now but never realized what kind of business they do. Jewels Jade explains the art of the Nuru massage from the special oils they use to the way they use their whole body in the process. She's got time and Alan could use a massage, so the two work out a deal. Jewels lets Alan touch her right from the beginning as she leads him into the shower for a quick rinse. She strokes his already hard cock off as she lathers it up with soap, making sure to clean his balls as well. Alan is eager for all Jewels has to offer. She continues to stroke him from behind as she both stands and kneels, preparing him for some soapy body rubbing and the Sukebe chair. Now that his cock is clean, Jewels is ready to put her warm mouth and full lips all over it. Jewels lets Alan fuck her DD tits as they are wet and soapy in the bath before retiring to the air mattress for the oily full body and blowjob massage. Jewels and Alan cum together as they 69 and Jewels takes it in her mouth and on her tongue as she swallows.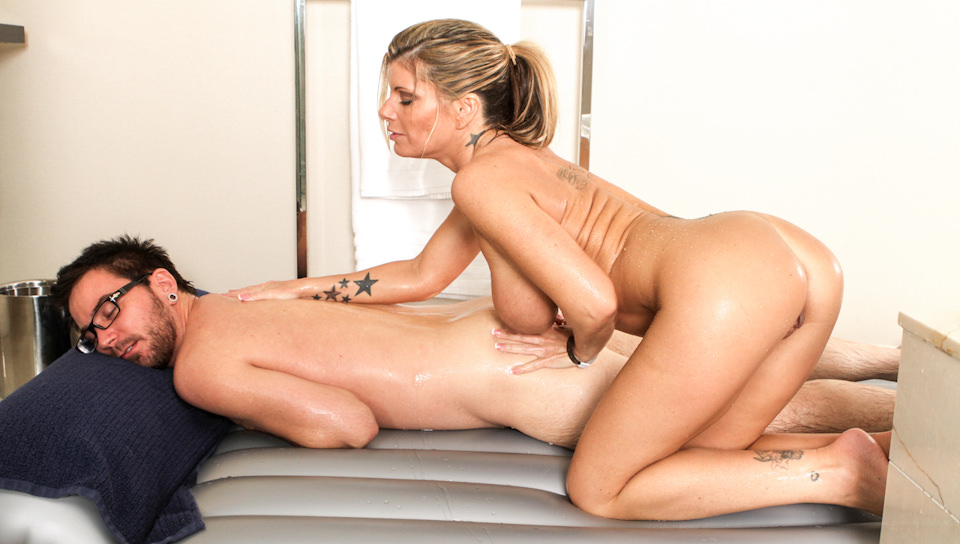 My Mom's Friend!: Kristal Summers, Dane Cross - Dane Cross calls Nuru thinking they are in the escort business but goes in for a massage anyway. Kristal is explaining all about the special gel they use for their massages just as Dane realizes he knows her! Kristal promises to give him the best massage of his life if he would just promise to be quiet and pretend they are strangers. Kristal strips down, showing off her hot tattooed body and perfect breasts. She leads Dane into the shower to get him clean and ready for her mouth and pussy to roam everywhere it wants as long as he is in her charge. Kristal uses the warm soapy water and her hands to get Dane hard as she kisses him. Wanting to feel him stiffen in her mouth, she gets down on her knees to suck him off as the water flows around them. They continue their sexual play in the tub before Kristal leads Dane to the massage bed. Here the couple gets nice and lubed up for full on body rubbing. The close up shots of Kristal's pink wet twat as she works Dane's back with her tits are awesome. Kristal gives Dane some 69 action but goes down to use just her mouth as he cums so he can enjoy it while she sucks and tastes it.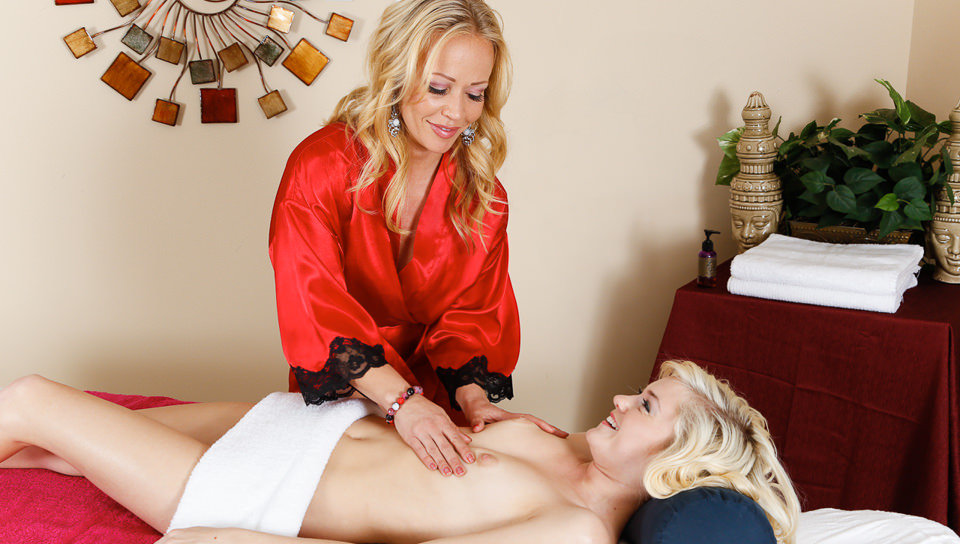 The Sitter: Austin Taylor, Chloe Foster - Chloe Foster is employed by Austin Taylor as a nanny so as a thank you for being so dedicated to her job, Austin offers to give Chloe her first massage ever. Chloe is a hot blonde with the perky body of a sexy nineteen year old, so seeing her get naked for her massage is a treat. Even Austin is blown away by how fit Chloe feels under her knowledgeable hands. Austin indicates Chloe is going to get to see the real magic of her hands as the massage progresses and you know exactly where this massage is going. Austin can't keep her eyes off Chloe's pussy as she spreads her legs to reach her inner thigh. She even leans in for a sniff of Chloe's healthy and shaven naked pussy before flipping her over to work her chest. Austin gets Chloe's nipples hard and the two begin flirting hardcore. Both begin breathing heavy and Chloe asks to feel and suck Austin's nipples as she has never felt a womans breasts before. Now Austin takes charge, teaching Chloe all about the pleasures of being with anothe women. She lets Chloe grind her pussy all over her face, giving her her first lesbian orgasm. Austin gives Chloe her second lesbian orgasm when she allows the blonde hottie to get her first pussy on pussy grind session.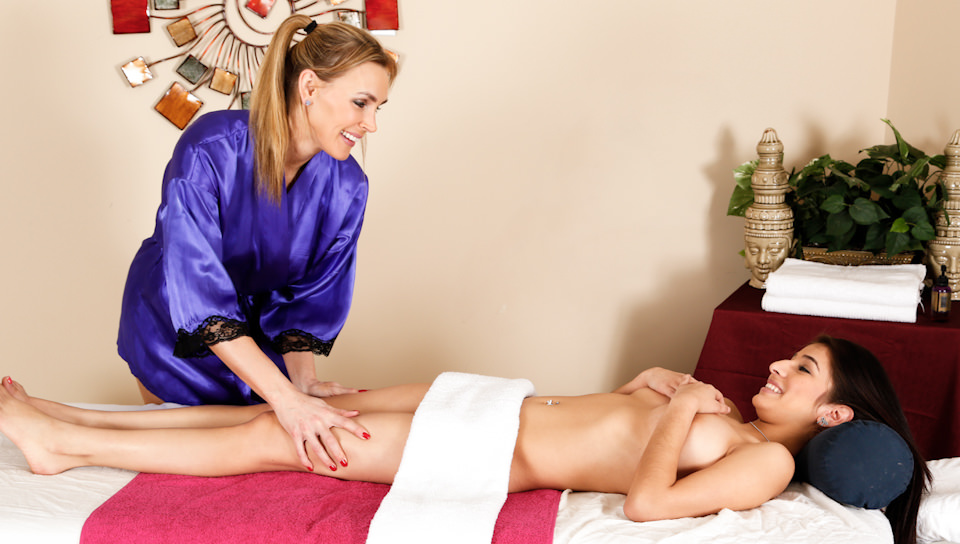 Everythings Bigger In England: Megan Salinas, Tanya Tate - Poor Megan Salinas has been sleeping on a friends couch for days and she's woken up in need of a massage bad. She is in very skilled hands with British beauty Tanya Tate in charge of her massage. Tanya has a soothing voice and soft yet strong hands that know just how to kneed the stress right out of Megan's sore bodies. Tanya begins giving Megan compliments right away and it makes you wonder if there is an attraction there. Megan practically jumps off the table a Tanya gets so close to her shaven pussy that you can see her lips being pulled apart with the pressure. The close ups of her sweet vagina are enough to make your mouth water with wanting. But Tanya is calming and she gets Megan to relax again and go with it. Tanya is the teacher about to introduce Megan to all the pleasures of girl-on-girl sex. She gently blows and sucks on Megan's nipples to get them hard, rising to kiss her mouth deep as she begins to massage her pussy. Tanya goes slow, allowing Megan to enjoy every moment of her erotic massage. Seeing these two gorgeous women licking and tasting every inch of each other, going slow, being intimate is not to be missed.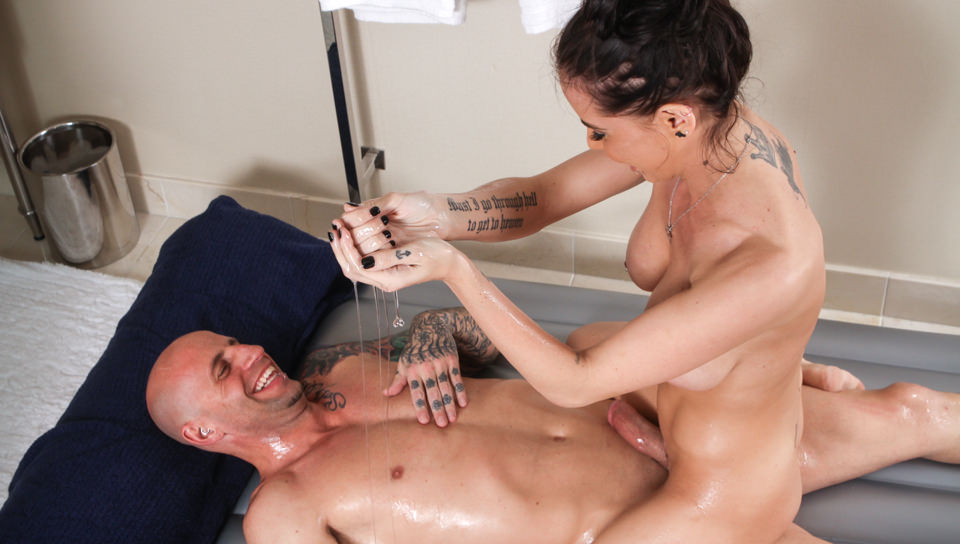 Nuru Replica: Brandy Aniston, Barry Scott - All it takes is an internet connection for Barry to order up a massage from Brandy Aniston. She's a little shocked that Barry wants a massage with Happy Ending but he flashes some serious cash and she reconsiders. Brandy is a busty brunette with super lips that look like they were built for blowjobs. Her nipples and navel are pierced and she's nice and tatted up for all the ink fans out there. Although this is Brandy's first XXX massage, she knows just how to tease and work her hands around a cock. See her lather up his dong and balls until it's standing at complete attention in her hands. You can tell from how Brandy is looking at it that she can't wait to wrap her lips around his thick meat. The handjob continues in the tub to get it nice and rinsed off then Brandy takes the whole thing easily down her throat without so much as a gag. She continues sucking him off after a full body to body massage with tons of that special Nuru oil, until her own desire makes her spread her pussy all over his hard shaft.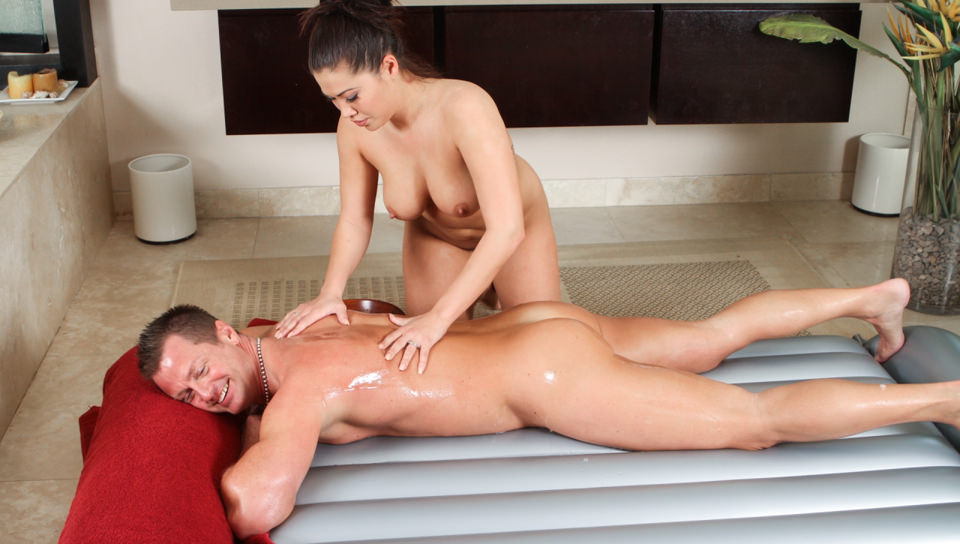 What Are Friends For?: London Keyes, Eric Masterson - Eric came in looking for his better half Nicole who was off from work for the day. But he really wants a massage bad and convinces London Keyes that Nicole wouldn't mind if she gave him one. London goes along with Eric's plan, slowly undressing him and herself in the process. For an Asian, she's got huge all natural boobs that bounce as she walks. Eric is hard by the time they hit the shower and London uses her hands to get his cock soapy and clean. See her rub her breasts up and down his thigh as she gives him a handjob from behind. Eric can't wait to have her mouth on him, so she takes him to the bath to rinse off. London starts to get excited as he takes her hard nipples into his mouth. She continues to work his cock, but this time she uses her mouth as well. Next it's off to the oily massage part of the session and London uses her whole body to massage him down. Eric begs London to let him put his cock in her for a second but it turns into a major jackhammer fest, with London fucking him just as hard back.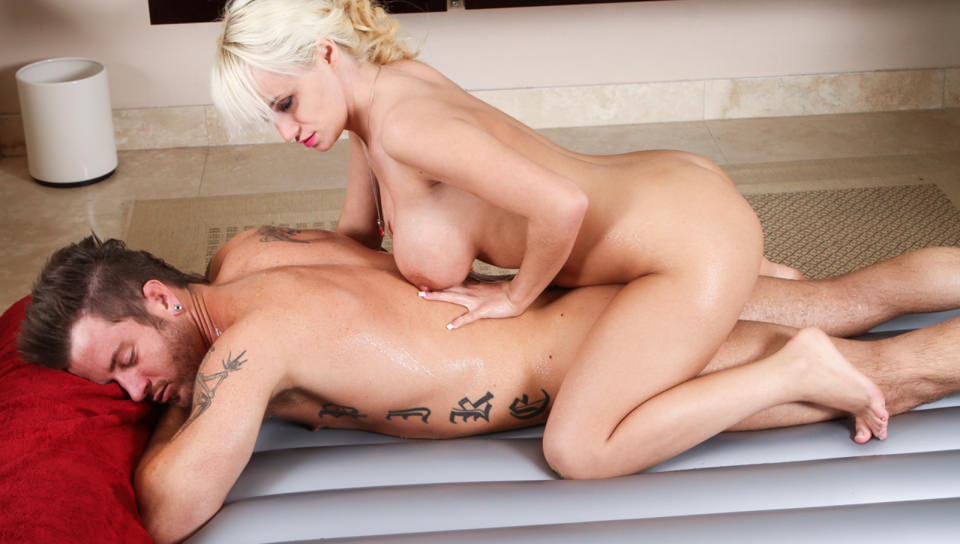 Fix My Back!: Scarlett Monroe, Brad Tyler - Scarlett Monroe is a busty blonde that recently started giving Nuru massages. Brad is a walk in client for her today and he is immediately impressed with the fact that Scarlett isn't wearing any panties under her silk robe. She is naked in minutes and quickly drops to the floor to help Brad out of his jeans as well. Scarlett soaps up Brad's cock allowing him to harden in her hands. See her manicured nails run up and down his shaft before she rinses him off so that she can put every inch of his stiffness deep into her mouth. His cock is big but Scarlett is able to deepthroat every inch of him. After working him with her mouth, Scarlett moves Brad to the massage table where she gives him a deep tissue massage using plenty of slippery Nuru oil. Watch as Scarlett rubs her D cup tits and wet pussy all over his body. Scarlett finishes off her client by sucking the cum out of his dick.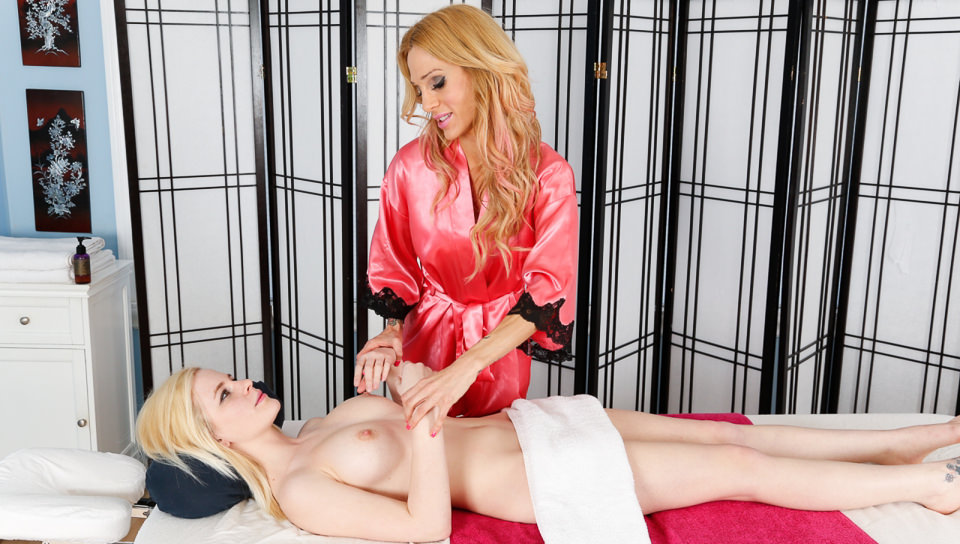 Massages And Tattoos: Catie Parker, Sarah Jessie - Catie Parker and Sarah Jessie bonded in a tattoo shop, and Catie has decided to take Sarah up on her offer for a massage. It is Catie's first experience with having a woman's hands work all the deep tissue in her body and she is very much looking forward to it. Catie is a very fair skinned blonde with amazing tits. Sarah is also blonde and very tattooed for all the ink fans out there. They look so good together that you can't wait for Sarah to make the moves on Catie. Catie is putty in Sarah's strong hands. See her willingly spread her legs wide, allowing our cameras to get a good close up of her tiny pussy. Sarah continues to tease her sweet spot as she flips Catie over to work on her front. Sarah gets so close to Catie's pussy with her hands that you know she is teasing it just right. Catie is shy at the breast massage but Sarah's soothing voice and compliments put her in the right frame of mind to give in to her first experience with a woman. As she two tongue kiss, Sarah begins massaging Catie's swollen pussy and nipples. Sarah takes her time with Catie and is very gentle, wanting to make her first experience with a woman orgasmic. After lots of oral, they both cum loud and kiss each others taste of their lips.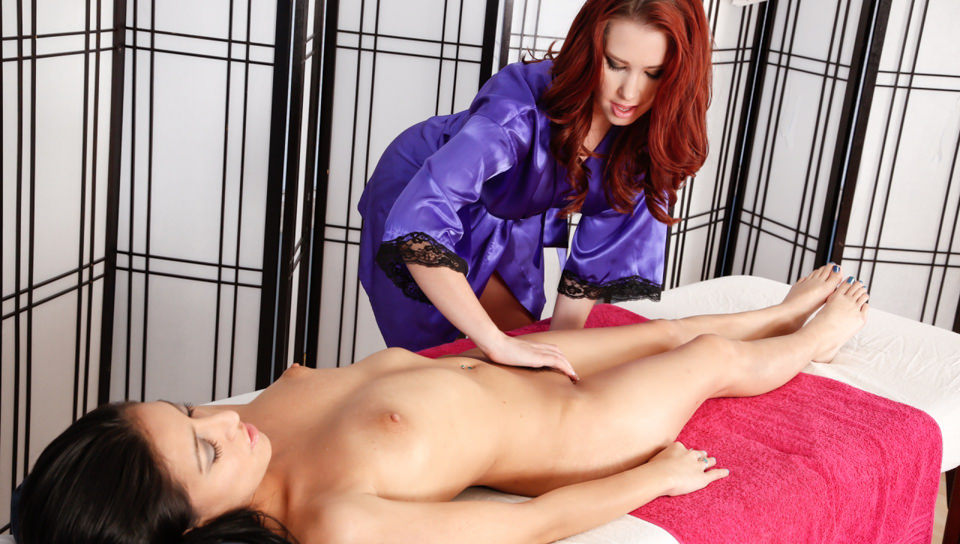 Retail Stress: Melody Jordan, Kimberly Gates - Kimberly Gates has a tough retail job and needs desperately to relax. Melody Jordan is confident she can help Kimberly reach that sweet nirvana a good massage can bring on. Kimberly strips down, exposing her little pointy breasts and perfect ass. When Melody reenters, she gets to work on Kimberly's back using her perfectly manicured hands. The ladies have a good rapport and enjoy some light flirting. Melody spends extra time on Kimberly's thighs, since she is at work all day and on her feet, and you can look right up between her legs at her neatly shaven pussy. Seeing Melody work her way up to Kimberly's breasts is totally erotic. She knows just how to work her tiny tits to get her nipples hard as rocks. Kimberly gets a little shy when Melody removes her towel, revealing a patch of pubic hair on her pussy, but Melody reassures her that she knows exactly what she's doing and Kimberly gives in to her well skilled hands. Once Melody gets naked she can't wait to put her mouth on Kimberly's clit any longer. The close ups of her tongue splitting her slit and getting into her deep crevices are hot. Kimberly cums easily for Melody as she uses a vibrator on her pussy while licking her asshole. Kimberly is so turned on that she quickly turns the situation around to eat Melody out until she cums on her tongue.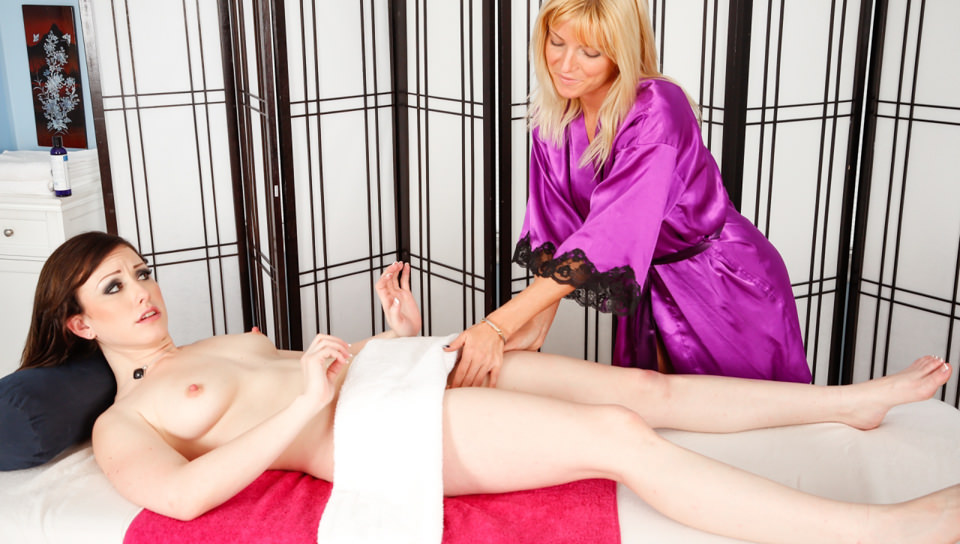 Switching Teams: Jennifer White, Niki Lee Young - Poor Jennifer White is going through a really nasty divorce and some of her girlfriend recommended that she hit up the all girl massage parlor. Niki Lee Young is all set to get to work on making Jennifer feel oh, so much better. Watch as she lubes up her strong hands and works every inch of Jennifer's lily white skin. Niki gently grazes Jennifer's shaved pussy as she works her inner thigh in an effort to turn her on and make her relax even further. Our cameras catch amazing views of Jennifer's world famous pussy and it's enough to make your mouth water for a quick lick. Jennifer says she's a little shy when she turns over revealing her naked breasts but her nipples are so hard that they tell a different story. She acts a bit coy when the massage starts to include her sweet pussy lips and clit but after a few minutes she quickly relaxes and gives in the the carnal pleasure of having another woman's mouth on her vagina. The close ups that we have of Niki's tongue digging deep into her slit are amazing. Everyone loves to see Jennifer white move, moan and cum so this is a must see scene.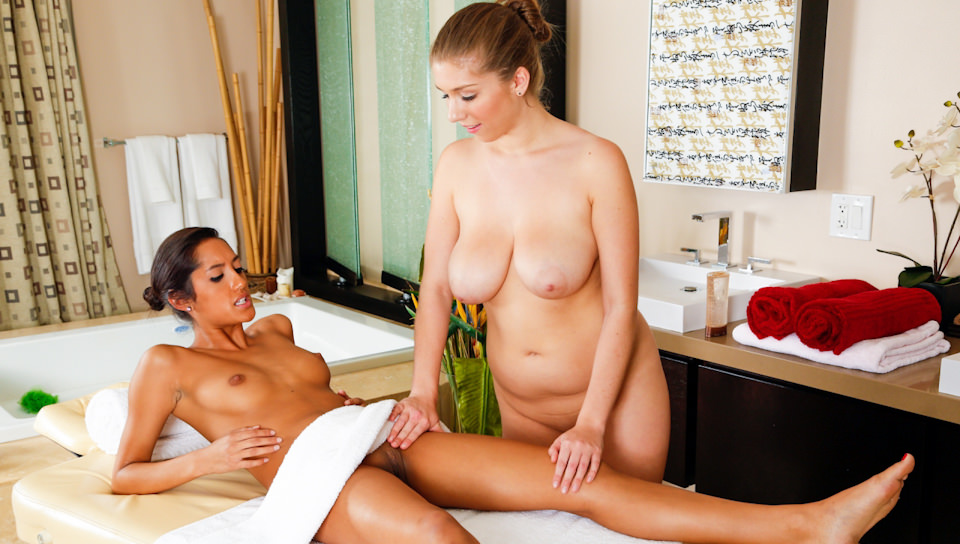 Cochella Ad: Alex Chance, Chloe Amour - Alex Chance hung a bunch of flyers to build her clientele for her all female massage service. Chloe Amour saw the ad and came in for a little relaxation. She was a bit hesitant when Alex undressed and lead her to the shower but she quickly relaxed under the soothing water. Seeing Alex's big natural tits and white skin as it plays off of Chloe's darker caramel complexion is a real treat. Chloe has an amazing body and you are sure to enjoy watching Alex work her muscles with the slippery oil. Lucky for Chloe, Alex just got certified in how to give a breast massage and she tries this new technique out with great success. Alex must be a DD and you can see her nipples hardening as she rubs them all over Chloe. Chloe seems hesitant with the sexual nature that this massage is heading in as Alex flips her over and begins playing with her nipples. The eroticism proves too much for Chloe to resist as she gives in to how much she is getting turned on. Alex knows just how to lick Chloe's dark pussy to get her to cum all over the massage table.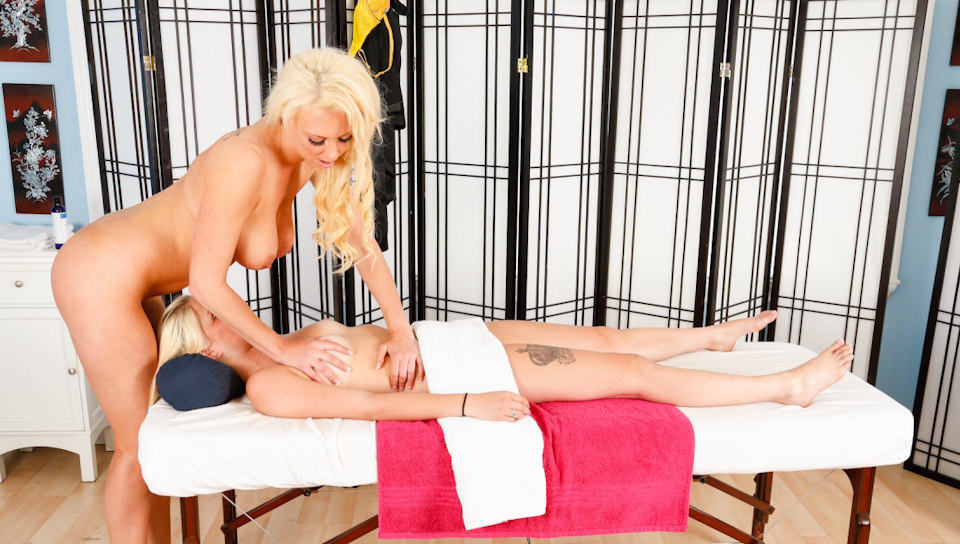 Pimpin' Ain't Easy: Miss Dallas, Bentley Pierce - Poor Miss Dallas is in desperate need of a little relaxation. Her boyfriend recently got in a bit of trouble with the law and it's really weighing her down. But Dallas is in excellent hands with Bentley Pierce. Bentley has been giving full body massages for quite some time and she knows just how to work her hands and fingers into all the right places. Bentley begins by using a sensual oil all over Dallas's back. She works the lower section before transitioning to Dallas's upper inner thigh. With her legs spread, you can see Dallas's cute little pussy and bottom. But Dallas is still tense, so Bentley decides to go for the full release. Bentley flips her client and reassures her that the breast massage is part of the full body package. To make her feel more comfortable, Bentley gets naked as well, revealing her perfectly shaven pussy. Bentley gets on top of Dallas 69 style to give her thighs a deep tissue massage which lands her lips and tongue deep into her wet pussy. Bentley works Dallas until she is cumming all over her face for a huge tension release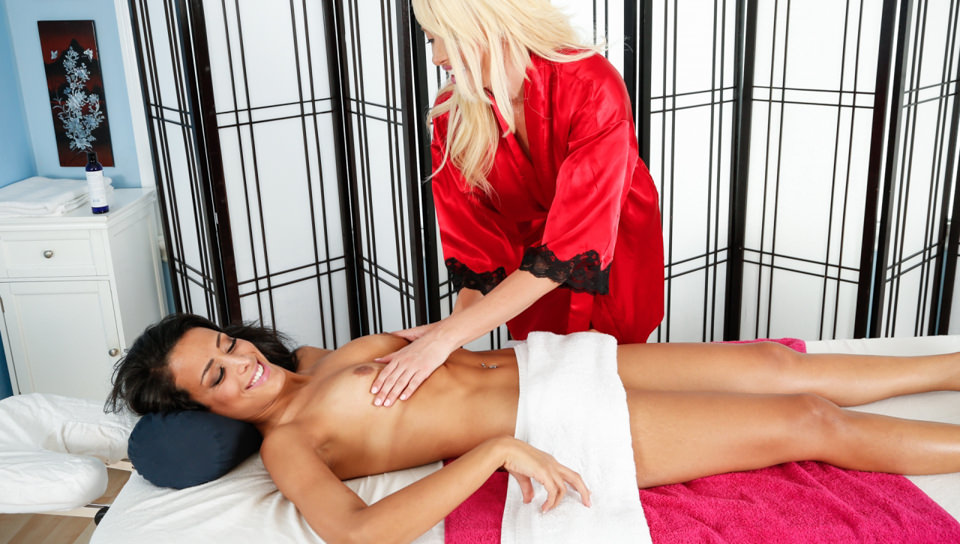 Me - Sakj: Layla Sin, Summer Brielle - Layla Sin is visiting the United States from Israel and has decided she wants to experience an American massage. Summer Brielle with her amazing body and long blonde hair is about as All-American as you can get and she has some special moves reserved for the beautiful Layla. Watch as Summer gets Layla relaxed with a deep tissue massage complete with plenty of oil. Summer flirts with Layla's pussy, getting super close but not yet touching her warm wetness. After working Layla's gorgeous ass, you can tell Summer is turned on and wanting more. She makes her move when Layla flips over to reveal her little breasts with deep, dark nipples. Watch as Summer rubs and fondles her perky tits before taking a break to rub her own body in oil. Summer returns to the table and begins rubbing her huge breasts all over Layla's well oiled body. Layla is super responsive to Summer's mouth on her clit and the vixens spend the rest of the afternoon pleasuring each other with their mouths and fingers. These two are super hot together and this scene is sure to be a major turn on.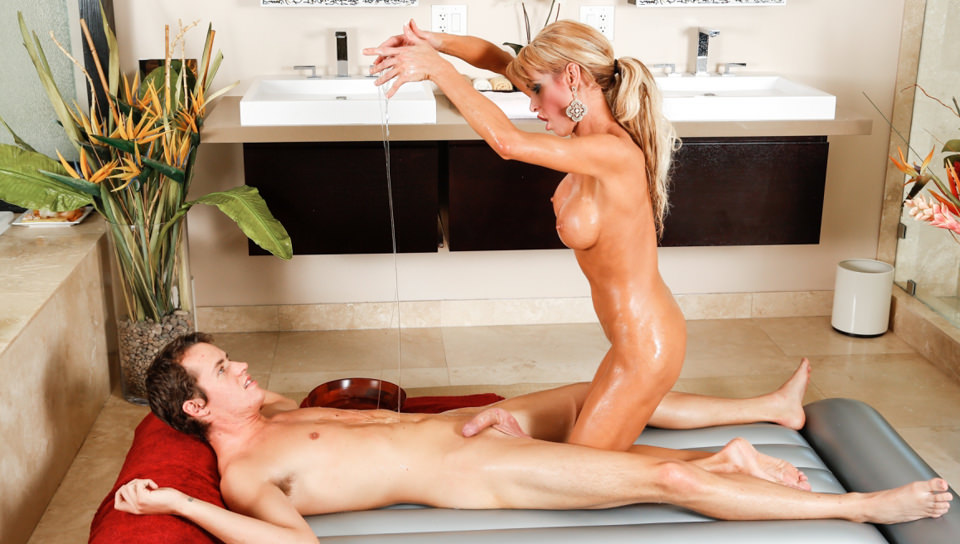 Very Forward: Mikki Lynn, Justin Hunt - Mikki Lynn looks so comfortable in her Nuru Massage kimono as she answers the back door and asks for the secret password from her newest client. Justin's sister Mia used to work at Nuru and was a girlfriend of Mikki (when nobody else was around for them to play with) so Ms. Lynn wants to do all she can to show Justin just how much she cares for him and his sister. A quick walk upstairs leads to a slow and sensual strip down in the bathroom before Mikki bends her knee and unbuckles her client's belt. First a shower to get ready and then a warm tub of soapy water to relax the senses as passions heat up and Lynn puts her mouth to work one delicate lick at a time. The air mattress feels like a summer cloud as he lays back to unwind while Mikki glazes him in essential oils and begins the slow tantric rhythm that will allow his body to become completely at ease as his mind races toward the final release of the happy ending we all deserve!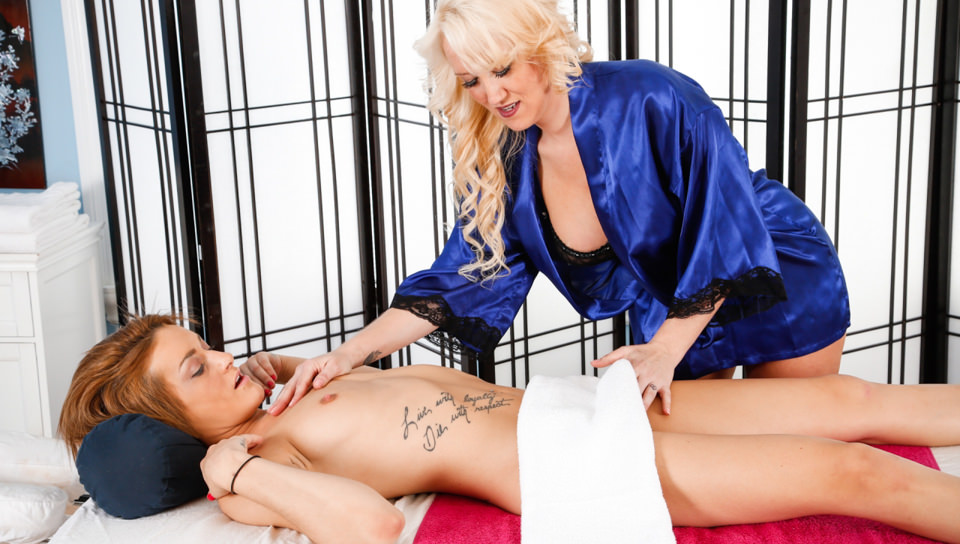 New Girl In Town: Brittany Jade, Alana Evans - Brittany Jade only just moved to California a week a go, so she's still getting used to her new surroundings. To help her relax, one of her friends suggested she go to the local massage parlor for a full body rub down. You can tell that Alana Evans, her masseuse, is into her from the get go. She's flirting and complimenting Brittany on her body and tattoos the entire time. The close up shots of Brittany's pussy and tight asshole as Alana works her glutes are amazing. Her fingers flirt gingerly with the border of Brittany's pussy and you know both of them are getting turned on. Brittany's nipples harden instantly at Alana's touch and her breathing intensifies when she gets to her clit. Brittany has big juicy pussy lips and Alana licks and sucks them hard. See her tongue glide over Brittany's swollen clit as she easily brings her to orgasm. Welcome to California Brittany.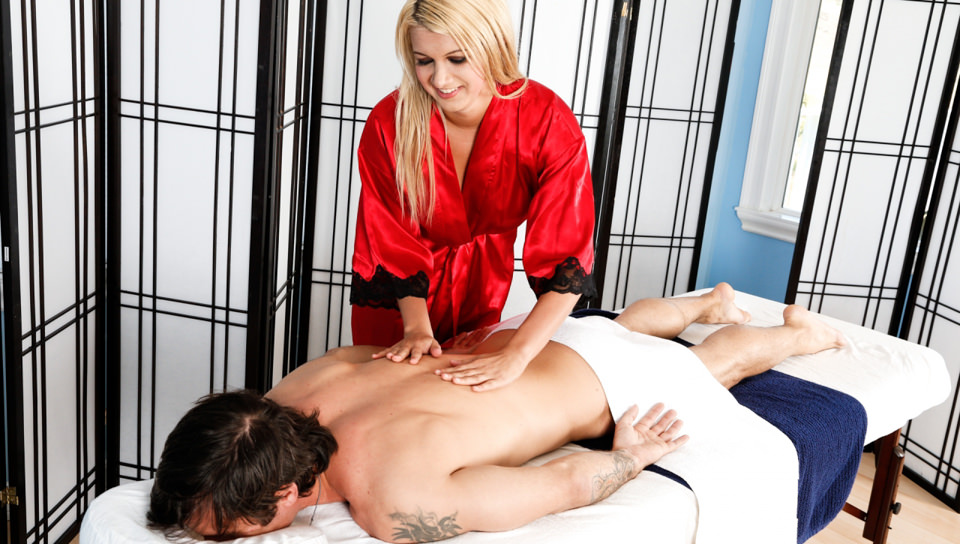 Walk-in Customer: Laela Pryce, Alan Stafford - Laela Pryce gets a walk in customer that just so happened to be passing by her massage parlor after his girlfriend borrows his car and leaves him hanging. Little does Alan know he is in very good hands with Laela. Laela happens to specialize in the full body massage technique, which leads all of her clients to finish with a happy ending cumshot. Watch her tease Alan with her tits as she talks about how much she loves to suck cock. With that, Laela agrees to give him a blowjob since his girlfriend won't. Laela taks her robe off revealing a super sexy and tattooed body underneath. She gets right to sucking her clients hard cock, working the tip with her mouth and tongue as she strokes the base with her strong hands. Hear Laela bounce his head off the back of her throat as she deepthroats his entire dong. Laela gets hers as well as she climbs on the table with Alan so that he can eat her wet pussy out. Laela lets him finish in her mouth and he leaves a very satisfied customer.



The Twins: Brooklyn Blue, Kris Slater - Brooklyn Blue has a sexy British accent and hot body that her clients go nuts for. She's one of the most popular masseuses at the spa and her full body massages are world famous. Brooklyn has huge tits and strong hands that are perfectly manicured. She is a girly girl that always looks her best in high heels and expensive lingerie. Watch her lube up her DD tits so that she can rub them all over her clients chest. Brooklyn knows the best tips cum from customers that are happy and happy customers cum. Brooklyn climbs up on the table in her high heeled pink stilettos so that she can get Kris hard with her mouth. She uses her whole body when she gives head and seriously knows how to suck a good cock. Giving plenty of eye contact, Brooklyn is about as sexy as they come. Enjoy super close ups of her with his hard cock in her mouth as she works her head up and down along his shaft. He finishes all over her huge tits, leaving them glistening with cum.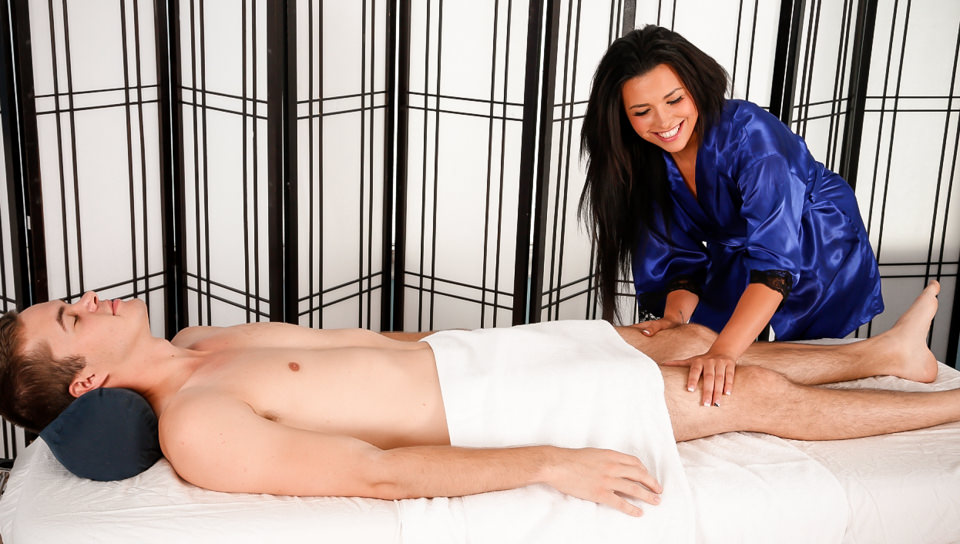 Loaded Gun: Danica Dillon, Jackson Ford - Jackson Ford's got a big date later in the evening, so his buddy takes him in for a massage so that he doesn't go into it fully loaded and full of cum. Jackson has no idea what's coming his way as the beautiful Danica Dillon lubes him up for his massage. She gives him the standard rubdown with some extras that tease him. See her get on the table as she rubs her pussy on his ass while talking about cumming and the sensation that tickling causes. No man can resist the flirting that Danica puts down and Jackson is no exception. Danica takes her robe off to get the naked party started. Not one to be shy, Danica reaches right up under Jackson's towel to stroke him hard before putting his dick slowly into her mouth. Danica loves his meat and she licks it to lube it up for a serious deepthroating. Hear and see her choke on it before she gets on Jackson's face to let him taste her wetness. Danica is a dirty talker so you can hear her say how much she loves how, ''fucking hard'' Jackson's cock gets.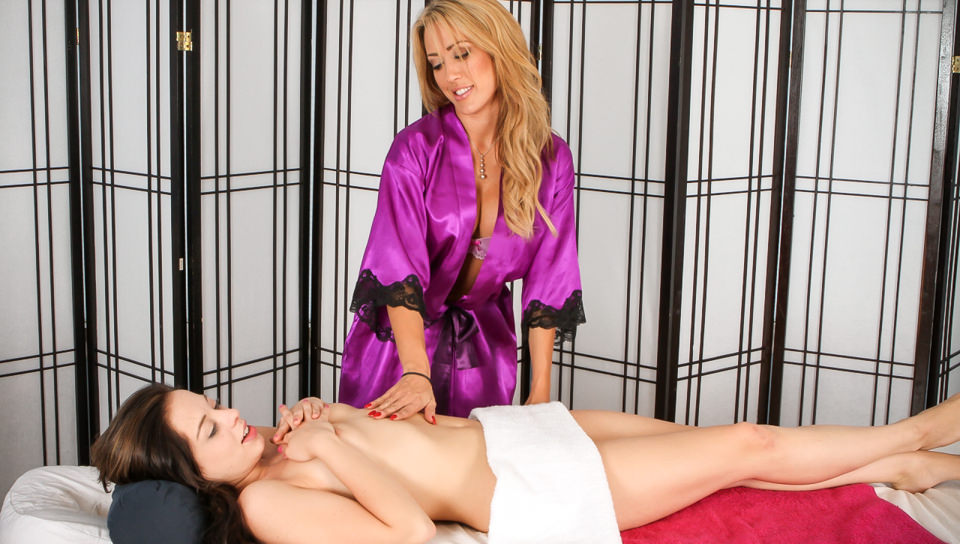 New Neighbor: Capri Cavanni, Aurora Monroe - Aurora just moved to the neighborhood so Capri makes like the good neighbor and introduces herself, offering Aurora a free massage at her parlor. From the second they meet, Capri starts checking Aurora out and you know exactly where this massage is heading. Capri slowly rubs every inch of Aurora down with her scented oil to get her relaxed and open to the idea of feeling good. She has no way of knowing if Aurora is going to be open to having a lesbian experience or not, so getting her to relax is super important. Capri flirts lightly with Aurora's pussy lips and ass as she goes, questioning her experience with women. This was all the encouragement Capri needed to hear to make some serious moves on Aurora. Watch as she rubs Auroras breasts as she shows off her own huge titties. Now that both ladies are topless the XXX fun begins to happen. Capri reaches down to feel how wet Aurora is while they make out and get turned on. Capri is slow and sensual with Aurora licking her clit as she fingers her hole. Aurora cums easily for her, leaving her pussy juice all over Capri's skilled fingers. Next it's Capri who gets off and cums right into Aurora's mouth.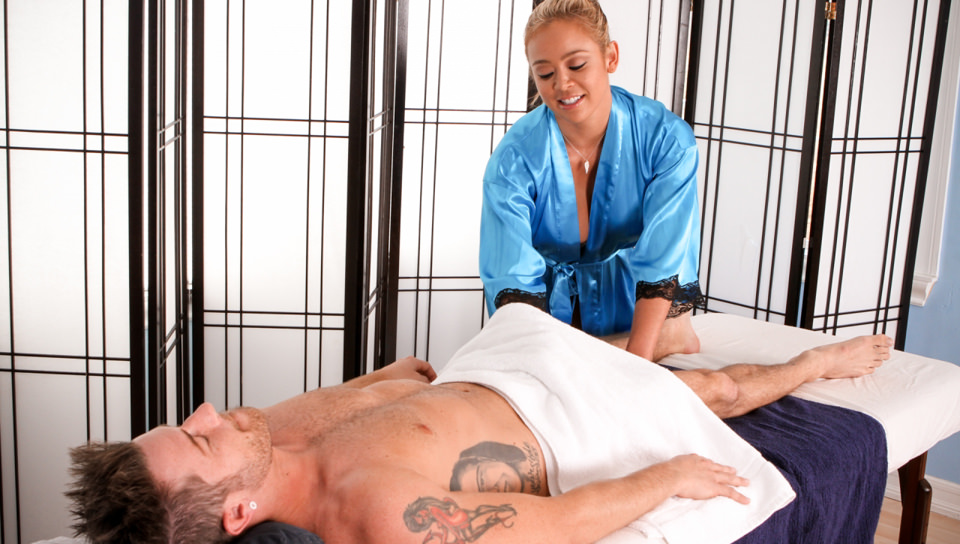 Saved The Day!: Mia Lelani, Brad Tyler - Brad Tyler saved the day for Mia Lelani by returning her credit card to her while she was at work and now she owes him a comped massage. Mia takes Brad into her massage room so that she can show him just how thankful she is for his kindness. Mia rubs his whole body down before reaching up under his towel to really thank him. Mia easily gets Brad hard with her oiled hands before she goes down to lick his balls and shaft with her tongue. Mia gives Brad a slow, deep and intimate blowjob that has him telling her just how good she is at her job. Mia tells Brad to look at her and enjoy the show she is putting on with her mouth, her spit, her hands and his stiff rod. Mia wants to give Brad the full service package as she seductively strips for him so that he can lick and play with her now wet pussy. As they 69, Mia starts to moan and get off, only enhancing the deep blowjob she's giving to Brad. Mia lets Brad spew his jizz all over her tits as she keeps her promise to take care of him.


Want some more? Check the site.
| | | |
| --- | --- | --- |
| | Older | Newer | |